As expected, Interbike was pretty quiet as far as new trainers go. Only one company introduced a new trainer: BKool, with all remaining companies having already introduced new trainers at Eurobike a few weeks ago, or over the course of the summer.  For example, all of these Eurobike and related new trainer announcements this season:
Elite Drivo Trainer In-Depth Review
Wahoo Fitness 'KICKR2' Trainer In-Depth Review
A look at Kinetic's new Smart Control Trainers
Hands-on: The new Tacx Flux Smart Trainer
Hands-on: The CycleOps Magnus Smart trainer
Hands-on: New Totally Silent STAC Zero Trainer
Hands-on with Elite's new Drivo, Kura, and Rampa trainers
Hands-on with new CycleOps Hammer Smart Trainer
Here's the two dedicated posts I put out this past week at Interbike on trainers:
Bkool Announces New Smart Go Trainer
Wahoo announces KICKR Studio platform for local bike shops/studios
However, there were still numerous trainer tidbits to be had at Interbike this year that didn't make it to the full post level.  Even if some of them were only one-line updates.  That's the purpose of this post.  With that, let's get rolling.
Kinetic Smart Control Trainers: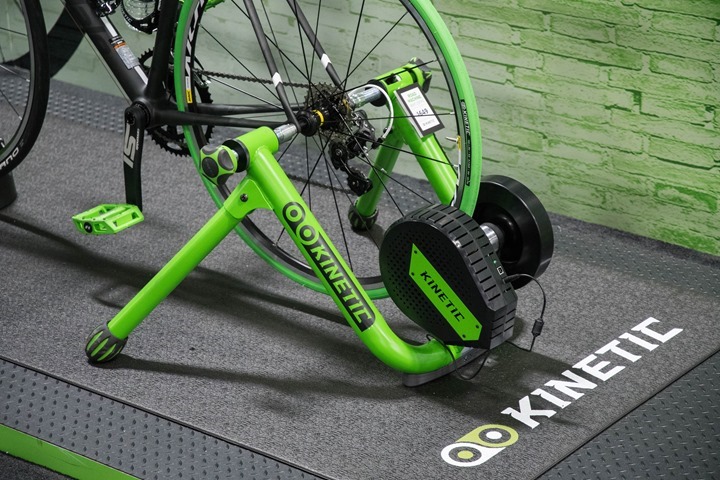 It's been a few weeks since that whole situation hit the fan (deciding to ignore both ANT+ & Bluetooth Smart standards for trainers/power/speed/cadence and making their own that's incompatible with most apps and all devices on the market today).  As of this posting, there's been some 177 comments posted to that piece, with the comments easily taking the cake on the most anti-company comments I've seen in 9 years writing this blog.  Previous crap-hitting-fan situations from Garmin and Strava didn't have anything on this catfan.
All of which ignores the shocked disbelief by everyone I've talked to on the show floor within the industry.  Be it competitors or random industry bystanders, nobody seems to be able to make sense of it.
But Kinetic had promised to put out a blog post two Friday's ago that would explain their position in better detail.  Unfortunately that never happened.  So in the most awkward moment of the show, I checked in to find out when that might happen.
At this point, it doesn't sound like that post will happen (nor does it sound like any changes are planned).  Kinetic says they're focused on getting the trainer shipping.  Speaking of which, the Kinetic Smart Control units should ship out in mid-October.
CycleOps Hammer & Magnus Shipping Updates:
CycleOps announced two new trainers this summer – The new higher end Hammer, and the mid-range Magnus.  The Hammer was announced way back in May, while the Magnus was announced at Eurobike.  Check out those respective posts for all the details.
Hammer Shipping Update: This is seeing a wee bit of a delay from their previously planned August release.  This summer they ended up changing quite a bit under the covers from the unit I first saw at the launch event.  All for the better though: They reduced the (already low) noise further, as well as changed the leg design slightly, which increases stability.  That had some impact on timelines, but the bigger impact has been a manufacturing supply chain issue.
In a nutshell, one of their suppliers produced a huge batch of crap for one specific part (the vast majority of the pieces of this part that came off the assembly line were cracked and unusable).  The person in charge at that supplier has since been shot, and the body buried in an undisclosed location.  But that has resulted in a pretty big shift in timelines, with the trainer not likely to start shipping to consumers until November.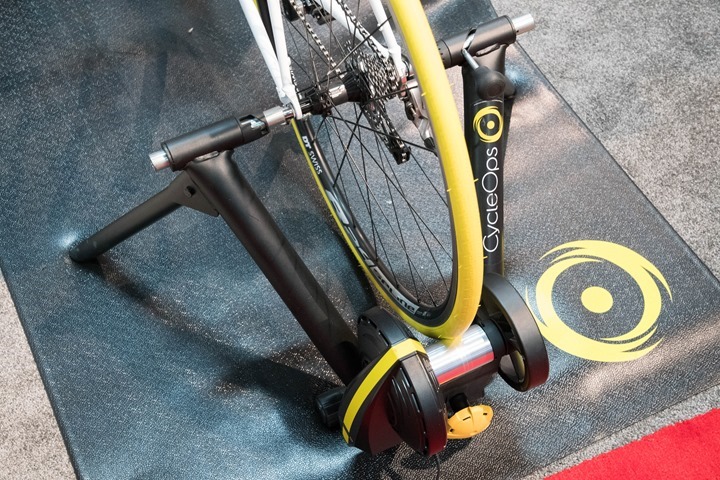 Magnus: While the company waits for the new parts to resume large-scale production of Hammer, they've temporarily shifted production focus to Magnus.  That'll start shipping in a touch bit over two weeks, around mid-October.  Things sound like they're pretty much set and ready there.
I think the Magnus will definitely be in the running within the crowded mid-range trainer category.  As I've hinted at before, for this $500-$600ish category, it's likely to come down to personal preferences on the minor differences between the many similar units made by Elite, Tacx, Wahoo, BKool, and CycleOps.
Elite Kura Shipping Update: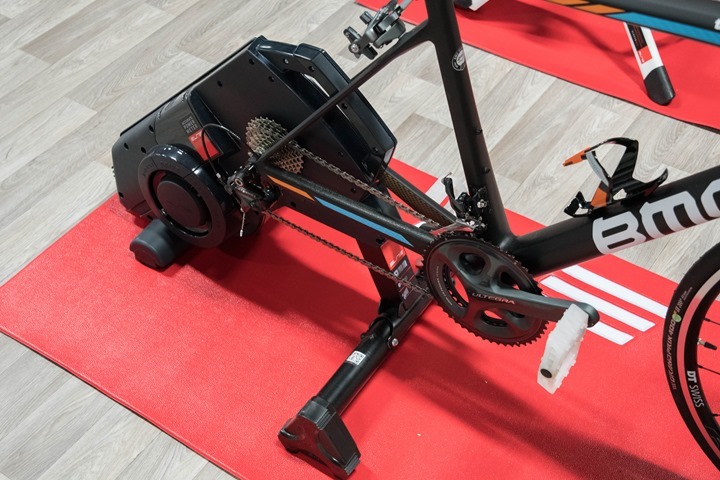 Back in May, Elite announced three new trainers, plus a set of rollers.  You'll remember I released the Elite Drivo In-Depth Review almost two weeks ago, which is their top-end trainer, one that's been shipping for almost two months now.  It's awesome.  Then there's the Elite Rampa, which is their mid-range offering (designed to compete against the Wahoo KICKR SNAP, CycleOps Magnus, and Tacx Vortex).
That unit has also been shipping for a bit over a month, and in theory a unit is waiting for me back in Paris when I get home next week.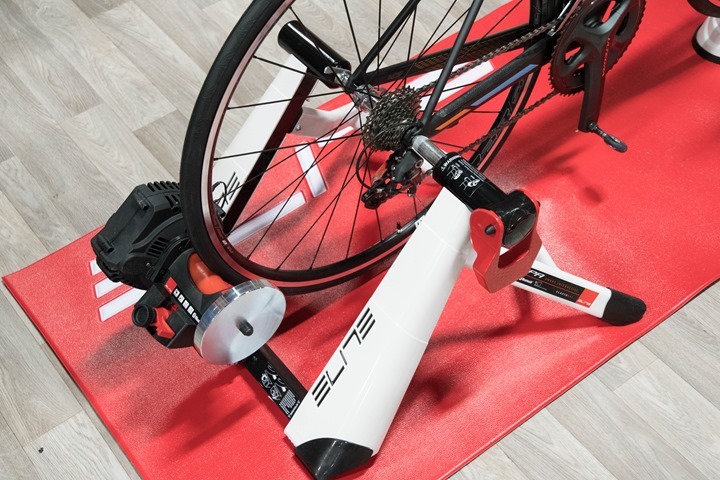 But finally, there was the Elite Kura, which is their direct drive unit that includes the same power meter technology as the crazy-accurate Elite Drivo.  The major difference though between the Drivo and the Kura is that the Kura is not resistance controllable, but rather you change gearing to change resistance/wattage levels.  Oh, and the Kura ended up with a black case – which looks super-sleek (first photo above).
That trainer (Kura) should start shipping next week.  I don't currently have it on my radar for an in-depth review, but we'll see how the remainder of the fall goes.
One cool software tidbit they were showing for their Kura and Drivo trainers is a new update to their training app that allows you to analyze your pedaling stroke data:
You can display the data in different formats, and even choose to have the pedal strokes analyzed at a single revolution standpoint, as well as have them shown as either overlaid (same clock positions), or as per they are on the bike (opposite clock positions).
Unlike many other pedaling analysis pieces, this one even allows you to record the data, which is kinda handy.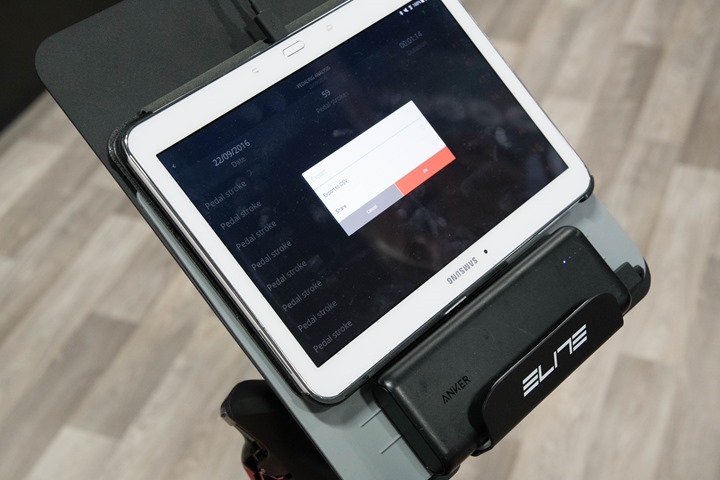 Of course the main appeal of this kind of data is in the fit studio realm more than day-to-day usage during training.  The app update should hit your mobile devices next week, assuming no last minute snags with the approval process.
Tacx Flux Shipping Update: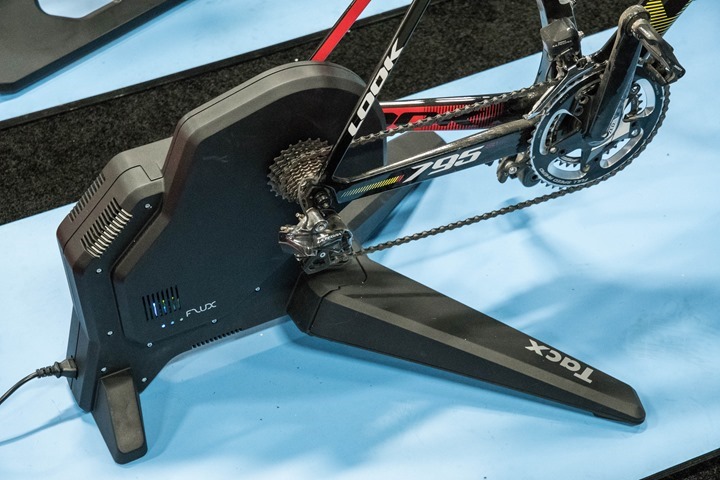 Tacx only announced one new trainer this season – the Tacx Flux.  Well, ok, they also announced that 8,000EUR Magnum trainer that I still need to publish my post on.  My video on that is here.  Of course, they did announce a number of software updates to the Tacx NEO trainer earlier this summer.  Plus, they released a slightly updated '2017' version of NEO, which simply changes the outer shell to be compatible with more bikes (that's it, all other minor production changes were incorporated within the earlier NEO's over the past year, most in late 2015).  Those 2017 models have already started shipping, and have a tiny 2017 sticker on the SKU/part label on the side of the box (picture of label seen here).
As for Flux, that was announced at Eurobike, see all the details in this post.  That trainer is incredibly appealing since it's $300 less than the Wahoo KICKR, at only a minor hit on accuracy once warmed up.  Right now Tacx says that they'll start shipping to retailers/distributors around the last week of October, so arrivals start the first week of November in Europe, and a bit later in November for other continents (simply due to transit time).
Oh, and in case you missed it before, I did finally post my Tacx Flux video – which is available below.
With that, onto the next trainer company!
STAC Zero Shipping Update: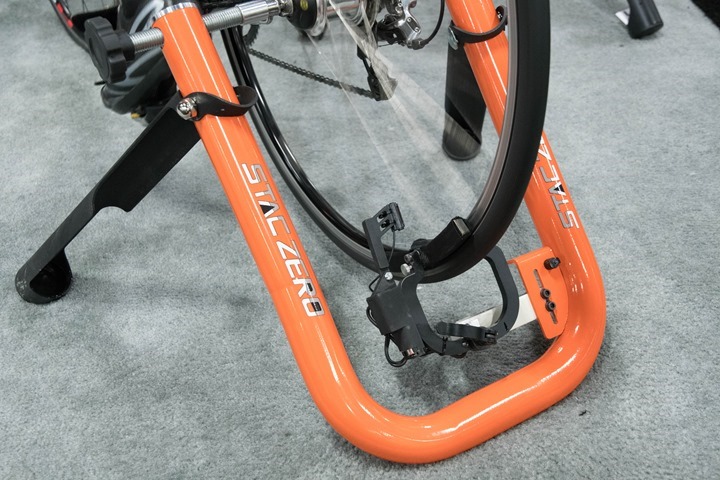 It's been a couple of months since I last talked about the STAC Zero trainer, which is that totally silent trainer that launched on Kickstarter. It's silent because it's essentially your rear wheel pedaling in thin air – it doesn't touch the trainer (aside from the mount).  It's crazy cool.
Since then they've refined the design a bit from what I showed, mostly just cleaning up the edges and making things a bit prettier.  They've also significantly cleaned up the power transmitter hardware on it (that transmits your power via ANT+ & Bluetooth Smart).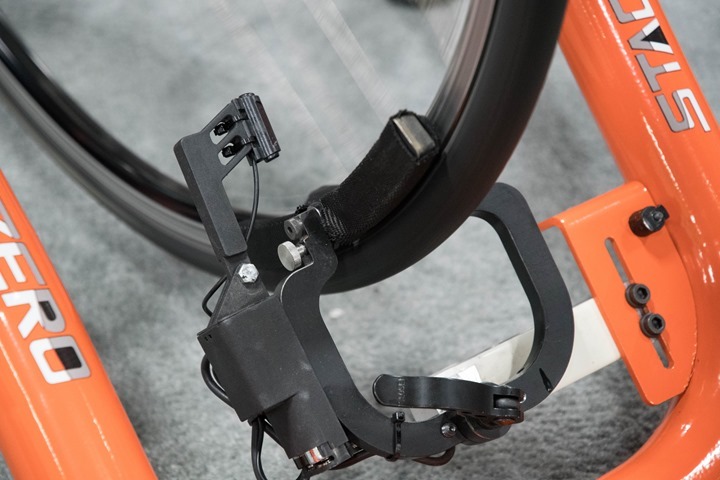 In fact, they had an app there to show that power transmission from the unit, compared to a Quarq and PowerTap power meters in real-time.  It was cool (both the app – Tour de Giro in a special mode) as well as the data, and the three units agreed beautifully from easy pedaling through hard 600w+ intervals.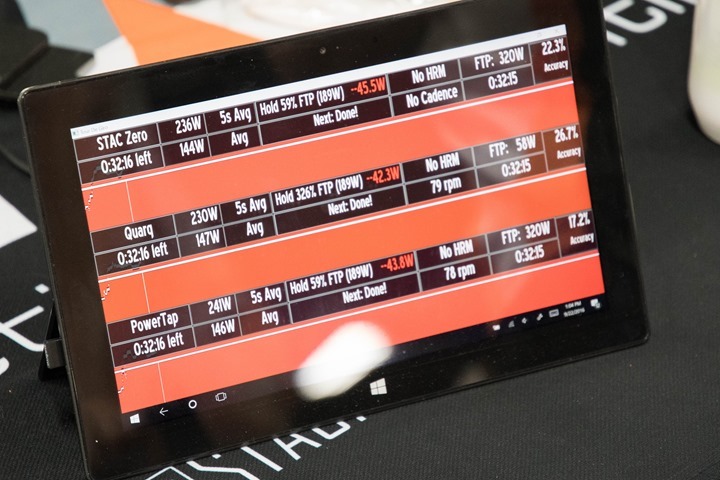 As for shipping, they're on track to start shipping out the first batch of units next week for arrival in October, followed by the power units shipping out in late October for arrival in early November.  Or basically, they're actually shipping on time (or within a few days of it).  A rarity in both the Kickstarter and as of this year, the trainer company realm.  Very cool (both the trainer and their ability to ship on time…well, within a few days anyway).
CompuTrainer Updates: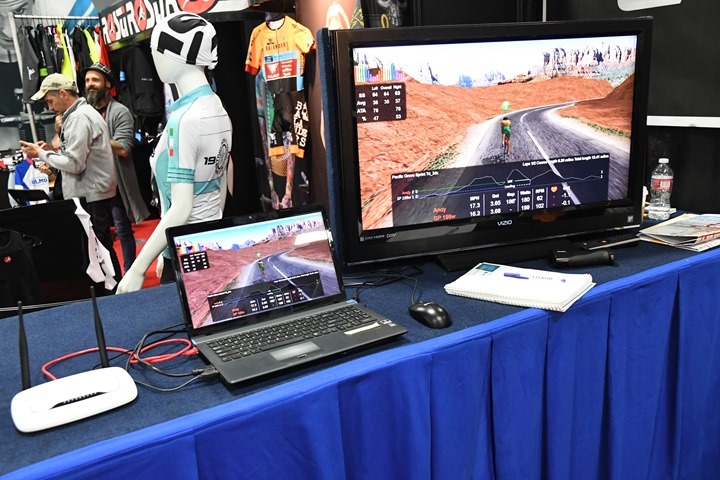 As with most vendors in the space, I made a quick stop by CompuTrainer to see if there was anything new from the company.  Right now they're getting closer on the WiFi integration via a new handlebar controller that was announced last year at Interbike.
But beyond that – nothing else new from RacerMate.
—
With that – thanks for reading!
—
Preemptive: I'll be pushing out my annual trainer recommendations post late next week.  I know many of you have been asking about it multiple times a day.  While I wanted to wait to get final versions of all these trainers in, I'll have interim recommendations within it. Though those recommendations may change as final units arrive (I'll update the post if so).