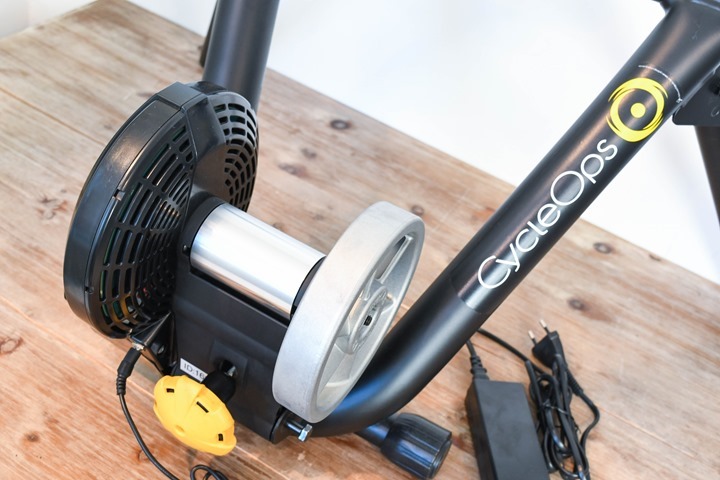 Let the new trainer games begin! Oh…crap…wait, they already began – earlier this summer with new CycleOps trainer, Elite trainers, and even Tacx trainer updates. But, with a brief summer intermission completed, we're back into the swing of new trainer announcements.  And oddly enough, it's once again CycleOps kicking off this round of new trainers – just like it was back in May with their new Hammer direct drive trainer.
This time around they're focused on a trainer half the price ($599) that appeals to the $600 crowd of other trainers in the same price range.  This electronic trainer is fully controllable from apps the likes of Zwift, TrainerRoad, Kinomap and more.  Plus, it transmits all your powers on ANT+ & Bluetooth Smart.
I've had one since early July* and have been using it throughout the summer.  While it is a pre-production unit, I've got a pretty good gist on things.  As such, since it's a pre-prod unit, this isn't a full in-depth review. Think of it as more of a preview.  Once the final unit comes out this fall, I'll look to squeeze in a full in-depth review then.
*Funny tidbit, I had to cut short my meeting with them that day, as The Girl went into labor just prior to the meeting starting.
Magnus Tech Basics:
With this being the second trainer that CycleOps has announced this season (following The Hammer), it seems only appropriate that we start with the name – Magnus.  What's in a name you ask?  Well, I'll defer to Urban Dictionary to help with this one.  What follows is the official definition for Magnus:
"F@#$king most awesome name in the world. If you are so lucky to have this name, you should be a celebrity because of it. all Magnus's are supreme beings and they kick all other's asses"
Well then.  That settles it.  Alternatively, you could just go with the more academically Latin meaning, which is simply 'Great'.  Hmm…, Urban Dictionary seems more 2016 to me.
In any event, the trainer is essentially competing with the Wahoo KICKR SNAP, Elite Rampa, and the Tacx Vortex.  That means it has the full electronic control of a resistance controllable trainer, but doesn't have the direct-drive (wheel-off) design of something like the KICKR, NEO, or Hammer.  Still, it can deliver the power just fine – coming in at a peak resistance of 1,500w.
Like other smart trainers on the market these days, it's all about being bi: Dual ANT+ & Bluetooth Smart transmission that is.  In this case it transmits:
ANT+ FE-C (Trainer Control)
ANT+ Power Broadcast
Bluetooth Smart Trainer Control (for apps via API)
Bluetooth Smart Power Broadcast
The above line-up roughly matches what other companies have in the market.  The only difference is that Tacx and others will also transmit your speed, and cadence too on Tacx trainers (albeit estimated, but usually pretty good).  But otherwise, the above specs make them equal to others from a core power/trainer tech transmission standpoint.
It's these transmission specs that matter though – because if you want to be able to use any of the dozens of trainer apps out there, you definitely want to be on these standards.  This allows this trainer to easily integrate with Zwift, TrainerRoad, Kinomap, and numerous others.  It also allows you to control it via your bike computer – such as the Garmin Edge series, and soon the Wahoo ELEMNT.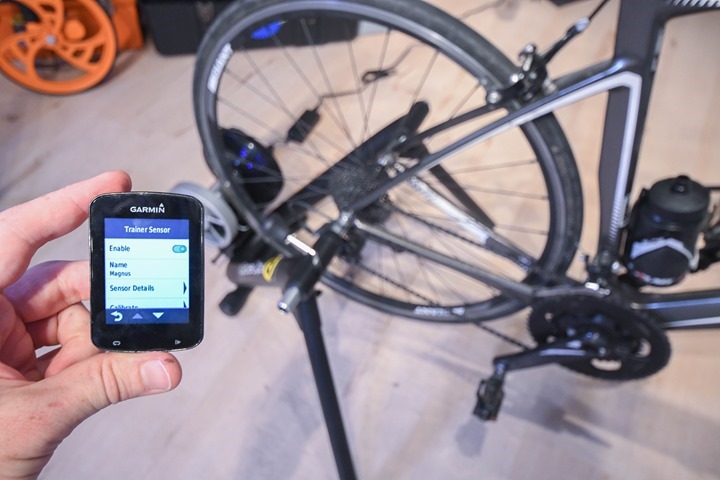 The unit is capable of receiving firmware updates for itself, which will be done via Bluetooth Smart wirelessly.  That's also in-line with all other competitors.
Officially the trainer is listed at 69 decibels at 20MPH, and my testing seems to put it in the same rough region. Sound testing is full of variables, the most notable being speed (not power level), but also the exact tire used.  Some tires are louder than other tires (oddly, I find trainer tires are among the loudest).  To demonstrate the sound levels, I cover it within the video later on in this post.  Plus, I get to pull out my newest and coolest decibel meter.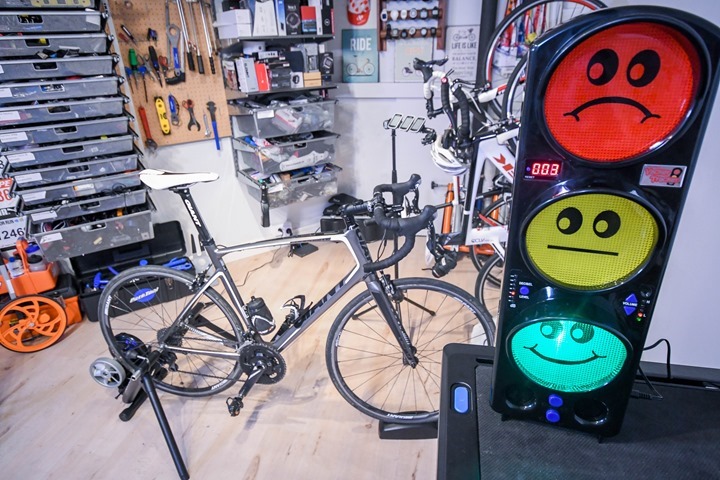 Next we look at the compatibility matrix for bikes, which supports the following types on its 2" roller width: 650b, 700c, 26″, 27″, and 29″ – up to a 2.0 tire.  Note that it does not fit 650c wheels however, and not all 29er tires – so you'll want to double-check your exact tire there if you're looking to put either a circus bike or mountain bike on there.
Meanwhile, the skewer holding system has three settings (I'll talk about that more later on), which support the following skewer types: 120mm, 130mm and 135mm. Additionally, you can pickup an accessory thru-axle adapter for 142x12mm and 148x12mm.
Finally, on the accuracy front – things are still a bit TBD in terms of the exact stated accuracy range they'll be able to achieve.  Right now it sounds like at least +/- 5% (same ballpark as others for this price range), but they're hoping to get that down a bit lower by time they make a final accuracy claim.  Note that it does support a roll-down calibration, and said calibration even works properly with the Garmin Edge units FE-C calibration menu (one of the few trainers I've found that does work properly there).
Hands-on Thoughts: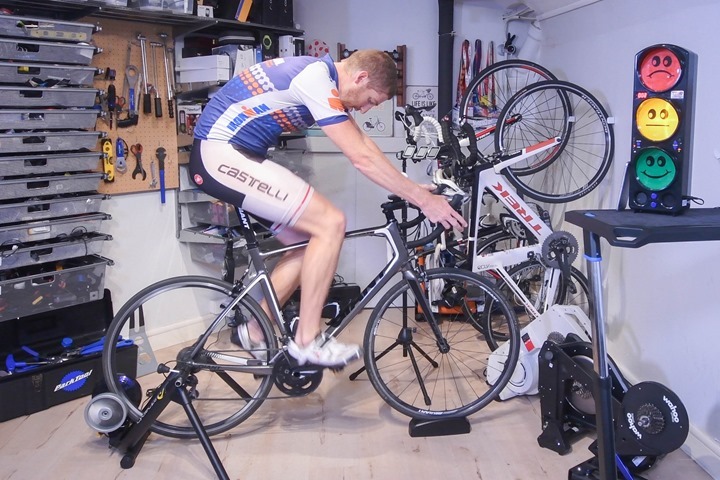 Ok, now that I've covered all the basics, let's go hands-on with it a bit.  If you want the video version, you can skip all the text and photos in this section, and just watch this video:
For you non-video folks, we'll continue on with the textual excitement.  First up is that the trainer is actually pretty light.  I weighed it at 20 pounds/9 kilograms, which is almost half the weight of the heavier KICKR SNAP. The most noticeable element of that being the frame itself is lighter.  The flywheel itself is 2.6lbs/1.2kg.
It's the quick release system on the frame that's different than other trainers in that it's got three adjustability settings, which you can see below with those notches.  This allows you to quickly lock it in place, even with dramatically different bikes.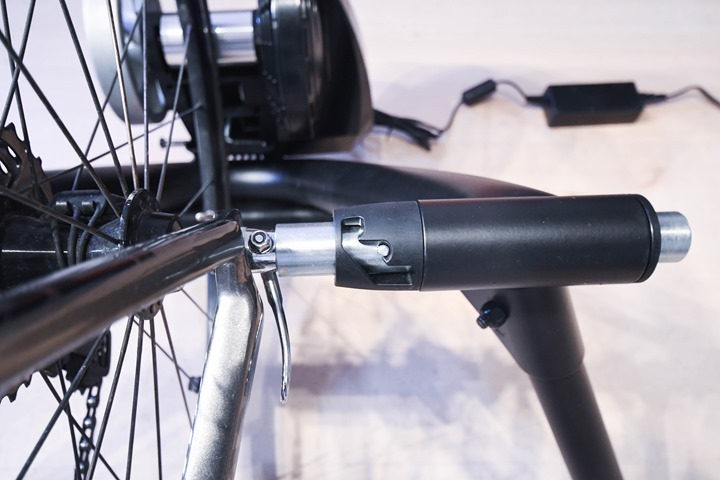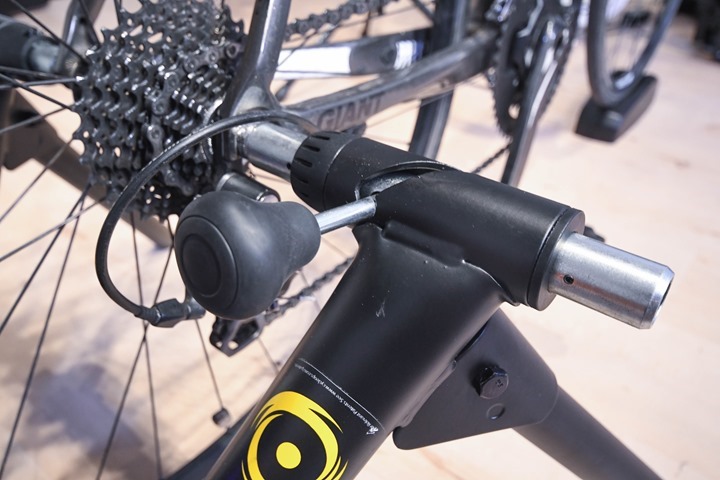 Once you've got the unit locked in, you'll then use the clutch-knob style system that essentially works the same way as a gas cap on a car: Just keep turning until it clicks/pops. That'll produce consistent power each time.  This is easier/better than having to spin a knob a certain number of times and hope it's right.  As with any trainer that's wheel-on, you'll want to have consistent and good tire pressure (I usually just do 120psi, since that's straight-forward enough).  The resistance knob is that yellow handle.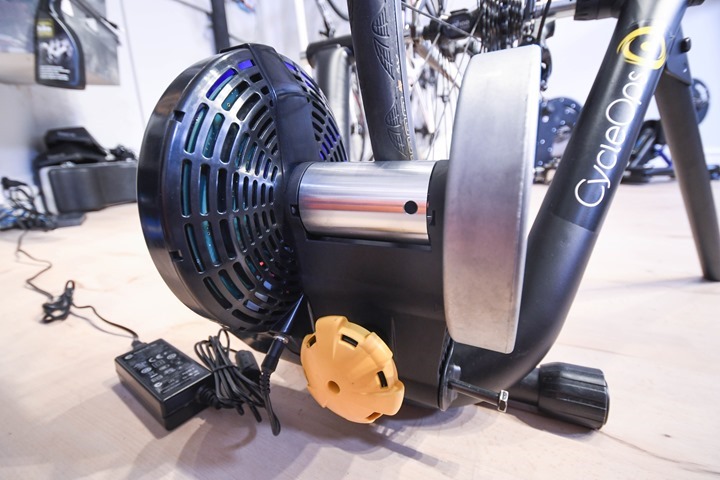 Now that everything is good to go, you'll want to do a calibration/roll-down.  In theory with both the locking system and the same tire pressure, you wouldn't really need to do so each time.  But in reality, I like to do one just before I start, and then about 10-15 minutes in after the tire has warmed up. The calibration process can be triggered from most apps, or devices – like the Edge series.
With that – it's just a case of riding like normal via the apps you prefer to use.  In the case of CycleOps, they do have their own training suite, called Virtual Training, which is pretty extensive (actually, it's the training suite with the most breadth out there).  Of course, if you prefer Zwift or TrainerRoad, then those work too.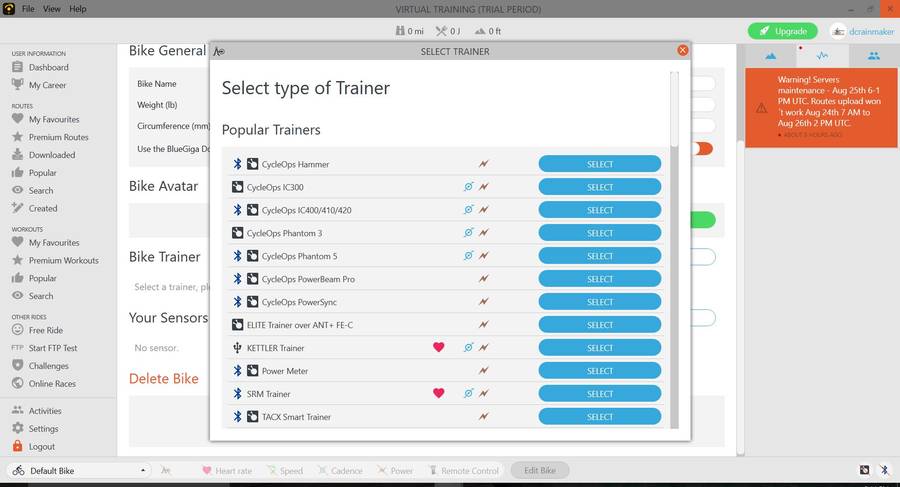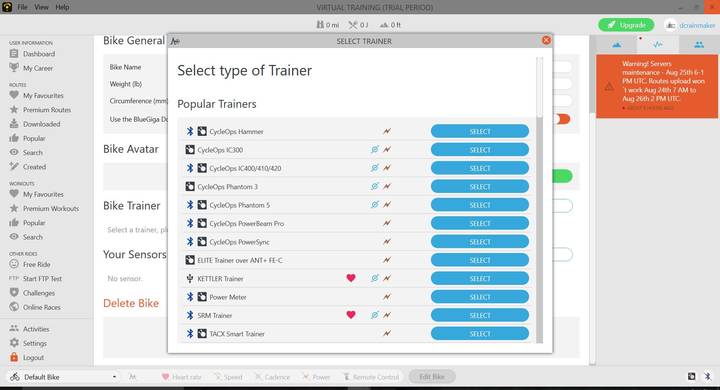 In my testing, I found the power accuracy actually pretty solid for being a prototype.  Especially an early prototype unit that they've told me the power isn't perfect on; and that they're working to get me an updated/final unit which improves the power accuracy.  I'll get some step data published shortly, but I found that as long as the resistance was strong and you did a roll-down, it was within 1-2% for me compared to both the PowerTap P1's and a Quarq RIKEN.  If however the wheel-on resistance wasn't done correctly, then it was far more variable.  But I'd like to see how the final units look before making any final conclusions there.
As for road feel, the unit 'feels' like any other wheel-on trainer with a relatively small flywheel.  It feels fine (like others in this price range), but isn't particularly special in terms of feel.  In many ways, until you get to much larger flywheel sizes, you won't really get that inertia feeling, but those same resistance controlled trainers tend to cost a fair bit more (or, if at this price point then lack the resistance controlled elements).  Said differently: I don't tend to overthink road-feel.  For me, a trainer is still a trainer, and still feels like a trainer – even the high-end ones.  I'm still inside and I'm still staring at a wall.  I can't mentally undo that.
Comparison Chart:
Just to briefly compare to this to the Rampa, Vortex, and KICKR SNAP, I've added the Magnus into the product comparison database.  This allows you to compare not only top-level specs, but also any trainer that I've reviewed or otherwise had hands-on time with.  You can mix and match and make your own product comparison here.
And again, don't forget that you can mix and match and make your own product comparison here using the full product comparison database.
Wrap Up: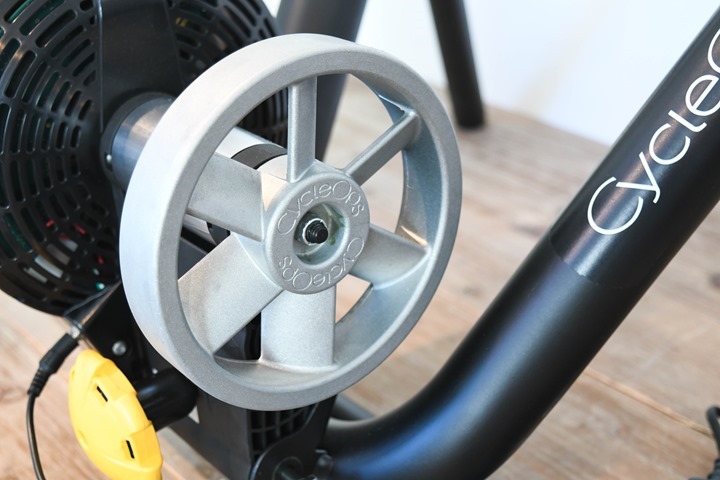 This being the second trainer of the season for CycleOps, it helps to fill out a lower electronic resistance controlled trainer price point (they have a number of other non-electronic trainers that are far cheaper), while still giving folks the higher end option from them with the Hammer.
Both units are slated for shipping this fall (thus a bit of a delay on the Hammer's original August estimates).  And it's at that time that I'll be able to make any final determinations for things like accuracy. However, at this point this looks like a very strong contender.  As you can see, that $600 price point has numerous really solid options from a number of major players.  So it's in some cases going to be a matter of deciding which specific subset feature is the most important to you (i.e. accuracy vs max incline vs max wattage).  Or perhaps it'll just be styling.  I do think that simple product availability may end up being a huge driver for trainer purchasing decisions this year.
In any case – stay tuned for more on this trainer and many others as we move into the northern hemisphere training season.  Thanks for reading!
Preemptive footnote: I'll have my annual trainer recommendations guide out in September, based on units that I have in my hands at that time.  Rather than waiting forever and ever for last minute trainers into October and even November to release the annual trainer guide (like years past), I'll be drawing a bit of a line in the sand earlier this year.  Thankfully, most trainers being announced I've had some amount of hands-on time with already.  Also note, yes, there are more trainers to be announced, but you won't see my posts/comments on them here until they are officially announced. Mmmkay?
Found this review useful? Or just want to save 10%? Here's how:
I've partnered with Clever Training to offer all DC Rainmaker readers exclusive benefits on all products purchased. You can read more about the benefits of this partnership here. You can pick up the Magnus (Saris M2) trainer through Clever Training using the links below. By doing so, you not only support the site (and all the work I do here) – but you also get to enjoy the significant partnership benefits that are just for DC Rainmaker readers. And, if your order ends up more than $49, you get free US shipping as well.
Saris M2 (Magnus) (US – Clever Training – Save 10% with DCR10BTF)
For European/Australian/New Zealand readers, you can also pickup the unit via Wiggle at the links below, which helps support the site too! With Wiggle new customers get 10GBP (or equivalent in other currencies) off their first order for anything over 50GBP by using code NEWGB at check-out after clicking the links below.
Saris M2 / CycleOps Magnus (EU/UK/AU/NZ – Wiggle)
And finally, here's a handy list of accessories that most folks getting a trainer for the first time might not have already:
| | Product | Amazon | Note |
| --- | --- | --- | --- |
| | Apple TV 4K (2021 Edition) | Amazon | There's no better bang for your buck in getting Zwift (or FulGaz/etc) on your big screen TV than Apple TV - it's the primary way I Zwift. Even if you don't have a 4K TV, the 4K version has more powerful graphics than the base, worth the extra $30. |
| | Basic Trainer Mat | Amazon | This is a super basic trainer mat, which is exactly what you'll see me use. All it does is stop sweat for getting places it shouldn't (it also helps with vibrations too). |
| | Elago R1 Apple TV Remote Silicone Case with Strap | Amazon | I use Apple TV for Zwift the vast majority of the time, but also just for watching YouTube/Netflix/etc on the trainer. The Apple TV remote sucks though. This $8 case fixes that, it's a silicone strap that makes it easy to grab, but also has a strap to easily place on the edge of your handlebars. Boom! Note: Not compatible with 2021 Apple TV Edition. |
| | Front Wheel Riser Block | Amazon | Here's the thing, some people like front wheel blocks, some don't. I'm one of the ones that do. I like my front wheel to stay put and not aimlessly wiggle around. For $8, this solves that problem. Note some trainers do come with them. Also note, I use a riser block with *every* trainer. |
| | Honeywell HT-900 Fan | Amazon | I've got three of these $12 fans floating around the DCR Cave, and I frequently use them on rides. They work just fine. Sure, they're not as powerful as a Wahoo Headwind, but I could literally buy 20 of them for the same price. |
| | Indoor Cycle Trainer Desk (RAD/Lifeline/Vinsetto/Conquer/etc...) | Amazon | This desk is both a knock-off of the original KICKR Desk, but yet also better than it. First, it's got wheel locks (so the darn thing stays put), and second, it has two water bottle holders (also useful for putting other things like remotes). I've been using it as my main trainer desk for a long time now and love it. Cheaper is better apparently. Note: Branding varies by country, exact same desk. |
| | KOM Cycling Trainer Desk | Amazon | This is by far the best value in trainer desks, at only $59, but with most of the features of the higher end features. It's got multi-tier tablet slots, water bottle holders, non-stick surface, adjustable height and more. I'm loving it! |
| | Lasko High Velocity Pro-Performance Fan (U15617) | Amazon | One of the most popular trainer fans out there, rivaling the Wahoo Headwind fan in strength but at a fraction of the price. It doesn't have smartphone/ANT+/Bluetooth integration, but it does have secondary outlets. I've been using it, and a similiar European version lately with great success (exact EU variant I use is automatically linked at left). |
| | Tacx Tablet Bike Mount | Amazon | I've had this for years, and use it in places where I don't have a big screen or desk, but just an iPad or tablet on my road bike bars. |
Or, anything else you pick up on Amazon helps support the site as well (socks, laundry detergent, cowbells). If you're outside the US, I've got links to all of the major individual country Amazon stores on the sidebar towards the top.
Thanks for reading! And as always, feel free to post comments or questions in the comments section below, I'll be happy to try and answer them as quickly as possible.