A full week home in the city of light…and rain.  Here's what I was up to over the weekend!
1) More trainers have arrived!
This week I had both the CycleOps Magnus and the CycleOps Hammer trainers arrive.  That follows the Kinetic Smart Control trainer last week.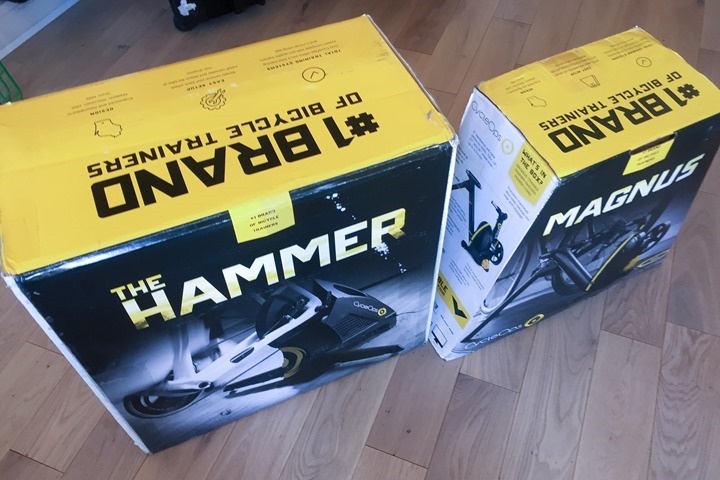 I spent some time this weekend with the Magnus trainer though, first getting it all unboxed.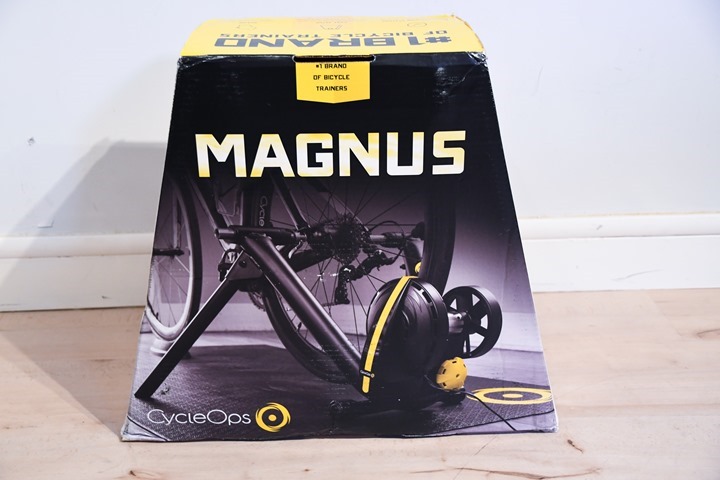 Then it was onto the bike for a few quick and dirty tests.  I didn't have a ton of time in between helping out The Girl at the bakery on Friday/Saturday, so it was fairly limited.  Still, I was able to validate accuracy was in the range advertised, and the responsiveness was good.  It worked well with TrainerRoad on the desktop, as well as the CycleOps Virtual Training app on iOS.  Whereas on TrainerRoad iOS it could read the data, but couldn't control it.  This appears to be because their iOS app is limited to the Wahoo trainers right now for control.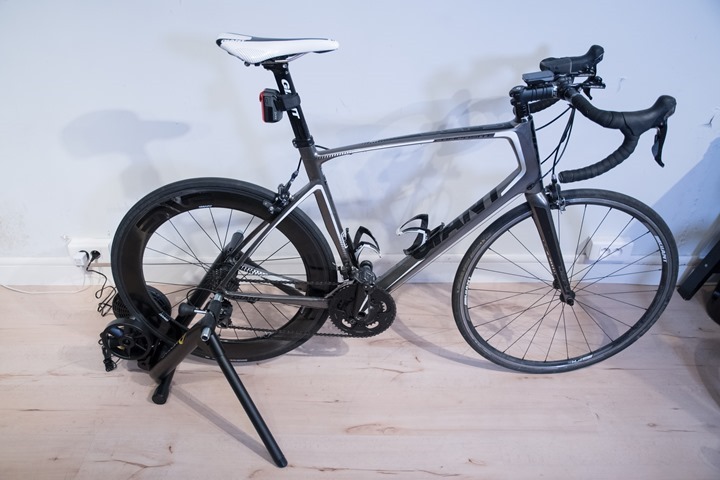 (Note: The reason I use that deep dish wheelset on the back is that it has a PowerTap hub built into it)
I'll be doing more detailed accuracy testing later in the week upon my return from a quick trip.  Same goes for Hammer-time.  Below, a quick cell phone image I took while riding – focus on the middle line which is showing Power 10s average (sorry the right unit I didn't have on the correct page to match the others).
Left: PowerTap G3 Hub, Center: Quarq RIKEN, Right: Magnus.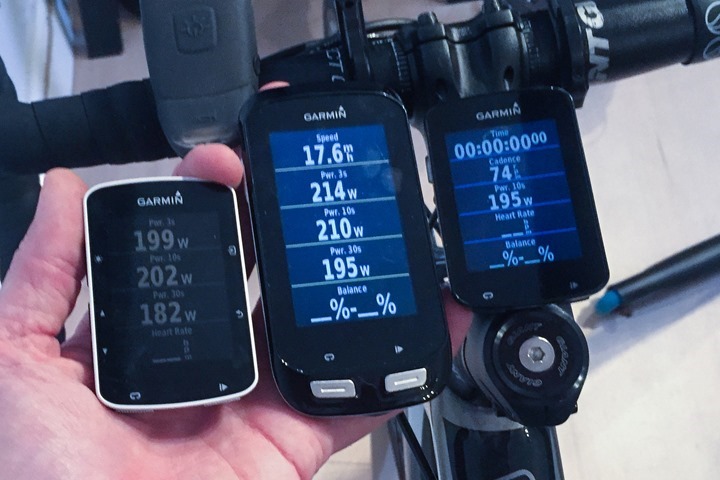 (Note: Why am I using an Edge 520, Edge 1000, and Edge 820?  Well, simply because those were the three closest units to me that all had charge on them.  Typically speaking I use the Edge 820 as I hope to eventually put out on a review on that.  However, I often just grab what's charged.)
Oh – and as for that last hold-out – the Tacx Flux?  I talked with Tacx on Friday evening and they confirmed an initial production unit will ship out to me on Monday.  That should be waiting for me when I return back to Paris on Wednesday evening.  So plenty of trainer accuracy fun for Thanksgiving is planned!
2) A loop of a ride
Technically we rode along the river, though somehow I have no pics of said ride.  By we, I mean with Julio.  Just an easy wander along the river on a mostly nice day.
I had brought along the Nikon Key Mission 360 camera, just for the heck of it.  I'm not honestly sure I'll use any of the footage from it, but, at least I have it for the review.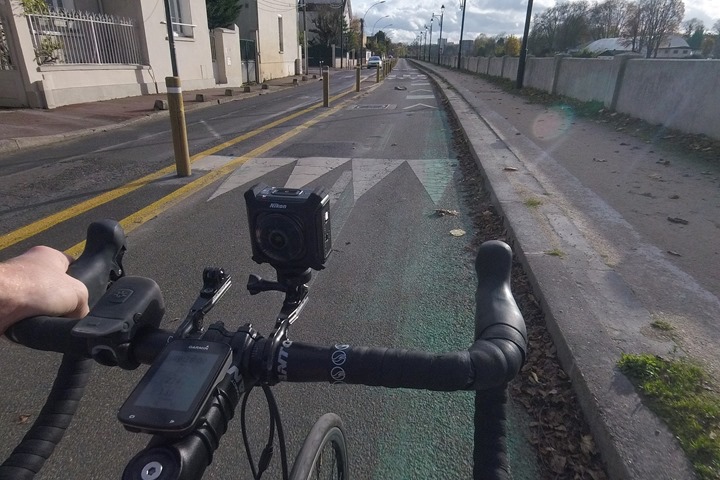 I'll likely use footage from my upcoming trip on Monday-Wednesday, since that footage will no doubt be prettier and more interesting.
Oh, and last but not least I broke out the Apple Watch Series 2 Nike+ Edition watch for the ride.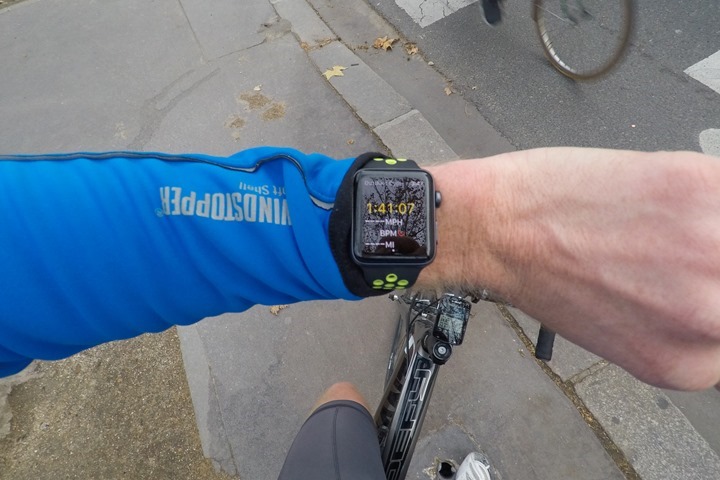 Though, for some reason it only recorded a third of a mile in distance.  It's like it didn't utilize the GPS for the 'Outdoor Cycle' part of cycling.  Kinda odd, so I'll do some more research there and see what I screwed up.  That said, the software platform on the Nike variant is definitely very focused for running (which is great), but I think companies like Garmin, Polar, and others can certainly learn a bit from what Nike/Apple has done here in terms of encouraging people (via prompts) to get out and run each day (vs just standing up).  Interesting stuff.
3) Saturday Night Date Night
And by 'date night', I mean, not for the guys.  Within a small group of friends, all of the ladies (all new moms) went out for a Saturday night on the town.  Leaving all the guys at home with their respective little ones.  This would actually be the very first night away for The Girl from the little one, coming up on five months!
In order to celebrate our respective women being out on the town, Julio and I made burgers on the grill.  And I went and picked up bacon at the butcher shop.  I learned for the first time that my local butcher actually has a Facebook page (and meat wrapping paper to remind you of it).  That said, I'm entirely unclear why the photos of the spot on their Facebook page don't match the actual place, yet the address does.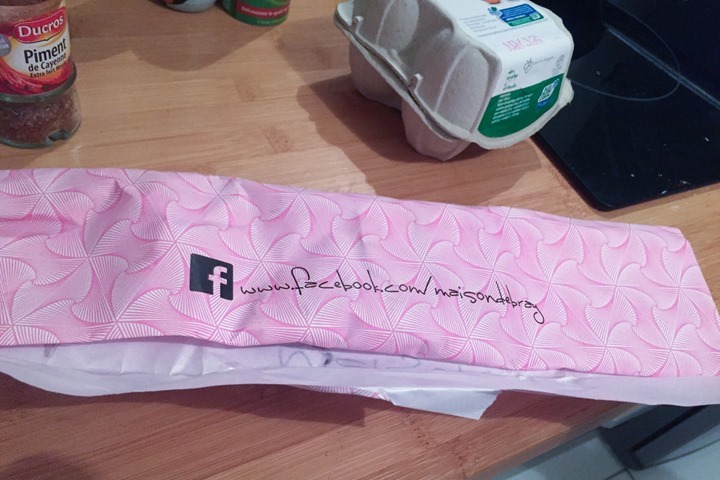 Either way, I don't care.  The bacon is beautiful.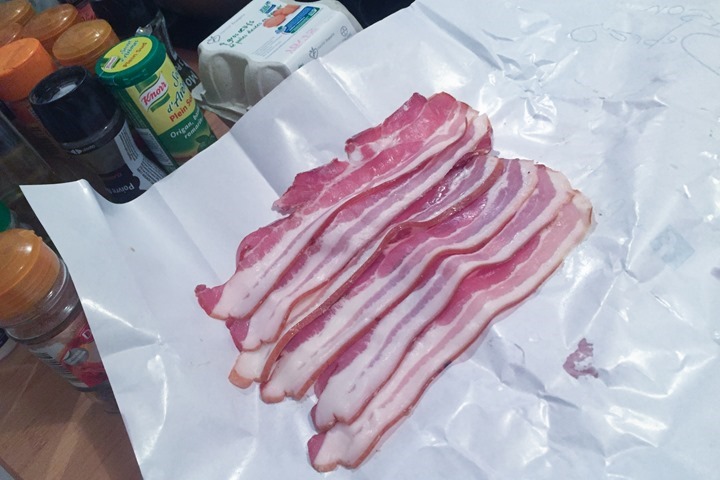 With Julio tending to burgers on the grill, I focused on the bacon.  I simply did that in a skillet, and then I used the extra bacon grease to fry up some eggs to place atop (and grill up some onions and peppers).  The best burgers have eggs atop.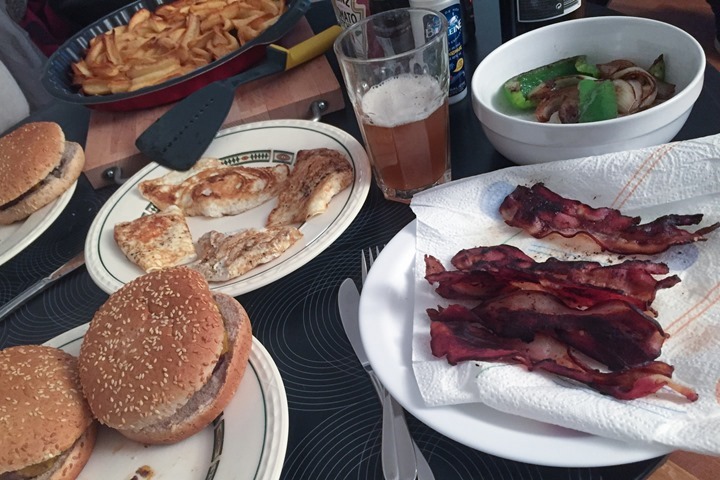 And with that, our babysitting party was complete.
4) Not singing in the rain
Sunday afternoon The Girl, The Peanut, The Dog, and I all headed out for a walk across town.  Just a stroll really.  We made it about 100 yards before it decided to crap from the sky.  Apparently we should have woken up earlier.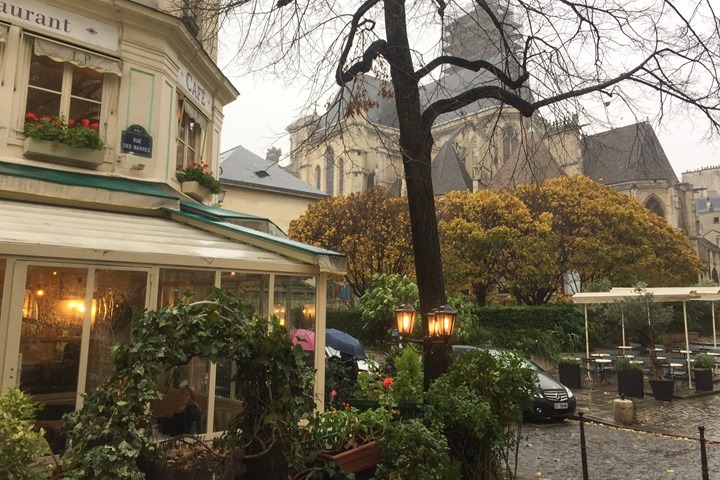 We stopped at a few cafes along the way, and made our way along the river where the road has been closed since this summer as it converts into a pedestrian playground.  They just finished installing new Velib stations, though they aren't turned on yet: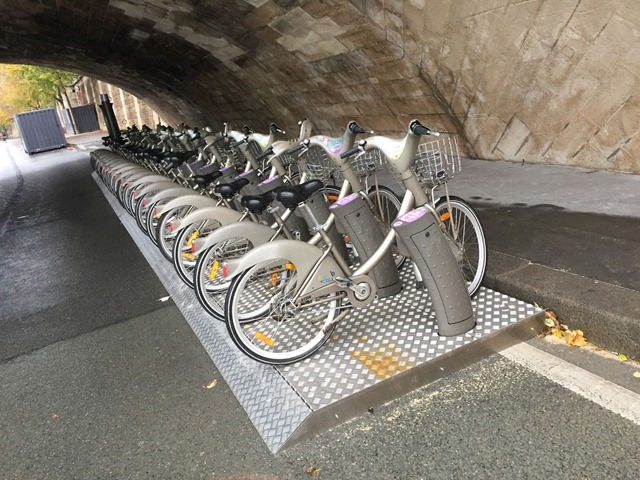 And even better, there's a bike pump station nearby for anyone to use, put out by a cycling association within the city.  This is the first one I've seen around Paris!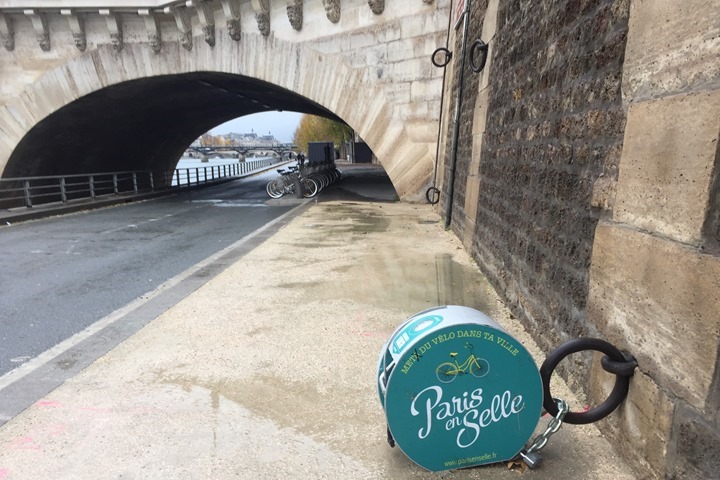 The leaves are still turning colors here, mostly deep yellows now for what trees are left: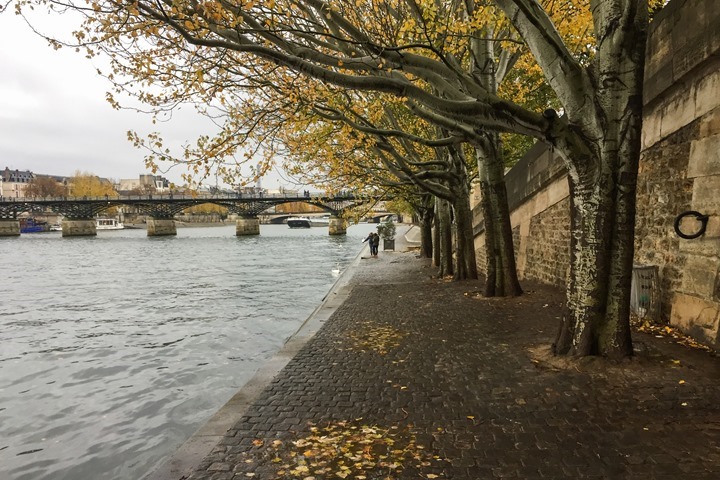 Oh, and the rain continued.  Here's Opera, still raining.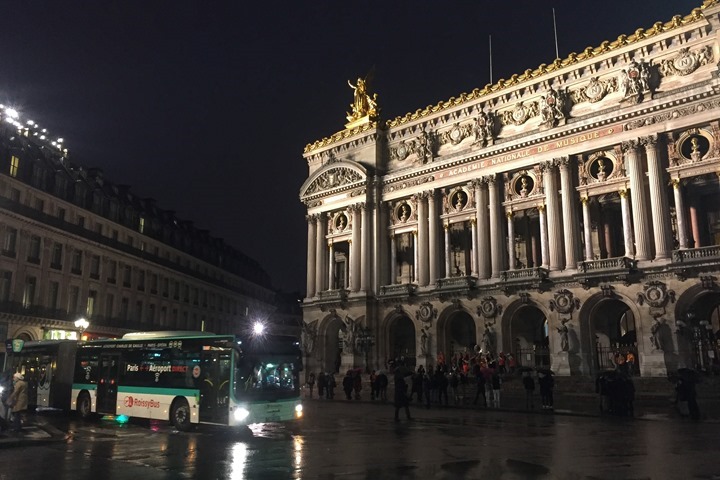 After contemplating a venture into the Apple Store nearby, we diverted to pickup an Autolib and head home, since that seemed like a less pricey acquisition than a new MacBook Pro.  Though, without normal USB ports or an SD card slot, I'm not a buyer.
5) Packed up a crapton of gear
By the time you read this post I'll be boarding one of two flights for the day.  The first to Zurich, and the second south four hours to a warmer locale.  Here's most of the gear I'm taking with me.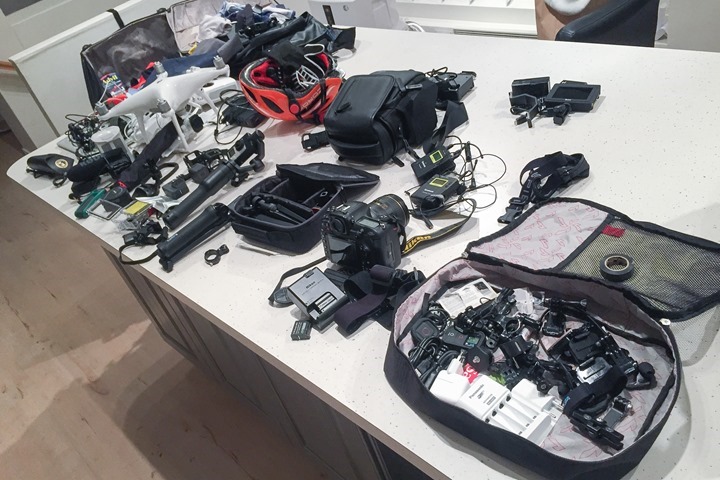 And when I'm talking gear, it's just the sports tech electronics.  That's not including my laptops (one PC, one Mac), spare hard drives, or extra batteries for laptops.  Nor does it include all my clothing.
Oh, and it's just a 48 hour trip!  Just me, my giant suitcase, and a bunch of gear.  Two bikes await my arrival however, and I'll be packing in tons of product review shots during that time period.  So stay tuned to Twitter for some sneak peeks!
—
With that – have a great week ahead!