Woah – a crazy busy weekend down in Switzerland roaming around.  But also a ton of fun.  Here's what I've been up to!
1) Got a bunch of replacement gear
As some of you know, during my sailing trip to Croatia last month an entire suitcase of mine was lost by the airline on the way home.  Said suitcase had a fair bit of gear in it – somewhere in the $5,000-$6,000 range.  Mostly action cams and mounts, but also stuff like portable jambox speakers, running shoes, clothes, etc… Some 30 days later and the airline has no record of it anywhere on this planet after I checked it in.  Here's roughly what was in it prior to departure: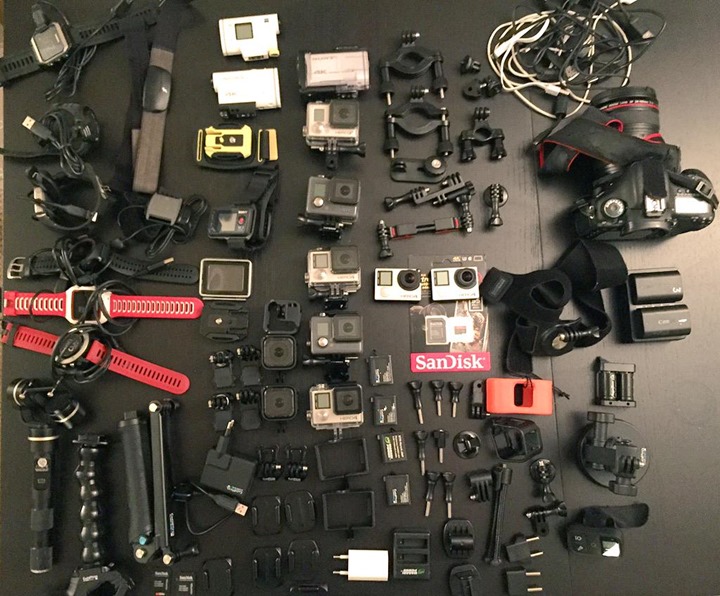 Some of that stuff ended up in my carry-on bags by pure luck (Garmin VIRB XE, Hero4 Session, Sony Action Cams, Epix, DSLR), and there were other things not in that pic (speaker, clothes, shoes, etc…).  Luckily my Chase Sapphire Preferred credit card covers a fair chunk of it, and the airline the rest – so there's no financial loss per se, but there's plenty of clothes and other things I won't get back.  In case you're wondering why I didn't carry it on, it's because I already had two carry-on bags with the DJI Phantom 3 Drone as one, and another laptop bag (stuffed to the max with gadgets).  On the bright side, I had downloaded all of the photos/videos/etc before the flight. Phew!
In any case – the first lot of stuff came in Friday evening, about half of the lost goods: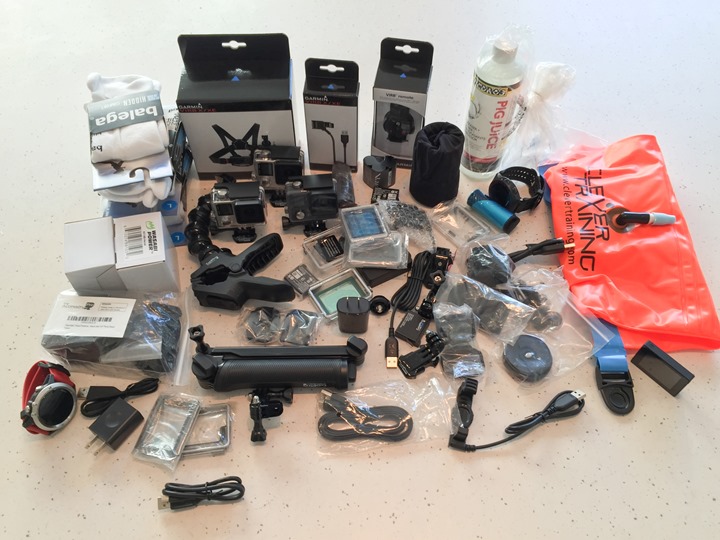 Oh, and there's a few new oddities in there for review.  Was all shipped in the same shipment from my mail forwarding service.  As one reader noted via Twitter – I've been spending about half my weekend changing all the default settings. Lots of fun (not…).
2) Took a train down to Switzerland…
…and picked up an RV!
At the ass-crack of dawn I found myself riding my road bike the 2KM to Paris Gare du Lyon train station and dragging a massive suitcase behind me.  I got tons of funny looks, despite being 6:30AM.  I would have snapped a photo, but between the suitcase, my backpack, and the drone backpack (and riding the bike), I was sorta out of hands to take a photo.
From there I loaded up onto the train for the four-hour ride to Zurich.  It's here that I'd be picking up my rental RV that I'll keep for about 10 days.  The first portion I've been spending roaming around Switzerland just enjoying riding and the scenery.  Then I'll arrive Monday afternoon to Eurobike in Germany, where I'll stay till Friday.  After which The Girl (and Lucy!) joins me for a long weekend somewhere else in the Alps hiking and enjoying the outdoors.

At Eurobike they have RV parking directly behind the convention center – so this is far more convenient than finding lodging an hour away each day (the usual) from the convention center.  Realistically you lose about 90 minutes with the bus transfers each direction, so that's about 3 hours each day I'd lose.  Three hours I desperately needed back for posting!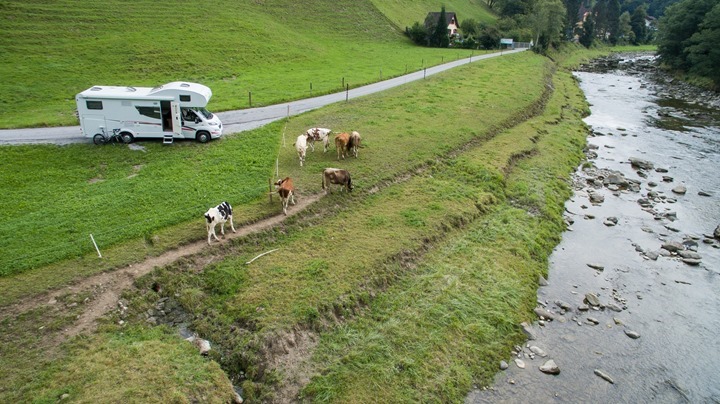 Plus, it's at least break-even compared to a hotel, if not actually cheaper.  Oh, and it's awesome.  More on the RV later this week!
3) Did loops around the airport and saw camels
I made it approximately 3 miles from the RV rental place before I got distracted and had to get off the highway.  It was the sight of gazillions of cyclists, runners, and everything else enjoying the totally awesome park and bike paths that surround Zurich International Airport.  So obviously, I decided it was time for a bike ride – stat!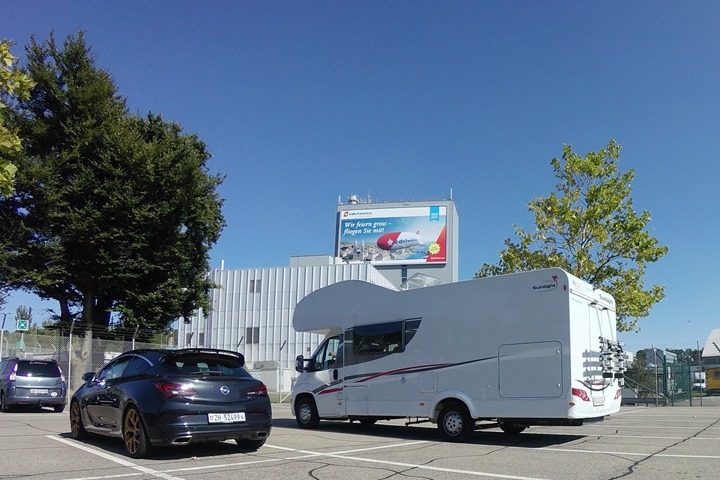 The place was uninterrupted cycling heaven – especially if you were doing anything in aero position from a training standpoint, as there's almost no traffic to worry about, and the paths/roads are plenty wide.  Plus, it's just gradual ups and downs.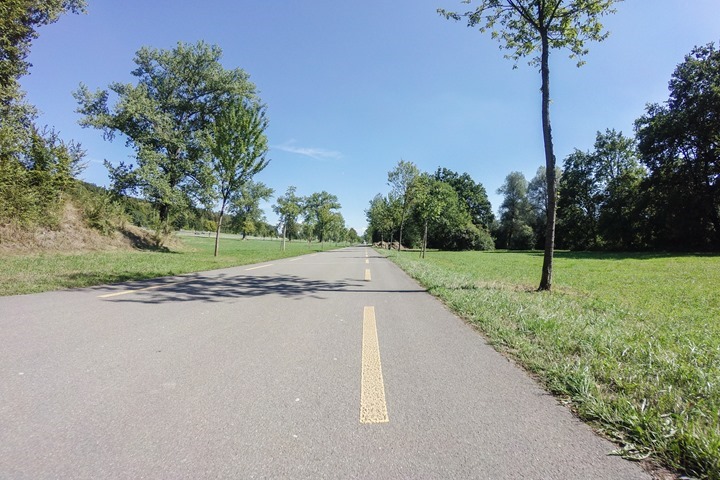 Oh – and you get to watch airplanes take-off and land all day long!  For example, this Emirates Airbus A380 that took off just as I rounded a corner.  The airport is packed with folks that come out to watch planes and enjoy hanging out.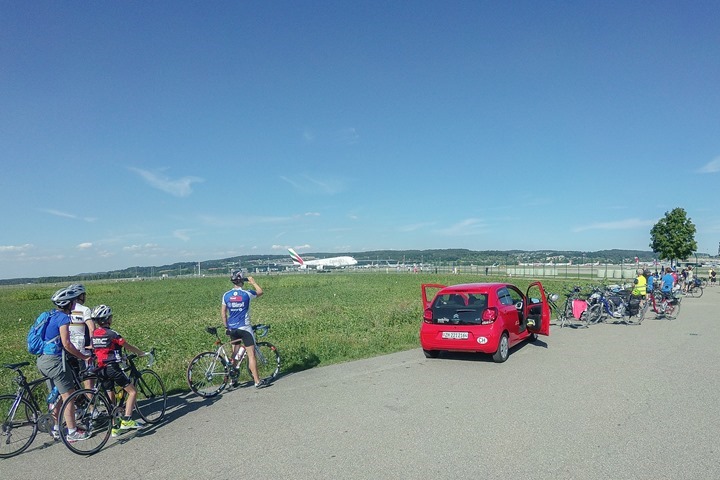 Or, this Swiss Airbus that landed just behind me over my head: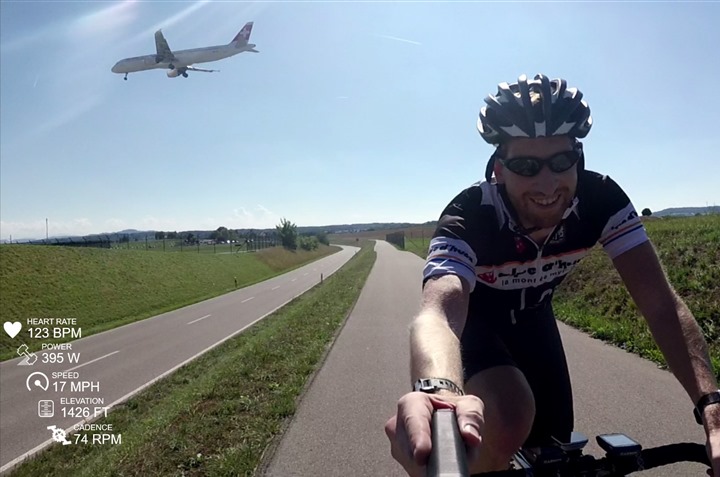 And then there was a camel.  Yes, seriously, a camel: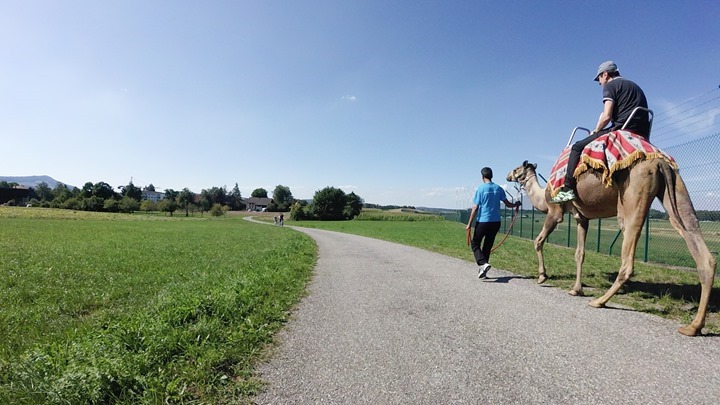 Actually, there were two camels…just on the bike path…because.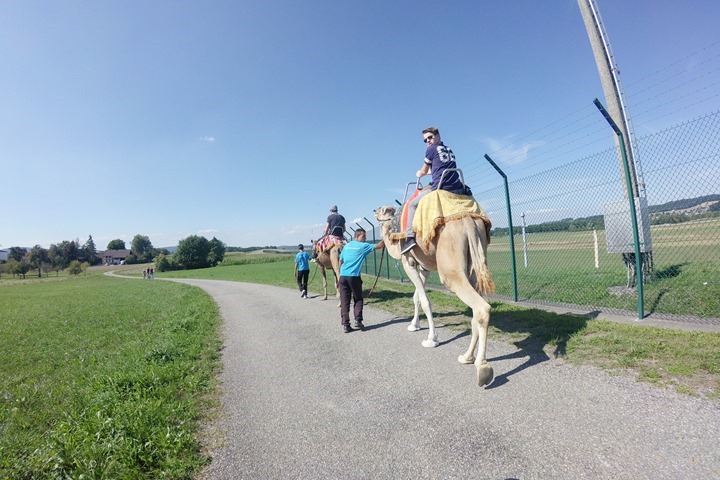 I also saw a sign warning you of tanks, but somehow my picture didn't come out there.  I'd see it again while driving.  Perhaps they should instead invest in camel signs.
Anyway, did two loops worth (touch over an hour, including a few minor navigational mistakes) before jumping back in the RV and heading onwards.
4) Rode up a mountain till the road ended
Sunday morning I awoke in the middle of a pasture.  In theory mostly corn, but there was definitely a strong overtone of cows (I'd find them a short bit later a few hundred meters away behind some more corn).  I had lots of ideas for routes that I plucked from Strava segments, but as it would turn out many of them were mountain biking.  So I just kinda made it up as I went along, using my phone to help with impromptu navigation (Yes, I know, four map-capable Garmin head units + Garmin Epix – all of which don't do jack-good when your laptop battery is kaput and only having a mobile phone and thus couldn't create routes).  Oh, the laptop battery is/was kaput because I couldn't call the RV rental company on a Saturday evening to find out why the circuit isn't working.  Works now.
In any case – I wandered…around a lake first: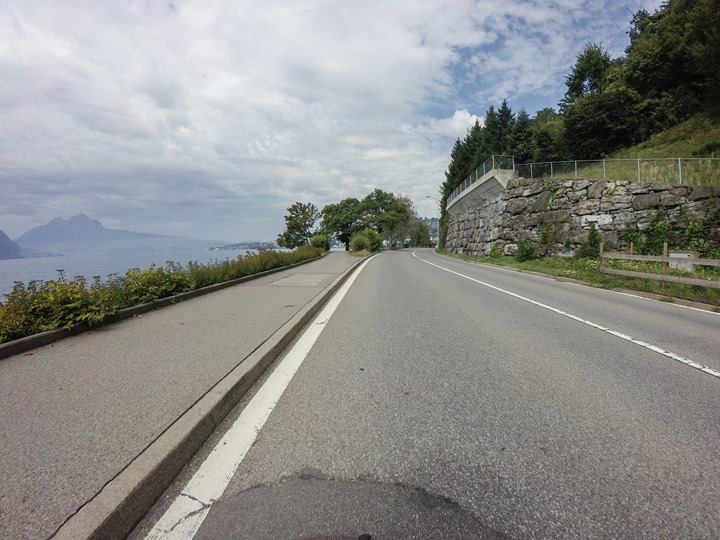 And then eventually up a mountain.  Almost the entire route was 10% grade or higher.  It was sorta steep, but nice in that less than 10 cars passed the entire time.  I passed a handful of hikers and mountain bikers too.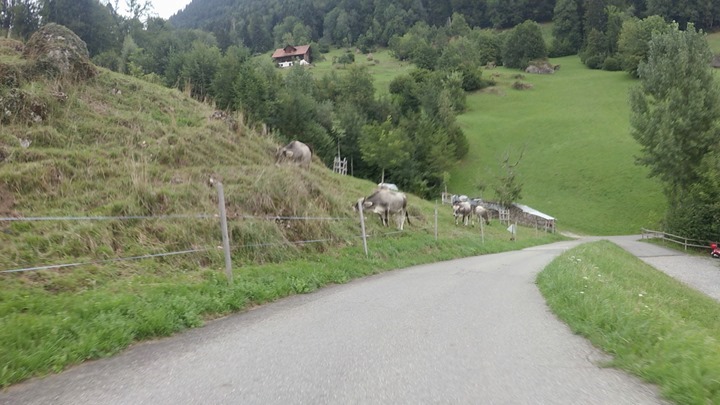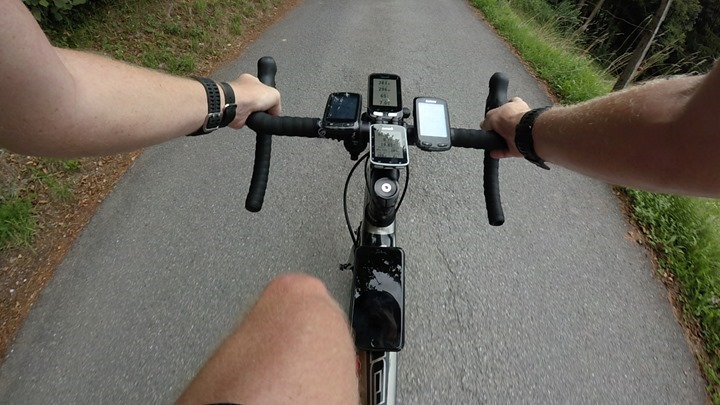 The mountain bikers probably should have been my clue that eventually the route would require such a two-wheeled tool.  After climbing about 3,000ft up, I finally hit this: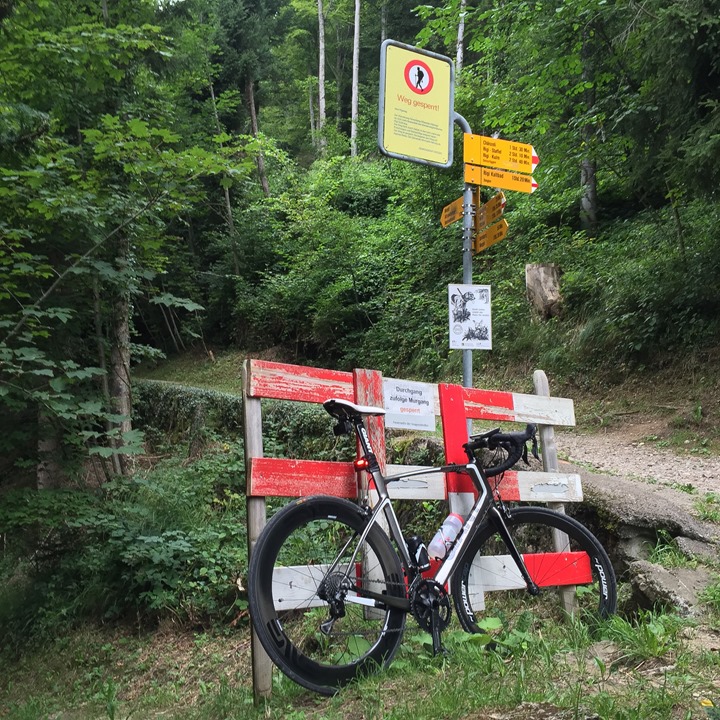 The end of the road.  Well, actually, the road ended about half a mile earlier, but I kept on going.  Then it ended for realz.
Still, not too shabby a day with a three hour ride in the Swiss Alps.  I'll take it!
5) Got in an openwater swim up in the mountains:
I left my cornfield behind and went off in search of something south.  Really anywhere would do.  In the end I settled on a little spot along a lake.  Seemed perfect!  This is actually the view out my front windshield.  I don't even need to leave the RV!  Well, because my windshield is currently covered in splattered bugs, I give you this one taken on the other side of the windshield.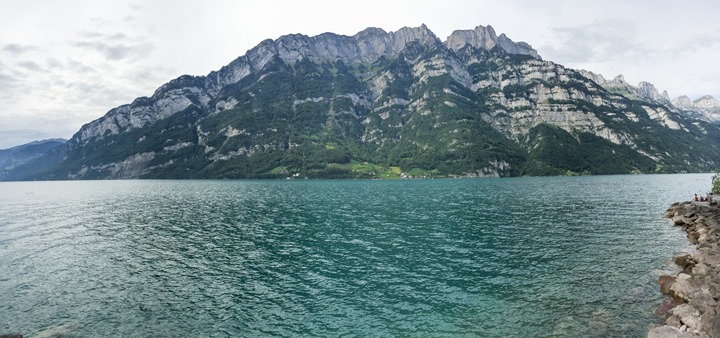 Of course, I did leave.  While I had no plans to swim today, the allure of the lake sucked me in.  I followed a small bike path that eventually merged with some railroad tracks, walking about 3/4ths of a mile away from camp.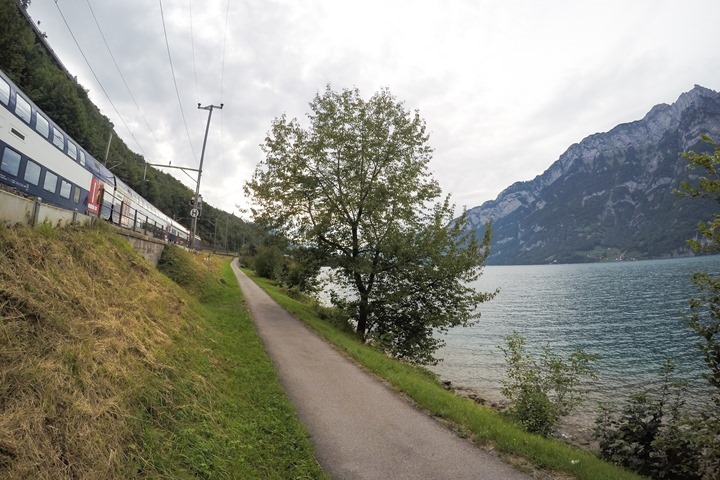 Then I packed up all my goods into my swim buoy and headed off.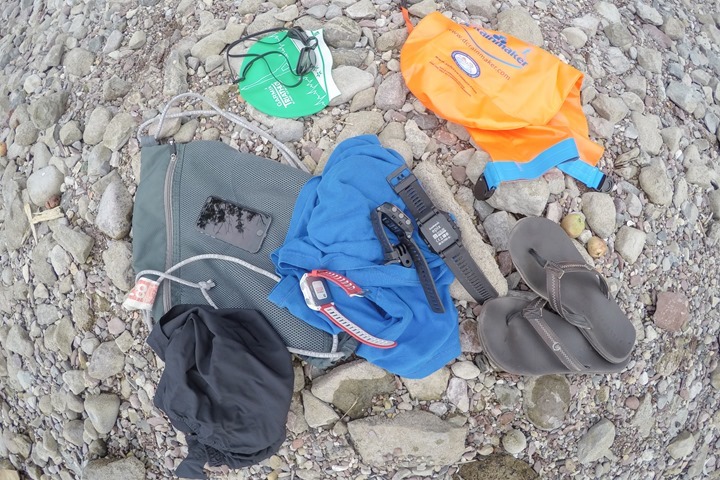 And while it wasn't exactly tropical, it wasn't super-cold either.  No wetsuit required: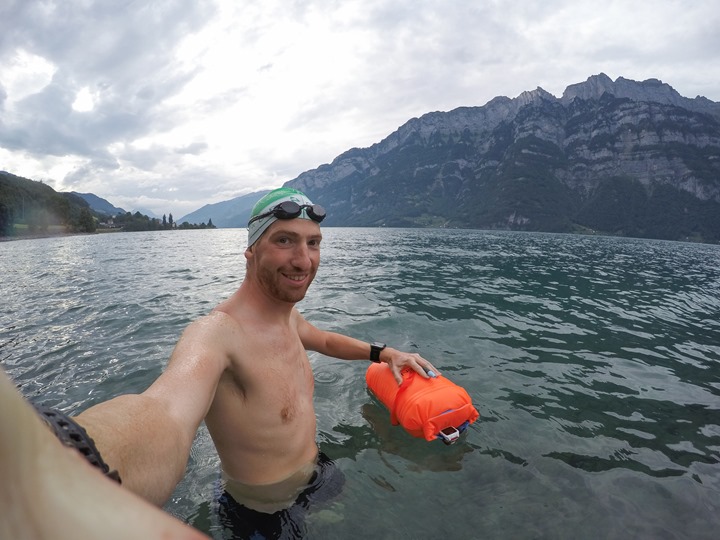 From here I simply swam the roughly 3/4ths of a mile back to the RV: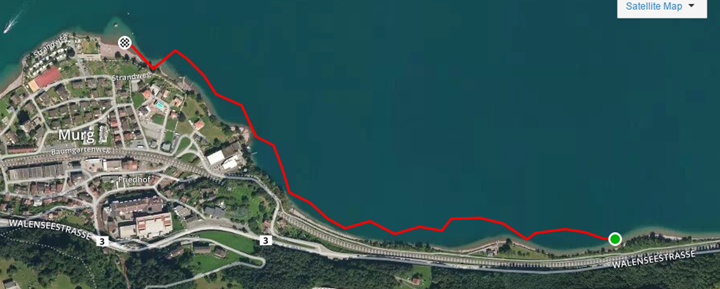 I had a bit of a headwind depending on where in the route I was, which drove some waves head-on – thus I assume that's why I was so slow (and if not, I'm sticking with that story).  Here I am at the end: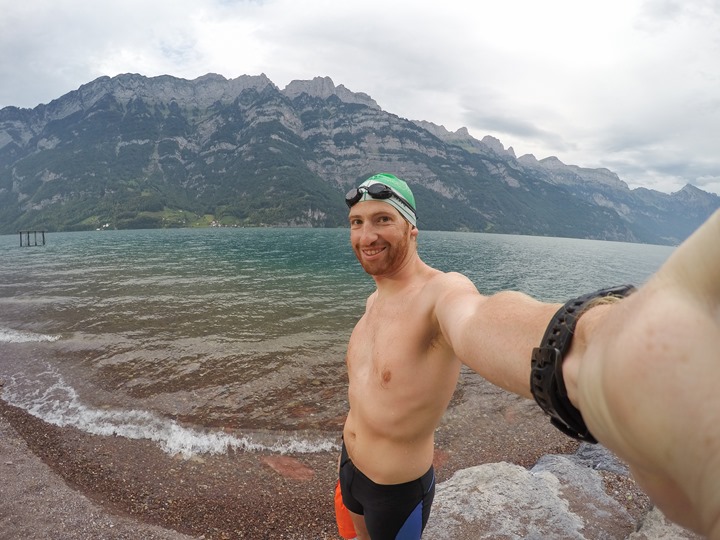 And with that – done for the evening!  Now to re-charge a few dozen devices and get ready for an absolutely jam-packed week at Eurobike.  I think almost every day I have at least two rides scheduled.  Yikes!
Thanks for reading!