While I've flown through Istanbul a number of times this year, this would actually be my first trip where I didn't make an onwards connecting flight.  Albeit true, I was only here about 30 hours.  Still, in between my meetings I had a brief (very brief) chance for a run.  I've been looking forward to visiting the city for some time, in particular the more historic areas containing the famous Blue Mosque, Hagia Sophia and some of the other incredible buildings in the area.
It turns out my hotel was almost on different continent…quite literally.  See Istanbul (to clarify, that's a city in Turkey – or written here as Türkiye) is actually split into two sides, the Europe side and the Asia side.  You can see it on the map below: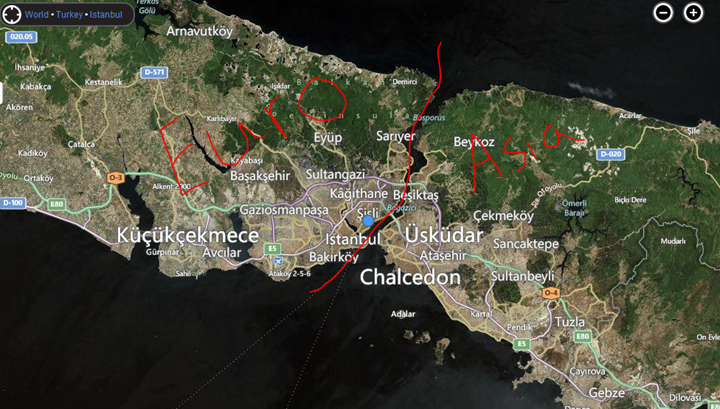 And just for a general refresher, here's where Istanbul is in the grand scheme of things: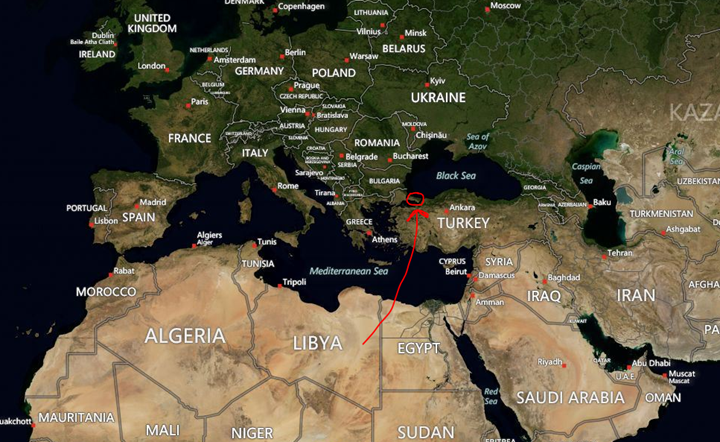 Ok, with that out of the way…it's time to get to my run.
I only had about two hours to work with, and with my hotel on the wrong side of things, it took about 40 minutes to reach the historic area.  Which in turn meant it took 40 minutes to get back, and thus leaving 40 minutes for my run.  Thankfully, my scheduled run for this day was just an easy 40 minute run.
I had done a bit of research ahead of time, but my searches in Garmin Connect (where I usually look for runs) were coming up rather empty.  Sometimes the search by map functionality there is useful, and sometimes it's useless.  This time…useless.
So I roughly sketched out a route that would take me around the peninsula.  I find that anytime I'm running in unknown places, there's often an abundance of running options along the water.  Most cities/towns tend to build some sort of walking path there, and that usually works well.  That would also work out if I wasn't able to run in the historic area (for any number of reasons).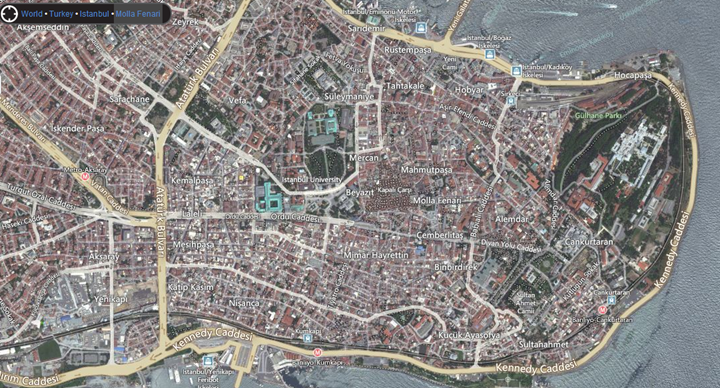 After a messy 40 minute drive through traffic and down one-way streets the wrong way, my taxi driver dropped me off at the entrance and I set out on my run.
Below, where I started from – just on the side of the Hagia Sophia.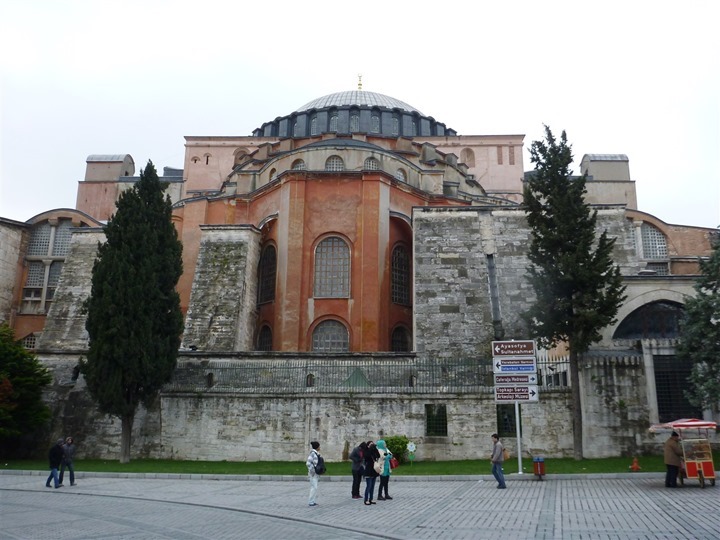 From there I made a bit of a wide loop around the grounds of the area.  The whole grounds are surrounded by incredible buildings like the above and below:
Of course, sprinkled in are many small stands – like this man selling chestnuts. Sorry for the blurry photo – no stopping mid-run and all.
As I mentioned, running around the grounds was actually pretty easy.  They've got a bike path marked on the ground all the way around it.  It's perhaps 3/4ths of a mile or so for a full loop.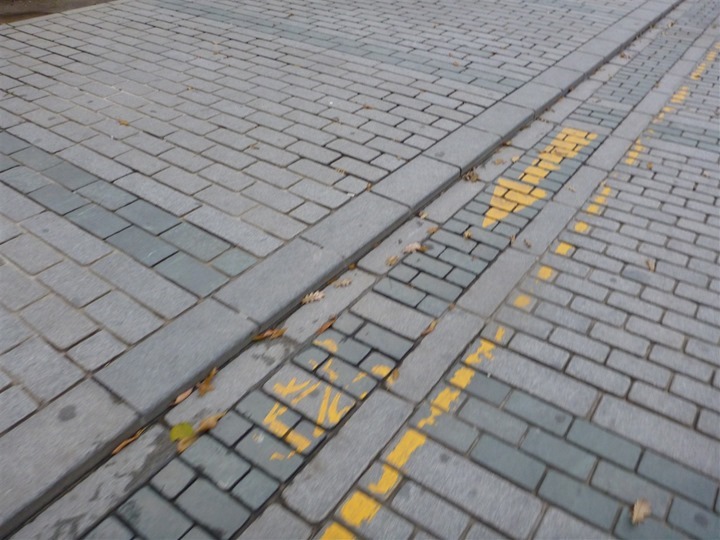 After doing my first loop I decided to leave the immediate area and explore some of the nearby streets: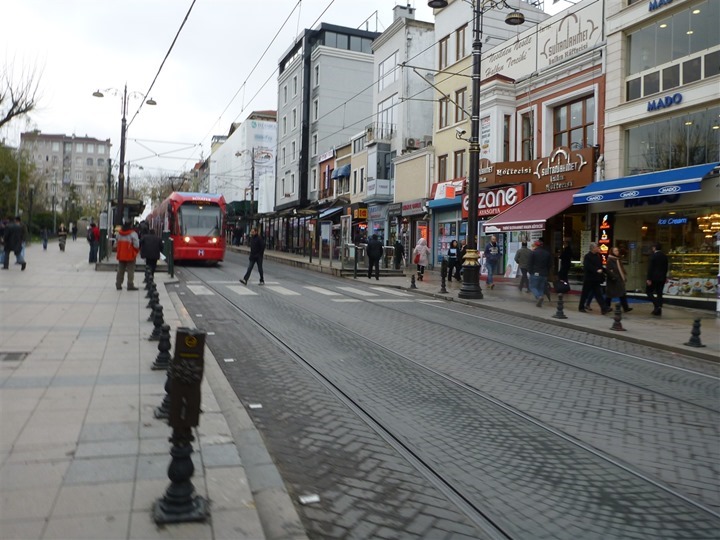 Pretty much everywhere you went in this portion of town there were massive impressive historical or religious buildings.  I can only imagine how they gleam in the sun on a nice summer day.  Today…hmm…a bit…rainy.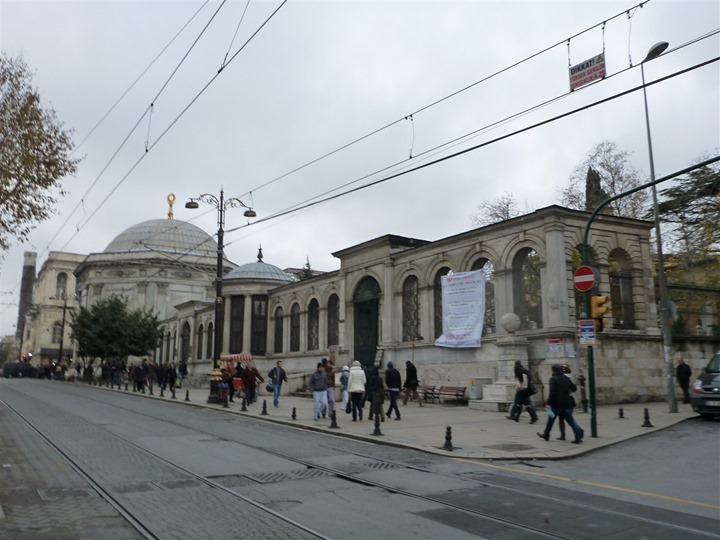 Eventually, my turn onto a smaller street meant that I was working my way towards the water.  Though in doing so I had to ensure I didn't get nailed by one of these fast moving streetcars.  They went both directions and took up just about every available inch on the roadway.  Thankfully the sidewalks were pretty empty this time of day with the colder weather.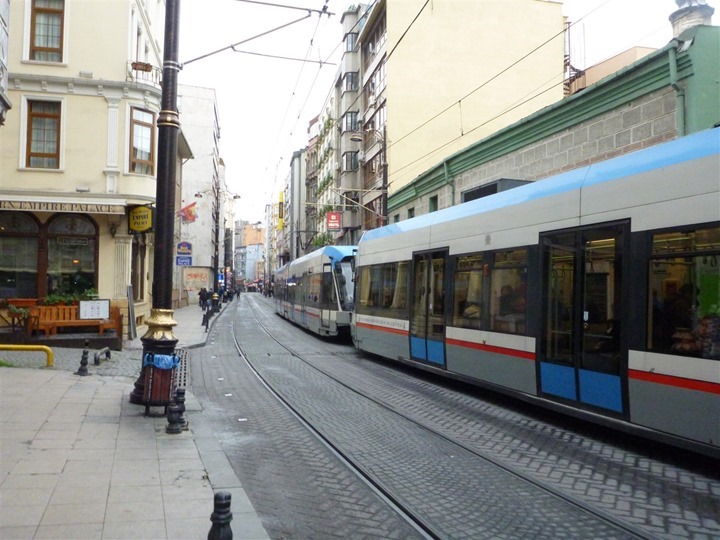 I soon found myself down near the water crossing on a pedestrian bridge over many lanes of traffic.  Ironically, this street isn't very Turkish in name – simply called Kennedy Avenue.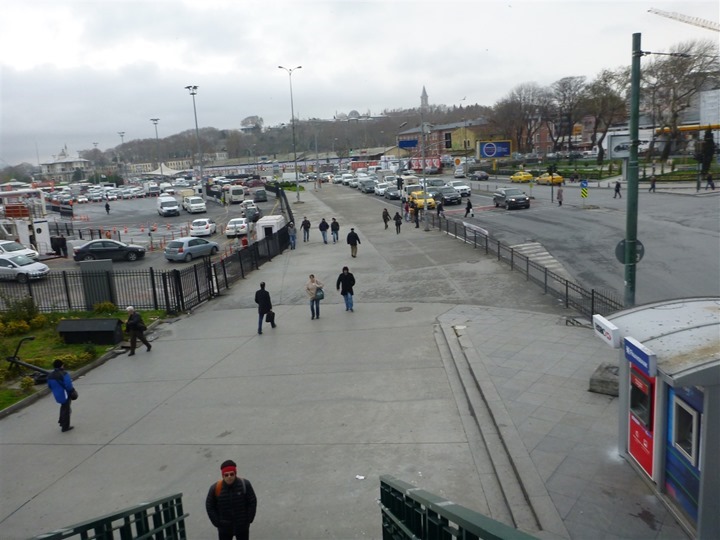 Woot, the water!  And a cat.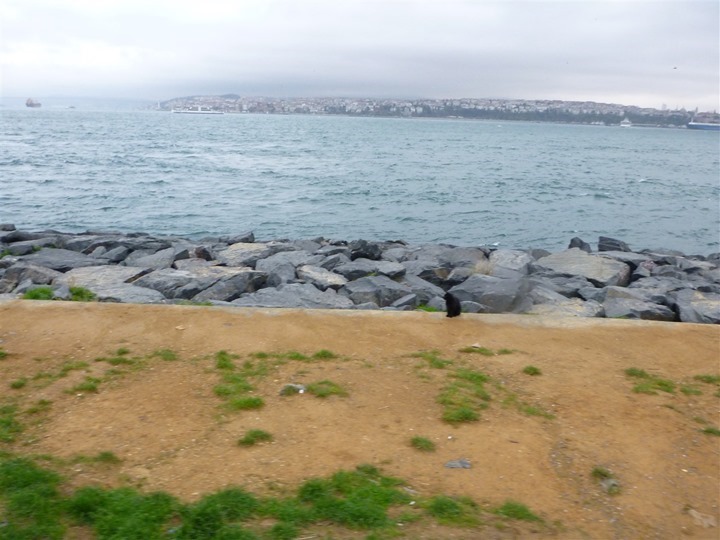 I mentioned above that in most cities I run in (that I'm not familiar with), I often look for routes along the water.  You can see below as to why.  In almost every case there's a walking or running path.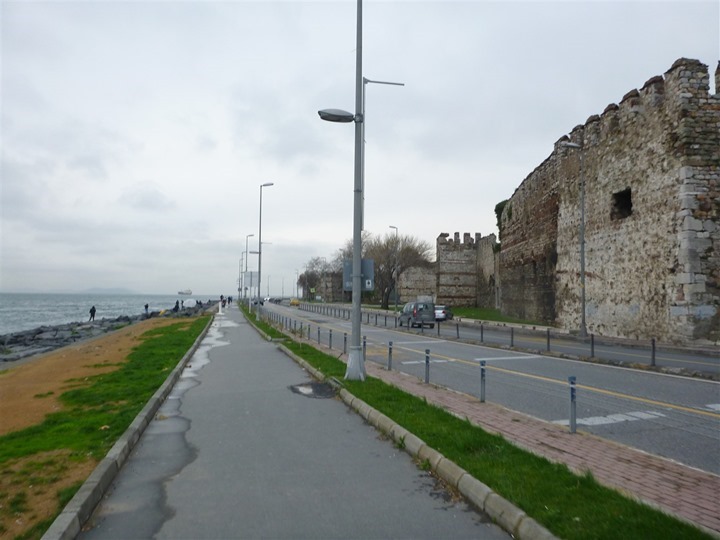 In addition to the path, there were plenty of guys fishing.  You can see a bit of an umbrella there.  There's actually a stone structure that he's made (a half-igloo of sorts).  You'll find countless numbers of these makeshift structures for fisherman along this route.
And of course, you'll also find folks selling non-fish goods as well.  Though given how few people were out there along this stretch, I can't imagine this man is selling too many items in this area on this day.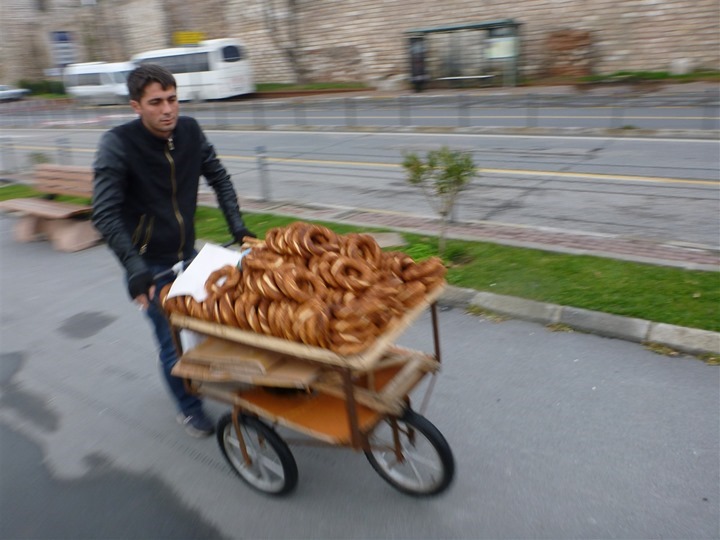 After a while the shore turned into a bit of a green park area.  Although largely empty, it's no doubt absolutely packed in summer.
At this point in the run I had actually ended up on the opposite side of the peninsula (now on the southern side), completing a bit of a circle around it.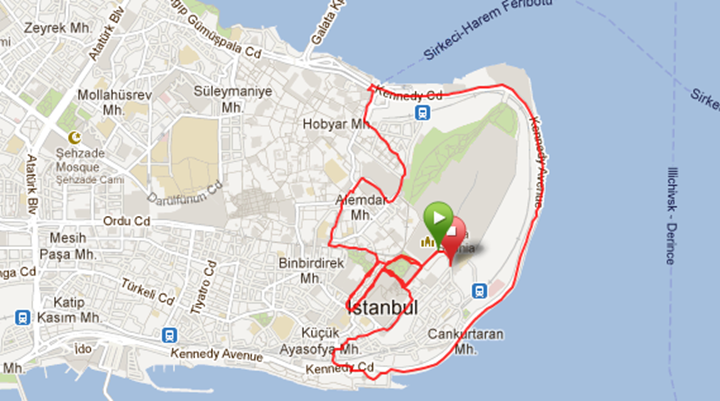 So, I decided to go ahead and make my way back inland towards the starting point.  Doing so though required a wee bit of a hill.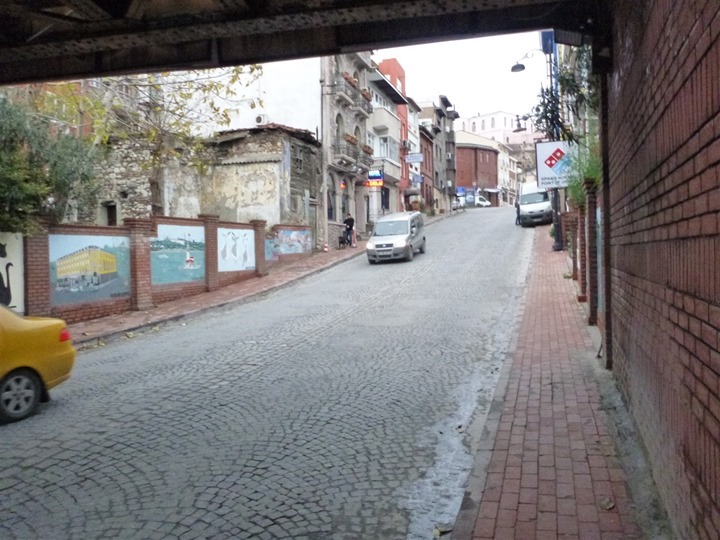 Soon my origination point came back in view.  As pilots would say – I was flying VFR (Visual Flight Rules).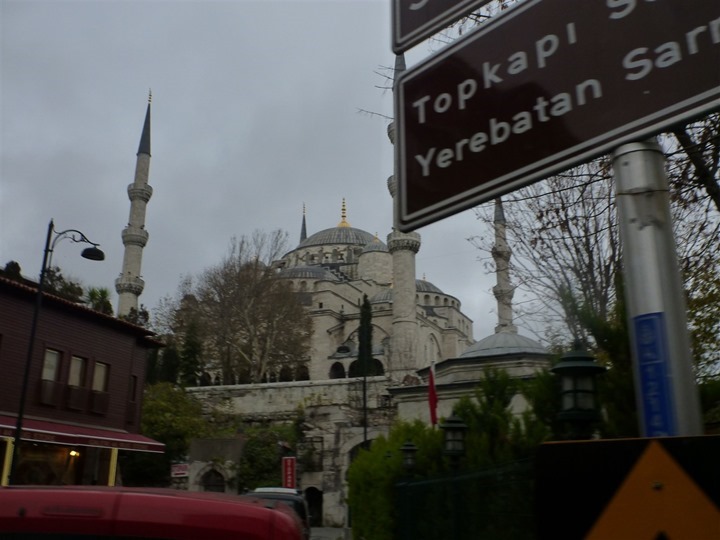 Along the way, I ran past a bit of a Bazaar.  Fairly quiet today though given the gloomy weather.
And finally, back into the main park area: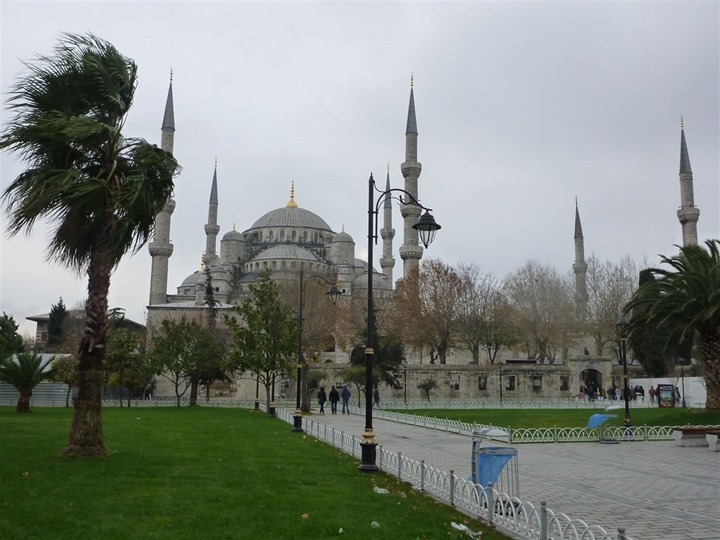 Where I'd find more chestnuts.  If I wasn't so tight on time I might I have tried some out.  4TL (Turkish Lyre) is equivalent to about $2.20US – so pretty cheap.  It's interesting, here many prices are offered in both Euros and Lira – and not just in tourist areas.  Officially the Lyre is still the currency within Turkey, but there's been a substantial push to try and move towards the Euro.  Many here see offering prices in both as a gateway to that.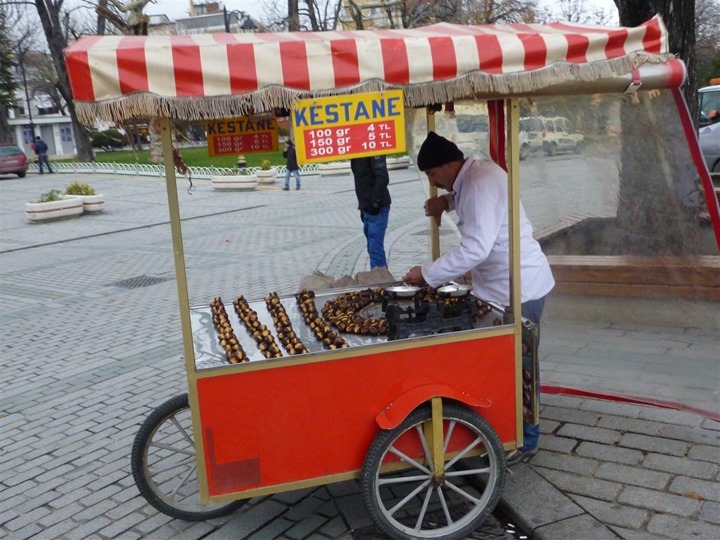 Me, following the little yellow path again.  Note that path up ahead ran headlong into another chestnut stand.
And by following the path I ended up right back where I started.  No GPS fanciness required here.  Just a yellow line on the ground….and a bit of luck.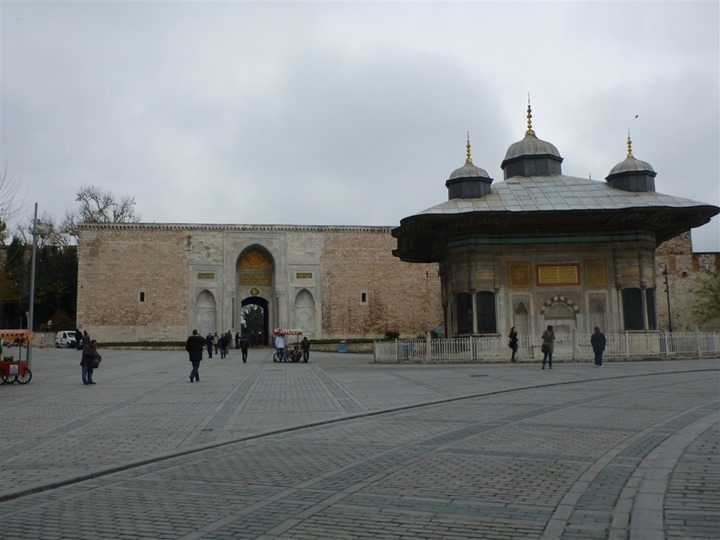 Within about 30 seconds of completing my run I was back in my waiting cab (it only cost $4 to have him wait) – scurrying back across the city before my next meeting…which I was mostly on time for.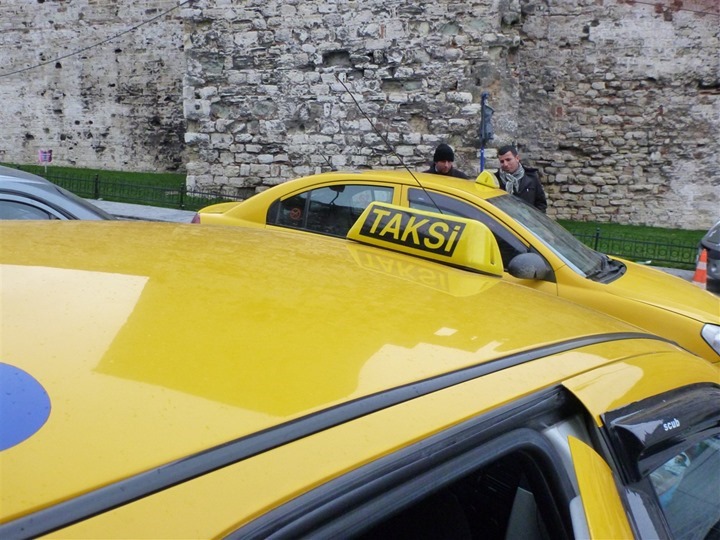 This trip was a bit too short to really take in any of Istanbul in a more proper fashion – which looks to be a gorgeous city.  I'm definitely putting it back on my list to come back – particularly in the late spring or summer with warmer, sunnier weather.
As always – thanks for reading!