I've been in Stockholm for work meetings since very late Sunday night (actually, technically, Monday morning).  My schedule had a 2hr 20min run on the docket, with the flexibility to place that either on Monday or Tuesday, depending on what else might be going on.
Given I was up rather late Sunday night getting the Stages Power review out the door, I elected to operate on slightly more sleep (though only slightly) and go with a Tuesday run instead.
Thankfully, our meetings ended a bit early on Tuesday, and I was able to start running before dark.  I had expected that I'd have to run fully in the dark, which meant that my routes I was looking at were mostly focused on being ones I figured were well lit.  Though, in general, I had no idea where exactly I'd go.  I just hoped to stay away on plowed paths as much as possible.
My run would start from the Stockholm Hilton, which overlooks a body of water and the city center beyond it.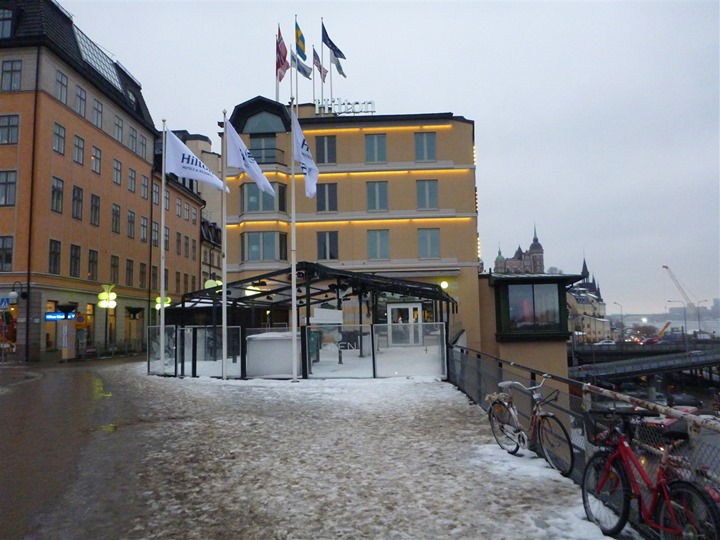 You can see the water below, along with an interesting approach to locking ones bike up.  It looks like the individual used the elevated approach as their lock was too big to fit through the chain-link fence.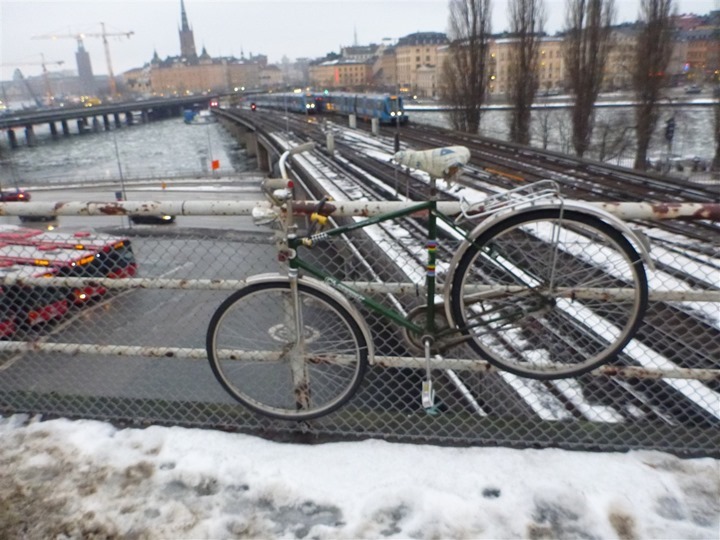 It didn't take long for a reminder of how cold it could get here.  Below you see some of the ice that filled up the area in front of the hotel.  Luckily for me, the weather actually wasn't that cold – right at about the freezing temperature (32*F/0*C), so it was more than fine for a long run.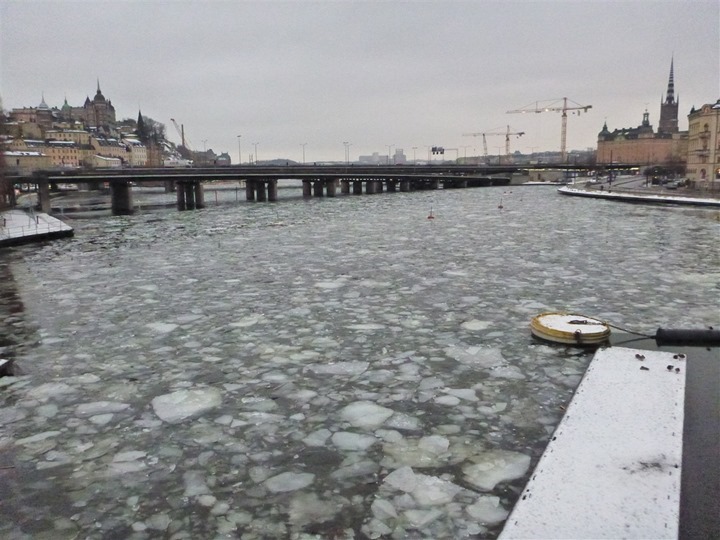 Here's more ice.  Somehow, photos of ice doesn't get old for me.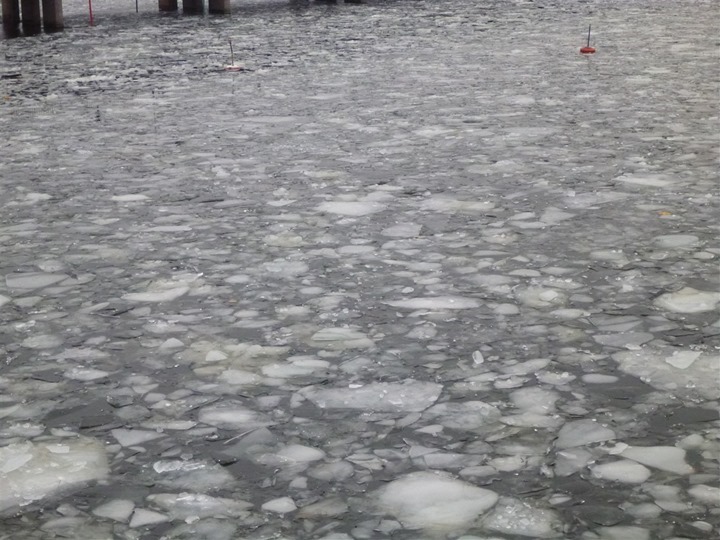 Once down along the city center island, I found myself a bike path.  Alongside most of it was a walkway.  Though sometimes the walkway wasn't terribly well paved, usually the bike lane was, despite having just snowed on my arrival Sunday night.  Luckily, the Swedes are really efficient at cleaning bike lanes of snow.  In fact, even by Monday morning they were largely cleared.  I was fairly impressed.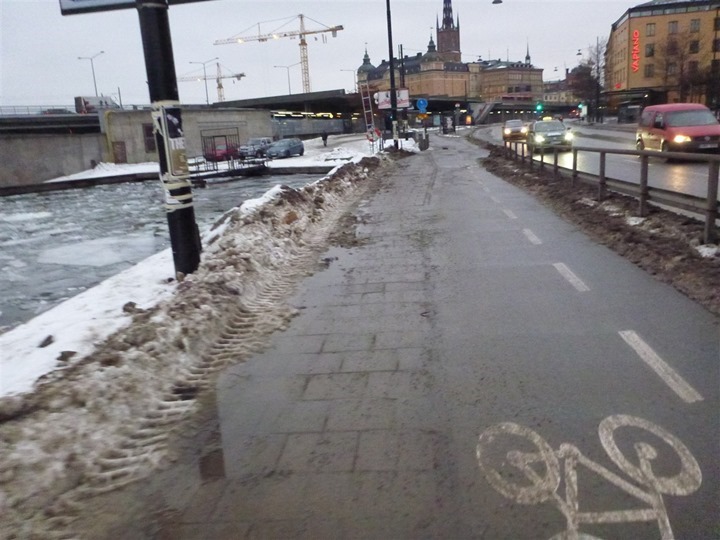 Just to put in perspective where I went, below is a little map (and Garmin Connect activity page).  I started in the lower right at the big red blob, and then I continued along the southern side of the city center, eventually crossing a bridge and heading out on that long out and back section.  I then came back into the city on the northern side, before burning a few more miles coming back along the south and into the middle and returning back to the hotel.  But let's not get too far ahead of ourselves.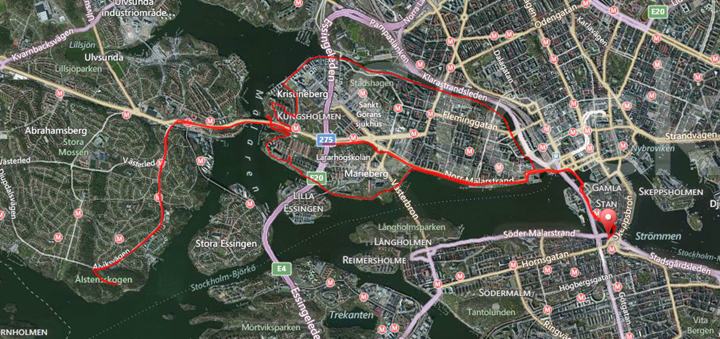 Stockholm is interesting in that it's sorta like Venice – water everywhere.  You're seemingly constantly crossing canals or bridges to get around.  In this photo, I was crossing one bridge (over water), while taking picture of another bridge.
It was also interesting to see the differing sizes and types of ice.  For example, down near the ferry boats the ice chunks were as big in length/width as small cars, but more glass-pane like – flat.  Rather than chunky and smaller I saw in other places.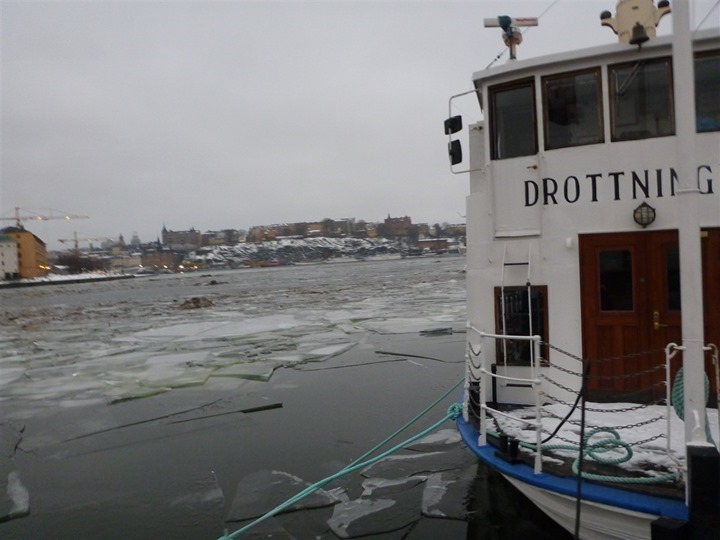 Around the entire city center area was a bike and running path that I alluded to.  In a few places, the running path meandered off on its own and I'd follow it for a bit.  Usually until I hit a dead end.
As you see below, there's a sign for parents/children.  This is notable because of how many parents I actually saw out there with children in tow.  Really astounding.  I often saw 3-4 moms pushing strollers at a time – in some cases in the middle of nowhere (relatively).  I think I probably saw more strollers and moms and cyclists…which is saying something since I saw a lot of cyclists.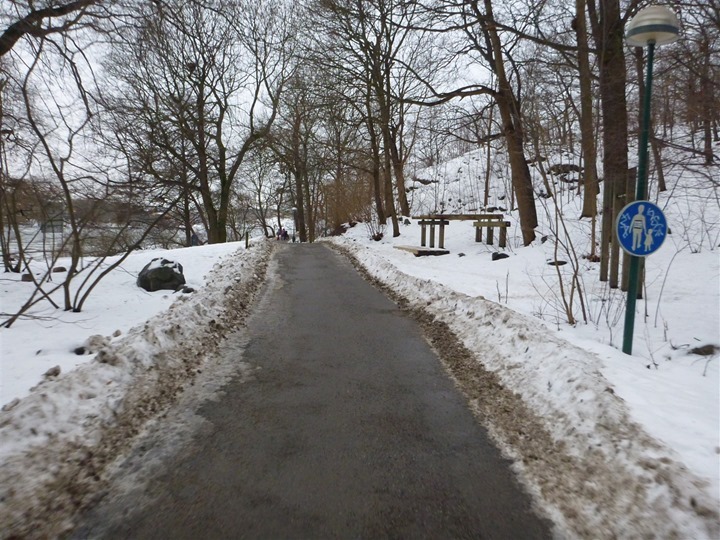 That trail above eventually dropped me down on this snow covered trail below.  It was pretty, but a bit tricky to run on.  I didn't have Yaktrax with me, so this half of a mile or so section was a slick and unstable, especially when it climbed back up a rather steep switchback section that had mostly iced over.  Not my finest pacing (or running) moment.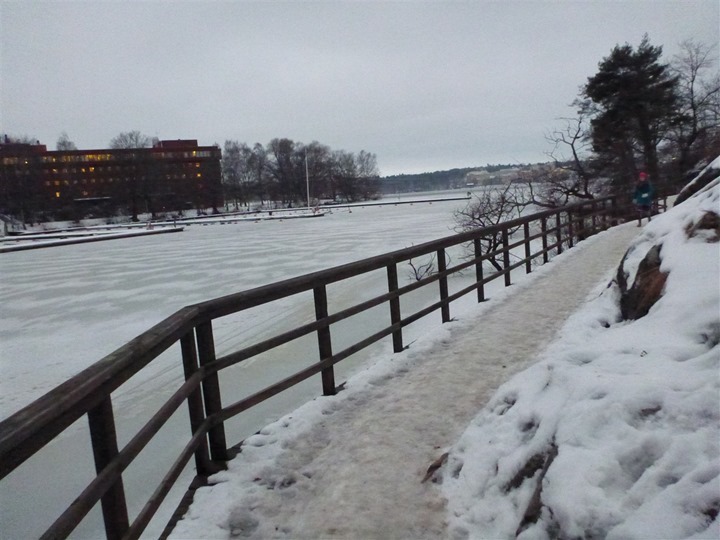 At that top of that switchback section though was a prize: A hot dog stand.  Seriously.  Just sorta hanging out in nowhere.  Pure awesomeness.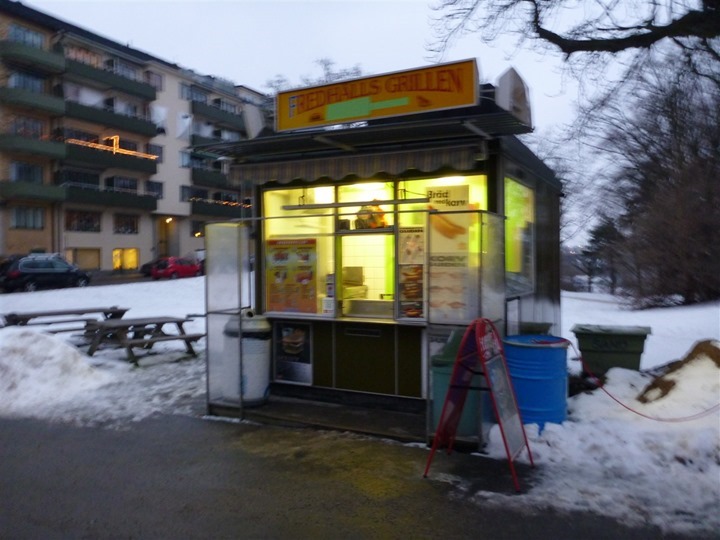 Now that I was up above the water a fair height, I continued along the sidewalk.  You can see it's getting a bit darker out, so my pictures get a bit fuzzier being hand-held and running.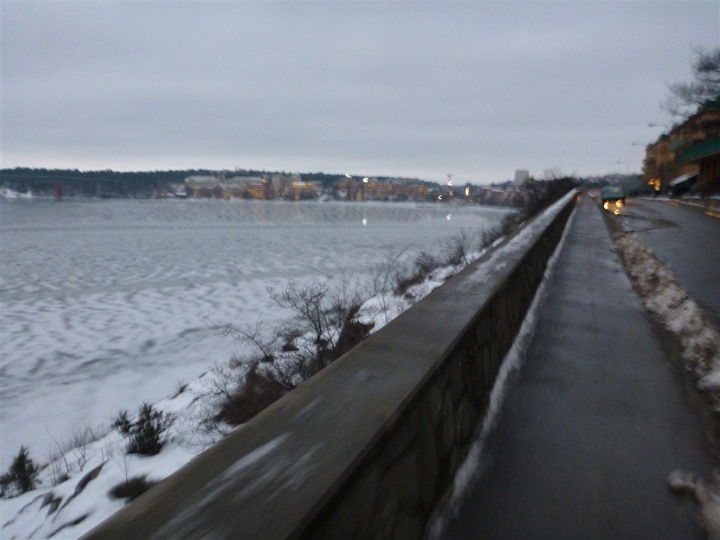 About 5-6 miles in, I crossed over a rather high bridge over the water below.  I had come from the left side of this picture, working my way along the waters edge where the path would allow.  I thought the ice flows were pretty cool.  What wasn't as cool however was how brutal the wind was up here.  I was literally running faster than most cyclists crossing the bridge due to the heavy winds.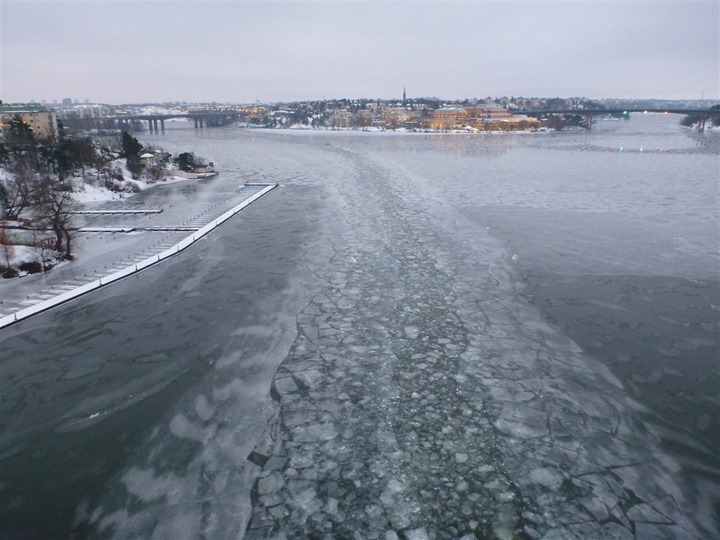 On the other side of the bridge and a mile later, a cow awaited.  My cow! (See here mid-way through post for backstory on 'My Cow').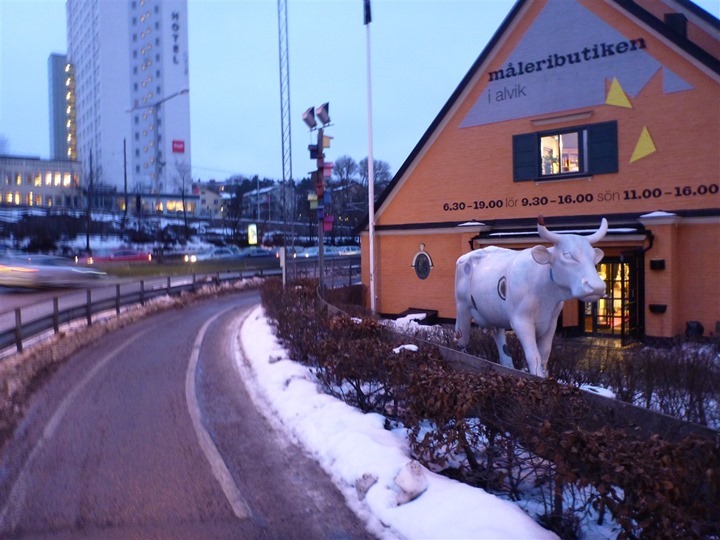 Once I got past the cow, things got quiet and tranquil fairly quick.  It was almost like being transported a hundred miles away.  Just cute colorful houses, a snowy path, and nice streetlights (and ladies with strollers).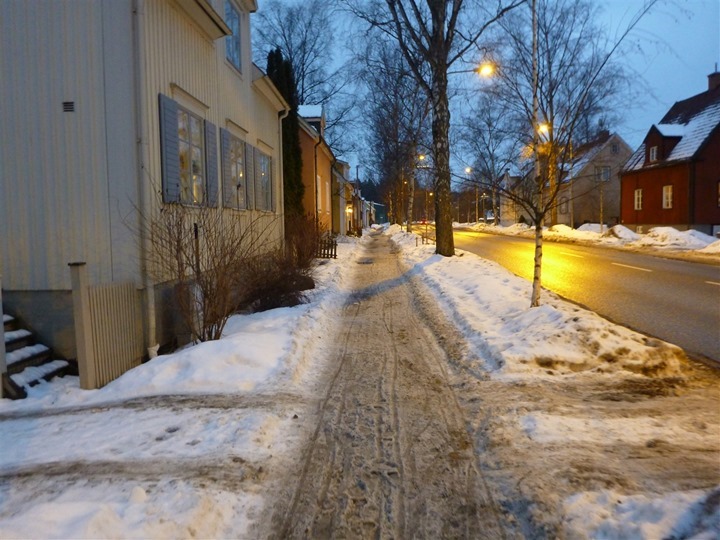 Then things got really quiet.  I wasn't really sure where I was going exactly, but I just kept on going for a bit longer hoping to add some more miles before turning around.  Ultimately though, not much further down this road to the left it came to a dead end at a park parking lot.  It was nice and quiet though in the trees with the snow everywhere.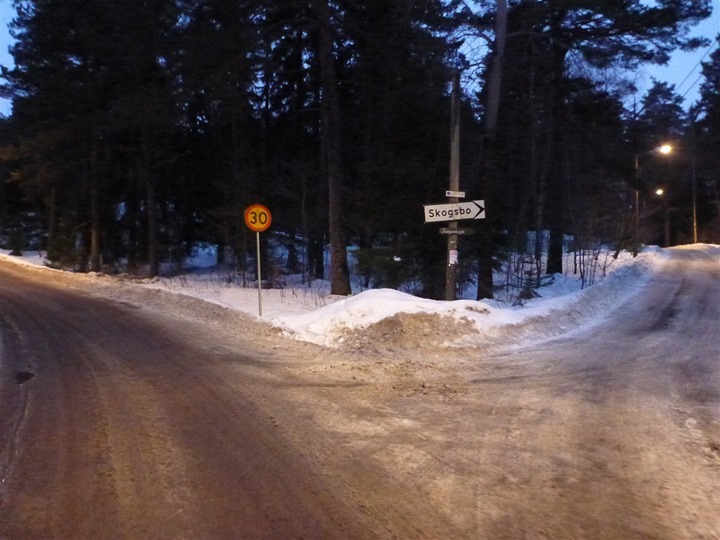 So I turned around and worked my way back across the big bridge.  This time, quickly sticking the camera on the railing to get a stable photo in the dark.  With practice, I can do this and stop less than 2-3 seconds.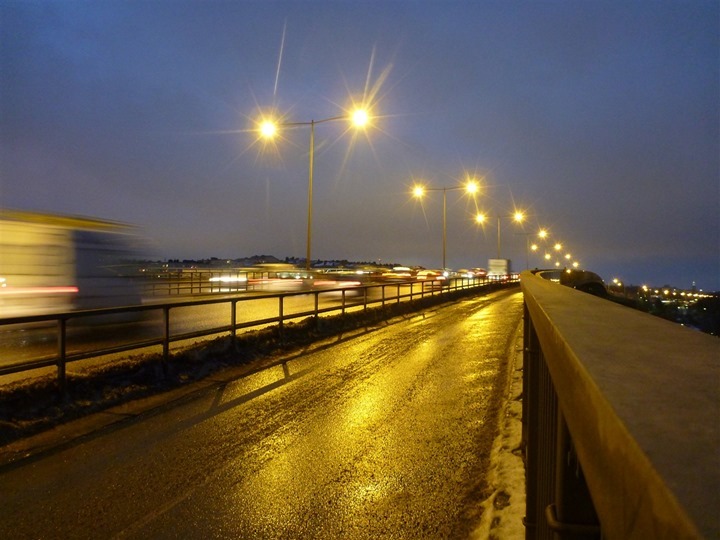 Once back in the city for a bit, I was nearing the 1hr 30m minute marker of my run.  This is when I would switch from being a heart rate driven run to a paced run.  For the first portion of the run I was holding a Z2 heart rate (roughly between 146 and 157BPM).  This had been in the range of 7:30/mile on flat ground.  But as I passed 1:30, I'd then go another 50 minutes at a 7:10/mile pace – ignoring heart rate.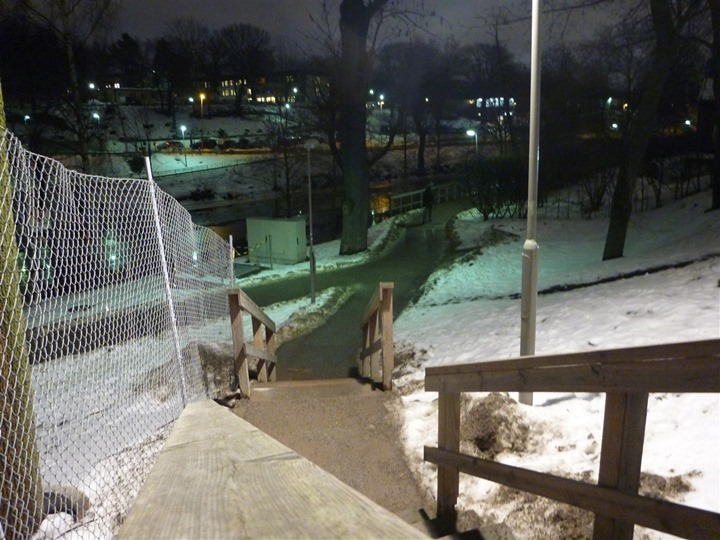 It worked out pretty well that as I hit the 1:30 marker I largely broke free of snow and ice on the road/trail and ended up on a nice flat paved section that you see below.  Perfect for cruising around.  And surprisingly, a fair number of runners out as well in this section (and strollers).
There was no more picture taking in the 50m section, because it was both dark (pictures become fuzzy), and because I was pretty focused on just getting the run done at the correct pace.
It's interesting to see the bump in heart rate and how it impacts things as I go from 7:30 to 7:10.  You'd think it'd be minimal, but at that stage in a run, your body has pretty much stabilized heart-rate wise, so it ends up being a fair jump.
Note in particular, the NGP.  NGP is the Normalized Graded Pace – which helps account (equalize) for hills and the like in your pace.  This is probably one of the most useful metrics on TrainingPeaks for me, as I can then better understand the impact of things like going over the top of that huge bridge.

So you see above, even though my average pace for the first section was 7:40/mile, my NGP was 7:26/mile.  In a relatively flat course like the Paris Marathon I can better understand what my reaction to a given pacing strategy might look like.  As you can see above, in that first section there was some 625 feet of climbing.
Speaking of climbing, at the end of 18.64 miles, the little bump from down near the water there up to where I took this picture upon finishing was surprisingly painful.  It didn't help I was slipping and sliding around on ice.  I think old ladies in walkers (and young ladies with strollers) were walking up faster than I.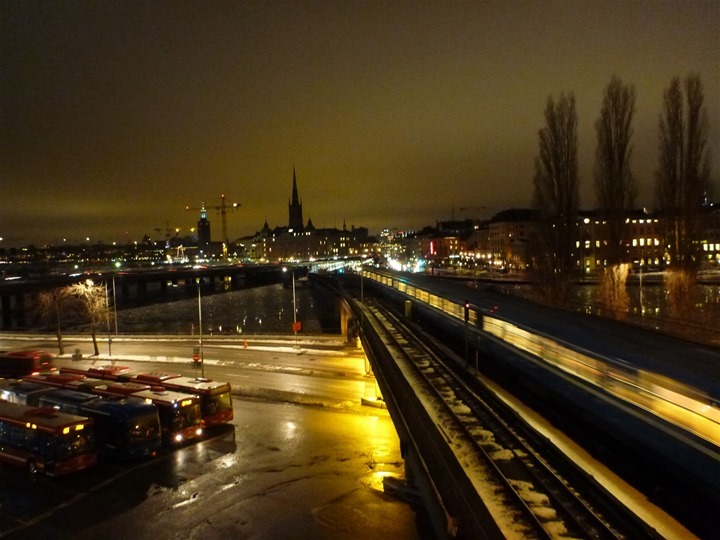 With that, another long run in the books.  Just over a month until the Paris half-marathon (called here the 'semi-marathon'), and then another month later the Paris Marathon (full thing, no semi).
Btw, almost every time I post a runaround, folks ask what camera I take on my run.  Below is my camera.  It's the Panasonic Lumix TS-3.  The TS-4 is the current version.  I use it because it's waterproof to a few meters deep (plenty for swimming), mostly drop-proof and I can take it with me from swim to bike to run.  It also has GPS in it and geotags the pictures, but I find that in general it takes a really long time for it to find satellite, so most time my pictures show me on whatever continent I was on last.  As you can see below, it's taken a few spills – but it still keeps on ticking.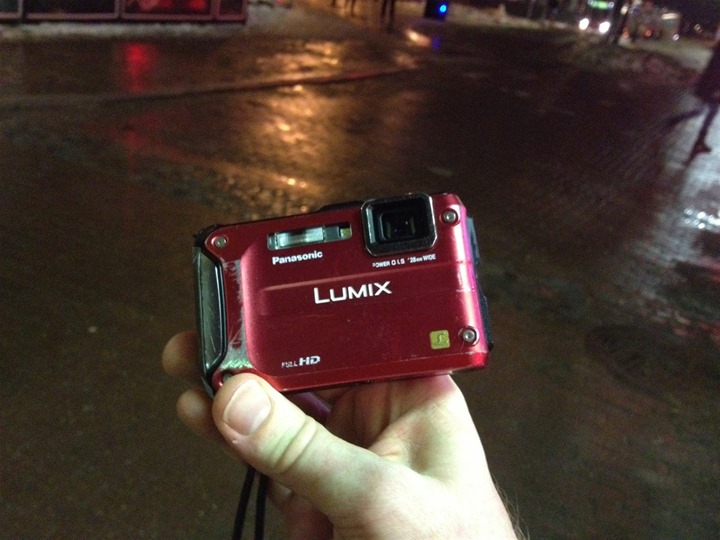 And finally, below, some Swedish food.  Lunch actually, before my run.  Probably the best meal I had there (even if it doesn't look terribly pretty).  That's an egg on the left side, mashed potatoes on the bottom, and what could only be considered a gigantic meatball up top.  Covered in a sauce with sautéed onions.  The smaller Swedish meatballs have to wait until next trip.  As does Ikea.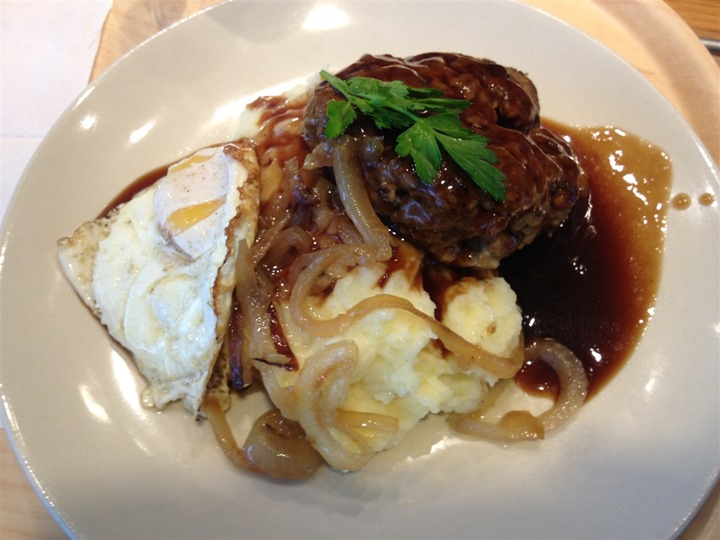 As always, thanks for reading!