After a long string of flights originating from St. John's, Newfoundland, and visiting both Halifax and Montreal on our three-province tour, we finally arrived in Zurich, Switzerland.
And while our stay in Zurich would be brief – only 16 hours – we aimed to make the most of it.  We spent the first few hours waiting for the sun to rise and the weather to warm up, so we occupied that time with the only logical thing to do: Sleep.
After catching up on a couple hours of missing sleep we ventured to the airport train station and deciphered the scrolling board for the correction option to get downtown.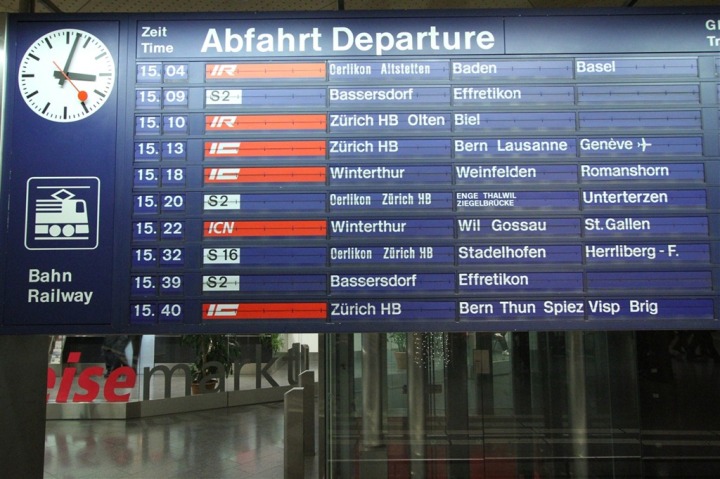 Soon, we were on board for the short 8 or so minute journey to Zurich's main train station.  You may remember I made a similar airport trip the city last year when I had a layover in Zurich.  The only difference is last time it was nice and sunny out during summer.  This time?  Cold as crap.  When we landed it showed some –20*C, which…well…is cold.
And, because our ultimate destination is anything but cold, we didn't really have (on purpose) any deep-cold clothing.  Kinda like our short Beijing layover last year, we figured we'd be able to make due for the day.  But, like last year, we quickly realized that the need for gloves was high.  So we found some cheap ones, except, they had little bow-ties on them.  From a manliness standpoint, I simply can't have small gloves with bowties on them.  Luckily, The Girl was able to pull out some kung-fu nail clippers and depart with the bowties.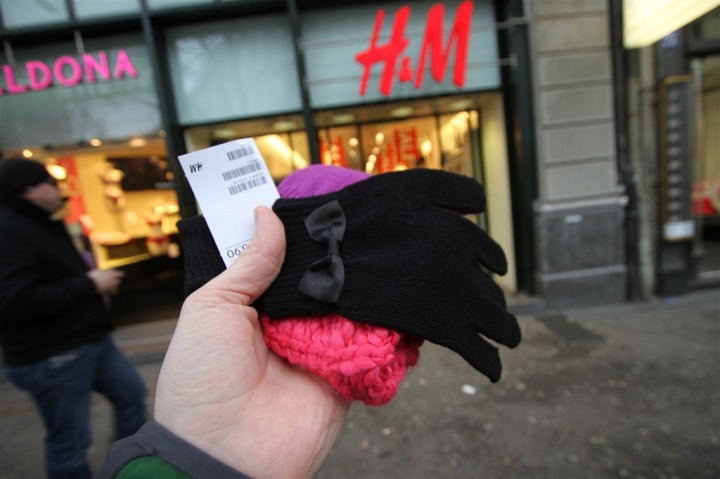 With the bowties dealt with, we bee-lined to the most important type of store in Zurich: The Chocolate Shops…or chocolatier's.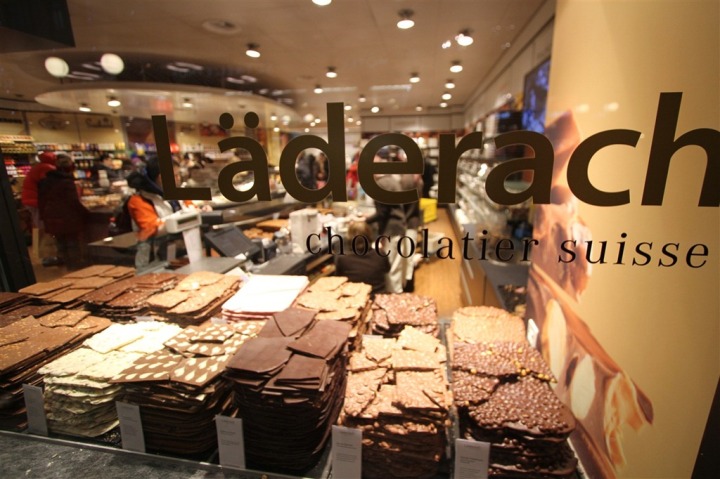 The amount and varied types of chocolates in the store is really astounding.  But don't worry, we carefully evaluated many many kinda before ultimately choosing our bag…err…bags…filled of chocolates.
The only problem with buying from one chocolate shop, is that not long later you'll stumble into another chocolate shop: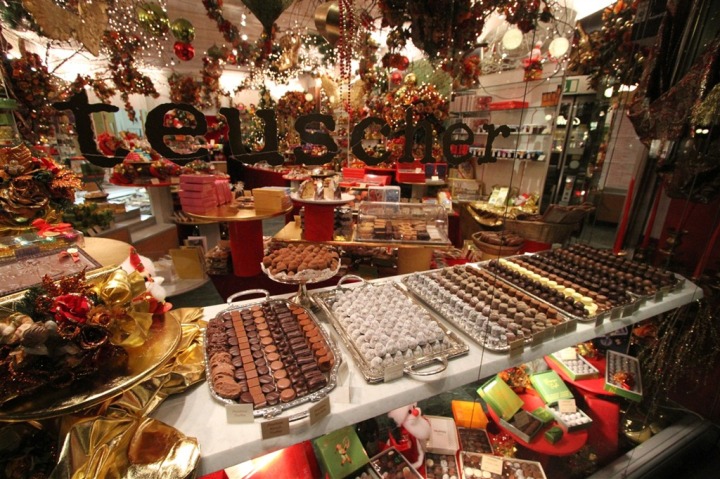 This cycle ultimately repeats itself over and over – so you've gotta show some restraint.  The best way to do that is go visit some churches.  And thankfully – there are tons of them here.
Even little miniature ones: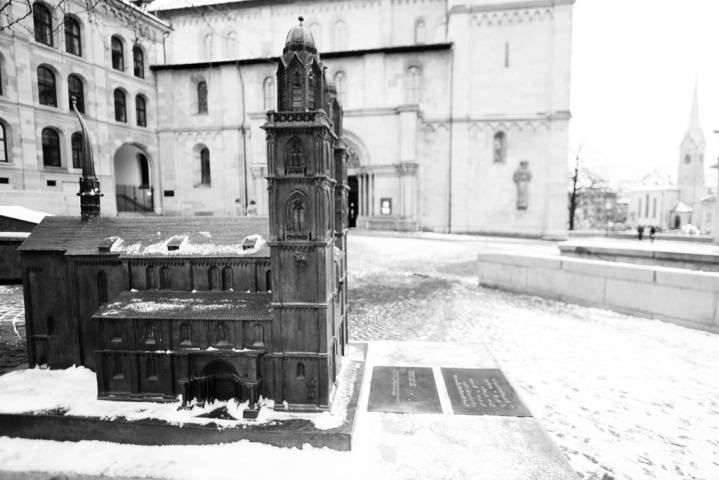 With the snow on the ground, virtually everything in the city becomes rather picturesque.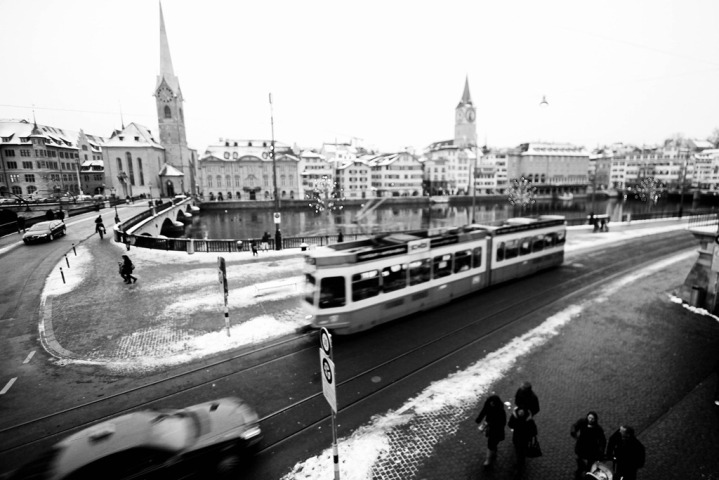 Being so cold out, you're attention is generally focused on finding warm places…which just happens to usually be places that serve food.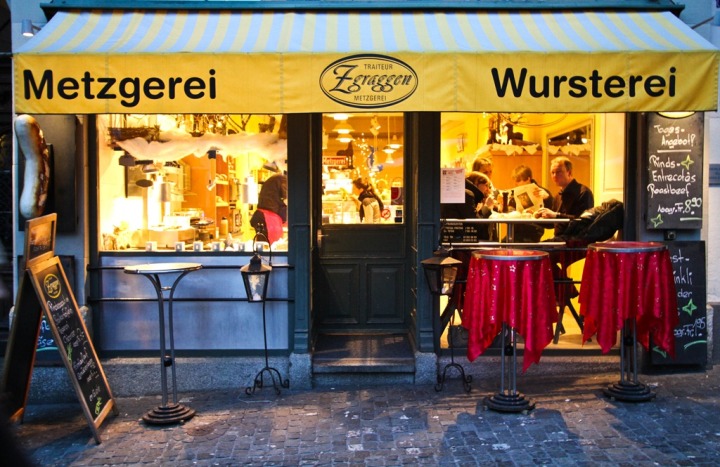 Not wanting to miss out on the Switzerland eating experience, we found ourselves near the dinner hour and staking out places to eat.  Initially we were going to get Fondue, but the place that had been recommended to us was half-way across the town and didn't open for another hour.  So we settled on a different place that focused on primarily meat items, generally from the region.  All was most definitely good here though!
After dinner, we made our way back down the Christmas light lined main street back towards the train station.  Of course, with the incredibly silent street cars running, you had to be careful you didn't end up a hood ornament.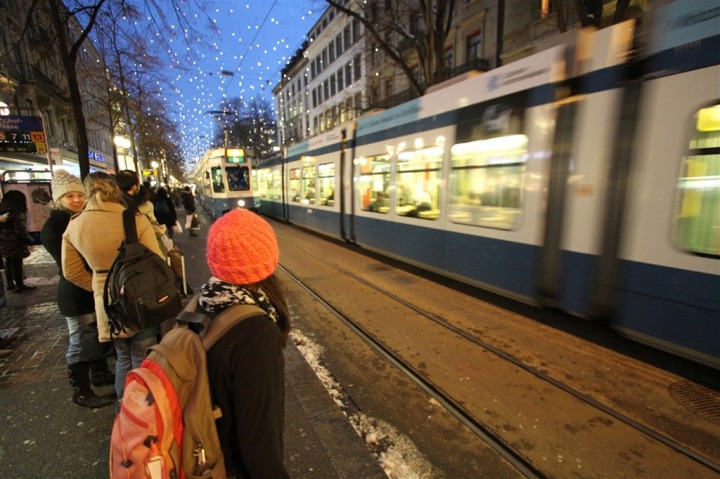 No worries though, we made it back to the station successfully – albeit still rather cold.  We pretty much felt like this fountain: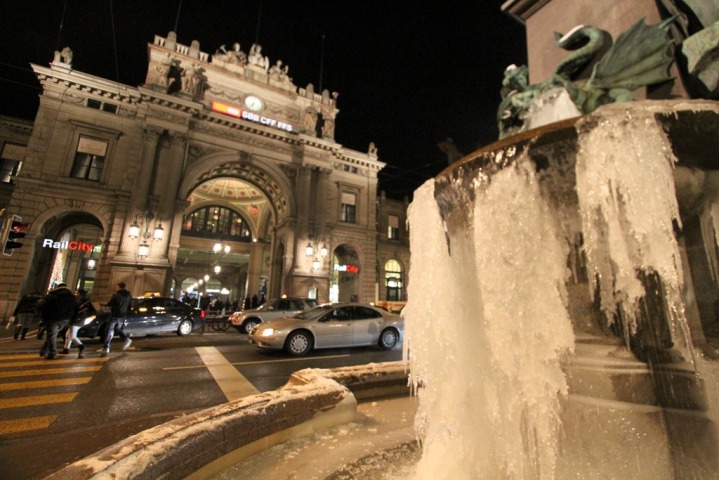 And with that, we caught a train back to the airport, grabbed our bags and headed off for the second redeye flight in a row.  This time…to much warmer destinations.