We just wrapped up an awesome few days with friends down on the other side of the country – here's what we were up to!
1) Flew down to the French Riviera
Getting a slight head start on the weekend, we hopped the short 1hr flight from Paris to Nice on Thursday to begin a weekend exploring the warm southern coast of France, which sits on the Mediterranean.  By noon we were enjoying the beaches of Nice, which are more round rock than sand.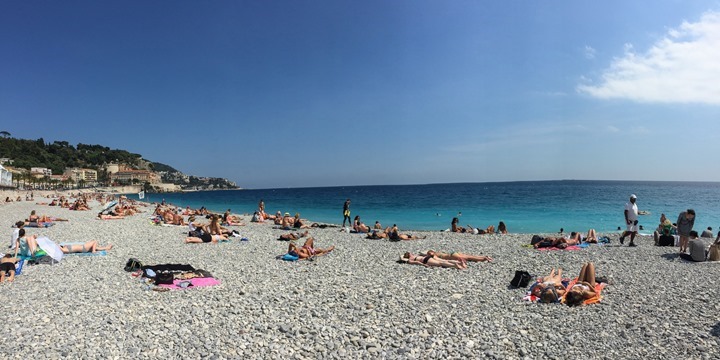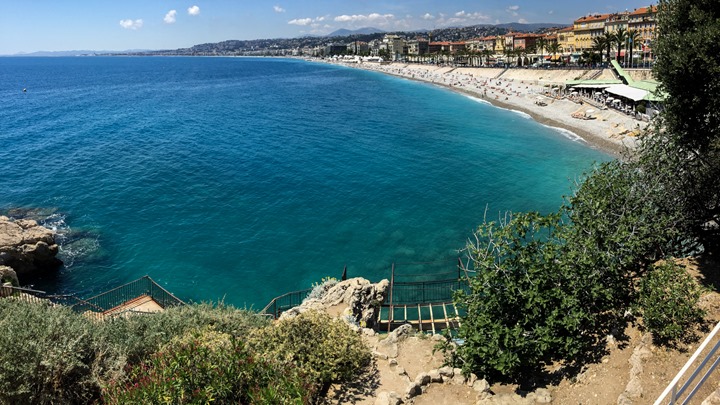 We lucked out in that our hotel was across the street from an annual Italian market that's on the waterfront.  It had all assortment of Italian edible goods – making it perfect for both lunch and then grabbing a bunch of smaller things for a pre-dinner appetizer later that evening.
After our lunch sampling we did a bunch of walking around the town, including checking out our future boat options: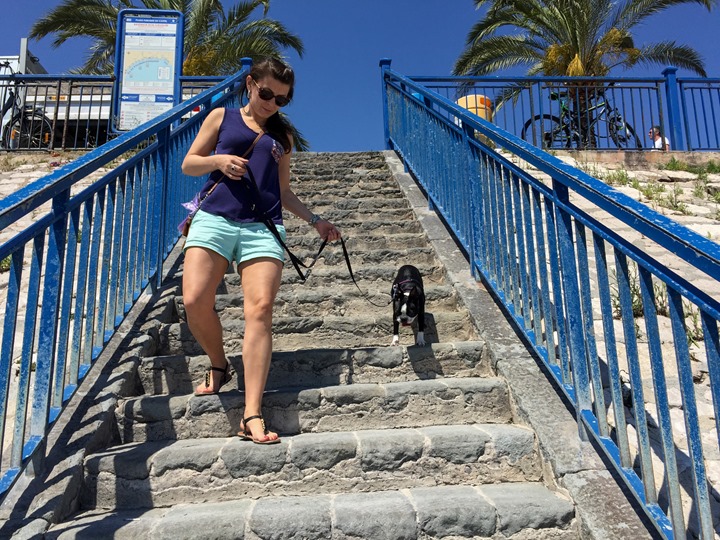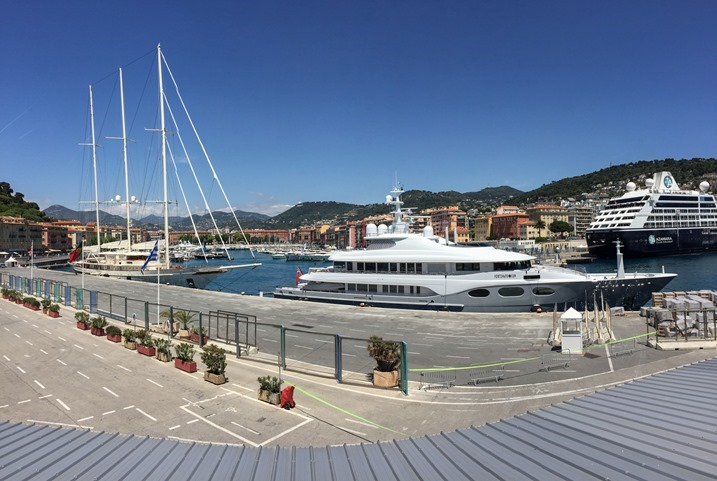 Do you think three masts is big enough? Four might be more appropriate.
Then it was eventually back to the man with the giant meat cylinder for more of his goods: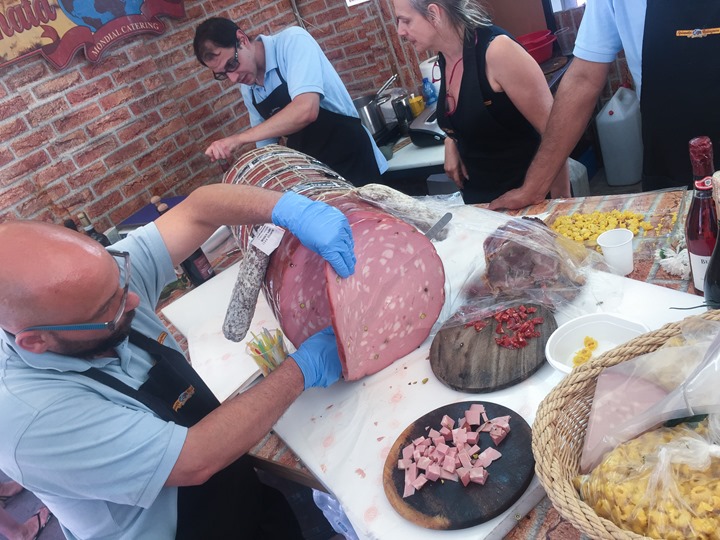 We took a quick snack break on our little balcony. For reasons unknown the hotel actually freely upgraded our super-cheap room to a sea-view room. Boom!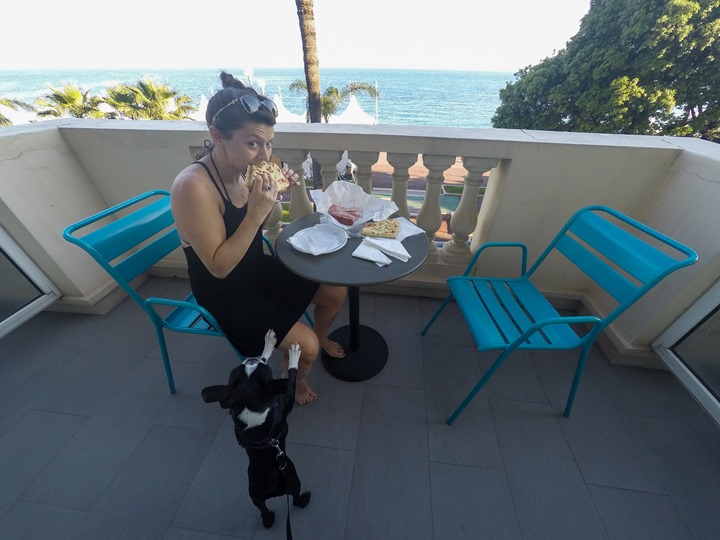 After that, it was time for an interval run along the waterfront to wrap up the night:
Good times!
2) Openwater Swim
Friday morning before we checked out of our hotel seemed like a perfect time to get in an openwater swim.  It was still early enough that there was almost nobody on the beach, and even less boat traffic.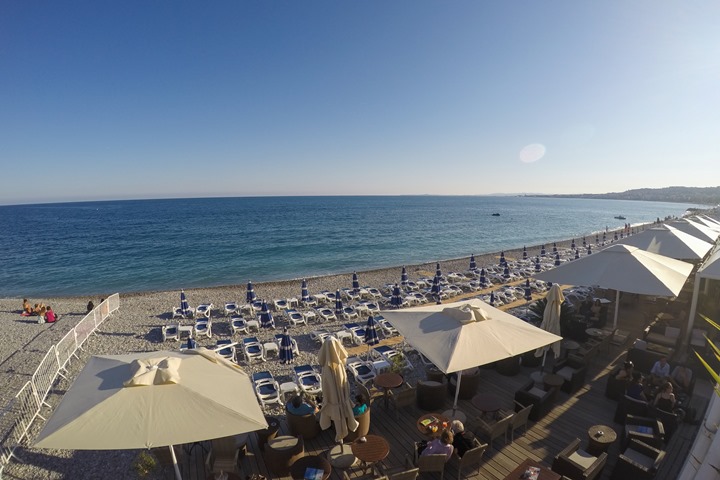 I strapped on a bunch of devices as usual, though the prime candidate for testing was Epix.  So on that went, and off I went: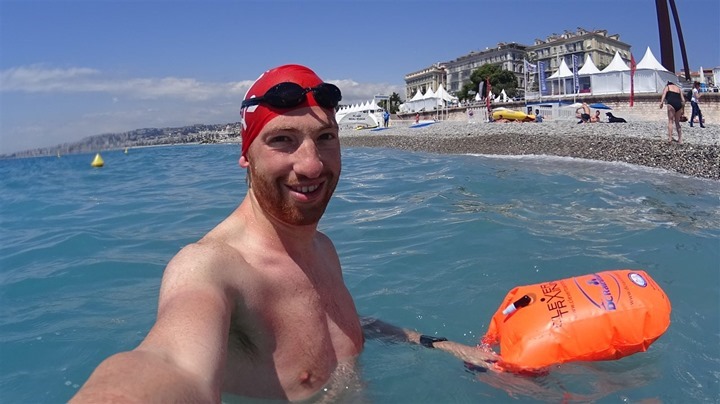 I had only about 30-35 minutes before we had to get going, so it wasn't a terribly long swim.  I decided both the safest and easiest route was to follow the swim/boat buoys out, and then the shoreline back.  The buoys kept the boats away, and were plenty far from shore to make a nice loop out of it: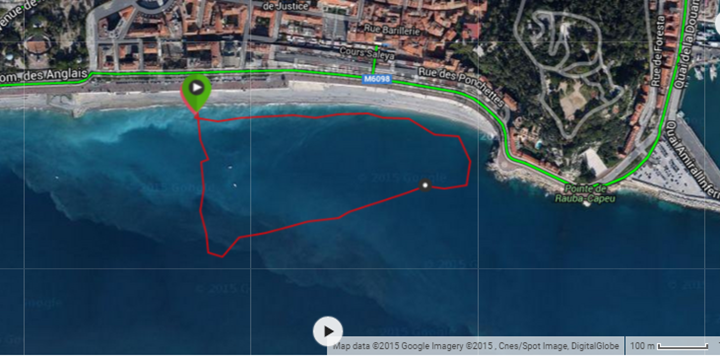 Somehow, I can't find where on earth 95% of my photos from the swim went to. I think I've just got too many cameras these days…
Once I hit shore at the far end I took a photo, and then traced the shoreline back.  The water here gets deep very quickly, within probably 5 meters of shore it drops down to 10-15ft in depth, and then continues to plummet from there.  So I could swim semi-close to shore without having to worry about hitting bottom.
About 30 minutes later (including photo-stoppage time for photos I can no longer find) I wrapped things up, with distances roughly in the mile range.
From there The Girl met up and joined me.  Or rather, more specifically, Lucy joined me.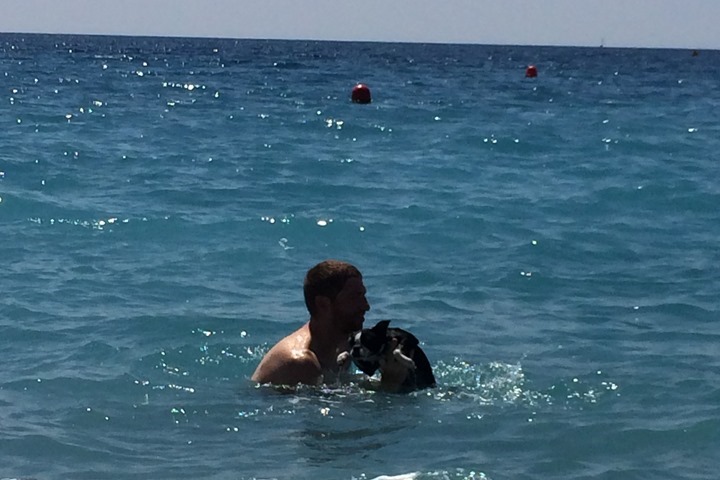 This was the 2nd time she'd spent a bit of time getting her sea legs.  Which went a fair bit better than the first time.  It's hilarious how anytime she's overwater she starts doggy-paddling, even if not actually in the water.  Like an airplane carrying lifejackets under the seat, she's always prepared in the event of an unexpected water landing.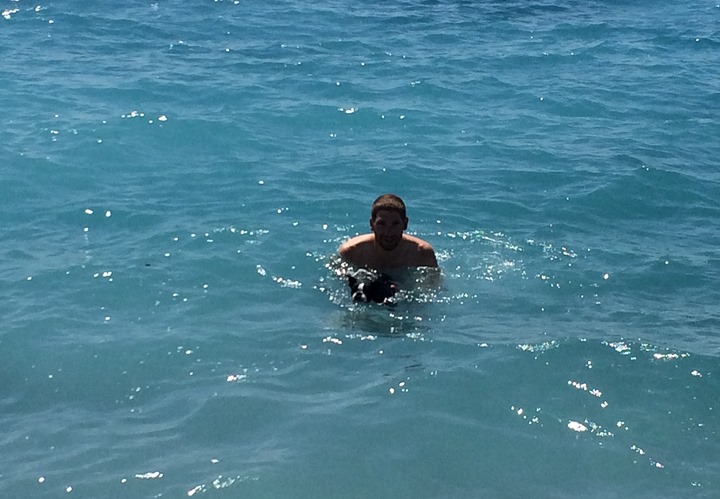 I was always within a foot or two of her just in case she couldn't figure it out – but she did great.  After a short swim session – it was off to meet up with our friends and head out of town.
3) Heading to a small village/market
With our stay in Nice over for the time being, we met up with some friends and then headed for a bit of a drive along the coast for a few hours: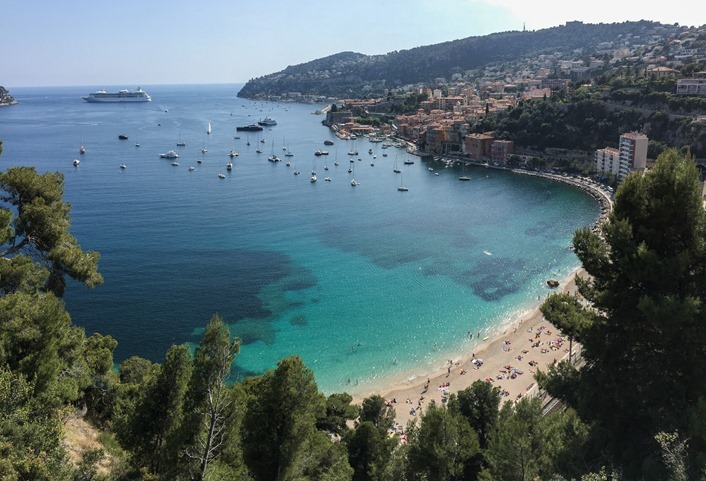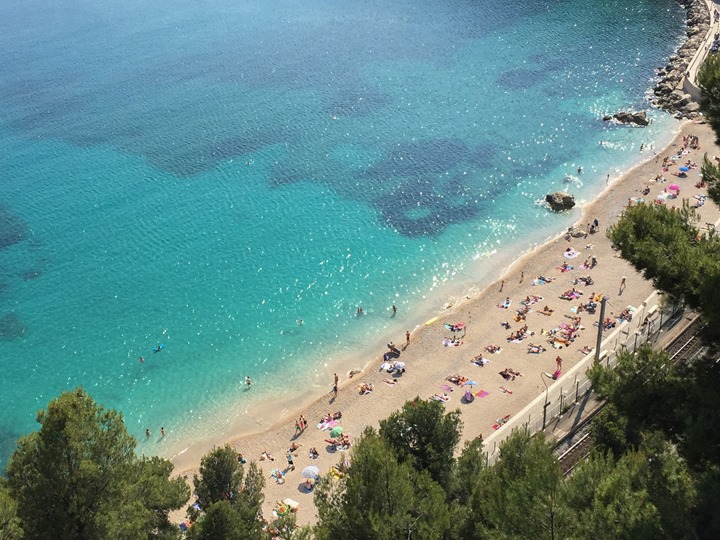 Here's the whole thing using the v360 action cam that we attached to the top of our car, condensed down to two minutes. Using the YouTube 360* player you can change the view by dragging around within player:
This would eventually take us across the border to Italy and up slightly into the mountains to a tiny town called Fanghetto.  It's here that a friend of one of our group owns a little place in a super-old hillside village.  Here's the entirety of the town: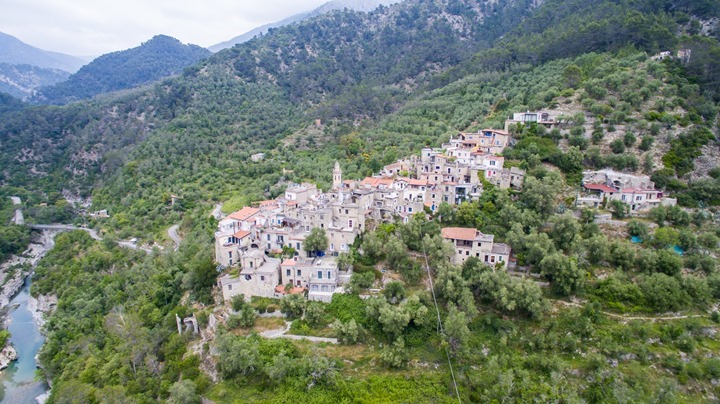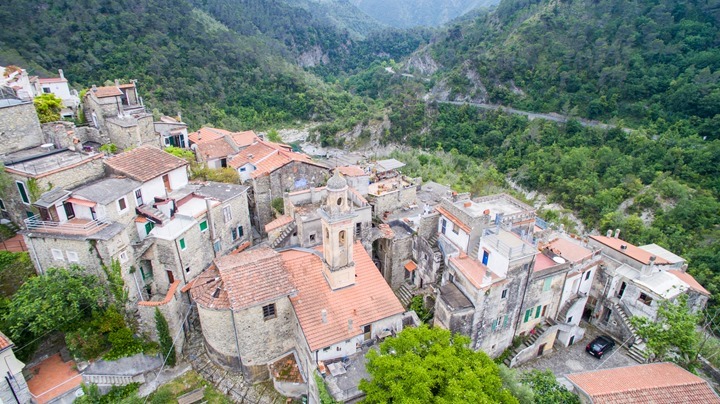 In the winter months, the population is about 10 people.  Though in the summer it might hit 100 people.
It's a great little spot that even has a hiking trail directly through the town.  It also has easy access to a much larger food market about 25 minutes down the road near the coast.  It's here we picked up supplies for lunch and dinner: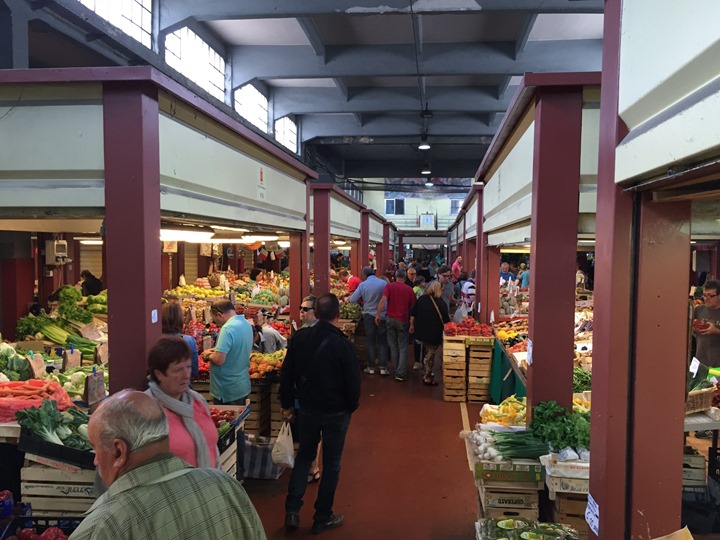 Just tons of fresh pasta that was incredibly cheap compared to anywhere else you'd find it.  And of course great meats, cheeses, fruits and vegetables.
We'd take all of these up to the top of the balcony above the home for rooftop meals: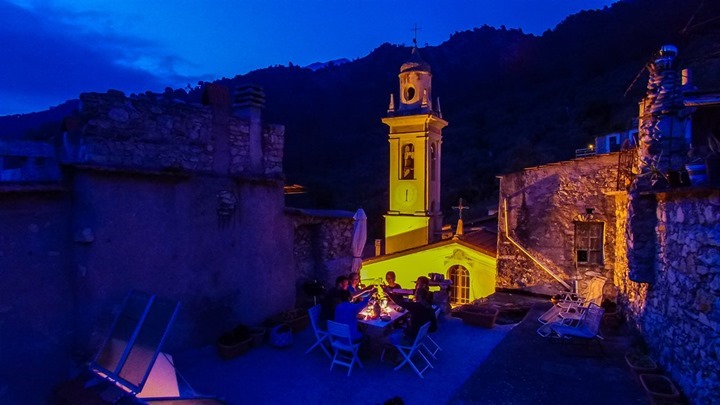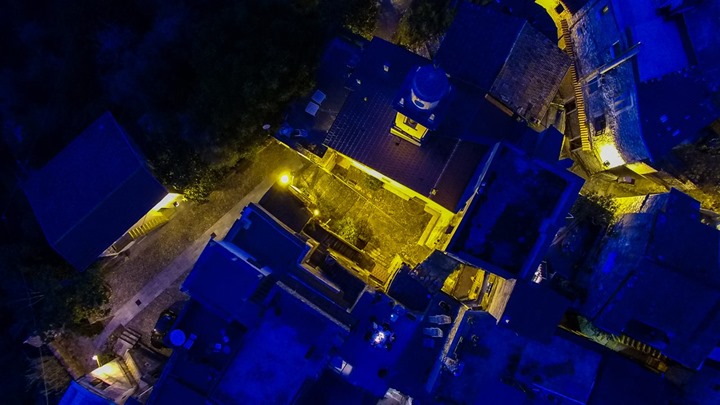 Doesn't get much better than that!  Huge thanks to our friends for arranging access to this little gem of a spot away from the crowds!
4) A Hike to Wine
Saturday afternoon after lunch we grabbed the dogs to head out for a two part hike.  The first portion would have our furry friends, and then the second portion we'd go sans-canine.  The first chunk was along the slow-moving river, which was full of rocks to jump up and around:

We've decided that Lucy is basically a miniature mountain goat.  She's leaping up and jumping over rocks multiples of her height.  It's really rather mind-boggling:
And, she even checked out the water a bit more with her friend, Oliver.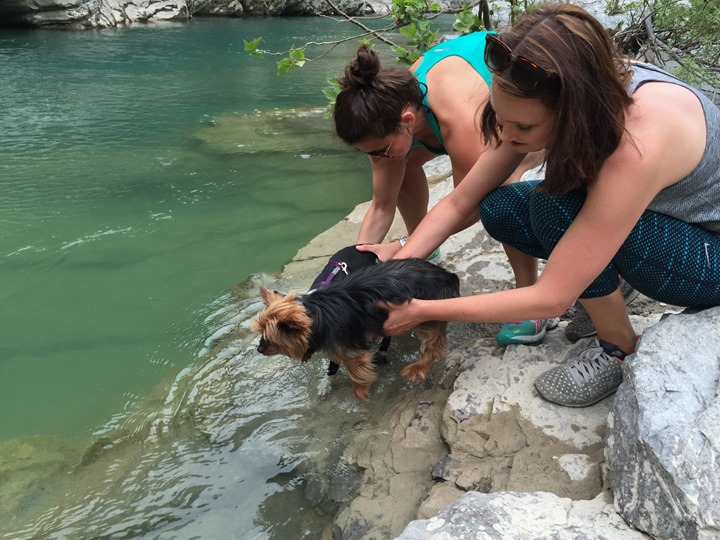 From there we headed back past our village to drop off the dogs and head down the other direction for a longer chunk of hiking.  The marked hiking trail runs directly through the villages, and right past our front door.
Our route was a few miles down to the next village. A few quick ascents and descents, but nothing too hard: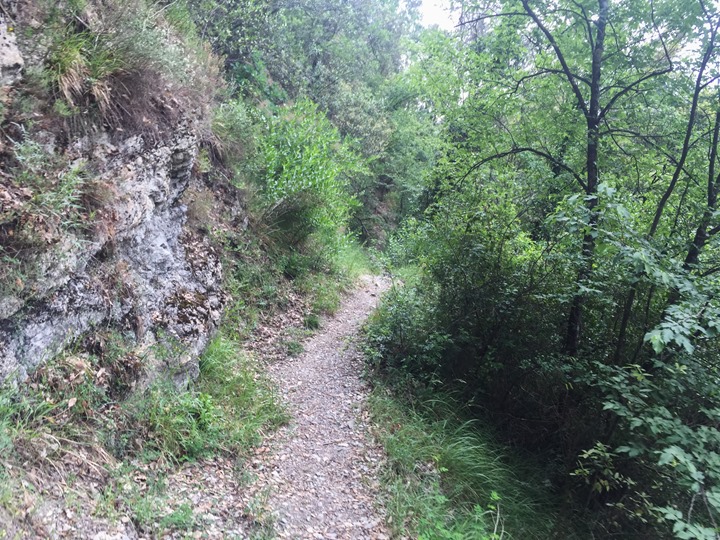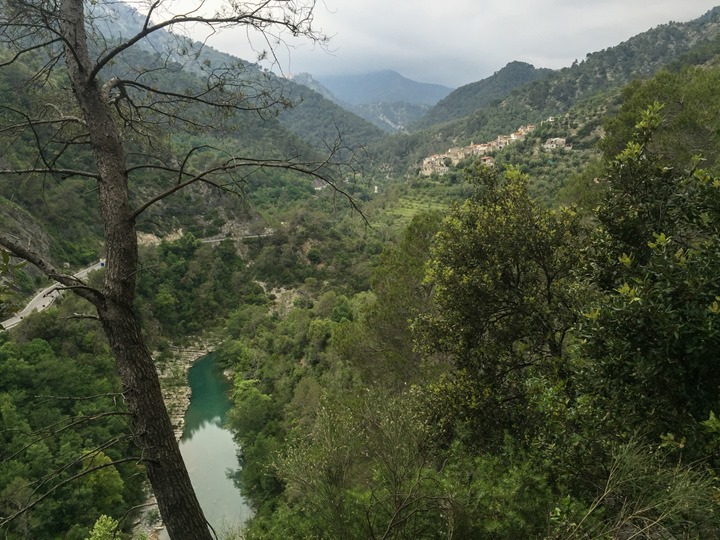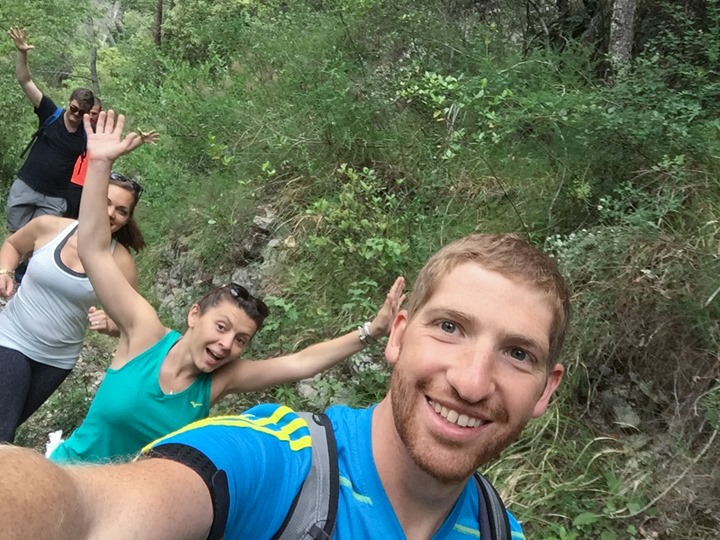 Once we reached the town, there was only really one logical thing to do: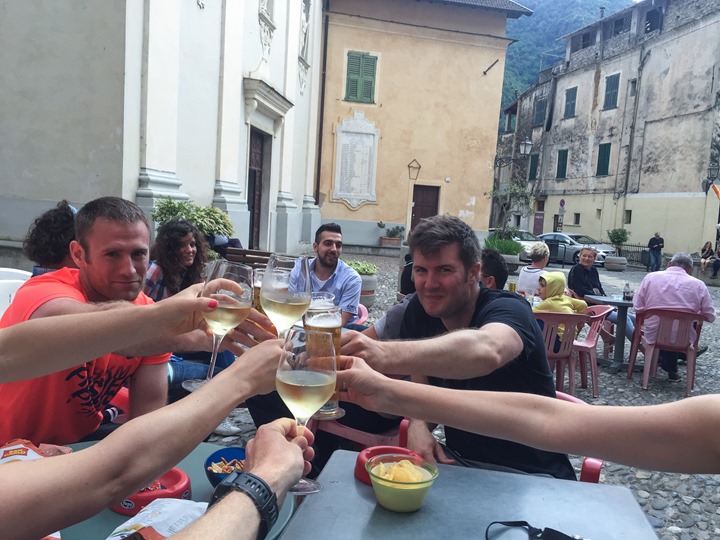 Ok, maybe we did that more than once.
After some period of time, we decided we'd probably actually get back to our village before dark – so we headed on out.  Surprisingly with a bit of wine we made rather good time back, almost twice as fast as the way out.  Or, perhaps it was just thinking about dinner.  Either way, quite a nice little hike.
5) Rock jumping
Of course with all that water around us, we couldn't just end a hike without a quick dip.  Thus we scurried below the town to an area where the water gets deep and the rocks make for a perfect jumping off spot.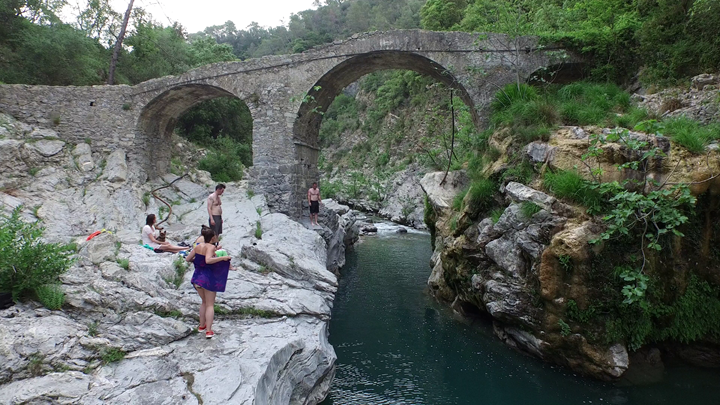 It was boy-girl rotations walking off the plank into the water.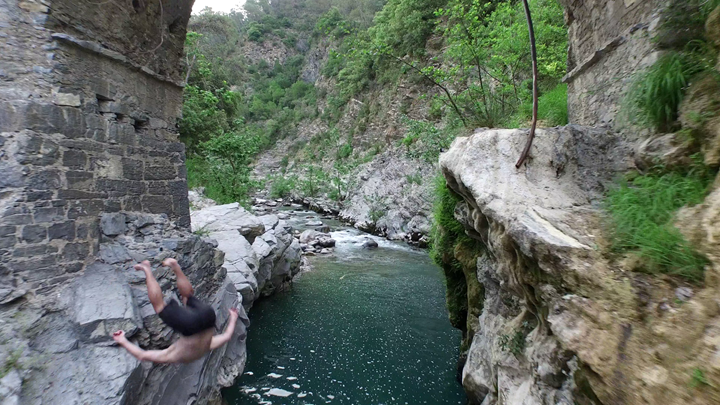 Afterwards, we did one large group jump: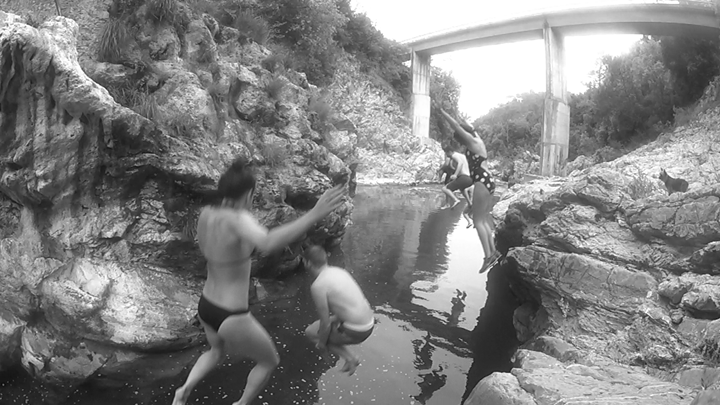 Of course, I may have setup 3 or so action cameras all sync'd together and controlled remotely (a variety of Sony AS-200 and FDR-X1000V's).
Good times!
With that it was a relaxing Sunday both in town and at the beach before catching a late night flight back home to Paris.  Not too shabby a way to kickoff enjoying some almost-summertime weather.
Have a great weekend all!
P.S:
A) You can view all my Epix GPS track comparisons here.
B) For photos, I was using the DJI Phantom3 for aeriel shots, the Sony 1000V action cam for the water shots (rocks/openwater), and iPhone 6 for most others. Details here.
Cheers!