There were very few people who knew of our honeymoon plans.  In fact, there was really only one who knew the entire plan…me.  There were a few reasons for this – but mostly the simplest was that The Girl and I thought it would be a bit more fun as a surprise – both to her, as well as to everyone else.  Given how much I have travelled and the countries I've been too – speculation was fairly wild about where a honeymoon might be.  And in fact, there were many places I considered.  Lots of places.  But in the end, I decided that a more simple approach was probably right up our alley.
Thus, I selected a small villa in a small Italian town on the Amalfi coast.  Everything was walkable – from the beach to dinner each night, to just wandering doing nothing.  Aside from getting there from the airport, we never touched our little rental car until we had to leave 4-5 days later for the next portion of the trip.
In reality, the first few days were simply designed as a breather – or rather a way to relax.  After an incredibly (and amazing) hectic lead into the wedding itself (thousands of miles away, and also out of the country) – I knew we'd both be looking forward a few days of peace and quiet.
After our connecting flight from the island of the wedding landed in Miami (about 12 hours after we were married), we boarded the gigantic double-decker Lufthansa Airbus A380 headed for Frankfurt.  Given how often I travel, I was happy to splurge and redeem a bunch of points for Business class tickets.
Though, perhaps my favorite part of the flight was the multiple cameras located on the tail looking forward, inside the nose looking forward, and even below the nose looking straight down at the ground like Google Maps.  Very fun to watch the world go by.
After landing in Frankfurt we'd catch connecting flight to Naples, Italy.  From Naples we'd drive south a while down the twisting coastline towards the town.  Despite the iPhone's best attempts to permanently dispatch us to Italy with incorrect directions, we did eventually find the town…and our little place.  Here's the view from our small veranda: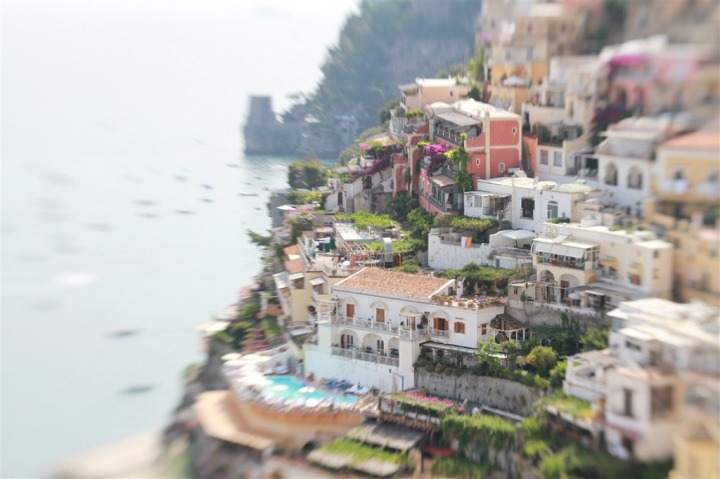 (I should point out that as a gift to 'The Groom', The Girl got me a Lensbaby lens kit – which I had a lot of fun with…in pictures like the above)
Most of the next few days was just spent lounging around in town…pretty much going back and forth between sleeping, sleeping on the beach, and eating…with a heavy focus on eating ice cream. Lots of ice cream.  Oh, and mozzarella balls.
On our last full day in Positano, we took a small boat (not a high speed ferry like most), over to the island of Capri, to spend away the day.  Described in the most simple manner: This is the place where the super-elite go to stay and play (or in the case of us, where we buy a cheap boat ticket for the day).
After Capri it was time to bid our small little place goodbye!
Onto our next adventure tomorrow!…
(I had originally planned on just having this be one post, with simply one picture each day…but after I started sifting through photos here on the flight home, I realized there's actually more good photos than I remembered taking…so thus, two posts!)