This weekend I was back in Paris, following up on a trip from a few weeks ago with a pile more meetings on Thursday/Friday.  Given the opportunity to tie it into the weekend, I figured I'd forgo traditional American BBQ and in its place go with jambon et fromage (Ham and cheese) baguettes, Nutella & banana crepes and pretty much anything chocolate I could find.  That's not to say that I didn't miss a nice big piece of pork shoulder slow roasted for 8-10 hours like I usually do this time of year.
Since I had arrived here Thursday morning, I got in a small collection of runs over the weekend.  Most of them passing the Eiffel tower at some point.  I wasn't going to mention the runs and instead focus on the bike piece – but since this particular photo I took while running and not stopping came out pretty well, I decided to share it.  It's from Saturday night's 10-miler.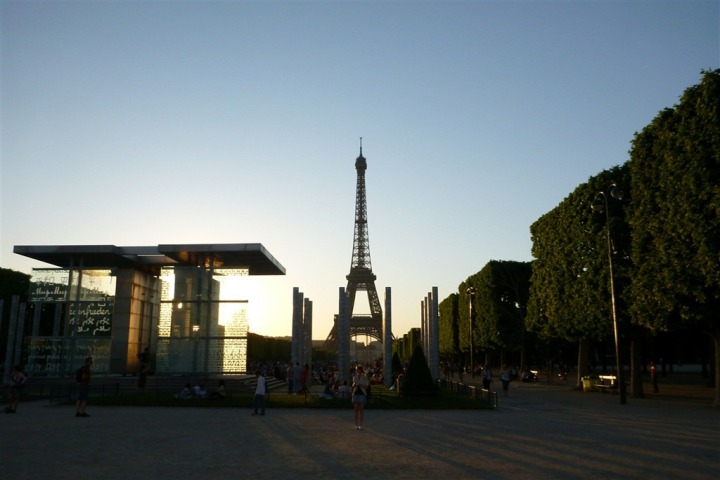 Fast forward about 8 hours and we find ourselves in the empty streets of Paris at 6:15AM (yes, it's really that light out above just before 10PM, it's awesome).
The street below is only a block from Notre Dame, and normally packed with people and cars.  This time of the morning only a select few revelers finishing up the night before are still there.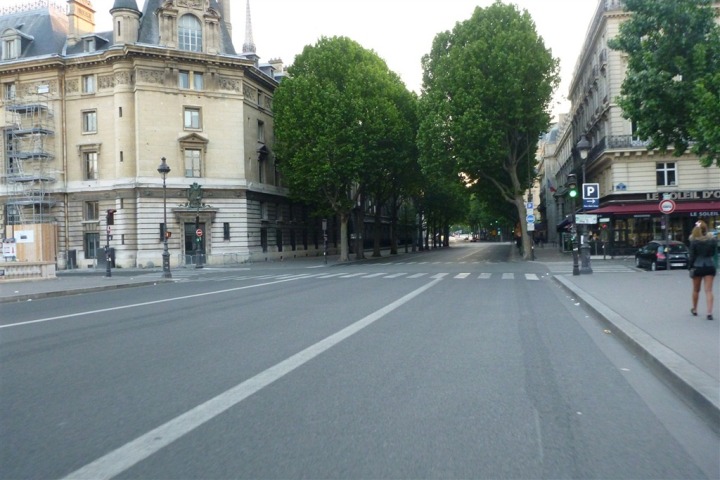 We had rented bikes the day before from a shop in town.  Initially we went to a place called Laurents, which focuses pretty heavily on the Paris racing scene.  However, due to the French holiday on Monday (and Sunday also being a day of closure), we wouldn't be able to return the bikes until Tuesday – after our departure.  Thankfully, they were pretty friendly and forwarded us off to another equally as friendly shop that rented road bikes.  So, we got back on our little Velib bikeshare bikes and headed on over: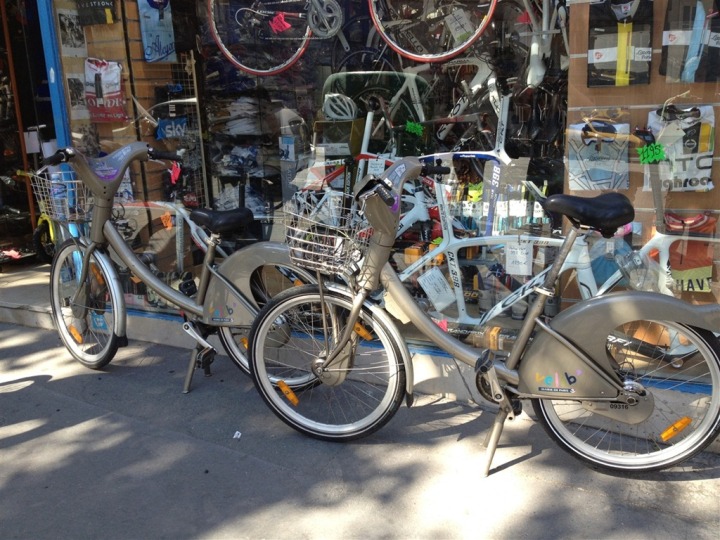 The second place had plenty of bikes, and even one that just barely fit The Girl.  Not perfect, but it would work.  Most importantly, it was open every single day – including Sunday and the Monday holiday.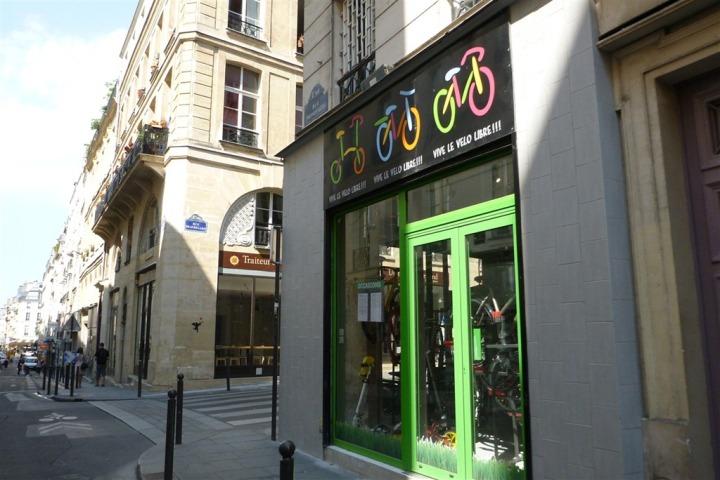 We had brought our own helmets, pedals, bike shoes, and pedal wrench (R.I.P. pedal wrench, we had a good trip together).
So back to 6:22AM.  At this point, we're navigating the cavernous Les Halles Metro station, where the RER A line runs through.  This line will take us out to Sartrouville, which is where we'll start our ride.  There's a complex chart of when bikes are or aren't allowed on the Metro/Train lines, but in this particular instance – they were.  In general, if you're not during rush hour, and it's an RER train, you're good.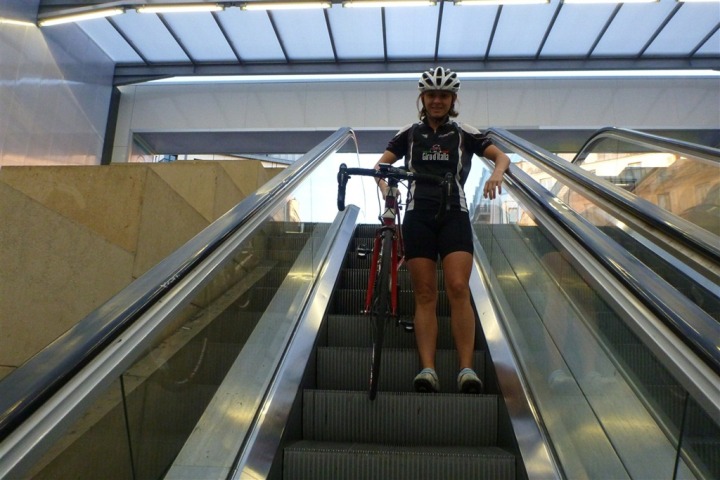 So, we jumped on our (empty) train, and spent precisely 30 minutes heading out towards the countryside:
It was out there that we met up with Sebastian.  He had responded to my Friday Paris post about finding a riding route, and so he graciously offered to take us for a whirl from nearby his place.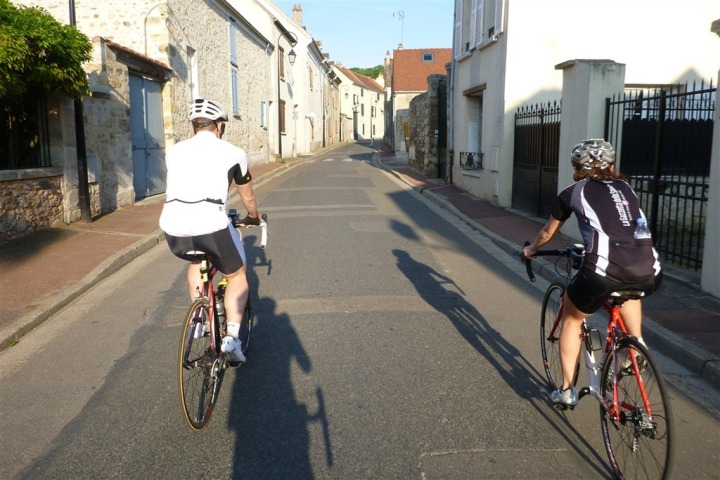 The route started from directly in front of the train station, but within just a minute or two it was clear we weren't in Kansas (or DC) anymore: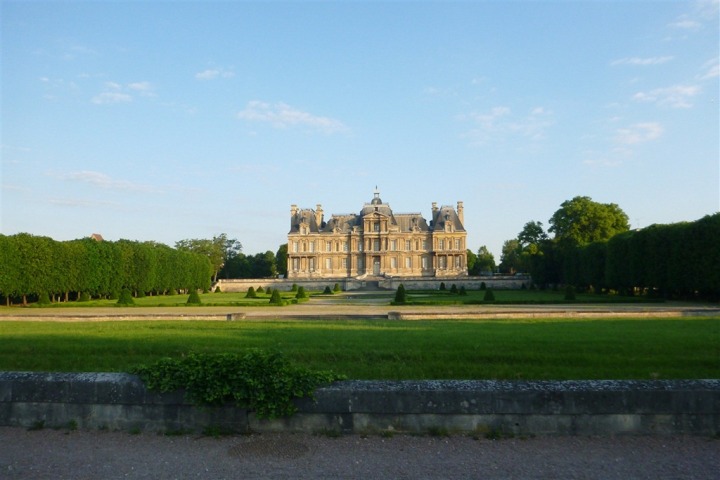 From there it was an endless stream of rolling hills and quiet roads:
And by 'rolling', I mean, 'occasionally really darn steep'.  One particular one topped out at 16%, though my ability to capture it photographically was limited to the not-so-perfectly framed picture.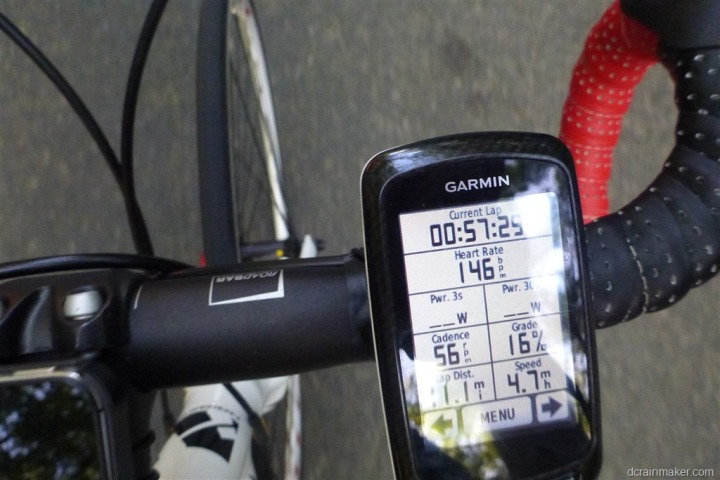 The road was pretty leisurely.  We stopped a bunch of times, checked things out, and kept going.  And while I normally do stop units when I stop – I decided to keep things simple for comparative purposes later on, and just let everything run nonstop.  As you might have guessed, I had a handful of things to test today.  The Timex Cycle Trainer, the Magellan Switch, and the Quadlock iPhone mount were the biggies – with the Edge 800 being used as reference.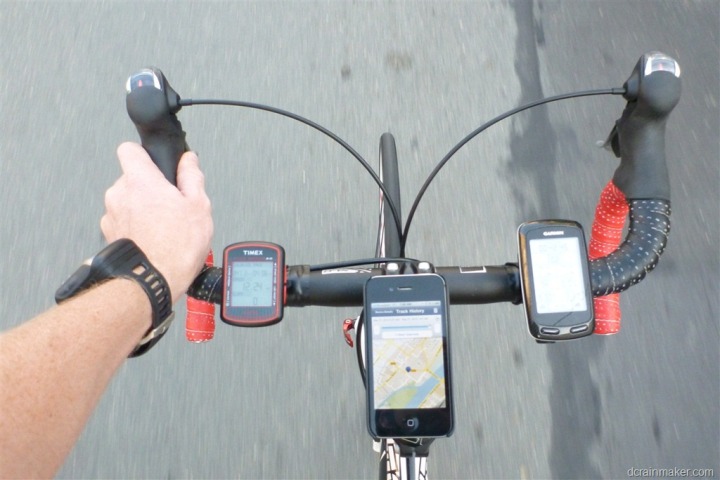 More on the Quadlock tomorrow…
After a bit of time towards around the 2hr 45m marker, we stumbled on Boulangerie (baker, as in bakery) in a small town.  Not by seeing it, but by smelling it.  We'd already passed many such bakeries along the route, with each one's scent of freshly baked bread begging me to stop.  This time, we did.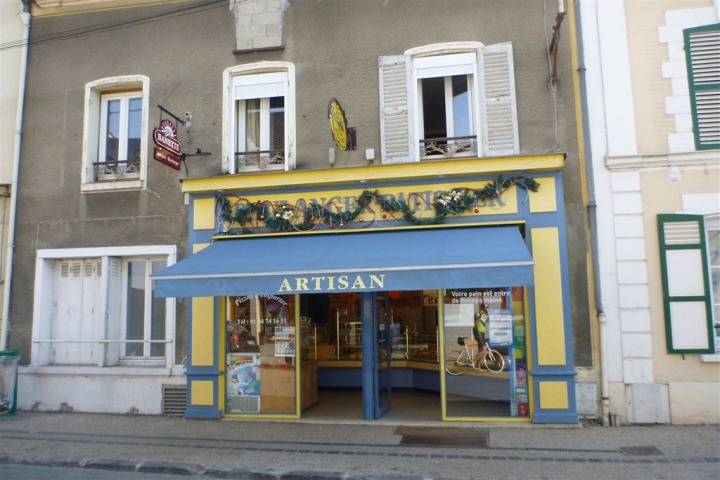 The Girl got her usual chocolate croissant thing, but I saw something I hadn't seen before – a long chocolate studded piece of very soft bread.  It was about the same length as a baguette (a touch thinner though), but much softer.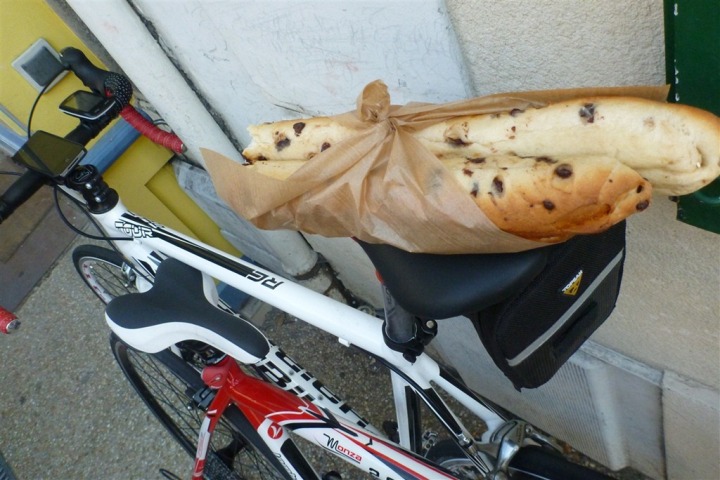 A couple minutes later though, someone must have stolen it from my hands or something – because it was all gone.  Not sure what happened there.
With renewed energy, we continued onwards.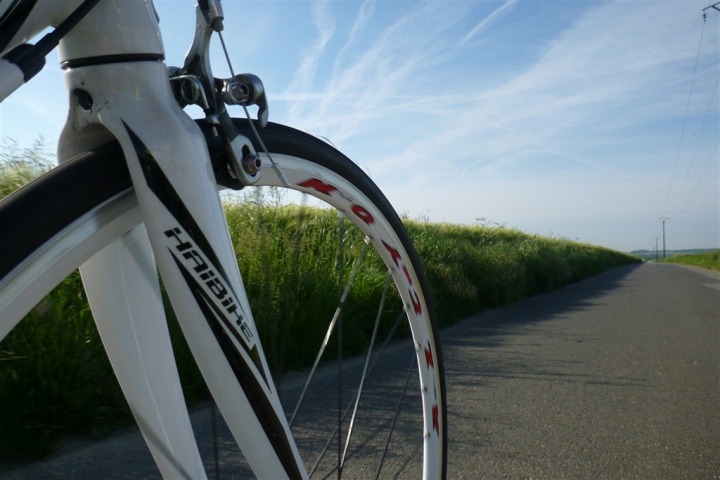 Though we had planned to arrive back at the same station we departed from, we ended up at a slightly different station since we found it along our route and were pretty much kaput.  Before we knew it, we were back on board the RER train headed back to Paris: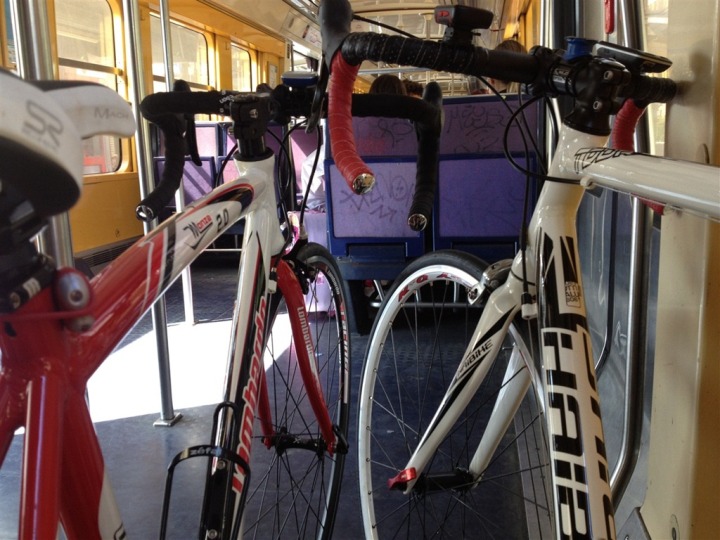 Just like Washington DC, it seems the escalators in Paris Metro stations also have times of despair.  This, being one of them.
It should be pointed out we were quite happy with the bike rentals – sometimes with rentals you never know what you're gonna get.  These worked well and the folks were friendly.  And of course, a huge thanks to Seb for taking us out!
Aside from the running and riding this weekend, we did a heck of a lot of walking.  On the way to return the bikes (mid-day at this point) I had turned on the
Garmin Fit app
to use for some photos I wanted for tomorrow's review.  It wasn't until about 10PM later that night that I had remembered it was still running on the phone in the background.  Between those points, we had only either walked, or biked with Velibe (minus the short segment to return the bikes).  In all, just that portion of that single day was 12 miles!  Let alone what we did later that night.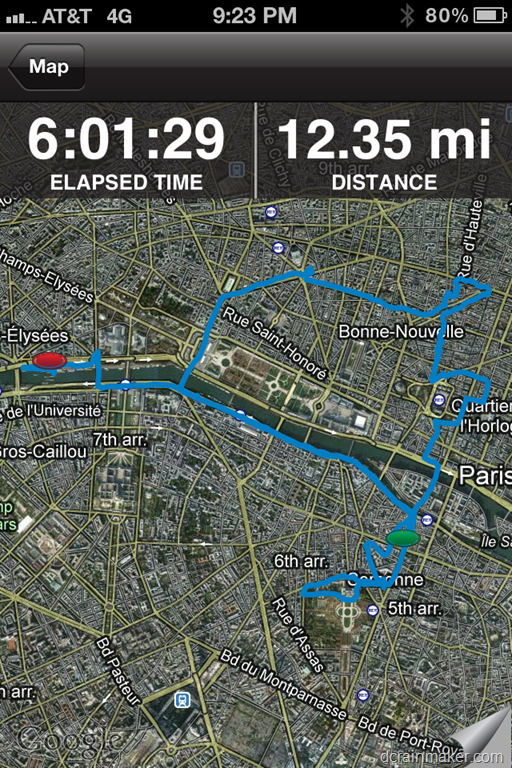 No worries though, we made sure to balance it out.  For example, some braised beef I had was pretty awesome: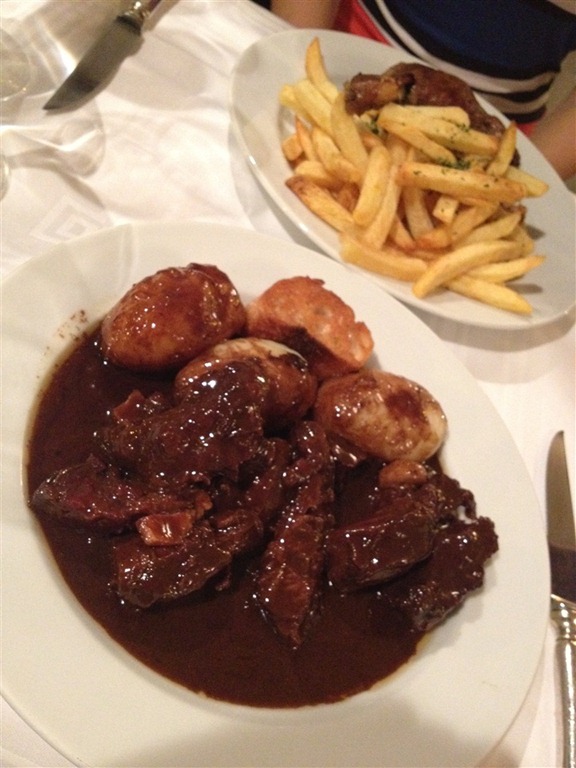 Or, the the beef carpaccio, seen below:
Or perhaps some of these chocolates, which I ultimately picked up for co-workers back in DC.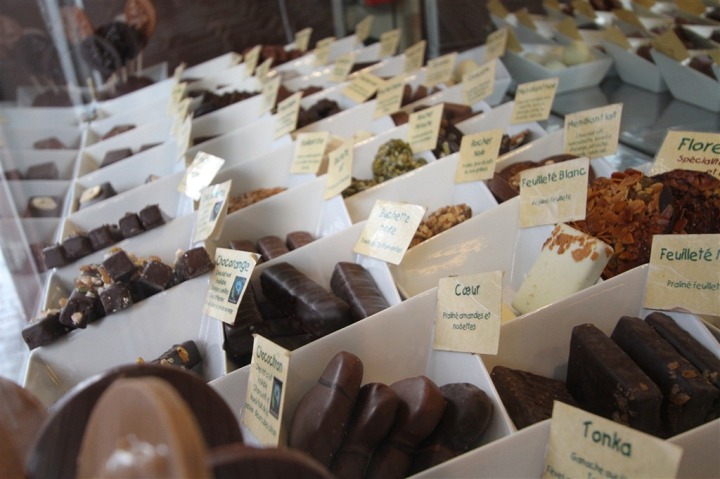 With that, we headed back to the airport, sacrificed a really nice pedal wrench to the airport security workers, hit up a flight to Frankfurt, and then back to Washington DC.  Time to breath for a few days before the craziness begins again!