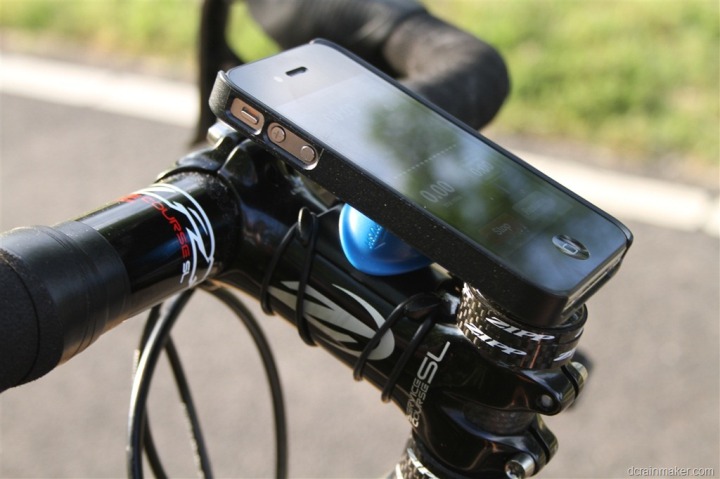 There are numerous iPhone and cell phone bike mounting kits out there on the market today.  They range in price from under $10 to nearly $1,000 (yup, really).  Their capabilities, functionality an easy of use have just as extreme of a range.
I had first heard about the Quad Lock case on Kickstarter a while back.  At the time, it seemed kinda gimmicky, and in some ways – that still holds true.  The case is designed such that you can quickly lock/unlock it with a simple quarter turn and push of a collar operation.  The idea being that you plaster these mounts all over creation and can then quickly attach your phone to it.
The generic mounts to me seem kinda overkill, but the bike mount is a bit interesting – and the area I wanted to focus on.  As you'll see, there are some important differences between the Quad Lock case and others on the market (some good, some bad), so without further ado, let's dig into them.
As a note, the Quad Lock folks sent me out a unit to try out.  Eventually it'll either go back to them (apparently in Australia), or I'll add it to the stash of stuff I've been meaning to give away.
Unboxing:
The Quad Lock case comes in a pretty easy to understand box.  It's got far more text on it than it needs – looks a bit less open and airy than a typical iProduct, but, it gets the point across.  There are two versions available, one with the bike mount (deluxe), and one without (not-so-deluxe)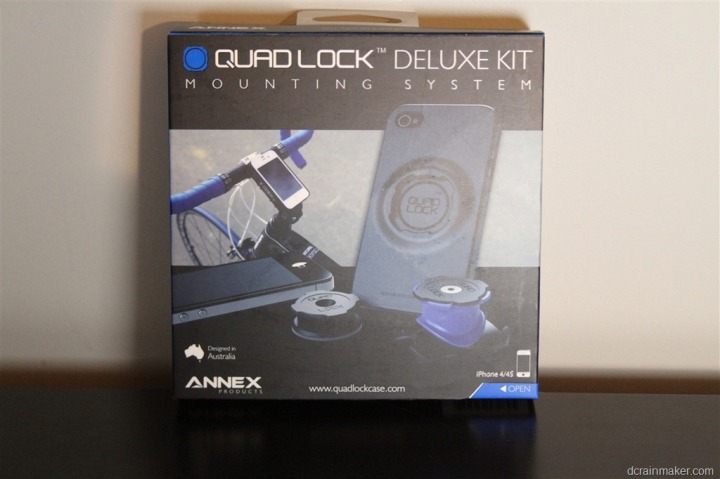 Inside, its got a little window to let you see the goods.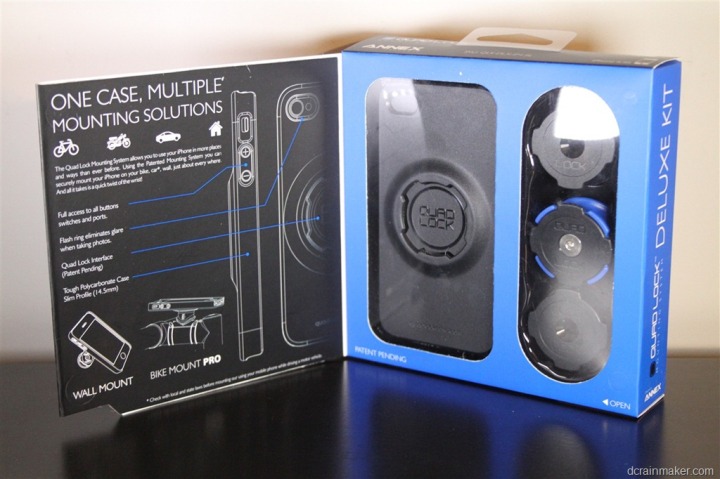 Once you've managed to open the window and take the stuff out, it'll look just like below.  Inside you'll have one iPhone 4/4S case (not compatible prior to that), one bike mount, two identical surface mounts, a pile of rubber bands, two zip ties, and a bunch of paper manual stuffs.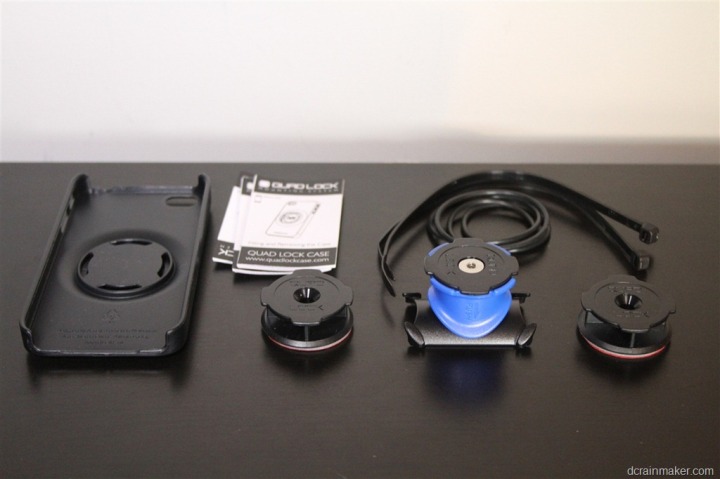 Let's look at each piece individually.  First up, is the flat-surface mounts.  These use adhesive to mount to non-bike locations.  I suppose you could put one of these on a bike too, but I doubt you'd find too many good perfectly flat locations for them on a standard bike.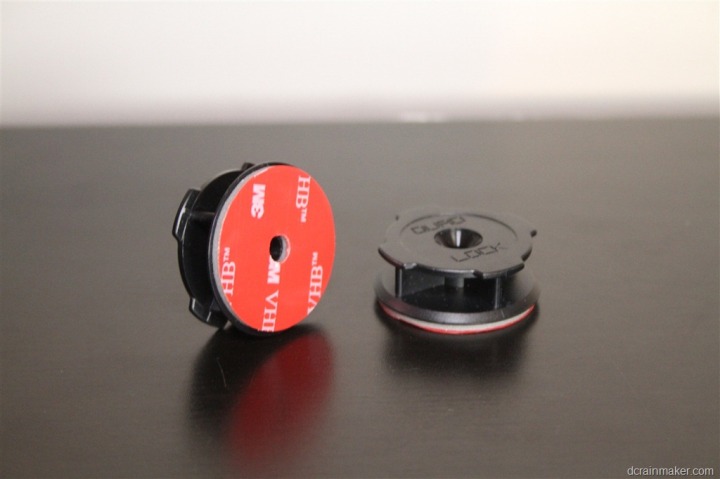 Next is the bike mount itself.  You can see the curved bottom to adapt to handlebars and/or stems.  The blue collar piece moves up/down to release the case when attached.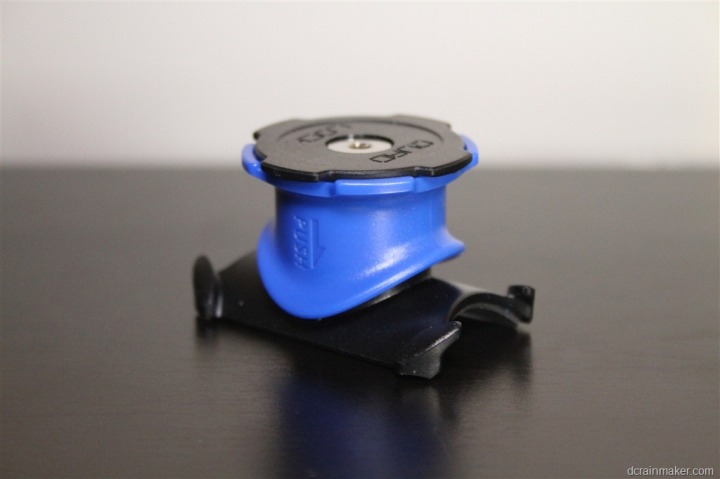 Then we've got the case itself.  On the back you'll see the bump-out for the lock portion.  Otherwise, it's very similar to any normal iPhone case with cutouts in all the right places.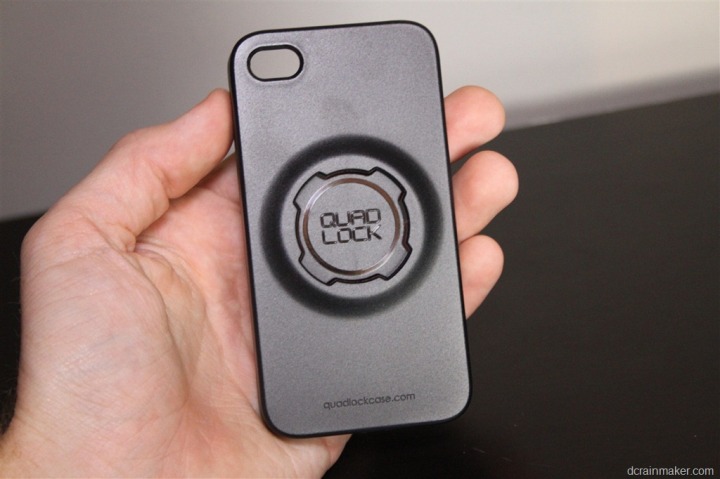 If you were to attach the case to the mount, it would like just like this: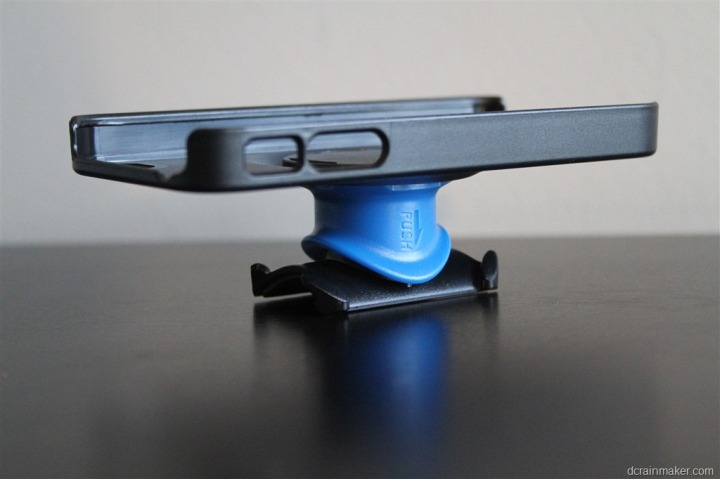 And adding the phone, like this: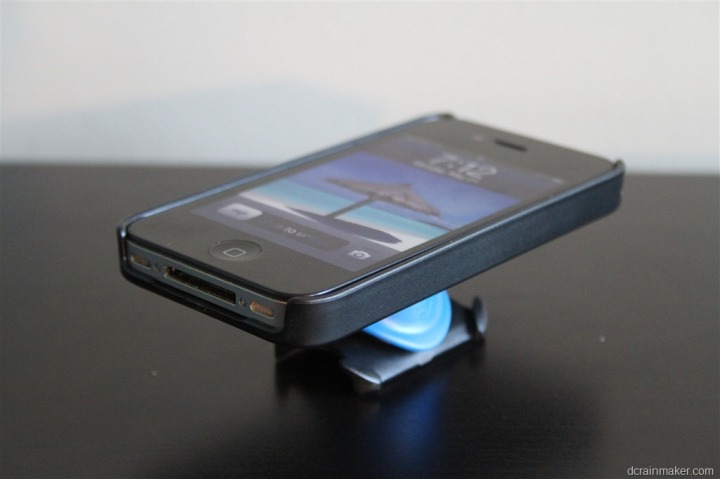 Next in the line of stuff inside is the rubber bands and zipties.  The industrial strength rubber bands can be used to quickly attach the mount to your bike without the annoyance of zipties (cutting them namely, or removing them).  But, if you feel less secure with rubber bands, two zipties have been included.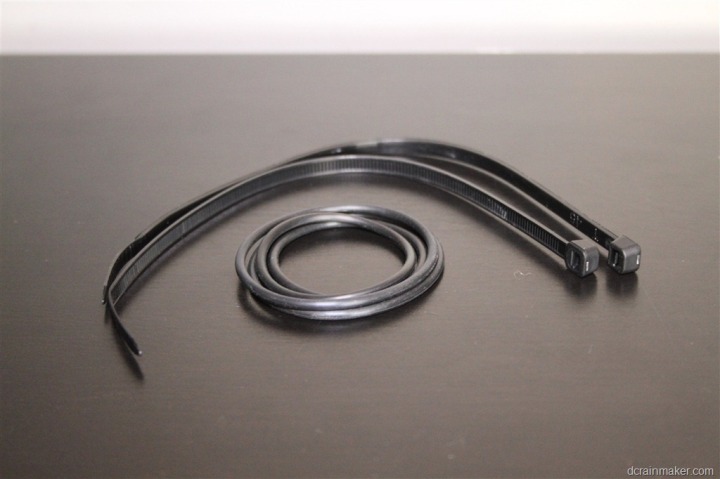 Finally, there's the pile of paper junk: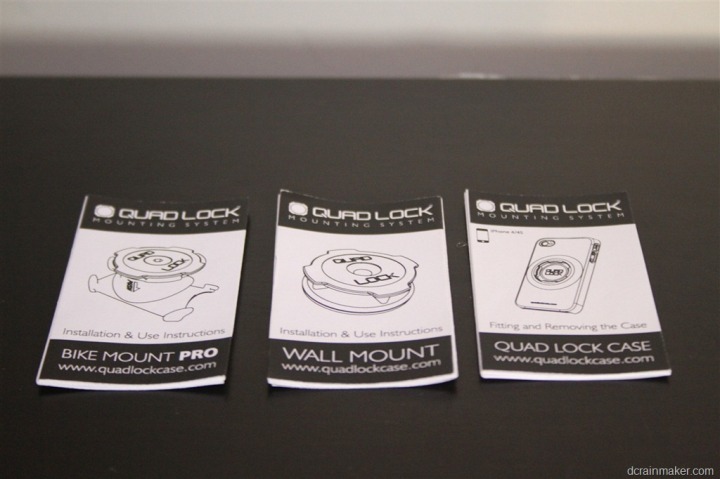 With that, all the pieces are covered, and all the important parts are pictured below: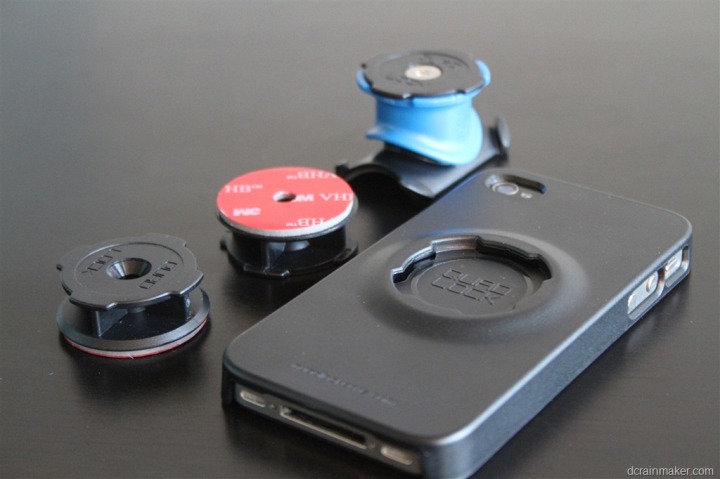 Mounting the Quad Lock:
There are essentially three components to the Quad Lock bike mount system.  The case, the mount, and the rubber bands.  That's it.
The case attaches to your phone by simply snapping it in place (and it will snap).
The mount then attaches to the case using their 'Quad Lock' system, which means that you place it in at about a 45* angle, and then you'll give it a turn the rest of the way to lock it in place.  At which point, the collar comes up and locks the case securely in place.
To remove the lock, you'll go ahead and simply press down on the blue portion of the collar, and it'll release it easily.  Here's a brief video I shot showing you it in action:
Quad Lock Video
The mount itself attaches to any roundish part of your bike.  I'd suggest the stem (that's the thing that connects your handlebars to the fork).  This is an ideal location since it's a bit better protected there.  Further, it's unlikely you'll be grabbing there during the course of normal riding:
Failing that location, the handlebars work fine too:
On a triathlon bike, you can use the aerobars to mount it as well.  Though, unlike the slimmer cycling units, it would make things awkward for arm placement.  Placement in between the bars could be accomplished in conjunction with any number of aerobar bike computer mount systems though.
The Quad Lock mount uses industrial rubber bands to hold it in place.  It comes with two sizes: Smaller and larger.  Use them as appropriate.  Try not to break them, but don't have them loose either since you'll be putting your phone in jeopardy.
The bike mount doesn't have a correct orientation.  It can lock/mount the case in 90* increments (horizontal or landscape), so you don't have to worry about mounting it wrong.
In addition to the bike case piece, there's also these generic mounts for attaching it to random objects.  For example, you could put it on a wall, the outside of your car, or on your significant other.  Whatever floats your boat (or on your boat).  I could see uses for them in other sports, though, none that I've tested.
The Quad Lock case:
I love the sleekness of the Quad Lock case from a day to day use standpoint.  My wife however, she hates it.  Not because it's sleek, or because it's durable, but because she knows that I can't get the darned thing off the phone most of the time.  Instead, I defer to her and all her womanly magic to break apart the bond that the phone and case seem to have.
Once you slip your phone in that thing, it's not coming out without a fight.  Why would I take it out? Doing as much travel as I do, I'm often on overnight international flights with days of battery life needed, so I use an iPhone charging case a fair bit (I also have a pluggable version for generic USB devices, but that's not as great for your pocket).  So when I have to swap cases, it's a bit of a pain.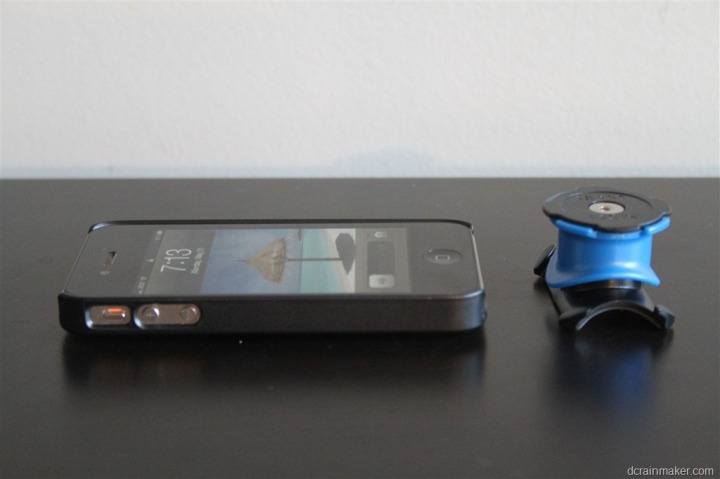 Now, I do actually really like the case itself.  It feels durable, it's super-thin, and doesn't block any of the ports (headphone, Apple connector) or buttons (volume/power/silence).  There's really nothing to complain about in that area.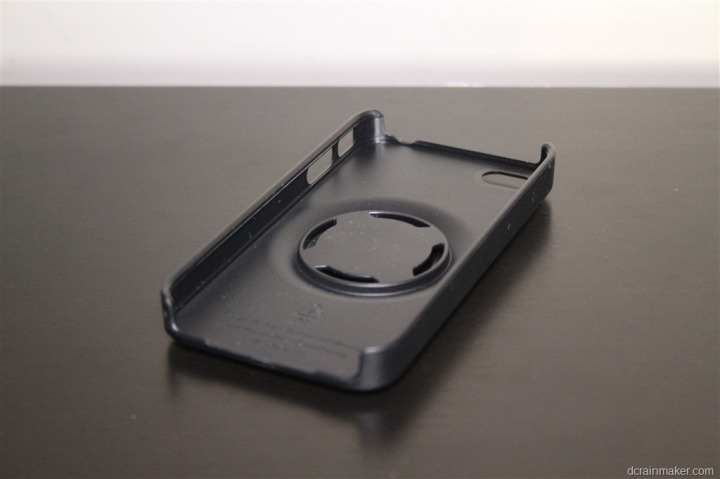 The actual locking mechanism is on the bottom, and about as thin as you could imagine.  It doesn't (or at least hasn't yet) catch on anything that I've seen, so no concerns there.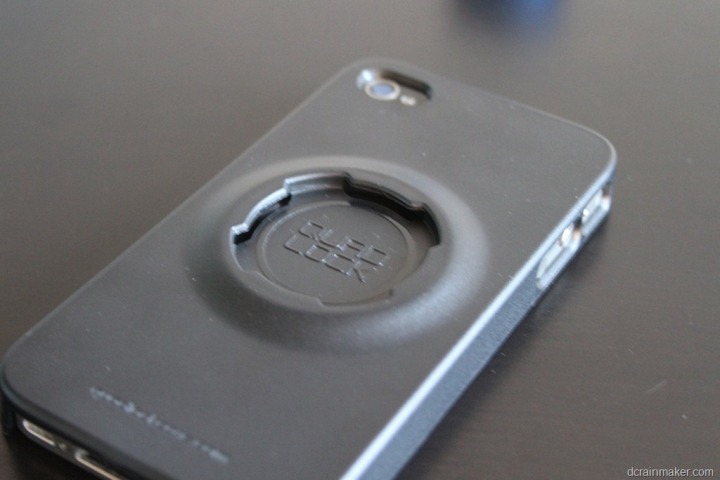 How well does it secure to your bike:
I've often said in the past that the mount system used on the Garmin Edge cycling computers is strong/secure enough that if I got hit by a bus, the unit would likely still be there attached to my mangled bike handlebars.
In the case of the Quad Lock, I think it's much the same, if not even stronger.  In short, there's no way in heck the case itself is separating from the mount.  Once it's locked, it's locked.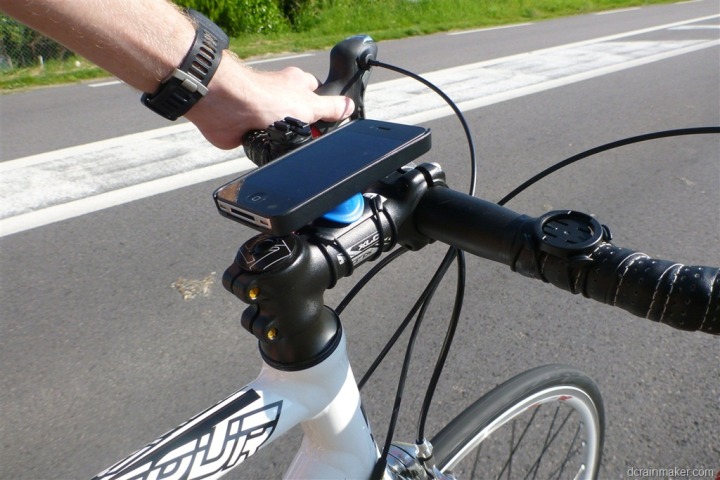 Now, separation of the bands holding the mount to the bike is a different matter.  I actually broke one of them trying to put it on this bike.  But, to be fair – I was probably overstretching it a bit.  In my experience with the industrial strength bands, once you get them on the bike (without breakage), they generally don't go anywhere.
Across bumpy roads, potholes, a little bit of Euro-cobblestone, and everything else along the way – it hasn't fallen off or broken apart yet.
Who the case is really for:
The reality is though, as an endurance athlete – I wouldn't use this case on any of my training or racing bikes.
Why not?
Well, it doesn't protect my phone in any way.  Nor does it help with the battery issues that I would find trying to use it for that long (other bike cases do help here).  On the protection issue, if I'm out for a 5-7 hour, the weather can (and often does) easily change.  The start of the ride may be sunny, but it could be dumping like a circus elephant two hours later.  Sure, I could put my phone in my jersey pocket, but that won't protect it in a downpour.  Nor will it help me navigate and/or display data related to my ride.
For those purposes, I highly recommend one of the other options out there.  Both Wahoo Fitness and iBike make good solid (and waterproof/water resistant) cases that are designed for endurance athletes.  They've got versions with and without ANT+ connectivity for sport sensor connectivity, and they've both got versions with supplementary batteries that lock onto or into the cases.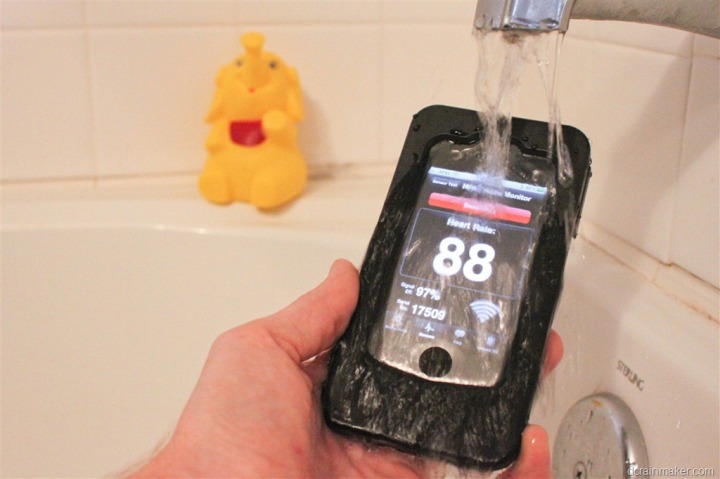 (Above, the Wahoo Fitness case)
Now, with endurance sport uses out of the way – who is this for then?
Well, the average bike commuter or ride around town person.  For that, it's flippin' awesome.  You're likely going to know what the weather is over the course of the sub-1hr trip.  And you've likely got some other bag/pocket that you can slide it into should things go awry (for a few minutes).
Take for example this past weekend.  While navigating to/from the bike shop in Paris, I didn't have the slightest clue how to get there.  With this, I was able to easily clip the phone onto the bike in under 1 second and get directions.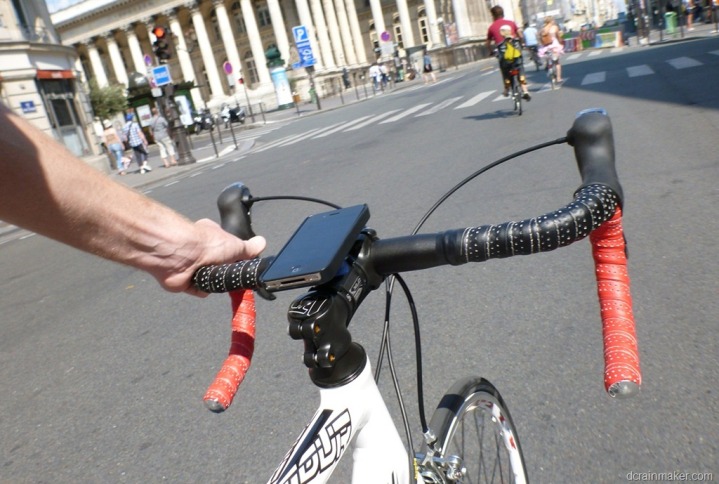 Inversely, when we stopped along the way at a bakery (it looked good!), I was able to to unclip it within 1 second and take it in with me.  No haggling with the more complex aspects of most of the endurance sport mount systems.  Nor, does it look like a bulging burrito on my bike (again, like most of the endurance sport systems).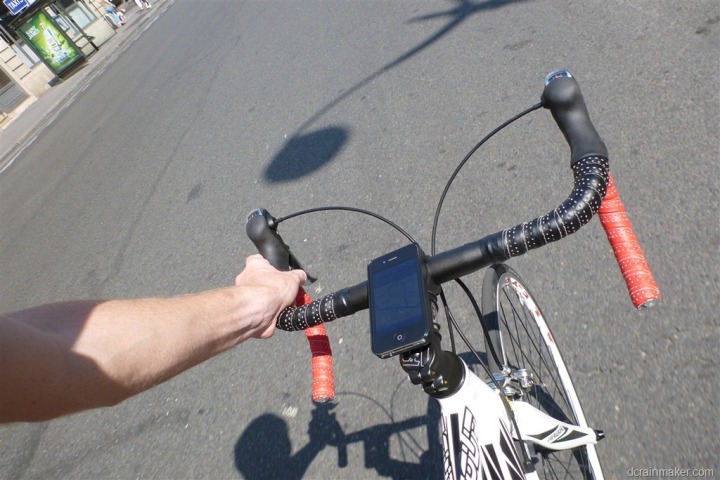 So – as a bike mount for day to day use, it's awesome.  I can quickly pop it on/off for directions and navigational support.  But for endurance…not so much.
Apps:
There are literally hundreds of apps out there that cater to monitoring progress or fitness on a bike.  I've previously outlined the top apps I've used in this post (Top 7 iPhone Apps), as well as written a series in Bicycling Magazine about them.  But, as I alluded to in my top-apps post, the reality is that for quick point to point trips within the city, the iPhone maps app is usually your best bet.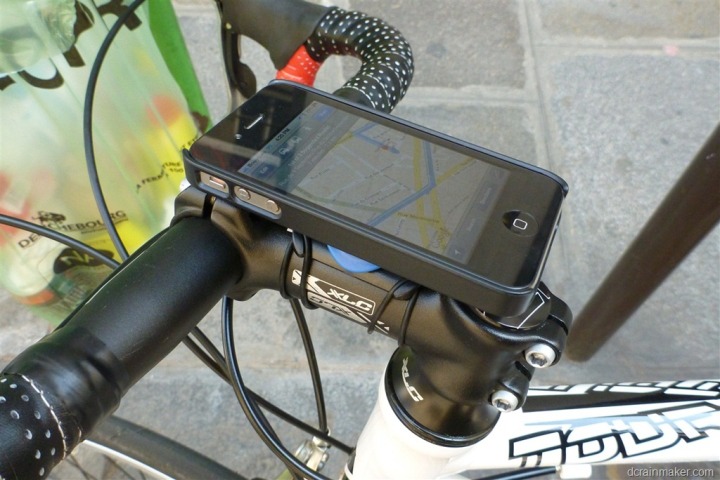 The reason being that most of the other apps don't have the ability to quickly change origin or destination information.  It ends up being more than the two button presses that the default maps application requires. And since I'm cycling, I'd prefer to avoid complex button presses.
Summary:
Unlike much of the iJunk out there today, I think I'll actually buy one of these for my commuter bike after I send this one back.  It'd be useful to me, and the price point is reasonable enough.  I won't use it for racing or training, since neither afford the phone the protection it needs to ensure it doesn't get killed with a random thunderstorm.  But for city riding – it's good stuff.
The Quad Lock is available in two forms, one with the bike mount ($69) and one without ($39).  As noted before, I don't see a ton of value in the other (non-bike) version – though there are certainly use cases for it.
As always, thanks for reading!  And feel free to post any questions below, happy to try and get them answered.