With the summer over, it's time to get some more Paris Blog posts up and (no pun intended) – cookin' again.  In fact, cooking would be the name of the game tonight.  We had kept on toying with the idea of doing some sort of cooking class while here.  There's a slew of choices – from breads to pastries to chocolates, and so on.  Most of these cater to out of town folks looking for a bit of a French cooking experience, and tend to last from 3-5 hours long.  We'd been going back and forth on which one to book when back a few weeks ago The Girl sat down, sifted through the boatload of options, simply picked one for this weekend, booked it, and called it done.
She selected the Evening Market class, which basically meant we'd wander around from market to market picking up items for dinner and then cook it up (with us participating in the cooking).  While yes, we can simply do that every night ourselves given we're living here, our hope would be that we'd learn some new things that might not be self-evident.
We met the Chef with the other four dining participants at the top of a Metro station around 5PM and then walked a short distance to a nearby street filled with various food stores.  Now this wasn't an open-air market, but that's honestly a bit harder to come by in the evening (most are morning and finishing up in early afternoon).  But, like the market nearby our home, each shop has a dedicated purpose.
First up, the cheese shop.  Our chef walked through the different categories of cheeses and how they are typically displayed within a store.  Then, she picked out five different ones we'd have later.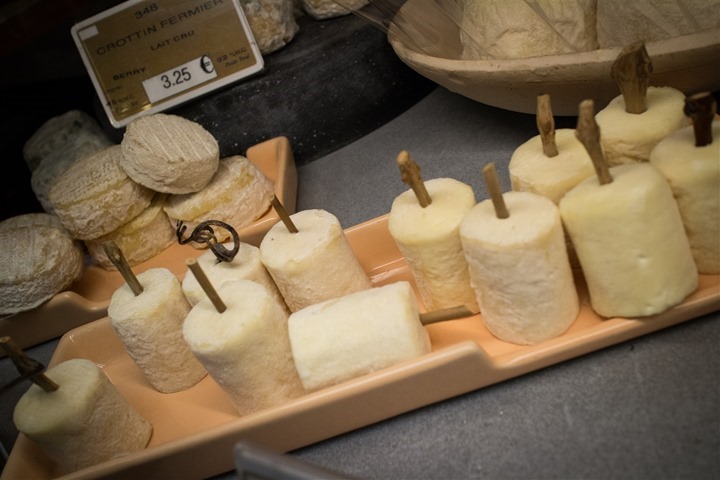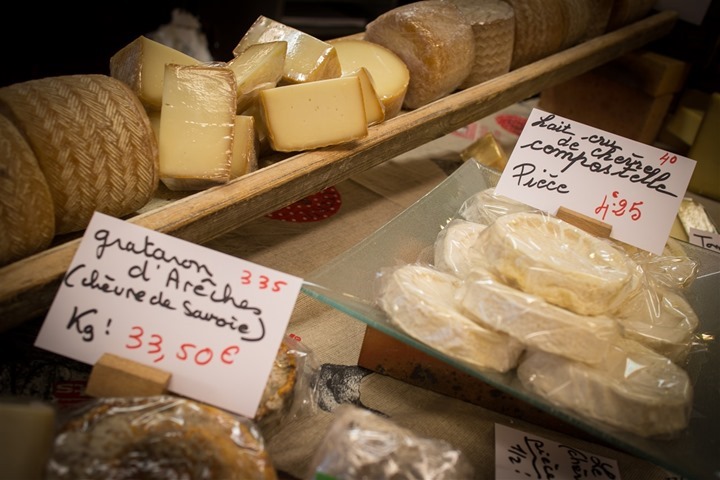 Next up was the butcher shop.  From here we'd pick up some sausages as well as some thinly sliced ham.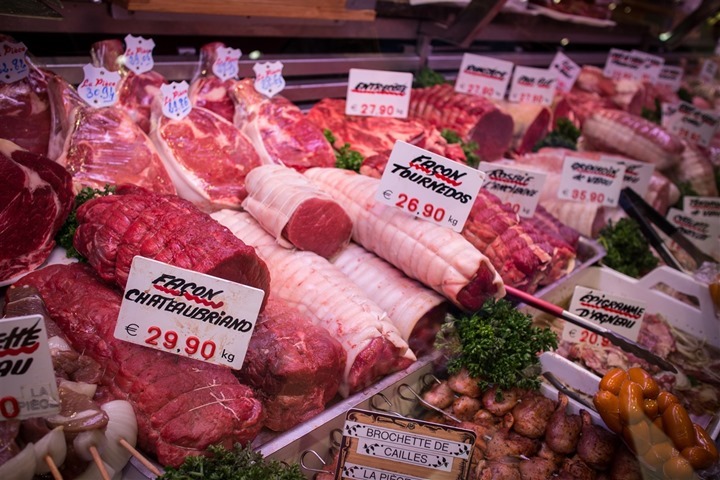 Following that was the fish monger.  The main course of the dinner tonight would be skate (sorta looks like a stingray), in addition, we'd get a bunch of little coques (like mini-clams).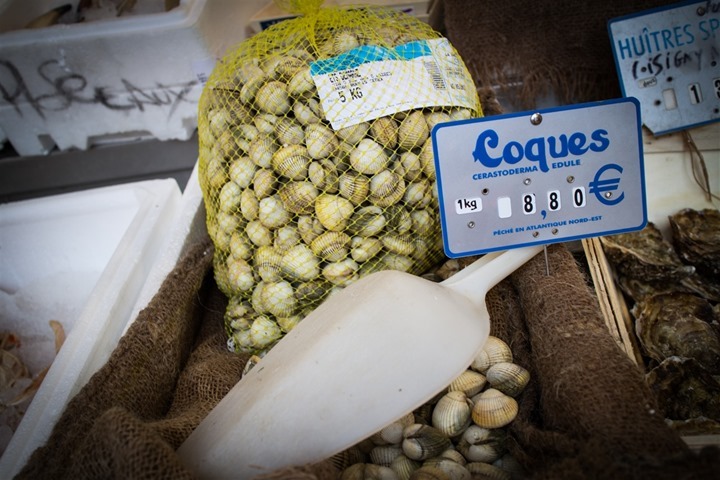 Next was off to the fruit and veggie shop to pickup fruits for dessert, and vegetables to include in various courses on the dish.  In the fruit department we had pretty much one of everything shown here except kiwis.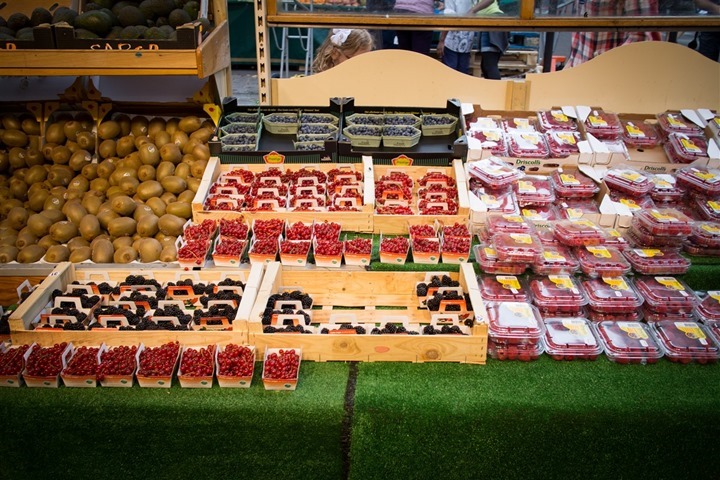 The artichokes would form a major component in the appetizer, along with the carrots that follow.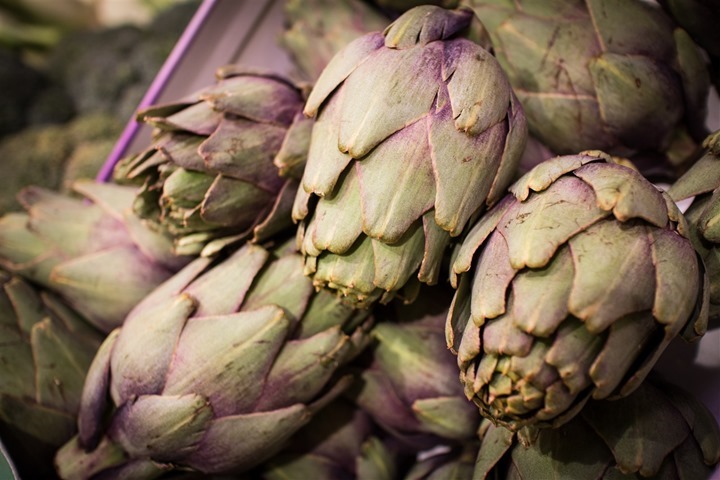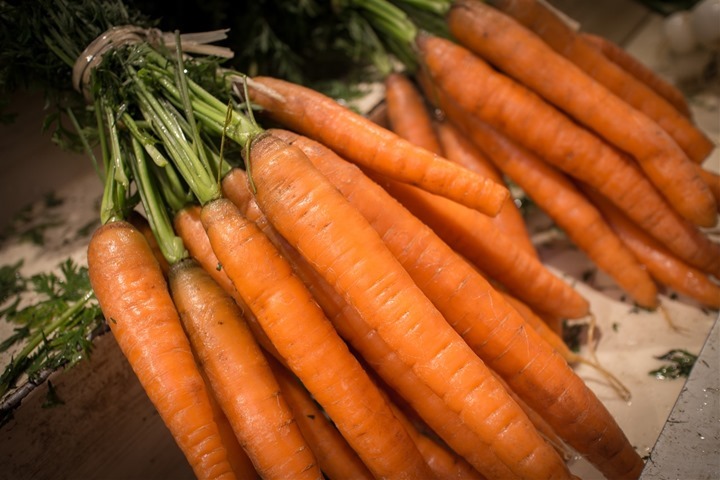 And the potatoes would sit alongside the skate on the main course.  In addition there was a slew of green leafy vegetables picked up like spinach, basil, and some smaller micro-greens.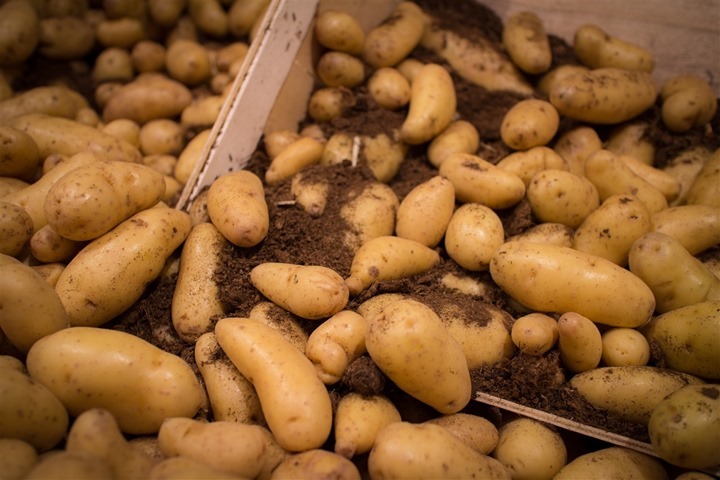 The last stop along the way was the boulangerie (bakery).  This particular one was cool in that you could actually watch the guys loading the baguettes into the oven (background) using this big machine that rolled an entire stretcher looking thing right into the oven, dropping off the dough.  Then, it'd elevate up/down to another oven section (two sections per row) and pickup loaves that were done.  I noticed the breads were cooked higher than I would have expected – at about 266*C (510*F).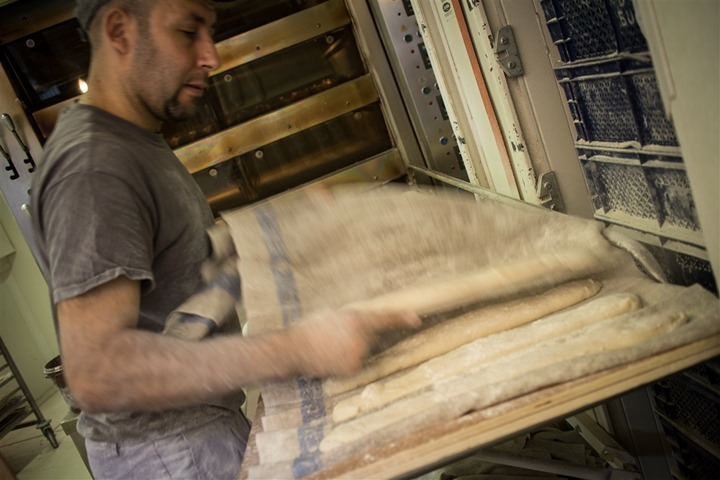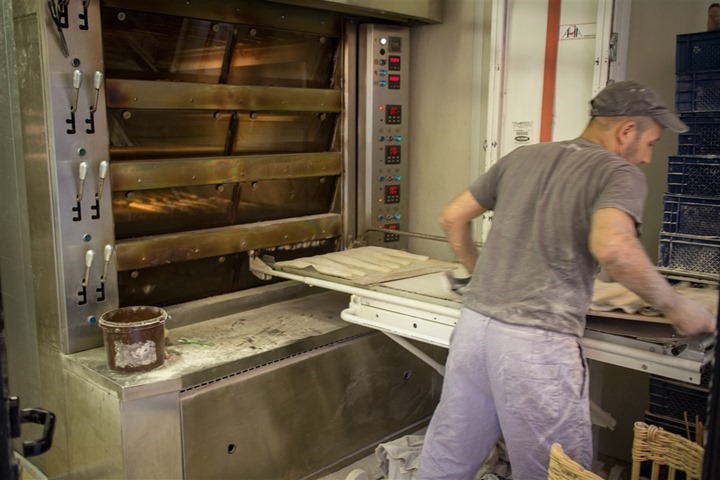 After I was done being mesmerized by this whole process (I could have stood there all day), we headed a block or two away to their cooking studio.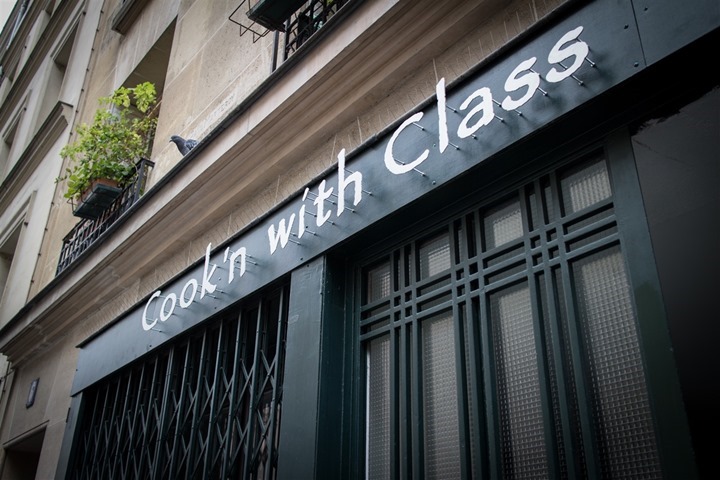 The Girl and I were in love with the setup.  Below is just a fraction of the overall space.  Given her space (the CupCakery) is rather small – this was a dream space not only as a kitchen, but also as a much more robust spot for classes she sometimes does in the small CupCakery kitchens.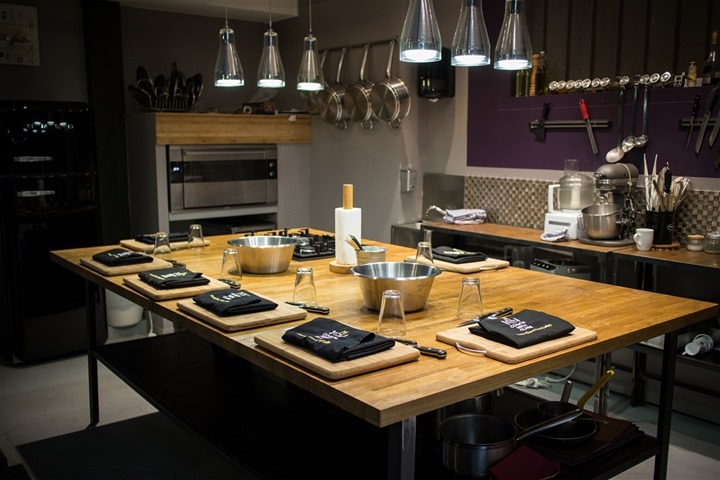 After washing our hands and putting on aprons we were quickly put to work.  Though, more in a relaxed setting environment than a working kitchen environment.  Behind the scenes and mostly out of sight two other chefs were cleaning much of the food and preparing it for us to cut.  They also dealt with ensuring dishes and other items were ready, and getting rid of anything dirty.
Below is the Chef (left) with one of the participants.  In our class, the other four were all from Australia, with us being the only two from North America.  Typically the balance tends to be a bit more skewed towards North America.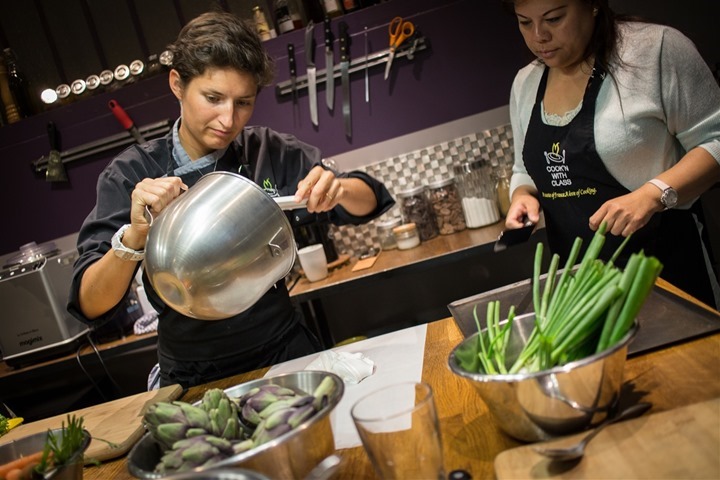 Here's my cutting board – prior to my massacre of the artichoke (I said artichoke, as the second one mysteriously disappeared for someone else to attend to).  The spring onion and carrot were all mine though, no problems there.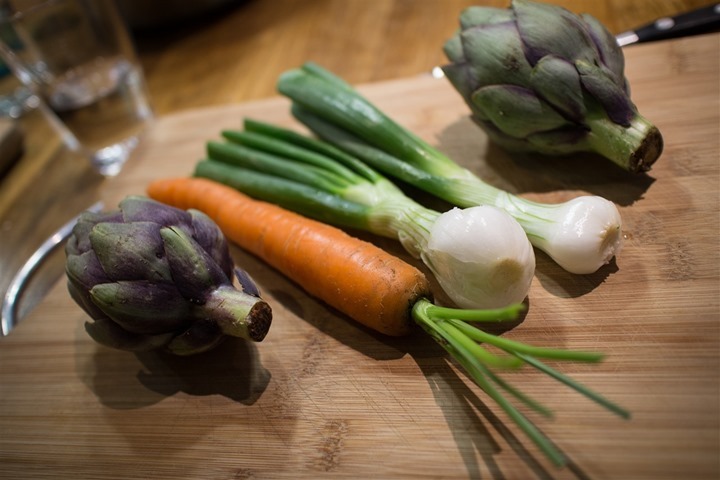 For all but the final course (berries), we cooked much of the food and/or plated the food.  Below, is our appetizer: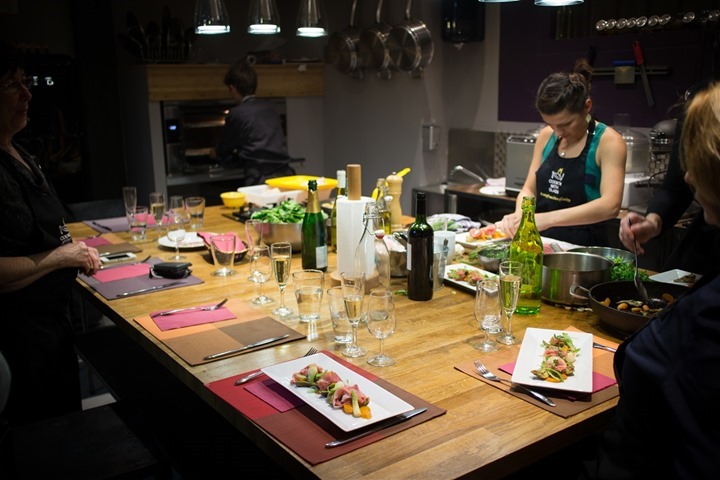 Here's my plating job (below).  Albeit copying a bit of the Chef's example.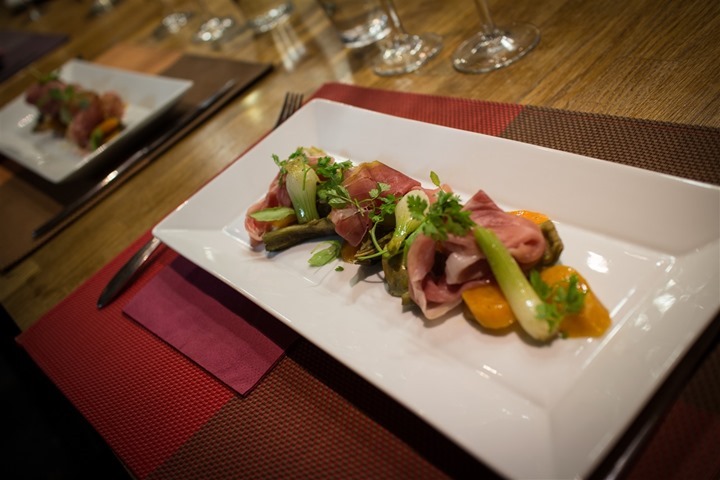 Here's me plating my dinner – photo clearly taken without my knowledge.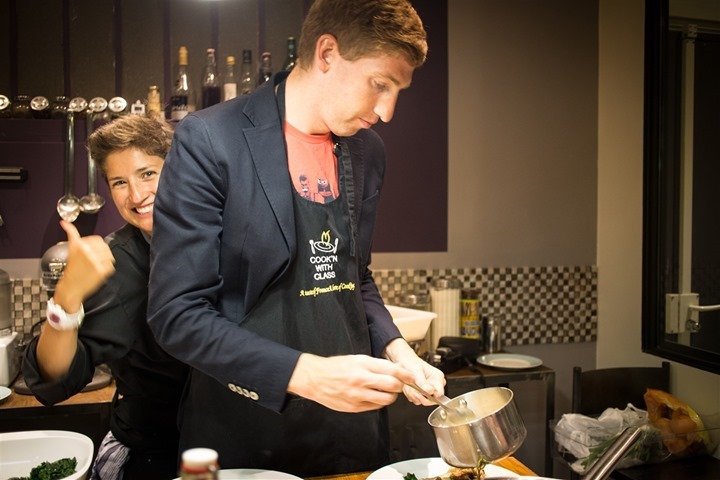 This time, I was prepared for the photo: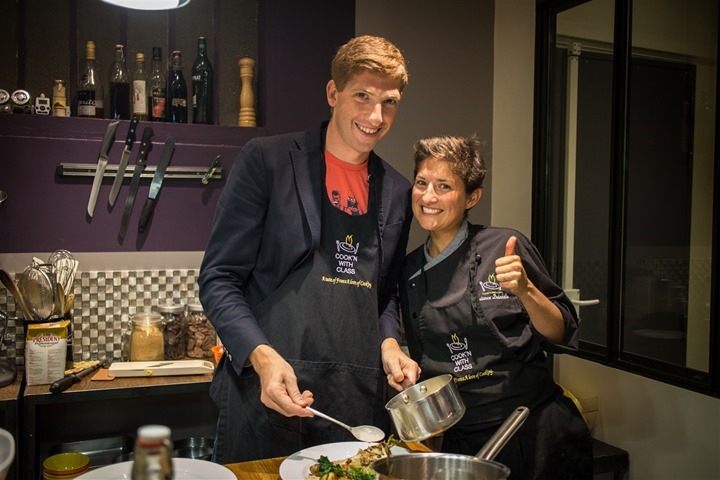 Here's my platted skate (fish), with the little mini-clams up front and a wall of potatoes and spinach nestled in between the two.  Obviously, a butter-wine sauce that the clams cooked in help to make it awesome.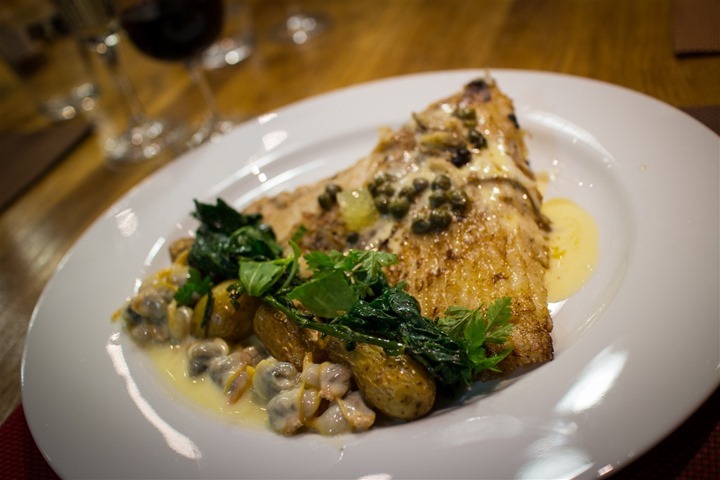 After the main course it was onto the cheese course.  The five different cheeses along with three different breads and three different butters were passed around.  I now have an entirely new appreciation for a good salted butter (typically we don't get salted butter).  This could be trouble.
Last but not least was a simple berry dessert with pieces of hard French Meringue that were made earlier in the evening (actually, the very first photo up above).  Additionally, a citrus-basil sorbet that we started earlier was dished out by the Chef, seen below adding it to each plate.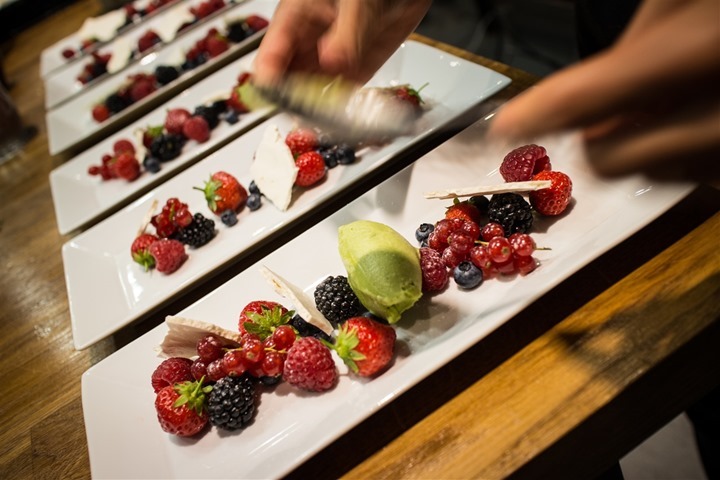 By time we wrapped up it was just prior to 11PM – completely normal time for dinner to end here in Paris.  And, we were stuffed.  We attempted to Velib home (bike), but none of the Velib stations had any functional bikes, so it was back via Metro instead.  More of a waddle really following our 15-mile run that morning.
The experience was far better than I expected – very good.  Cooking classes here tend to be a bit pricey, and this wasn't too different there.  Though, considering what you would spend for a similar four course dinner here in Paris (plus the never ending stream of different wines that were included), you're probably looking at about 40% of the cost of the class.  So I figure the other 60% of the cost being the awesome instructor (Chef Constance Deledalle, here's her personal food blog, in English), thus the whole experience lasting 6+ hours was well worth it.  We're looking forward to picking out some other ones over the next few months (I'm arguing for "French Breads", The Girl for "Advanced Desserts").
Thanks for reading!  And sorry I just sent everyone running to the fridge, hungry, and likely now disappointed with what you found compared to the above.