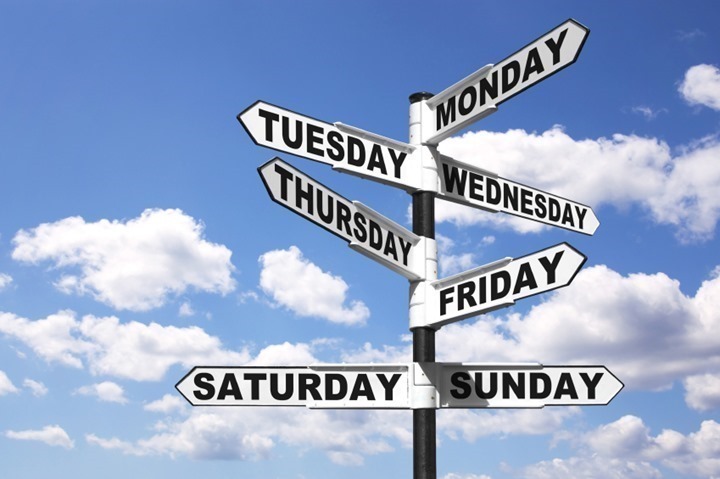 The Week in Review is a collection of both all the goodness I've written during the past week around the internet, as well as a small pile of links I found interesting – generally endurance sports related. I've often wondered what to do with all of the coolness that people write, and while I share a lot of it on Twitter, Facebook, and Google Plus, this is a better forum for sending it on to y'all. Most times these different streams don't overlap, so be on the lookout at all these places for good stuff!
So with that, let's get into the action!
DCRainmaker.com posts this past week:
Here's all the goodness that ended up on the main page of DCRainmaker.com this past week.
Saturday: Week in Review–August 31st, 2013
Monday: Riding off French cheese and meat platters
Tuesday: The Power Meter Buyers Guide – 2013 Edition
Wednesday: Running Hill Repeats Into The Night
Friday: SRAM Quarq Riken Power Meter In-Depth Review
Paris Blog posts this week:
Here's all the Parisian fun we've been having on our Paris sub-blog. And yup, they're in the main RSS feed these days!
To see all previous Paris Blog posts, simply click here.
Stuff that I found interesting around the interwebs:
Here's a not-so-small smattering of all the random things that I stumbled on while doing my civic duty to find the end of the Internet:
1) A look at the financials of a professional triathlete: Awesome piece done with Pro Triathlete on what he makes (actual numbers) each year.  Ben's a pretty good triathlete, though not one yet well known to most age groupers, so his earning potential is still a bit under most of the upper-pros, but far better than most pros. (via Slowtwitch Forums)
2) Garmin introduces wireless tire pressure sensors: Albeit for cars.  Still, you'll remember the Kickstarter project back a bit ago to bring ANT+ and Bluetooth Smart sensors to bikes (looks oddly similar). I think long-term we'll see this come to bikes, automatically notifying you of low-tire pressure in your wheels.
3) Bike disappears from transition area in triathlon – athlete told should have watched it more closely during run segment: That's pretty much the gist of things.  Really poor response from race officials.
4) Want to run on the runways of Chicago O'Hare? Well, here ya go. Just…ya know…avoid the planes. (via United Twitter)
5) The always awesome Norseman Triathlon race video – 2013 edition: Aside from quickly becoming one of the hardest triathlons to get into, it's also earning the reputation of producing the coolest post-race videos anyone has ever seen for a triathlon race.  This year's for the race a few weeks ago was just published. (via Slowtwitch)
6) A better way to mount your O-Synce Navi2Coach computer: I've said previously that my only complaint with the O-Synce Navi2Coach bike computer is the annoying mount (it's not just my complaint btw).  I keep hoping they'll work with someone to develop a better mount.  In the meantime, a DCR reader came up with a great little solution to be able to use the common quarter-turn mounts found on the market today.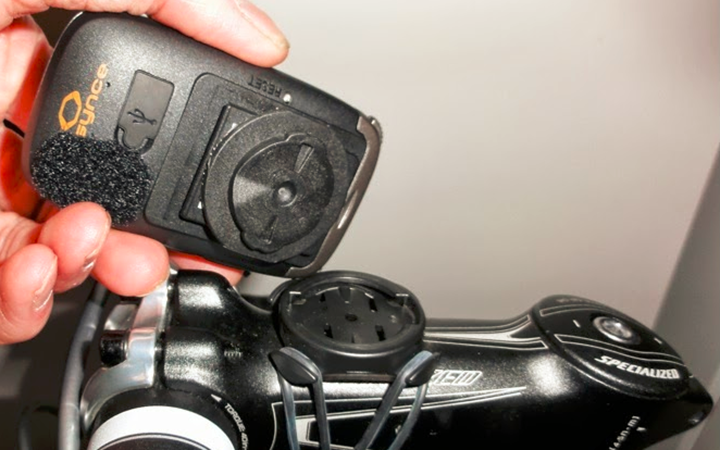 7) Professional athletes among us: A pretty fun photo project taking professional athletes and putting them into everyday life situations..with a twist.  Worth the quick browse.
8) Watermelon Smoothie Hack: Pure awesome, that's all I've gotta say.
9) A simple to follow bike Maintenance Schedule: Some people (cough…me) may not be terribly on the ball when it comes to keeping on top of various bike maintenance tasks.  Slowtwitch does a great job at putting together an actual calendar of bike maintenance tasks – from pre-ride (quick) to weekly and so on.
10) Pacu, Testicle-Biting Fish, Caught Near Paris In The Seine: Well then, good thing I don't/can't swim in the Seine. (via, my Dad)
11) A $50,000 carbon bike…travel case: Yes, seriously.  I'd like to believe you could air ship things in a crate cheaper than that – and likely more securely.
12) Bicycle tree fort elevator: Pretty much just like the title says, you pedal your way up to the tree fort.  Clearly, this will need to be installed some day in a future tree fort  on my dream property. (via Wahoo Fitness Twitter)
Crowd Funded Projects of Athletic Note:
This is a bit of a new section. Most of this content used to be found within the main section, but I figured I'd just call it out up here and make it easy to find. I regularly sift through Kickstarter and Indiegogo (plus a few others on occasion) looking for sports projects. Note that as always with crowd funded projects, assume the project will be late and will under-deliver on features. Thus far, on the numerous products I've helped 'fund' (except a leather bike handle), that's been the case.
EasyGimbal: An advanced GoPro 3 camera stabilizer: Well, that's just pretty darn expensive. (via Eli)
The Veloflyte iPhone 4 or 5 Mount for Bicycles (Canceled): Reader Eli had spotted this last week, but it's since been cancelled (with no clear explanation).  Strange, I actually kinda liked it – though, certainly not at that price.
Sports Technology Software/Firmware Updates This Week:
Each week I quickly highlight some of the new firmware, app, software and website service updates that I see go out. If you're a sports technology company and release an update – shoot me a quick note (just one liners is perfect, or Tweet it at me is even better) and I'll make mention of it here. If I don't know about it, I won't be able to post about it. Sound good?
Site/Firmware Updates:
ANT+ comes to new Samsung Galaxy Note 3: Pretty interesting to see the Samsung Note get ANT+ this week.  Given the chipsets are technically capable in most other Samsung phones (and in fact most phones on the market these days, iPhone actually included), I'm hoping that Samsung looks to open up other units in future updates to allow ANT+ connectivity.

Bryton Cardio 60 Receives Firmware Update: This adds in Auto Pause and a bunch of other fixes/minor updates.
iPhone App updates this week:
iPad App updates this week: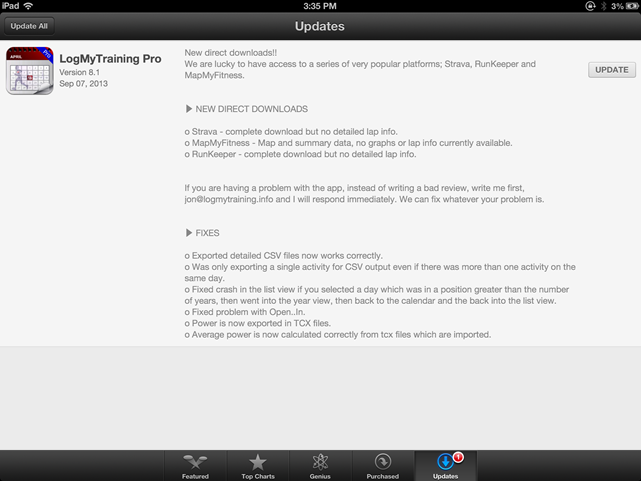 Android App updates this week:
Windows Phone App updates this week:
(No sport related app updates that came across this week on my Windows Phone.)
—
Thanks for reading!