Earlier this week, Garmin introduced a new bit of functionality to their existing Garmin Fit iPhone/Android app.  This is the app that uses their Garmin Fit iPhone adapter to access ANT+ data.  It came out last fall, and for the most part I thought it was a waste of money.  It wasn't compatible with any other apps, and the app itself did far less than most other free apps.  The app itself is free, and doesn't require the ANT+ adapter for super-basic functionality.
The newly introduced Live Tracking service allows a user to invite others via e-mail or Twitter to watch live as they broadcast not only their location information, but workout details such as speed and ANT+ information (like heart rate and cadence).
But, would this new Live Tracking service change my opinion of the app?  Well, I figured tonight's workout was a perfect place to try it out.  I had a 80 minute fairly difficult indoor trainer ride, followed by a 25 minute tempo run.  All in, nearly two hours on a weeknight.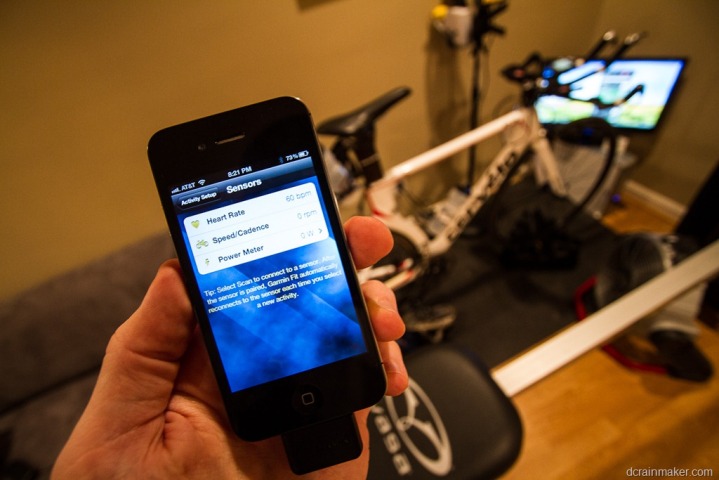 I started off getting the app configured, and since I wanted to stream sensor data it would require use of the Garmin Fit iPhone adapter.  Since I already went in-depth on the app itself previously, I'm just going to focus on the key LiveTrack streaming pieces.  Adding the sensors is pretty quick and straight forward.  Though, the ability to see pairing ID's for all devices would make life easier – especially in a race situation with potentially multiple devices (if you forgot to pair ahead of time).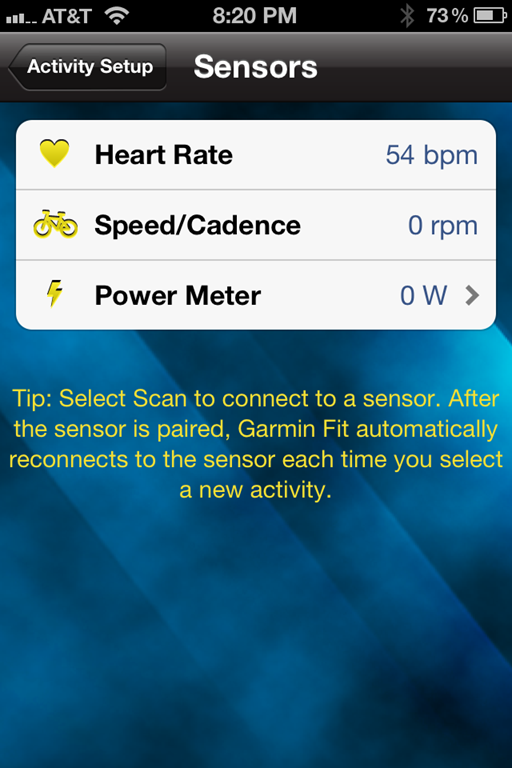 I did find it interesting that crank length was listed within the power meter settings.  This appears to be a nod to use with Garmin Vector down the road.  Since there's no other ANT+ power meter that I'm aware of that uses or cares about that specification at the head unit point.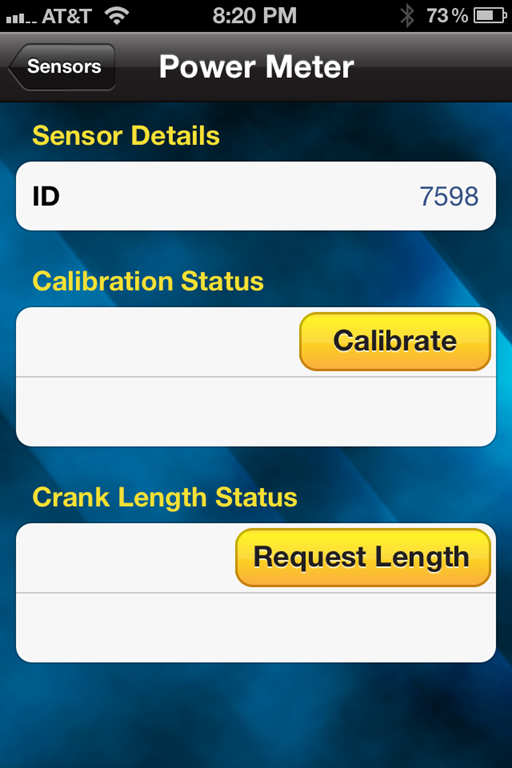 With the sensors added, I went ahead and configured the Live Tracking aspects.  I set it up to e-mail myself (and my coach), as well as to Tweet out the link at the start of the activity (as opposed to sending it ahead of time).  You can also use Facebook.  Finally, I was able to name the session anything I wanted.  I simply called it 'Indoor Trainer'.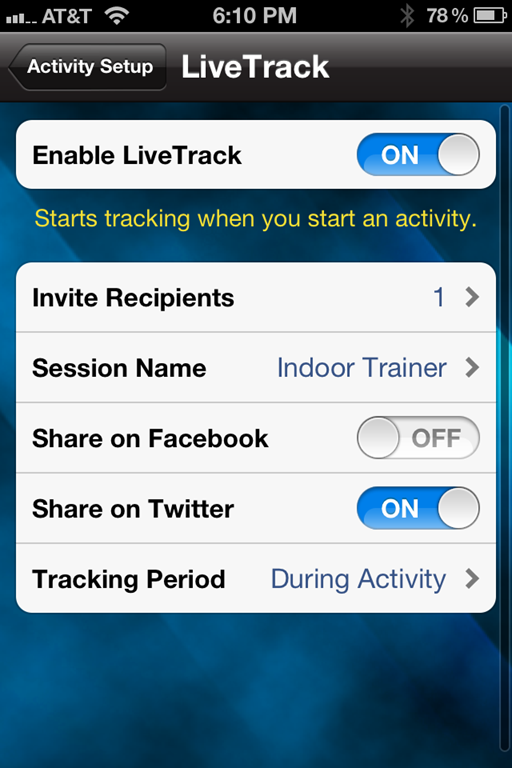 With that, it's more or less business as normal in that you go ahead and start the activity.  You'll notice a new section has been added showing that you'll be enabling LiveTrack.  Also, because I was indoors, I set the GPS to be off.  Though, interestingly, it still reported my GPS location.  I wouldn't expect it to do that.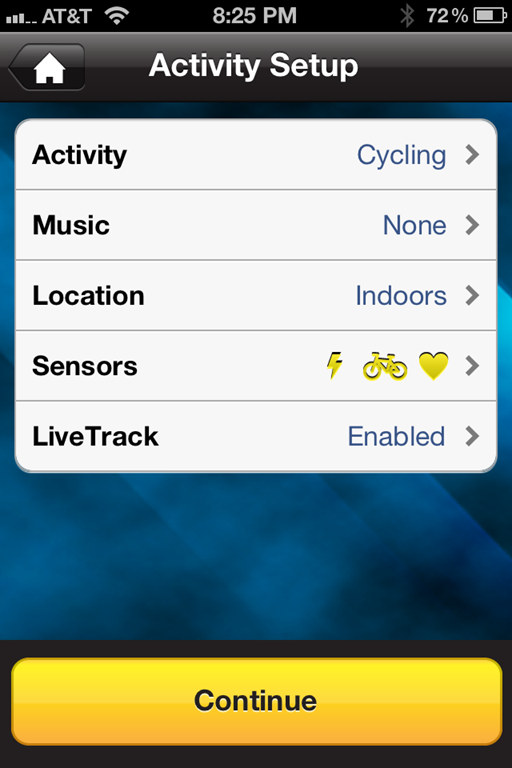 Once you've gone ahead and started the activity, all of the data pages are largely the same.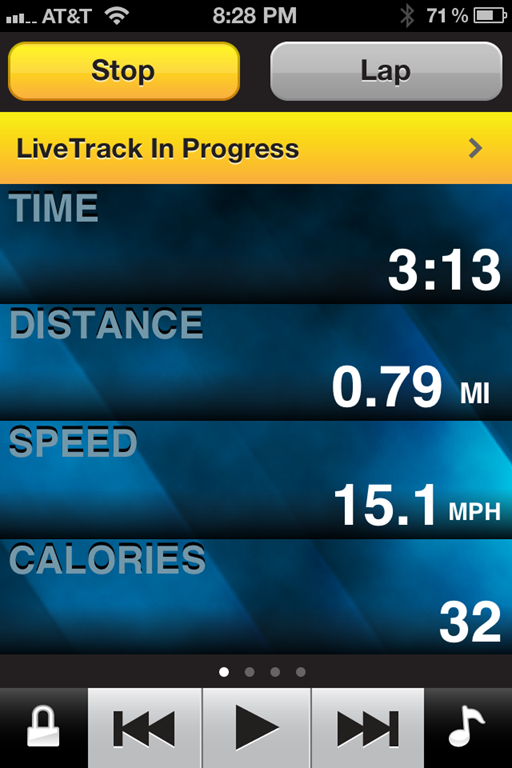 Since this update also added power meter support, you'll see that as well now: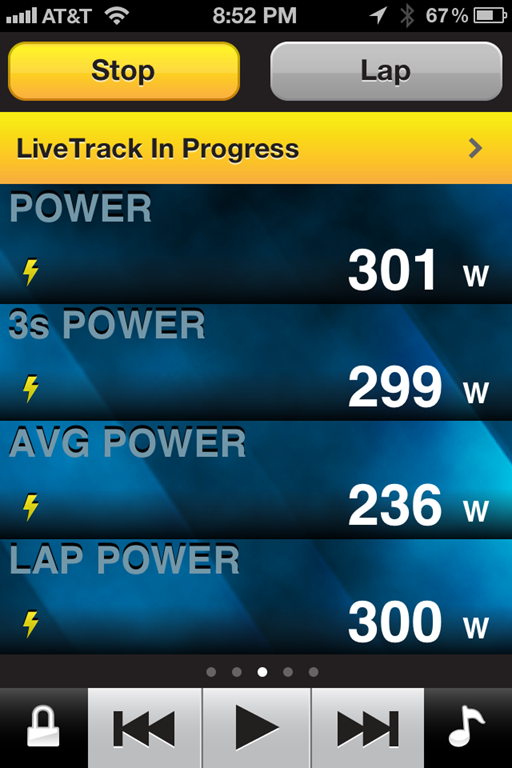 The numbers pretty much matched the Edge 800 I had at all times, as expected. 
But, let's get back to the LiveTrack piece.  When I started the activity, it was automatically tweeted out – which some of you noticed.

When you clicked the above link, it would take you to this bare bones page: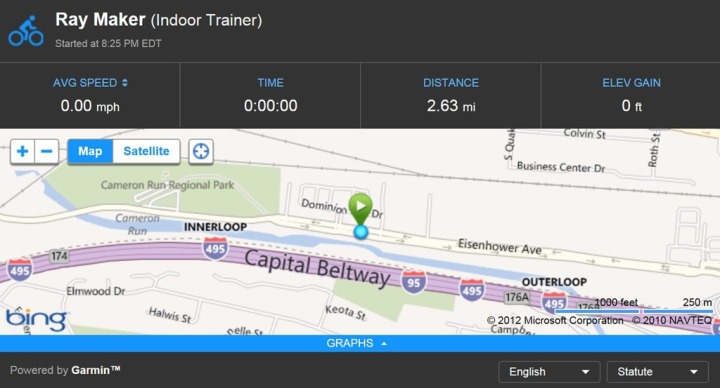 Any by bare bones, I mean – mostly not working.  Over the course of the 80 minute bike ride, I got exactly three updates, excluding the final update that I finished.  Carrier pigeons move faster that the update service did.  Given my phone was within range of WiFi, and everything else on the interwebs was working fine for the phone, I'm not sure why it was failing so badly [Update: The LiveTrack team reached out to me and let me know that the current app logic goes into a 'low-update' mode while in indoor mode, in order to reduce battery. I think that if anywhere this behaviour should be the opposite. Data is likely WiFi, and one could even plug in phone. Though, I never saw battery as an issue indoors].  You can see here where the app itself is at the 80 minute marker, meanwhile the site is still chillin' back at 36 minutes.  Stopping/opening/closing didn't seem to help.  But in a race situation, you'd never know otherwise – it would just be silently failing for all your friends and family.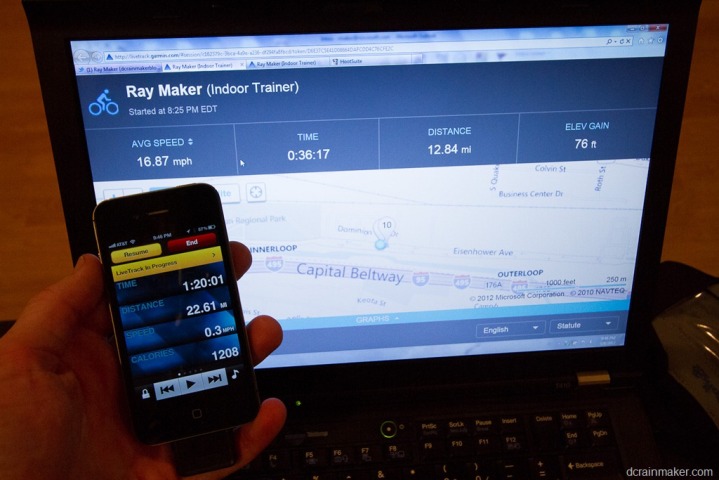 Also, the 'Started at…" is useful, but of more use would be a line below it that says "Last updated at…".  The graphs weren't terribly useful in this case, though later on in the running section they were better: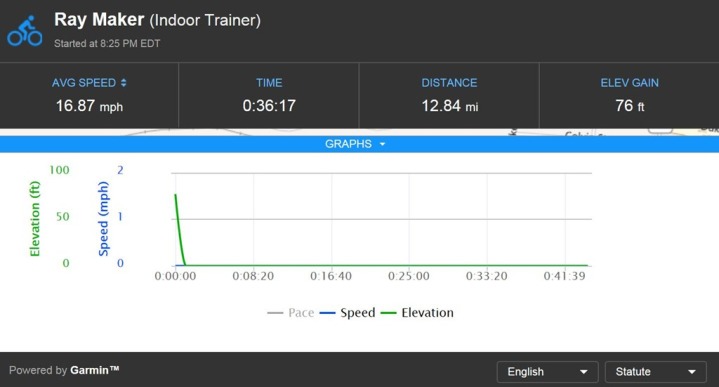 In general, this didn't work at all while indoors on the bike.  The app itself did however correctly record data the entire time, and once completed it successfully updated the full detail to Garmin Connect.  So the app itself was working as expected, but the LiveTrack piece wasn't.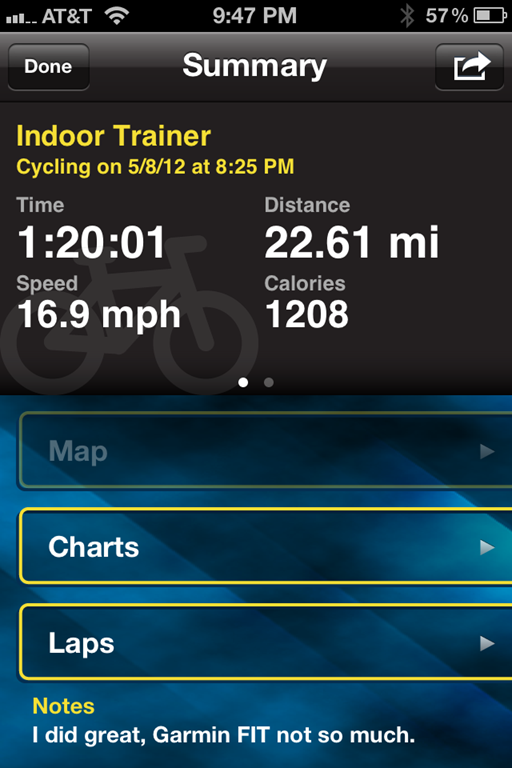 Onto the run!
The run would be outdoors, so I stashed my phone inside a iPhone running case.  I happened to have the Wahoo Fitness one, so that worked well.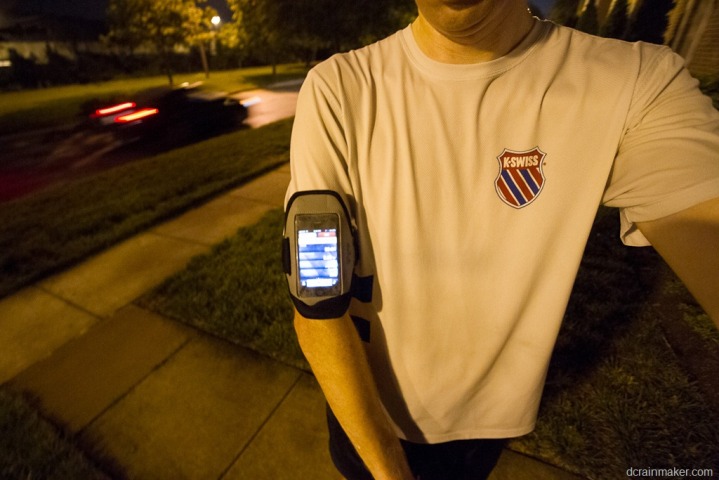 Like before, I setup the sensors (heart rate and cadence), but this time enabled the GPS and then set it to running mode.  After those were good to go, I was ready to run.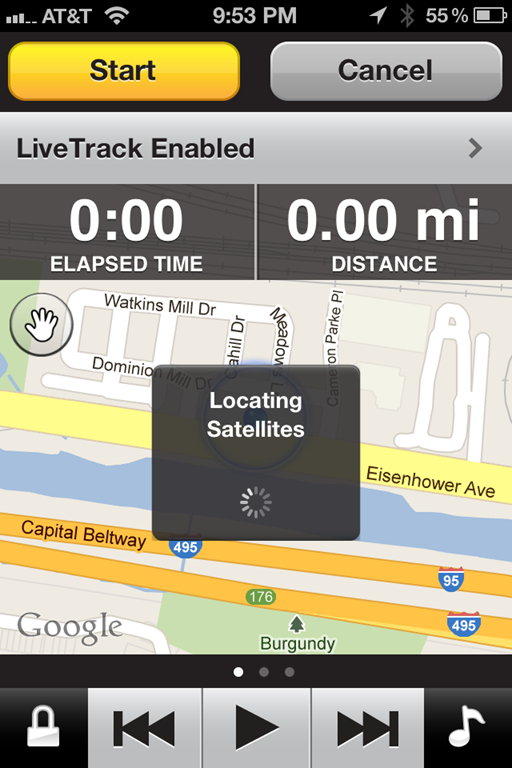 As I started the run, the app tracked data locally, which I could see while looking at the phone on my arm.
But the cool part was that this time it DID work for all of you!  A bunch of you told me via Twitter that the app was indeed sending updates out about every 60 seconds, which is definitely 'good enough' for most race applications.  And a huge improvement of no data at all.
Below is what you would have seen if viewing the page while I was running.  There does seem to be a few odd drops in the ANT+ data, like the cadence and heart rate dropping out (which doesn't show in the final Garmin Connect file from the app or the file from FR910XT).  And the pace chart is completely useless with a range of 2hrs and 30minutes per mile.  Slugs probably move faster than that.  How about a refined pace range?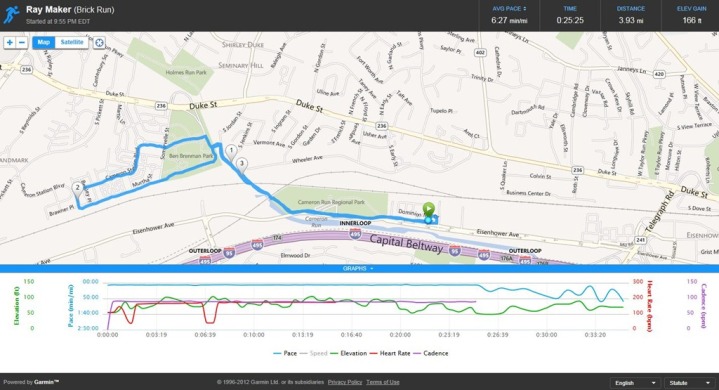 You can switch the view to satellite instead of map: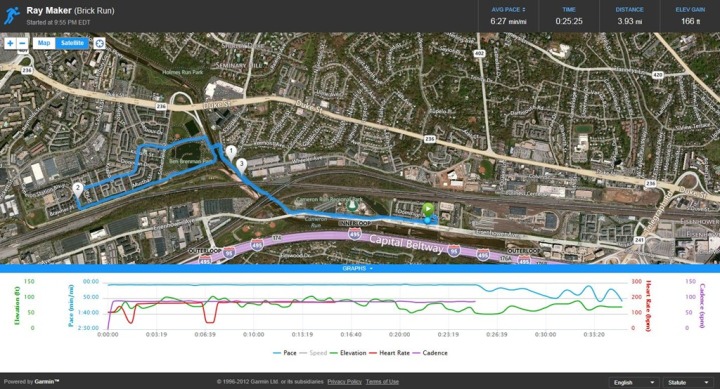 I would rate this service as barely beta level, but conceptually the right direction . You can clearly see the ANT+ data down at the bottom, and the map itself is accurate.  It appears that even though it was updating every 60 seconds, it was backfilling the data in between those points.  Otherwise areas where I made sharp turns (such as across the bridge along the river) would have been odd angles.  So that's good news (since services such as the GTU10 and the Spot Tracker don't backfill in between data points).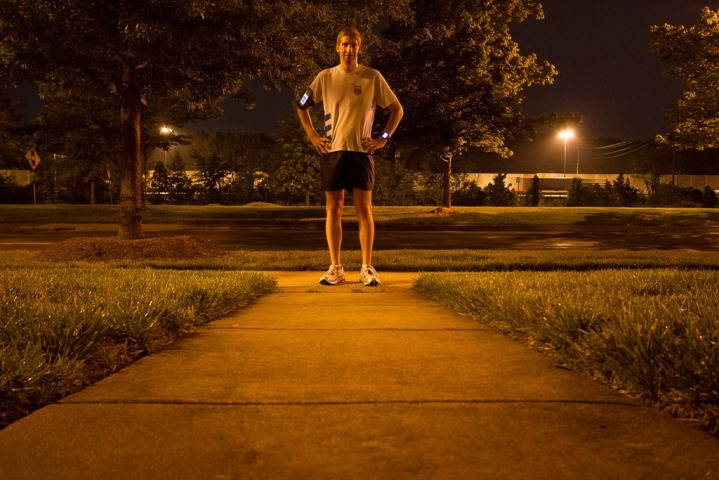 However, this is a paid service ($1.99 a month) – and as such, I think it needs a bit more detail.  I'd like to see laps/splits shown (just like Garmin Connect) [Update: I've been told by the LiveTrack team that this is shown if you however over the mile marker, but indoors it wasn't working for me due to the spotty data].  And, there needs to be better stability of the data.  Data dropouts to the LiveTrack service seem odd and don't match up to what other devices on my person show.  And a closer look at the FR910XT heart rate data vs the app HR data show clear differences, mostly what appear to be recording rate issues.  And finally, the issue of the indoor trainer implies a complete failure to function.  On the bright side, the final run distances were pretty darn close, 3.89 miles (FR910XT vs 3.93 miles (phone).
As an interesting side note on battery, you can see the battery drain over the course of the two hours (displayed at the top of the screenshots).  The phone was on the entire time (display brilliantly on), with the dongle plugged in.  You can go check mail/surf the internet, etc, and the app will continue recording/transmitting.  I was impressed with the battery life, it was better than I expected.
As noted above, I think this is a good start, but I'm not sure I'd recommend it yet.  Given cost of the dongle is $45, and the app another $2 a month, it's still not performing as well as other services.  For example, RunKeeper has had non-sensor data LiveTracking forever, as well as Endomondo, and many others.  And all those apps are far more flexible in data pages than the Garmin FIT app.  Finally, if you buy an ANT+ adapter, the Garmin FIT adapter only works with the Garmin FIT app, whereas the more common Wahoo ANT+ adapter works with a 100+ apps.  Though, it is more expensive at about $80.
Of course, I'd much prefer to see the ANT+ data integrated into the GTU-10 instead.  I dream of the day ANT+ tracking is offered there, with it's extremely long battery (up to 30 days), and waterproof gum-package size, it continues to be awesome for endurance tracking.
I'd love to hear feedback from others on how the app is working for them with LiveTracking.  I've got some interesting runs scheduled over the next week that I'll be sharing…we'll see how they shake out!
Thanks for reading!