Bonjour! This weekend is more than just two days, for me, I'm making it a four-day affair.  I'm over in Paris for some work related stuff on Friday and Monday, so I decided that given I'll be doing a ton of walking I might as well get some concurrent data usage from a bunch of fitness monitoring devices (pedometer related).
I've been previously using the Jawbone Up, Motorola Motoactv, Nike Fuel and the FitBit.  But I went ahead and based on some of your feedback decided to add the Slimcoach, Bodymedia and the slightly updated FitBit Ultra (same price as the old FitBit).  All of these devices have a low-power step/distance calculation option.  These devices are less aimed at the endurance athlete, and more aimed at the non-endurance athlete that just wants a bit of assistance in getting healthier.  And, they're also aimed at data geeks like me.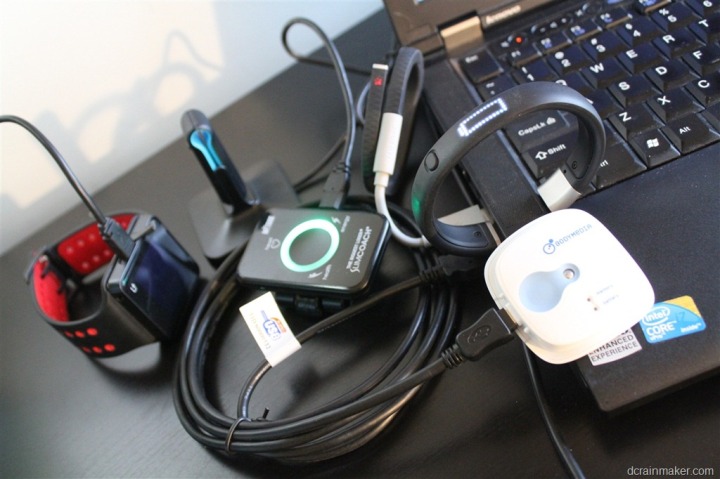 Wednesday night I got them all charged up, updated with the latest firmware editions, placed on the appropriate Paris time zone, and ready to roll!  As I just stepped off the plane in the city of chocolate croissants, I'll be monitoring all day long from here on out, all four days.
I'm particularly interested in seeing how the total steps & distance per day varies between these devices – since that is in most cases the primary reason to get one of these devices.  Also, I've set them all completely identical as far as my body metrics (weight/height/age/etc…), so the variations on calorie assumptions will also be worthwhile.  Especially since I plan to walk my way between each and every one of the 1,000 chocolate & pastry shops in Paris.  I'm not sure if the calorie math will work out in my favor.
I have yet to decide however if I will include or exclude them from my scheduled 10-mile run.  On one hand, it's interesting to see the data. Yet on the other, some of these devices note that running isn't exactly their best foot forward.  So we'll see.  Any thoughts either way?
Ultimately, these will end up in separate product reviews – though I don't have a timeline specified for that at this point.  The next review due up on the publishing docket is the Quarq SRAM RED 2012 power meter, then there's a bunch of other items in the queue.
With that – thanks for reading! And of course, watch the Twitter feed for what I'm sure will be a never ending stream of Parisian awesomeness.  Have a great weekend!