I didn't exactly plan on having as many different gadgets arrive this weekend as occurred – it just sorta happened.  But holy cow – there's some really cool stuff in here!  Like increda-cool.
I can't wait to get full in depth product reviews up!
In no particular order, here we go!
Motorola MOTOACTV:
The new Motorola Motoactv was supposed to arrive Saturday morning – in time for my mile repeats on Saturday afternoon, but, it didn't.  Well, it didn't arrive to my house anyway.  It arrived a dozen houses away.  On a Sunday morning stroll I went and found it.  But by that time I had ended up already ordering one for local store pickup at a nearby Best Buy.  So now I have two.
I did find it funny to compare the 'Media Reviewer' box (back) to the regular store box (front):
The only notable difference between the two boxes was the gigantic box also included the wrist strap, arm band and bike mount – neatly displayed in their own cubby holes: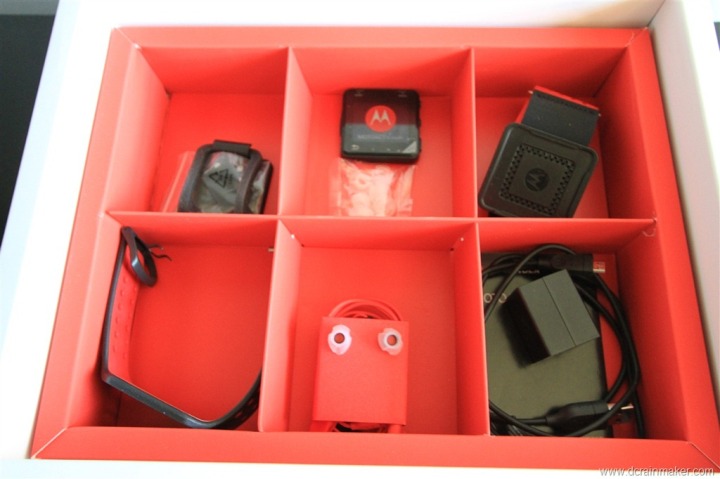 As for the regular box, this:
(Side note: that dual USB port outlet charger is the coolest thing I've seen in a while)
Now – I'm aiming to see if I can use my regular workouts to get a product review out the door by Wednesday.  Given I'm less than 2 weeks until the Philly Marathon (my A race), this isn't the time for extra fun workouts.  Nonetheless, that doesn't stop me for just leaving it on as I wander around town.
As you can see, it's got a map.  Yes, a map.  With real streets on it.  None of this useless map stuff that Garmin includes with their Edge units by default.  It uses the Open Street Maps and by default it includes all of North America, some of Central America and portions of South America.  You can via the Motoactv.com site download the rest of Europe for free.  And, since the files appear to be open-standard, it looks like you can get other places as well on it, relatively easily. I'll find out about that in the next day or so (for Asia, Africa, etc…)
The user interface is clear, crisp and quick.  You can customize data fields with up to four fields (though only one data page worth – I'd like to see 2-4 pages).
One thing I love is that when you connect to ANT+ sensors, it shows you all available sensors – and their device ID.  That way you don't have to run far away from anyone else who might be wearing a strap to pair, you just choose which one you want.  It also supports Bluetooth Low Energy sensors too, and regular Bluetooth.  In other words…everything.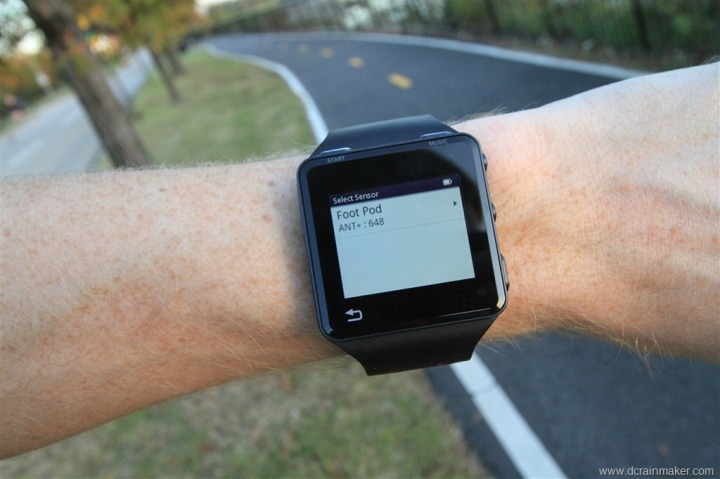 For fun, I shot this couple minute soundless video showing me moving around the user interface.  Just as a quick preview of what's to come:
Remember that the Motorola Motoactv syncs via WiFi as well as via computer, so you merely walk into your home and it automatically uploads your workouts to their site.
Without question – Motorola just moved the bar.  Rather, they kicked the crap out of the bar.  This device makes most all of the other sport watches on the market look instantly antiquated.  If I was working at any sport watch company this Monday morning I'd be cancelling the morning meetings, driving to Best Buy – finding the unit, and then just using it the rest of the day.  Then figuring out how to copy it and improve upon it.
Sure, there are little things that they can improve upon – some data field items primarily and TrainingPeaks-compatible CSV's, but those are easily addressed via software.  Though there is the issue of a lesser waterproofing standard used (IPX6, splash resistance – not full immersion) and questions around battery life (somewhere between 5.5 and 20 hours) – but I'll be testing both of those for ya.  Actually, the battery life test is running as we speak…
Stay tuned!
Jawbone Up:
This is an interesting one that a lot of folks have asked about recently.  It's akin to the Fitbit tracker that tracks your movement, steps and sleep.  Except, it's worn on your wrist like one of those bracelets.  It plugs directly into the top of your phone via the headphone jack, to synchronize:
To be clear, despite being from Jawbone – it's not a Bluetooth device.  It's a headphone jack device that you plug in.  But, that's fine, it works good that way.  And it means the battery lasts longer.
So why would you track steps?  Well, this device honestly isn't aimed at folks like me – or many of you either.  It's aimed at folks trying to get healthier that may not formally track their fitness.  The device (like a Fitbit) tracks your steps against goals you set – such as 5,000 steps or 10,000 steps.  This in turn prods you to walk more, and thus get healthier.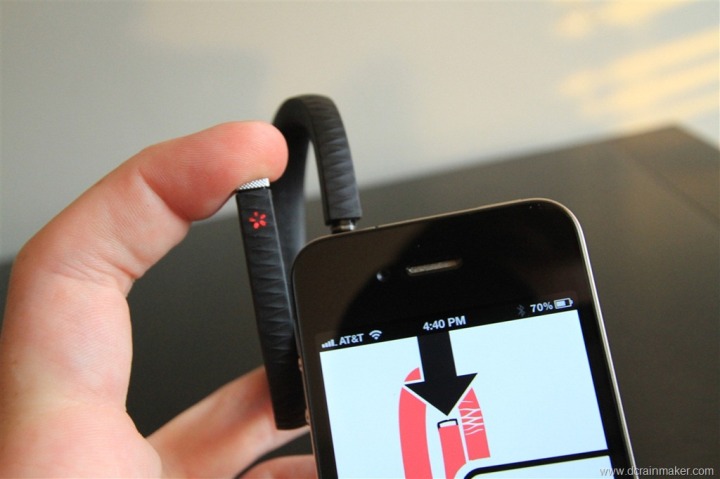 What is of note is that there are actually different sizes to buy depending on your wrist.  You can print out this nifty little sizer sheet on their site to figure out which is the best size for you.  Or you can just go to Best Buy and they have a template on the back of all Jawbone Up boxes.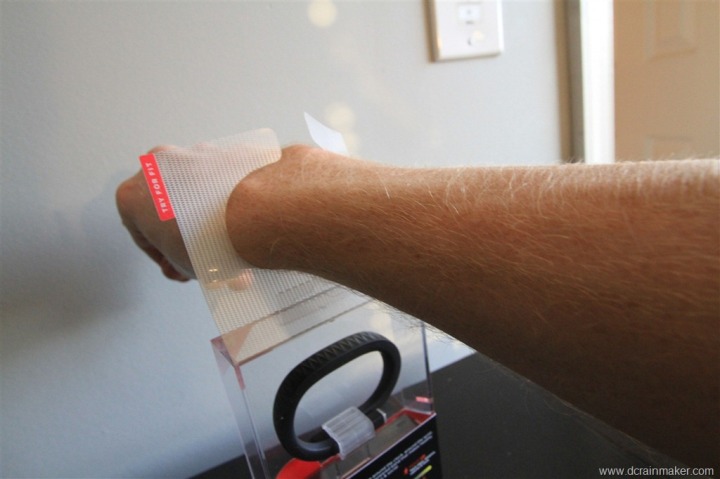 Speaking of which, I was blown away by how jazzed some of the Best Buy employees were about this.  When three of them found out I had snagged a unit (in their own store) – they were shocked and confused as to where I got it, since they were trying to buy it for their girlfriends.  I win.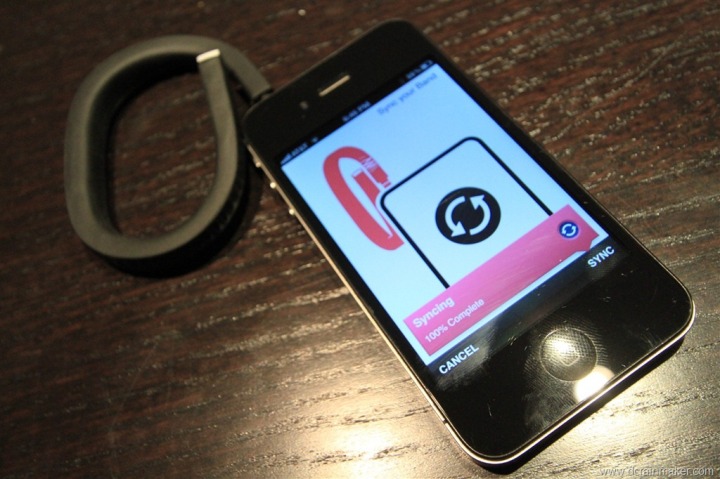 More on this after a week or so of trying it out in my regular routine.
Zeo Mobile:
You know what I like about the Zeo mobile?  It's the only product I get to test and not have to exert physical activity.  The Zeo Mobile tracker is similar to its bigger bedside clock Zeo version that tracks your sleep phases via brainwaves.  Except for the big part.
Fitbit does this, as do some different iPhone apps – but Zeo is the only one that's actually measuring it at your brain, versus simply guessing/estimating based on body movements.  You do this by wearing a soft fabric head strap.
Unlike the previous clock version of Zeo, this one has no clock and is meant for travel.  It's got a small dock that powers via standard USB (includes a USB wall charger).  That unit in turn sends data via Bluetooth to your mobile phone where an app runs.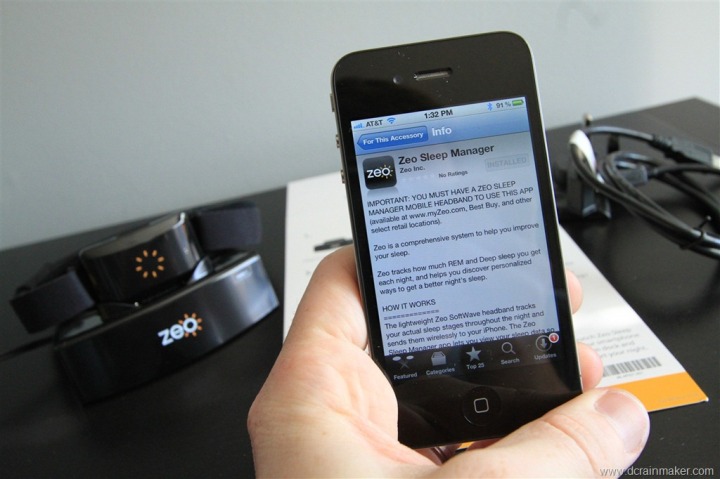 The mobile phone acts as the central processing unit and gathers the data in realtime.  Once you're done sleeping, it'll automatically upload it to the Zeo MySleep site where you can analyze it:
After my first night sleeping with it – it works just as well as the previous version.  This is more appealing to me given the amount of travel I do.  I found that with the other one that gave me an excuse to stop tracking my sleep, so I'd fall off the bandwagon.  If you already have the previous version – the two units will work on concert uploading to the same account.  So when you're at home you can use one, and on the road, the other.
I'll be aiming for a post-Philly Marathon review of this, merely to use it as a carrot/stick to ensure I get good rest over the next two weeks leading into Philly.
Though, at this point, based on what I know of the other Zeo product, and my use thus far – I wouldn't have any reservations with it.  It just works.
Long Battery Tests: Garmin FR910XT and Timex Run Trainer:
Someone on Slowtwitch the other day asked what the battery life looked like on the Garmin FR910XT if the GPS was turned off.  It's something I hadn't really considered, but figured it'd be a fun test.  Normally, the FR910XT is rated for about 20 hours.
So I got the ANT+ simulator setup on a separate PC and configured it to transmit ANT+ power, ANT+ heart rate, and ANT+ speed/cadence…nonstop.  It'd do this in a sweeping pattern, so it would sorta look like real data.
With that, I turned off the GPS on the unit and just left it in cycling mode for it's long trek: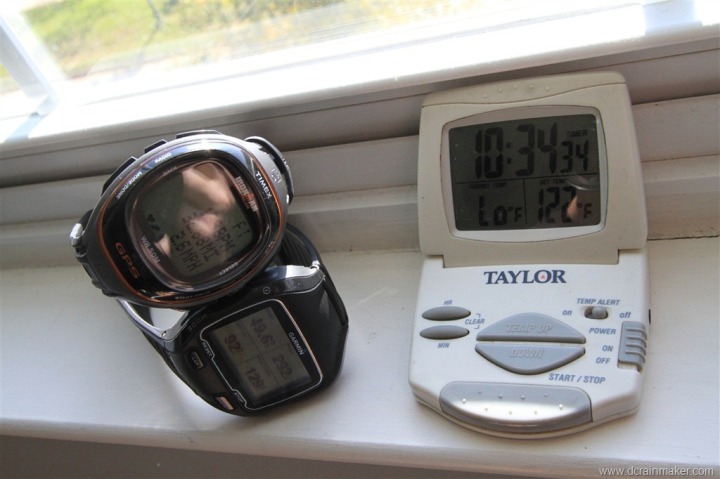 After 25 hours, the FR910XT finally bit the dust.
But wait…I noticed a small problem.  At the 5 hour marker I had inadvertently turned on the GPS when I restarted the unit due to the speed dropping out.  So it was 5hrs of GPS + 20 hours of non-GPS.
Still, not the test I wanted.
So the second time around I decided it'd be fun to add the Timex Run Trainer as well.  This unit is rated for 8 hours.  In the case of the Run Trainer, it supports the footpod as well as the HR strap.  So I added the running footpod to the simulator and then got the TRT all paired up.
With that, and both GPS's confirmed as off – I set off again!
As of now, some 24 hours later, the FR910XT is showing 75% battery remaining (25% used) and the Timex Run Trainer is showing 100% battery remaining.
In other words…this test is gonna take a while.
A long, long, long while.
I'll check back later this week once both units finally die.
(P.S. – As I alluded to above, I also added in the Motoactv too…)
Swimming MP3 Player Showdown Final Photo Shoot:
Finally, last but not least – some of you asked what happened with the Swimming MP3 player showdown.
Well, fear not, I took the opportunity on this quiet Sunday during my regular pool swim to gather all the final photos I need.  Depending on how things go on the Motoactv front I'll either have this on Thursday of this week, or early-mid next week.
With that, that's all I've got.  Here's a shot I took after my mile repeats on Saturday.  A beautiful day to run, and my paces were spot on – despite the rolling terrain.  Awesome run.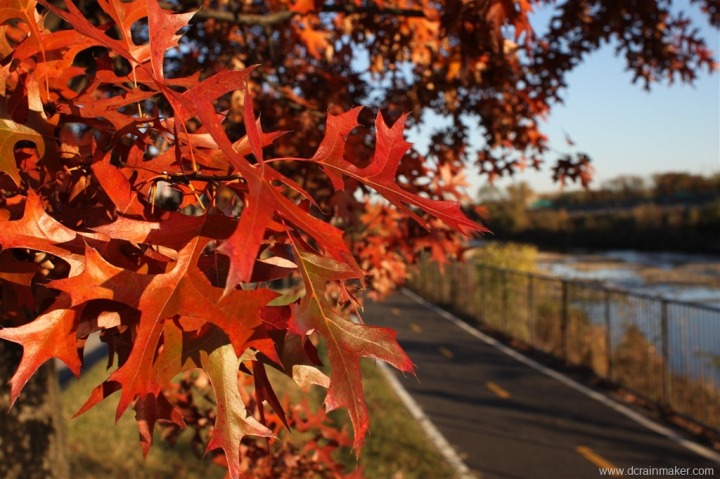 Thanks for reading all!