It's that time of the year where the triathlon events start to go on sale for next year, and also the time of year where you've got to pick and choose how to structure your season.  In some ways, how you structure your season will affect your ultimate race results more than your training.
For example, if you have too many races you'll likely end up sacrificing valuable training blocks – simply to race for the sake of racing.  And if you have the wrong combination of races, you won't be able to really apply the lessons from your less important races towards your 'A' races.
Oh…wait, you do have an 'A' race identified, right?
You know, the one or two races next year that you're going to focus your training towards.  Despite what you may have heard, from an endurance racing standpoint you just can't have every race be your 'A' race – if you race once a month anyway.  There's just too much time for recovery and training blocks for that to work.  Instead, you'll want to focus towards the races you want to perform best at.
It doesn't have to be your biggest or longest race either.  It may in fact be something that you rather set a PR in, even if it's a shorter distance.  Remember, short and fast can be just as much fun (racing you fools, keep your mind out of the gutter).
But – how did I put my schedule together?
Well, first I start with my 'A' races and my life events – in other words, things that are blockers to training and racing.  This can be vacations, expected periods of higher work volume, or other commitments you might have.  If you have one of these events occurring prior to your 'A' race, I'd reconsider your 'A' race placement.
In my case this past year, that was a wedding and a honeymoon in July.  So I specifically placed my 'A' 70.3 race just ahead of that – in choosing Boise 70.3 in early June.
Working backwards from that, I then placed two Olympic distance races, one a month prior to Boise in May, and the other a month prior to that in April.  Finally, I added in pacing of my wife in her first Half-marathon ahead of that in March.  While that was essentially a regular long-run for me, I treated it as a race from a recovery and build perspective.
In general, I'd recommend that you build distances as you get closer to your top race.  For example, assuming you had a July Ironman race, then I'd look at something like:
April – Sprint or Oly distance race
May – Olympic Distance
June – Half-Iron
July – Ironman
August – Bask at the beach
This allows you to shake out any racing logistics earlier in the season.  Note that any earlier than April, and you're likely looking at running races – which are great ways to keep pushing through the winter.  I tend to have one or two races – of the 10K to half-marathon variety mixed in there from February to March.
But what about early season triathlons?  You know – like the ones down in warm weather places that look great online?
Well, I'd shy away from those.  The reality is that if I try and go from the cold weather of DC to race in a place like Panama City to do a 70.3…I'm going to get my butt handed to me from the heat and humidity.  There's just no way you're going to acclimate to that in any reasonable timeframe.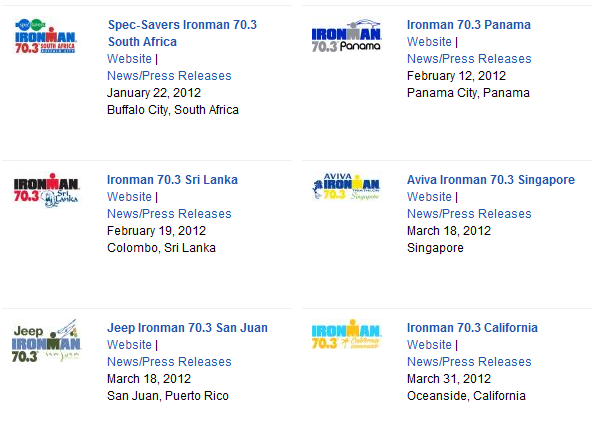 Further, keep in mind if you're doing an early season 70.3 or 140.6 race – that means you'll be out there doing your long rides in the dead of winter.  Either outside, or on a trainer.  As a general rule of life, I try to limit my 5+ hour trainer sessions.
Thus, you see why I choose running races instead in the winter.
And finally, if you're newer to the sport note that in general, most of the popular triathlons in the US sell out well in advance – sometimes in a matter of minutes (such as the NYC Triathlon).  So if you're looking at events for next year, be sure to know when registration opens up – and know how quickly it typically sells out.  If it historically sells out the same day, then expect it to again.  You don't want to get left out in the cold!
So – what's your race planning strategy for next year?  Anyone mixing in any non-triathlon/running endurance events as well?  Like some of the cross-Africa treks?  Would be interested to see those training plans!
Oh – and here's a post I put together a bit ago on places to locate races – just in case you need some ideas.
Thanks for reading!