You know, races are funny things.  Sometimes they're a test of physical strength, sometimes mental strength – and sometimes a combination of both (as well as usually a bit of luck).
The other challenge with races is that the more experienced at a given sport you get, the more focused you become on a specific goal – and when it appears that goal is out of reach during the event, one starts to question the rest of the attempt at that goal.
See, for me, the day was a relatively simple numbers game.  In order to reach my goal (4:30's), I needed a fairly simple and quite achievable day that consisted off these rough block times:
1) Swim: 30 minutes
2) Bike: 2hr 30 minutes
3) Run: 1hr 35m or less
4) Transitions: 5 minutes total
From a race standpoint all of this should have been fairly achievable for me – as I've done all of this before in different half-iron races.  I've got sub-30 swims in rough ocean water, 2:25 bikes and sub-1hr 35 half-iron runs on far more difficult days and courses.  This was in essence going to be the perfect race course for me, both in design and with respect to weather.  I just needed to pull it together for an overall PR of a couple minutes.
But, just like virtually every airplane crash – it's never one singular major event, but rather a cascading chain of small things going wrong that leads to ultimate failure.  Thus, my race.
Race Morning:
You know what's the best part about Boise 70.3?  The 12PM start time.  Yup, noon.  It's brilliant.  So my day started with waking up around 9AM and grabbing a bit of breakfast before we headed over to drop off our run bags.  Like Providence 70.3 in previous years, this is a clean transition area, which means that everything must be in the supplied run bag with your number on it.  The trick is to arrange it in such a way that allows you instant access:
From there we walked a few yards away to the school bus line to get the shuttles from downtown to the reservoir a dozen miles away.  The Boise course is point to point, which means the swim is one place (the mountains) and the run is another place (downtown along the river), and you have a bike course connecting the two.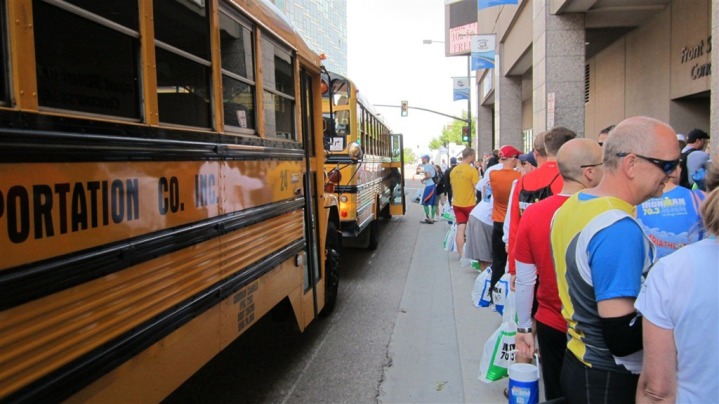 Once we arrived up at the lake it was a beautiful warm day – low 70's, virtually no wind, and perfect for racing.
My bike had been racked the previous night (we managed to get in just in time after our nightmare 26 hour trip from DC to Boise, involving sleeping overnight in Denver after numerous delayed and cancelled flights).  So upon arrival in the morning I simply got into transition and got everything else all set on the bike.
Along the way I did notice two minor issues.  One, my one piece tri-suit zipper detached from the cloth, which left me unable to zip it up (thankfully it goes no lower than my belly button).  Not a huge thing, but certainly not stylish – I used four safety pins to close it up and hopefully have it be a bit more aero during the bike.  I would later remove most of these during the run just so it didn't look so funny.
Additionally, I somehow managed to forget a pair of socks.  I can bike just fine without socks – but my feet haven't quite built up to running 13.1 miles without them.  What's ironic about this is that normally I actually have two pairs in my transition bag as spares.  But with the 'clean' transition area setup I neglected to remember either.  No worries, The Girl had an extra pair – albeit tiny, but still functional.
With that, I headed on over to bag drop-off and eventually into the swim line for my 12:45PM start.
Swim: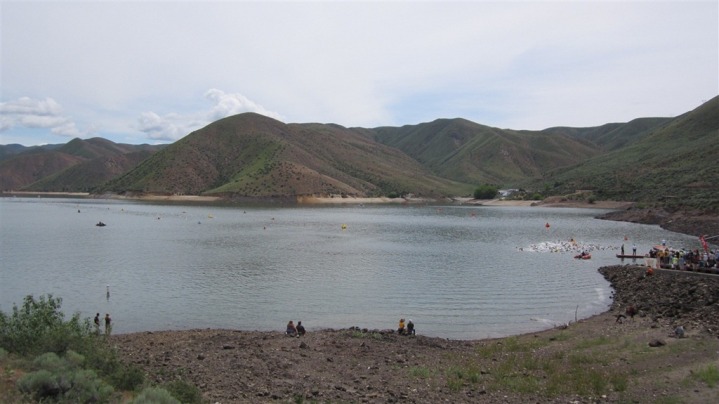 Now would be an ideal time to mention the water temperature: 52*F.
I know it may be hard to understand how cold 52*F water is.  After all, you've probably swam in mid-60's in a triathlon before and survived just fine.  But let me tell you: 52*F is a whole different world of cold.  Not quite Polar Bear cold, but really darn cold.
It's so cold that when we first got in the water, everyone was holding their hands above the water, as if trying to pass a treading water test at the local pool.  No hands went below the water until the horn sounded.
While we had four minutes to acclimate – we were not permitted to swim around, so my acclimation mostly consisted of dunking my head as much as possible to get used to it.  Regrettably, I wouldn't say I was successfully acclimated.
Once the horn sounded…it was pretty much miserable for me.  I now know what the feeling of panic must be like for new triathletes in a rough swim.  The first 90-120 seconds were a barely controlled swim of fear and inability to breath in the chilly water.  Still, I tried to keep in mind my own post on exactly how long it takes for breathing to acclimate in cold water.  And while that was mentally interesting, it was far from comforting.  I'm reasonably certain that the entire wave passed me during this time.  Sure, I was swimming forward…but probably not very fast.
That said, after those first two minutes I got into a bit of a groove and it really wasn't that bad.  I had worn booties and a neoprene cap, so I was actually pretty warm after my face got used to it.
From a pacing standpoint I wouldn't say I was pushing as hard I should have been though, at least to the first turn buoy.  Speaking of which, here's a quick diagram of the course was supposed to look like: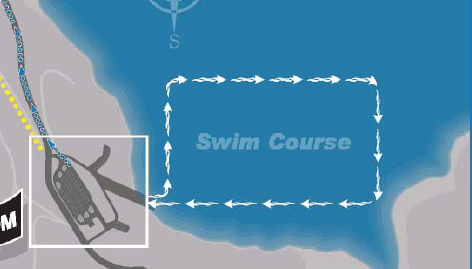 In reality, it looks nothing like that, but rather, more like this: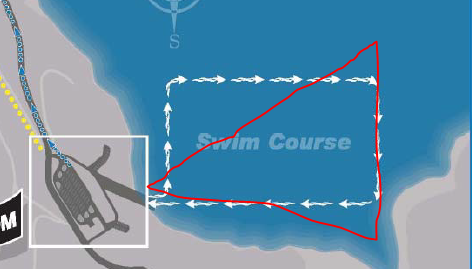 (Interestingly, the run course also varied a fair bit from the published athletes guide route, nothing that mattered race-day wise, other than to confuse my automated tracking alerts).
Once I hit the first turn buoy I locked onto another guy within my wave and we went stroke for stroke almost all the way back.  We were definitely moving along, and passing many people in my wave.  The only challenge with being the very last wave to go was the carnage on the course that you had to navigate.  A lot of folks treading water right on the perfect swim line.  Sometimes you just didn't see them until the last second.
As we neared the boat ramp and exit I was feeling pretty good.  I knew about 100 yards out I was going to probably miss my 30m marker, but not by much.  As I went to go place my foot down though to stand up, the telltale sign of massive cramp set in down my right calf.
And instantly I went back down into the 2' deep water.  Just like a turtle upside on his back, stranded.  I couldn't stand up to save my life.
The assist folks would end up having to drag me out of the water onto the side of the boat ramp, where thankfully a paramedic was standing there to try and stretch it out so I could at least stand up.  I really wanted to ask them though if they could at least drag me across the swim timing mats a few feet away, but I decided this probably wasn't the time to do so.
A few minutes later of upside-down turtle action, I was on my way limping up the ramp.
After a short run I found the biggest, burliest wetsuit stripper I could find (that's my rule by the way – bigger is better) and seconds later I had my suit stripped off.  For those not familiar, wetsuit strippers assist you in removing your wetsuit.  You simply lie down on your back in front of them with your legs up and they rip the suit off of you in about 1.2 seconds.
From there I zipped through transition as fast as I could, dodging the unusually high number of people sitting in the middle of the transition aisle. Race Tip: If you sit in the middle of the aisle stretched out across it, don't be surprised when people get upset with you.
My official swim time was 33:15, three minutes behind schedule, which may not sound like a lot – but when you combine that with 3:50 T1, I was looking at the 37's going onto the bike – which mentally put me quite a bit further behind than I wanted to be.
Bike:
As you probably know, often times you're highest heart rates on the bike course will be within the first 1-2 minutes of the bike, thus it's usually key to try and get things under control quickly (regardless of how you pace your race).  But that's what's great about the Boise bike course.  You traverse the length of the dam – just enough time to get into your bike shoes, and then you get to descend for a minute or two at 40+MPH.  This gives you plenty of time to recover before pushing along.  Here's a view of the road that you scream down (you can see the dam to the right, and then the road curving around to the left, eventually down to where we are in the bus driving up):
(Btw, another Race Tip: If you're uncomfortable on a high speed descent, that's cool and understandable.  Just remember to try and stay to the right and hold your line.  It's just as scary for me when one is completing snow-plow style slow 'S' turns down across the two lanes ahead of me.)
With the fun descent done it was largely just a matter of getting into my heart rate and power zones.  My race plan had two different numbers I was working with.  First, I had heart rate – to use as a general guide.  But I also had power numbers as well.  The power numbers were primarily a max-limiter, and the goal was for both power and heart rate to lineup.  And in general, they did.  I was a bit lower in the HR zones (which is good), for the power I was putting out.  I had this all programmed into a workout on the Garmin Edge 800, which looked like the below when on the unit (I took this screenshot the day before):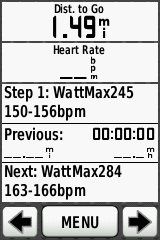 And, for the first 35-40 miles of the bike I was rockin' it.  I was nailing my power numbers and my heart rates were spot on, or slightly lower.  The laps were based on sections of the course, and thus I had different HR/Power targets for each one (generally speaking, they aligned to climbs, flats or descents).  You can see the drop-off in the last sections/lap.  Though, some of that would be lower since there were 2-3 good descents in the 2nd to last lap where I was easy pedaling while descending for 1-2 minutes per pop.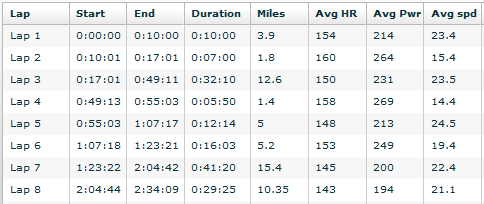 The course itself is rather scenically quite pretty.  It's mostly just slightly rolling roads in farmlands along with long stretches of flats and and an few longer (though not steep) climbs tossed in for good measure.  Here's a few pictures I took the following day:
Making the course even better is that virtually all of it was on closed roads – a huge rarity for a course this length.  No cars to worry about was awesome!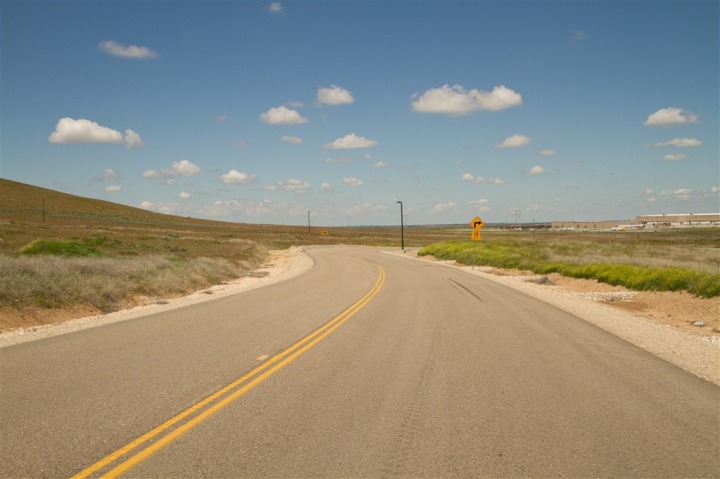 Around mile 40 I started noticing my heart rate and power were dropping.  At the same time I was doing some mental time math and it still wasn't working out in my favor.  Between these two simple factors I think it mentally started to snowball a bit.  My power numbers for the last 10-15 miles were pretty bad – not at all in line with race plan or what I should have been biking.
And in looking at things the day after while unpacking/packing my bags, I suspect some of this might have nutrition, as I noticed how little I actually took in – something I didn't realize at the time as I was getting the right amount of water in, but apparently missing some of the gel (I should have had consumed 1.5-1.75 bottles by the end of the bike):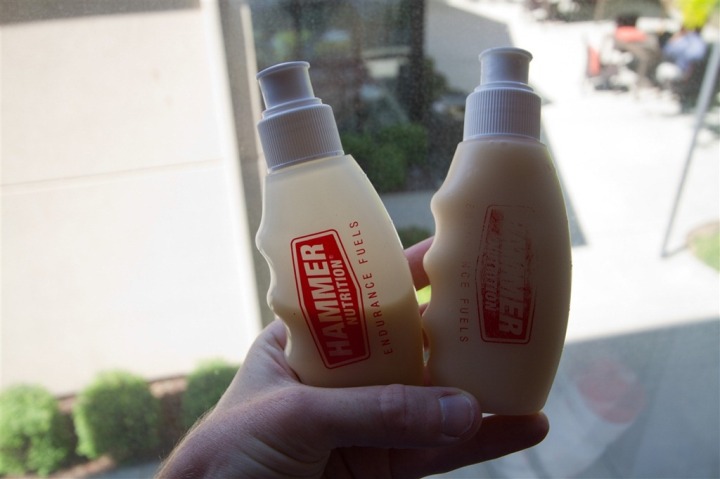 I finished up the bike in 2:33 – again, another 3 minutes 'behind plan' putting me some 6 minutes behind my desired plans.  While 6 minutes may not sound like a lot, it is  when you've got almost no margin to work with.
That said, I was ready to roll on the run and give it my best – looking forward to a solid PR.
Hobble/Walk/Run:
And then…I got off my bike.
And I couldn't walk.
Back about a month or so I had finished up a run and the left hip flexor hurt quite a bit – so much so that within 5 minutes of the the training run I literally couldn't walk anymore.  But oddly, when I woke up in the morning I was fine.  Not thinking much of it, I let it go.  Then again, a few weeks ago it happened to a lesser degree after a bike ride.  Again, it was fine by the next day.
Today, not so much.
Without question it was the most intense pain I've ever felt in a race.  Probably more painful than when I got hit by the car and still finished the race.  I was about as close I have ever gotten to just DNF'ing.
So the first…while…was a hobble to try and get up to a run.  I found though that after I got moving it wasn't too bad, and in fact, I ran pretty well for the first 3-4 miles following it, before it started to hurt again.
Around the 4 mile marker I decided I would walk an aide station, get some fluids/nutrition and then make a go at it again.
That hurt.  In fact, it hurt a lot.
I was better off running.  Which was fine, except I couldn't quite get up to speed.  I needed to be sub-7, and while I was at times, I wasn't solidly sub-7 enough to make the paces I needed to turn around the loss on the bike and swim.
Add to the previous 6+ minutes I was in the hole and things just mentally fell apart for me.  You get to the point where you're just questioning why you've just spent half a year training when you can't hit the times you should easily be able to, and thus the PR you want.  And while I certainly recognize you can't PR every race, this was the one race I felt like I was fully ready to PR.  Everything had come together in the last week for me – my times were rock solid in training recently and it was looking really good.  And then to have it all end up like this pretty much sucked.
I will point out that the run course itself was probably my favorite half-iron run course to date.  Incredibly fast course, well protected from the sun in most areas, along the river, and one that offered nonstop distraction – it was ideal.  I enjoy courses where I can't see more than a 100y ahead of me, simply because I don't have to think about how far I have to run.
I ended up finishing with my slowest half-iron time in three years, though I did make it a goal to try and run/walk/hobble to a sub-5 finish.  And the last two miles were respectable, mostly because I was so desperate to make it end I just ran more or less as hard as I could, damn the pain.
Wrap-up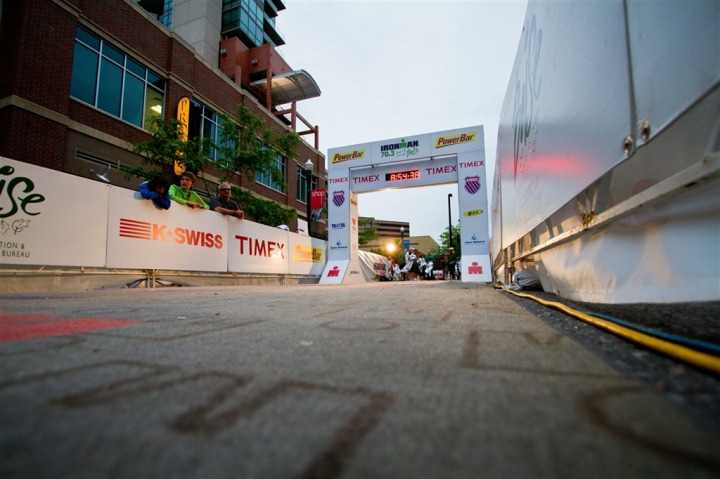 It goes without saying that my race fell short of my goals.  At this point all I can do is learn from the race, and try to apply those lessons learned to next time.  In the meantime, I'm looking forward to the DC Tri Sprint Triathlon this upcoming weekend.  I think that in general I perform better at races where I have no expectations or specific goals – just simply to go out and enjoy the day, and have fun.
Looking forward to it!
Oh, and I should at least mention this highlight of the post-race experience – The Beef Recovery Zone.  Fear not vegetarians, they also served pizza, bananas and other non-meat items: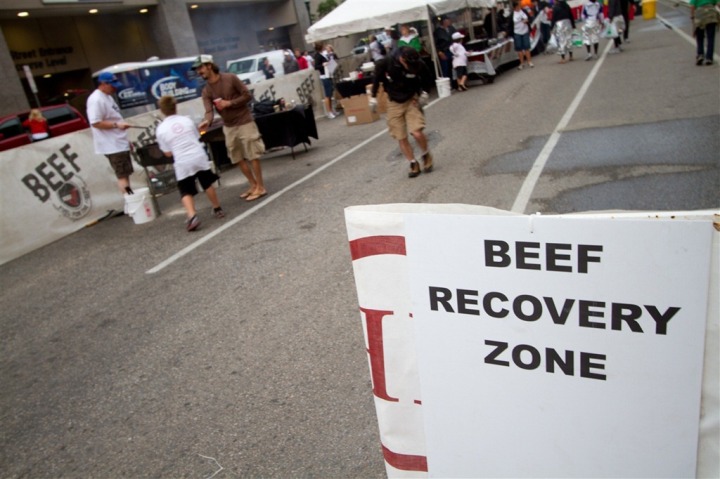 And finally, thanks to everyone who cheered me on either in person on the course, or online and tracking me.  I really appreciate it!  I'll be putting together a post a bit later in the week on how the tracker experiment went – though I'd be interested in your feedback as well:
Oh, and you should definitely head on over to The Girl's blog for her race report, as she ended up with a bit of hardware!
Thanks for reading!