Sometimes it's easy to get friends to join in my adventures.  Yet other times, the crowd seems to disperse a bit.  Take for example, the Polar Bear Plunge.  I heard all assortment of reasons as to why a few in the small group wouldn't be able to make it (perhaps last year scared them off).  No worries though, they just wouldn't get the uber-stylish sweatshirt.
But luckily…at least two friends had no particularly good excuse for avoiding the plunge.  So, we loaded up the car just after lunch on Saturday and headed towards Annapolis, about 45 minutes away.  Once there you transfer at the United States Naval Academy Football Stadium to an army of waiting school buses, which transfer you to the actual plunge site.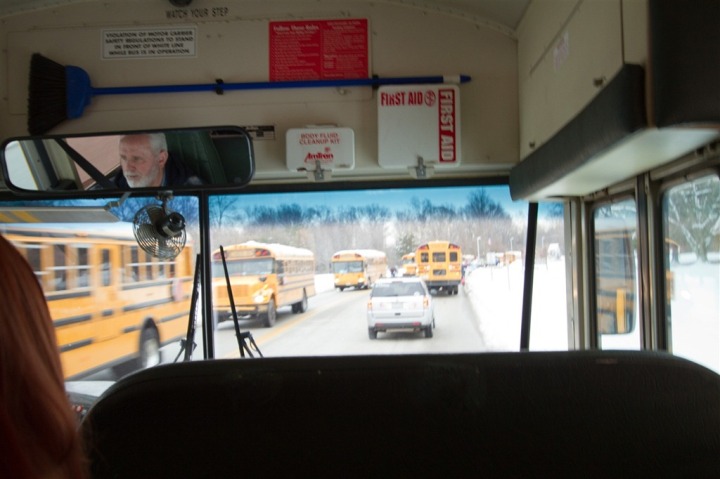 The reason for the extra transportation was the sheer number of folks participating.  By some counts nearly 15,000 folks had registered – pretty massive really.  Our arrival at the site re-enforced that the water was indeed cold in these parts: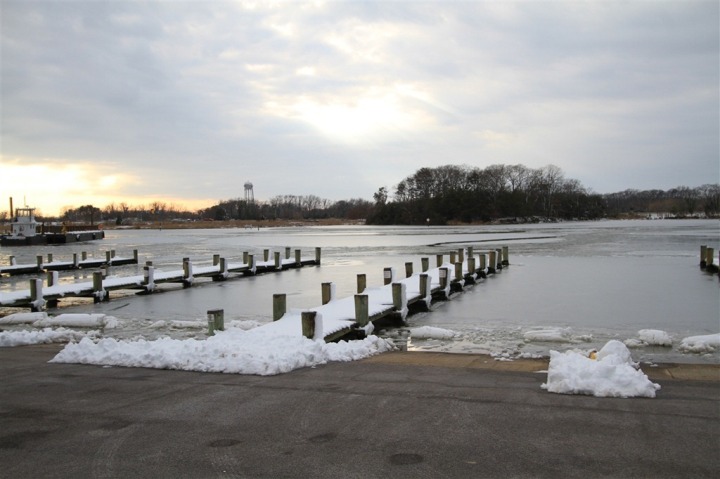 After disembarking we hit up the registration tent to confirm our registration and sign a waiver prior to getting a wristband.  The wristband ensures that if you freeze to death you can't blame them for it.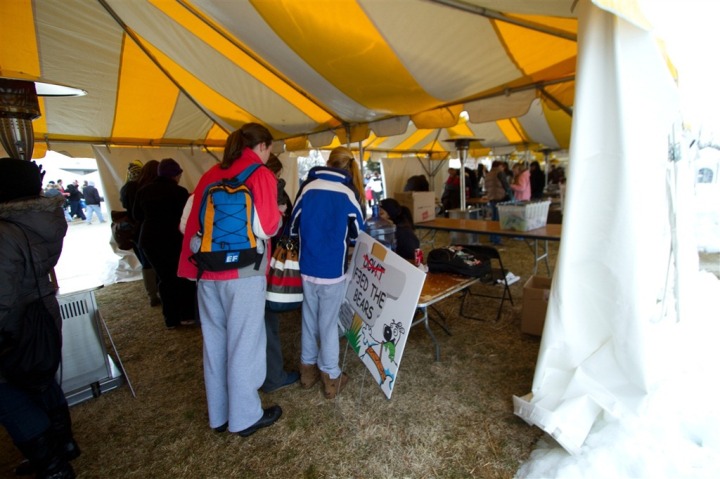 After picking up the all important wristband we went a few tents down and received our epic sweatshirts.  I don't actually have a good photo of the sweatshirt by itself, but no worries – just imagine something from the 1980's with lots of wild colors…then imagine it on a sweatshirt…now you're done imagining.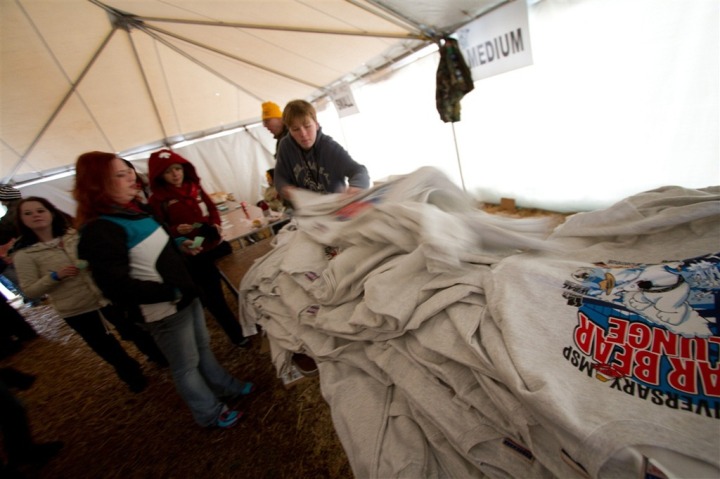 Because the event is HUGE, they even give you a map covering the whole grounds – like a giant fair or festival – check it out: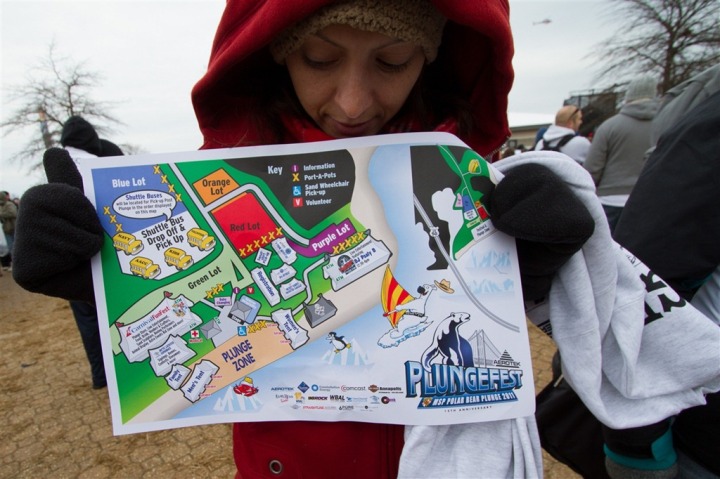 As we were trying to find our way to the water (primary mission objective), we stumbled into a ramp with snowboarders on it.  Given the lack of normal ski hills for snowboarding in this region, we could only assume this would end badly for the participants.  So logically we stayed to watch.
We've even got some of them on video crashing…but we'll keep that for the private collection.
Following the face-plant action, we soldiered on in search of the beach.  Along the way we stumbled past some Ms. Maryland USA folk…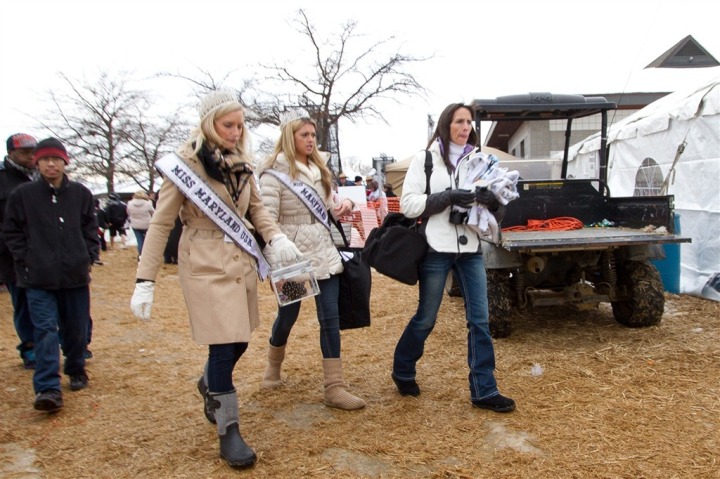 …and then we stumbled on some folks that…well…I don't know what: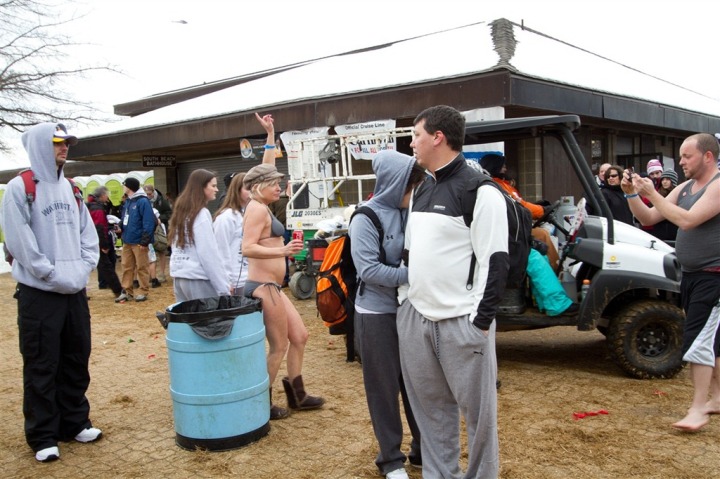 On the bright side, after watching her almost fall into the trash can we turned around to find the beach – just prior to everyone bombarding it: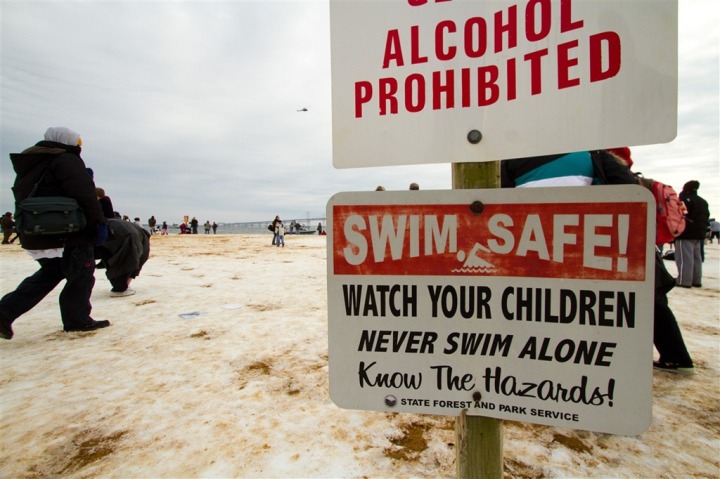 Yet just a few minutes later, pure craziness: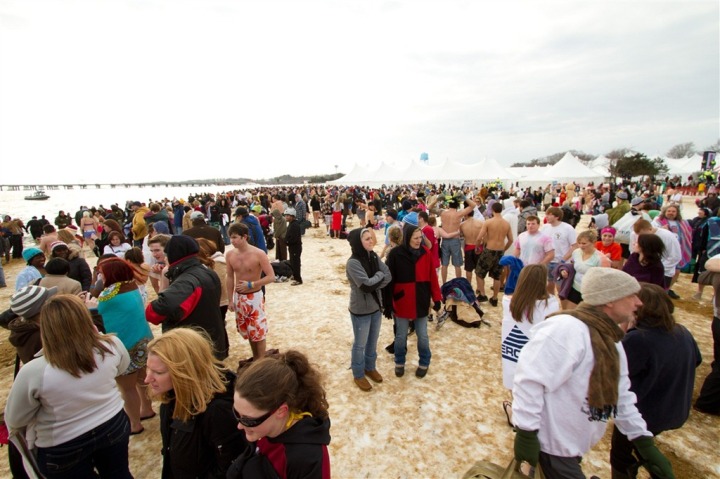 I spent this time getting Mr. Duck all inflated.  Of course I took him all the way home from Jordan.  You didn't think I was going to leave him behind did you?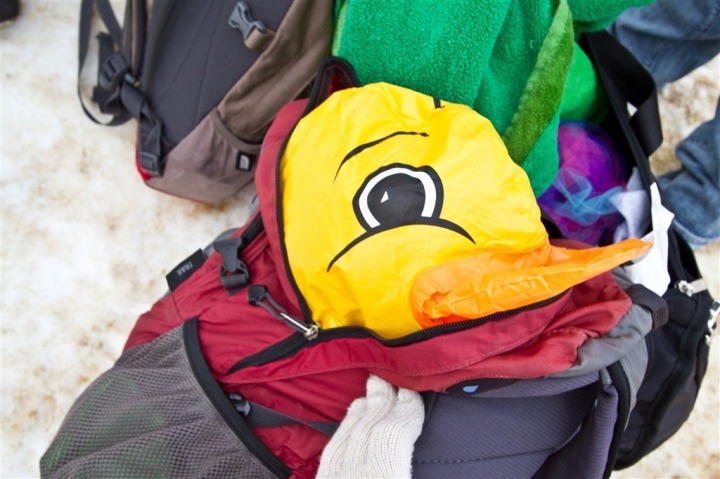 Soon he was all set- just like the never ending line of rescue folks in dry suits that formed a human water-wall a few meters into the bay.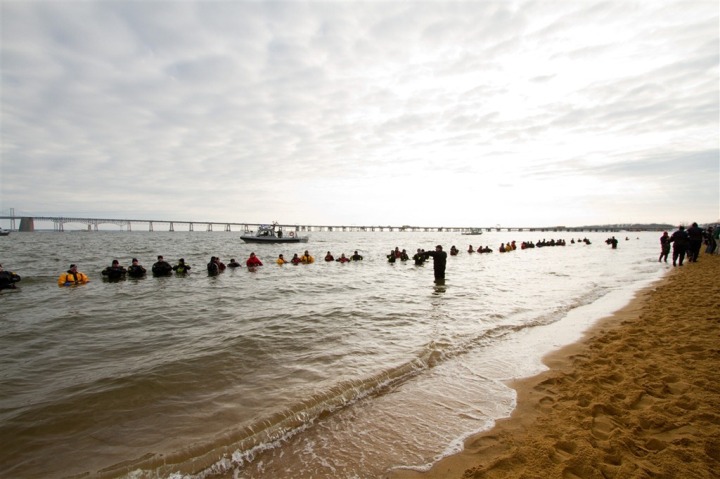 As we were just finishing up our preparations, they signaled the start of the 3PM plunge.  In one of the most confusing displays of human behavior I've seen to date, thousands of people ran a few feet into the water…and then bolted back the opposite direction towards dry land – all screaming like little 5 year old girls.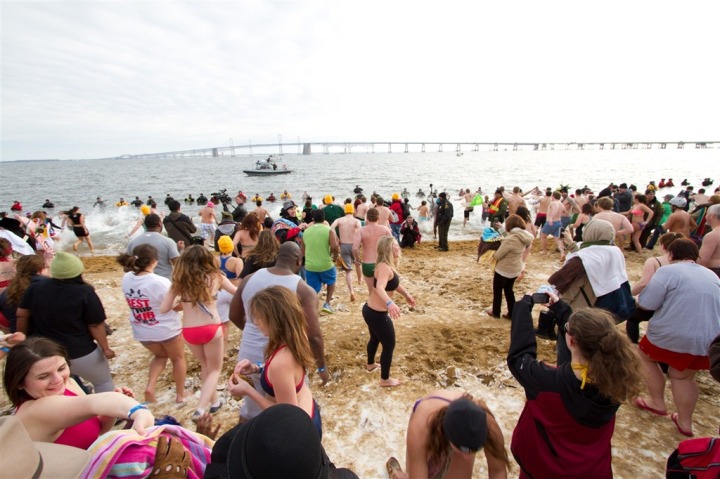 We meanwhile, prepared to go in.  Me in the duck, Lindsay in the Pink Hat, and The Girl behind her in the Bear Hat.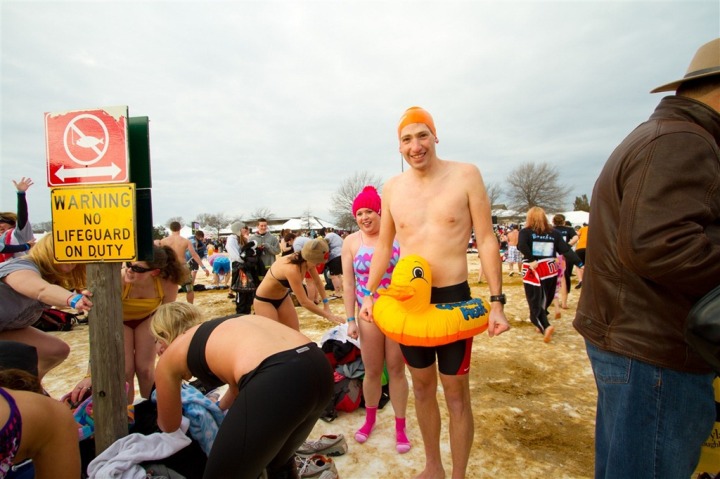 We approached the water – with The Girl's sister taking control of the all important video and photo tasks (and somehow wisely avoiding the actual plunge component herself).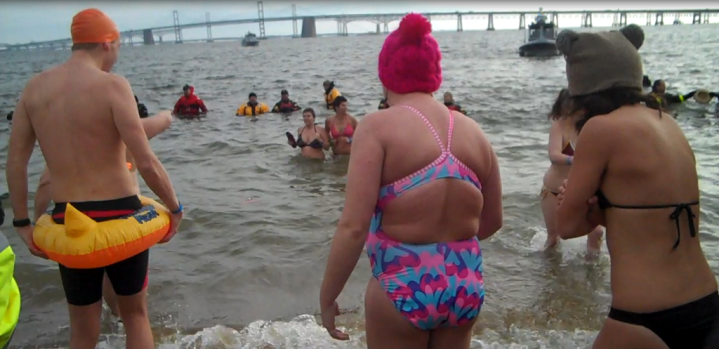 And with a burst of otherwise foolish energy, I bounded into the very cold bay: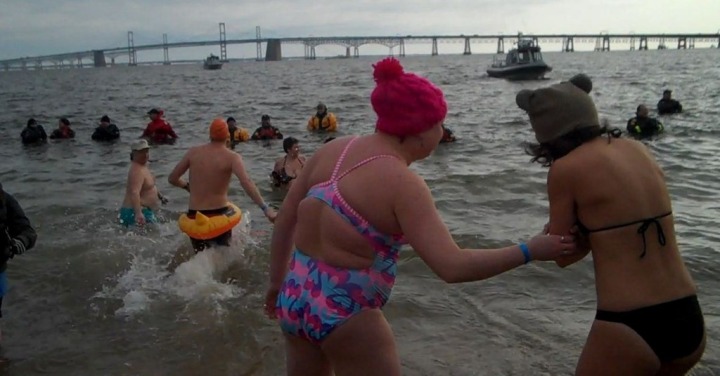 Not very long after that…I came running back out…very…very…fast: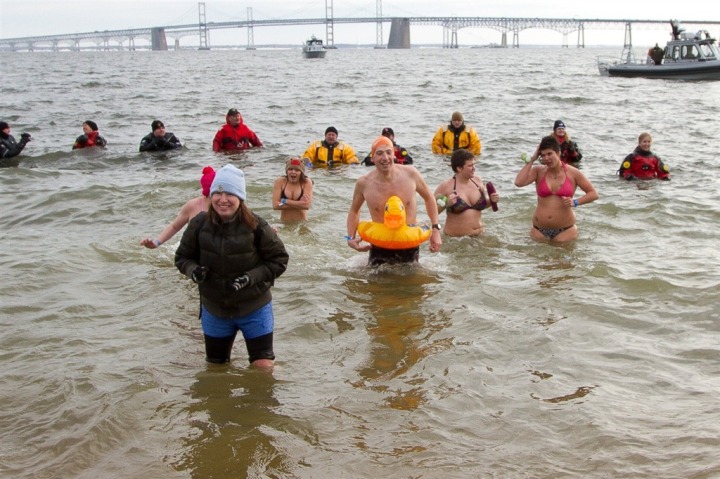 (P.S. – It is of my opinion that merely plunging to your knees while wearing a ski outfit does not quite meet the full definition of 'plunging'…but to each their own I suppose.)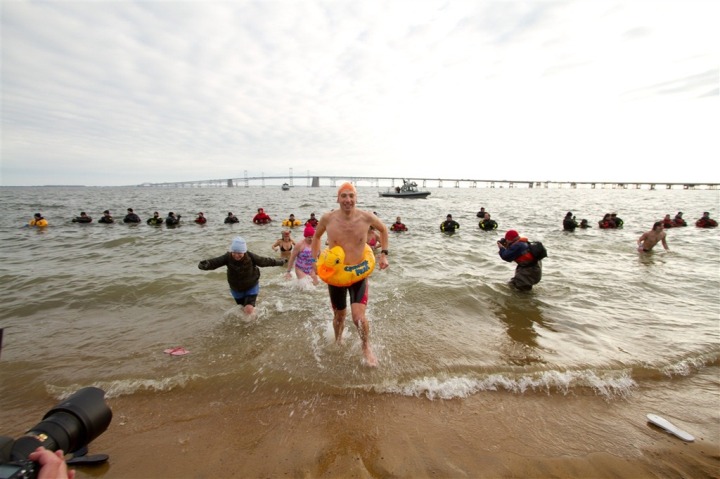 One might think that departure from the sea would equal warmth…turns out – that's not the case.  In fact, I'm relatively certain that after Mr. Ducky and I went our separate ways, I was actually colder.  Specifically – my feet were colder.  I suppose the snow covered ground probably didn't help.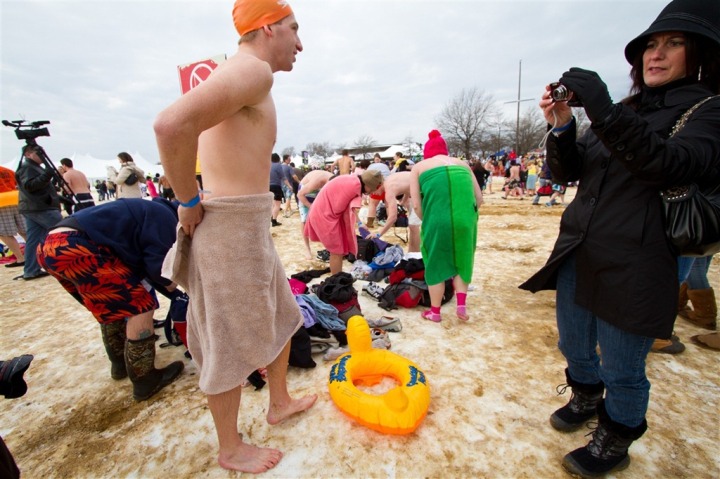 Oh – and don't worry, Mr. Ducky survived to leave another day…another adventure.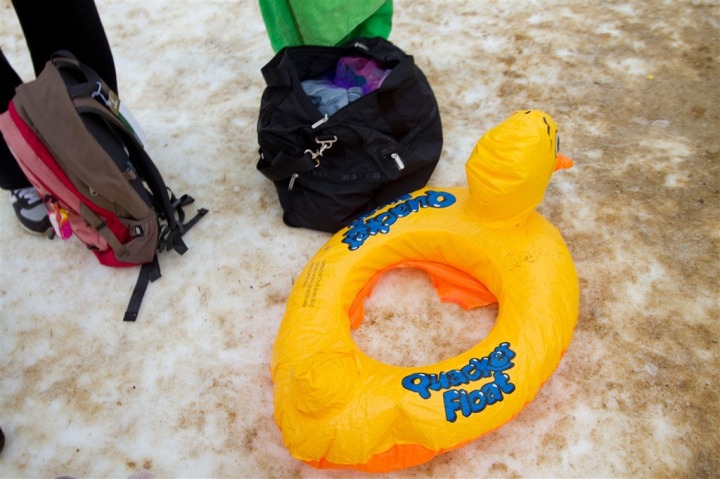 And so to did the The Girl (aka…The Fiancée):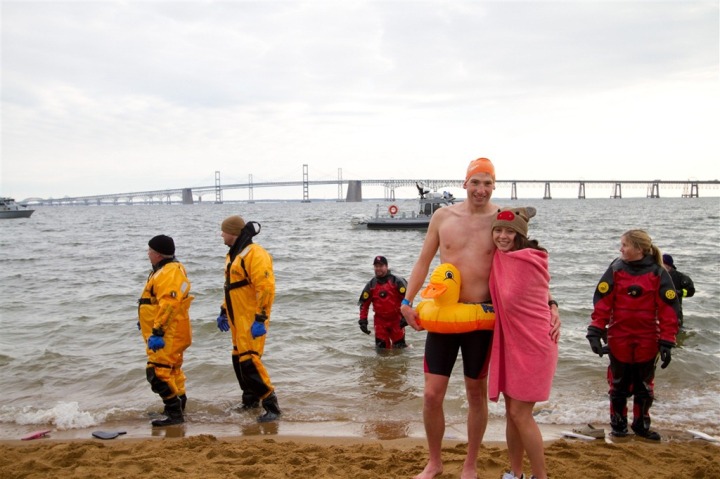 A mere 11 minutes after the plunge began…the beaches were empty: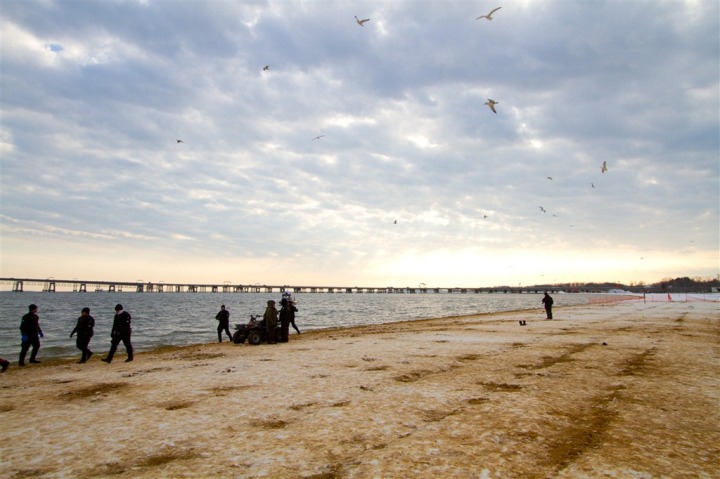 And with that…the 2011 Plunge was over.  We grabbed our complimentary hot dogs and headed on out past the giant polar bear towards the buses: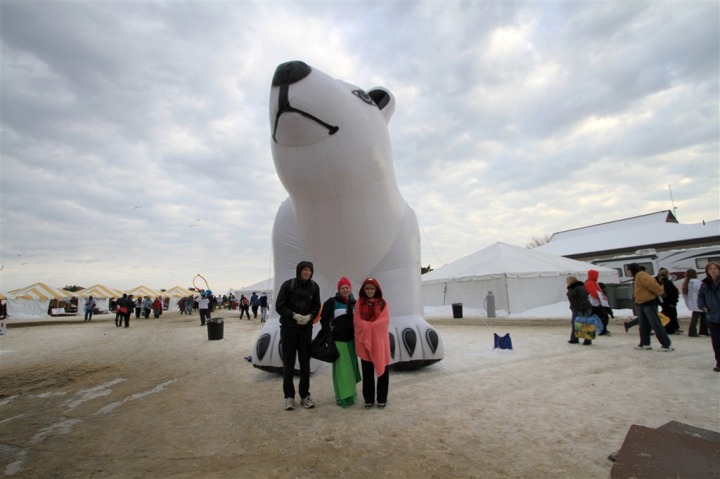 Oh…and we even got a sticker!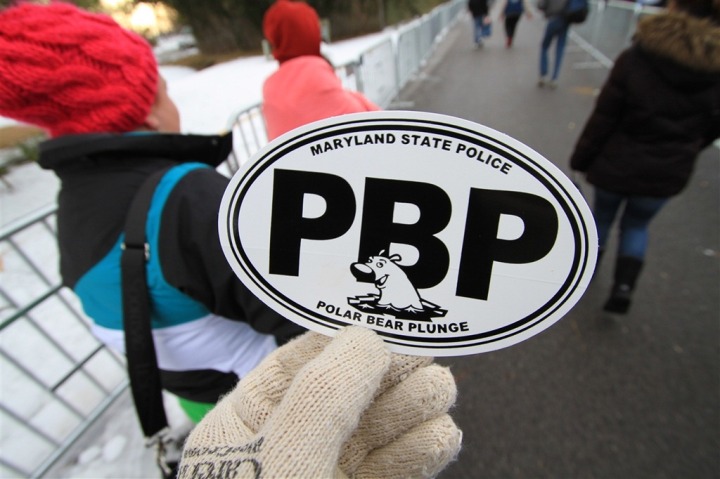 Thank you again to all those who have donated thus far!  In total the event has raised over $2,100,000US towards the Maryland Special Olympics – that's enormous!  Fear not though, you can still donate here – remember, a couple bucks goes a long way towards making the dream come true for Special Olympic athletes.  Thanks all!