It's understandable that sometimes in life, things don't go as planned.  And in the case of races, sometimes events get cancelled.  But this past Friday evenings cancellation of one of the newest Ironman 70.3 branded races is only serving as a beacon to others for how not to handle cancellations of race, and the customer service around that.  Let's take a look at how (thus far) things have gone, and who exactly is to blame in what is turning out to be a grade A cluster.
But, before I do that, I do want to point out that historically the folks behind this race (Chuck Brodsky and his team at WSEM – Washington Sports Event Management) have put on some world class triathlon events, amongst the largest in the world – including the Nation's and DC's Triathlons (events that I've participated in for years), and the ITU WSC event two years ago.  However, over the last few months and culminating on Friday, they've actually left themselves with no stand-out events.  The Nation's Triathlon was sold to Competitor Group, the DC Triathlon was abruptly cancelled, and now the National Harbor 70.3 event has met a similar cancellation fate.  The only thing seemingly spared at the moment is the Achieve non-profit Kids triathlon.
The Friday 4PM Cancellation:
It was just after 4PM on Friday that the e-mail went out to registered athletes of the early-August 70.3 event.  The e-mail itself was incredibly short, with very little information included.  Below is what was sent to participants:
"Dear Ironman 70.3 National Harbor Athlete,

The inaugural Ironman 70.3 National Harbor Triathlon has been cancelled. Athletes registered for the event will receive a full refund of their entry and processing fees.

Refunds will be issued within 30 days and will be credited to the card used for registration through the Active Network.

Ironman is committed to helping participants reach their goal of racing an Ironman 70.3 in 2012 and will further offer each athlete impacted by the cancellation a $50 discount to one of the events listed below:

[List of alternate Ironman 70.3 branded events]

Thank you for your understanding and patience through this process. We wish you the best of luck with your training and racing."
In the world of Wall Street, if you have something bad to report – you do it after the closing bell (4PM Eastern) on a Friday.  This is in the hope being that by time investors come back in to work on Monday, they've had time to simmer down a bit and be more 'restrained' with their sale actions.  The problem is, with a recreational sport like triathlon – that pattern is the inverse.  In this case, by sending a short couple-line e-mail on Friday evening at 4PM, they've only served to compound the problem.  Folks are at home all weekend (probably training), and have the full weekend to browse the web looking for information on what happened, and stir the pot.
The e-mail itself offers virtually no useful information, aside from getting a refund in 30 days.  Otherwise, it's completely void of the most important piece of information: Why?  And, it doesn't actually even offer a simple 'sorry'.  No 'we regret to inform you', or apology at all.  Just emptiness.
Lack of communications, website updates:
Sending the e-mail only started the snowball of communication fail.  With the next action for most individuals to look to the website for additional information, they found no additional information at all.  In fact, they found nothing had changed.  The website even still linked to Active.com, where registration for the race was offered.
Their Facebook page remained dormant and without any status updates or notes about the race.  In fact, if you hadn't received the e-mail sent to registered participants, you'd never even have known the event was already cancelled.  Thus, it's totally plausible someone could have stumbled onto the site over the weekend, possibly even registered, planned their summer and booked travel arrangements to the Nation's capital – and never been the wiser.  And of course, their Twitter account also remained silent.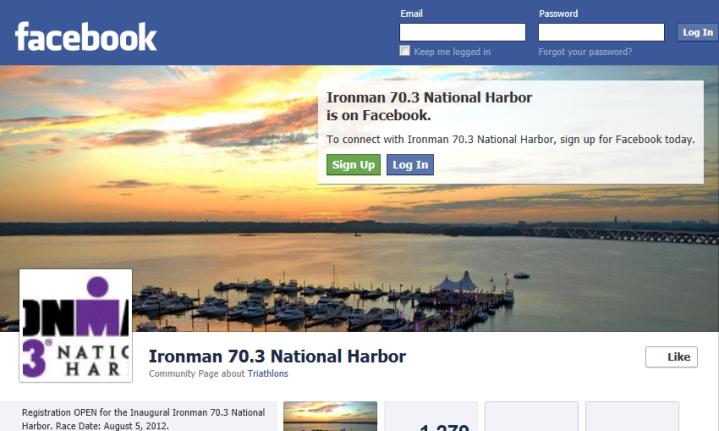 Now, when I say 'silent', I mean silent from the perspective of the event organizers.  The rest of the world was busy asking why, and giving some 'constructive criticism' back to them – mostly around simple lack of information.  As is often said: Bad news doesn't get better with age.  And in this case, all they were doing was letting the crap fester.
As of mid-day Monday, both pages were still as-is.  But by the afternoon, an update did occur on their Facebook and web pages: They deleted them.
Gone, like a fart in the wind.  Never to be seen or heard from again.  All comments, posts, everything…gone.
As of now, going to the main Ironman National Harbor page merely redirects back to the main Ironman.com page as a placeholder.  The date left on the Ironman.com page shows a past race date of 1969.  This date (for those computer geeks amongst us), is simply a case where the person updating the page is on a Unix/Linux box and typed in '0' for the date, which will default back to December 31st, 1969 (the day before Unix's creation).  See, you learn something every day here…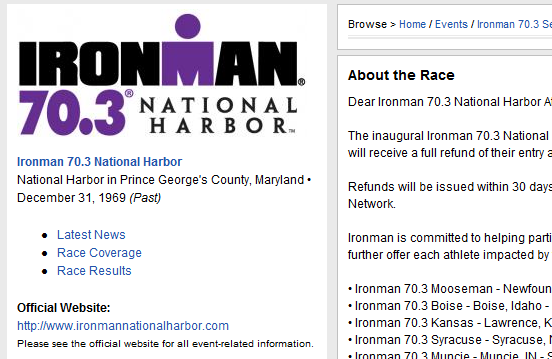 World Triathlon Corporation (WTC's) involvement: As a Ironman branded event, you may wonder what WTC's involvement here is.  After all, they own the Ironman brand (and all 140.6 and 70.3 events).  Based on comments made by Slowtwitch founder Dan Empfield over in the Slowtwitch boards, he noted that WTC was "taken aback, surprised, caught off-guard" by the news of the cancellation.
In many ways, there might have been little WTC could have done to 'save' the race.  Given it's unclear what the cause was as to why it was cancelled, it's tough to speculate if it was something that WTC could have fixed with respect to keeping the event on track.  It's possible that the IM National Harbor folks had permits pulled on them, or some other extenuating circumstance beyond their control.
But see, that's really the kicker here – there was no explanation.  At this point, just about any explanation would be valid.  Again, crap happens.  If they were to come out and say: "Look, the local county decided that after the Hot Chocolate 5k/15k fiasco, they didn't want any more sports events held…", that would be understandable.  If they had come out and said "The county decided that closing down a major highway up/down Maryland wasn't practical", that would also be somewhat understandable.  Even if they came out and said "The event isn't financially viable anymore", that would at least be something.  Not a valid excuse mind you, but at least something.
Instead, they've left it in WTC's lap to deal with.
At which point as the brand owner, I believe it's WTC's responsibility to put in place a communications plan.  It would have been relatively easy on Friday afternoon to simply tweet or post a Facebook message saying "Hey folks, we've run into an issue with Ironman National Harbor 70.3, we'll have full details and an explanation on Monday once we've sorted out everything".
It wasn't as if they weren't active on Twitter since Friday at 5PM – in fact, since then they've posted nearly 70 tweets.  None of them to do with the event cancellation.
That's where brand ownership comes into play.  That's just one of the reasons why people choose an M-Dot branded event over a non-branded event.  People know and respect the brand.  At this point, they've offered little assurance that the event isn't being cancelled simply because it might not have been profitable (just like the 5i50 series events were last year from them as they admitted).  WTC recovered well from the Miami 70.3 mess, but this would have been an example where they could have shown how they could have handle a crisis before it became a crisis.  Instead, it's slowly turning into just another variant of Miami.  Well, minus running out of water.
Moving Forward:
At this point, I think the next move is WTC's.  WSEM seems to have checked out, with no plan to check back in.  In fact, in many ways, this looks very similar to closing down for business.  All websites operated have by WSEM have been shut down, all Facebook pages closed, and all races they had planned to operate this year have been sold off or cancelled.  Oddly, their Twitter account remains unclosed, though, I'm sure that will change shortly.  Further, even their previous WSEM-specific Blogspot account that they had been posting to this spring with tidbits of athletic advice has been removed and closed (though the content is duplicated elsewhere).
I do want to point out that despite all of the concerns I raised about the race back in my January post, I don't believe any of the course issues were directly to blame.  They were all items that could have been overcome.  Also, since folks asked – I did not have plans to race this event.  It directly conflicted with some small scale triathlon I'll be at that first weekend in August in the land of William and Kate.
Going forward, I'd be surprised if DC area athletes would be willing to go forward with another WSEM event, given the history over the past 2.5 months.  They seem to have completely killed all of the good-will that they had carefully built up since starting literally just a few short years ago with their first triathlon.  Of course, their may not be any WSEM left at all at this point.
And at the end of the day all there appears to be is people left holding pieces.  WTC is left with a pile of unhappy folks, WSEM appears to be left with what might be a financial mess – and most importantly, many athletes (likely 1,000-2,000) are left with no major 70.3 events on their calendars.
Not a good day for the sport of triathlon Washington DC.