If you've been following along in the tri world you likely know that this past Sunday here in little ole Washington DC there was a major pro triathlon as part of the Dextro Energy ITU World Championship Series that's stopping in eight cities worldwide.  This race was in addition to the amateur event that I raced in earlier that same morning.  After I was done racing, the girl and I grabbed a pair of mountain bikes we had brought into the city (in addition to our tri bikes) and spent the rest of the day following around both the men's and women's pro races.
Now, ITU (International Triathlon Union) draft legal racing is a bit different than what most of us age group racers and fans are used to in triathlon.  An ITU international distance race is of the Olympic distance (1.5K Swim, 40K Bike, 10K run), but normally done in a multi-loop scenario (there is also ITU long course triathlon…but that's a whole different ball of wax).  The swim is usually two loops of 750M, and the bike 8 loops (normally 5K each), and finally 4 laps of 2500M each for the run.  The design here is that it allows for a more spectator friendly course than your typical triathlon where athletes 'disappear' for a long, long time.
So, with that quick primer out of the way – let's get to the action!  I've combined the men's and women's races below (even though they were run one after another), as I saw fit to offer the best of both worlds.
While I caught up with the men's race when they were on the bike, we rode across town to catch the start of the women's race in the Potomac River.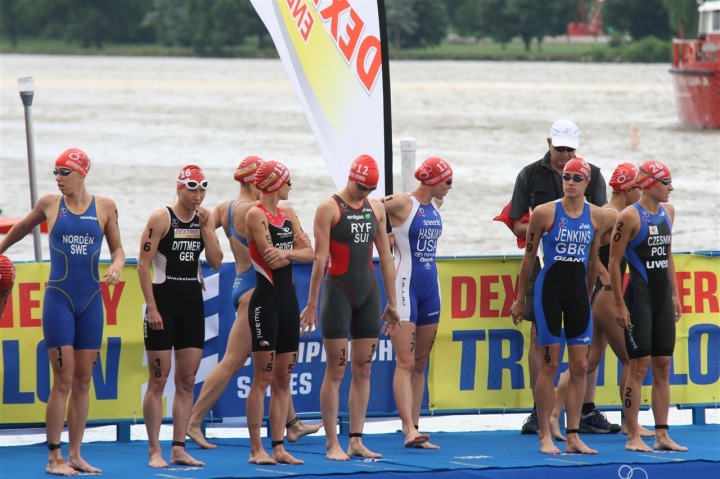 The races start on a large platform/dock built out into the river.  The blue carpeting that you'll see in many areas of the race is sorta a trademark of an ITU race.  They line up on it based on rank and placement, just a few minutes before the race starts.  And after a very brief warning call, the women were off into the water!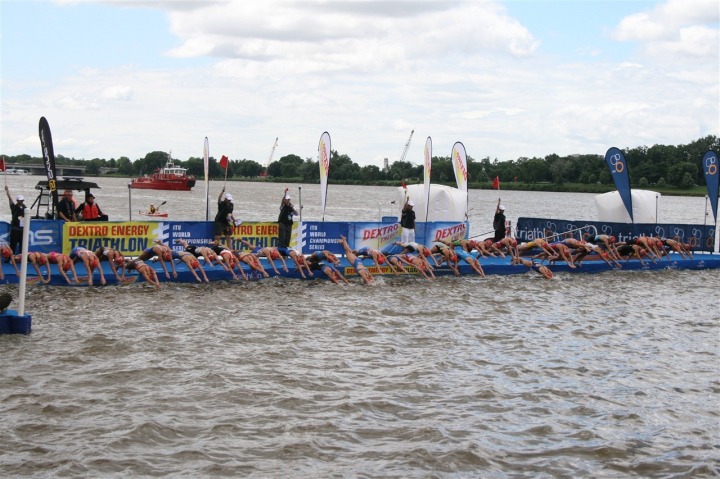 So this might be a good time to detour and talk about that water.  While many tests were done to ensure the water is 'safe', it still doesn't mean it's pretty.  Like I've done every time I've swam in the Potomac for races, I've taken pictures of the wetsuit filtered water a day or so later.  In this case, my wetsuit has been hanging out since Sunday (it's now Tuesday night), here's what it looked like when I ran it under water from the tub this evening for the first time:
Yes…actually surprisingly CLEAN! Unlike years past (two years ago below).  This seems to confirm my trend from last year that things are actually getting better.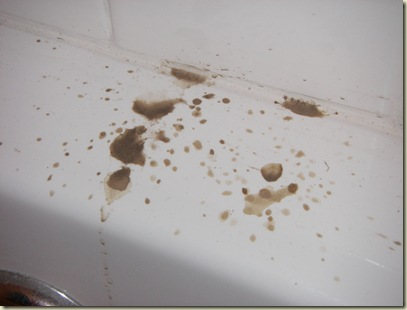 Anyway…back to the action.  About 10 minutes later the women came back through the platform to start their second lap.   They were forced to run up a little ramp and then jump back in.  Which did make for some fun pictures.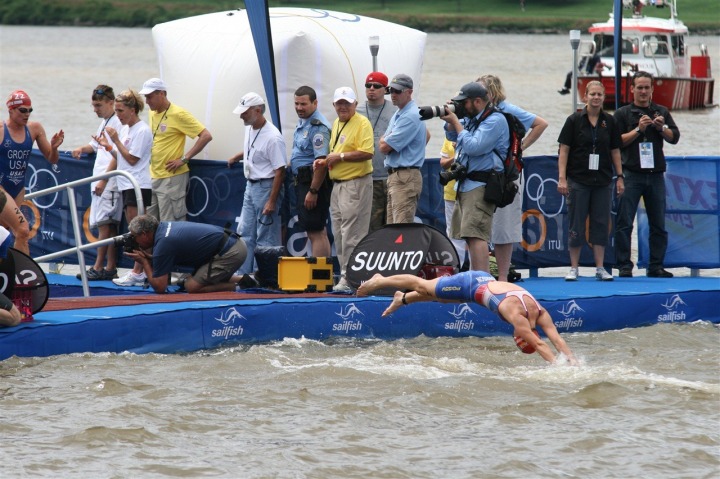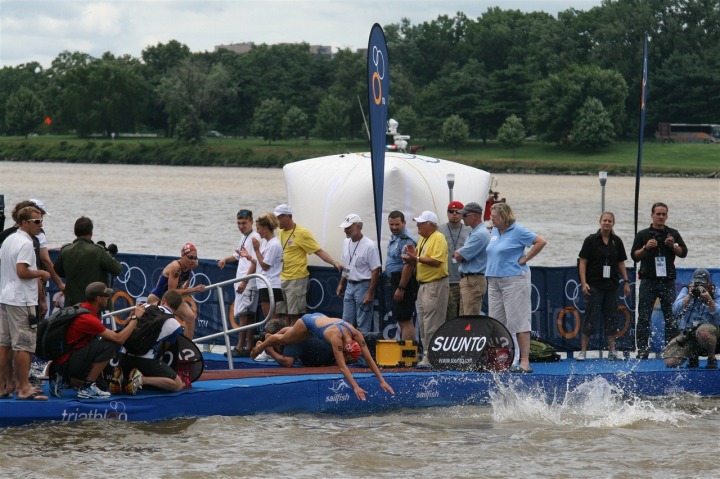 After they completed their second lap, they ran the short little distance to the transition area where they would pick up their bikes.  The only real difference here between an ITU race and a regular race is that the Pro's have a bit more space, but otherwise they do all the same stuff you or I do.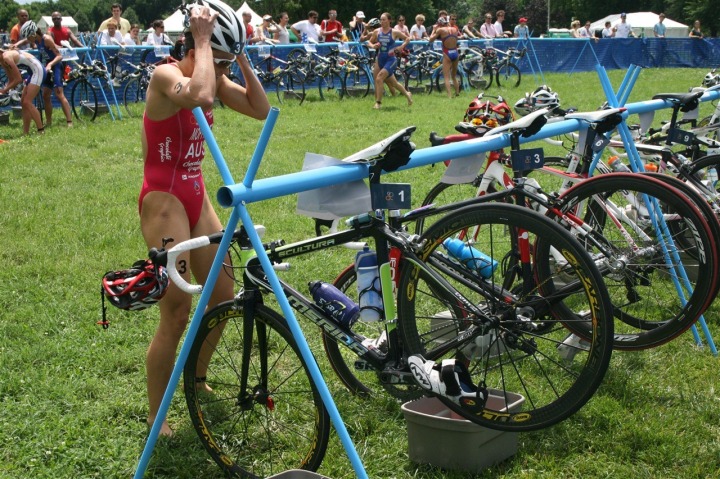 After putting on their helmets and glasses, they head on out to the mount line (below, blue stripe to right).  Like competitive age groupers, they do some variation of a flying mount.  It was interesting to see how some were incredibly proficient in it (scary amazing actually), and some simply stopped and mounted the bikes like any normal human would.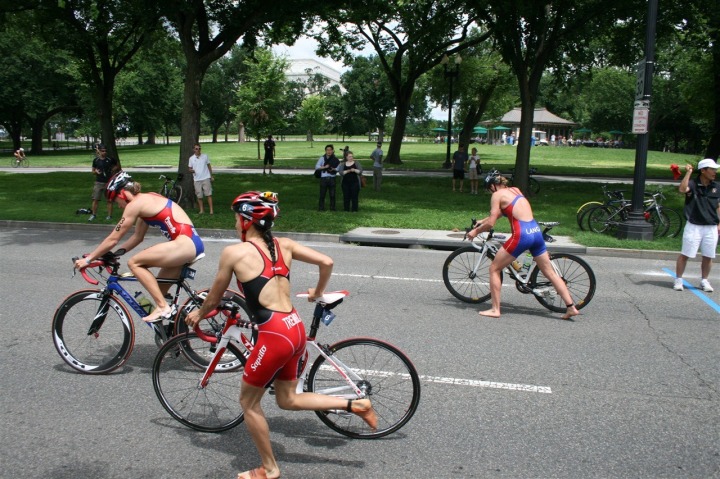 And some…just mounted the bike a bit differently.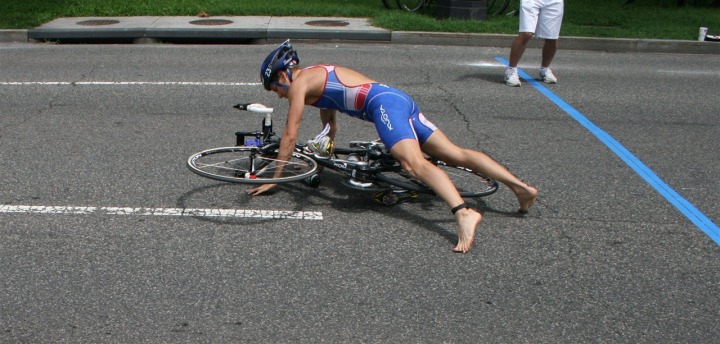 From there they made their way across DC from the river to near the Capitol to the start of the 8 loop course.  Once they hit the main loop, they'd stay there doing loops.  One of the major differences in ITU Draft Legal format racing is that it's…well..draft legal.  Just like when you watch the Tour de France on TV and there are big packs.  This means that unlike in a typical triathlon where you to some degree 'race your own race', in an ITU format you really have to work together as a pack to advance.  This is because coming out of the swim there's typically an initial 'lead pack/group', and then the 'chase group'.  It's very critical in ITU format triathlon to be in the lead swim pack, and thus subsequently the lead bike group, which in turn leads to the lead run group.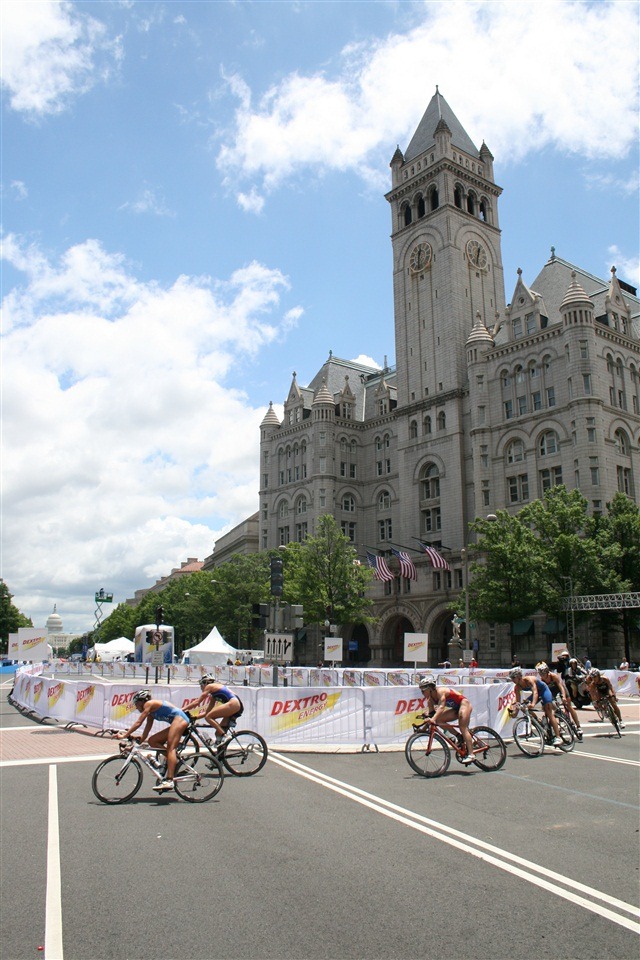 A cool design of this format of racing is that the bike loops actually go THROUGH transition area.  Here you can see the shoes all lined up and the bikes flying through at 30MPH.  To the right are the bike racks.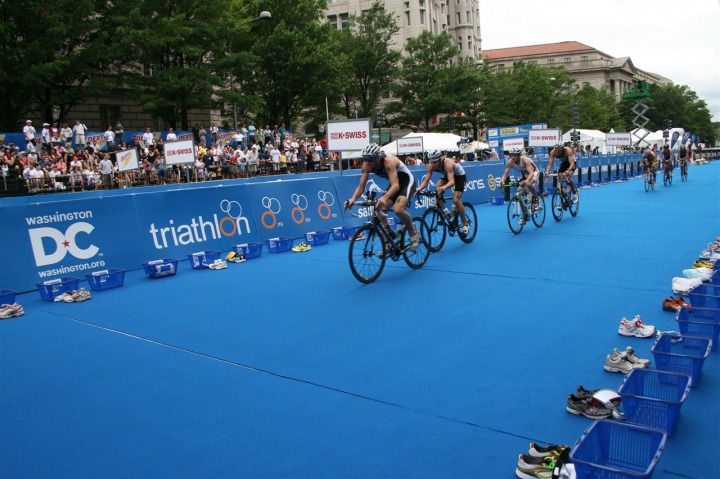 The bike racks are individual, unlike how they are in mass triathlon races.  Each of the 40-60 athletes has their own little transition rack, though, you won't see much there – it's all about being slim.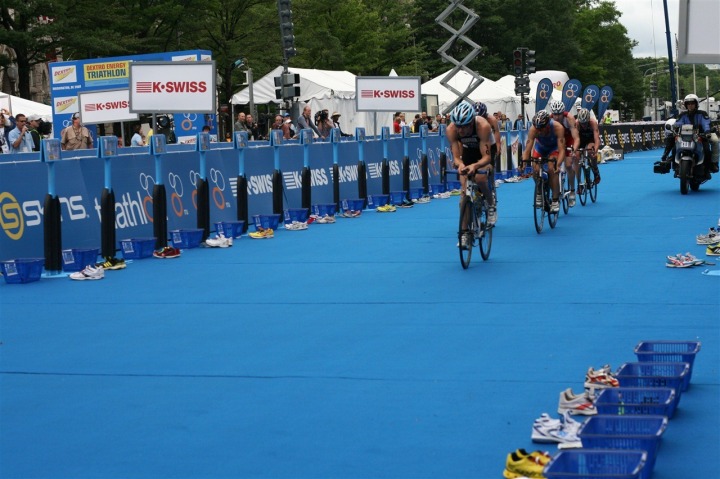 Here's the chase group in the men's field.  Though, they were didn't really work together to make much of an advance on the lead pack.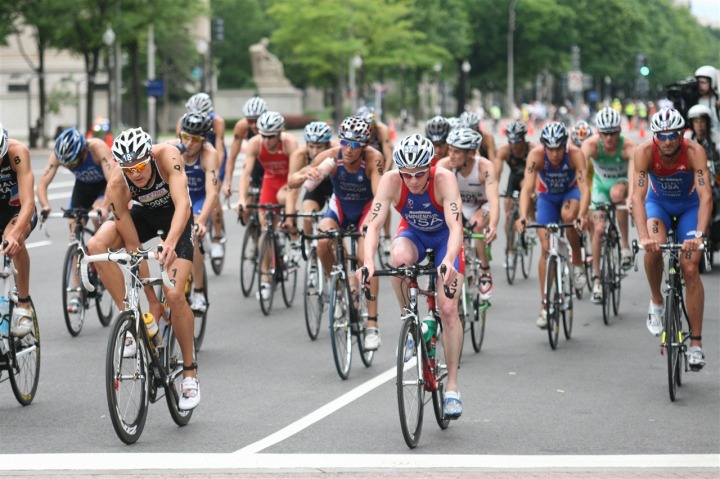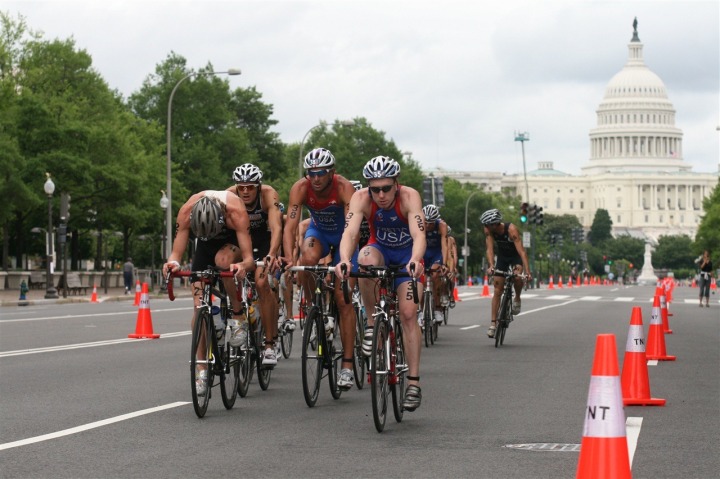 One interesting thing I noticed in the women's field (but didn't pay attention to for the men's) was how many of the women used those fancy water bottles which keep the drinks cool.  A significant majority seemed to, which was unexpected for me.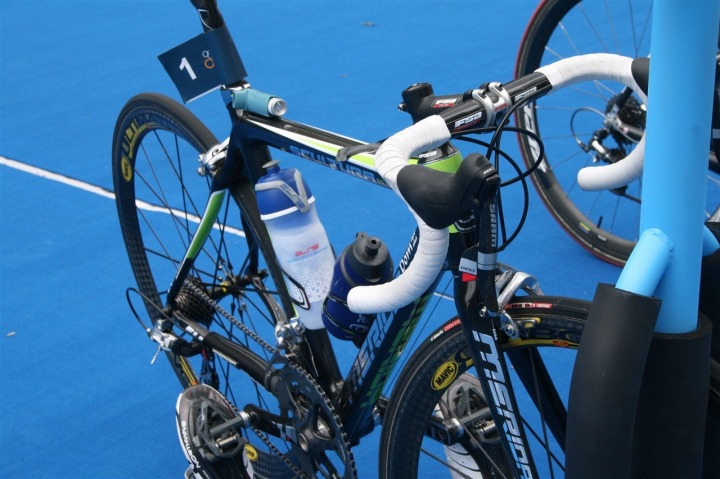 Of course being a pro has it's perks.  In this case, that'd be a wheel station that was pretty much a pit stop if you needed it.  If you're wheel was dorked up, you could get a quick swap.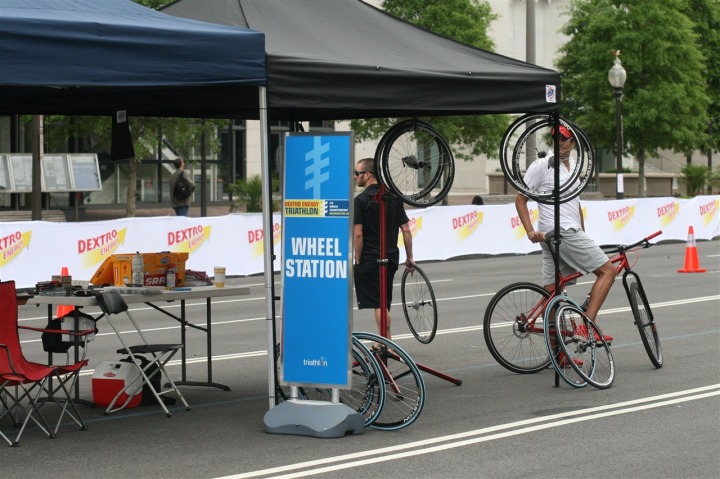 Though, that doesn't mean the field is going to stop and wait for you…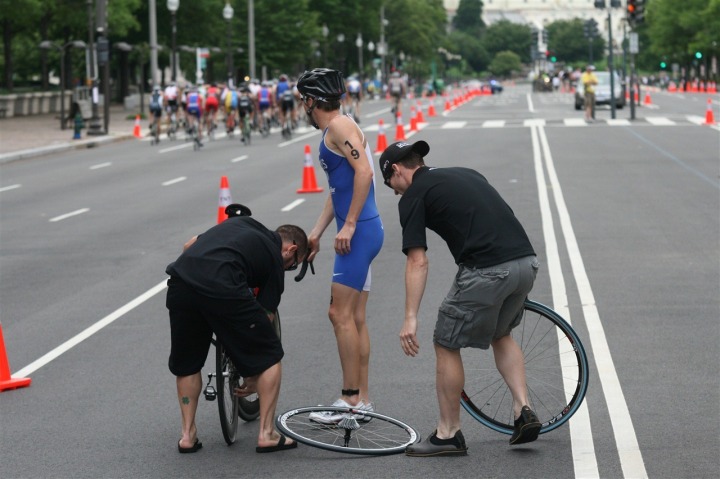 But you do get a little push at the end…  🙂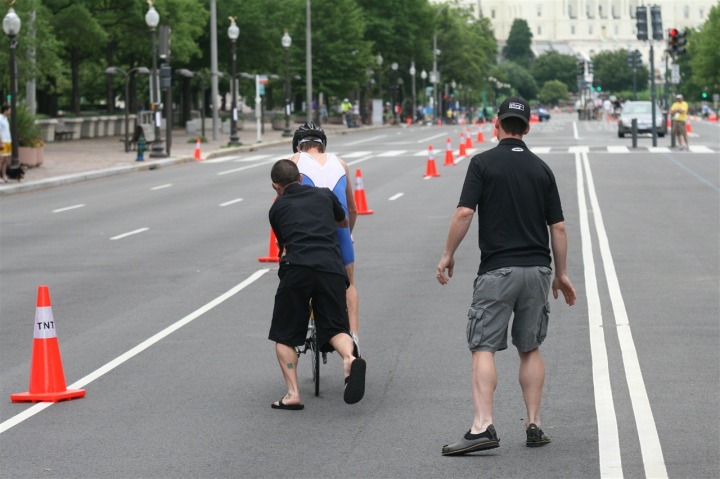 After you've completed your bike laps, it's time to come into transition.  Again, virtually everyone is doing some variation of a flying dismount.  On the dismount side I didn't see any crashes.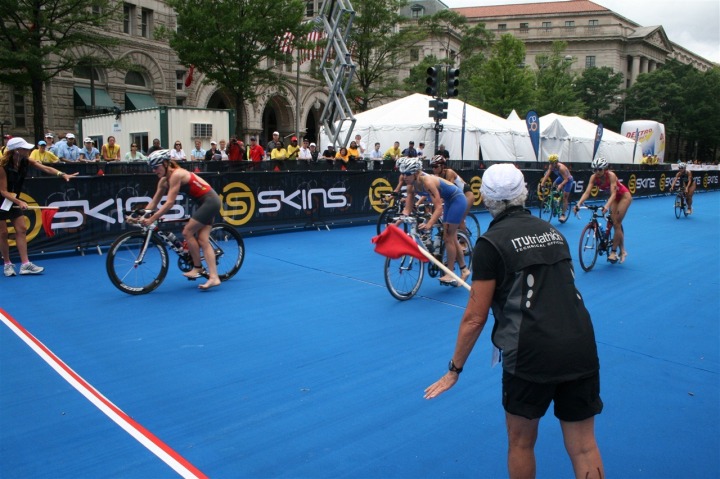 At this point in the race it's all about running your ass off.  That's what it comes down to.  Going out and throwing down a 30-32 minute 10K race.
One thing that was pretty cool to see was how the different teams worked.  You had coaches in different area relaying information via radio to their athletes.  In this case, a member of the Australian team is writing down splits for the leader and a number of other athletes on the team.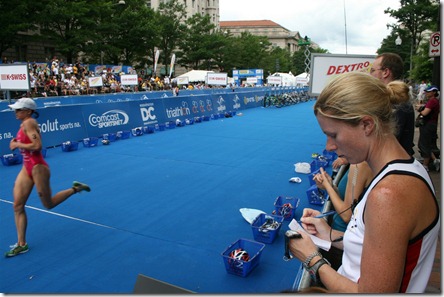 After you've ran your ass off, you get to finally go down the finish chute for the win.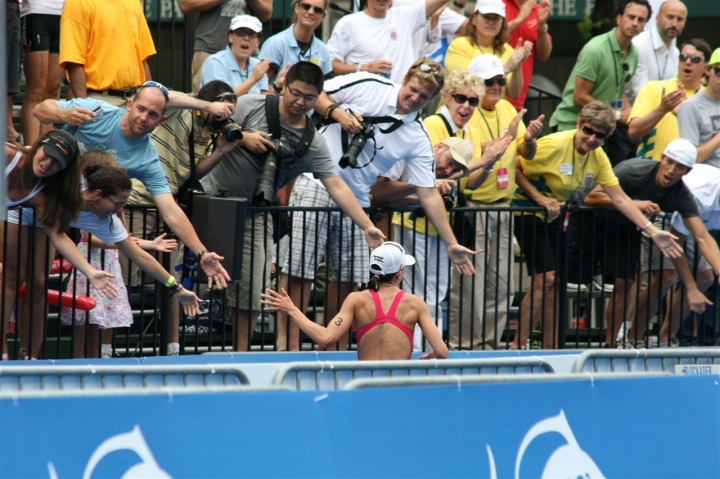 And even if you don't get the win, as long as you get 2nd or 3rd, you still get a spot on the podium.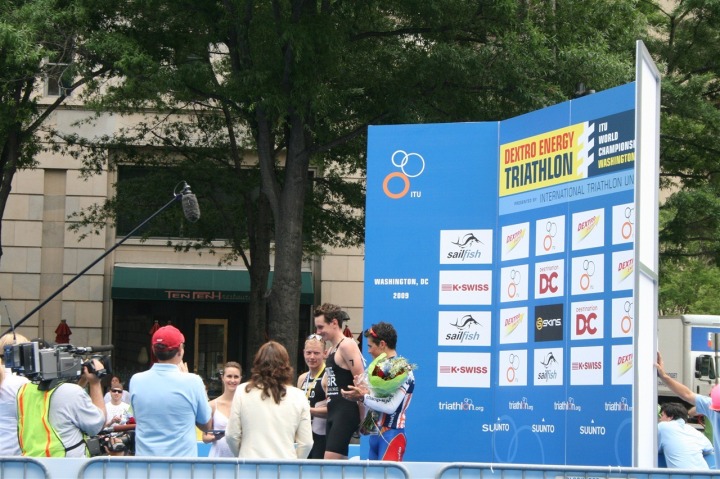 Now, there are a TON more intricacies to ITU draft legal racing that I didn't have time to cover here (points, cash, strategy, rules, etc…), but the good news is the race is being rebroadcast on TV (Universal Sports) in it's entirety:
Men's Race: Thursday, June 25 – 8pm EST
Women's Race: Friday, June 26 – 1am EST
And, you can also watch it online too on the Universal Sports site shortly. 
So, if you ever have a chance to watch an ITU format race, definitely go (and go with a bike to get around), it's a blast, and hopefully they'll be back next year either in DC or elsewhere in the US.