I had heard the rumors about Ironman 70.3 National Harbor in the fall of last year, as at the time it was expected that the race would be announced prior to Thanksgiving.  So while last week's final announcement was a bit later than most expected, I was happy to finally have the race announced.
Where is National Harbor?
Some of you may be wondering what and where National Harbor is.  Well, in short, it's a couple miles south of Washington DC proper, along the banks of the Potomac river, in Maryland.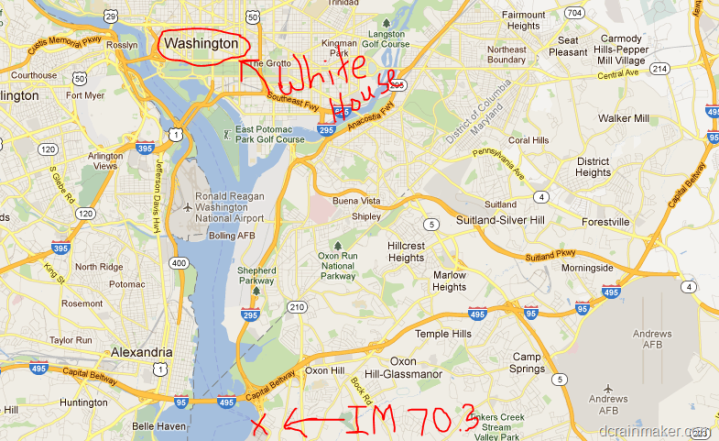 Technically, the northern edge of the National Harbor property borders DC.  And, it should be noted that National Harbor is indeed a property, and not a city or town.  It was built up over the past few years as a convention/conference retreat near Washington, attempting to attract conferences away from the downtown core.  In the case of hosting a race – that works both for and against it.  While only an Ironman's distance swim away from Old Town, Alexandria, Virginia, and a solid float from Lincoln or Jefferson – it's really a world away from DC.  And not because of any fancy marketing slogan, but merely because it's actually relatively isolated – something you'll see during this post.  There's virtually no public transit there, and is somewhat of a walled compound.
Many of you may also may remember last months fairly well failed Washington DC Hot Chocolate 5K/15K running race that was at National harbor.  There's thus been a lot of questions as to whether this event will repeat that events fate – and I definitely want to touch on that, but will do so later in this post.
But why is this course of interest to me?  Well, as I noted yesterday – primarily because it's in my backyard.  Which, doesn't at all mean that I'm actually going to race it.  I might, I might not, I might do the relay, I might volunteer, I might pick a nice warm spot and squirt a water gun at folks on the run course while eating solid chocolate bunnies from an Easter stockpile.  We'll see.
So, the curious person in me decided that I'd go and check out the course.  Despite running to National Harbor from my house on an almost weekly basis, I'd never actually run beyond it – which is where the course is.  Nor had I cycled beyond it.  Thus, this seemed like a perfect opportunity to expand my horizons, while knocking out my regular training workouts.
I should point out that in time I will most definitely check out and cover both the swim and bike courses, but, at the moment neither the weather nor my travel schedule is really cooperating for either.  But for those wondering, in one sentence or less my impressions of the two other legs knowing the area/route are:
Swim: Easy and straightforward, potentially wetsuit illegal
T1: A half-mile all uphill fistivus for the rest of us 
Bike: 56 miles on an uneventful highway with a scenic loop at the end.
T2: Short. 
Run: Well, just read on…
Run Course Attempt #1:
Since my schedule had a 13 mile run on it, I figured this would be a relatively straight forward reconnaissance effort.  While I could (and probably should) have created the route on MapMyRun or similar and then downloaded it to my Garmin unit as a course to follow, I decided instead to just print out the course map from the site.  After all, that's how most people would probably do it.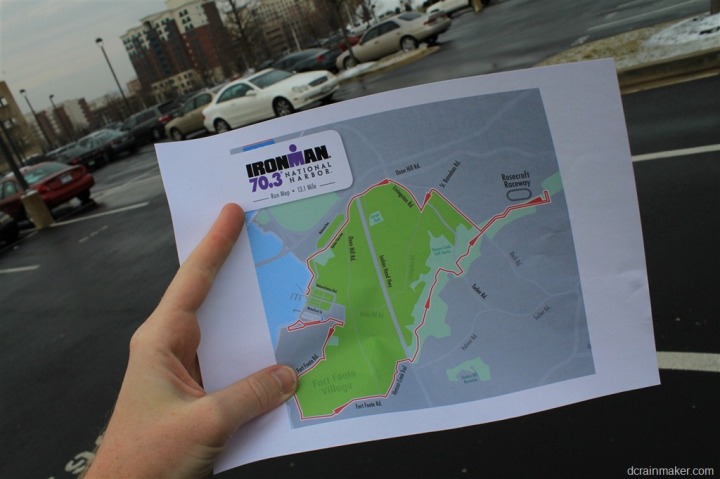 Lacking a good place to store it, I simply just wrapped it around my water bottle – which actually worked surprisingly well.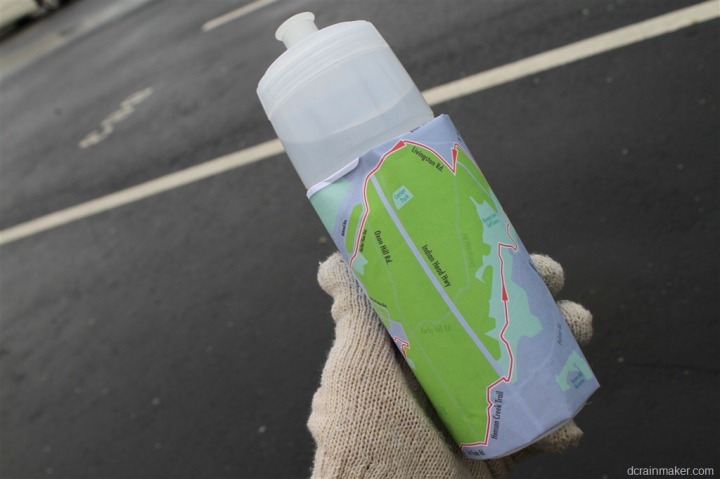 From there, I did a few loops in my car around National Harbor trying to figure out exactly where the start area would be, and then eventually where I'd be going for at least the first little mile or two on the run.  The bike and run start (T1/T2) is just above (hill-wise) the Gaylord Hotel and Parking Garage – which puts it in a giant parking lot, mostly used for employee parking, though open to anyone.  The swim is actually half a mile down the hill at the water's edge.  They are connected by newly paved roadway.
A tip on parking at National Harbor.  If you park in said lots (where T1/T2 is), you'll end up paying $12 – regardless of how long you stay.  However, if you park on the main stretch in front of all the shops, they have meters (accepts credit cards).  That's your best bet, unless you plan on being there literally the entire day.
With everything all set (including a GoPro on my chest to record everything) – I set off!
The first portion of the run actually has you going back downhill to the water, perhaps a nice reprieve from 56 miles on the bike.  You'll run about half a mile on this service road, eventually cutting through a loading dock area to gain access to the waterfront trail.  It's fine to cut through here any time the main gate is open – which based on my running experience over there for the past two years, is basically all the time.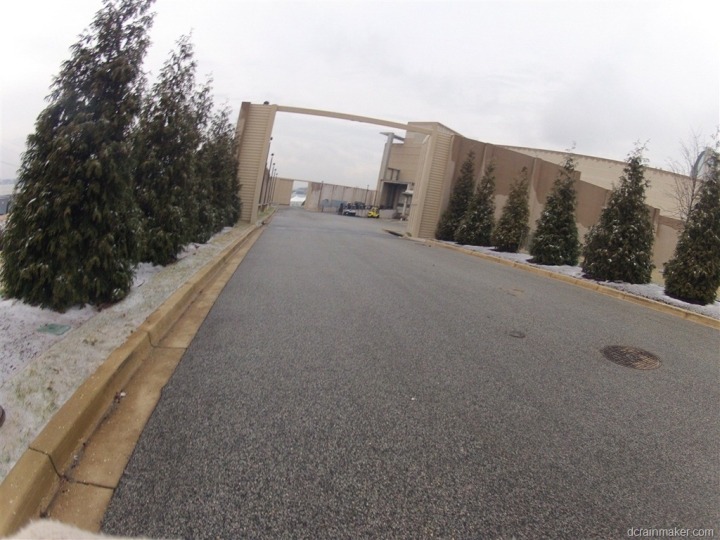 Once past the gates you'll work your way a few hundred more yards to the Potomac's edge.  At this point all the swimmers should be long gone, and you'll likely instead find your spectators.  They'll be there because it's relatively close to food and things to keep them busy.  But, you won't get to enjoy that quite yet, instead, you need to turn away from it all and run along the waters edge.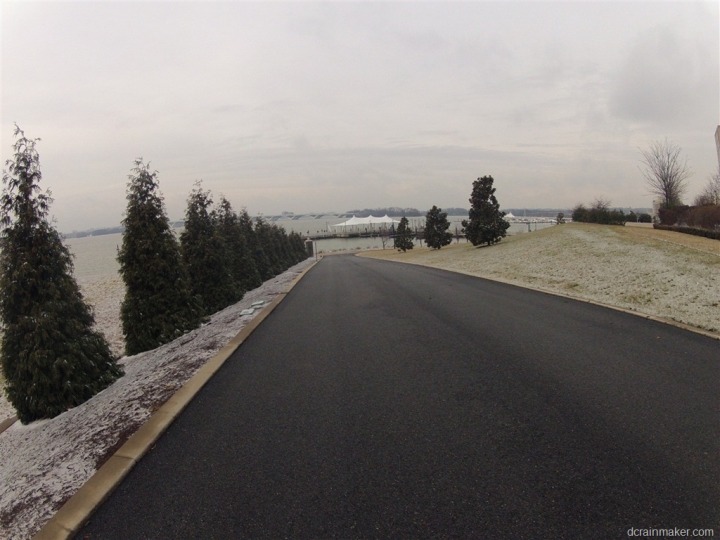 The path here is crushed seashells (a very contentious point in local cycling group circles), but you'll only be on it for a few hundred yards, and for a runner, there's no problem.  And while it was a bit muddy in some sections due to the snow, it's generally not too bad.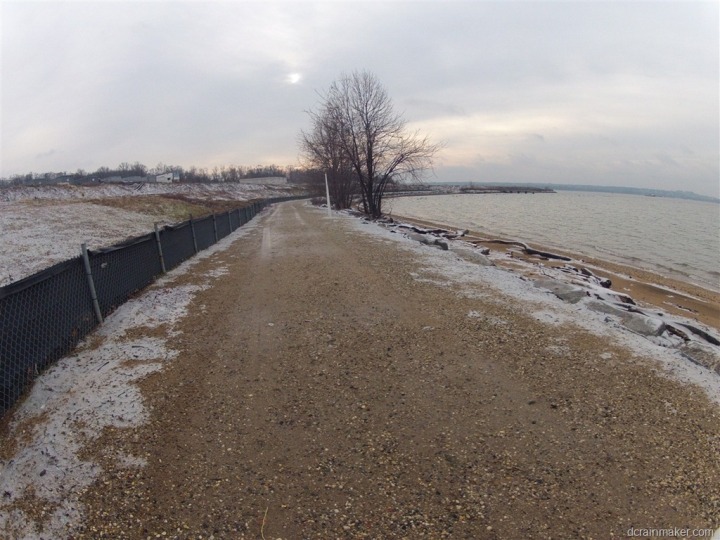 From there, you'll start heading back up the hill you just came down.  About half a mile up the hill you'll hit Mile Marker 1 – right near the exit/entrance to transition.  But, you're nowhere near the end of this hill.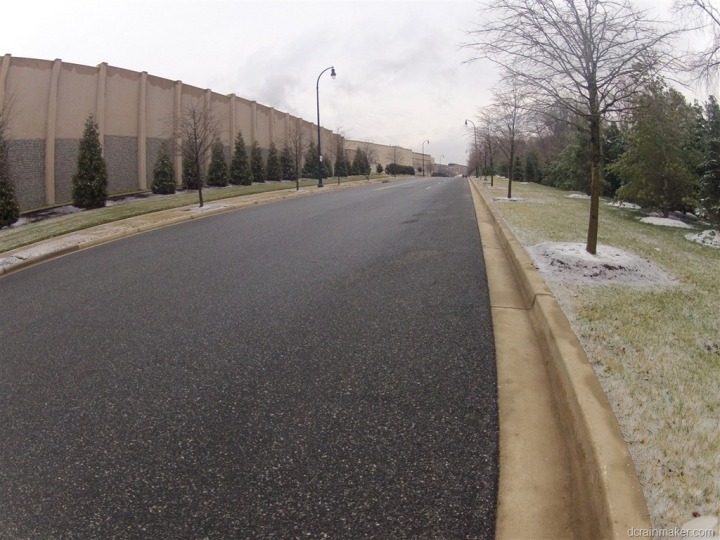 Nope, it'll continue to climb for another half a mile, getting steeper towards the end with a reasonably painful burst to the top of the ridge.  In general, I'm reasonably certain you're going to hate life by mile 1.43.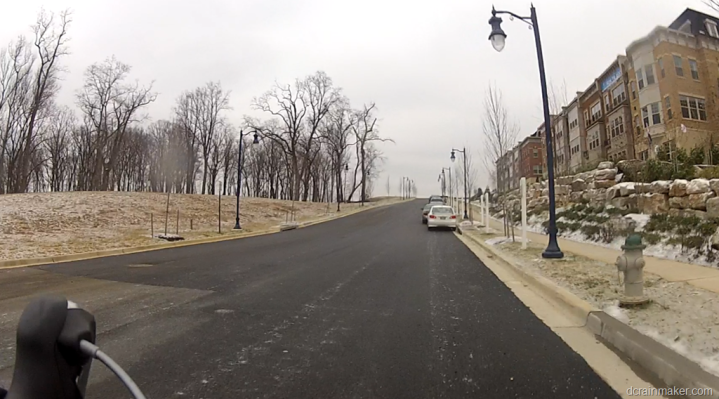 From here, you'll make a turn to the right and exit the National Harbor property through a backdoor gate.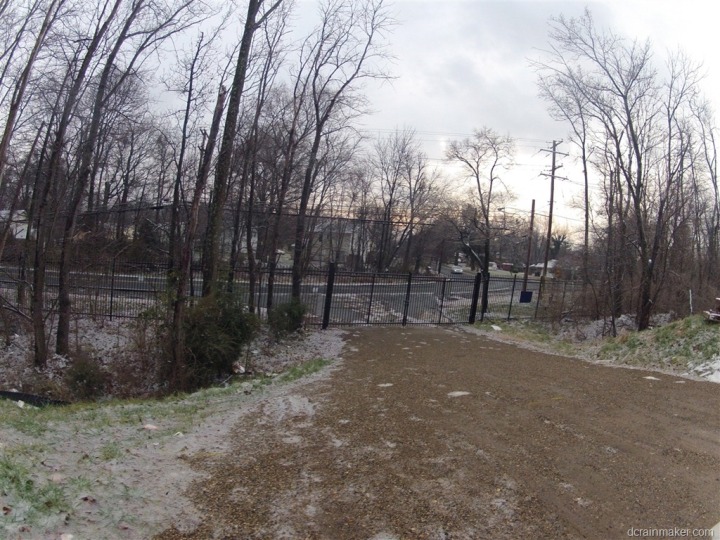 Now, this is where my entire plan fell apart on Saturday.  See, said gate is well locked, and, as I found out – the property on the whole is well gated.  In fact, I spent the next 4 miles trying to find a rabbit hole or break in the perimeter of the property to get out.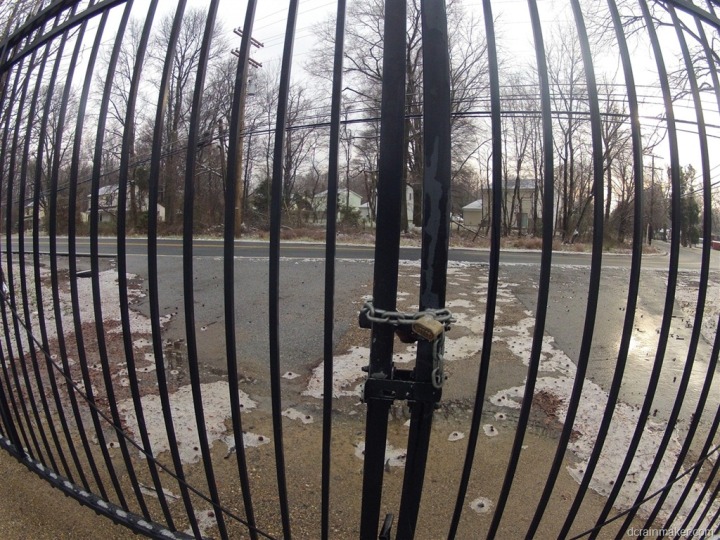 No such hole seemed to exist.  Seriously, they went to a LOT of effort to keep people from either getting out, or getting in.  The irony of this being that National Harbor as a real estate development is well known to be struggling a bit.  And there are endless neighborhoods of houses which are a very walkable few hundred yards away from shopping and eating.  None of which they can get to.  If you do attempt to explore the empty property space, you'll mostly spend just a lot of time running across tundra, which was cleared in expectation for homes that never occurred.  I suppose if you needed to practice tundra running – this is where to go: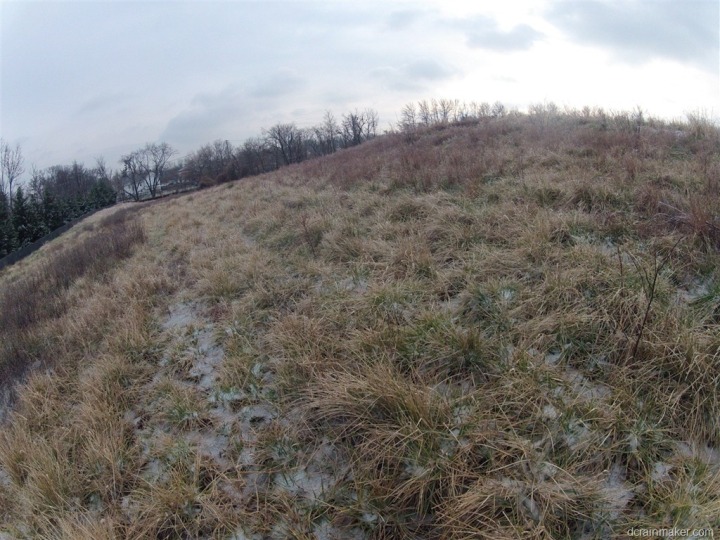 The nearest reroute would add about 4-5 miles onto the run course.  And because the course is a giant loop, merely changing the direction of the course wouldn't really solve the problem, as you'd still end up short.
So, after more than 13 miles of non-course exploring under my belt on Saturday trying to find an alternate route to use for training, I eventually game up and tweeted a picture of the gate with my findings.  A short bit later, I got a tweet back from someone noting that there was actually a bar missing on the gate, just to the left – wondering if I could fit.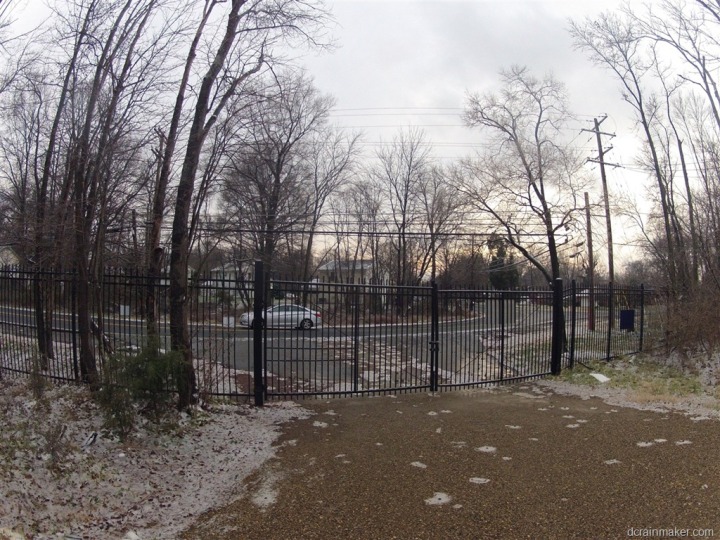 And indeed…I could fit!  Sweet!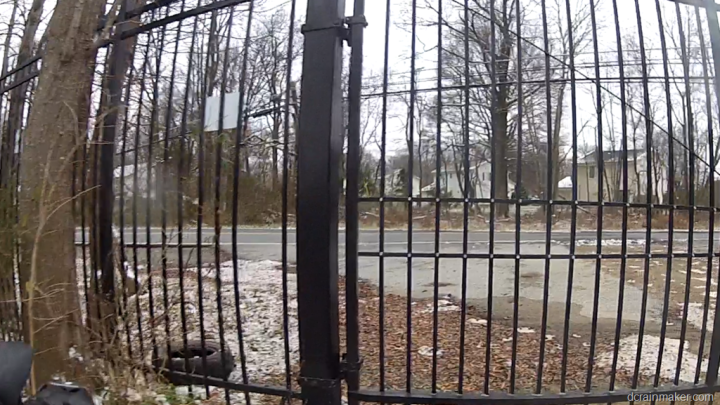 Now, this is totally legal.  As long as you're just EXITING the property through this missing bar, then life is grand, since you're simply existing onto a public road.  If you go the other way, the signs indicate no trespassing.  Further, the irony is that as I exited this very spot the next day, a police officer came around the corner.  While he hit the brakes when he saw me going through the gate, he kept on going as soon as he realized which way I was going.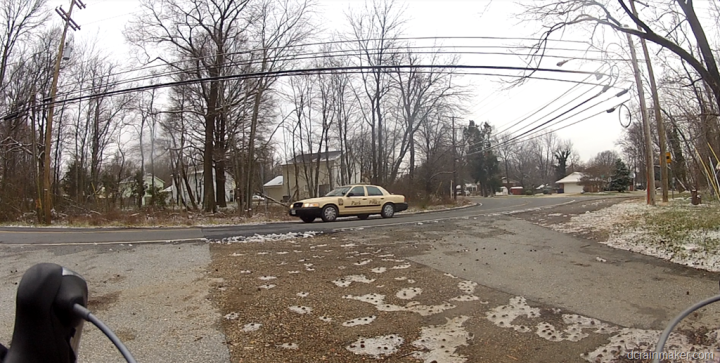 So…onto attempt Run Course Attempt #2.
Run Course Attempt #2:
I came back on Sunday, ready to try this again – armed with my newfound fence knowledge.  Except, this time I really didn't have another 13 mile run on my schedule.  So, I decided to ride a bike instead.  It would allow me to get better (smoother) GoPro footage anyway, and be quicker.  Plus, if I got lost, I'd spend less time being lost.
So off I set out, repeating all the same steps as above.  This time, I easily escaped through the fence whole – including my bike.
From there, the course scenery immediately changes from corporate designed town center, to rural neighborhoods:
The geography mostly just lightly rolls for the next 1-2 miles.  There are some solid dips in there though, a fair bit of downhill, but also some solid little uphill sections of a few hundred yards at a time.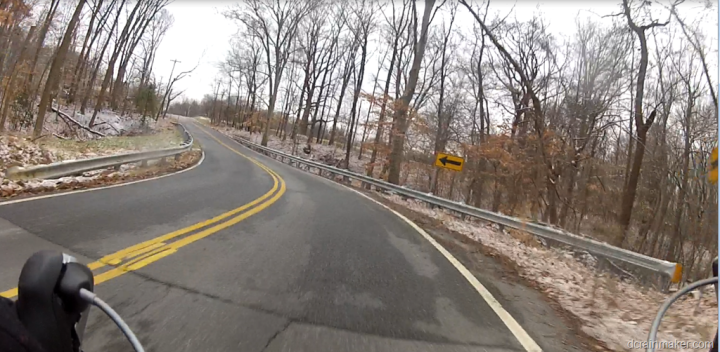 You'll pass a few schools towards mile 3-4, which are only notable as bathroom/water stops.  There was also a small park a few hundred yards off the route, but I didn't explore it this time.  Eventually, the quiet road meets up with the Henson Creek Trail, which is a paved bike/running path that in total runs about five miles – though, the course doesn't use all of it.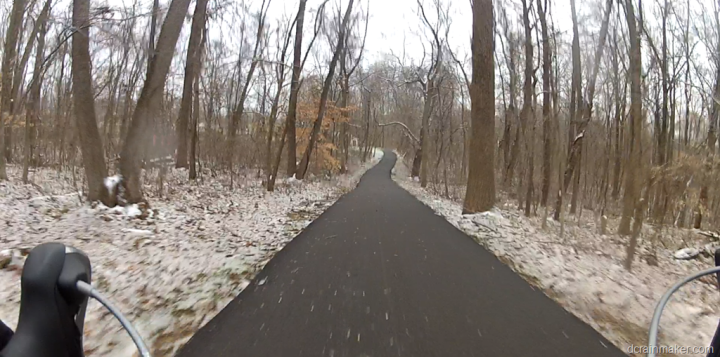 The bike path was rather nice, and will be your best friend during the summer when the heat is blazing, as the trees easily cover the path and should completely shade it.  Additionally, once on the trail, it simply follows an active creek, so the terrain is basically flat here.  If you're out there training, note that there was no water or bathrooms along the trail (beyond the trees themselves…).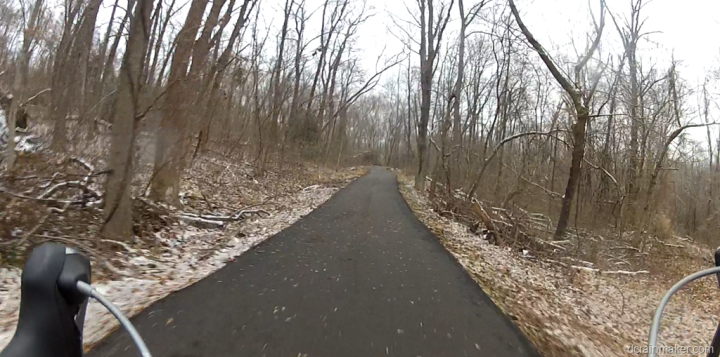 Eventually, you dip under Route 210 – the busy highway that you'd have just finished biking out and back on.  This could be both encouraging or disheartening to see other athletes, depending on whether you're on the bike or the run at this stage.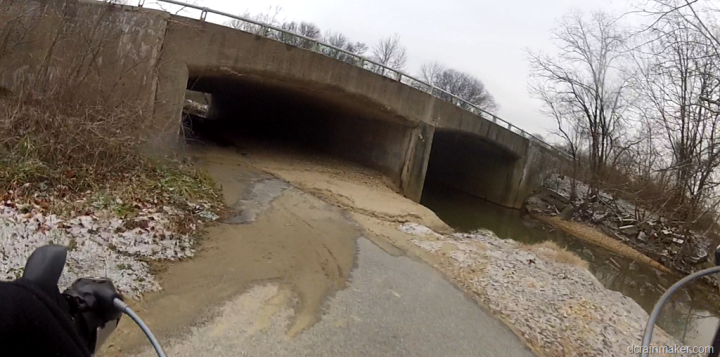 While the highway underpass bike path was in semi rough condition (clearly flooded a few times), I don't expect that to be an issue come race day, as most park authorities in the area tend to clean up these trails in spring.  Shortly after departing this underpass, I noticed the sign on the side of the trail: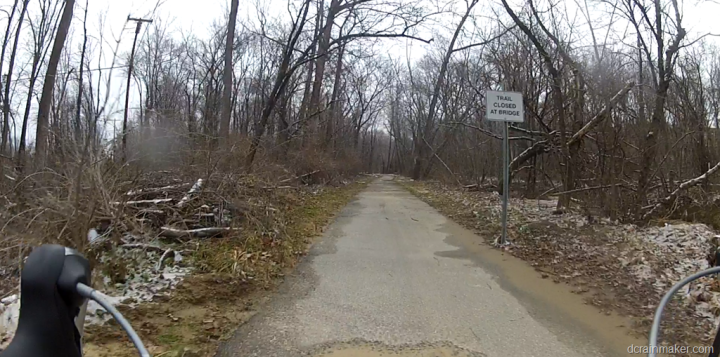 Not sure what to make of it, I kept on chugging.
Soon though, I came upon what was clearly not a good sign.  No pun intended.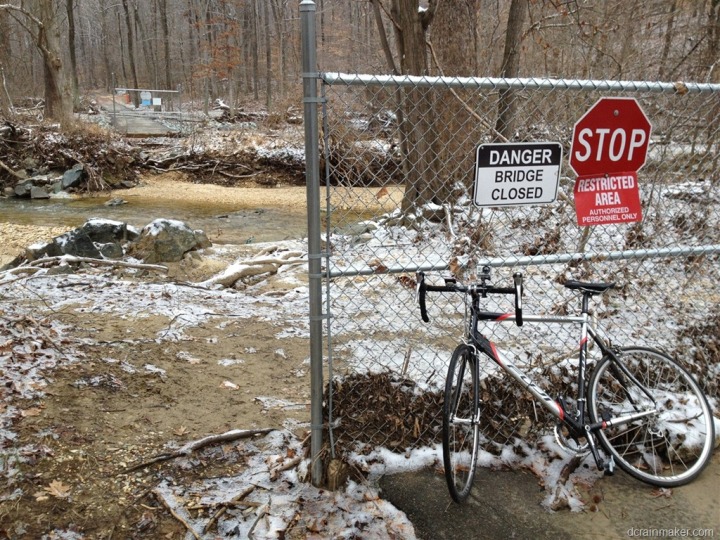 The river had completely and totally washed out the bridge.  And, despite how it may or may not appear in this picture, the water is/was actually fairly deep in a few places – a couple feet, more than I'd want to hop across in the winter anyway.  Hot summer day?  Mmm…perhaps refreshing.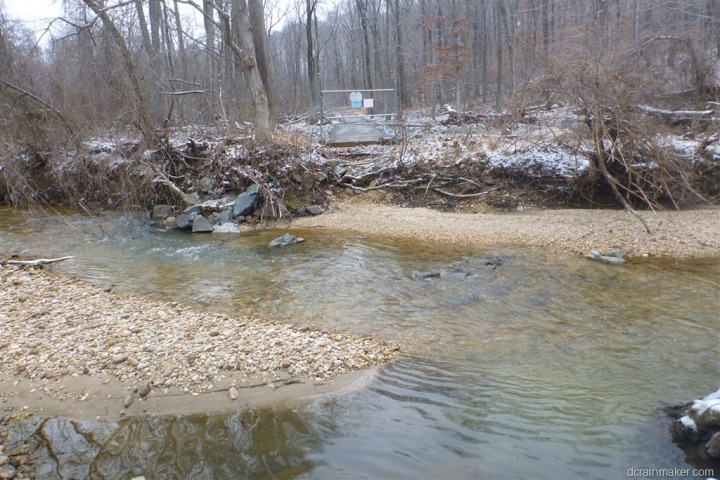 Even in summer though, there wasn't any obvious way to easily make a river crossing on foot without getting wet.  Thus, it's going to take either a new bridge, or some construction.  Curious about this, I did a bit of research and found that the bridge has been washed out for at least a year.  And while the local park authorities said last May that 'Construction should be complete by December 2011'- it's clear it never started, let alone finished.
Curious, I posted a message to the National Harbor 70.3 Facebook page and asked what was up.  Here's the response:

This is concerning in that I would have expected someone to actually have tried running/riding this route at some point in the last year, as clearly they would have been aware of it – since it would have been impossible to complete. 
But, at the same time, if anyone can overcome the lack of bridge – it's Chuck and his team that puts on the Nation's Triathlon.  After all, they built a giant floating pontoon system in the middle of the Potomac River, and put on an event that very few people would argue isn't world class.  Surely they could just grab some of those pontoons they use every year and make a makeshift crossing fairly easily (it's probably 30-40yds across).  It'd be like a Boy Scout Eagle Project.  Failing that, as someone else Tweeted to me "Didn't you get the memo, the run is going to have a Steeplechase theme!".
Now, determined to get a full GPS file and video of this route, I pulled out my phone and looked up detours.  It would be another 3-4 miles of riding to get around this and end up at the other side of the bridge.  No worries, I had all day.  Off I went!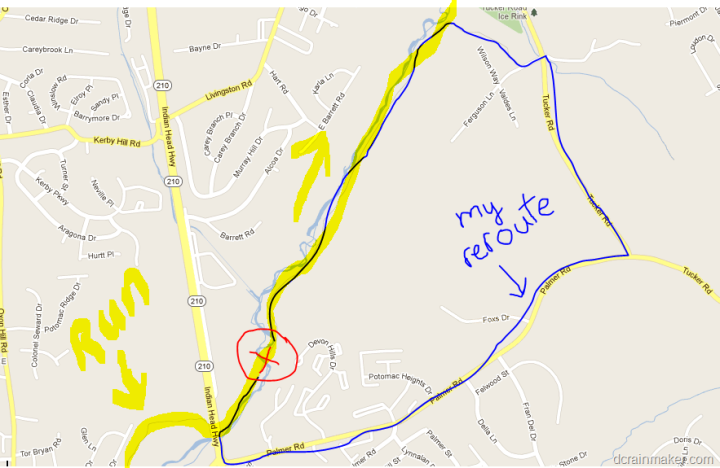 Roughly 2 miles later, about half-way up the mother of all hills that I had found, I noticed a distinct lack of air in my front tire.  As in, no air at all.
Well, this officially put a damper on things.  Somewhere in the fall season I had removed my saddle bag from this bike (which I don't often use) and put it with my stuff for travel during bike rental at Interbike and the ANT+ Symposium.  As such, I had neither spare tubes nor a patch kit.  And, while I did try riding it for a while, it wasn't really working out very well for further territory exploration with riding on the rims.
Thus, my efforts were thwarted again.
At this point I was some 6+ miles away from my car.  And while I contemplated finishing the course, that particular upcoming area was more residential, and also more miles of potentially non-friendly trails.  So I ended up backtracking and riding the last few miles on the highway, aka, the bike course.  It was flat and straight – which at 8-11MPH and occasional ice, was about all my poor bike would do.
Determined not to leave you completely hanging though – I did go ahead and take the first 5ish miles of video footage and upload it, consider it a bit of a course preview.  Here ya go, for your enjoyment!
Ironman 70.3 National Harbor
Looks like fun, ehh?
Hot Chocolate Mess Again?
Obviously, there's been a lot of discussion about whether or not another race at National Harbor is a good idea, and whether it'll end up like the Hot Chocolate mess back in December.  In short, I don't believe so – and here's why:
1) The National Harbor Ironman 70.3 is expected to have 3,000 racers.  The Hot Chocolate 5K/15K had 22,000.  That was roughly ten times larger.  There are other running events held at National Harbor in the 2,000ish range, without any issue (Woodrow Wilson Half-Marathon).
2) Running and triathlons are fundamentally different. A running race has all people starting at the same time, in a highly clustered scenario.  A triathlon however, starts in waves (full Ironman's excluded).  A typical triathlon wave is about 100-125 people, usually in 3-5 minute intervals.  The whole swim thing then further separates out the competition.  Coming out of the swim there's a full two-lane road, plenty to handle the normal 1-2 athletes per second you'd see exiting the swim.  And that monster of an uphill T1 will continue to disperse the field.   Finally, the mere act of 56 miles of cycling does a really good job at separating the field (Ironman Florida excluded).
3) Many Ironman 70.3's run courses are held on bike paths: An Ironman 70.3 event does not need a full roadway to hold the run portion.  A bike path is more than sufficient.  Plenty of big 70.3 events today operate this way, even ones with multiple loop run courses.  In the case of National Harbor, only a handful of sections are on bike paths (never doubling back nor repeated), the first of which starts at mile 62 of the race. Plenty of separation.  I suspect for some extended front portion of the field, you'll be pretty much running by yourself.
4) National Harbor handles 3,000 person events on a frequent basis. I wouldn't put myself in the camp of being a huge National Harbor fan – but the reality is, they do handle conventions and conferences every week with 3,000 people in them.  The parking lots are PLENTY big to accommodate this type of demand.  With 3-5 close-by giant lots, and two even bigger 5-7 story garages, no issues there.  As long as they don't try and pull a Hot Chocolate and have 20,000 cars, they'll be good.
5) The bike course will be 'interesting': The one area I'm a bit unclear on is the traffic management aspect of the bike course.  Quite frankly, I'm amazed they got some form of road closures, given how important that highway is to that area.  I'd like to understand more clearly what the plan is there – and how that will work.  While the highway does generally have a wide break-down lane – the road's traffic usually flows at between 50MPH and 65MPH.  And while there are plenty of races (Ironman to sprint) that operate on fully open roads, I can't think of any offhand on a road quite like this, with as fast and as much traffic as this.  And those that do, tend to have a bit more local history of the event (community support).  As we saw with the Hot Chocolate, closing portions of that road was not received well by drivers by any stretch.  Below, an image on this stretch coming back with my wounded tire.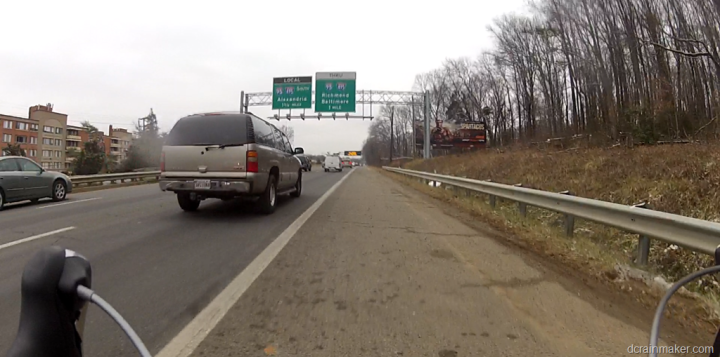 But again, if they were to close one half of it, or have at least a lane of buffer – I'd be totally cool there from a cycling safety standpoint.  If traffic was not closed on one side, or if it did not have a one lane buffer, I'd be concerned.
Summary:
As the weather, travel and training schedule permits, I'll definitely be going back out and checking out the rest of the course – if for no other reason that to give me some new training ground.  In general though, if you're looking at doing this race, I'd only note that it's going to be a monster of a run course (hills), and the heat and humidity will be brutal that time of year.  But, if you train in the area, it's really no different weather wise than any other training day.  Also note that you can get just as hot and humid of weather in DC in early May or early October, as you can in August.  Had they done it much before May, the river would likely be too cold.  But I'll save the river and bike portions for another day.
Thanks for reading, and feel free to drop your comments below!
(Also, if you find this post in the future, click the category tags below to find the other National Harbor posts.  Enjoy!)