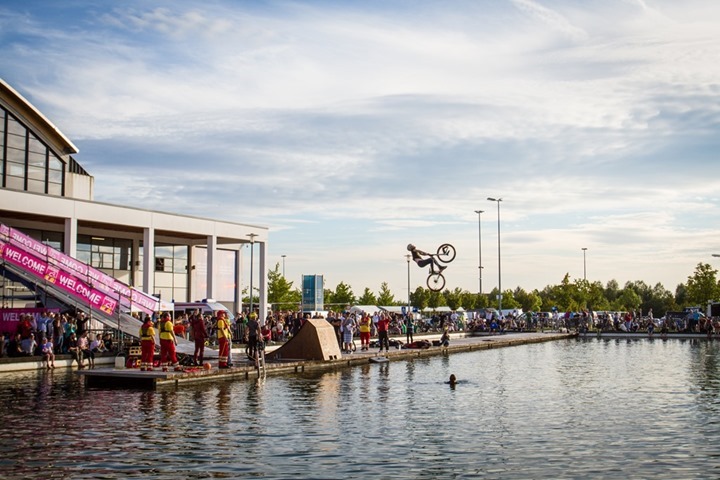 Just a super-quick heads up that next week begins the annual 5-week long sports technology sweep (or sprint) that starts with Eurobike, continues with Interbike, and then rounds out with the ANT+ Symposium.  It's predictably packed with new products, cool technology, and frosted with just a tiny bit of exhaustion.
Eurobike: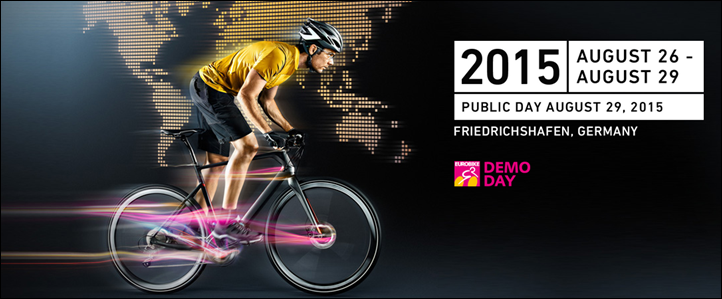 It first starts out next Wednesday morning in Friedrichshafen, Germany with Eurobike, the world's largest bike show (way bigger than Interbike).  It's here that we tend to see all of the European brands make their sports tech announcements, along with some of the more 'global' brands.  Without fail we've seen massive pushes in power meter technology each year, and it's certainly shaping up to follow that trend this year.  But I also think we'll continue to see more connected sensors (i.e. lights) as well.  And as always I expect more trainers.
Here's all my past Eurobike posts (seriously, you'll get lost for a long while).
Interbike:

Then two weeks later on September 14th we kick-off Interbike.  We typically see US brands make announcements there, as well as global brand that may be splitting announcements between Eurobike and Interbike.  For example, Garmin has historically split announcements between Eurobike and Interbike.  But they've also not historically announced/started shipping half a dozen cycling products during the summer either (Edge 520, Varia Radar, Varia Lights, Vector2, Edge 20, Edge 25).  Same goes for companies like Polar, who already launched a key new cycling product (the M450) back in June.
Instead, I think you'll see most of the action coming from the 'smaller' brands (as in, not massive global brands).  But that's great – because lots of cool stuff happens there.
Here's all my past Interbike posts (in case you're still bored this morning).
ANT+ Symposium:

Finally, we've got the ANT+ Symposium two weeks after that, starting on September 28th.  As is usual I'll be speaking there on sports technology trends (which is never really limited or focused on ANT+, but the industry as a whole).  Typically we see some minor announcements here, usually more 'declarations' than new product announcements.  For example last year Garmin announced Connect IQ at the ANT+ Symposium.
You can see and watch all my past Symposium presentations here (this takes spare time to the maximum, with each presentation nearly an hour!).
Phew!  As you can see – a busy time period indeed!
A Quick Reminder!
Before I go back to writing tomorrow's in-depth review, I give you this brief public service announcement:
Readers: If you've got sports tech stuff that you see or hear about and think it's worth a deeper dive, definitely drop a note here and I'll dig into it.  As usual you won't really see me covering things like seat posts or new chainrings, but rather stuff you'd normally see here that's tech focused.  Also note that at Eurobike/Interbike as the name implies, it's more bike focused, so you're less likely to see swim/run stuff (though that is on the rise at Interbike).
Companies: This should probably go without saying, but I find that a gentle reminder is worthwhile.  If you're looking to launch a product during this timeframe, it's best to get in touch now.  I generally don't do posts based on generic press releases.  And when it's 3AM for the 3rd consecutive day, I'm far more likely to write a post on a product from a company that spent time to give me a working demo and answered detailed questions.  So you'll need to have a legit product in your hands that I can touch and photograph to get coverage here (here's why).  Simply use the contact form and I'll get you squared away on a timeslot.
But both myself (and I presume readers) love seeing beta/prototype devices, so don't be shy.  Plus, what's the worst that can happen? 😉
—
With that, thanks for reading!  If you're looking to burn a bit of time, here's all my Eurobike 2015 posts!