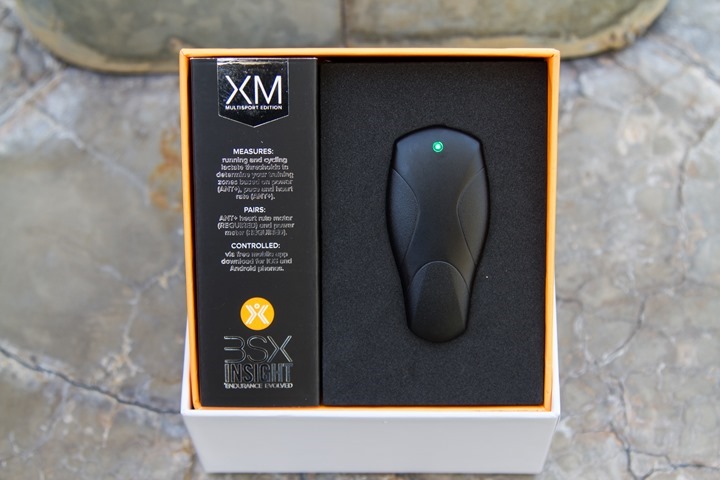 (Update – Jan 22nd, 2016! I've now published my in-depth review of the Gen2 unit.  So you'll want to swing over to that post for all my thoughts after months of real-world usage.  Enjoy!)
Today BSX announced the second iteration of their lactate threshold focused product with their Gen2 unit.  You'll remember that BSX started on Kickstarter about 18 months ago, and then started shipping their first generation product this past winter.  The Insight was designed to measure your lactate threshold and give you guidance to develop training zones for running and cycling (depending on which product you bought).
The 2.0 edition really has two core pieces – first is the software on both the device and the web/app platform that have been updated.  Then there's the hardware components on the device itself that have changed, most notably around improving ANT+ & BLE connectivity.  Connectivity has been a challenge for some users, in some cases causing complete data loss upon completing the test (resulting in large fits of anger).  And while  BSX has been able in the vast majority of those cases to save the test data, it caused a pretty big rift with users.
Muscle Oxygenation:
One of the most visible new features will be the addition of Muscle Oxygenation (SmO2), a space that has previously really only been occupied by Moxy.  The muscle oxygenation data is measured within the BSX pod and then broadcast over three different ANT+ variants:
– ANT+ MO2 Profile (for supported devices)
– ANT+ Running Cadence (for legacy devices)
– ANT+ Cycling Cadence (for legacy devices)
It's the first one that's most interesting – that's because that allows capable apps (mostly trainer based and Connect IQ based) to pickup the muscle oxygenation information from the Insight device directly.  Whereas otherwise you have to use the second two options, which is to channel that information over the existing running & cycling cadence channels that are found on any number of devices out there today.  You can see an example of that here with the Edge 810, where's it's being sent over the cycling cadence channel.  The obvious problem there being you then lose the real cadence information.
This information is also transmitted to the BSX app via Bluetooth Smart, such as below.  That way they can record the data to your training log.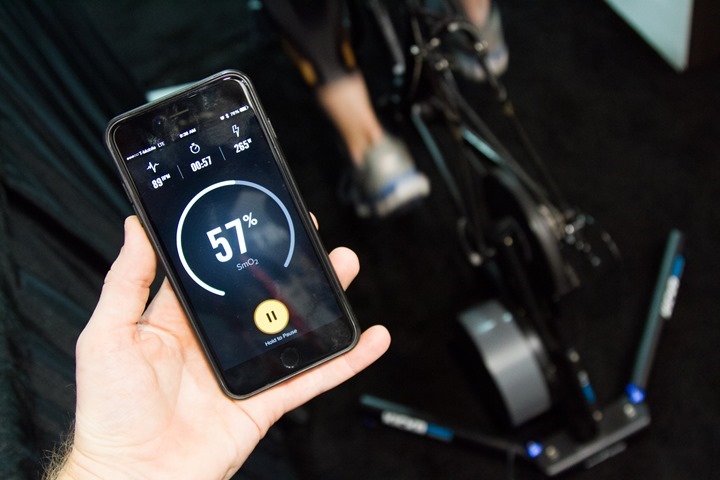 Now BSX will readily admit (similar to Moxy) that the muscle oxygenation 'industry' (read: just them two companies) is still fairly new and thus in some cases you'll be charting new territory when it comes to how to use the data to train and race.  It also doesn't help that platforms like Training Peaks or Garmin Connect today lack ways of capturing/recording the data with your existing training data.  So you're more reliant on the BSX apps for now.
Still, there's fascinating research going on, and BSX is working with many of the same industry leading names that started doing power meter training/racing research years ago to try and formulate how best to use that guidance.  And a lot of that guidance will be dependent on the continual use aspect that we'll discuss in this next section.
Daily Usage:
The Gen2 model has some changes designed to support daily training/racing usage.  That means you can use it while on your normal runs and rides, and not just on lactate tests as the Gen1 model was.
They've introduced a few hardware features that make this possible, starting with the ability to give it various tap commands to start transmitting data.  Then there's the slightly changed calf compression sleeve with added light blocking technologies for outdoor usage (the earlier sleeve didn't work as well outdoors). Not to mention changes in the light sensors to increase accuracy over a broader range of people and skin types.
Then finally, outside the device itself, the web site and app being updated to handle all of these new workouts.  Each of these workouts giving you muscle oxygenation data as well as data collected from ANT+ sensors such as heart rate sensors and power meters.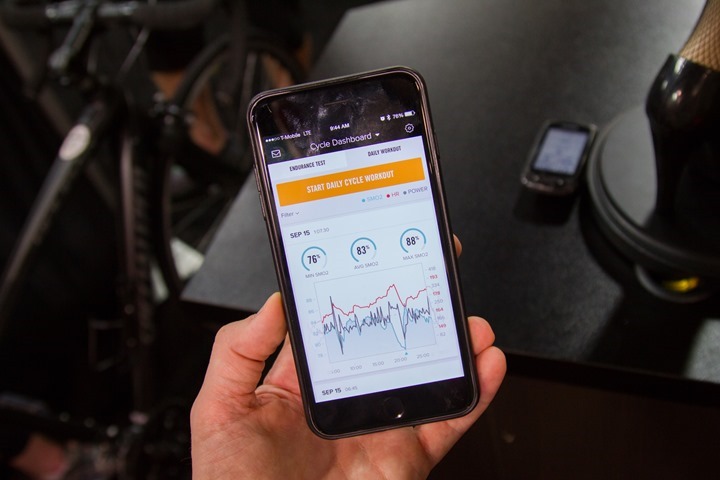 Within the mobile app it'll allow you to simply scroll through your different workout days and get the data seen above.  This is for both cycling and running.
KICKR Control: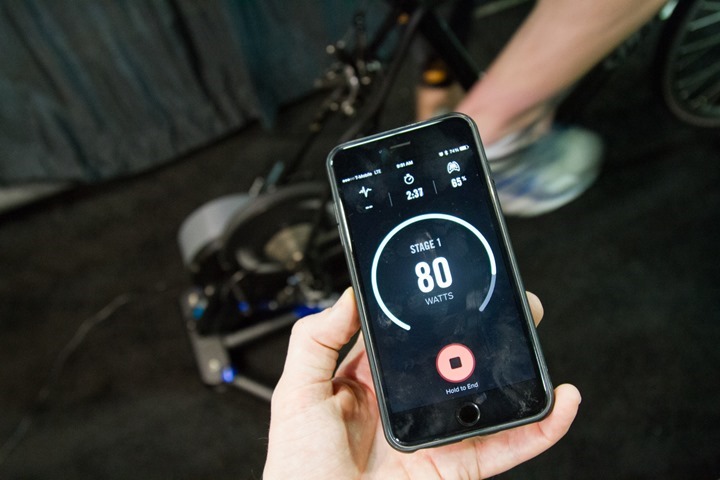 Within the new app, they're going to be rolling out Wahoo KICKR trainer control.  This means that the app will connect over Bluetooth Smart to the Wahoo KICKR trainer and control your wattage automatically during lactate threshold tests.  That's pretty cool, and will make your life just a tiny bit better at a point in time where your life is probably not terribly great (as anyone who has done a lactate threshold test can attest to).
The unit simply pairs to the KICKR using the existing Wahoo KICKR API's (via Bluetooth Smart) as seen at the bottom of the app, and then will just automatically control each wattage level throughout the test.
I asked them about support of ANT+ FE-C trainers, and they said they were quite open to it and didn't believe it'd be that complex for them to add down the road as part of a software update.
Upgrades: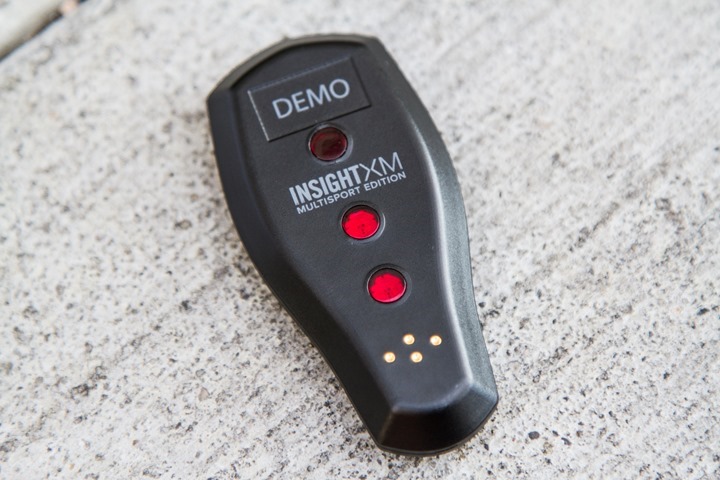 Of course, the biggest challenge that BSX probably faces is how to bridge the gap between the people that backed the Gen1 product, and get them onto a Gen2 product.  Without those Gen1 supporters, they basically wouldn't have a company or be where they are today.  There are no doubt certain software/web aspects that Gen1 people will benefit from by default, but there's also a hard reality that other features just required a hardware change.  For example improved antenna design to handle improved ANT+/BLE connectivity.
In order to try and soften that blow, they're going to offer an upgrade program for existing users to get them onto the 2.0 devices – rather than having to purchase a new device.  New devices would otherwise be $299 (Running), $369 (Cycling), and $419 (Multisport).
Right now they're still running the financial numbers for what that upgrade cost would be, but I was able to pin them down onto a quotable price range of "Definitely under $100" for existing users to upgrade to the new Gen2 devices.  Given the volumes that BSX produces at, their cost structure is still fairly high – especially for these sensor components, so their ability to just hand out free devices is more limited than a larger company like Garmin.  Hopefully though they can get that cost to upgraders down as low as possible.  I think if they can get it into the $50-$75 range that's fair, since I know of no other sports tech company in the market that offers a massive discount year over year for new hardware products.
Just to help understand all the differences, here's the chart of how the two devices compare:
BSX Insight Features
| BSX Feature & Capabilities | Insight Gen1 | Insight Gen2 |
| --- | --- | --- |
| Lactate Threshold Tes | Yes | Yes |
| LT1 and LT2 results (AeT and AT) | Yes | Yes |
| Dashboard Progress Graph | Yes | Yes |
| Training zones based on LT Result | Yes | Yes |
| Customizable Percents for Training Zones | Yes | Yes |
| Pairs to ANT+ HR & ANT+ Power Meters | Yes | Yes |
| Improved ANT+ Connectivity | - | Yes |
| Connects via BLE to app on Mobile (iPhone/Android) | Yes | Yes |
| Improved BLE connectivity | - | Yes |
| Daily Activity | - | Yes |
| Basic calf compression sleeve | Yes | - |
| Enhanced calf compression sleeve with light blocking technology (required for outdoor activities) | - | Yes |
| ANT+ broadcast to watch via Run Cadence Profile | - | Yes |
| ANT+ broadcast to head unit via Cycle Cadence Profile | | Yes |
| ANT+ broadcast via MO2 Profile | - | Yes |
| Results Shareable Socially | - | Yes |
| Graphs of Daily Activity | - | Yes |
| Deep sleep state for prolonged battery life | - | Yes |
| Headless start ability (Can use without mobile app) | - | Yes |
| Improve Tutorial Flow | - | Yes |
| Compare Daily Workouts | - | Web Only |
| LED indicator for device state information | - | Yes |
Last but not least- the device should ship to folks on Monday, November 2nd, 2015.  They appear quite confident in that date, and given what I've seen over the last few days poking at a device – I'd be fairly surprised if they miss that date.
—
With that, thanks for reading!  If you're looking to burn a bit of time, here's all my Interbike 2015 posts!
—
Update – support the site!
 Found what you read above useful?  If so – then you can support the site here by ordering the BSXinsight 2.0 Lactate Threshold Sensor via Clever Training.  Units started shipping Monday, November 2nd as planned.  In addition, by being a DCR reader you can save 10% on your cart with coupon code DCR10MHD (and free US shipping)!
The three versions are:
Running Edition – $299
Cycling Edition – $369
Multisport Edition – $419