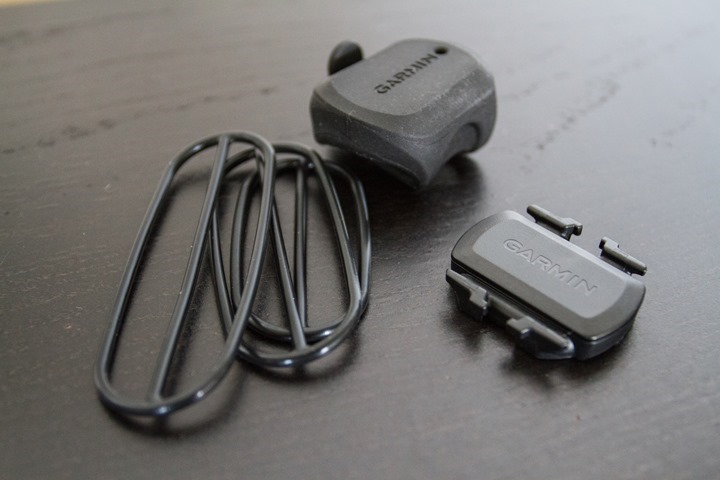 (** Update: These sensors have since been updated. Check out the newest generation Garmin Speed and Cadence Sensor V2**)
While these sensors were announced a month ago at the same time as the Edge 1000, photographic information about them has been harder to come by than that of little green men in Roswell, NM.  There were rough sketches released at launch, but otherwise nothing of use.  Thankfully, I now have units in my possession and am able to answer a bunch of the questions folks have been shooting my way about them.
So while my Edge 1000 review is still forthcoming (I just recently got a final production unit with final software), I figured I'd dive into the sensors since those are a bit easier to talk through.
The first thing to know is that unlike Garmin's past GSC-10 Speed/Cadence Combo sensor, these are two separate sensors.  One sensor for speed, and one sensor for cadence.  The two don't talk to each other, and don't have any dependencies on each other.  It's two separate products, though Garmin does offer a bundle where they just stick the two products in the same box and you save a bit of cash.  Let's dive into them individually in more detail:
The Cadence Sensor: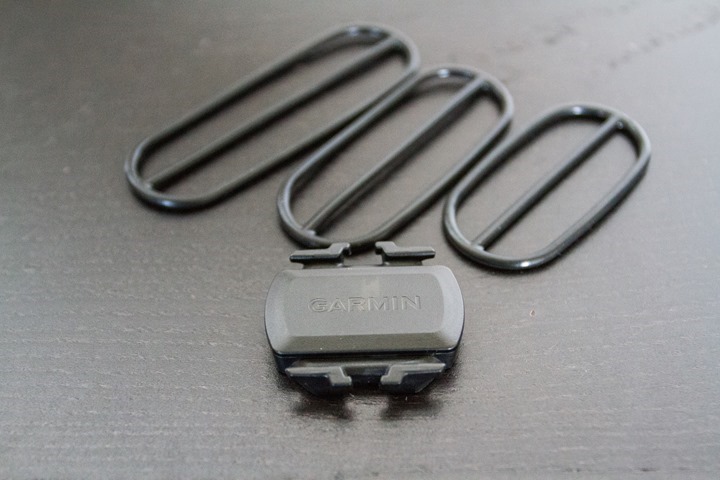 The cadence sensor has two basic pieces: The sensor and the rubber band.  Within the package there are three rubber bands for different size crank arms.  I found that on my bike I needed the medium sized band, as the small one was too small and has very little elasticity.  There is no magnet here.  It simply uses an internal accelerometer to determine circular rotations.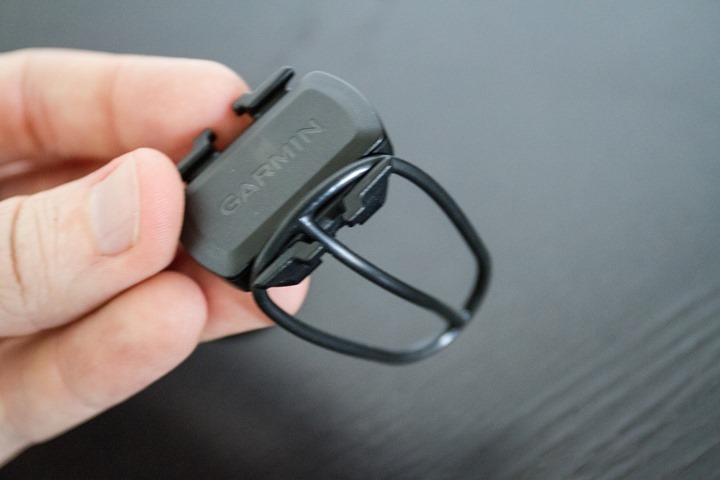 From there you're apply it to the non-drive side of the crank arm (that's the side without your gears).  If you apply it to the other side, the entire setup will last approximately half a revolution before being sheared off and conveniently removed for you.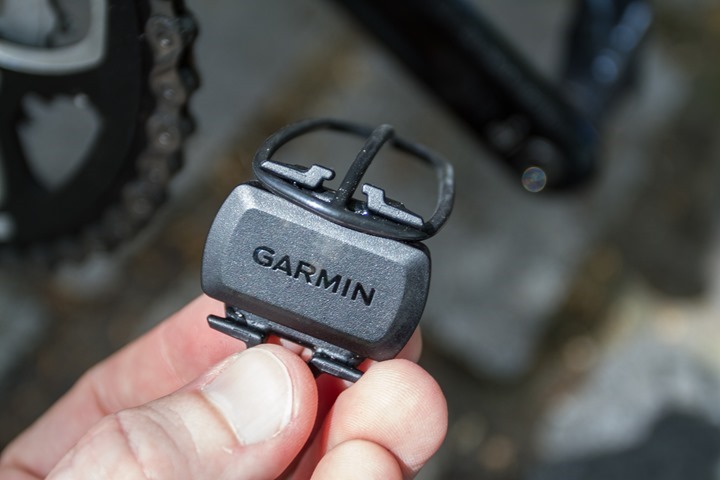 The rubber band is pretty ingenious in that it's got three channels that keep it from flopping around off-center.  Further, the unit itself has a rubber backing so it won't slide anywhere.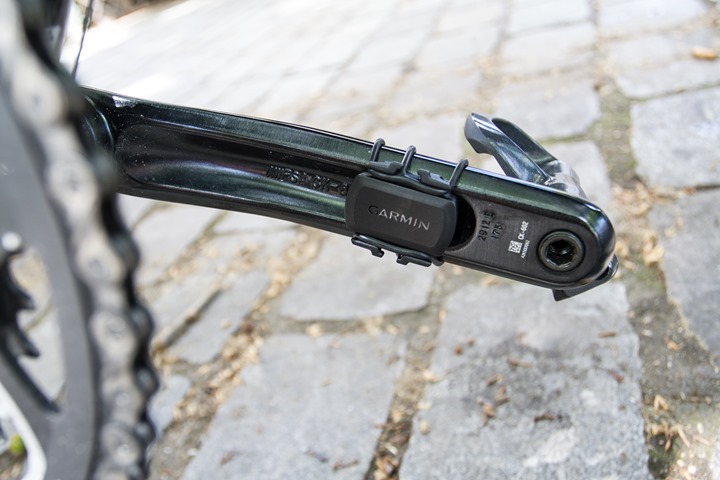 After getting it all configured, it's time to head on for a ride.  I first started with an indoor ride.  Indoor rides are the easiest things for any cycling product, as it removes bad road conditions which can often cause troubles.
Below, I rode across a bunch of cadence values from the 50's all the way up to the 120's.  As you can see, up until about 120RPM, things are perfectly fine.

I'll be looking at the higher cadence ranges over the next few weeks, as well as the lower ranges.  Most units have a high/low range for acceptable cadence, and those are areas I want to dig into a bit more.
Finally, let's look at a short city ride I did, including a nice long mostly cobble-filled section.  I use this same section all the time for doing testing, since it's easy for things to come up here.  In this case I've truncated the data a bit to just focus on the roughest section of the road.  Further, I removed out the stopped periods with typical city traffic, thus leaving basically the actual pedaling portions.

In the above, orange is the new Garmin magnet-less sensor, while blue is a magnet sensor, and grey is Garmin Vector.
What you see is that while there is a tiny bit of noise (just like indoors) – overall it still tracks fairly well, especially the accelerations.  And while it appears there might be a 1-second delay on some of the quicker accelerations from zero, that's hard to quantify due to a lot of factors involved in the transmission and capture process – even with everything in sync.
Lastly, just for reference, I've added the order of precedence for cadence senors as shown on Garmin devices (it can differ in other vendors):
1. Power meter sending torque and cadence (e.g. Vector, SRM, Quarq)
2. Standalone cadence sensor (or combo speed/cadence sensor)
3. Power meter sending power values and cadence (e.g. Power2Max, Rotor)
There is no way to change this order on any devices on the market I'm aware of, except a few apps such as the Wahoo Fitness app.
The Speed Sensor: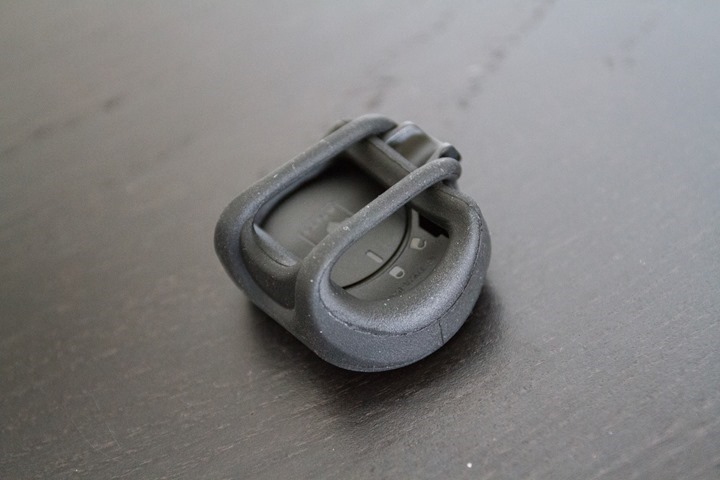 The speed sensor is a single unit that requires no additional rubber bands.  It does however actually sit inside a little rubber casing that includes the rubber band portion built into it with lots of elasticity: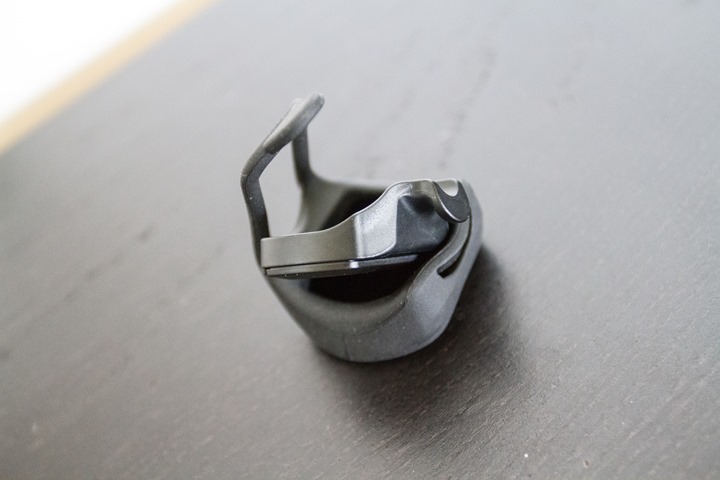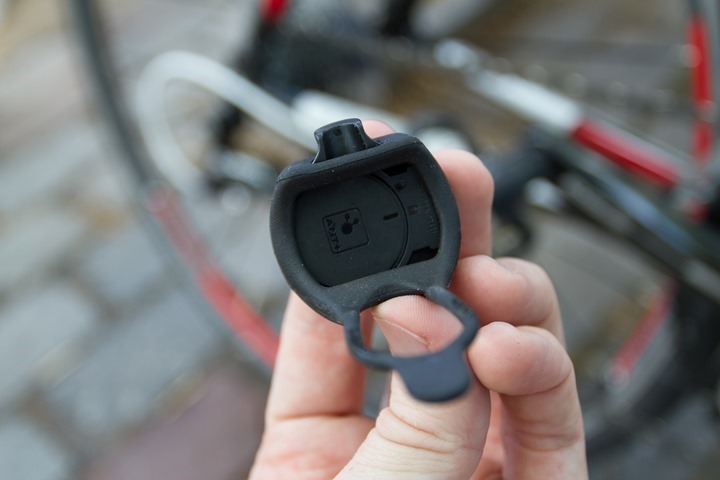 The elasticity of the band is impressive.  It both fit around a typical wheel hub, as well as my PowerTap hub, which is diameter-wise huge: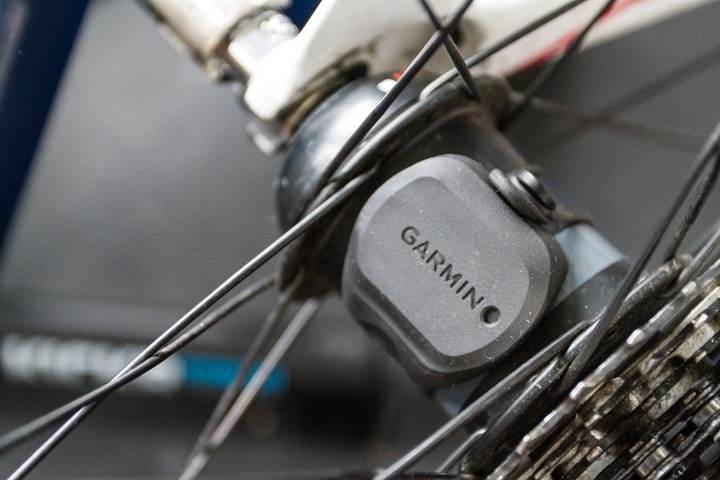 It's really that simple to install – very easy.
So let's look at some data.  This first piece was taken indoors on a trainer ride of mine.  In theory this would be about as perfect as the data should look – since the wattage was controlled and thus the speed tends to be fairly 'clean'.
The first chart is of raw data from the WASP data logger, which captures all the data at the full resolution (up to about 4-times a second for most ANT+ devices).  Below is not actually showing speed, but rather wheel RPM.  That's just the way the data gets spit out in this case from the logger.  By doing so I remove any concern about proper wheel size values.
As you can see, the grey track is the new Garmin sensor, while there is a blue and orange track hidden behind it all is the old-school speed magnet sensors (one as part of a combo sensor, and one as part of a speed-only magnet sensor).

Of course, those two trusty sensors are hard to see with all the craziness of the Garmin sensor laying on top of them.  So let me just remove the Garmin sensor from the picture to make it clear:

As you can see, those two sensors were very close together.  The little part in the middle where there's variation is where I was doing one-legged drills, thus the speed isn't as constant, because I'm not as constant in pedaling there.  Otherwise, it's incredibly precise.
But, does that really mean anything?  Meaning – does that funkiness matter at the end of the day?  Well, let's start with two graphs.  First up is from the Edge 1000 showing the speed data being fed to it from the new Garmin speed sensor.  As you can see, it's smoothed a little bit.  That's partly because Garmin Connect does some smoothing, and partly because the data capture rate is lower (only once per second) – which naturally cleans things up.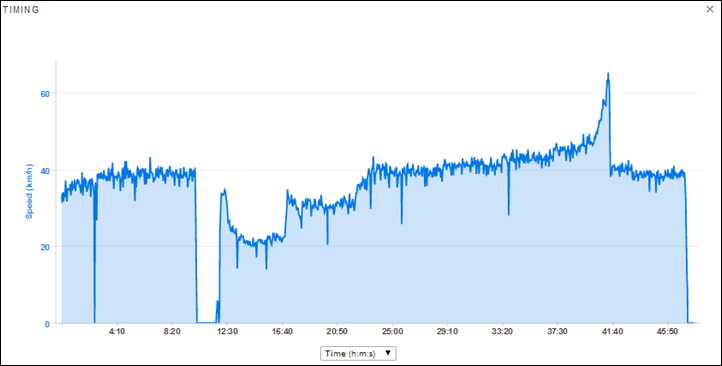 (Note: You'll see a gap above, that's where I stopped and calibrated power meters – it's removed from the higher quality WASP data to make it easier to compare for other tests I was doing)
But now let's look at data captured from another Edge unit that was connected to one of the older magnet based speed sensors: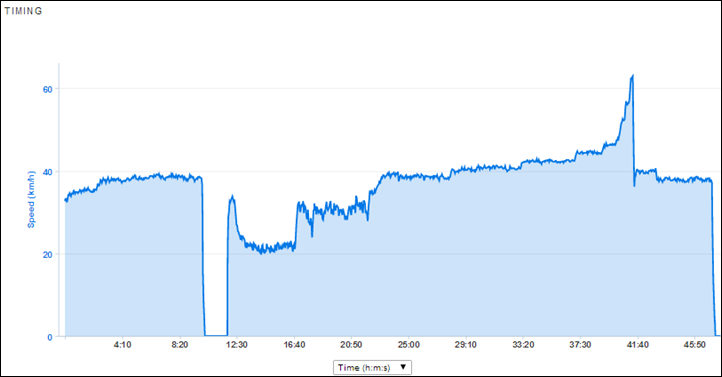 Ahh…much cleaner!
But again, what's the end resultant on distance, or speed?  Well, for speed the units actually displayed very close the entire time.  It's just not that visible to the human eye versus the graphs.  As for the distances, here's the total from both units:


Totals in text:
New Sensor: 28.24KM (17.54mi)

Old Sensor: 27.98KM (17.39mi)

A difference of: .9%
Now, one thing to consider in the above difference number is that those are from Edge units, which are using different calibration values (both based on automatic configuration).  The new cadence sensor had an automatic configuration of 2097, versus my others having 2088.  Thus, that's a difference of 0.4% in and themselves.  So if we go ahead and subtract that it could be as little as half a percent (assuming linear).  So the actual difference could be:
Potential difference range: .5%-.9%
Again, like I noted above – I'll be getting more examples as part of my Edge 1000 review – including seeing what happens if I override the automatic configurations on both and set to the same values.
Next, a brief look at the same outdoor cobbles section that I noted earlier, as part of my short outdoor ride.  Here's the speed between the different sensors.  Note again we're looking at RPM of the wheel and not the actual speed:

(Edit/Update/Note: Garmin believes that the noisiness of the speed sensor I'm seeing is due to placing it on a PowerTap wheel, which they believe is introducing interference.  They suggested instead putting it on another wheel.  In doing that, I'm seeing much better results – which I'll summarize in my Edge 1000 In-Depth Review.)
Just like everywhere else we see the same noisiness of the speed sensor.  While the data isn't clean, it's in the ballpark, and one has to keep in mind that wheel revolutions is a slightly different metric than straight speed.  Further though, the speed sensor is of less value if outdoors where GPS is most often used in a typical outdoor configuration, though, the speed sensor would override the GPS for Garmin units.  That wouldn't be necessarily true though for all ANT+ units.  Here's the order of precedence for Garmin units on the speed sensor:
1. Power meter sending torque and speed (e.g. PowerTap). In this case wheel speed is needed to compute power.
2. Speed sensor
3. GPS
Note that unlike running footpod's, there is no method to change which sensor (or GPS) to use on a Garmin unit for cycling speed.
So would I recommend the speed sensor from a data standpoint?  For most riders, they realistically won't likely even notice the noise.  Ultimately it's giving you the basically same speed (albeit with a bit of noise that's barely noticeable), and it's giving you basically the same distance.  But really for most folks would use GPS outside anyway, so it's really just indoor training where you might be using some sort of app that utilizes speed.
But there are some use cases where I wouldn't recommend it.  For example, if doing aero testing (such as with Alphamantis), this speed sensor would be a nightmare and skew the data too much.  Same goes for any other scenario that relies on incredibly clean and high fidelity speed sensor data.  If you've never put those words together in the same sentence before, then you likely don't fall into that camp.  Also of note is that I haven't done any mountain biking.  While the cobbles I do have can throw a wrench in things, so can rocks and stumps.  So just keep that in mind if you're looking to go on trails instead.
Like anything else, it appears to be a balance between convenience and accuracy.  If you want super-high accuracy – go with the magnet.  But for most folks, it'll likely be a wash.
Compatibility with units: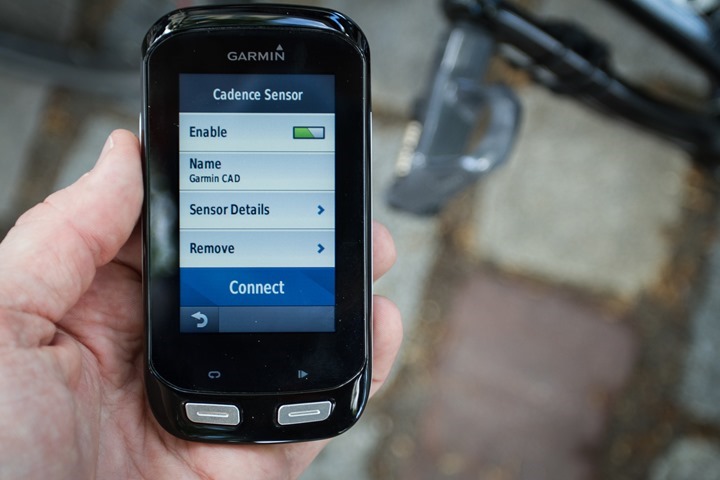 Now it's important to note that because the two sensors don't use the 'combo' ANT+ profile that some devices don't support them.  Mostly older devices.  These days almost everything major on the market supports the three core profiles of: Speed-only, Cadence-only and Speed/Cadence combo.  To refresh, here's how those three profiles are applied in real-life:
ANT+ Speed-only: The new magnet-less speed sensor
ANT+ Cadence-only: The new magnet-less cadence sensor
ANT+ Speed & Cadence Combo: The older GSC-10 combo sensor
Got it?  Ok, good, let's talk compatibility.  Below is a chart I've put together after manually verifying compatibility with each sensor type.  If there are more down the line that others are able to validate I can easily add them to the chart, but I wanted to keep it to things I've physically validated rather than just assumptions.
Updated (twice): One final thing to note: Some older Garmin units only support concurrently connecting to EITHER the speed-only sensor or the cadence-only sensor (or a combo sensor).  Basically, the pairing menu only allows you to connect to one sensor in that category.  I'll try and get this added into the table, but it's going to take a bit more time since I'm travelling. I've confirmed that the Edge 500/510/800/810/1000 all are fine, as is the FR910XT, Fenix2.  The vast majority of non-Garmin units support it just fine since those companies often sold the single-profile sensors (whereas Garmin never did).  On your unit, you're looking for the menu option that says "Speed and Cadence Sensors", as a separate line from Speed/Cadence sensor and Speed-only and Cadence-only sensors.  So if you have four categories to choose from, you're good. Three categories – then you're limited on concurrent sensors.
ANT+ Speed and Cadence Sensor Compatibility Matrix
| Product Name | ANT+ Cadence-only Sensor | ANT+ Speed-only Sensor | ANT+ Speed & Cadence Combo Sensor |
| --- | --- | --- | --- |
| Garmin Edge 200 | No | No | No |
| Garmin Edge 500 | Yes | Yes | Yes |
| Garmin Edge 510 | Yes | Yes | Yes |
| Garmin Edge 705 | No | No | Yes |
| Garmin Edge 800 | Yes | Yes | Yes |
| Garmin Edge 810 | Yes | Yes | Yes |
| Garmin Edge 1000 | Yes | Yes | Yes |
| Garmin Fenix | No | No | Yes |
| Garmin Fenix2/2SE | Yes | Yes | Yes |
| Garmin Fenix3 | Yes | Yes | Yes |
| Garmin Forerunner 10 | No | No | No |
| Garmin Forerunner 15 | No | No | No |
| Garmin Forerunner 60 | No | No | Yes |
| Garmin Forerunner 70 | No | No | Yes |
| Garmin Forerunner 305 | No | No | Yes |
| Garmin Forerunner 310XT | Yes | Yes | Yes |
| Garmin Forerunner 405 | No | No | Yes |
| Garmin Forerunner 410 | No | No | Yes |
| Garmin Forerunner 610 | Non | No | Yes |
| Garmin Forerunner 620 | Yes | Yes | Yes |
| Garmin Forerunner 910XT | Yes | Yes | Yes |
| Garmin Forerunner 920XT | Yes | Yes | Yes |
| Garmin Tactix | Yes | Yes | Yes |
| Garmin Touring | No | No | No |
| Garmin Touring Pro | No | No | No |
| Garmin VIRB | No | No | No |
| Garmin VIRB Elite | Yes | No | Yes |
| Garmin Vivoactive | Yes | Yes | Yes |
| Garmin Vivofit | Yes | Yes | Yes |
| Garmin Vivofit2 | Yes | Yes | Yes |
| Magellan Switch | Yes | Yes | Yes |
| Magellan Switch Up | Yes | Yes | Yes |
| Mio Cyclo 505 | No | No | Yes |
| Motorola Motoactv | Yes | Yes | Yes |
| O-Synce Navi2Coach | Yes | Yes | Yes |
| Polar products (any/all) | No | No | No |
| PowerTap Joule | Yes | Yes | Yes |
| PowerTap Joule 2.0 | Yes | Yes | Yes |
| PowerTap Joule 3.0 | Yes | Yes | Yes |
| PowerTap Joule GPS | Yes | Yes | Yes |
| Suunto Ambit | Yes | Yes | Yes |
| Suunto Ambit2 | Yes | Yes | Yes |
| Suunto Ambit2 S | Yes | Yes | Yes |
| Suunto Ambit2 R | No | No | No |
| Suunto Ambit3 (all models) | No | No | No |
| Timex Cycle Trainer 2.0 | Mixed | Yes | Yes |
| Timex Global Trainer | Mixed | Yes | Yes |
| TomTom Products (any/all) | No | No | No |
| Wahoo RFLKT | No | No | No |
| Wahoo RFLKT+ | Yes | Yes | Yes |
Note that you can also use the ANT+ directory to validate compatibility as well.  This has the handy benefit that they've done the work on the validation piece, so they'll likely cover other devices than what I've covered above (which are the most popular ones out there).
Here's the link to all the devices currently compatible with the new cadence sensor.  And here's the link for the speed sensor compatibility.  And, for completeness, here's the table of the sensors in question with prices:
Wrap-Up: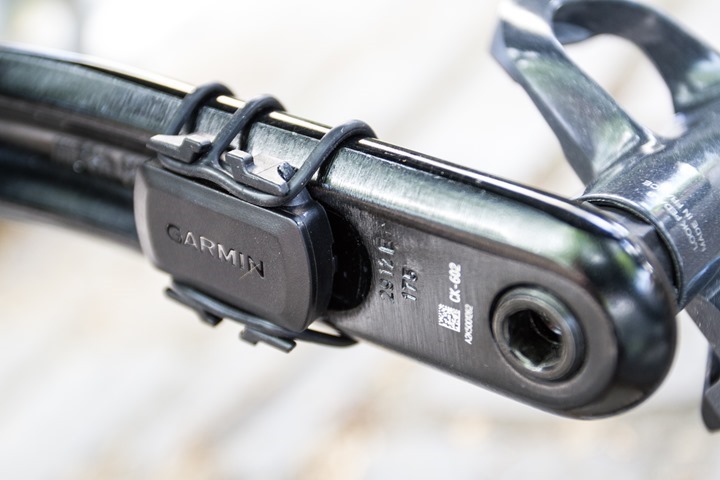 I'm not seeing any major issues yet with the sensors, either indoors or outdoors.  Though, I'll dive into more detailed testing and comparisons as part of my Edge 1000 review and see if something sneaks up – especially around edge cases (high/low cadence, rougher sections of road, etc…).  This mostly serves as as stop-gap to stem the flow of questions.
Would I recommend you buy the new sensors?  Well, that depends a little bit on whether you have sensors today.  My feeling is that if you already have perfectly functional ANT+ speed and/or cadence sensors today and they work just fine with your bike setup – then I'd probably hold off.  Why's that?
Well, companies like Wahoo and others have clearly stated they plan to deliver dual ANT+ & Bluetooth Smart sensors by the end of the year.  In fact, in checking with them yesterday, Wahoo will be shipping an updated version of their Wahoo RPM magnet-less sensor in just four weeks (same $49 price), which will be dual ANT+/Bluetooth Smart, and also include a new shoe clip (so you can easily wear it at the gym on spin or exercise bikes, etc….).  And they've got a firmware update in the works to get higher accuracy while worn on the shoe (for both current and future RPM models).
This new RPM will do the exact same thing as Garmin's cadence sensor – except it'll broadcast on two frequencies instead of one.  They shipped out a version of the new unit yesterday to me, so I'll be able to start testing it side by side with the Garmin pods over the next few weeks.
Now, to Garmin's credit here their cadence pod mounting system is far better than Wahoo's current pod design, as far as portability goes.  And I did confirm that Wahoo's current pod mounting system will be retained for at least the June version.
While we're at it, Wahoo does still have plans for an updated Blue SC Speed/Cadence combo sensor later in the year (dual-ANT+/BLE), and are determining whether there will be enough demand for a speed-only model as well.  Lastly, I don't expect Wahoo to be the only game in town come the fall with products typically introduced at Eurobike and Interbike.
So to that end, while I like Garmin's new sensors and wouldn't have any immediate issues with recommending them, what I'll be doing is getting one of each of the Garmin units purely for test purposes – but I won't update all my bikes to the new sensors.  I prefer instead the ability to easily get access to both protocols – though, that may be because I'm often testing devices from both camps.  So look at your situation and figure out whether having dual matters to you or not.  If not, you can save a bit of cash ($10), and if so, just wait a few weeks to see how things play out.
Found this post useful? Support the site!
Garmin Cadence Sensor V2 – Competitive Cyclist
Garmin Speed Sensor V2 – Competitive Cyclist
For European/Australian/New Zealand readers, you can also pickup the unit via Wiggle at the links below, which helps support the site too!
Garmin Cadence Sensor (EU/UK/AU/NZ – Wiggle)
Garmin Speed Sensor (EU/UK/AU/NZ – Wiggle)
Garmin Cadence/Speed Sensor Bundle (EU/UK/AU/NZ – Wiggle)
Additionally, you can also use Amazon to purchase the units or other accessories (though, no discount). Or, anything else you pick up on Amazon helps support the site as well (socks, laundry detergent, cowbells). If you're outside the US, I've got links to all of the major individual country Amazon stores on the sidebar towards the top.
Thanks for reading! And as always, feel free to post comments or questions in the comments section below, I'll be happy to try and answer them as quickly as possible.