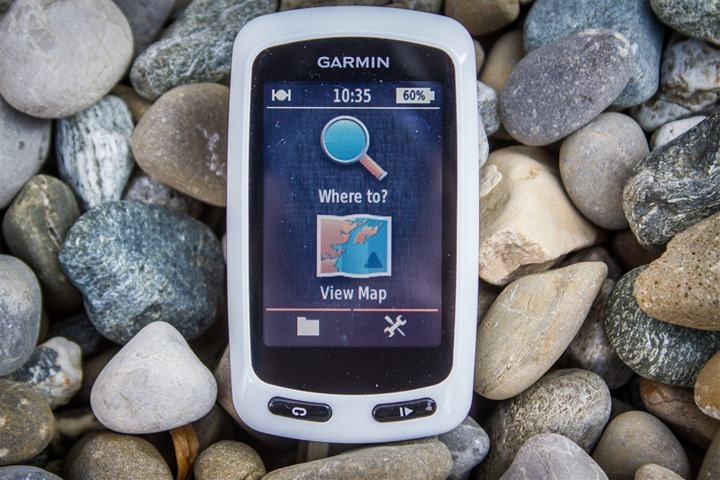 Today (well, technically last night, just barely) Garmin announced the latest addition to their bike computer lineup – the Garmin Touring.
I had a chance to spend time with the product team last April and give them a bunch of feedback on it based on the early stages of development.
I'll dive into some hands-on time here in a moment, but it's probably useful to point out that if you're looking for an Edge 500/510/800/810 replacement, this isn't it.  This is really targeting a different (though equally as important) market: Cycling tourism.
The Touring is designed for…well…touring.  As in, multi-day bike tours.  These tours are incredibly popular in Europe, though in the states they are pretty limited (as in, basically none).  Thus think of the Touring as a highly simplified version of the Edge 800/810.  It's not for the performance athlete.  It's for someone who simply wants to go for a casual ride and not get lost.
Features and Functionality:
The Touring is really focused on a few core feature areas:
– Creation of impromptu round trip routes (not seen before on the Garmin fitness lineup)
– Navigation to and between POI's (points of interest)
– Basic ride display information (i.e. speed/distance/time/HR/ascent/elevation)
Outside of these core areas much of the more advanced functionality found in other Edge units has been stripped out.
Looking at those three areas, the most interesting (I think anyway) is actually the quick creation of round trip routes from the unit itself.  To do so you'll simply specify how long a ride you're looking for (in either miles or kilometers).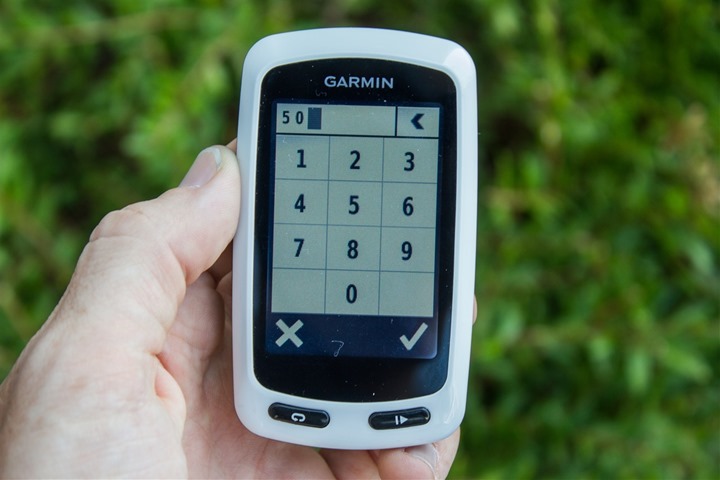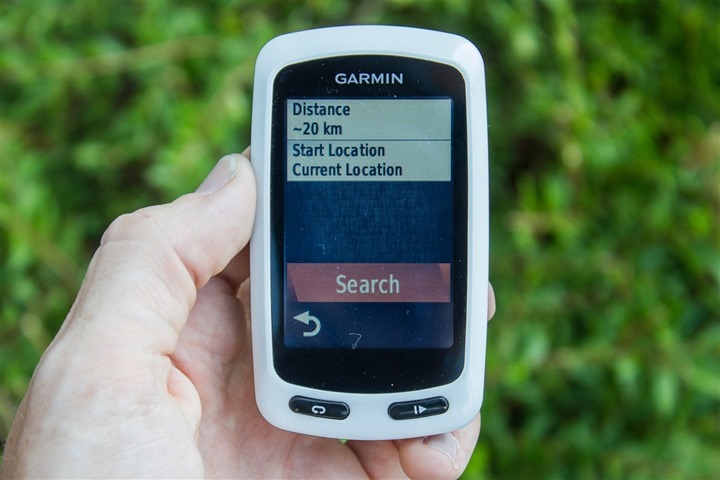 You can also specify if you want to start the route from where you are, or from another point on the map.
Once you've given it some instructions it'll go off and come back with three routes (it's like Monty Python – everything is in threes).  It did take a bit of time (perhaps 2 minutes) to come up with the routes.  Each route is roughly the distance you've specified, and all routes come back to where you started.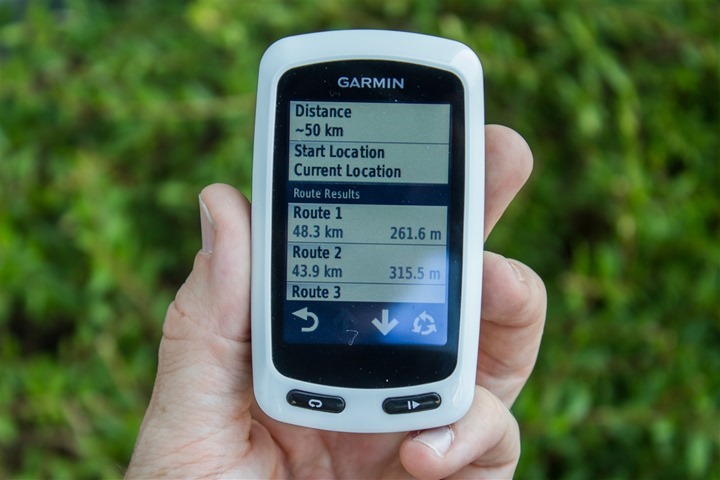 You can select any given route option to get a map overview: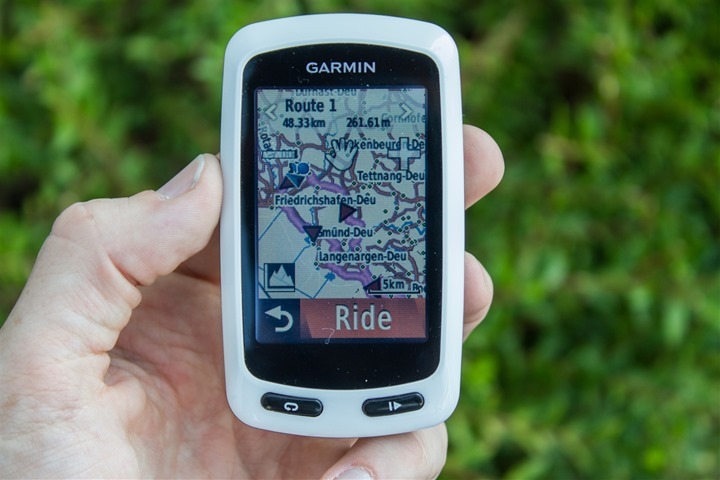 Additionally, you can click to see the elevation profile of the route: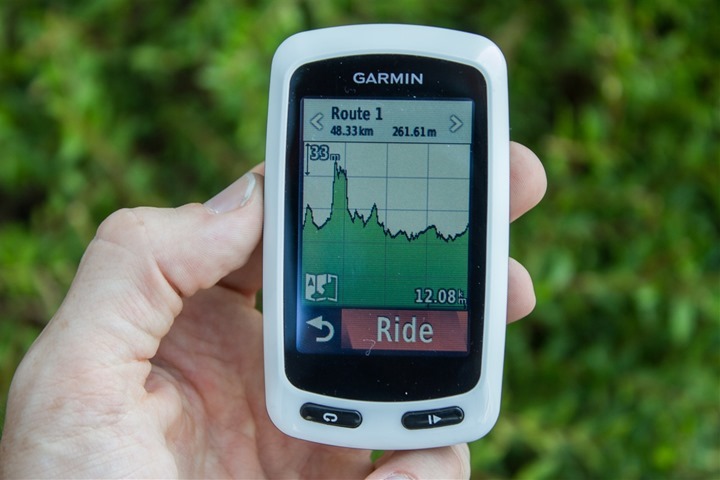 There are a number of settings around routing and navigation within the options (applicable to round trip routing and generic routing), including how the unit routes and whether it, for example, minimizes routes with hills.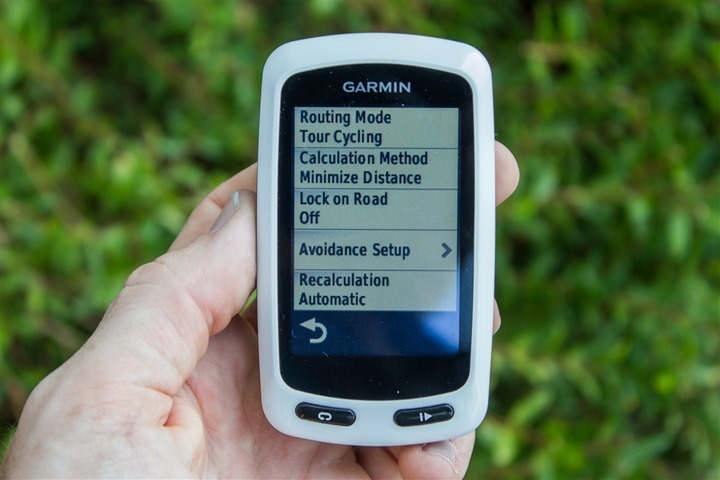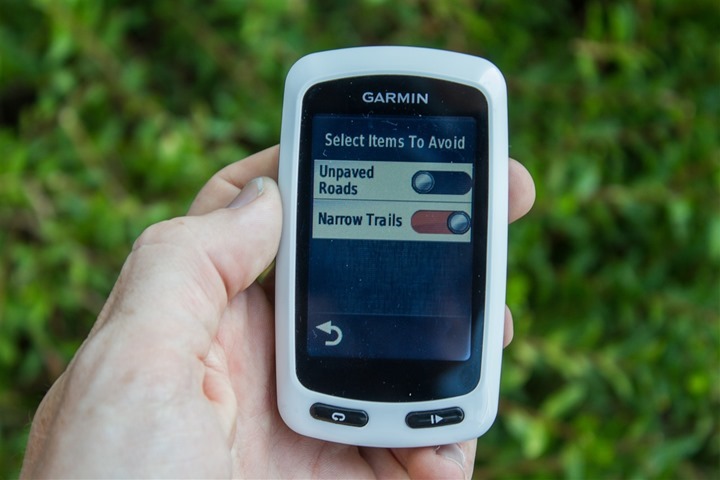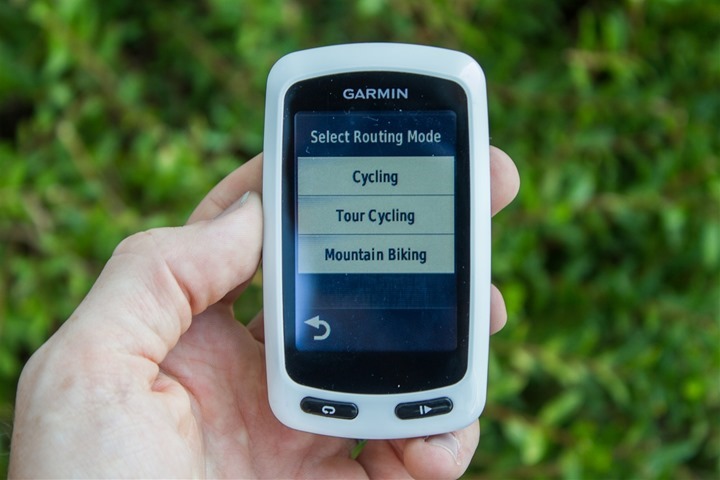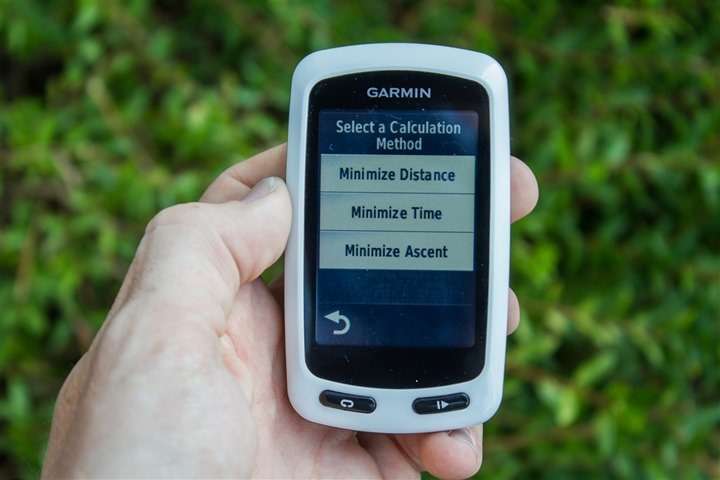 Next up we have navigation to nearby points of interest (POI's).  These can be places to eat, monuments, or simply an address.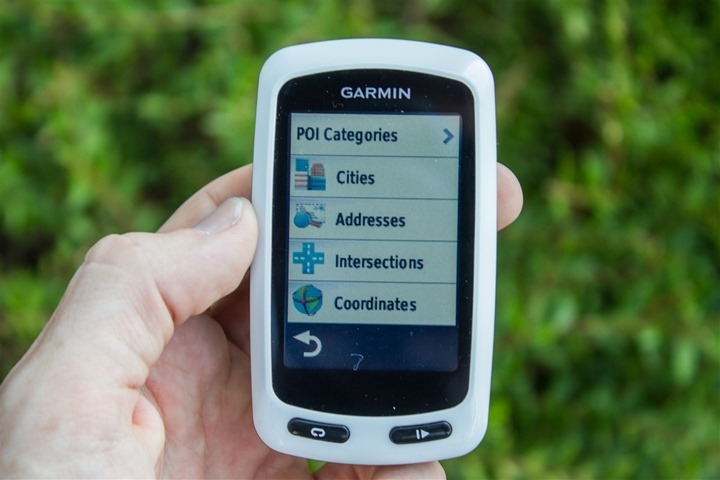 Garmin has pre-loaded the unit with free maps from OpenStreetMap – which is actually a pretty big shift for the company where most maps cost users money.  This past spring you saw the addition of OpenStreetMap to Garmin Connect for map creation – in preparation for this unit being offered.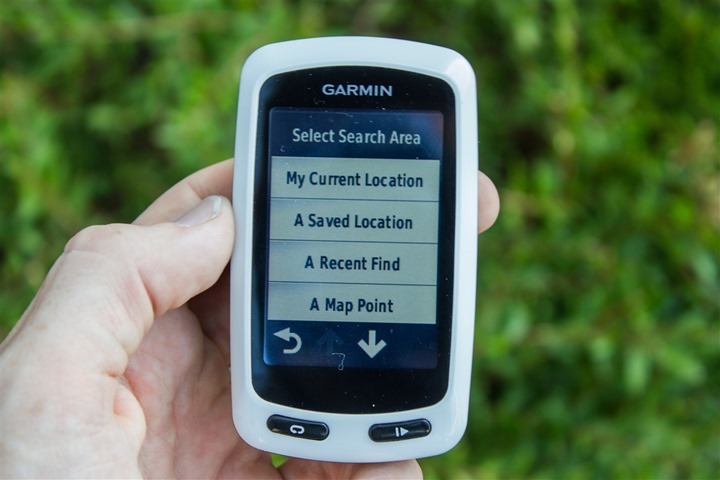 While navigating you'll be given a map view, and turn by turn directions (like a car GPS):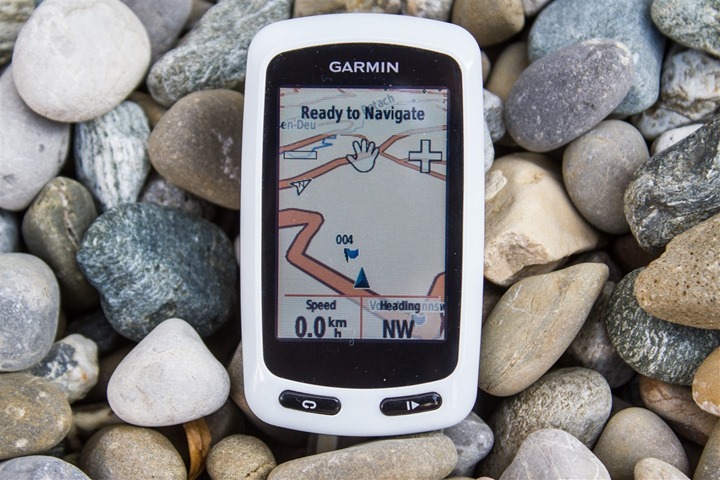 In addition to having the unit create a route by itself, you can also create routes on Garmin Connect and download them to the unit (called courses):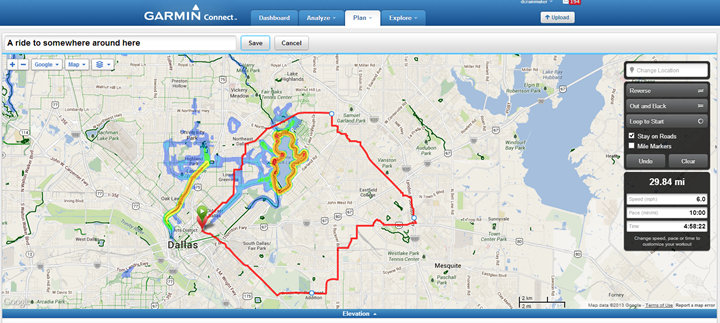 You can customize the various data fields associated with that map view as well as specifying how detailed the map is: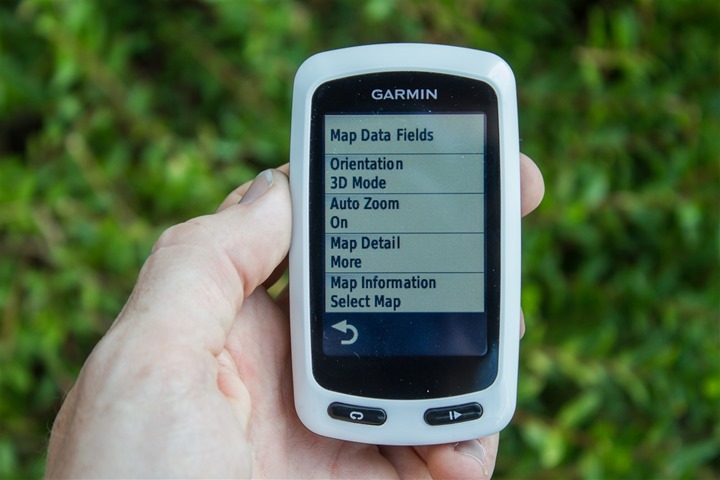 In total you'll get four 'screens'/pages of information.  You can customize a single data page (called 'Timer' below) as well with traditional fields found on the Edge units today (up to 8 fields at once):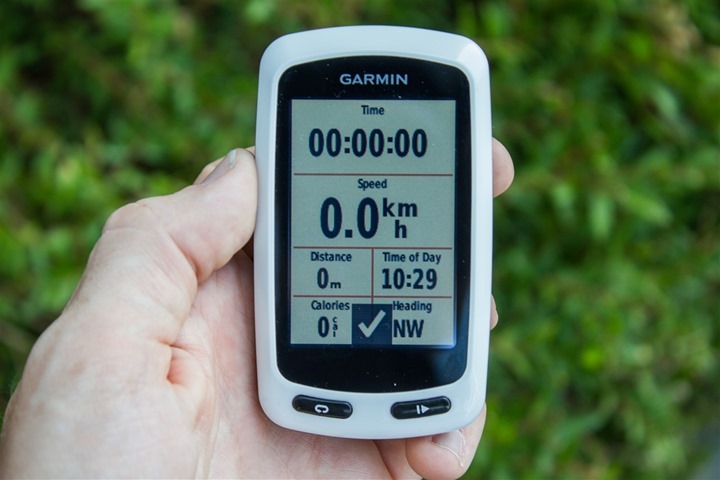 One final feature of note is that the unit supports ANT+ enabled eBikes and will add in the eBike's estimated remaining range and battery information.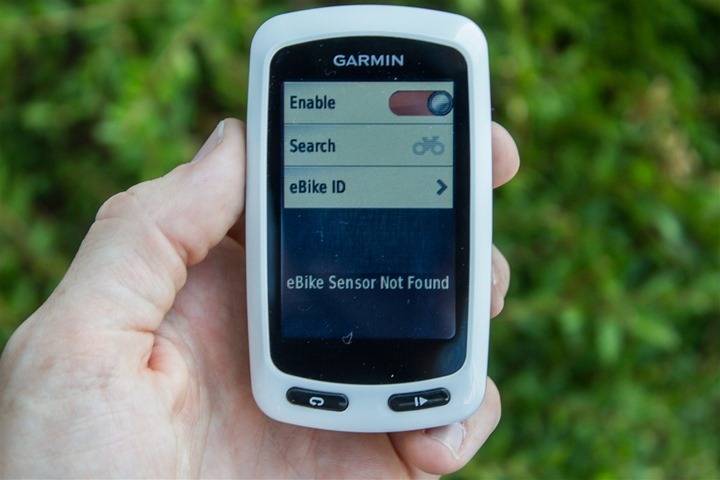 The Touring does allow you to pair the ANT+ heart rate strap, but does not allow other sensor types (i.e. cadence sensors, power meters, etc…).
Comparison to other Garmin Edge Units:
I've put together a quick comparison table outlining the features and differences in functionality.  You can customize and create your own comparison table using the 'Product Comparison Calculator' feature on the sidebar.
Also, remember to click the 'expand' button at the bottom of the table to see all one gazillion rows of features.
Pricing and Availability: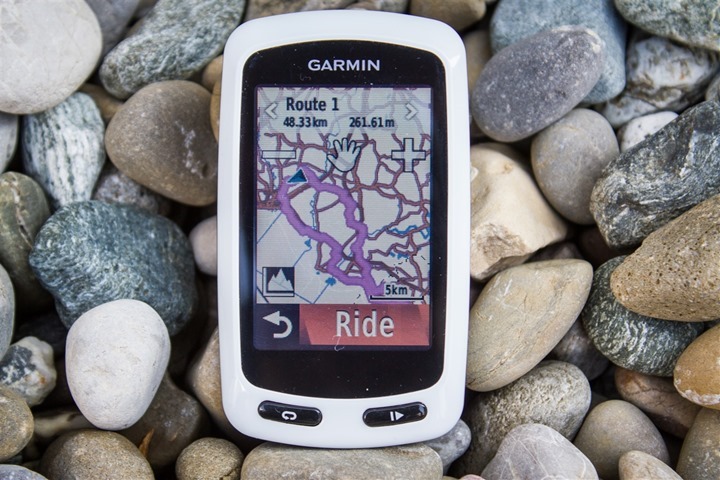 The Touring will be available in the Fall of this year.  I'm hearing that'll likely be late September or early October.  There are two variants of the unit:
Edge Touring (standard): $249US
Edge Touring Plus: $299US – adds ANT+ HR support, ANT+ eBike support, and the barometric altimeter
Ultimately, the Edge Touring is physically an Edge 800 hardware unit (thus, has the same battery life, screen size, etc…) with different firmware on it.  This practice is common with Garmin, and we've seen it done in other units – i.e. FR110/FR210, Edge 200/Edge 500, FR610/Golf Watches, Fenix/Quatix.  They take the same base hardware platform and slightly tweak the software to appeal to a different market.
I'll be doing an in-depth review closer to the retail availability of the product, though in the meantime feel free to ask any questions here.  It's a fairly straight forward unit with a simpler feature set, so there's not quite as much to cover as compared to a more complex Garmin Edge 810 or similar product.
Lastly, do not expect an Edge 810 replacement anytime soon.  The Edge 810 is less than 8 months old (announced early January 2013, available  later that month).  Garmin product cycles are very pattern-oriented and tend to be no less than 2 years on the dot.
Thanks for reading!
Here's how to support the blog and get a sweet deal:

I've partnered with Clever Training to offer all DC Rainmaker readers exclusive benefits on all products purchased. You can read more about the 
benefits of this partnership here
. You can pickup the Garmin Touring through Clever Training using the link below. By doing so, you not only support the site (and all the work I do here) – but you also get to enjoy the significant partnership benefits that are just for DC Rainmaker readers. And, since this item is more than $75, you get free US shipping as well.
Garmin Edge Touring (See dropdown to select normal or Pro variant)
Additionally, you can also use Amazon to purchase the unit (all colors shown after clicking through to the left) or accessories (though, no discount). Or, anything else you pickup on Amazon helps support the site as well (socks, laundry detergent, cowbells). If you're outside the US, I've got links to all of the major individual country Amazon stores on the sidebar towards the top.
As you've seen throughout the review there are numerous compatible accessories for the unit. I've consolidated them all into the below chart, with additional information (full posts) available on some of the accessories to the far right. Also, everything here is verified by me – so if it's on the list, you'll know it'll work. And as you can see, I mix and match accessories based on compatibility – so if a compatible accessory is available at a lower price below, you can grab that instead.
Edge Touring (non-Plus variant):
Edge Touring Plus variant:
Thanks for reading! And as always, feel free to post comments or questions in the comments section below, I'll be happy to try and answer them as quickly as possible. And lastly, if you felt this review was useful – I always appreciate feedback in the comments below. Thanks!
—
Welcome to Eurobike week! This week during Eurobike I'll be tweeting from the exhibition show floor quite a bit, as well as posting frequently. Here's a quick and handy link to all Eurobike-related posts.