I had actually planned a different post for today.  Both actually occurring in water – but with an entirely different product.  However, during the course of the day I was casually e-mailing back and forth with a Garmin support engineer regarding clarification of the waterproofing specifications on the Edge cycling computers.  I'd received a few questions lately from folks and I wanted to validate my exact understanding.  I was asking questions more or less like any other customer would and pretty much in the same fashion.
The details being discussed were in regards to waterproofing of the USB and MicroSD slots on the Edge 800, and in exactly which situations they were fully waterproofed, and which ones they weren't.  Following a series of clarification e-mails we came to the following:
1) The USB and MicroSD card slots are internally 'weather resistant' as long as no USB cable or MicroSD card is in the slot at the time of 'weather'.

2) The concern with the MicroSD slot and water is the electrical contact made with the card, and the obvious fact that the MicroSD card itself is not 'weatherproof'.

3) After any 'weather event', ensure that all ports are fully dried out before connecting any sort of cables.
After our discussion I filed it away in my e-mail folder for eventually use in a Slowtwitch Mailbag.  From there I went about my day and eventually went for a run.  Upon returning from my (cold) run I was in the shower mentally figuring out the final written details of the planned post for today – just drafting it in my head.  And that's when it hit me.
Why not test out how well the Edge's are waterproofed?  I could dunk them in water and see what happens.  Sounds interesting, right?  Exactly what I thought – and once I got that…umm…troubling…idea in my head, I was pretty excited to see what would occur.  Kinda like Mythbusters style!
See, per the actual specification – all of the Edges I had handy (Edge 500/Edge 705/Edge 800) were waterproofed to IPX7.
Now, what's the IPX7 standard?
Well, it's sorta like sweeping the floor, but putting the dust under the nearby door carpet instead of putting it in the garbage.  It works for a while, but long term someone's gonna find out.  I mean, just sayin' – not that I do that or anything.
The reason it's not a great waterproofing level is that IPX7 is a time-limited submersion of only 30 minutes and only one meter.  Per Garmin's own site, I offer the below:

So you might be asking yourself at this point how exactly did the Joule get roped into this then?
Well, a simple case of being in the wrong place at the wrong time.
That poor thing just was sitting mere inches away from me happily charging it's battery when it caught my eye.  I then remembered back to a conversation with the CycleOps guys that I had at Interbike, where he noted that the Joule had an internally waterproofed USB port.  Further, if you look at the diagrams you'll see the internal compartment has an 'O ring', which is what's used in waterproofing applications.  Despite all this, the actual manual itself is pretty clear that this is like a house cat to water: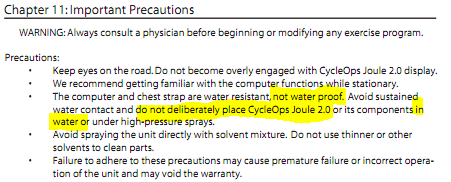 But, like nearly all bad influences, it was too late for the poor little Joule.  He was going for a swim weather he liked it or not.  I just hoped he would survive, since that'd be a costly little thing to replace.
With my plan starting to hatch, I got them all lined up and ready to go.  I had to use a little rolled up piece of scotch tape to keep the Joule from floating awkwardly.  But I put the tiny little bit on all of them to keep them in one place.  Didn't want any escapees!  From left to right the 'players' are the Garmin Edge 500/705/800, then CycleOps Joule 2.0.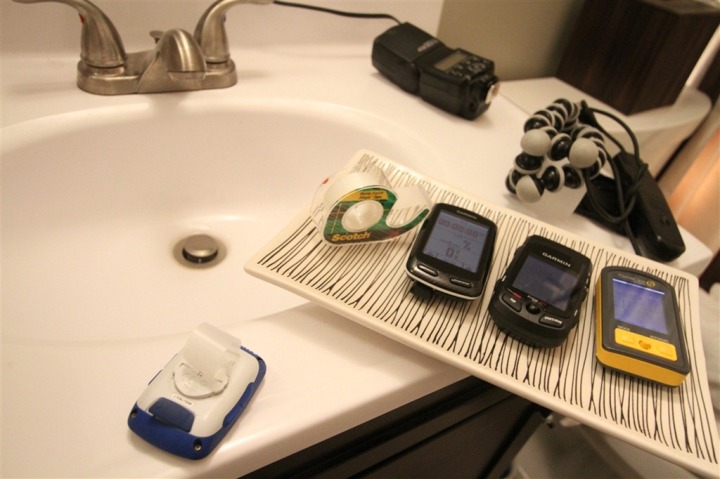 With that, I filled up the bathtub and got Mr. Rubber Ducky ready as the acting lifeguard.  If something went down, I had complete plausible deniability that he did it.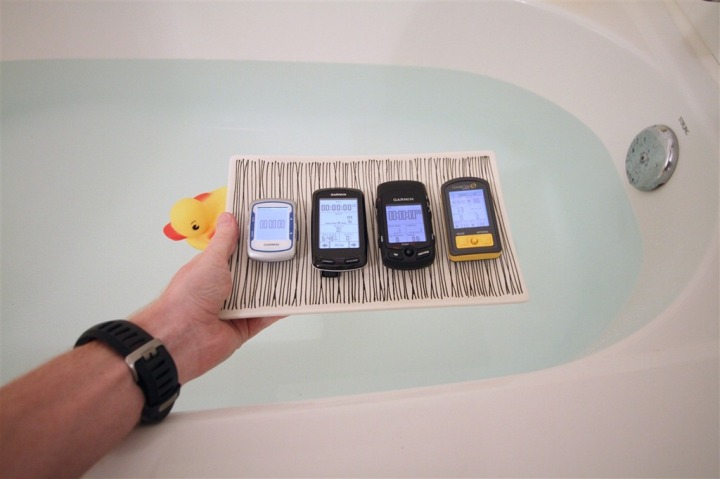 With everything set, there was only one task left to do…go for a swim.
I decided for a five-minute immersion test.  I settled on five minutes because I can't really think of a reason that you and your Garmin/Joule would be submerged in water longer than that.  Further, I had holiday shopping to do – so time was limited!  You understand of course.
With that – here ya go, the full dunk test…don't worry, I speed up the video after the first few seconds (oh, and yes, the Joule still decided to try and float away…I eventually fixed that though!).
So there ya have it – pretty clear evidence that all is still well in the DCRainmaker household with respect to cycling computers even after a little swim.  Which is a really good thing, cause that would have been tough to explain to The Girl that I killed her Garmin.  Eek.
Oh – and no problems after I let them try a short bit in grabbing the data.  Everything's quite happy!  Do note that the Joule counter stops simply because it loses signal with the ANT+ device, though you see it resume once it's back out of the water.  Also note that on the Garmin devices the barometric altimeter can get temporarily a little whacky if the four tiny holes on the back fill up with water, since it blocks changes in pressure.  Nothing major here, just wanted to call these items out.  But, at least you can rest assured that a little rubber stopper being unset won't kill the unit (my rubber stopper on the Edge 800 was open in this test, and the Edge 500 was partially set).
Not saying there aren't other ways that water can impact these devices – but plain bath water won't do it alone without the SD card.  I will note that the Joule's design here with the compartmentized SD card area does allow for a bit better protection.
Thanks for reading!
(Note: The Garmin Edge devices are all bought by me, the CycleOps Joule is a loaner unit.)