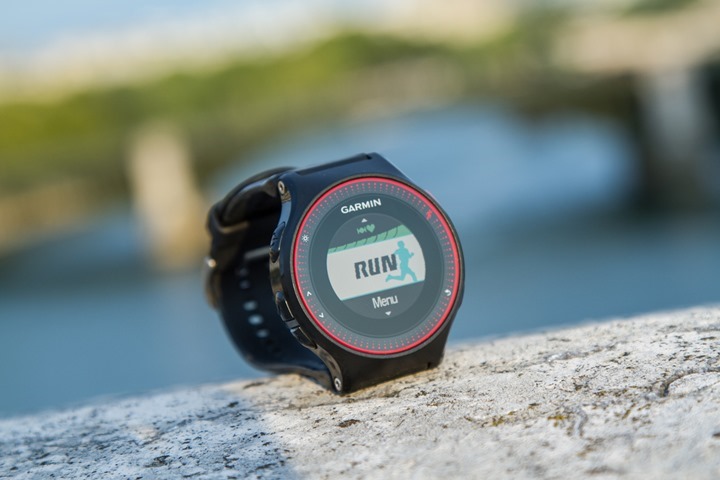 This past spring Garmin announced their Forerunner 225 GPS running watch.  The unit would mark the first Garmin watch that contains an optical heart rate sensor within the watch, allowing you to view and record your heart rate without a separate strap.  The Forerunner 225 (FR225) was essentially built on top of the existing Forerunner 220 watch, but with the addition of the new optical sensor they also added in activity tracking for monitoring steps and sleep.
I've been using the Forerunner 225 since June and have a pretty good grasp on how well it works – thus definitely time for an in-depth review (as well as some tips on how to get the best heart rate accuracy out of it).  Note that I've had two Forerunner 225 units, one Garmin sent me back in June as a test unit, and another I've been using the last 3 weeks that I bought at a store a few blocks from me.  The first one is currently in a suitcase somewhere with Croatia Airlines – perhaps someday I'll see it again (though after three weeks, not likely).  As usual though, I'll send some FR225 back to Garmin down the road – just the way I do things.
With that – let's dive into it!
Unboxing: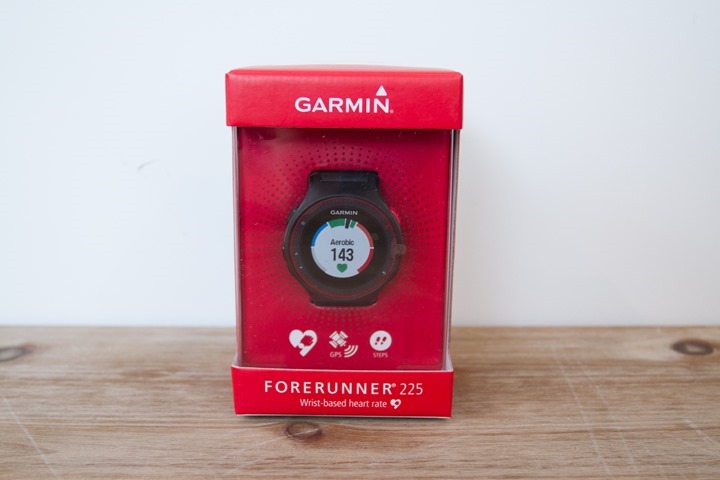 The Forerunner 225 comes in a little red box, you know, like your…uhh…bloody heart?
Once we crack open the heart, we'll find precisely three things.
Yes, seriously, just three things.  This might be my most favorite unboxing ever.  Seriously.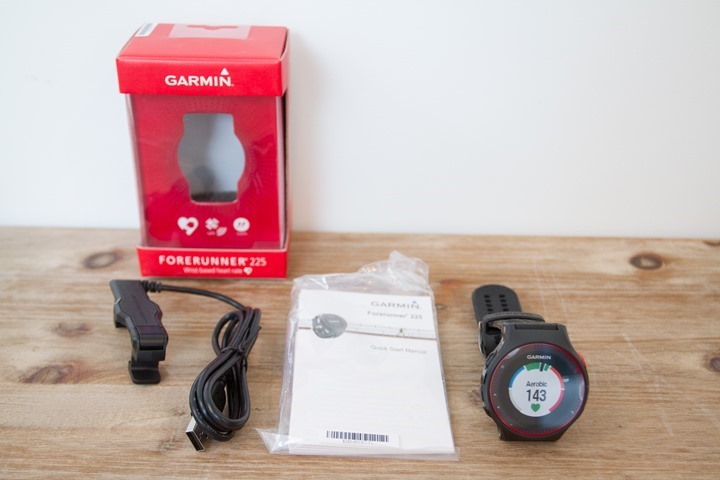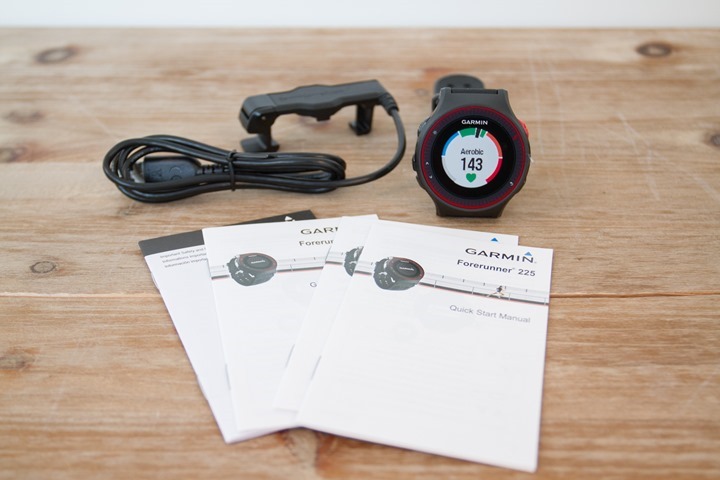 Starting with the least exciting, we've got the manuals and paper junk.  As usual you won't need them after reading this review.  Heck, even if you just skim the photos here you'll learn more than the manual covers.
Then we've got the USB charging and download cable.  This clips into the back of the FR225 to charge the unit, and also allows you to sync activities via your computer.  You aren't limited to your computer though, you can do it all via Bluetooth Smart to your mobile phone as well.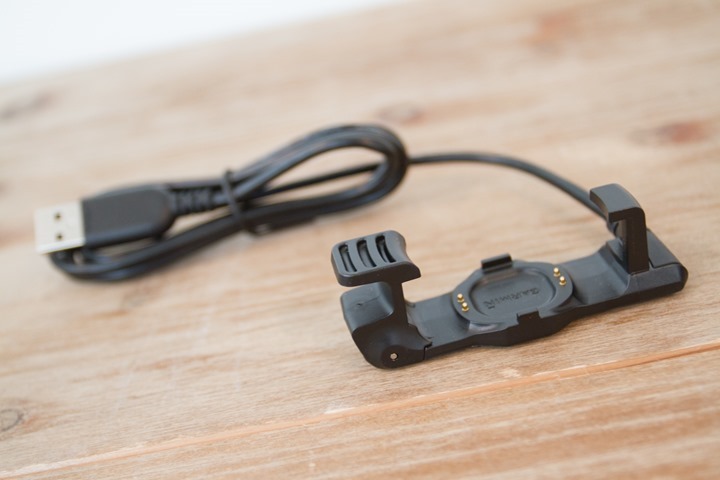 Note that the charge/sync cable is different on the FR225 than the FR220, due to the position of the optical sensor making the older one incompatible.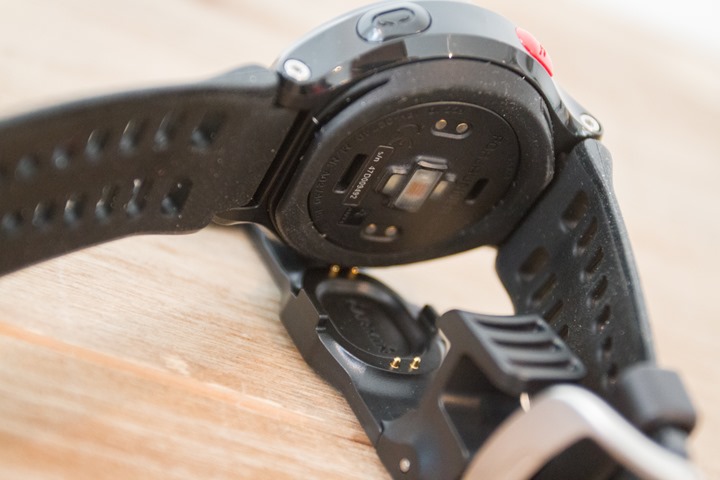 The unit clips in nice and secure – it would pass the ceiling fan test easily (in that you could attach it to a ceiling fan and it'd stay clipped on).
Then we've got the watch itself: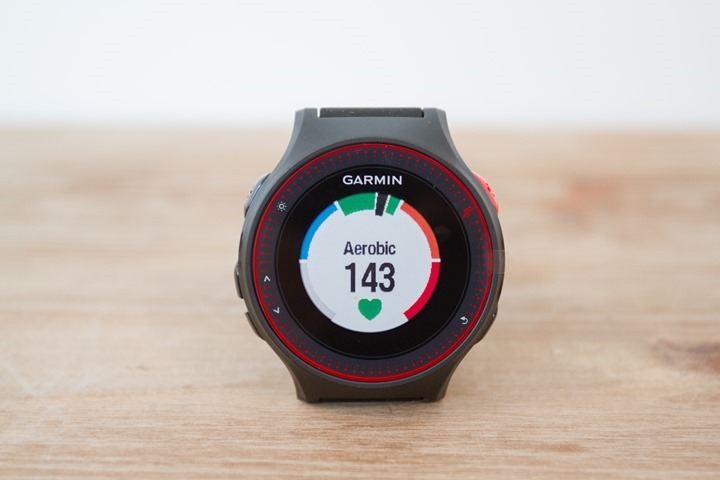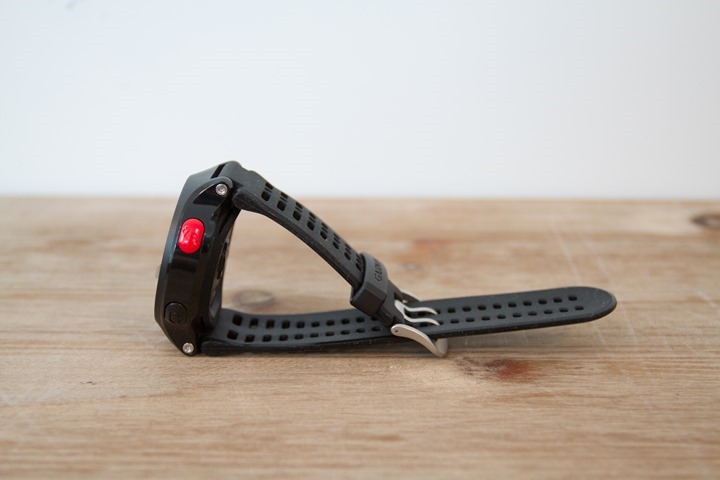 As you can see on the back, there's the optical sensor in the middle of the watch.  The other four metal dots are simply the charging ports.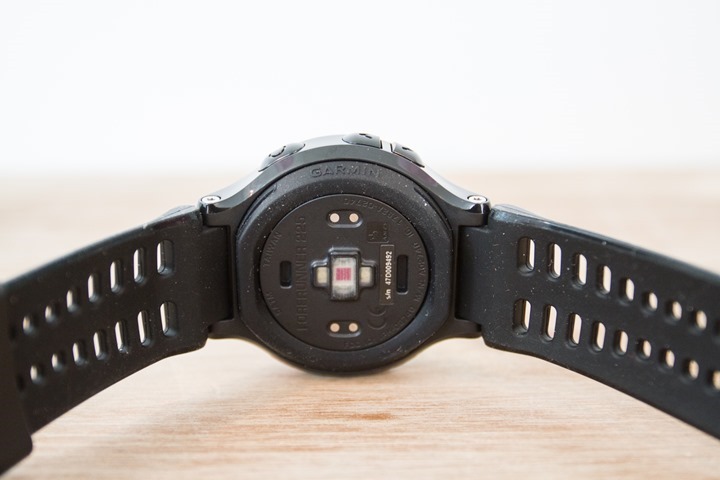 With that – the totality of our unboxing section.  Nice and short!
Weights & Sizes:
The FR225 is essentially a FR220 with a small baby bump.  Or rather, an optical HR sensor bump.  Beyond that, it shares the same upper shell width and size, as you can see here: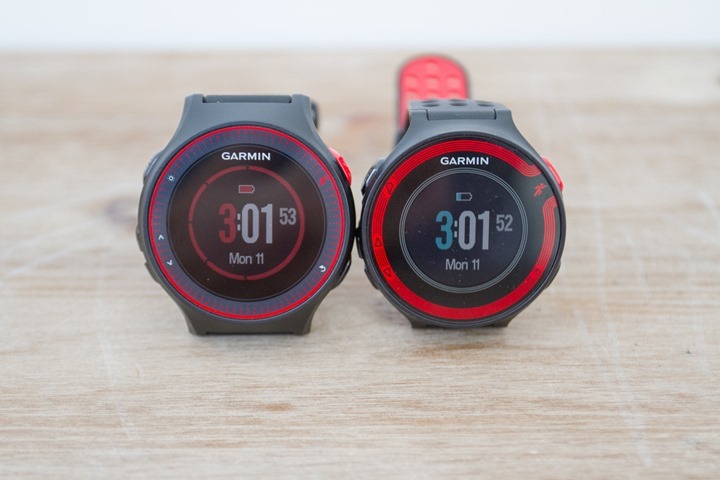 It's when you put them down side by side that you notice the tiny bit higher depth, though it should be noted much of that visible depth is actually the compressible rubber edge (in other words, it's not as thick as it appears).  The FR225 is in the back.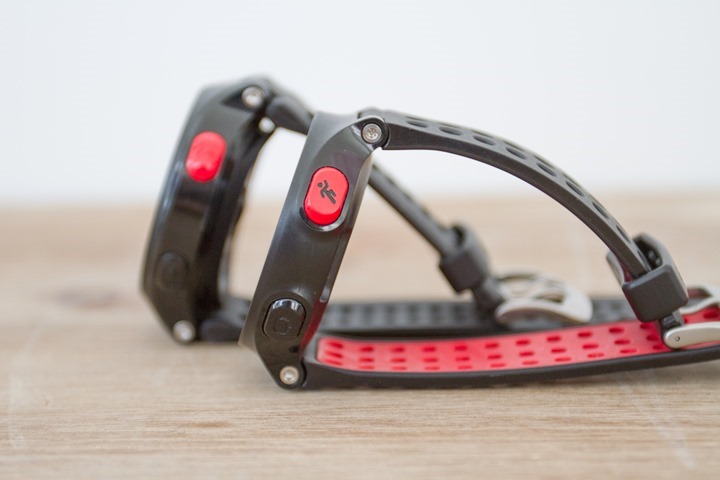 Of course, thick is all relative – it's still a pretty dang thin watch.  As for weight, the optical sensor increased it by a fair bit compared to the FR220 (FR220 @ 41g, FR225 @ 54g):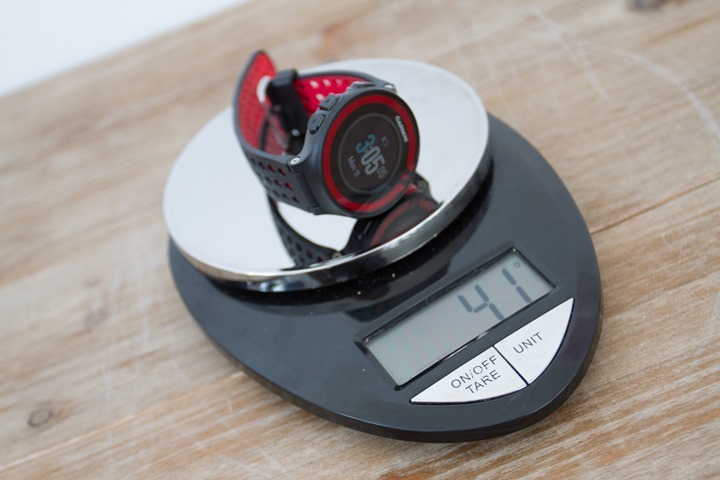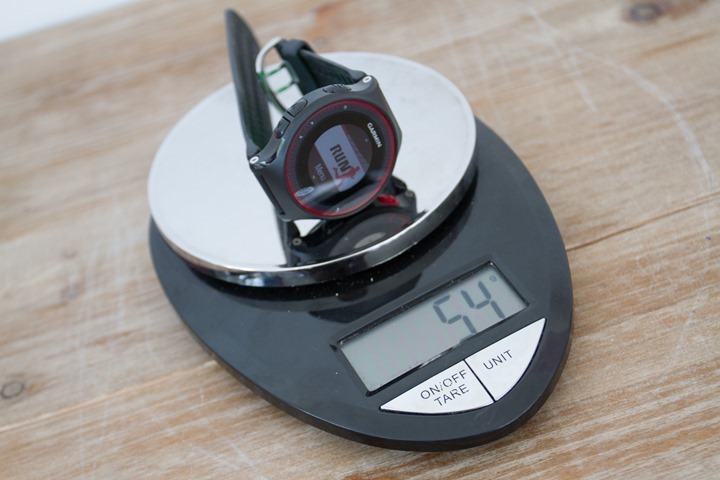 If you compare it to other watches, such as the new Vivoactive at 37g it'll seem slightly chubbier (but the Vivoactive lacks optical HR):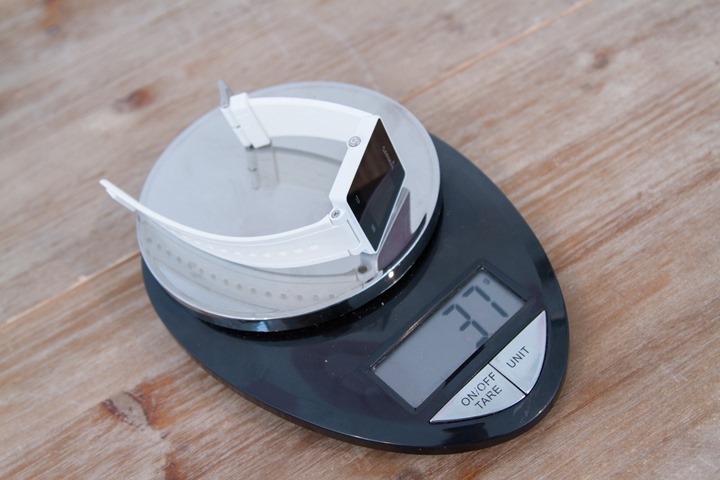 However, it's still lighter than the TomTom Cardio, coming in at 63g: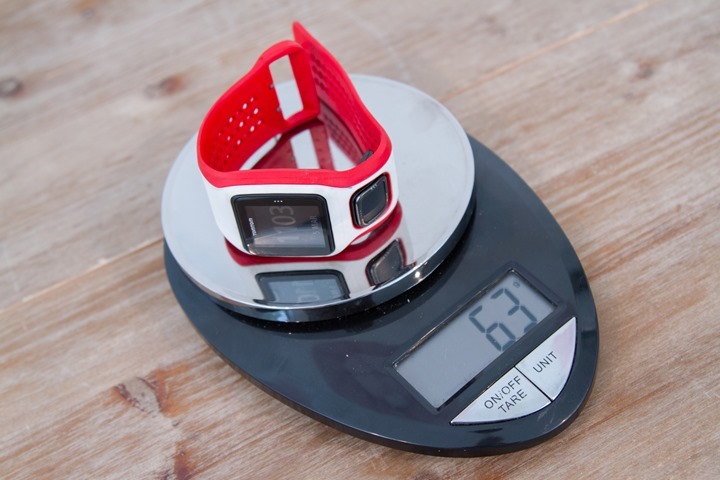 To briefly look at how it compares on one's wrist, here it is on my wrist first:
And then here it is in a gallery of The Girl's wrist (she's 5'2" tall):
Finally, just to clarify Garmin models, since these names beginning with the #2 get kinda confusing:
FR25: Just announced budget GPS watch with daily activity tracking
FR210: Old relic of a GPS thing you wouldn't want to buy
FR220: Mid-range GPS watch announced about two years ago
FR225: New GPS watch with internals of FR220 but with an optical HR sensor and daily activity tracking
Got all that?  No?  Well don't worry, this onslaught of products from Garmin is just as confusing to even the most keen folks out there, so don't feel bad.  Plus, that doesn't even talk about all the other models – phew!
The Basics: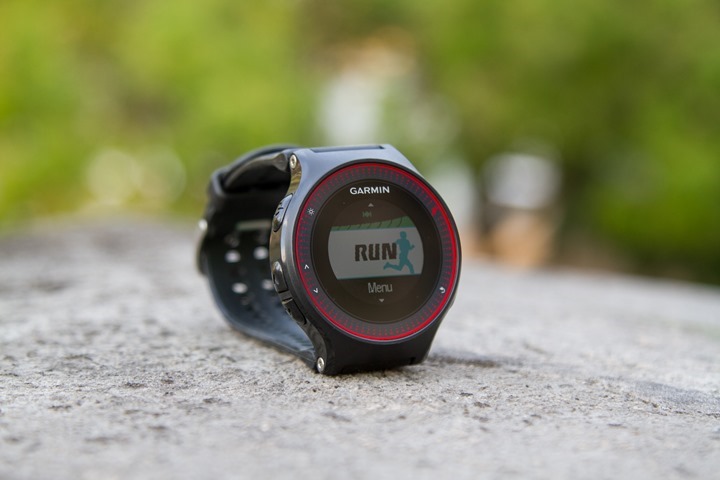 The Forerunner 225 basically has two modes that it can operate in: Standby, and Sport.  When in Sport mode it'll by default turn on the GPS unless you specify otherwise.  The GPS acquisition usually only takes a couple of seconds assuming that you've connected it to your phone or computer in the last few days, as that periodic connection will update the satellite cache information.
At the same time that it's acquiring GPS, it'll also work to acquire your heart rate using the optical sensor.  I'll dive into that in a bit more detail later on, but the little heart icon will illuminate at the top once the heart rate has been found.  This usually takes less than 10 seconds at the start of an activity.  The icon is basically just like the satellite icon – once it stops flashing you're good to go!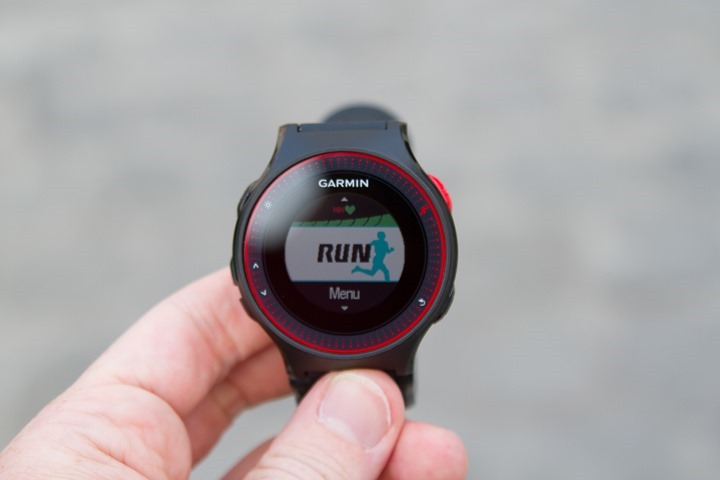 When you press the start button to begin your run the unit will utilize GPS to show you pace and distance.  You can display these and other metrics using one of two different customizable data pages.  Each page has three different metrics of your choosing on them: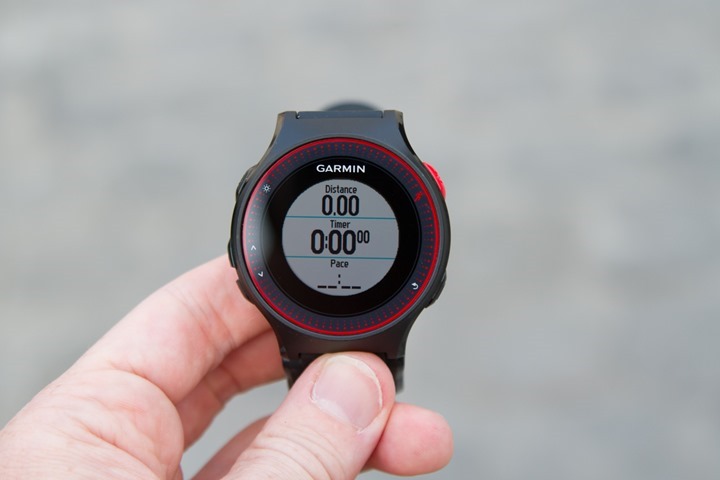 The metrics you can choose are as follows:
Available Metrics: Timer, Lap Time, Distance, Lap Distance, Pace, Average Pace, Lap Pace, Speed, Cadence, Calories, Heart Rate (BPM), Average HR (BPM), HR Zone, Elevation

Data Pages: Two customizable pages using metrics above, each with precisely three metrics per page

Optional Pages: Dedicated Heart Rate Data Page (HR in BPM + HR Zone), Heart Rate Zone Gauge Page, Clock page showing time and total steps as well
The heart rate pages by default will automatically enable when you have the heart rate sensor active on and your wrist, or, when you have a heart rate strap paired (you can do that instead of the optical sensor).  While in an activity you can change the data pages by simply pressing the up or down buttons.
There is a new heart rate gauge page that's on the FR225.  It'll show you your heart rate as well as zone (once in the zone).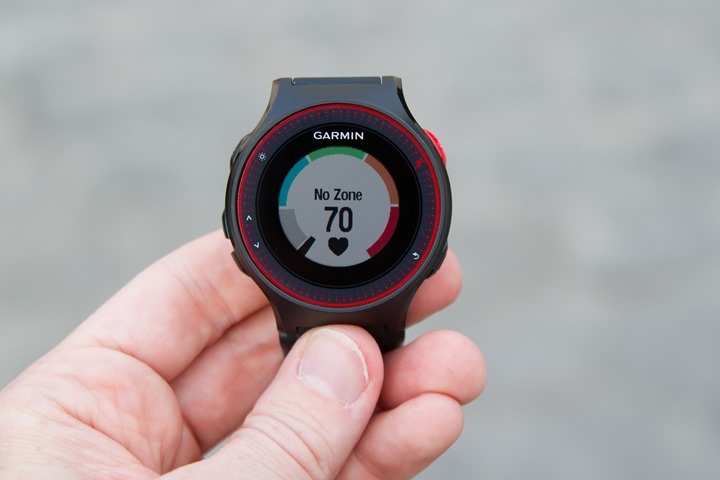 Speaking of odd zone things, there's a strange bug in the Garmin zone system that somehow allows two zones to overlap.  Seriously, they should never overlap with the same starting/ending values.  You're either in one zone, or another zone.  That's the point of zones.  A blended smoothie this is not!
As well as using the internal optical sensor, you can pair a traditional ANT+ heart rate strap to the FR225.  The reason behind this would be to allow you to mount the FR225 on a bike mount and still get heart rate data.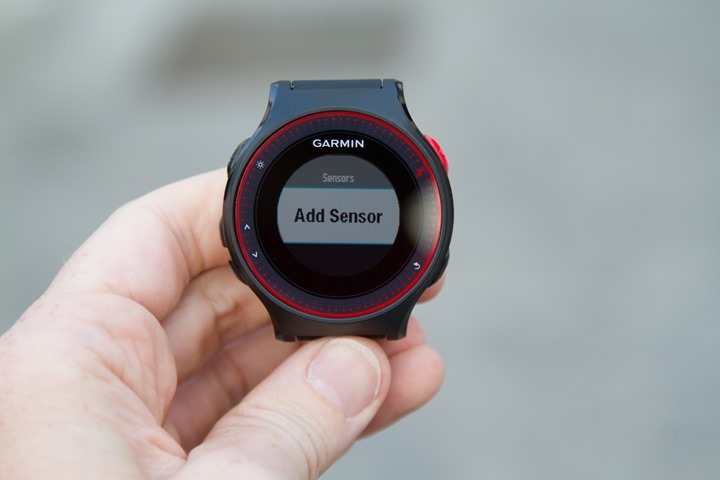 In addition to changing data pages, you can press the lap button to create laps, or you can use autolap to automatically create laps for you.  For example, on a long run I'll choose to create laps every 1 mile.  You can customize the distance as you see fit.
In addition to simply running on your own accord, you can also execute a structured workout.  There are essentially two options here.  The first is to create a workout on Garmin Connect (though frustratingly, still not yet the mobile app), and then transfer it to the watch (which you can then do via the mobile app after creation on the computer).  This is ideal when you want to create a complex workout structure that's got multiple phases or goals.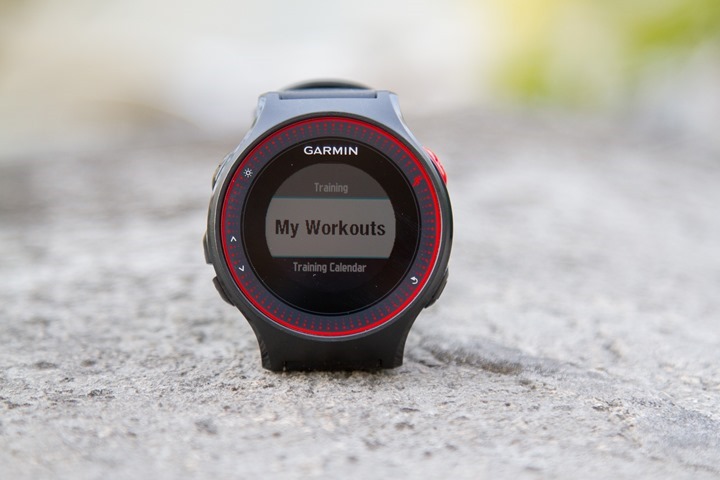 Alternatively, you can use the watch's built-in interval feature to generate straightforward interval workouts.  These workouts have a customizable warm-up period, defined distance work effort, rest duration, and then a cool-down period.  They're ideal for when you just want to go out and run a quick workout.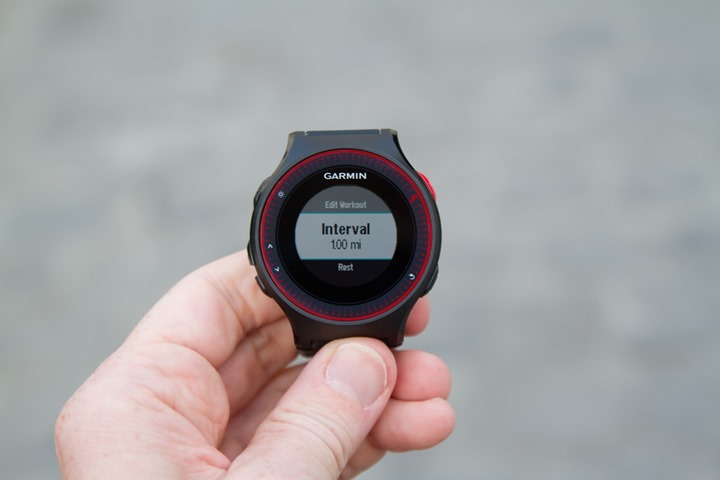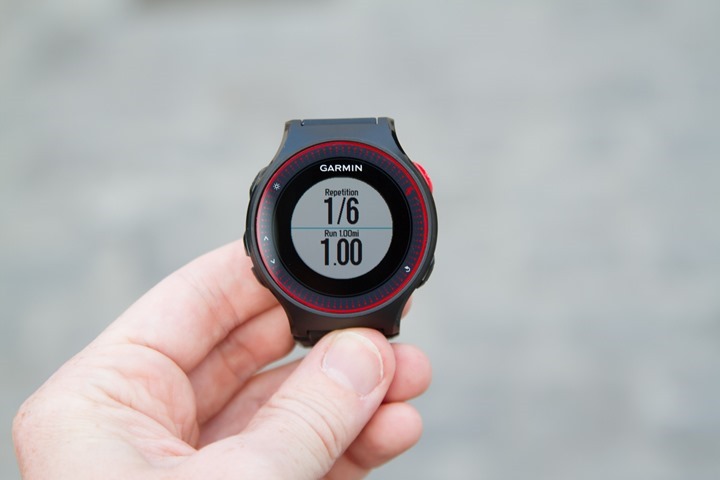 Note that the FR225 also has a built-in accelerometer.  This means it'll track distance within a tunnel (or treadmill) correctly, and show pace during that time period. Though I find in most cases the accuracy on treadmills or in tunnels (not using a footpod) is somewhat variable.  It's usually fairly close to my mid-range running speed, but the accuracy decreases as I go faster/slower from my long-run pace.  The unit is designed to 'learn' different paces as you run outside with GPS, so it is important that you wear it on the same wrist outside as inside to increase accuracy.
When it comes to using the watch in other sports, you should know it's primarily targeted at runners.  That may sound obvious to many, but I want to point out that the Forerunner 225 does not contain a cycling mode.  At least not directly.  You can change the data view to show 'speed' (i.e. MPH or KPH) instead of pace, but those activities will still be uploaded as running, requiring you to change them later to cycling (and messing with all your records).
Speaking of PR's (personal records), the unit will display and record these as you workout.  These include fastest mile, fastest 10K, and longest run.  The one caveat to be aware of though is that these records get dorked with when you go for a bike ride with the unit, since the unit lacks any cycling mode.  You can clear these records on the unit itself, as well as on Garmin Connect – but it's still a bit stupid compared to most other units on the market at this price point that have a separate (and simple), cycling mode.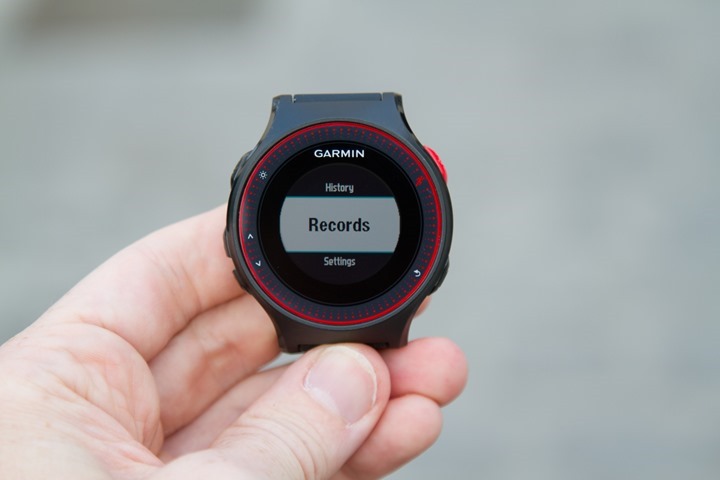 Finally, when it comes time to save the activity you'll use the start/stop button to pause it (upper right corner).  This allows you to stop for a water break, or end the run for good.
Then from there you'll press save to ensure your hard work is forever etched into the digital interwebs.  After which you can view it on Garmin Connect (mobile app or desktop app).  That sync can occur via your phone, or if you use the USB cable the desktop app – Garmin Express: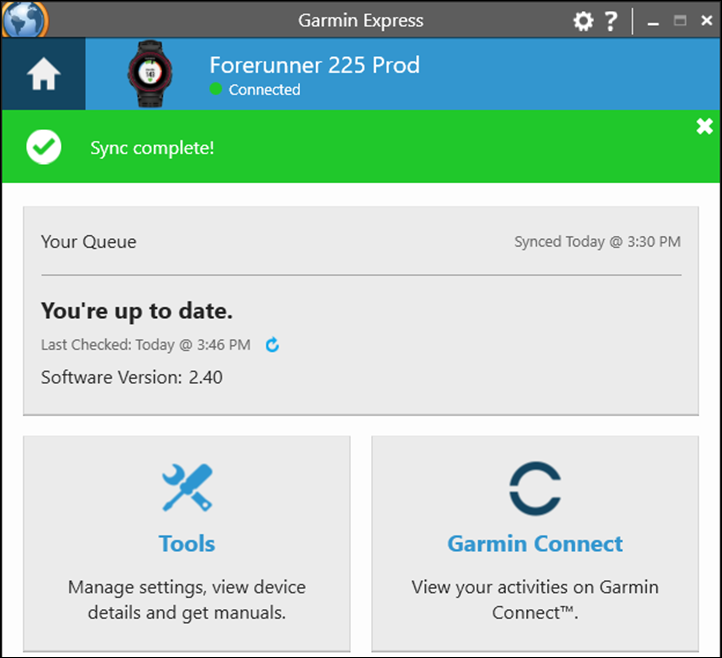 Within Garmin Connect you can view all of your past activities, and dive into specific workouts.  For example, you can view lap information (such as pace or time), as well as zoom around on the map: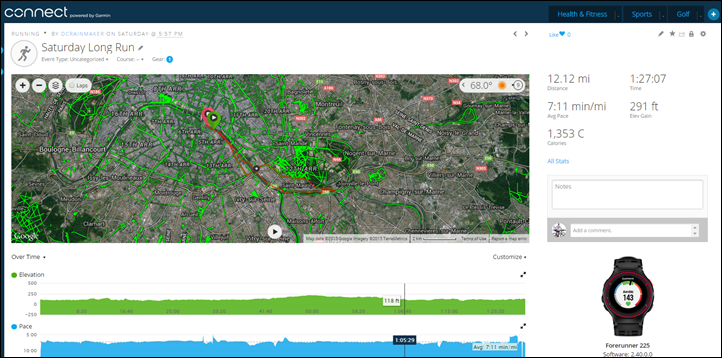 You'll also see details around your pace, heart rate and cadence metrics – the last two of which are measured internally on the FR225 (though, the unit can also accept external heart rate straps and footpods):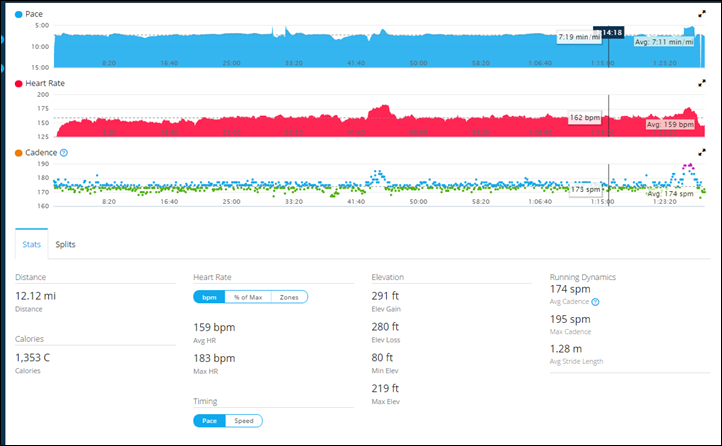 You can view all of this via the website, or within the mobile app (Android/iOS).  The mobile app will synchronize via Bluetooth Smart to your FR225.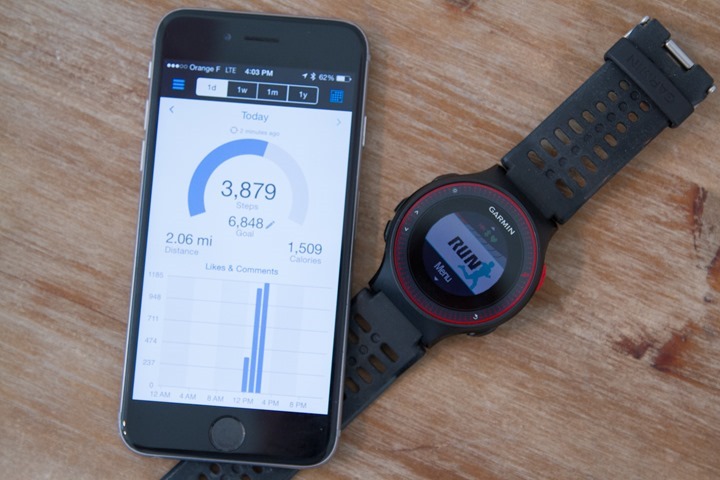 Note however that the FR225 does NOT include Bluetooth Smart notifications (like missed calls or text messages), so it's a bit of an outlier when compared to other new Garmin wearables.  I suspect the core reason here is due to the existing FR220 hardware not supporting them, and when they basically re-used that platform for the FR225, it lacked the low-power Bluetooth Smart mode required.  It also doesn't support Bluetooth Smart sensors such as heart rate straps, footpods, or bike sensors (it doesn't support ANT+ bike sensors either).
The lack of smartphone notifications though is a bit of an omission in my mind, especially since it's becoming the norm for most everything being released for the wrist these days.  It just seems strange given they were already re-working the internals of the watch to fit the optical sensor that they wouldn't swap out the Bluetooth Smart chipset too.
Finally, you can setup your Garmin Connect account to automatically sync to 3rd party services such as Strava, TrainingPeaks, Sport Tracks, and MapMyFitness, to name a few.
Understanding Optical Heart Rate: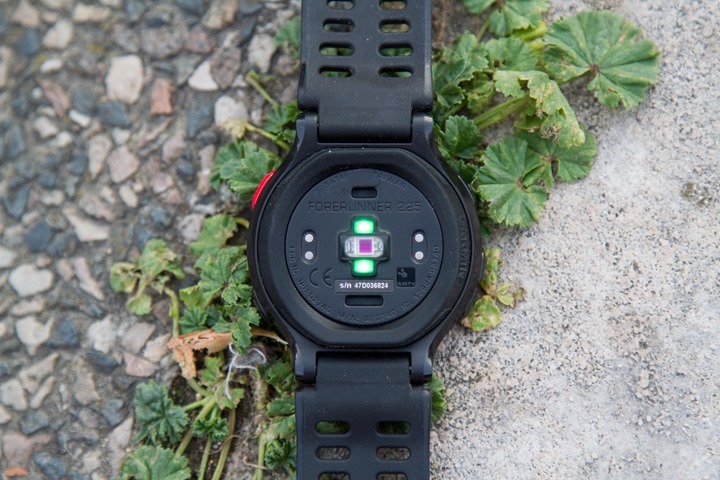 While this is Garmin's first watch with optical heart rate built-in, the technology certainly isn't new.  And in this case, that's a good thing.  See Garmin selected to license sensors from Mio, which was the first company out there doing optical sports technology back nearly three years ago with their Mio Alpha lineup.  Since then they've launched additional products of their own, plus licensed the technology to others including Adidas, TomTom, and now Garmin.
The reason that's great news is that this particular sensor is well proven in the market, and one of the best out there (along with Valencell's technology used in the Scosche Rhythm+).  In particular, it's best for sports – something sensors found in Fitbit, Samsung, and to a lesser extent Apple's products aren't as ideal for.  Those products are instead focused on tracking resting heart rate, or situations where you aren't actively moving.
So how does it all work? Well essentially the unit is shining that green light down into and through your skin, which allows the other little sensor piece you see there to visually 'see' your bloodflow.  From that, it can determine heart rate.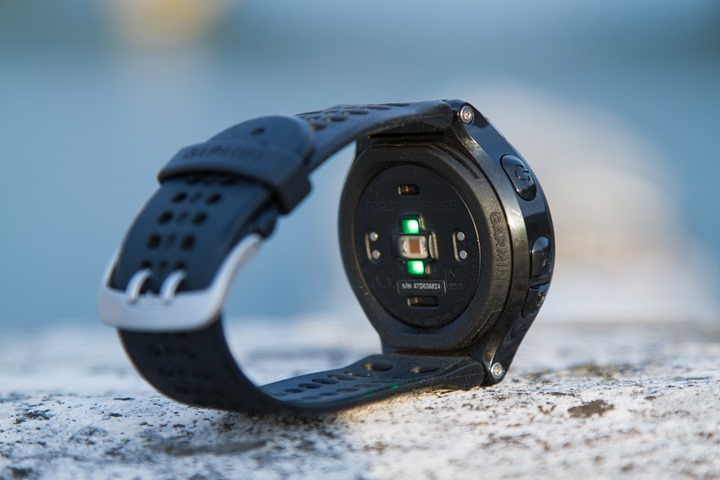 While many of these sensors work pretty much the same in concept, the implementation can differ quite a bit.  For example, some companies will add an extra colored LED light to try and expand coverage for certain skin tones.  Others have brighter lights (which costs more battery power) to again cover different skin types.  And finally, the biggest piece may actually be the software (firmware) itself, which can filter out noise.  For example, optical sensors when they struggle to find a heart rate might actually just latch onto your running cadence instead.
In the case of Garmin, they went beyond what Mio has from a sensor standpoint and added that rubber flange you see on the bottom of the unit.  This rubber 'curtain' effectively blocks out light.  That's because the number one enemy to optical sensor accuracy is outside light.  Don't worry, that rubber piece is replaceable as an accessory item from Garmin, should it wear down.
From an accuracy standpoint I've done quite a bit of running with it, and also given it to both The Girl and my Mom when she was in town recently.  Both enjoyed what they felt was accurate heart rate recording, though, the watch does look a bit big as a day to day watch on their wrists (and with only one color option today, it's not quite shouting feminine).
For the vast majority of my runs (and rides) with the FR225, I wore secondary heart rate sensors.  This was usually a blend of a traditional HR strap, the Scosche Rhythm+, or the Apple Watch.  Let's dive through 3-4 different activities, but all of the files are available within the GPS accuracy section as well with HR data.
First up, this run here – a pretty straight forward wander around the city without much variability in my pace or effort. You can see things track quite nicely between the FR920XT with the HRM3 strap and the FR225 with the optical sensor (the other purple line you see is the Apple Watch, which wanders a fair bit more).  Note that the gaps you see are just the labels going a bit too far on the graphs (overwriting the text – sorry about that!).

Even in zoomed in ups and downs, the two Garmin units track nicely:

To increase complexity, you need to include sharp changes in heart rate within your activity.  For example – intervals.  It's these intervals that you can start to see how well a given device tracks.  For example, check out the below, where I did repeats on 5-minutes:


Or another run, where we did some 30s sprints towards the end.  In this case, the optical sensor so beautifully overlaps tracks with the Scosche that you can't even see the differences there, well, except again the Apple Watch off in purple.

Next, let's look at another longer run, this one where I was mostly steady-state, but did two hard spikes in effort.  One of these was up a steep hill section, and then the other was a sprint at the end. First, the overview.  Maroon is the HRM3 strap, teal is the FR225, and purple is the Apple Watch:

But let's zoom in on those two harder efforts.  First, the hill sprint.  You'll notice that the FR225 lags a few seconds behind (meaning it's lower as my HR rises and falls) during this effort.  Not enough that it'd really impact any training programs, but nonetheless, it lags slightly.  The Apple Watch has again lost the plot.
Then we skip to the last section.  It's here you see instead the FR225 get a bit lost.  I do a sprint of sorts, which it tracks very well.  But it's actually as I start slowing down and transition into a regular running pace that it has some trouble tracking and tracks low (or, what I presume to be low).  The Apple Watch here matches the traditional HR strap.


But this was the singular example I could find in all my activities where the FR225 'lost' track of things and went off the rails.  It's just not that common, and far less common than a traditional HR strap stumbling, especially as you go into the cooler fall season.
What impact does the optical sensor have on calorie metrics?  Well, let's take a look at a few runs where I had other Garmin devices on with a regular HR strap (I often instead run with a Scosche optical HR band), and the calories reported by each device.
Long Run: FR225: 1,353c / FR920XT: 1,366c
Evening Run: FR225: 686c  / FR920XT: 689c
Eiffel Run: FR225: 705c/ FR920XT: 721c
River Run: FR225: 604c/ FR25: 613c
So in other words, no appreciable difference – which is good.
With all this detail in mind, here's some tips and troubleshooting for how to improve optical heart rate accuracy:
1) Make sure it's snug: If it's too loose, you'll get light leaking in, which will cause accuracy issues.  Similarly, if it's loose even at night, it'll cause challenges due to the movement as it tries to read blood flow.
2) Move it away from the wrist bone: Essentially, you want a 'fattier' area than not.  So if you've got it on top of your wrist bone, it's not going to be all that great.  Try sliding it towards your elbow so it's about 1″ away from your wrist bone.
3) Try the other wrist: Seriously, it often works.
4) Try the inside of your wrist: Rotate the unit around so that the watch face is on the inside of your wrist instead facing you.
5) Cold weather? Warm-up a bit: Does it not work the first few minutes of a workout? That sounds like a warm-up thing, which isn't uncommon in the winter or colder days. Unfortunately not much you can do there.
Note that today's optical HR sensors do not accurately gather heart rate variability (HRV/RR) information.  This can be used to better understand recovery as well as gather data such as VO2Max metrics.  The technology is very very close (probably months away), but today's sensors simply aren't there quite yet.
Additionally, it's worth noting that there will simply be a segment of the population (my guess is 1-5%) that optical sensors today just don't work well on.  It may be due to one's skin tone, your arm hair, tattoos, or the amount of fat (or lack thereof) that triggers it.  It's incredibly difficult for me to know how a given optical sensor will work on your body.  And there is no blanket statement that can be applied.  For example, for many with tattoos it works just fine, and others have challenges.  The best bet is to really try it – every company out there has return policies for precisely this purpose – you'll know within a few days if it works, there's not much mystery there.
Finally it should be pointed out that Garmin has not enabled the ability to rebroadcast your heart rate from the FR225 to other devices.  This means that if you were to have a secondary device (like a bike computer), you can't have it connect to the FR225 to get your heart rate.  Nor does the FR225 display your heart rate 'live' on the phone app like the Fitbit series does.
GPS Accuracy: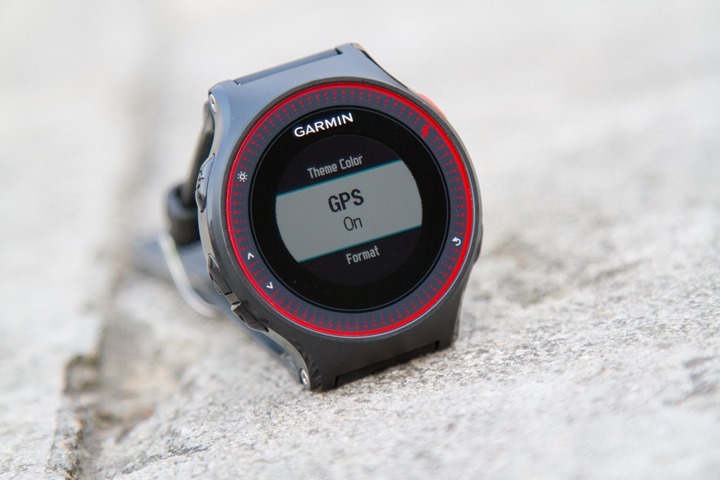 GPS accuracy is always a tricky thing to nail down.  That's because there exists so many environmental conditions that can impact GPS accuracy.  For example, the path you run down – is it tree covered?  Twisty and turning?  What about large buildings in a city environment?
For most of my runs with the FR225, they're in an urban environment where I'm running around the streets and city of Paris.  Additionally, some of my runs wander out into the nearby woods for skirmishes with trees.
What I've been doing with recent reviews is to simply publish every run I've done – allowing folks to look at the exact GPS tracks themselves.  You can zoom in and decide which GPS track looks best.
I'd caution that every GPS watch has a bad day (or a bad portion of a run).  Seriously, you run enough and you'll see oddities.  There's no perfect GPS watch on the market today, I can show you a bad track section from any of them.  The key is instead finding one that fits your running requirements.  And, finding one that generally doesn't screw up the majority of the time.
It's also important to note that the FR225 only has smart recording.  This is a wonky relic of Garmin's past that they just can't seem to get rid of in an effort to save space (but not battery).  It means that the unit only records data every 3-7 seconds (roughly).  It'll vary, sometimes recording data more often, and sometimes less often.  But either way – it's not the more industry standard 1s (1-second) recording rate.  Even Garmin themselves uses 1s recording for higher end units.
Now Garmin would argue that the end-state distance is still correct, and as you'll see here – that's usually true.  But what's not true is that the tracks can look more troublesome than they really are.  Thus, leading to confusion (and likely increased support calls to Garmin).  Or just upset people because the tracks aren't pretty.
With that, here's the table of runs.  I also had a bunch of runs in June and July, but most of those were single-device runs.  So these are the most recent ones on the most recent firmware as of the date of each run:
Garmin FR225 GPS Comparisons
| Activity Description | Date | FR225 GPS Distance | GPS Device #2 | GPS Device #3 | Comparison Link |
| --- | --- | --- | --- | --- | --- |
| Paris Evening City Run | August 1st | 5.37mi | 5.34mi (Suunto Ambit3 Peak) | 5.31mi (Apple Watch with phone/GPS) | Link |
| Bois de Vincennes Cycling Loops | Aug 2nd | 22.42mi | 22.38mi (Garmin Edge 1000) | 22.39mi (Suunto Ambit3 Peak) | Link |
| Evening River Run (with tunnel) | Aug 4th | 5.34mi | 5.39mi (Garmin FR920XT) | 5.39mi (Garmin FR25) | Link |
| Louvre Run | Aug 7th | 6.61mi | 6.65mi (Suunto Ambit3 Peak) | 6.74mi (Apple Watch, no GPS) | Link |
| Longchamp Cycling Loops | Aug 8th | 21.31mi | 21.28mi (Garmin Edge 810) | 21.25mi (Garmin Edge 25) | Link |
| Eiffel Tower Night Run | Aug 9th | 6.71mi | 6.70mi (Garmin FR920XT) | 6.95mi (Apple Watch, no GPS) | Link |
| Eiffel Tower Night Run | Aug 11th | 6.61mi | 6.65mi (Suunto Ambit3 Peak) | 6.53mi (Apple Watch with phone/GPS) | Link |
| City Skyline Path Run | Aug 13th | 6.39mi | 6.31mi (Garmin FR920XT) | 6.33mi (Apple Watch, no GPS) | Link |
| Saturday Long Run to Vincennes Forest | Aug 15th | 12.12mi | 12.21mi (Garmin Epix) | 11.56mi (Apple Watch, no GPS) | Link |
| Lunch Multi-Park City Run | Aug 17th | 5.73mi | 5.76mi (Garmin Epix) | 5.76mi (Apple Watch, no GPS) | Link |
As you can see, there's no real outliers in terms of distances – they're all within an acceptable range of consumer GPS units.
To pick a few examples where things go well in harder environments, you can see this here – where we dip into a tunnel along a river wall.  In this case the FR225 (pink line) nails the tunnel section when it exits.  Sometimes GPS devices will fumble a bit upon losing reception and product wonky exits (you see that a tiny bit with the FR920XT, but it catches itself).  Note, all tracks are via MyGPSFiles, which you'll find links to all of these files in the table above.  Also be aware though that MyGPSFiles recalculates the distances that you see in the screenshots.  For all of the table distances above though, I use the true distance recorded by the device itself.
Similarly, on the section below it's essentially a one-lane street with tall 6-10 story buildings on each side.  The unit tracks very well through this urban canyon, staying precisely on track:
Or these sections as well in more wide-open visibility: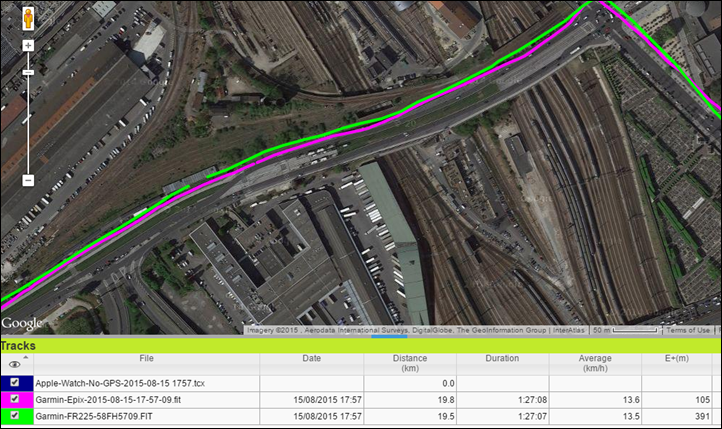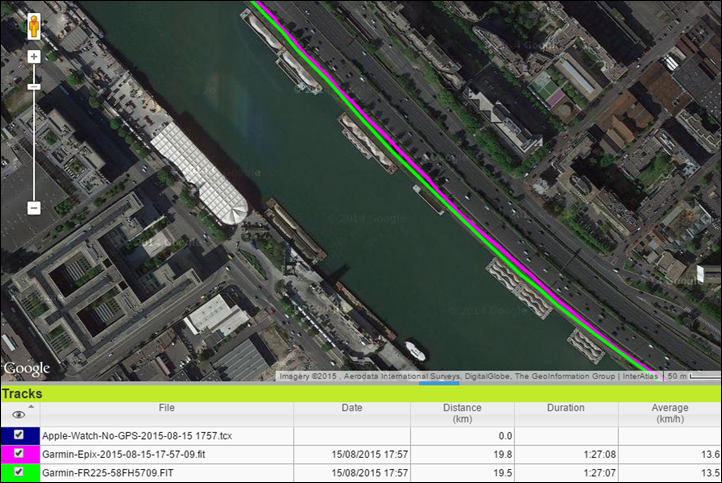 Then we've got middle ground, and a good example where sometimes it's just really hard for GPS to operate – no matter how expensive the device.  For example, below on the green line is the Ambit3 Peak, and the FR225 in pink.  You can see as I go through a short tunnel in the Louvre they both struggle briefly for perhaps 30-50m in their own unique ways to regain composure.  I'm not sure I'd declare either one a winner there, yet at the end of the run the distances were ultimately the same.  And really, these are super-short distances (30-50m) where the track files are troubled.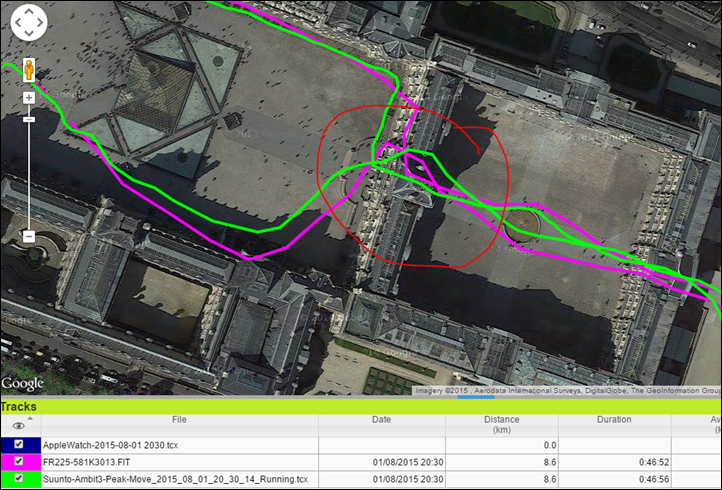 And then at the opposite end of the spectrum we've got examples where smart recording makes things worse than they seem, such as these cut corners (FR225 in green):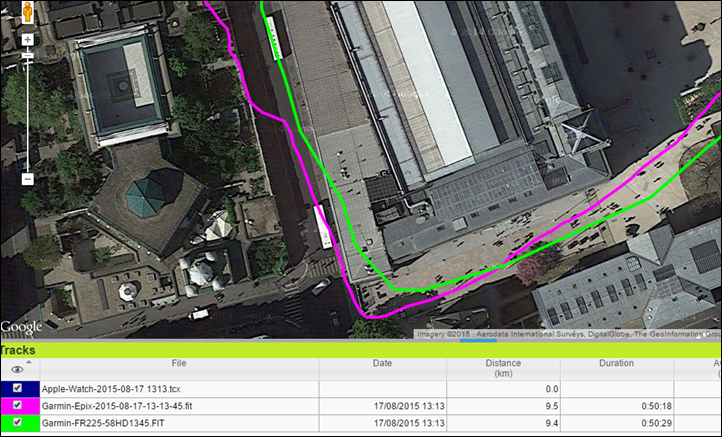 In reality, the true distance is counted – it's just not shown on the recorded track file, making it look worse than it really is.
Of course, there are cases of just simple bad GPS, like the below section at the start of the run where the FR225 (in pink) simply plows through a bunch of buildings, albeit not horribly far off where I ran.  And again, ultimately at the end of the run the distances between that and the Suunto Ambit3 were identical.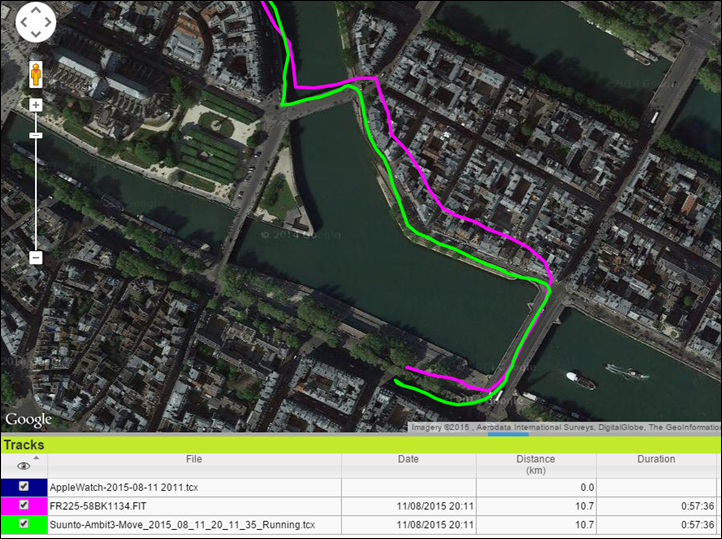 And if you look at the majority of that run, you'll see things align quite nicely: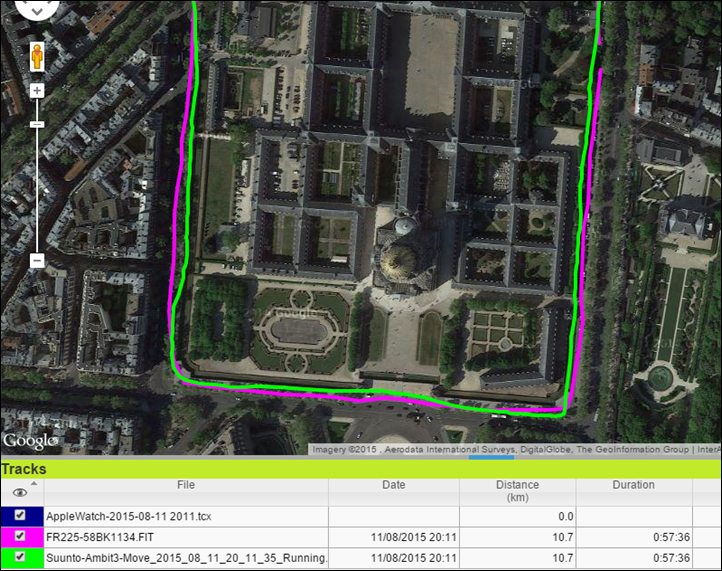 Another case where all units can struggle is lost reception due to urban canyons.  For example, below is an elevated running trail that actually goes through buildings.  In this section below though it hits a tunnel – but it's actually not the tunnel that causes that dramatic blip, rather, the buildings going into the tunnel.  You see the FR920XT also struggled in that section.  And both struggled to the far right where it's a single bike lane with at least 8-10 story's on either side of straight wall upwards as well as dense tree cover.  But then again, I'm not sure what one expects there?  If I can't see the sky, how well should a consumer level GPS unit see it?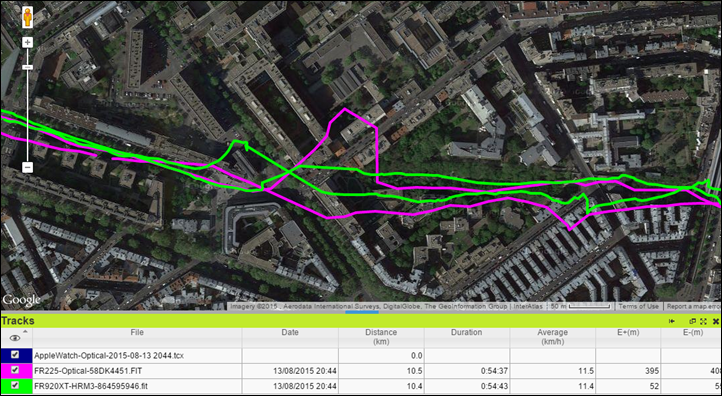 Ultimately though in the above examples I was searching through to find errors out of weeks of runs, if you look at all of the GPS tracks (or at least all of the GPS table) – I don't see any substantial consistently abnormal outliers, or any truly impactful differences in the total distance either.  And while there were certainly stumbles, I showed that other devices in hard conditions can stumble too.  That's the nature of consumer GPS devices today.  Overall – the tracking is quite acceptable in the vast majority of situations.
Sure, I really wish Garmin would get rid of smart recording (if only to save my inbox from confused e-mails), but I wouldn't say it's a purchasing blocker for this product at this time.  But I do think over time, these sorta mismatches might sway someone towards other competitors as those competitors catch-up.
(Note: You can find every activity file that I have from the FR225 in this Dropbox folder.  It also has other data from other units as well for comparison.  They are all original files with notes as appropriate.)
Daily Sleep & Activity Tracking: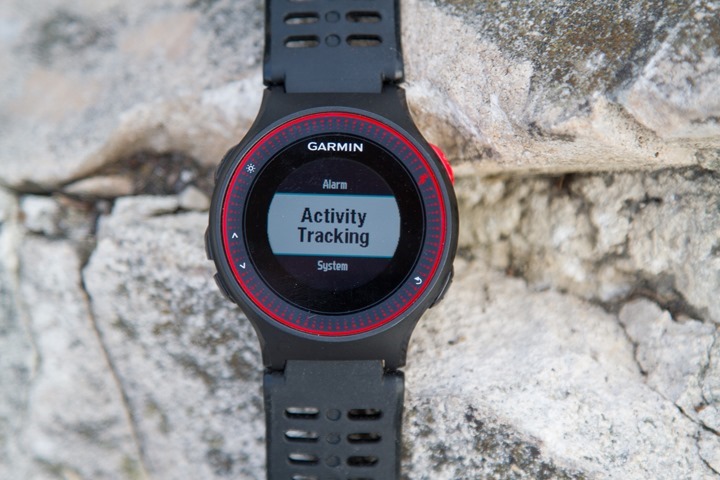 In addition to tracking workouts (GPS or non-GPS), the unit also acts as a daily activity tracker for steps and sleep.  This means the unit will track your daily steps, distance, and calories as you wander around this little blue planet.  Additionally, when you fall asleep it'll automatically track basic metrics about that too.
Starting with the daily activity metrics, these are displayed on the front of the watch on the default time screen (always on 24×7).  You'll see them below the time.  These include: Steps, Goal (Daily), Distance (mi/km), Calories (total), and your current heart rate (on-demand).  Here's a little gallery showing the non-HR ones first:
As I mentioned above, it'll also show you your current heart rate.  This is more of a 'resting heart rate' feature than anything else.  The unit will turn on the optical sensor and measure your heart rate at that moment in time you press the button to show that screen.  Otherwise, the heart rate monitor is off.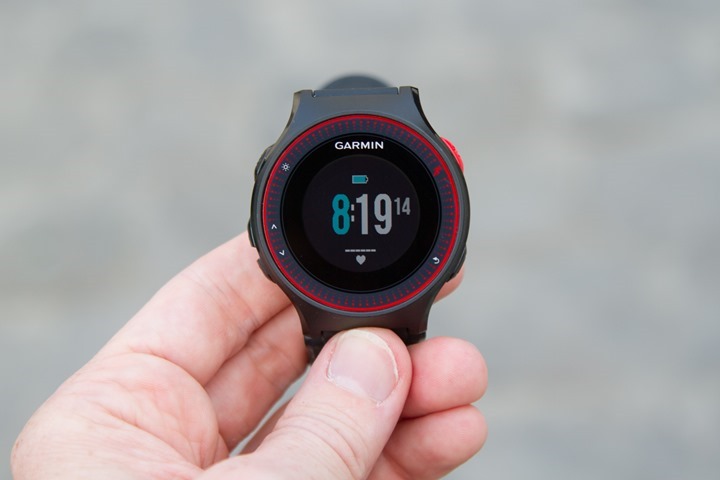 This on-demand HR data is not currently saved anywhere.  So it's like a fart in the wind – briefly with us, and then soon gone.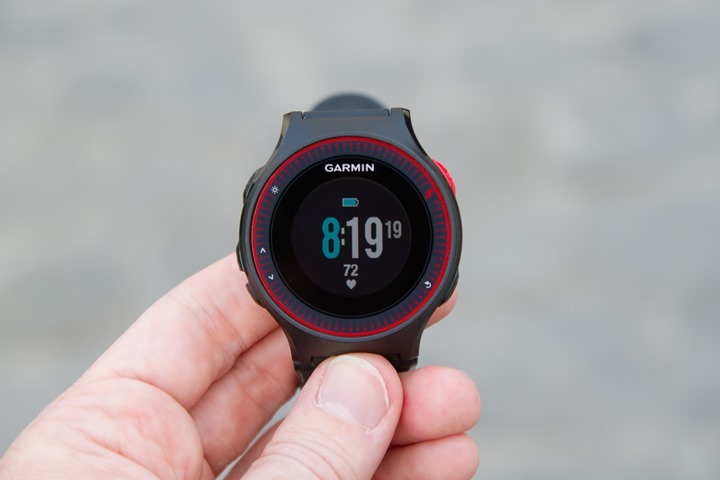 Still, it can be very useful for determining your current resting heart rate (i.e. sitting on a couch).  In turn I can use that data to usually pick out when I'm sick or fatigued (it takes many months of said data to be able to develop trends).
Back to steps though, the unit tracks those which in turn give distance.  It's the same technology Garmin has been using on virtually all other wrist based devices they've made in the last few years.  It tracks your movement and steps using the internal accelerometer.  Based on that data you'll work towards a 'goal' number of steps each day.  This goal by default is dynamic, and automatically rises and falls depending on your daily steps.  So it's a bit of a carrot and stick approach.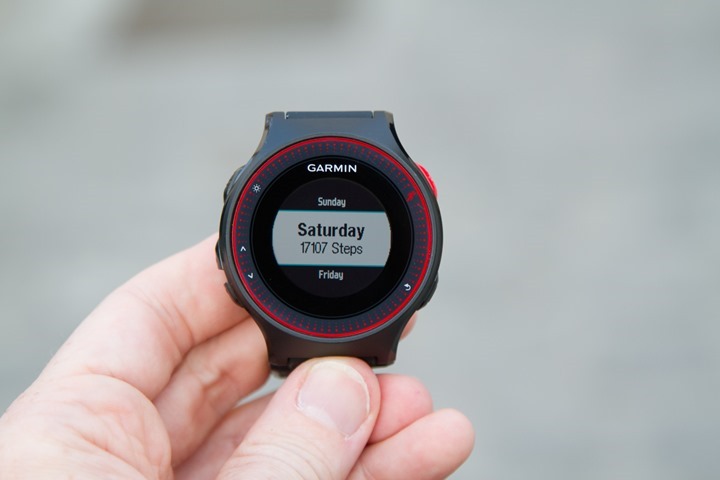 It's designed such that it won't be horribly impacted by a single long run, but will also reduce steps if you fall off the bandwagon, to make it achievable.  This goal is displayed as one of those metrics that's easily seen by pressing the up/down button.
Additionally Garmin has the inactivity indicator.  This shows up around the edge of the FR225 and 'fills' itself up as you sit around doing nothing.  The goal of this is to get you moving each hour, which can also trigger the move alert notifications.  Garmin has long had this functionality, with others like Polar and Apple following suit in similar ways.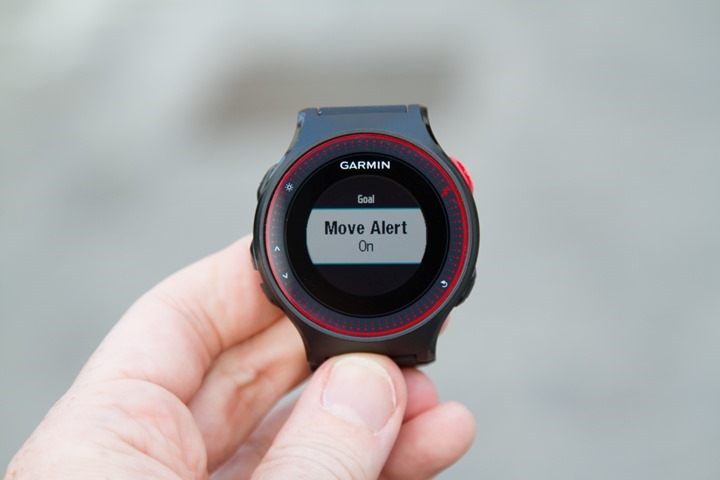 The idea behind this though is that it'll alert you that you've been sitting too long.  Then you'll simply need to get up and walk roughly 30-60 seconds to clear it.  I find that it's basically about 100-150m worth of walking distance.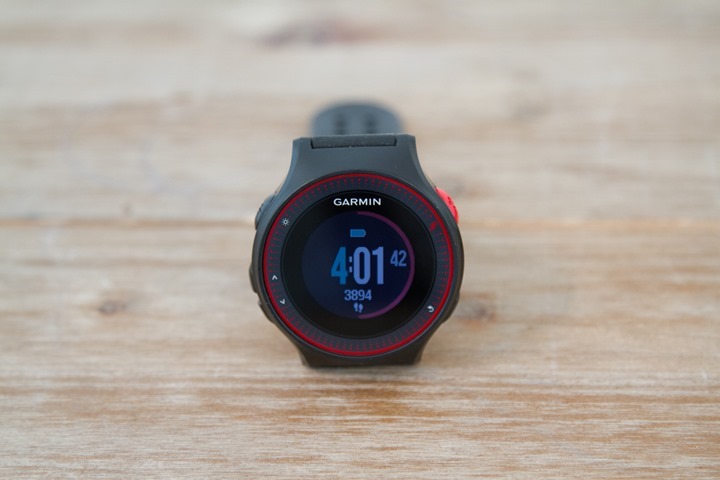 All of this data is also viewable on the watch as well as the Garmin Connect Mobile app (and Garmin Connect web site):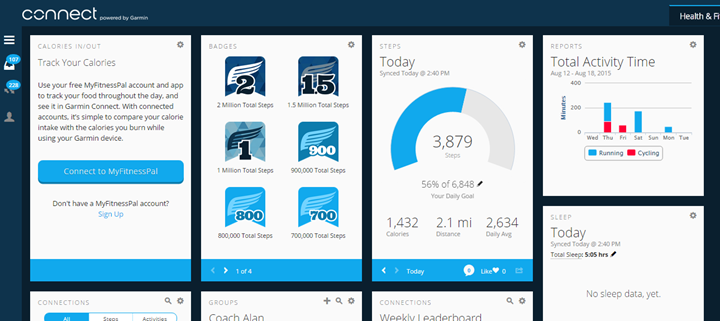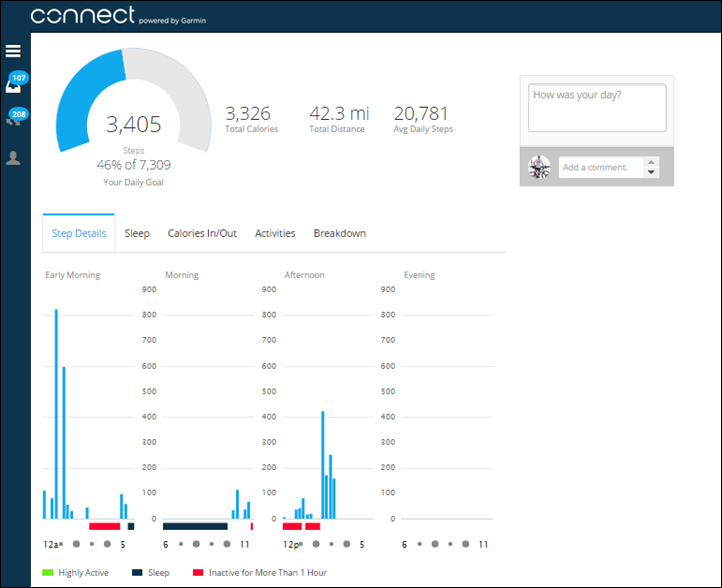 Additionally, you can connect it to MyFitnessPal to get calorie data sent over to them too, and then in return you'll see how many calories you've consumed that day from their app.
In addition to steps the unit will automatically track sleep.  It does this on the Garmin Connect site, rather than the device itself.  So while you must wear the device, there's no need to press any buttons – it'll just determine it automatically and compute sleep metrics.
These new metrics are vastly improved compared to what they used to be in the past.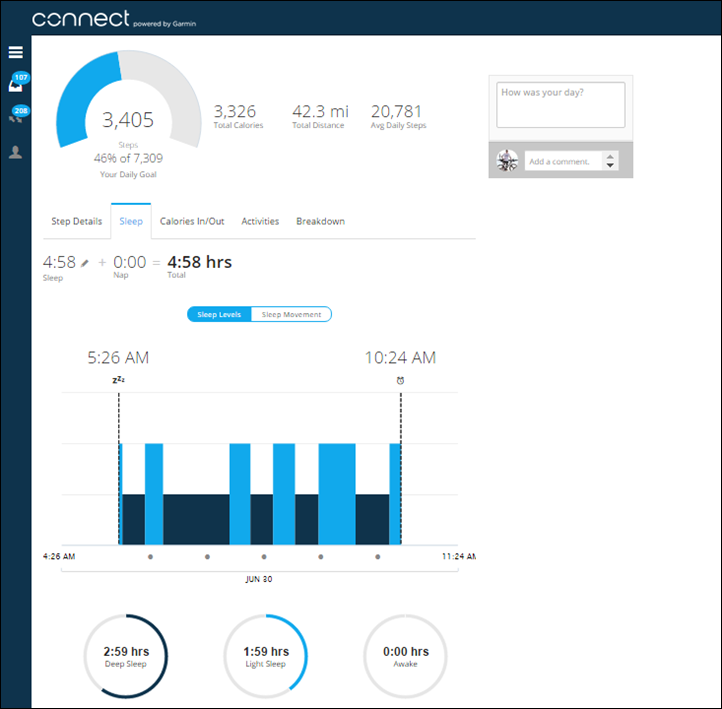 As for step counter accuracy – I don't see any inherent issues with the FR225, they're in the same ballpark as other activity trackers when I wear them at the same time.  That said, I'm going to copy/paste my usual spiel on activity trackers and accuracy, which follows now:
Keep in mind that there is no 'perfect' activity tracker.  Different companies use different algorithms to try and minimize inaccuracies.  Further, different wearable locations can also impact accuracy.  For example, if I'm pushing a shopping cart with a wrist-based device such the FR225, I'll likely get reduced step counts.  This is because the accelerometer isn't likely to be triggered due to the static position of my hand.

Companies try and counter these sorts of items – such as ensuring steps aren't counted when you're showering or washing the dishes.  But the reality is that sometimes they do trigger steps.

Here's what I'd remind ya: You shouldn't be concerned about a few hundred extra steps.  At the end of the day, you're aiming for a goal in the 10,000+ step range – so a few hundred steps really isn't that meaningful.   If you only walked 2,000 steps, then no, you didn't walk enough.  And at the other end of the spectrum, if you walked 18,000 steps – then yes, you walked a lot and an extra 100 steps washing the dishes wasn't likely the cause for that 18,000 steps.

To that end these devices are best looked at from a trending standpoint.  They help you assess whether you're walking a lot or a little.  That's no difference between a Fitbit, a Garmin, a Polar app – or even your phone.  They all have imperfections in certain scenarios – and excel at others.
Finally, note again that the FR225 does NOT TRACK your resting heart rate throughout the day.  It doesn't turn on the sensor automatically to do so, nor does it record it even when you manually turn it on.  It only records your heart rate during a workout activity, that's it.  There are other watches that do record your daily heart rate continuously (Fitbit Surge, Apple Watch, Basis Peak, etc…), but in general I find those units don't do workout heart rate as well.  Like a give and take.  For me having accurate heart rate during a workout is more valuable than tracking resting heart rate automatically.  Perhaps some day we'll see a device that does both well.
Product Comparison Charts: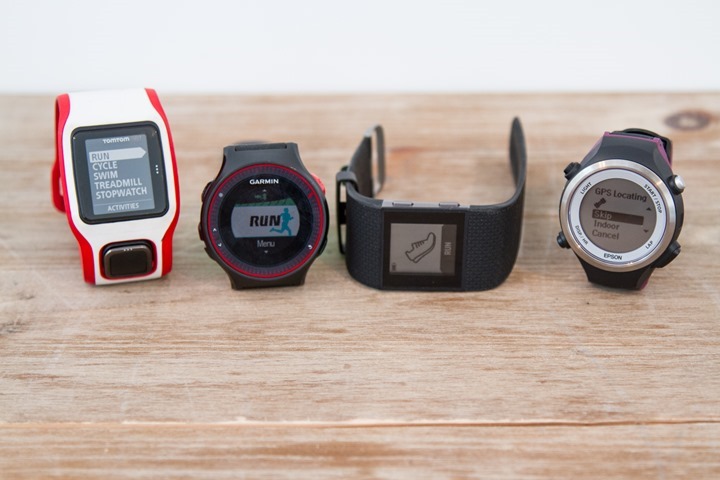 I've added the FR225 into the product comparison database/tool, to help folks compare between different products.
Now, before you dive into the comparison tool – here's probably the key things you need to know when comparing these similar GPS-enabled products:
Garmin FR225: Has activity tracking, but lacks smartphone notifications.  Has very strong custom workout support (and interval support).
TomTom Cardio: Same optical sensor as FR225, cheaper than FR225, but lacks daily activity tracking and website/app not nearly as strong as Garmin's.
Fitbit Surge: Has very strong daily activity tracking, also has continuous 24×7 heart rate tracking (none of above do).  Also has additional sport modes.  But does lack custom workouts or a very strong training log program.  Also, heart rate accuracy using optical sensor can be wishy-washy.
Adidas Smart Run GPS: Far more features than FR225/TomTom units, especially with built-in music.  Also usually more expensive (and bigger), and doesn't include daily activity tracking.  Same optical sensor as Garmin and TomTom.
Epson Runsense 810: Different sensor than others, but very solid accuracy on GPS and heart rate.  But phone app and website are pretty much a mess and terribly ugly.  Also lacks daily activity tracking.
With that said, here's the ones I think you're most likely to be comparing out of the above list.  Of course, you can mix and match your own units using the product comparison tool – so you can pick basically anything you'd like.
Again, remember you can mix and match all the products you'd like within the product comparison tool here.
Overall Summary: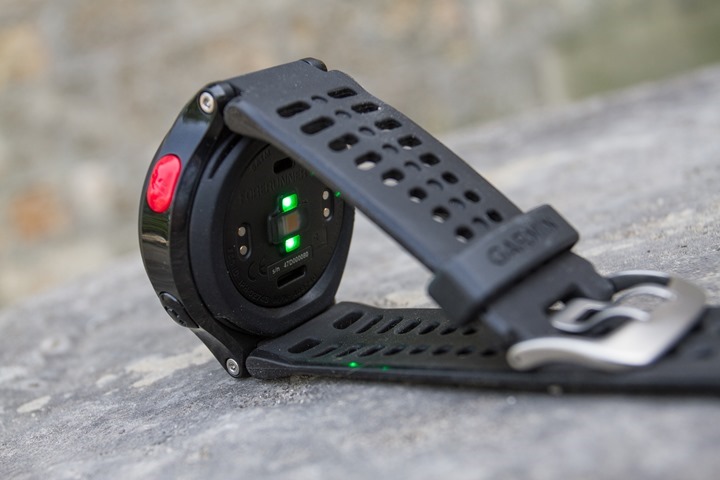 Overall the FR225 is a solid running GPS watch with a solid HR sensor.  It tracks your heart rate accurately during activities, while also tracking your GPS distance.  Adding to that it has activity tracking and a pretty good backend infrastructure within Garmin Connect.  Essentially, if you're just focused on running – this is a great little watch.
However, while it's strong in running, I do feel that it's a bit lacking compared to other watches on the market when it comes to non-running features.  For example, launching without Bluetooth Smart notifications is a truly odd omission in this day and age of smart watches.  The same goes for a simple bike mode, found in so many other competitor's products at half the price.  And finally, the lack of ANT+ heart rate broadcasting means that if you already own other Garmin products (say a bike computer), you can't use this watch to broadcast your HR to that device.  Effectively Garmin has created an incentive to buy 3rd party optical sensor products instead of the FR225, for cross-over athletes.
But those are really my only quibbles with the product and for some they may not matter at all.  As I noted at the beginning – if you're after a solid GPS running watch to use as you train for (perhaps) an upcoming fall running race, then the FR225 fits that bill nicely.  If however you're after more of a smart watch, then the FR225 isn't really that watch and I'd look at competitive offerings instead.
With that – thanks for reading, and feel free to drop any questions below!
Found this review useful? Or just want a good deal? Here's how:
I've partnered with Clever Training to offer all DC Rainmaker readers exclusive benefits on all products purchased.  By joining the Clever Training VIP program you get a bunch of money-saving benefits, which you can read about here.  By doing so, you not only support the site (and all the work I do here) – but you also get to enjoy the significant partnership benefits that are just for DC Rainmaker readers. And, since this item is more than $75, you get free 3-day US shipping as well.
Additionally, you can also use Amazon to purchase the FR225 (though, no discount). Or, anything else you pickup on Amazon helps support the site as well (socks, laundry detergent, cowbells). If you're outside the US, I've got links to all of the major individual country Amazon stores on the sidebar towards the top.
Thanks for reading! And as always, feel free to post comments or questions in the comments section below, I'll be happy to try and answer them as quickly as possible.