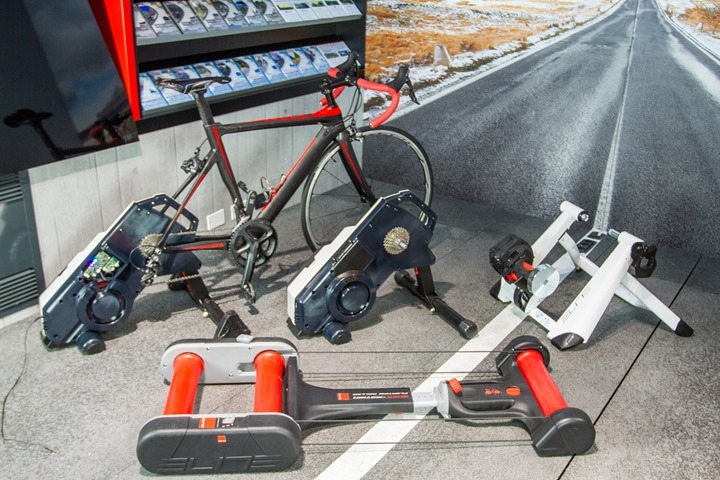 Today Italian trainer company Elite joined in on the 2016 Trainer announcements bandwagon with the unveiling of four new indoor training products, including one set of rollers.
These announcements marks not just new trainers, but most notably a cleaner and simpler product line going forward.  In past years the company has had more than 15 trainers at a time, often with similar and confusing model names.  However the names this year are much easier to keep straight, and the product line both technically and price-wise is rather competitive with other offerings both in the market and recently announced.
The three trainers span three different price ranges and key feature sets:
Drivo Trainer: $1,299/€1,390/£1,099 – Top-end resistance controlled trainer, complete ANT+ FE-C/BLE control and broadcasting
Kura Trainer: $999/€850/£649 – Direct drive fluid trainer, transmits ANT+/BLE data, but no resistance control
Rampa Trainer: $599/€550/£449 – Mid-range trainer with ANT+/BLE data transmission, and ANT+ FE-C control
While the new Quick Motion rollers aim to simplify their existing roller lineup with something much easier to pack away.  But more on that later.
If you want the overview of everything, I put this together while I was visiting them at their headquarters last month.  It covers the major points on each product – and also lets you hear how things sound on the Drivo trainer:
Let's dive right into things!
Drivo & Kura Trainers: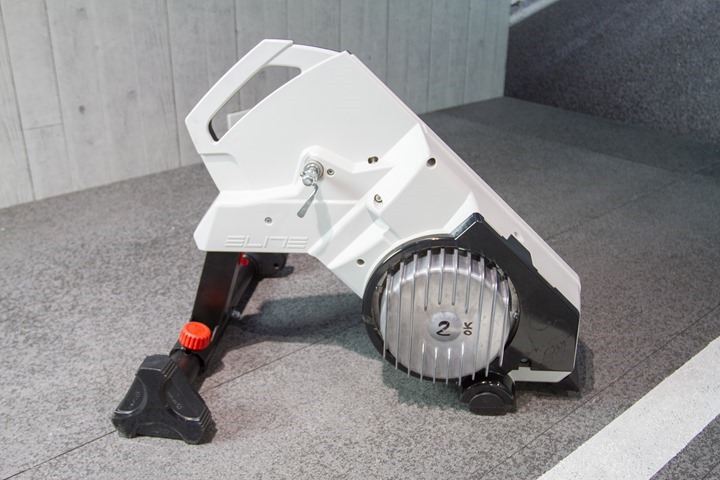 (Note: The photos I took depict prototype units, meaning, they don't have final shells/cases on them yet.)
The Drivo trainer (pronounced Drive-O) will now be Elite's top-end direct drive offering, while the Kura is their mid-range direct drive offering.  The Drivo builds on the previous Elite Real Turbo Muin B+ with complete resistance control.  The unit allows for that control via both ANT+ FE-C, as well as Bluetooth Smart.  This means that you can use either Elite apps, or any 3rd party apps (i.e. Zwift, Trainer Road, Kinomap, PerfPro, etc…).  While the Kura lacks the resistance control but is otherwise fairly similar (details on differences in a moment).  The two trainers look incredibly similar from the outside.  Here's the final renders of what they'll look like:


In addition to enabling ANT+ FE-C trainer control on the Drivo, both units also broadcasts ANT+ Speed, Cadence, Power, as well as Bluetooth Smart Power and Speed/Cadence.  All of these are done via standardized protocols.  This is useful if you have a bike computer or watch and just want to record the trainer data directly on that.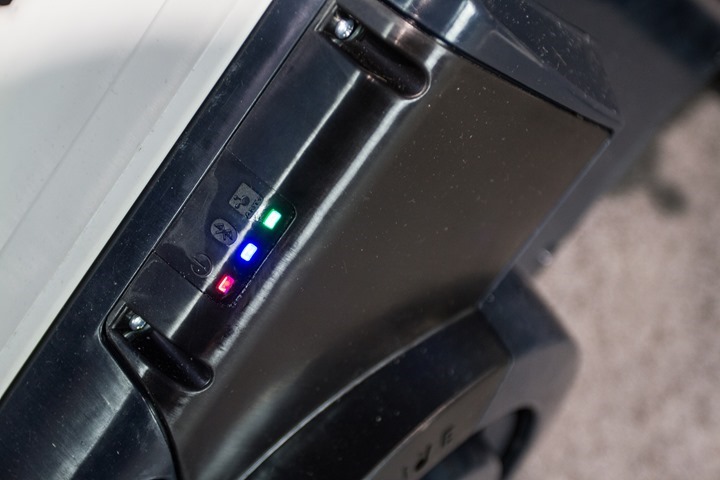 Now unlike previous Elite trainers these units have been designed to be a bit easier to move around and store.  The leg folds up, allowing you to both carry it easily as well as store it a bit easier.  Past designs were basically like moving around a dead body, so this is much appreciated.  Of course like most others in this category, the trainer is still nice and heavy at 20KG/44lbs.
Elite has made some changes when it comes to the mechanics of the unit.  First is that it adopts the faster power shifting functionality rolled out in a firmware update this winter.  But more than that, is that the Drivo has a 6KG (13.2lbs) flywheel that is using a new two-belt drive system.  That results in a claimed inertia feeling nearly double the actual flywheel size.  As trainer connoisseurs know – flywheel weight can be a major factor in how 'road-like' a trainer feels.  Of course, one should keep in mind that trainers like the Tacx NEO can accomplish similar results with their 'virtual flywheel' concept.  Note that the Kura has a slightly smaller flywheel at 5.1KG (11.22lbs).
Between the two units, the Kura surrounds the flywheel in fluid, like the past Turbo Muin & Turbo Muin smart.  The idea behind this is a bit smoother resistance responsiveness (since this unit isn't electronically controlled).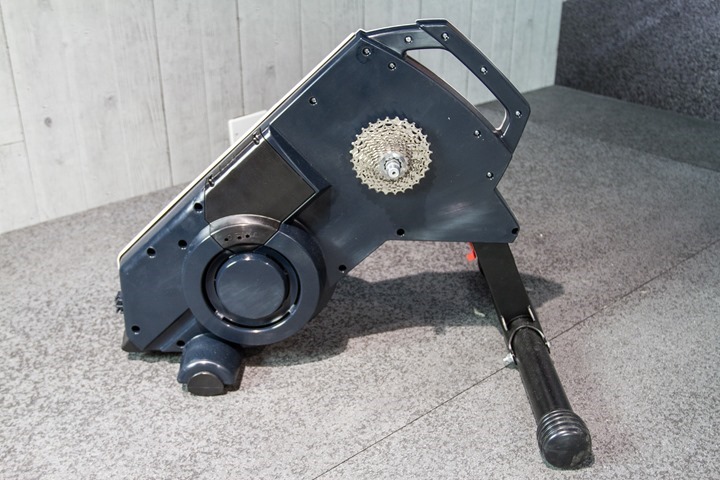 As with most direct drive trainers from Elite, Tacx, and CycleOps, you'll need to add your own cassette to it.  The cassette is the silver cog part your chain attaches to in the back.  The Drivo supports Shimano & SRAM 9/10/11 speed cassettes out of the box.  But can also be used with Campagnolo cassettes with an adapter.  Both units are compatible with 130-135x5mm quick releases, as well as 142x12mm thru-axles.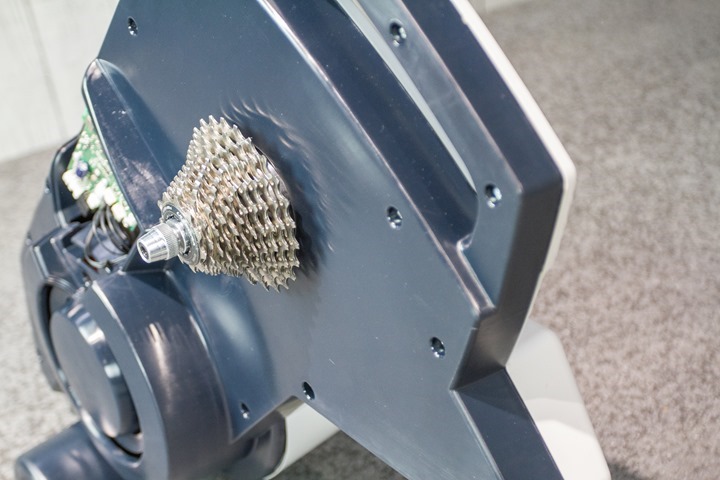 When it comes to noise, the unit isn't as quiet as the more expensive Tacx NEO.  Though, it's quieter than the KICKR and maybe quieter than the CycleOps Hammer (I'd have to hear them side by side to decide).  You can hear the audio within the video above at the 5:15 marker.
Now what's definitely notable about both the Drivo and the Kura is the inclusion of an actual power meter into the unit.  This is somewhat rare in that many trainers calculate the power based on speed or other metrics.  But in this case here these two new units are claiming a tolerance of +/- 1% accuracy.  While at their facility I did get the chance to see both the measurement system as well as the calibration system fully taken apart.  Note that accuracy for both units has been tested by the company up to 2,000w @ 30KPH.  They're working to update their testing machines to go beyond that power value, but for the beta units, that's the benchmark they're working against.
Below is the power meter housed within these two trainers: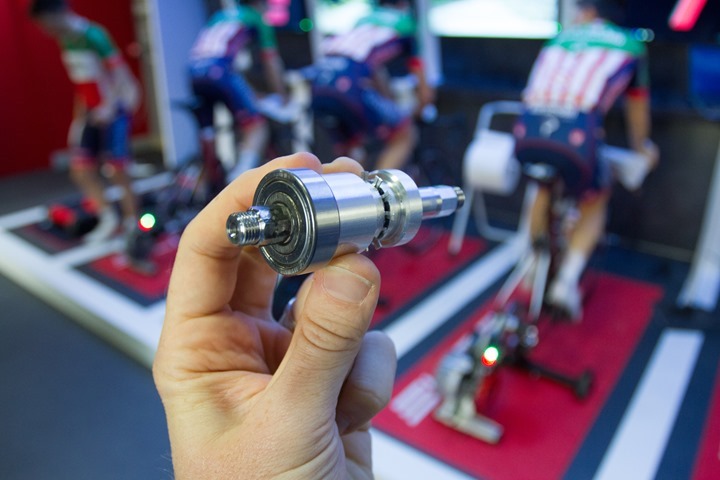 You'll remember one of the major concerns I had with the previous Elite Real Turbo Muin B+ was the lack of accuracy of the unit.  Simply put: I just couldn't get accurate power numbers since it was calculated and not measured.  This change should go a long way towards resolving that.  I'm certainly looking forward to doing my own power measurement tests once the time comes.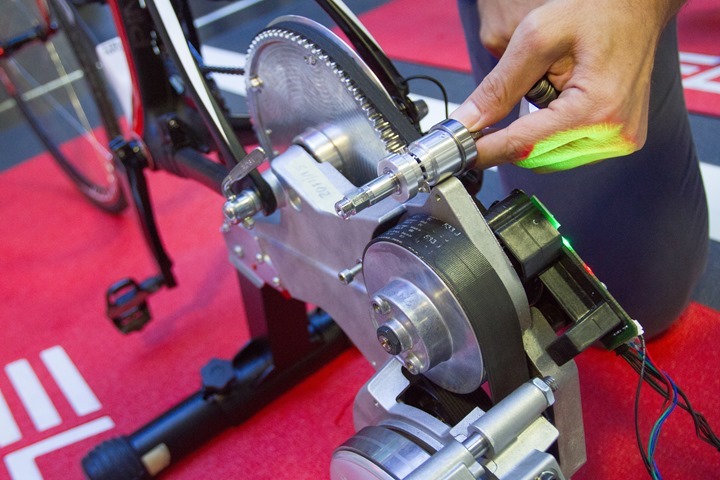 Update: Here's the quick video I shot of the Kura/Rampa calibration machine in action:
In the meantime, they demonstrated this using the ANT+ testing suite along with another power output device made by a Lorenz Sensors, a German company.  The upper right number is the output power from that unit, while the lower left number is the power meter within the Drivo displaying the measured power.  I've got a video of this showing it being changed on demand, which I'll try and get published shortly.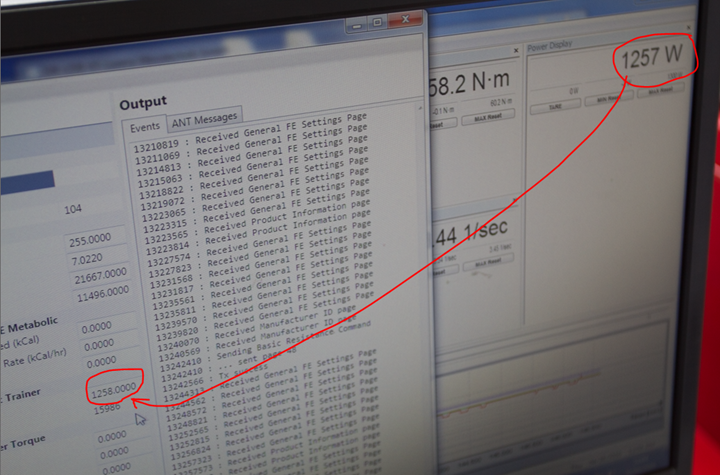 Here's the key differences between the two units, in a simple side by side comparison chart.  Note that you can compare all trainers within my complete product comparison tool here:
Function/Feature

Elite Drivo
Elite Kura
Copyright DC Rainmaker - Updated May 11th, 2021 @ 3:56 am New Window
Price for trainer
$1,199
$999/€850/£649
Trainer Type
Direct Drive (no wheel)
Direct Drive
Available today (for sale)
Yes
Yes (shipping Summer 2016)
Availability regions
Global
Global
Wired or Wireless data transmission/control
Wireless
Wireless
Power cord required
Yes
No
Flywheel weight
13.2lbs/6kg
11.22lbs/5.1KG

Resistance

Elite Drivo
Elite Kura
Can electronically control resistance (i.e. 200w)
Yes
No
Includes motor to drive speed (simulate downhill)
No
No
Maximum wattage capability
2,296w @ 40KPH / 3,600w @ 60KPH
2,000w+
Maximum simulated hill incline
24%
N/A

Features

Elite Drivo
Elite Kura
Ability to update unit firmware
Yes
Yes
Measures/Estimates Left/Right Power
Paid option (9EUR)
No
Whole-bike physical gradient simulation
No
Can directionally steer trainer (left/right)
No
No
Can rock side to side (significantly)
No
Can simulate road patterns/shaking (i.e. cobblestones)
No
No

Accuracy

Elite Drivo
Elite Kura
Supported accuracy level
+/- 1%
+/- 1%

Trainer Control

Elite Drivo
Elite Kura
Allows 3rd party trainer control
Yes
No
Supports ANT+ FE-C (Trainer Control Standard)
Yes
No
Supports Bluetooth Smart FTMS (Trainer Control Standard)
Yes
No

Data Broadcast

Elite Drivo
Elite Kura
Transmits power via ANT+
Yes
Yes
Transmits power via Bluetooth Smart
Yes
Yes

Purchase

Elite Drivo
Elite Kura
Amazon
Link
N/A
Backcountry.com
Link
Link
Chain Reaction Cycles
Link
Link
Competitive Cyclist
Link
Link
Wiggle
Link
Link

DCRainmaker

Elite Drivo
Elite Kura
Review Link
Link
Link
Note that the final max wattage numbers are still being determined as the product is finalized.  But rest assured, unless you're on a pro tour team, it's unlikely they'll matter to you.  It's not an area I'll be able to test.  My legs fail far before that point.
(*Random Nitpickers Corner: Some have recently debated what truly counts as a 'direct drive' trainer.  On one side, a few have argued that 'direct drive' means there are no belts used within the trainer, but rather that the chain directly drives the flywheel.  While others use the more traditional understanding among all trainer companies that it's anything where the wheel is missing from action.  Given no such standards body exists for what is essentially a marketing term, I'm going with the majority on this one – which is to say any trainer that lacks your bike wheel is direct drive.  Well, until proven otherwise.)
Rampa Trainer & Quick Motion Rollers: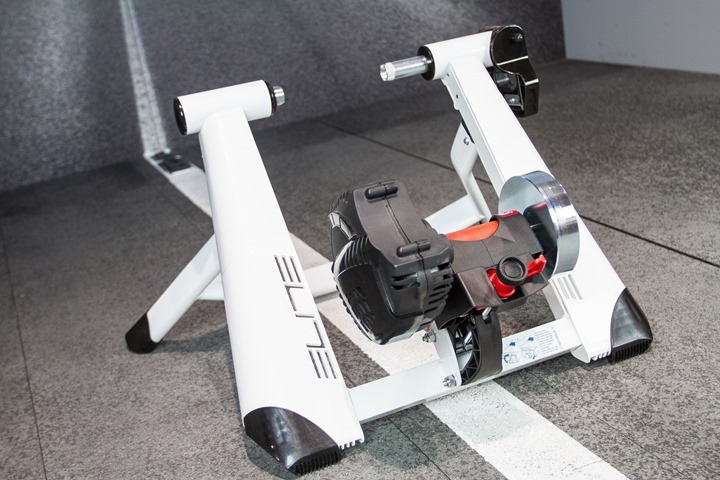 Next we've got up the Kura & Rampa trainers.  No matter how you pronounce them, both of these sit as mid-range options within Elite's lineup.  Except unlike the Drivo/Kura – the Rampa isn't direct drive, but instead is wheel-on.
And obviously, with the Quick Motion Rollers, your wheels are on there too (else your trainer ride is going horribly wrong).
Now you may be wondering – with prices kinda-sorta in the same ballpark, how is the Rampa trainer different than that of the Kura?  Aside from lack of direct drive, there's one feature: The cheaper Rampa has ANT+ FE-C control, whereas the Kura doesn't.  This meant that you basically have to choose between resistance control on the Rampa, or a more road-like feel on the Kura.  Or you save more pennies for both of them within the Drivo.
Essentially the Rampa is like the Wahoo KICKR SNAP.  Sorta same-same, but different.  For example, both trainers transmit ANT+ & Bluetooth Smart, though the Rampa also transmits out ANT+/Bluetooth Smart speed and cadence (+ power), while the KICKR SNAP only does speed and power.  For most people that's not a huge decision point, but it's worthwhile noting.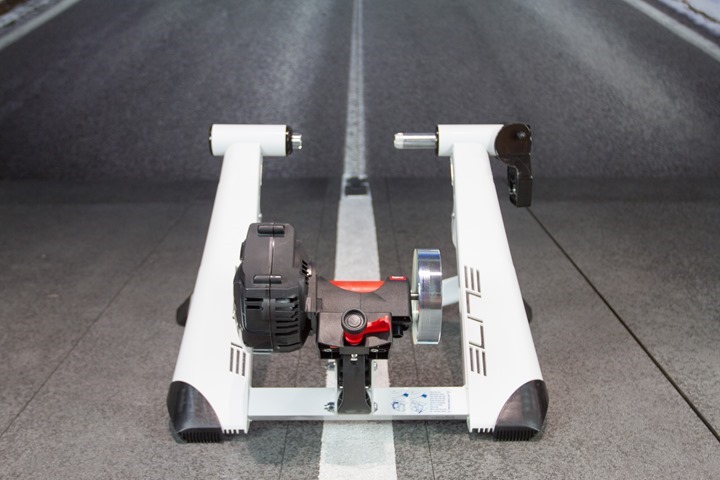 The Rampa's magnetic resistance unit has a slope simulation of up to 10% – the same as the Wahoo KICKR SNAP.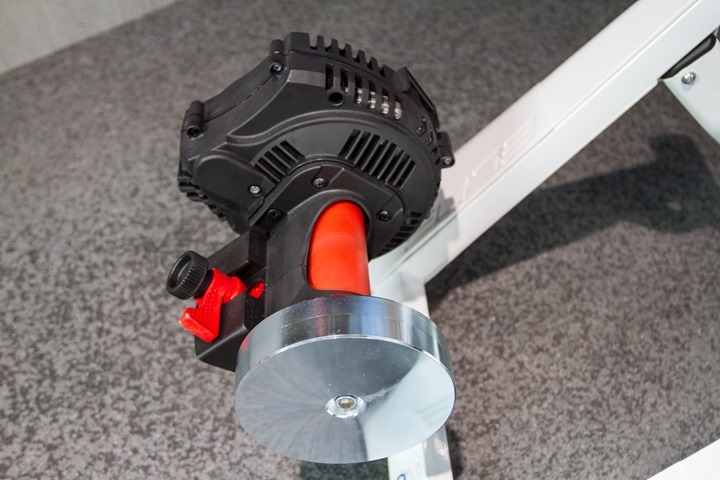 And both units require them to be plugged into an outlet for operation (whereas something like the Tacx Bushido Smart doesn't).  So to recap on the Rampa:
– Has ANT+ FE-C trainer control
– Has ANT+ Speed/Cadence, and Power transmission
– Has Bluetooth Smart Speed/Cadence, and Power transmission.
– Simulates slopes up to 10%
– Works on wheel sizes 24" to 29"
– Priced at $549/€550/£449
– Is black and white with a red handle (obviously important for stylistic matching to your bike)
I don't have a ton of other finalized spec details yet on the Rampa, so check back as they get a bit closer there.
Lastly, a brief mention on the new Quick Motion rollers.  These rollers will ONLY be available outside of the United States, due to various patent 'challenges' within the US.  Which is unfortunate, because the fold-up design is pretty darn cool.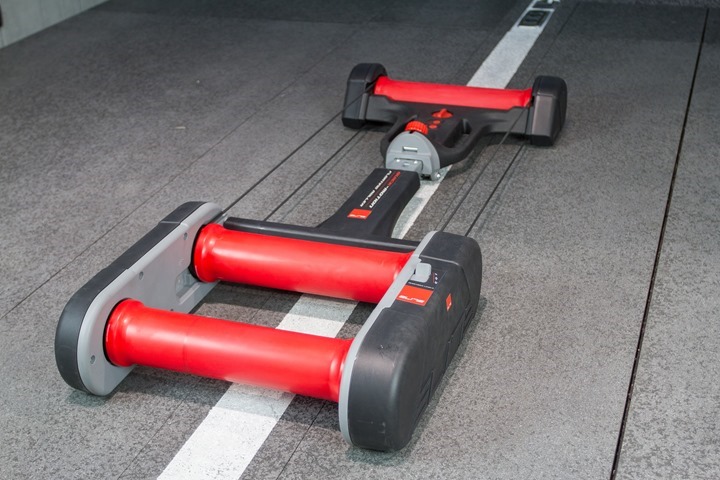 This new roller version allows you to go all Brompton bike on your rollers, folding it in half.  I included a snippet of it within my video of the folding magic.
The rollers don't natively transmit ANT+ or Bluetooth Smart power, but you can buy the small Misuro B+ accessory pod (roughly $50), which will then enable transmission of both of those.  That pod can be seen here: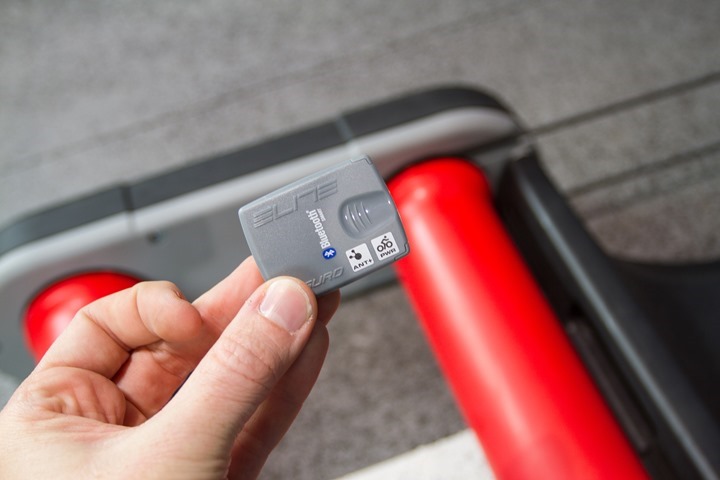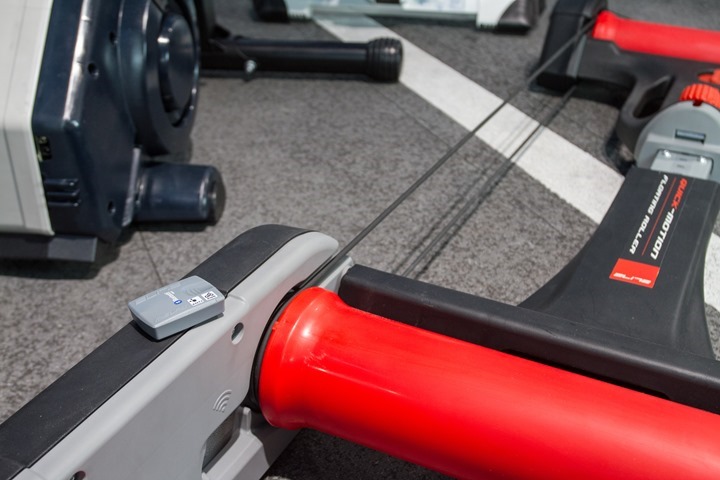 Said pod also has a brief cameo in my video. Because everything has a cameo in my video.
Since the Quick Motion isn't available in the US, there's only Euro & GBP pricing, which is: €450/£349.  I don't typically review rollers, simply because I'm not a huge roller guy.  But the fold-up aspect kinda appeals to me, as most other rollers just take up far too much darn space.
Wrap-Up: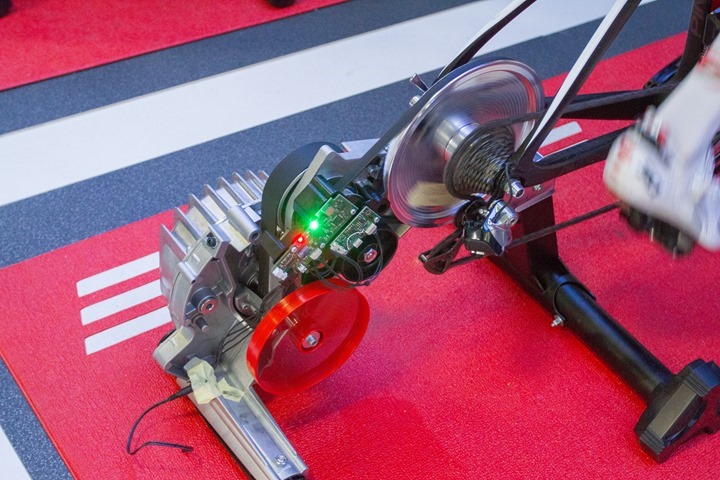 Overall Elite's 2016 line-up is looking pretty solid.  I think the winners here are the Drivo & Rampa, which are priced quite competitively. I think the Kura may be in a bit of an odd-spot price-wise, merely because it's a tough trade-off between having resistance control and direct drive.  I suspect most consumers in this age of Zwift and TrainerRoad popularity will choose resistance control (Rampa) over standalone direct drive (Kura).  Which isn't to discount the minority that will select road-like feel, rather, simply to point out the shift in the market.  Yet at the same time, having a power meter within the Kura is no doubt a selling point for those that might not care about automated resistance control.
I'm really interested to dig in and test the Drivo's accuracy, especially combined with the recent firmware changes to the Elite lineup that make power change responsiveness much faster than in the past.  I could see those two tweaks, along with the more open ANT+/BLE support added in the Drivo definitely making it a solid contender in the hotly contested high-end trainer range.  Between the recently announced CycleOps Hammer and this, consumer choice is really opening up.
I'll be looking to do an in-depth review of at least the Kura, if not the Rampa, at some point this summer once I have a final production unit in my hands (or rather, in the DCR Cave).  So stay tuned for that!  And thanks for reading!
—
Update: You can now pre-order the Elite Rampa, Kura, and Drivo from Clever Training for delivery later this summer.  You can combine that with the DCR Coupon code of DCR10BTF, which gets you 10% off.  Additionally, you'll get free US shipping.  Doing so supports the site and makes you awesome.  Note that Clever Training will only charge your card upon shipping.