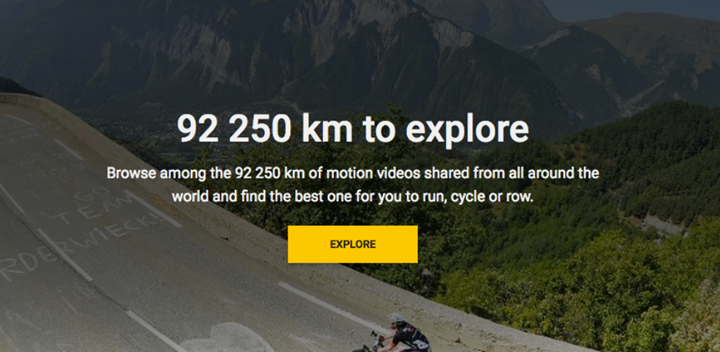 Coming off the heels of Interbike, cycling trainer app Kinomap is rolling out a host of features, including a number that are pretty new and unique to the trainer app space.  For those unfamiliar with Kinomap, it's historically been an iOS/Android app that allowed you to ride outdoor recorded rides, indoors on your trainer.  They have a massive library of outdoor routes from all sorts of famous places.
These new updates are across a broad range of different features/functions. And while other companies are adding in semi-incremental updates that match each other, there's no doubt that none of Kinomap's new features today are done by anyone else.  They're totally off dancing to their own drum…and in this case, that drumbeat is pretty darn interesting.
If you read nothing else from this post, check out the links at the bottom of the 'VeloViewer/Strava' section.  Especially the last one.  Crazy cool.
Revenue Sharing: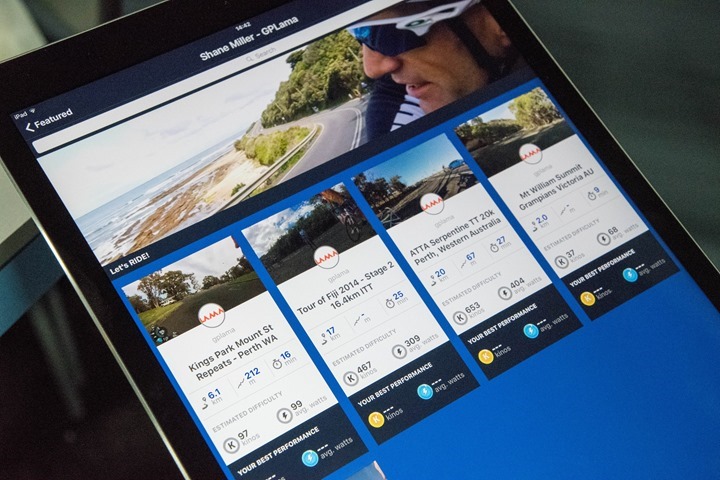 First up is something totally different, which is the ability for you to record your own videos on rides, upload them, and then actually receive revenue from them.  The company has long allowed you to upload your own videos by combining action cam footage with GPS data.  In other words, you recorded your action cam footage at the same time as your ride file, and then uploaded the two together.  Their web uploader allowed you to quickly merge and sync it – saving the ride for all eternity.  They've been doing that for years, and even have supported GPS-based cameras like the Sony and Garmin units for making that process totally seamless and dead-simple.
What this new announcement does is get you credit for videos that you upload (assuming people ride them).  In a sense, it's like how Spotify works behind the scenes for artists.  The more people that ride your video (both in time and quantity), the more credit you get back.  You'll get back something called Kinos, which sound a bit like a slot machine currency.  But in reality, it's just a way to easily deal with monetary credits across numerous currencies.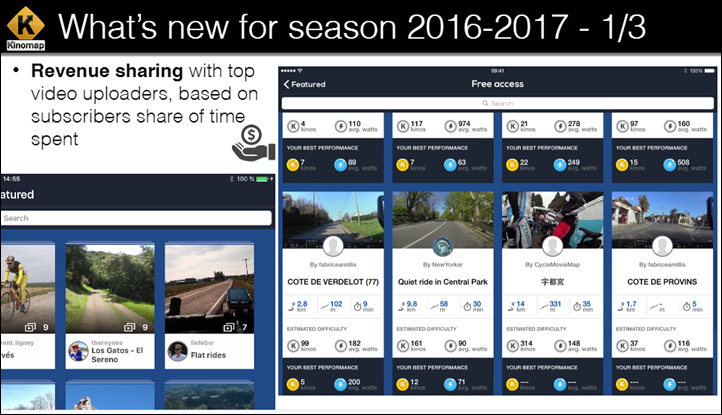 The more minutes someone spends riding your video, the more you get back. The credit is based on how much of that person's total time they spent riding videos that month.  In other words, if a person spent 10 hours riding Kinomap in total in October, and 1 hour of that is riding your video – then you'd get 1/10th their revenue contribution.  However, that's then split with Kinomap, so it's a portion of that.
Thus basically, your hope is to find someone that just rides your videos.
While the concept might need a bit of polish – it's a pretty cool idea to generate interest in the platform, even for just casual uploaders.  If you've got a GPS device and an action cam, you could start recording chunks of rides that you think are interesting.  Further, because of the next piece with Strava integration, it makes it even more interesting to broaden the base of places they have video data on – even if it might not be super-scenic.
Strava integration via VeloViewer:
Many of you know VeloViewer, which is the app that does a bunch of detailed Strava analytics – diving into your Strava data and producing crazy reports on how awesome you are…or, how painful that upcoming Strava segment will be.  Pro teams like Team Sky and others actually use it for scouting out all their stages during races.  That's in part because behind the scenes VeloViewer does a bunch of data validation of things like elevation data.
What's new here is the ability to actually see Kinomap videos for various Strava segments (even if you don't have Kinomap).  This means you would scout out Strava segments in VeloViewer as you might already do, but now there will be a new Kinomap tab that allows you to see video snippets from that exact Strava Segment.
But not only can look at those segments' videos, but you can ride them on your trainer using Kinomap.  Your results then show up within the Virtual Trainer category on Strava, similar to how it works with Zwift.
Meanwhile, back on VeloViewer, you can even add filters to find segments you've ridden already for which there are Kinomap videos already: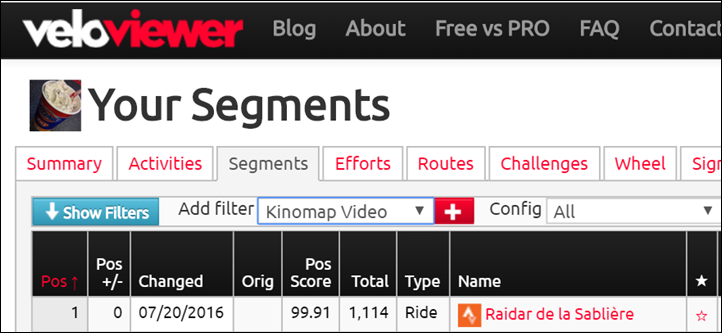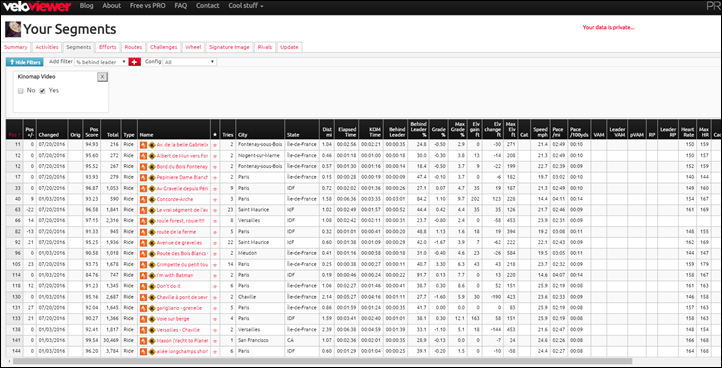 They're even going a step further with creating video playlists, so you can basically re-ride a bunch of Strava segments on your trainer based on a collection – all with videos.  They'll also curate playlists based on your past Segments, in a sense a recommended list like Netflix.
Finally, not only is this new Strava integration shown on VeloViewer, but you'll now get Strava Segment notifications directly in Kinomap (the app).  This will show you the Segment ahead of time, and then progress during the segment.  Right now they have about 92,250KM of videos in the platform, covering some 85 countries.
Note: If you want to see this working in real-time, here's a link to a Segment to checkout on VeloViewer.  Or this one.  This one even has music (then click on the 'Kinomap' tab)  I have over 353 segments in my VeloViewer account that have videos.  That's flippin' awesome.
Kinomap.TV: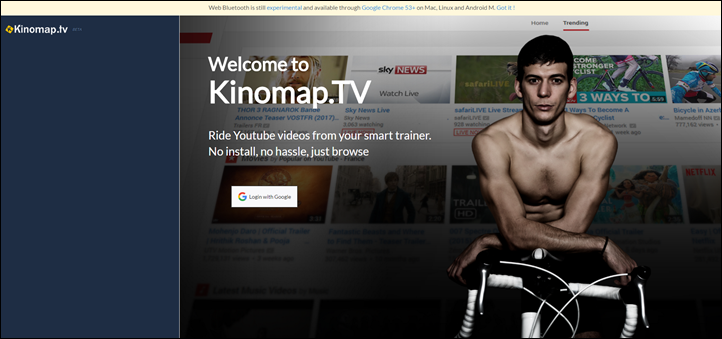 Next we've got something totally different from a tech standpoint, which is called Kinomap.TV.  What they're doing is enabling folks to use just a web browser to control trainers and sync it to video content (or not if you don't want to). This means no downloading of software to your computer.  All you need is a browser.
The way it works is that the browser connects with supported trainer brands directly, via GATT (a protocol) over Bluetooth Smart, which allows control of the trainer (assuming you give it permission of course).
At present, they're supporting the following trainers: Tacx, Elite, CycleOps, Wahoo Fitness.
But what does it do?  Well at present it's a bit of a demonstration concept, albeit a useful one.  It simply allows you to control your trainer while watching YouTube videos (such as a playlist) from a browser.  So one half of the browser is your YouTube videos, while the other half is the trainer detail/control.
But that's not really the true long-term intent here.  Instead, it's about large scale remote trainer control without any software being required.  The idea being that organizations – be it coaches, races, or teams (or whomever) – can organize events quickly without any sort of software installed.  They can include video content easily, as well as remote trainer control easily.  This means things like remote resistance control of participants.
Just sit back and think about that for a second.  Nobody really does that today.
And more importantly – the ability to not have to deal with software downloading of any sort.  You merely just send out a team indoor trainer ride link to your team/group via Facebook, and that's it.  That's all people have to do: Clink on the link, and they're now ready to roll at 7PM all watching the same video with resistance control for the group, all from their own homes without everyone troubleshooting whether they have the right software installed.
The same could even go for races, where you're watching the Giro live on TV, and the resistance will change according to the race leaders position on the course.  When they suffer, you suffer.
Both of these things are crazy cool.
Ignoring the team pieces for a second, today the way it works is that on the right side of the screen you'll see your speed/distance/HR/cadence in those little bubbles, while the left side you'll see other people in your group (and your equipment).  If you want to use a generic resistance change mode, those are the +/- buttons along the bottom.  And then you can just load up YouTube videos today as-is.  I actually spend a fair bit of time in ERG mode just watching YouTube videos, so this is great for me.
From a tech standpoint, the files afterwards sync to Google Fit (as this is a bit of a partnership with Google), but they also allow export as standard .TCX files, so you can upload that to Strava, Garmin, TrainingPeaks, or whatever platform you like.  They're also looking at other video platforms beyond YouTube as well.
Right now the company supports Mac, Linux, and Android M.  Windows support is slated to be finished no later than the end of the year.
ASO Virtual Race:
Later this month they'll be running a partnership with ASO (Amaury Sports Organization – owner of the Tour de France), around the L'Etape du Tour.  That massive event (L'Etape du Tour) is run each summer for regular people to ride.  This year it was from Megeve to Morzine, which is about 122KM.
What they did this summer was capture high quality footage during the actual race.  So with Kinomap you'll go and ride the course using the trainer app.  If you do so and complete the entire length between October 25th and Nov 10th you'll get some swag.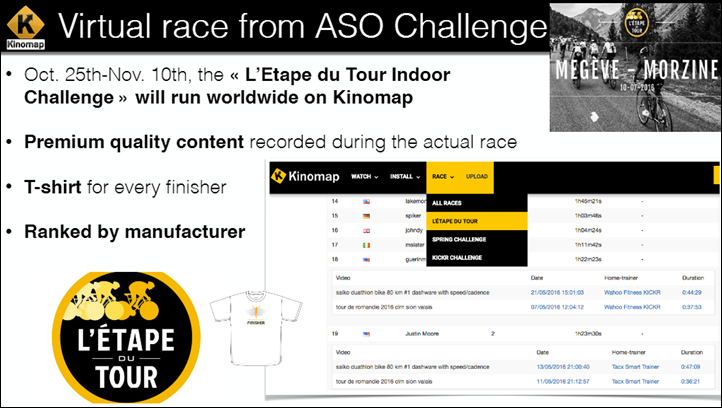 This is similar to what TrainerRoad has done in the past with the 8 Days of California, which was roughly like the Tour of California route.  Except instead of just getting a virtual badge (the opportunity for a t-shirt/water bottle), everyone that completes the Kinomap race will get a t-shirt from ASO around the L'ETape du Tour.  Free swag!
Finally for those curious on pricing in general for Kinomap – the platform costs $59/€59 a year, or 7.99/month (€ or $).
With that – thanks for reading!
—
So when's my trainer app comparison coming (that's different than the trainer comparison)? Later this month.  Got lots of apps to wrap up!