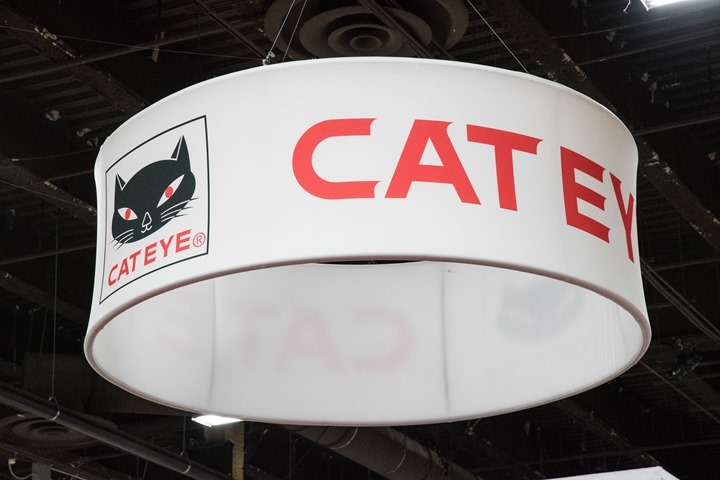 While at Interbike this week I found a new entrant in the power meter market: Cateye.
Well, kinda.
As in, kinda sorta maybe.
As you walked by the booth you'd have first noticed the 'Trust The Cat' slogan prominently displayed.  The company being well known in local bikes shops around the world for their budget bike computers.  I'm sure over the years, prior to GPS bike computers, I've bought numerous units.  More than I can count.  None of which I still have today (though, their Bluetooth Smart bike computer from a year or two ago was pretty cool).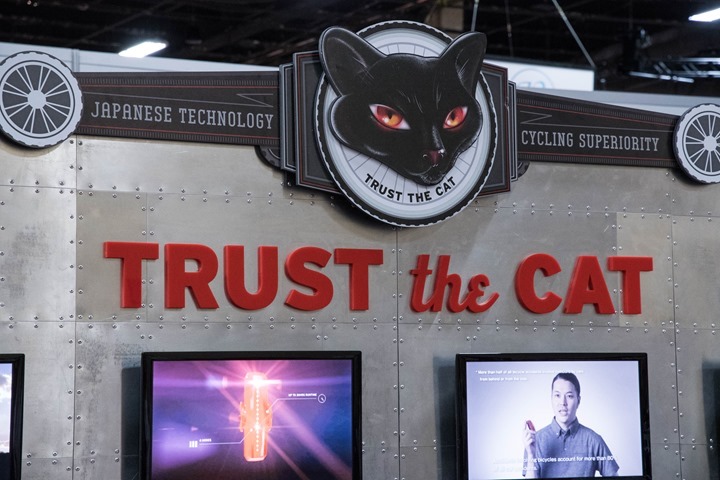 However, immediately after contemplating their new slogan, I found what I came here for: Some new power meters.
I'm always on the prowl for new sports tech at these shows, but especially new power meters.  And sure enough, here was a small stand off to the side of a few new units.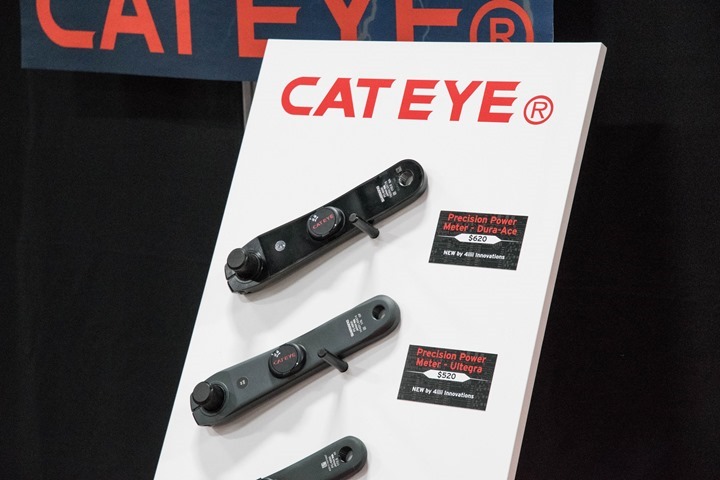 At first glance these appeared like other left-only power meter crank arms, such as Stages or 4iiii.
Err, wait a second, these really appear quite a bit like 4iiii's own power meters.  In fact, there's even a 4iiii logo next to them – noting that the technology is Precision by 4iiii.  4iiii of course has been shipping out power meters for about 16 months now, and has recently started offering a dual left/right option as well.  But these newfound Cateye units were left-only, virtually identical to that of the program introduced at Sea Otter by 4iiii to allow you to buy a crank arm with the unit already on it (vs sending your own crank arms in to 4iiii to get a power meter added to it).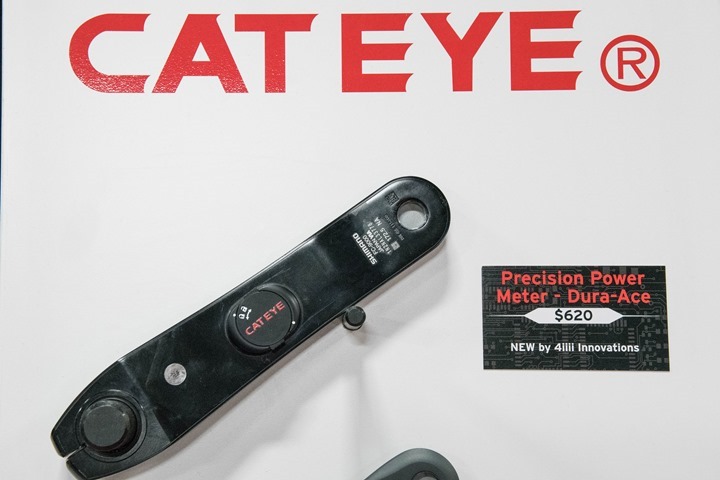 The only difference with these? These have the 4iiii logo scratched off the battery cover and have replaced it with a Cateye logo. Trust the Cat is disappointingly omitted as subtitled text.  Lost opportunities…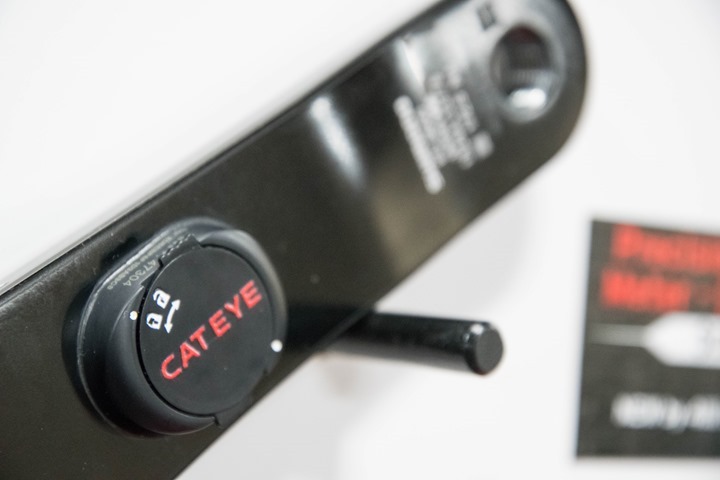 So now you're probably wondering what this new Cateye power meter will set you back.  The answer? $21 more than the 4iii units.  Here, I'll make this simple:
4iiii Shimano 105: $399USD
Cateye branded Shimano 105: $420USD
Let's try another:
4iiii Shimano Ultegra: $499USD
Cateye branded Ultegra: $520USD
Once more?
4iiii Shimano Dura-Ace: $599USD
Cateye branded Dura-Ace: $620USD
Hmm….
Now why would Cateye do this?  Or why would 4iiii agree to this?
Distribution.
Pure and simple distribution.
As anyone who has walked into a local bike shop in the US knows, Cateye is everywhere.  They're as prevalent in bike shops as lingerie in Victoria's Secret stores.  Just not as sexy.
But many consumers will walk into a bike shop and see a display offering a power meter for $420 – and at a price that will likely even get the install done for free (if the LBS is smart).  Compare that with 4iiii branded units, which probably aren't found in many local bike shops, plus, you'd still have to install it yourself.
In this way, 4iiii has significantly expanded their consumer reach, and thus in turn probably increased their sales figures.  Plus, it's probably more convenient for some folks (again, if the bike shop throws in the install).
As for the more informed consumer, you can save yourself $21 by just buying the 4iiii version.  Or, you can Trust The Cat.
Your choice…and more consumer choice is good, even if it's just a different wrapper.
—
With that – thanks for reading!  You can see all the Interbike news from this year here, and fear not – there's definitely more on the way!  Next up…new trainers!