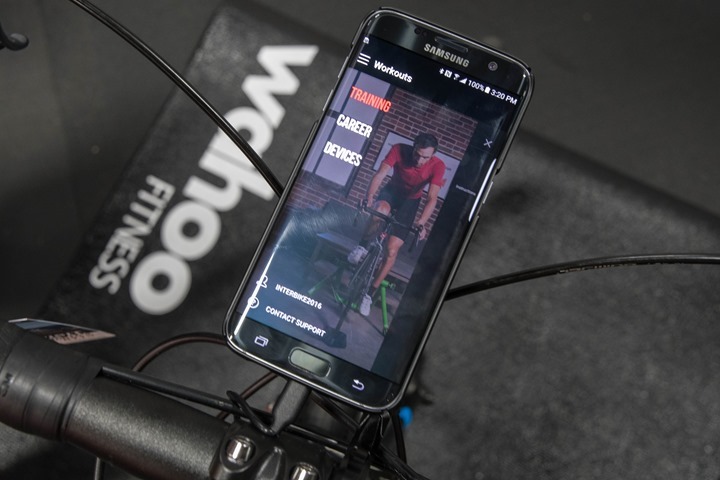 It's been a long time coming, but as of this very moment – TrainerRoad now has Android support.  Yup, you can wander on over and download the app and be off to the races with your favorite Android phone.
While at Interbike last week I got a bit of a tour of the new app, so I figure we'll walk through that.  Oh, and I got to see their latest handlebar DIY creation.  Like past TrainerRoad handlebar DIY creations, you might not even notice this one until I point it out.
The New App: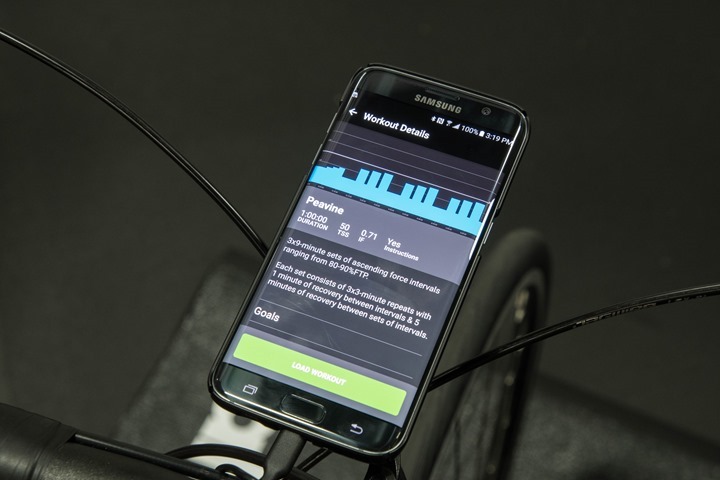 With Android now out the door, this completes the lineup of TrainerRoad apps on major platforms: Android, iOS, Windows, and Mac.  More importantly though, the company sees it as the last final hurdle to having a cohesive app story moving forward in terms of adding new features.  Essentially, they devoted resources to this, rather than recent major new features on other platforms.
This new app version is supported on most Android devices as long as they are running Android 5 Lollipop or higher.  The company considers this a beta release, which initially supports the following features:
– Completing TrainerRoad workouts (duh)
– Support for Bluetooth Smart, ANT+, and ANT+ FE-C
– Support for Virtual Power (no power meter required)
– Support for Power Match (ability to control trainer using secondary power meter)
Because the majority of Android phones do support ANT+ FE-C (unlike iOS devices), the company is able to support this and other ANT+ devices natively on their app.  The app will automatically take care of downloading any extra required ANT+ components for you.  For those handful of current generation phones that do not support ANT+ natively, you can use an ANT+ USB stick through an adapter pretty easily.
The company supports the following devices today:
– Power meters (ANT+/BLE)
– Smart Trainers (ANT+/BLE)
– Speed/Cadence sensors (ANT+/BLE)
– Heart-rate sensors  (ANT+/BLE)
Note that the upcoming Kinetic Smart Control trainers are not supported at this time.  They will support it down the road, but they don't have a specific timeframe for doing so.
Once in a workout you'll get all the same stats and goodness as before.  For example, you can see below the ability to get the textual updates for when workouts have additional instructions (like HTFU).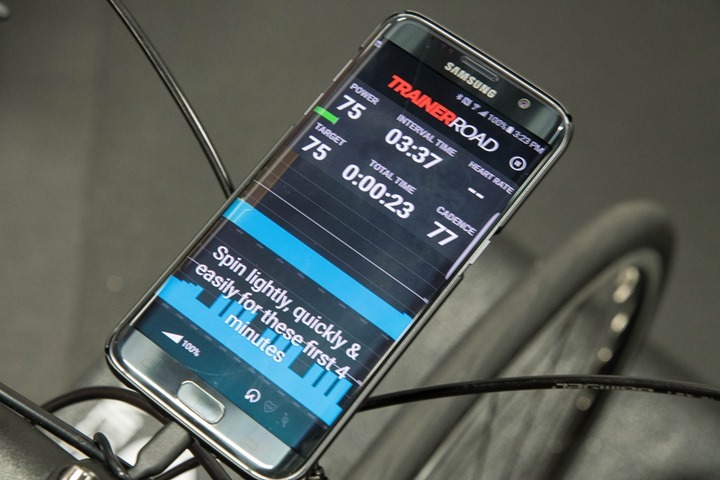 The same goes for increasing workout intensity with just a touch of the button along the bottom.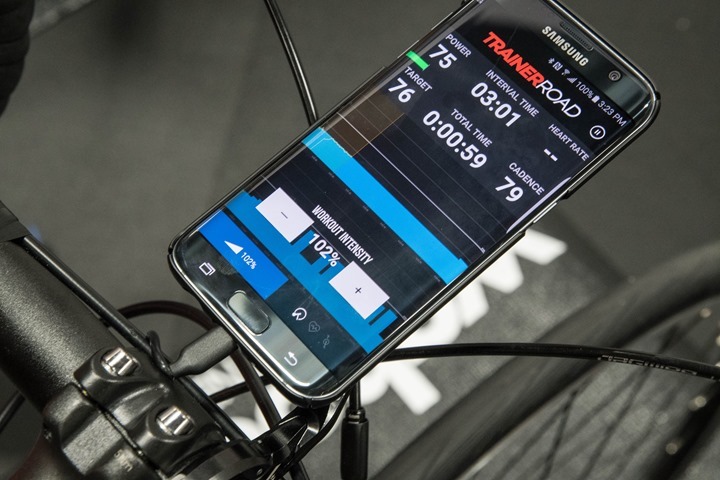 However, there are some features that are still upcoming (but exist on their other platforms) they include:
– Searching for and following training plans
– Filtering workouts by power zone, duration, and intensity
– Additional training progress charts
There's also an 'and more' line that should go up there to, but it's pretty open-ended, as one might expect.  In any case, all of this is available as of now, for which you can go forth and download here!
Oh, That Water Bottle Charger: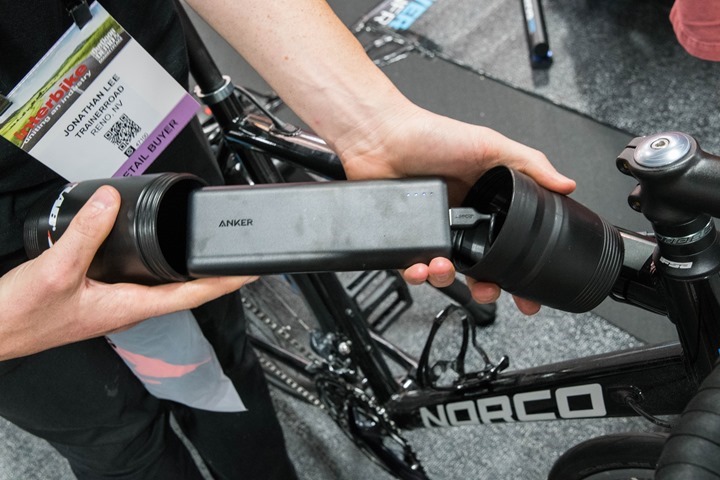 Yes, hidden away on the frame was a water bottle charger for that phone.  Scroll back up and you'll have realized that the phone was actually plugged in the entire time, yet the cable looked near exactly like the shifting cables.  Not to mention the clean mounting of the unit itself.  This is perfect for when you want to have your phone on the bars but still keep it charged up.  Perhaps a workout at the end of a long day with a low battery.
Now this is basically just a take on their prior DIY handlebar project that glues a Garmin quarter-turn mount (by SRAM no less) to the bottom of a phone case.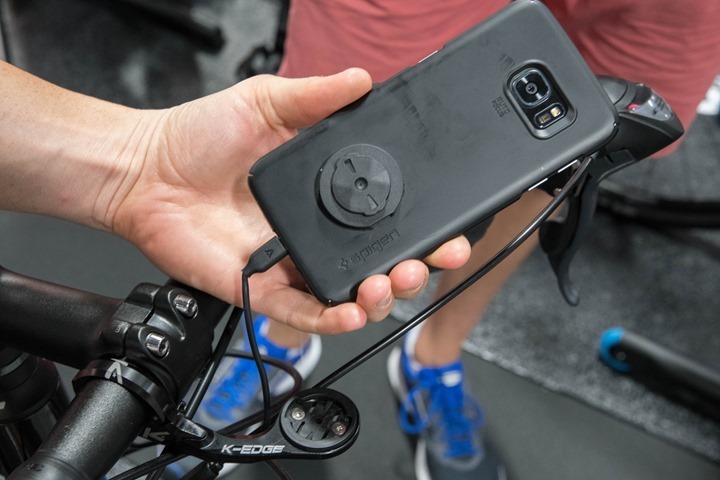 Except next you'll notice they've taken a black USB cable and gracefully slid it along the frame down to a water bottle that holds a battery.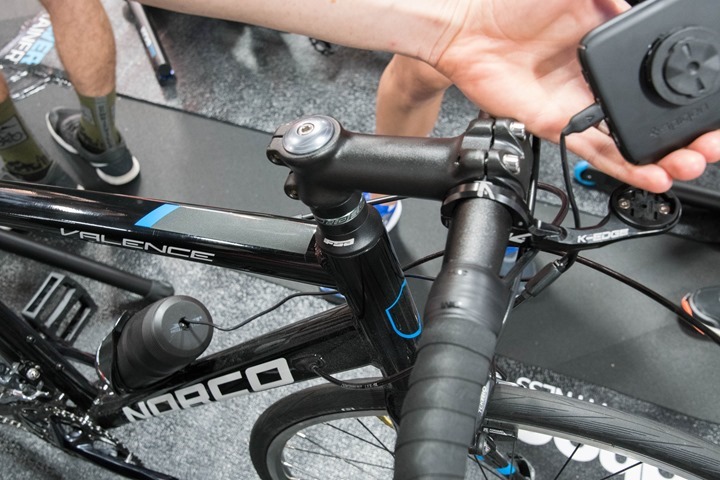 See, here's the waterbottle.  Well, technically it's not actually a water bottle, but rather one of XLAB's toolkit bottles (I use a shorter version myself).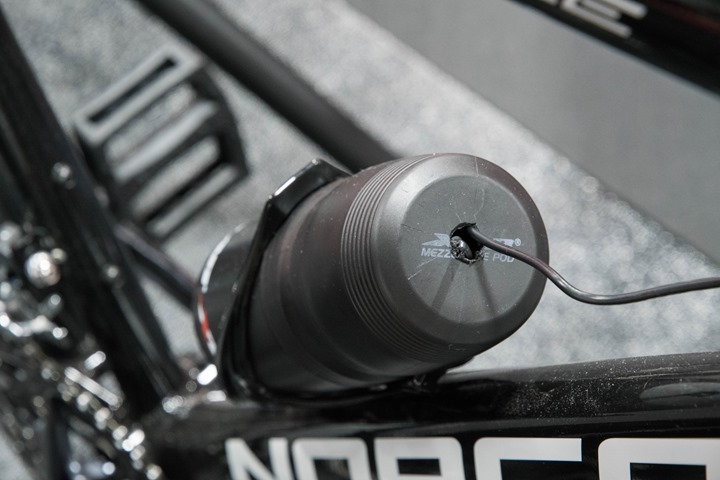 Then inside they've got an Anker USB battery pack.  This particular 16,750mAh battery pack is most definitely overkill for charging the phone.  It's like bringing a blowtorch to light a single birthday candle.  But hey…you can never be too prepared for a multi-day power outage, right?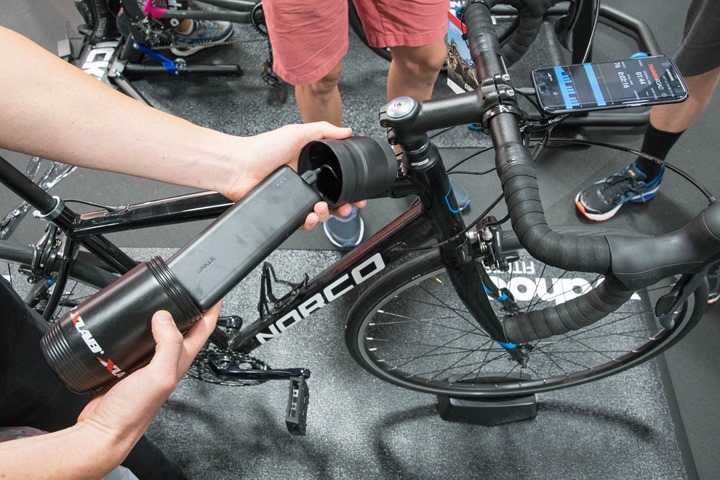 They've got instructions up on their site for making the handlebar mount for your phone, but basically you'll buy the SRAM part below and just saw/grind off the back. Then grab some epoxy and plunk it on the case.  It's not rocket science.
Here's the parts:
– SRAM quarter-turn adapter for Garmin mounts
– Epoxy
– Phone case of your choice
– K-Edge Mount (but any Garmin mount will work fine)
And here's the parts for making your own DIY Water Bottle Charger:
– Anker Portable USB charger (almost any portable USB charger will do)
– XLab Mezzo Bottle
Of course, you don't need that fancy water bottle.  Seriously, any crappy water bottle lying around your house will do just fine.  And again, here's their guide for how to do the DIY handlebar mount project.
A Podcast Appearance: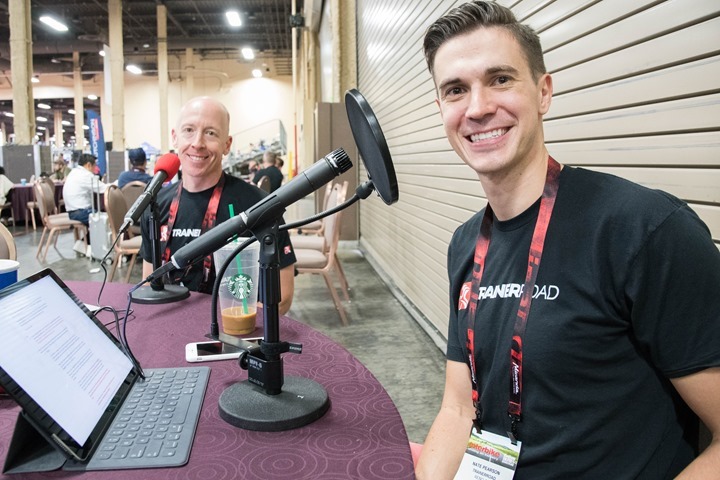 Oh, and finally, I had a few minutes while I was at Interbike to jump on their 'Ask a Cycling Coach' podcast to talk about all sorts of trainer stuff, training stuff, and just general life stuff.  About an hours worth of fun.  Go forth and give it a listen here as Episode 56 (it should show up no later than 12PM US Pacific time, 3PM US Eastern Time, or 9PM CET).
With that – thanks for reading!