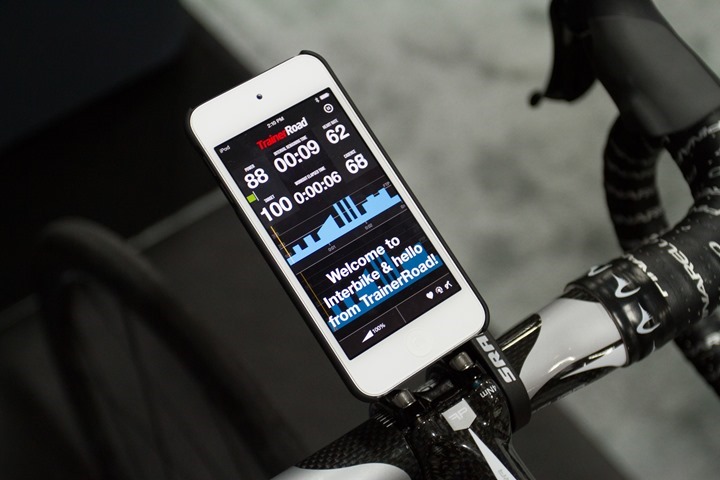 To begin, for those unfamiliar with TrainerRoad, it's a training platform that has developed a bit of a cult-like following over the past two or so years since they came on the scene.  The platform (PC/Mac) works by having a large database of workout libraries that are based on power output.  This power output can be measured by power meters as well as higher end trainers like most apps, but what separates TrainerRoad from many of the rest is their ability to do a 'Virtual Power' estimation using a boatload of lower end (normal) trainers.  They also support both ANT+ and Bluetooth Smart devices, so you can get heart rate, cadence, etc… in there as well.  When you complete workouts, your stats are automatically uploaded to an online service where you can view your workout 'career' and export as well.
The challenge with TrainerRoad has always been platform support though.  It required you have a PC or Mac nearby within range of your bike trainer setup.  For some with elaborate pain cave setups that wasn't too much of an issue.  For others the laptop always teetered nearby on some tower of creativity power (two sketchy leftover FedEx boxes on top of a three-legged stool next to your handlebars).  But many have been begging for a more mobile-focused solution like tablet or phone driven, which are typically easier to handle/mount.
Back in August TrainerRoad (finally) announced they were going to open up beta shortly to allow users to start testing out their iOS app.  Starting yesterday the company began slowly opening the doors to a small subset of those beta users.  I had a chance yesterday to sit down with the guys and get a quick walk through of things.
To begin, the app runs on iPad 2 and higher, and iPhone 4S and higher.  When you open up the app you'll have a bit of a dashboard that shows you the main sections that you're familiar with on TrainerRoad – Training, Career and Devices.  You'll also notice in the bottom left your profile icon and username displayed upon signing in.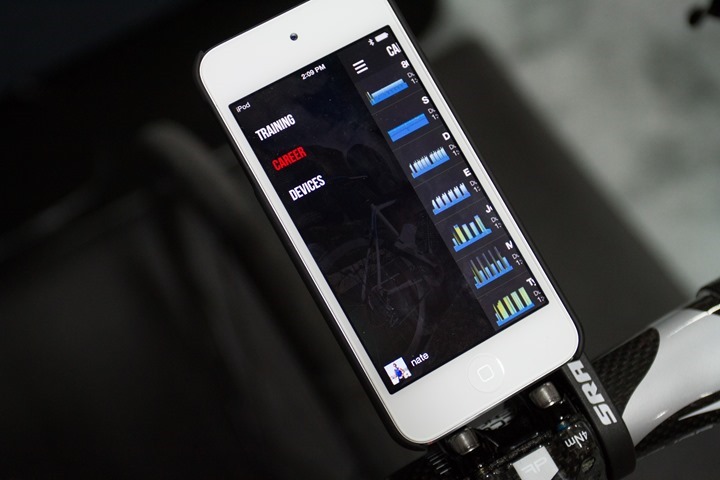 Starting with devices, this is where you can pair both Bluetooth Smart and ANT+ devices.  Pairing ANT+ devices will require either the Wahoo Fitness ANT+ adapter, or soon, the Wahoo TICKR HR strap to pass through that data as a bridge.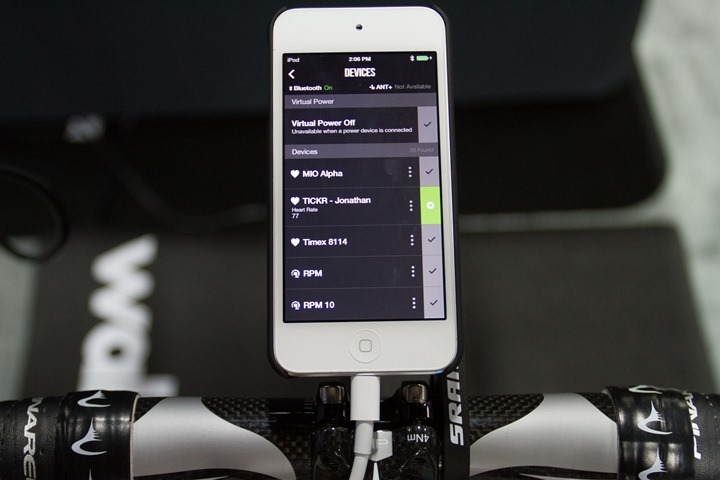 The iOS app allows you to save a ton of sensors and devices.  This is useful if you move between locales with your bike and phone and perhaps use different trainers (or even different bikes with different sensors).  You can assign names to sensors as well, making it easy to keep track of them.
They'll support most of the same devices as on the PC/Mac, but as it stands today there are some limitations with respect to things like the CompuTrainer – since that requires physical cables (but more on changes with CompuTrainer in another post…).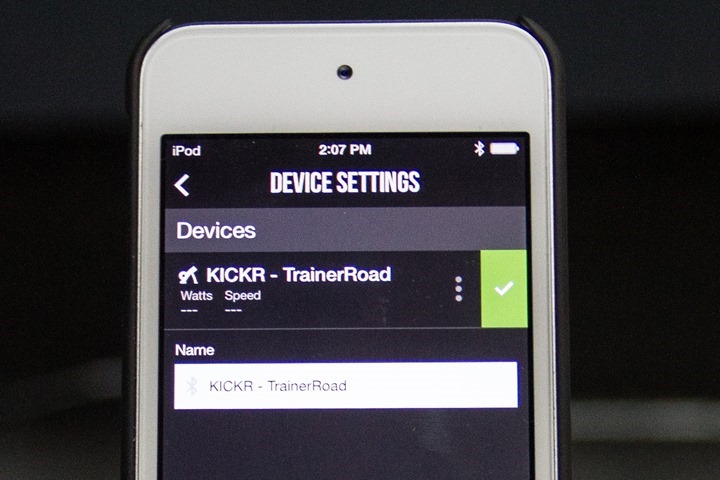 Next, moving into the Workout area it'll go ahead and enumerate the same workout listing from online.  These are all the pre-configured workouts that are available as normal.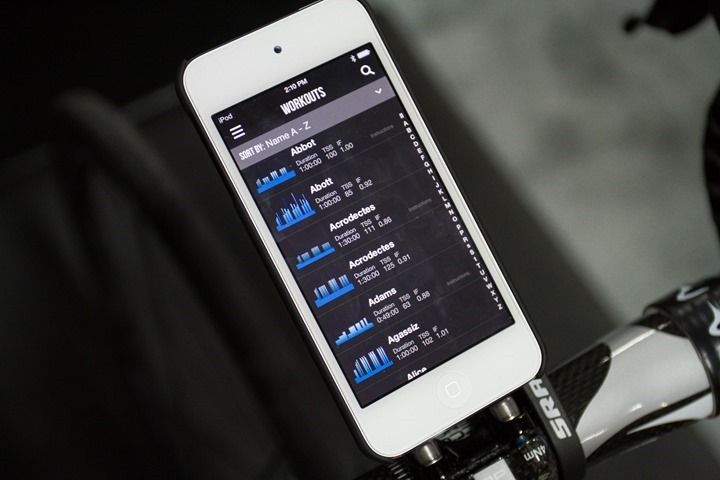 They've added some cool filtering options though to make it a bit easier to find what you want within the listing of them.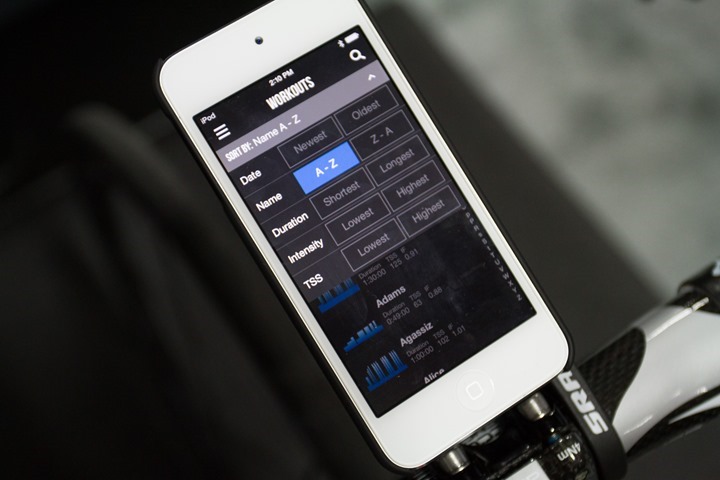 Next we'll go ahead and start a workout.  You'll get all the metrics you normally would on your desktop.  So you'll see heart rate, power, cadence, time, as well as the time left within the workout segment.  Down below you have the usual workout structure illustrated (aka where things hurt).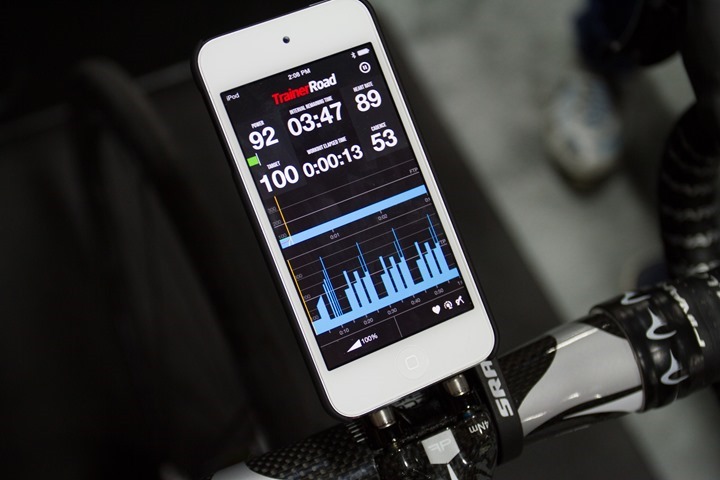 They're also supporting the text-driven messages for what will be 30 workout training plans.  These messages come from the training plans and are designed to assist you through a workout.  Right now they've completed the instructional text guidance pieces on 29 training plans, and have one training plan remaining.  This is already seen on the desktop app as well.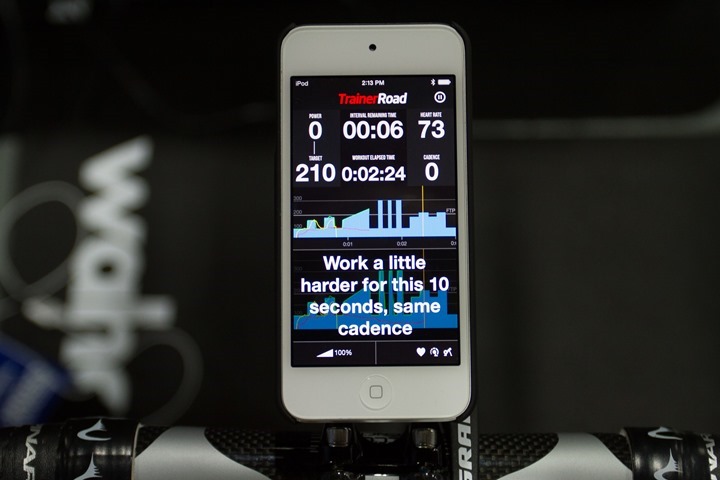 You can adjust workout intensity as with the desktop app.  This helps to make it possible to complete a workout (or make it harder) if the intensity isn't matching your athletic performance capabilities that day.
Once you've completed a workout you can go ahead and add some notes to it prior to saving it where it then uploads to your online account: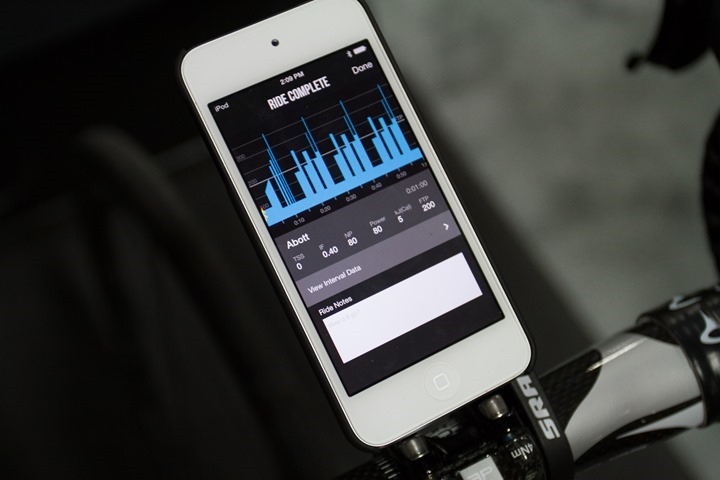 Lastly, within the final section – Career – you can scroll through and see your past history and workouts that were completed there.  You can also click on a workout to see more detail about it.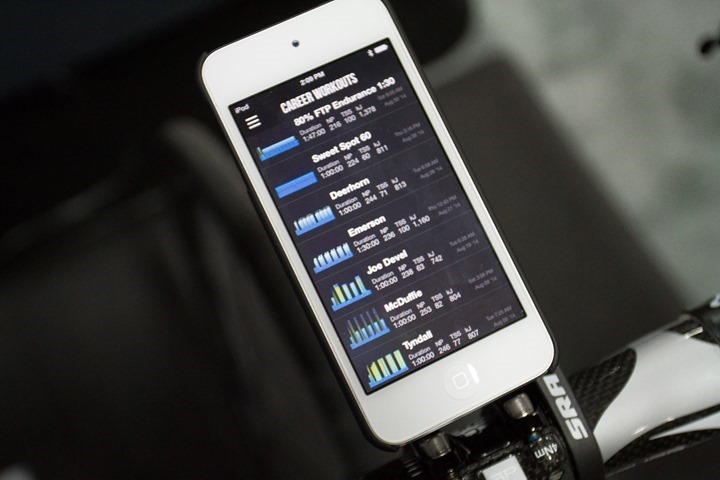 Note that the app does support Airplay mirroring (so you can send it to something like Apple TV for a big screen view).
Now before we get to one last thing, their current plan for release is defined as "As soon as it's ready".  So they don't have a specific timeframe on it, but one has to hope we'll see it before the holidays (well, that's my hope anyway).  Historically speaking Trainer Road has often been pretty open with their beta programs.  For this they've opened it up to a smaller group than usual (though did so via social media), but I've gotta think down the road once they work out the bugs with the smaller group they'll probably make it more accessible to those that don't mind a bit of testing.  As for an Android version, it's on their radar, but they don't have a timeline there either.
Also, there are no additional fees for the iOS app usage, it's all part of your usual monthly (or annual subscription) fee.
Lastly, you may have noticed that the iPhone was mounted to a standard Garmin quarter-turn mount.  In this case, it was a SRAM mount, but it could have just as easily been your regular Garmin mount or any other 3rd party mount like BarFly or K-Edge.
I thought the solution looked pretty clean and was curious about it.  Turns out, they made it DIY-style.  They simply took a cheap iPhone case and then created a quarter-turn mount compatible with it and then glued it on the back.  The mount design wouldn't really be recommended for outdoor riding (rain/bumps/etc…), but is more than perfect for indoor riding.  You could just pop your phone into that case when doing a trainer ride and go from there.
They were curious if there is any interest if they simply sold the little mount adapter piece (the portion stuck onto the iPhone case), along with the glue/epoxy.  You'd supply your own case to attach it to, as well as your own mount (which you likely have anyway).  They're undecided on a price (or interest level) – thus, they are keen for your feedback there.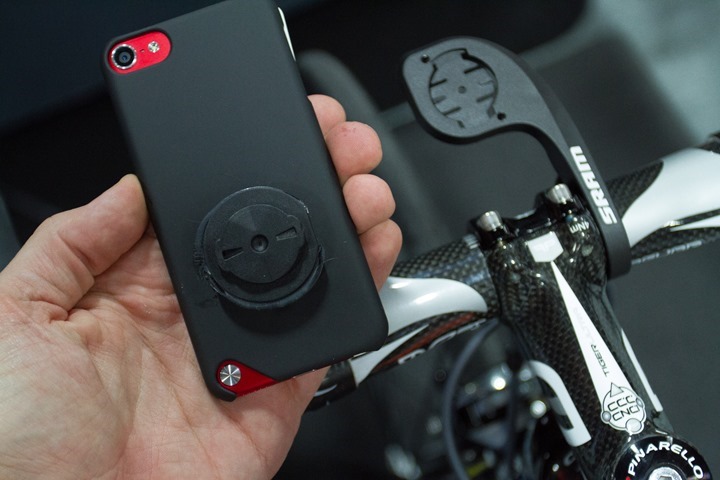 I think it's a pretty sweet little idea and much cleaner looking than some of the other iPhone bike mount solutions, especially for those of us who wouldn't normally want their phone mounted on their bike outdoors.
—
With that, thanks for reading!  If you're looking to burn a bit of time, here's all my Interbike 2014 posts packed full of sports technology items.