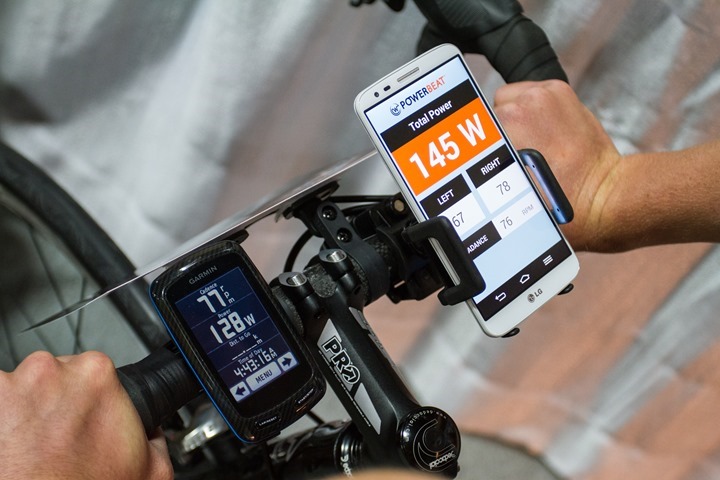 Last week while at Interbike I got to not only check out, but actually install, the much talked about $499 PowerBeat system on my bike to take it for a short test ride.  This proved useful in getting a first hand look at the installation process as well as how the accuracy is looking.
Of course, keep in mind that the system is an early prototype system.  Which means that things that go great can falter later, and things that are troublesome now can be perfect at release – which is planned for 9 months from now.  While the tests were short (and the system was removed from my bike afterwards), they did still prove useful in being a small window into the development progress of their product.
Installation: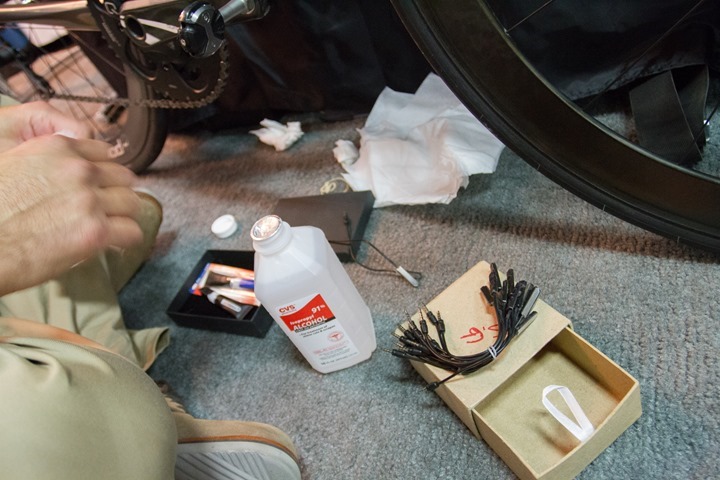 To begin, we wiped down a bit of my crank arms with some alcohol to clean things up.  Nothing fancy as you can see.  Speaking of the crank arms, for the sake of the heck of it, they were 'diverse'.  On the drive side (right) it was carbon, whereas the non-drive side (left) was aluminum.  This was simply because the non-drive had a Stages Power crank arm on it, and thus the current aluminum requirement.  The Watteam guys found this kinda neat as it allowed them to demonstrate how the system works on either material, which can be a challenge for some power meters.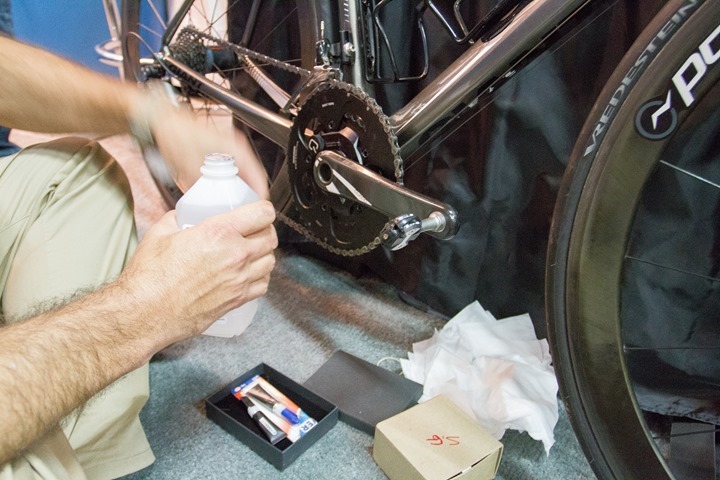 On the bike for the initial evening we'd be installing the small strain gauge sensor portion, which is the piece that is glued on.  Here's a small collection of them.  One is needed per crank arm.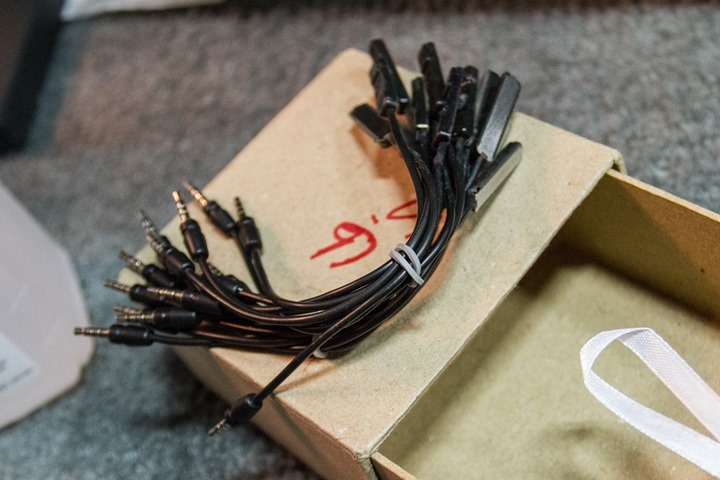 They're still working out what the final consumer installation process will look like, but for now they have this fancy ruler with a hole in it to align the exact install location.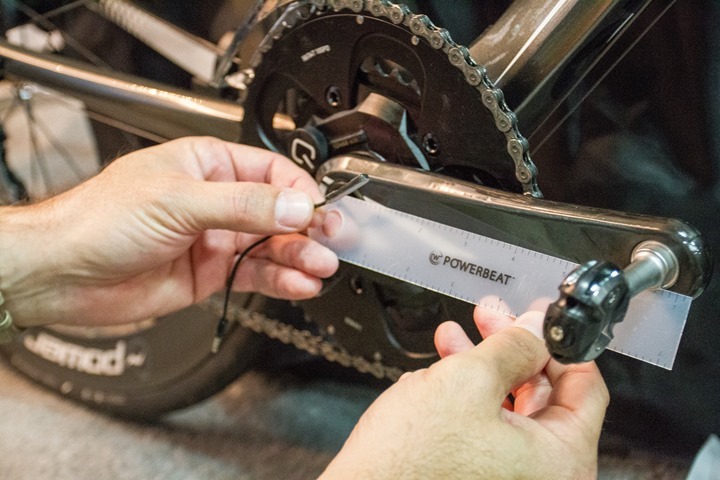 Next, was applying glue to the sensor. I'm told it's simply super glue.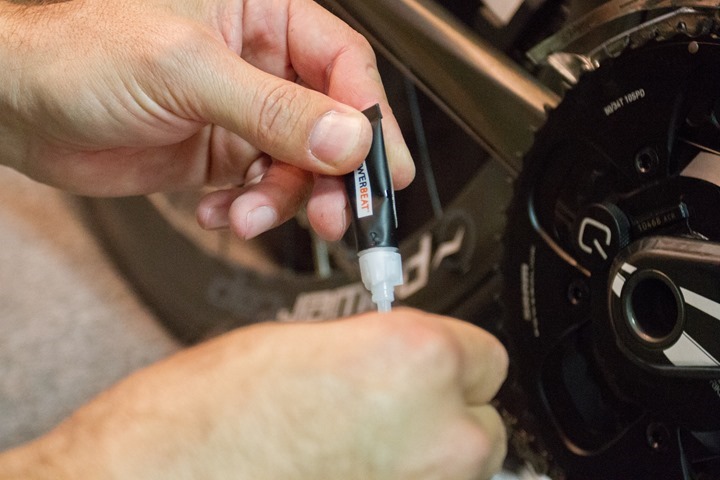 Next, the sensor is placed on the crank arm in the specified location.  There was no sanding or alteration to the crank arm itself.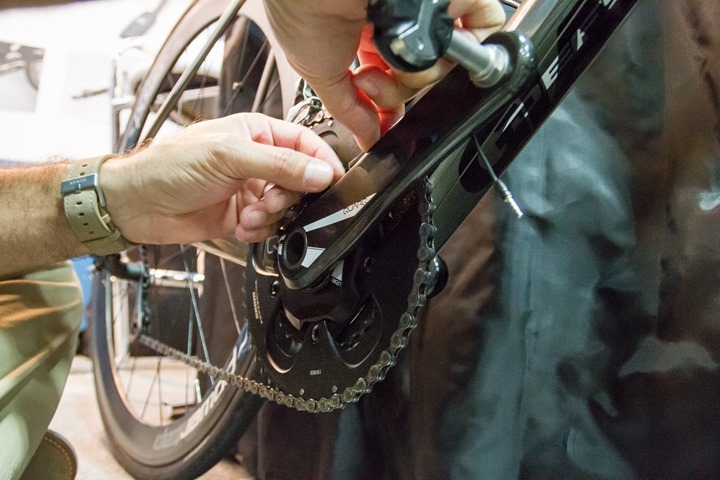 Next, the sensor was held on for about 20 seconds to let the glue initially set before letting go.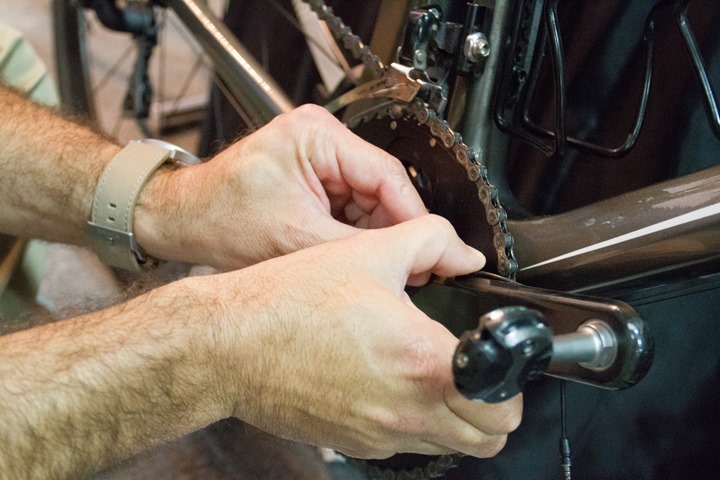 Now for reasons that weren't clear to them or me, this particular crank arm ended up being a bit finicky for the glue to set.  Super glue simply wasn't staying glued initially.  It took a few go's and re-cleanings and then it set and stayed put.  They noted they've done tons of cranks, including these exact ones before without issue previously.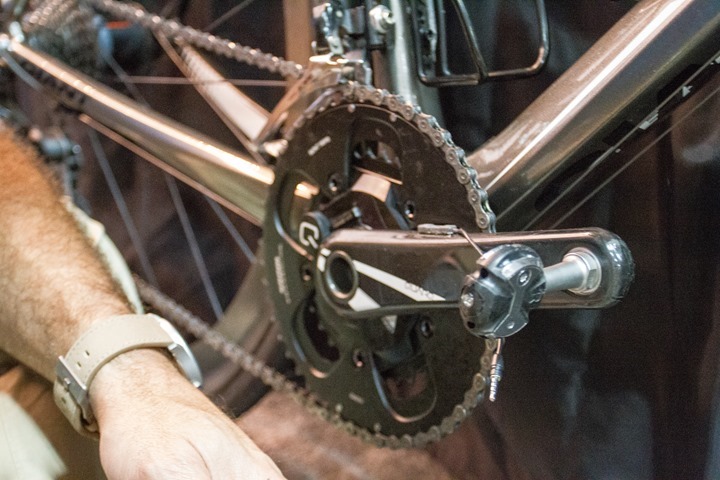 With the drive side down we flipped the bike around and did the other side.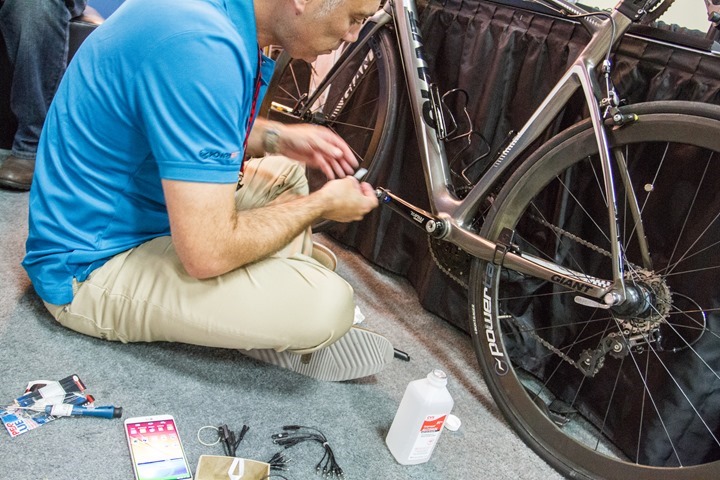 This side went on instantly without issue.  A small bead of glue was added along the edge of the sensor  as well.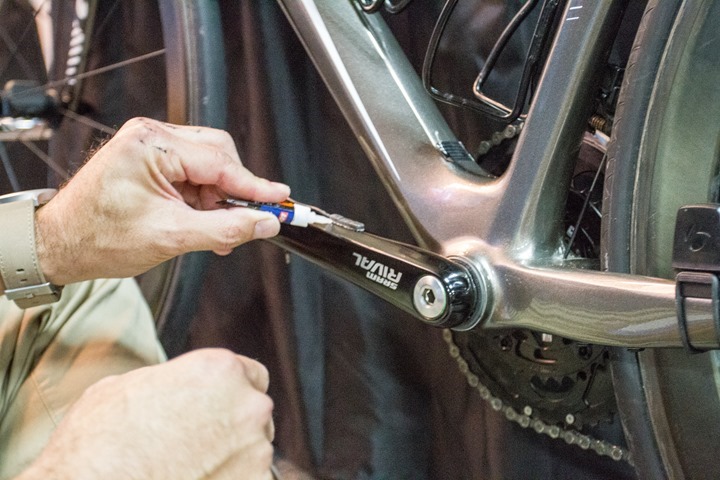 Lastly, before we wrapped up for the night to let the glue harden, we quickly validated the sensor measured something (anything really).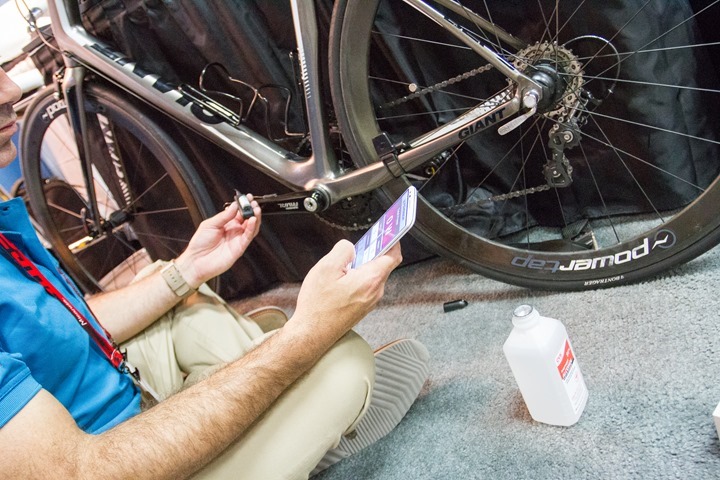 It did without issue, next, let's talk about calibration/configuration.
Calibration/Configuration:
Before we let the glue set and did the calibration they brought out their phone app to validate a few things.  This demo/utility app enabled the ability to turn on strain gauge display, the zero set, as well as the angle of the crank itself (plus cadence, left/right power, and total power up top).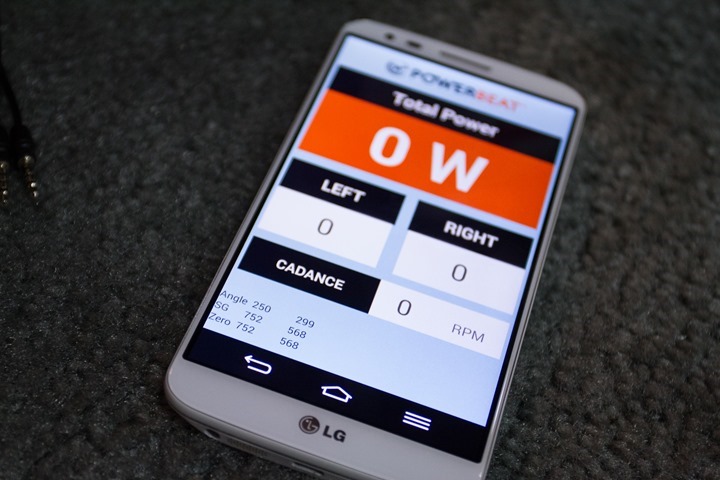 To demonstrate the sensitivity of the platform, they went ahead and simply placed their finger on the pedal, which immediately made the strain gauges jump (seen in next photo below this).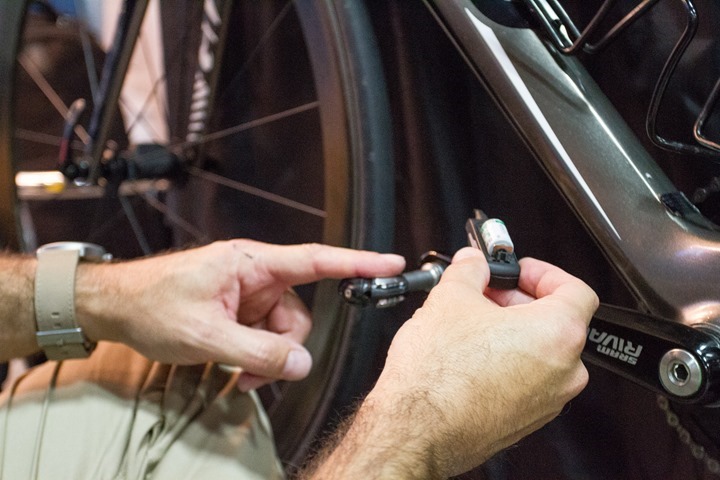 You can see that the SG value on the left went from 752 to 763 (the zero value).  Note however that wattage didn't increase because there was no movement factor (cadence).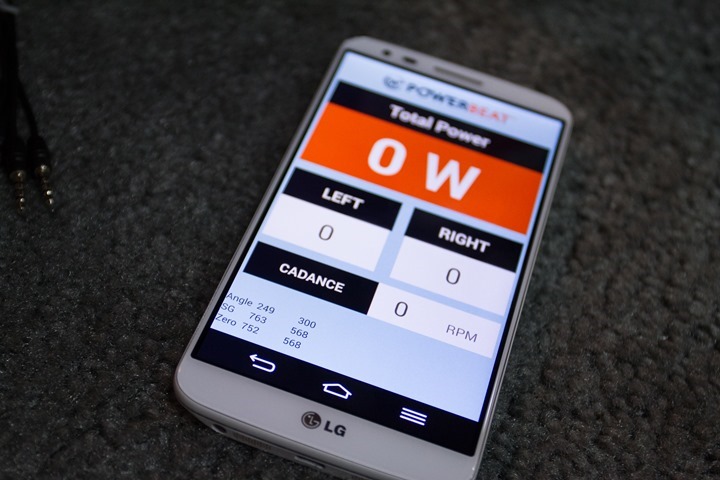 Of course, this is a very basic test that any power meter company could demonstrate.  It's the chef's equivalent of boiling a pot of water.  But, it does at least show the sensitivity of the system, since it was not calibrated yet at this particular point.
Next, was the calibration piece.  Calibration wasn't done until the next day, after the glue had set.  They did this prior to my secondary arrival however, but did outline the two step process:
1) They aligned the cranks level to the crank (3 o'clock/9 o'clock position)
2) They then added a known weight hanging off the pedal (on each side)
The app then took those values and determined the calibration values of each crank arm, which was used for the remainder of the test.
Note that for this piece they did not use the water weight approach, but rather a static known weight.  I suppose that while I would have preferred them to use the planned water approach, that is some 9 months away from release so it's somewhat acceptable for that piece to still be in flux.
Also note that the glue did harden for a total of 24 hours, per their guidelines.
Two Brief Tests:
Next, comes some tests.  While I would have loved to go outdoors with the tests and wander for a ride, there were a few factors that made that challenging.  First was that they were concerned if there was a crash that they'd lose one of the few current generation prototype transmitter pods they had (personally, I would have been more concerned about my body in a crash, but…I understand).  Second, and perhaps more importantly was that the unit isn't yet enabled with ANT+ or Bluetooth Smart for regular capture transmission.  This means that it would have been incredibly difficult (actually, impossible), for me to gather the data outdoors in a way that I could normalize and compare against other power meters.
In fact, I'll give the Watteam guys credit in that in less than 24 hours between my initial arrival and me mounting the bike they came up with a laptop based solution to export out the data into a CSV file that I could compare with at 1-second rates.  The challenge was previously they only had recorded data at a much higher rate, based on stroke position – which isn't something I could compare with any other power meter (like apples to watermelons).
As for the test, it was indoors on a trainer after the show had closed for the day.  The test was a wee bit shorter than I would have preferred, but unfortunately due to some initial delays the timing then conflicted with other meetings I had – so this will have to do for now.  I think it still gives a good picture.
For the test I had my own bike with all of my own power meters.  I had a Quarq Riken, PowerTap G3, and Stages Power (all units I owned).  I also had Brim Brothers on there (loan in test).  Plus of course the PowerBeat we had installed the night before.  This was all on a generic magnetic trainer that I could control resistance via a little lever or just changing gears.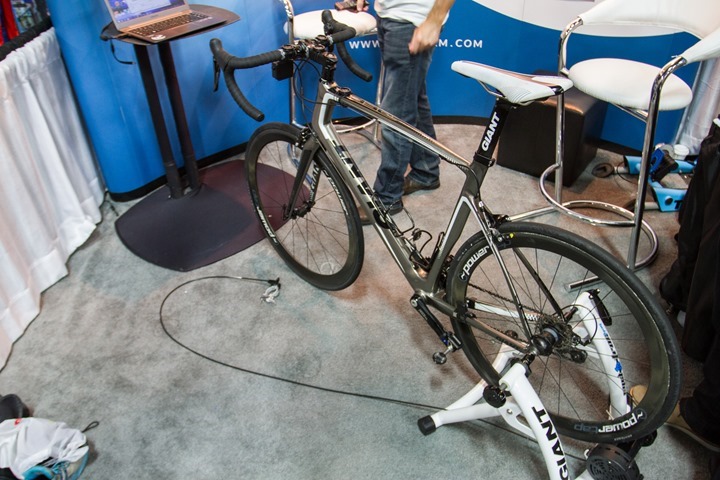 All the ANT+ data except the PowerBeat was recorded concurrently via an NPE WASP unit and also to a barrage of Garmin Edge units serving as a backup.
For the test I basically just started off relatively easily and then continued increasing resistance.  I then did some higher intensity sprints (closing in on about 800w), as well as did some higher cadence work (about 160RPM).  Essentially just a mix of different wattages and cadences.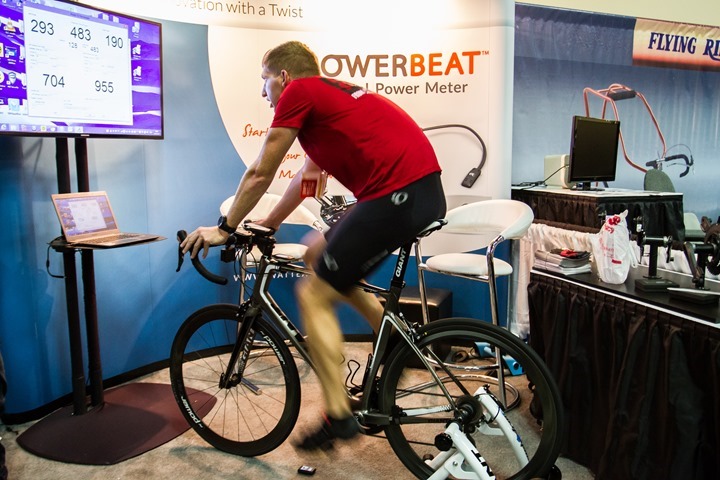 After the test I received a .CSV file of the data from them.  Because I couldn't control that data aspect, I can't be 100% sure it wasn't tweaked in any way.  But they didn't have any recording of the baseline numbers (only I had that), so the only tweaking they could have done would be to remove random spikes/drops – though I didn't see any during the test itself.
Now, because of the different recording rates there's bound to be some slight differences in the data from a timeline standpoint.  This is because they're recorded on different devices (and at different rates), so don't worry about the fact that one might appear a second or two delayed (or fast) at various times.  I do want to thank power guru Dan Connelly, who helped re-align some of the data from the PowerBeat from a mathematical standpoint to refactor the different recording rates…all during the middle of his vacation.
For these graphs, I've gone with just the Powertap number versus the PowerBeat. I did that because comparing against Stages wouldn't really be super useful from an accuracy standpoint (due to being left-only), and while the Quarq data would have been ideal, it was running into some sort of transmission interference in the booth – causing drops I've never seen before (or since).
In any case, here's how things compared on what is a beta/prototype unit some nine or so months prior to release:

As you can see, it generally trended well in terms of going up when everyone else went up, and down when everyone else went down.  Here's a 10-second smoothed version: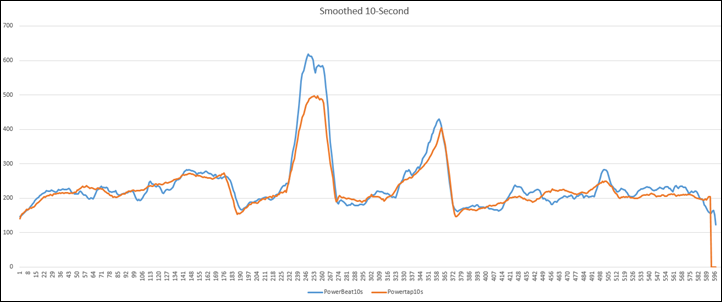 Of course, you can also see it was reading a fair bit higher.  This was something I noticed during the test as well, primarily in the higher wattage areas where I saw some 1,000w+ numbers flash by at points on the screen (beyond my capabilities, as I usually max out just below 1,000w), though I didn't see data points recorded with that – which may just be a results of down-sampling the higher resolution data to 1-second.
Below is a max power graph plotted over time that Dan put together, showing the max power allocations for different periods.  Do note that since this was a short ride (10 minutes) that fatigue didn't really set in for me, hence why the Stages is so close despite being left-only.  Whereas when these graphs are produced for longer/harder rides, I tend to see more variation with Stages being left-only as my left-leg fatigues slightly differently.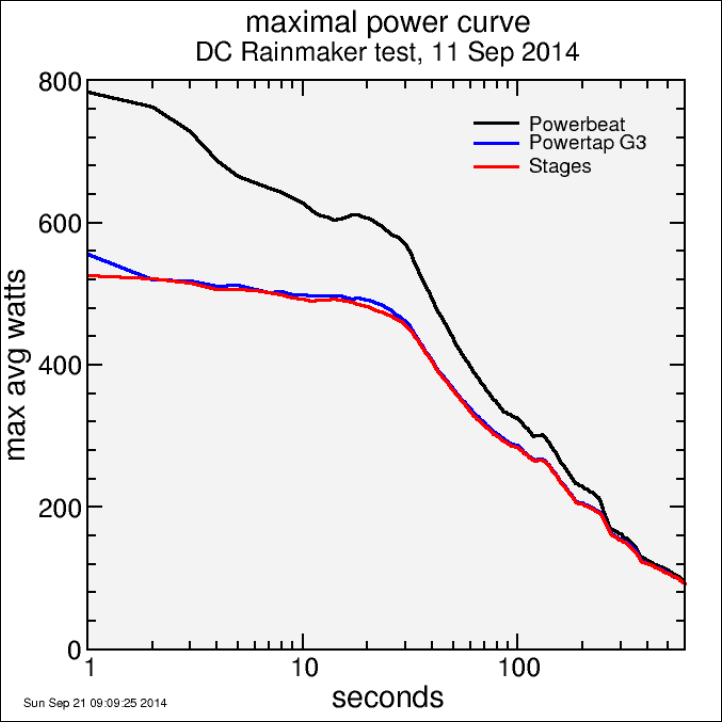 From an overall power standpoint the key here is that it wasn't randomly higher or lower than everyone else at different points.  It also didn't have any unexpected spikes or dropouts.  Thus, it's more than likely more of an offset/calibration item at this point than poor readings.  Also of interest here is that the unit was actually reading on one carbon crank (right), and one aluminum crank (left).
Looking at cadence, here's how things compared:

As you can see, there things are pretty good.  No specific complaints across a wide range of cadences (~60RPM to 160RPM).  You're seeing some slight shifts there just due to trying to align different recording rates and devices together.
Overall, for where they are in the project, I'd say things look promising.  But do keep in mind this is indoors, on a trainer, for 10 minutes.  It is effectively the easiest possible test compared to outdoors, in a winter of rain and fluctuating temperatures, on the cobblestones.  Still, it's promising.
Finally, after we were done with the test, they removed the unit without any issues from my crank.  There were no visible markings from the removal (beyond minor scratches I already had on there prior to giving it to them).
Early thoughts: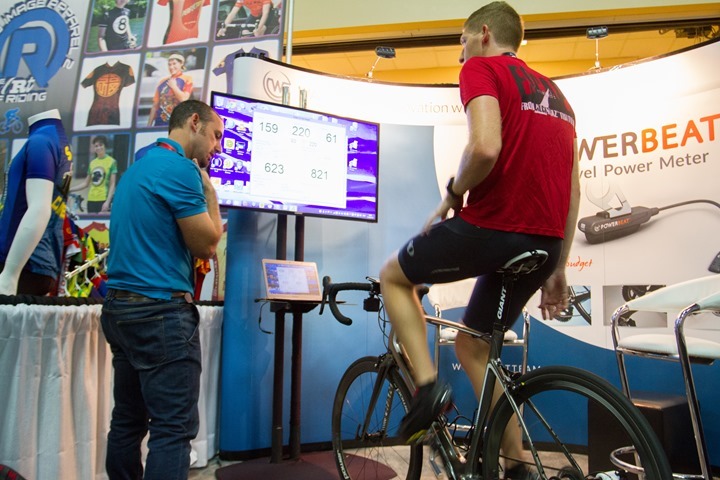 Again, It's important to remember this unit is targeted for next summer.  As such, this is really just a snippet of their development window.  Things could be better…or worse, at the end-state product.  Still, things do look like they're headed in the right direction.  It appears at least initially that they're on the right path when it comes to measurement of torque on both carbon and aluminum cranks (since I was split across both), as well as the cadence aspects.
The pieces that I think they'll need to focus on the most will be the installation components.  For example – how well does the glue hold up in the rain long term?  Also, what exactly will the final attachment cabling situation look like?  As it stands now I could easily see that getting ripped off when trying to clip-in.  Again though, there are certainly ways around that longer term such as a sleeve or potentially different placement of the sensor component.  I'll give them the benefit of the doubt on both.
Yet, with that, keep in mind that as I often say – I wouldn't base your immediate power meter purchasing decisions based on products more than a handful of months out from release.  That's just far too out for this market segment, and too many things can go wrong in that development timeframe.  I'll dive into my full set of recommendations mid-next week for power meters as part of my '2014 Power Meter Recommendations Guide' – so stay tuned there.  Nonetheless, it's still an exciting time in power meter development and consumer choice.
Thanks for reading!