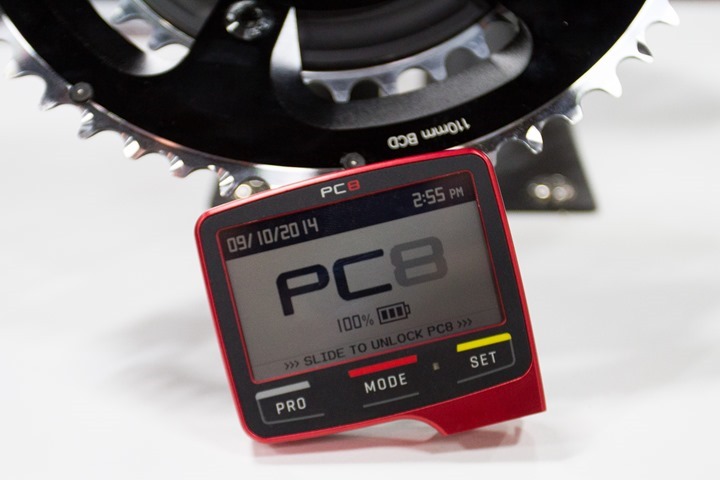 While at Interbike I sat down with the SRM crew that's working on their updated PC8 head unit.  While our discussions started there, they roamed to areas such as the iOS app, rechargeable power meters and the general trends around power meter price point.
First up, the PC8.  As I noted a few weeks ago at Eurobike, the current schedule has this slated for December (2014) availability.  At the same time, the iOS app would be made available.  Thankfully, all of the features noted last year have been retained, so nothing was cut along the way.  There is one PC7 item not in the PC8 that I'll cover in a moment though, which will primarily affect track users.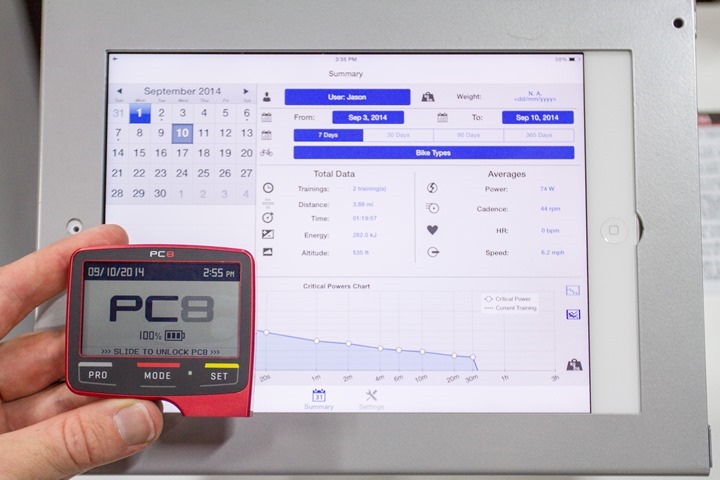 Interestingly, we had a bit of a side conversation on battery.  That's been one major concern for SRM PC7 users today, because many folks worry that with the PC8 including GPS it'll significantly kill battery life on the unit.  The PC8's batteries are quite simply just two PC7 batteries stacked on top of each other inside the PC8.
The PC8 actually has a multitude of operational battery modes, which are as follows:
GPS on at 1-second recording rate: In this case, the unit gets about 10 hours of battery life
GPS on at variable recording rate: Up to 30 hours of battery life
GPS off at 1-second recording rate: Using just sensor data, it'll get about 50 hours of battery life
Standby: It'll get about 300-350 hours in standby mode
In the variable recording mode it'll automatically vary the GPS recording rate depending on the speed and position, using a feature known as 'Always Locate' within the Quectel L76 GPS module that it contains.  This means that if you're going faster descending on twisty roads than it'll record at a higher rate, whereas if you're sitting at a stoplight, it'll lower the recording rate.
Now as I noted above there is one limitation currently in place – which is that the fastest the PC8 can record data today is at the 1-second recording rate.  This is slower than the higher speed data mode offered on the PC7, which can record at half-second recording rates.  This functionality is almost exclusively used in track applications rather than typical outdoor riding.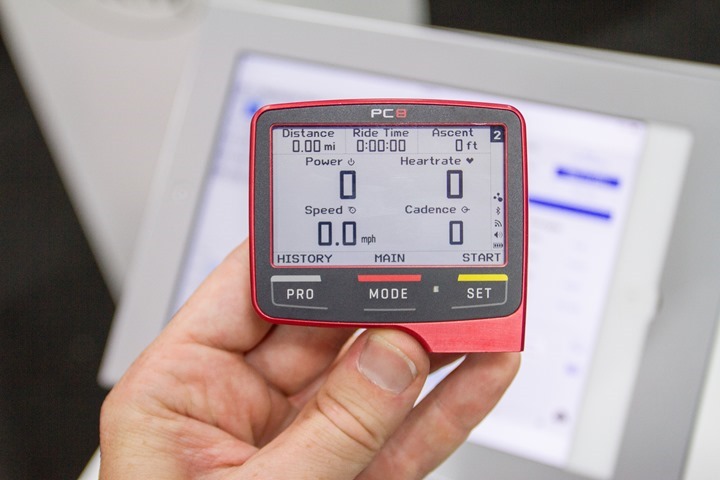 There is perhaps some good news down the road (or track) though in that category – which is that SRM "would love" (an exact quote) to be able to jump onboard an established ANT+ high speed data rate power meter profile rather than making their own.  This is something that's been discussed frequently within the ANT+ Power Meter Technical Working Group (which all power meter companies except Polar/Look are members of), however, it's never quite come to a consensus on how to record the data.
Part of that lack of consensus though is mostly in the lack of a way to view such high speed files.  Today, no such software really exists to view something that might be recorded at, say, 30 times a second.  Most people just use Excel to view the data, which isn't really ideal for long term or easy analysis.  Of course, rumor has it that WKO+ 4 will include some form of that, but that would be dependent on WKO+ actually shipping (Update: Golden Cheetah can plot it today.)
Perhaps with the TWG meeting next week at the annual ANT+ symposium (which SRM is confirmed as attending), there will be some standards decided upon.  Ultimately, I get the feeling that if that doesn't happen this year, we'll see more companies shift to DIY options on Bluetooth Smart (like what Stages has done thus far).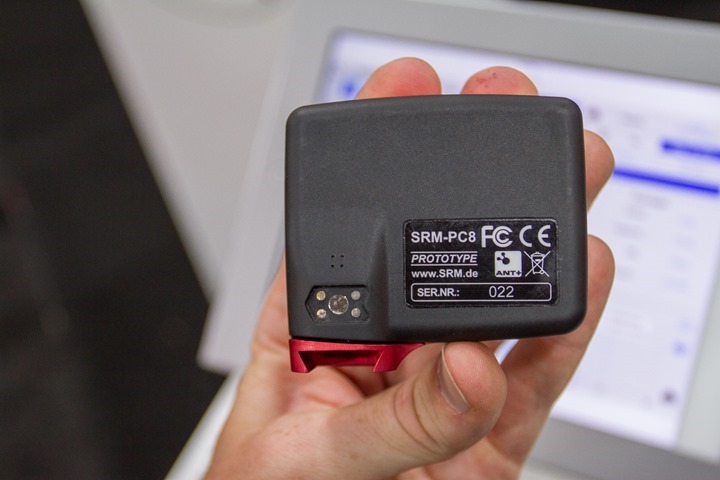 Of course, it's not just the PC8 and mobile apps that consumers have been waiting on.  They've also been waiting for SRM's rechargeable battery power meters (the power meter itself, not the head unit).  Unfortunately, that wait will continue for some time.  At this point they've come to a bit of a stopping point to re-evaluate solutions, saying that: "We are looking into all of our options concerning power sources so we can have a more cohesive solution across all our products".  While a timeline hasn't been made public, they did confirm you won't see new rechargeable units hitting shelves this year.
Finally, I asked them about their thoughts on the tsunami of lower priced power meters hitting the market, especially in light of so many new options in just the last four weeks alone.  In the context of this conversation the 'lower price point' was mostly focused on sub-$1,000.  Of course, with so many entrants poking at sub-$500 – that weighed on the conversation as well.
They started off the discussion noting that at present based on current leadership direction that: "The goal of the company is to be a professional tool and a professional training system."  To that end, their product set was focused on being 'rock solid and accurate', one of the reasons why there's been so many delays in the PC8 and associated software.  They noted that there have been cases of people switching to a low-priced power meter, and then returning to SRM for higher quality data and reliability.  I'd agree that's probably true, but if you plotted overall SRM adoption against other competitors in the peloton over the last 3 years, you'll see SRM use is undoubtedly declining with so many new competitors offering solid products at lower price points (or sponsorships).
However, despite that mission statement they said the company is aware that focus isn't addressing the needs of the broader market.  They also were very interested in how consumers would receive a sub-$1,000 SRM power meter, and what that might mean in terms of components, craftsmanship or even brand image for their product line currently seen as a professional tool.
My response was that they'll ultimately have little choice.  The market simply won't sustain $2,000+ power meters for long, especially when there are so many very accurate options at roughly half the price or more (i.e. PowerTap, Power2Max, some Quarq models, etc…).  While I think at one point it was easy for companies like SRM to effectively say 'Interest in lower price power meters will drive interest in the higher end units', I think that's a bit optimistic these days as the prices further diverge.  One need only ask your local bike shop which power meters are selling the most these days compared to just 1-2 years ago.
But I think that despite their current official stance on their current price point – the fact that they are looking at how to adapt to the changing market conditions is promising.  And that they've gotten far enough in that discussion to think through things like manufacturing (wouldn't be in Germany), component differentiation, and brand image means that it's permeated deep into organizational thinking that some change will be required.  Which I think is good news for the company.
Ultimately, I see absolutely nothing wrong with a company offering different products with different quality levels at different price points.  Especially as almost all successful mainstream companies in the market do that today.  And as always, more choice is always good for the consumer.
Thanks for reading!
—
With that, thanks for reading!  If you're looking to burn a bit of time, here's all my Interbike 2014 posts packed full of sports technology items.