There are two minor and quick pieces of news from the Garmin camp. One of which hit today, and the other was from roughly the last week or so.
Garmin Fenix2 Multisport Special Edition:
First up is Garmin has released today the 'Special Edition' of the Fenix2 multisport watch.  This new edition has precisely two changes to it:
1) It has an inverted screen (or rather, non-inverted): Which simply means that instead of being white text on a black background, the display is black text on a white background.

2) It features a red strap: Yes, red, you know, like a fire truck. An apple. Or even my backpack if it wasn't a bit dirty right now.
That's it.
Why release it then?  Well, there have been many people that didn't like the white text on black background of the Fenix2, citing it's harder to read (which, I'd agree with).  I didn't mind it a ton, but given the choice I'd probably go with the white background versus black.  Unfortunately, there was a hardware limitation there – hence the reason for the second hardware version.
Note that again, all other functions and features are identical. Future firmware updates will continue to be addressed to both units at once.  So existing Fenix2 folks don't have to worry about not being 'Special'. And fear not, there will be future firmware updates for both units, some already in the pipe.
The special edition units are available effective almost immediately (Apple-style!), and should arrive in the next few days.
Garmin Vivokeeper safety bands/belts (free):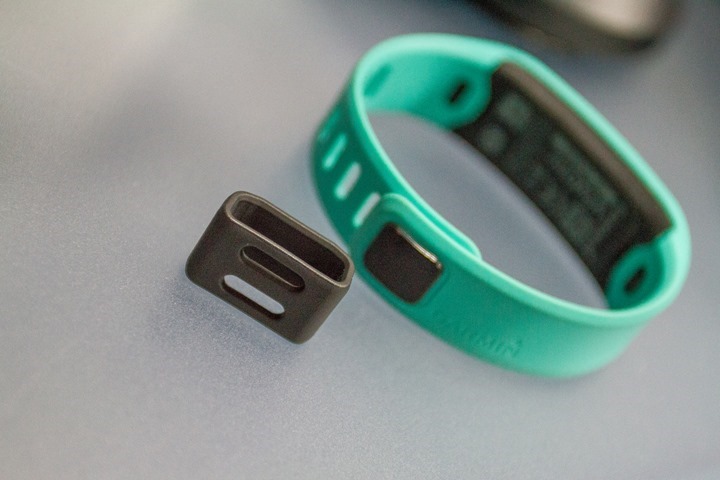 Next is that Garmin is making available the Vivokeeper, which is a simple little rubber band designed to keep your Vivofit from falling off.  Some users have reported issues with the Vivofit falling off their wrist, so this aims to solve that.
While I've never had the Vivofit fall off mine, there's been a bit of a cottage industry with companies making cheap rubber bands to protect the units (or consumers just going to a hardware store and getting a rubber o-ring).  Much of that industry originally sprang from the FitBit Force, which for me fell off more times in a day than I could count. Of course, each person differs there.
The tiny little rubber piece slides on much like any other rubber watch belt would, pretty straight forward: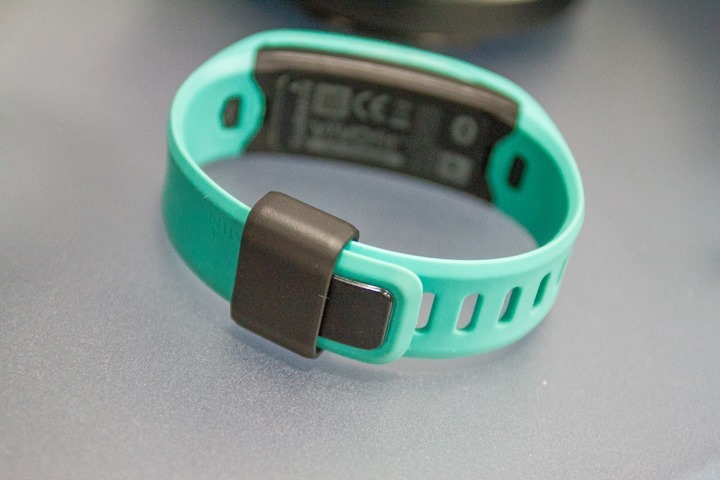 In theory all Vivofit users will get (or already got) an e-mail from Garmin offering one to them if they'd like (for free). New boxed versions of Vivofit will come with it in the box.  And the just released Vivosmart is already shipping with them in the box (a tiny bit different belt, but very similar).  You can simply contact Garmin support to get one.
So go forth and get your free belt – don't want anyone's pants on the ground.  Err…Vivo's on the ground.
Thanks for reading!
—
With that, thanks for reading!  If you're looking to burn a bit of time, here's all my Interbike 2014 posts packed full of sports technology items.