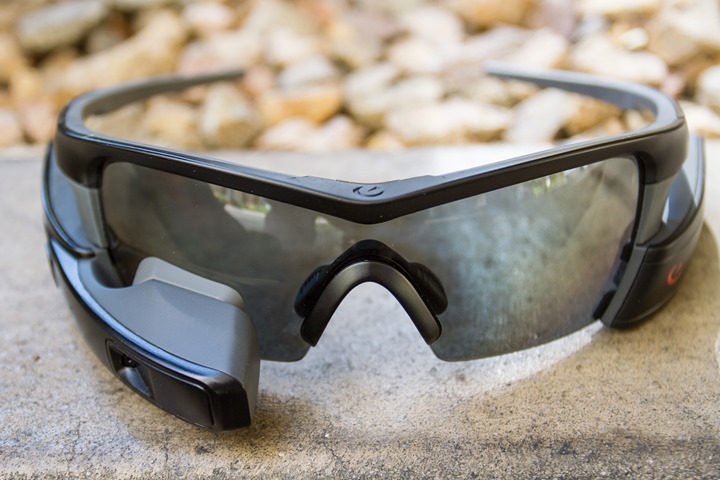 It's been a while since I last talked about the Recon Jet around these parts, aside from passing on the occasional newsletter update.  For those unfamiliar with the product, it's effectively a heads up display of sorts with a sports angle.  It contains ANT+, Bluetooth Smart, GPS, WiFi, and even a 720p camera – all tied into smartphone connectivity.  So basically it's your GPS watch mated with your sunglasses (with changeable lenses).
Now despite this time gap since my last update, I won't go very deep into the unit itself in today's post either.  Rather, this post serves more as a Monty Python style "I'm not dead" moment more than anything.  I had a chance to sit down with Tom Fowler while at Interbike to get a bit of an update on the product.  Tom (below) actually moved to Recon two summers ago from Cervelo.
The Road to Production: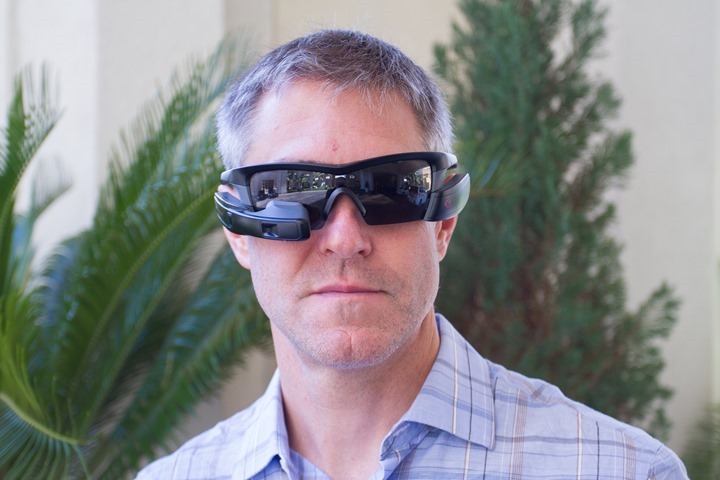 In many ways the purpose of the talk wasn't so much a spec sheet interview on features and status of every function within the unit.  Rather, it was more focused on the path to production in terms of milestones, production facilities and outstanding tasks remaining.
To that end we spent a fair bit of time discussing their signing of their upcoming production facility.  While they haven't quite yet made the exact company name public yet, they will be doing so soon.  There are probably two notable things about it however.  First is that the facility and headquarters are located in the the US (Southern California to be precise).  Second, the company produces many consumer electronics devices, including some already in the fitness and sports device arena – and those products are all household names globally, some of which I've reviewed or discussed here on the blog already.
If you follow manufacturing of complex sports technology products you'll know that most newcomers to the space stumble through manufacturing in Asia due to non-familiarity with the processes as well as simple language and ownership issues.  These often arise from shared manufacturing facilities where companies are effectively competing for manufacturing line time and supplies (even though they've already paid for it).
Shifting that contact point to Southern California means a short 2-ish hour flight from Vancouver (Recon's headquarters).  It also means everyone is speaking the same language (English) and there are minimal issues lost in translation.  And perhaps most importantly is that this production company actually now has an investment stake in Recon and the Jet's success – further ensuring their goals are aligned.
At present, they've had this new partner work through their planned Jet bill of materials and they've collectively worked through some minor tweaks.  These tweaks will see the next round of prototype units coming out in about a month for validation and testing (from this partner), resulting in another set before Christmas before the final production units start hitting just consumers early in the new year.
My quick thoughts:
During my meeting I did get to try out one of the prototypes.  This unit is about as close to the final version from a physical looks perspective as they're going to get.  However unlike some of my other product tests this week my time spent with the Jet was all indoors.  And in particular, sitting on a hotel lobby couch over breakfast eating a muffin.  Therefore keep in mind I wasn't descending at 50MPH on a bike, nor doing a track workout.  So my experience and opinions may change once I have that opportunity.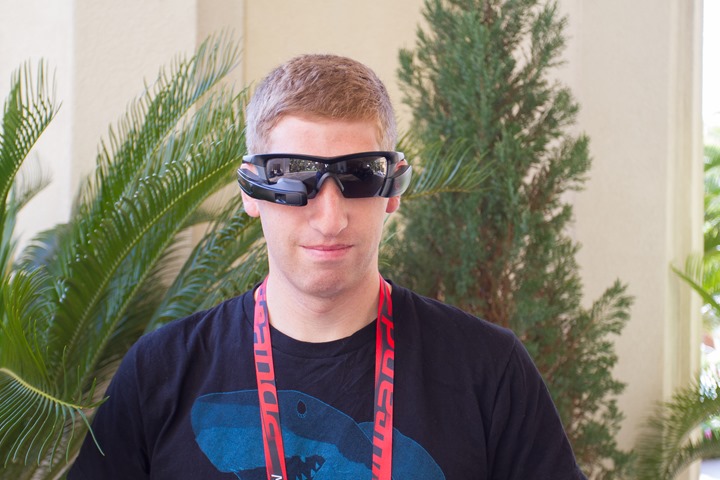 Nonetheless I was able to work through the user interface and try out many of the functions.  The unit now uses more of a swipe gesture along the right side which enables control and scrolling through the display menu's, with a simple button along the button that you can actually feel, to press in.
The opposite side (left) is just the battery.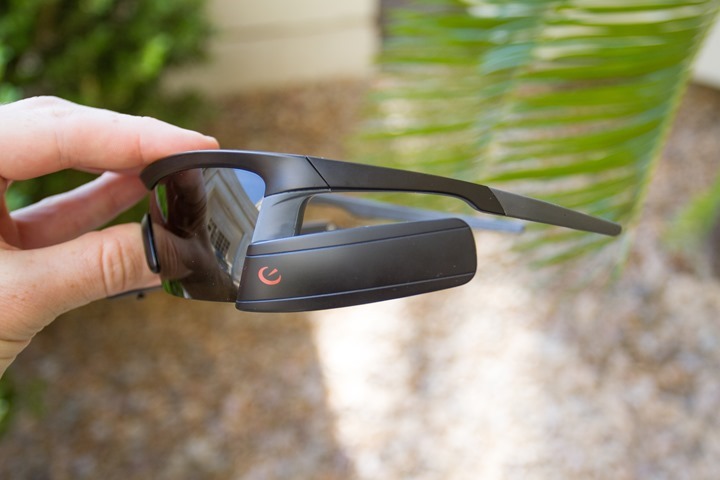 There are a couple of other notable hardware tweaks though compared to the past.  For example, the pods and connectivity points are slightly larger than past prototypes.  They did this to increase the strength of the unit and to ensure it could better handle wear and tear.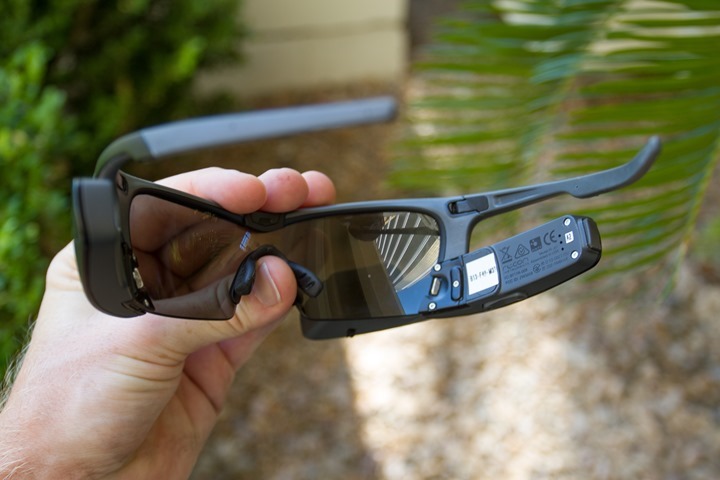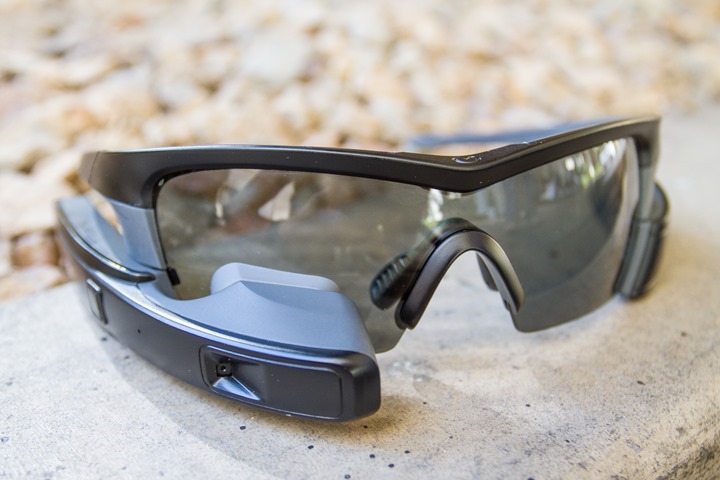 Next, you'll notice the addition of a tiny little bump on the bottom of the glasses (below) under the heads up display portion.  This mini mechanical joystick allows you to adjust the angle of the display, enabling you to tweak the position slightly depending on your eyes.  Additionally, you can also slightly change the positioning of the rubber near your nose which will raise/lower/adjust the glasses.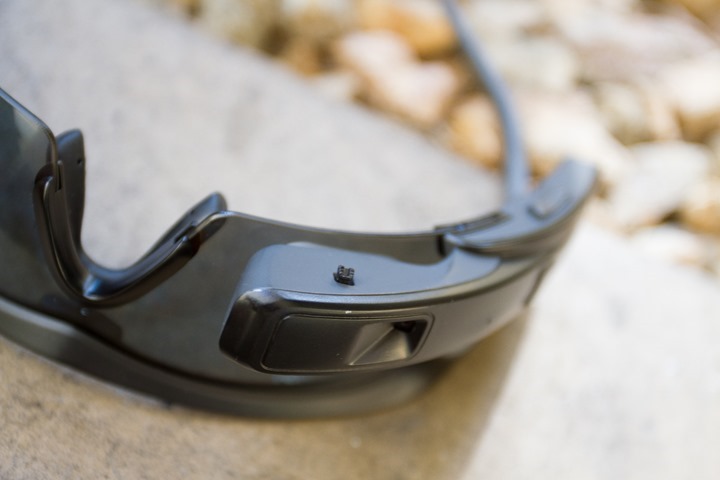 Now, that's not to say things were perfect.  But the two things I did find less than ideal were already on the list for further adjustment.
For example, while I did very much like the little joystick to control the position – it didn't quite get the display where I wanted (so they're going to add an extra 15 degrees of positioning).  Similarly, I also found the prototype swipe a bit finicky, which is an area they've been working on for the next version.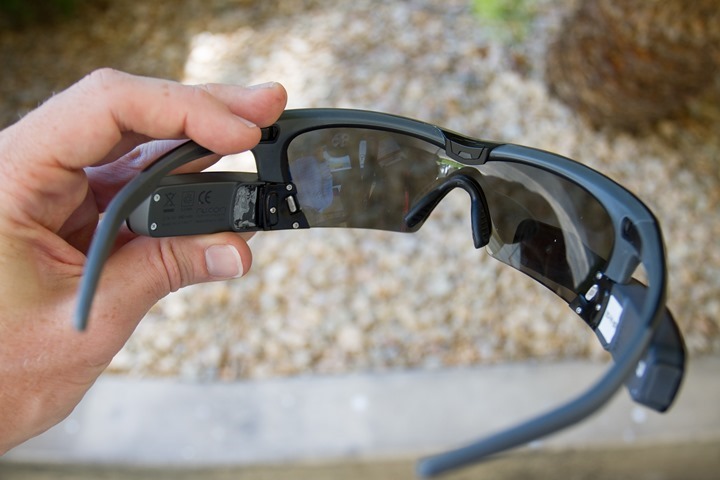 No doubt we'll probably see more companies attempting to enter this space as we go into the new year, CES in early January is always good for that.  And then you still have the giant – Google and their Google Glass – sitting out there.  But having worn Glass, to date the apps and integration isn't anywhere near where Recon is with Jet.  It's really just a different use case today.  No doubt someday (potentially even years away) the two solutions will converge more and there could be competition head to head, but as it stands today Glass and Jet aren't actually that competitive to each other.
Hopefully though by the end of the year I'll have had some on-ride or mid-run experiences with the Jet and can get a better feel for where they ultimately are destined for: Training and racing.
Thanks for reading!
—
With that, thanks for reading!  If you're looking to burn a bit of time, here's all my Interbike 2014 posts packed full of sports technology items.
—
Update/Heads Up: You can order Recon Jet through Clever Training and support the site here.  By doing so you'll save 10% with DCR coupon code DCR10BTF, plus get free shipping within the US (and flat-rate international shipping).  Simple as t