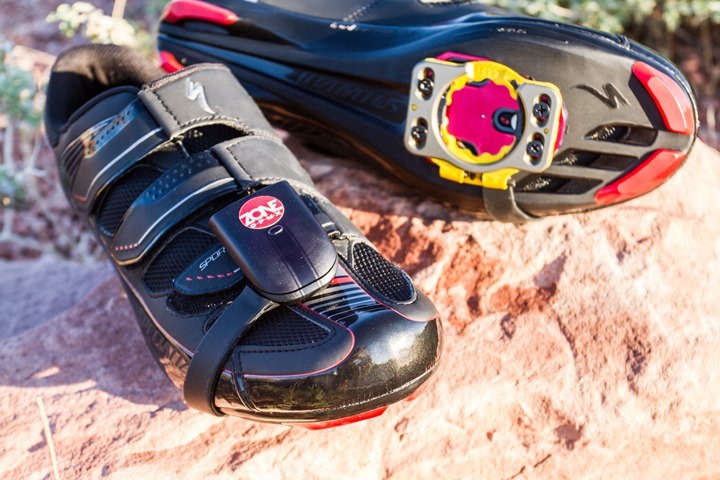 It's been a number of years since Brim Brothers unveiled their power meter concept, and today they've launched pricing and availability details.  The Zone power meter is a cleat based power meter that is affixed to your cycling shoe, allowing you to move from bike to bike without the need to install a power meter on the bike.
The system communicates to head units using ANT+, so it'll work with the majority of head units on the market today.  The Zone is Speedplay Zero-only, which means that you'll need to either use that pedal type or switch to it.  On the flip side, there are no restrictions on crank types or the like, as some power meters have today.
I had the chance to head out this morning and go for a first test ride with a nearly final production unit.  There are some minor changes from a production standpoint still coming, so that may alter the results.  As usual, it's just one ride.  Which means it doesn't really predict success (or failure), neither short nor long term.  Rather, it's just a data point.  I'll be taking the unit home with me to put it through a much longer testing cycle, as usual.
Unboxing: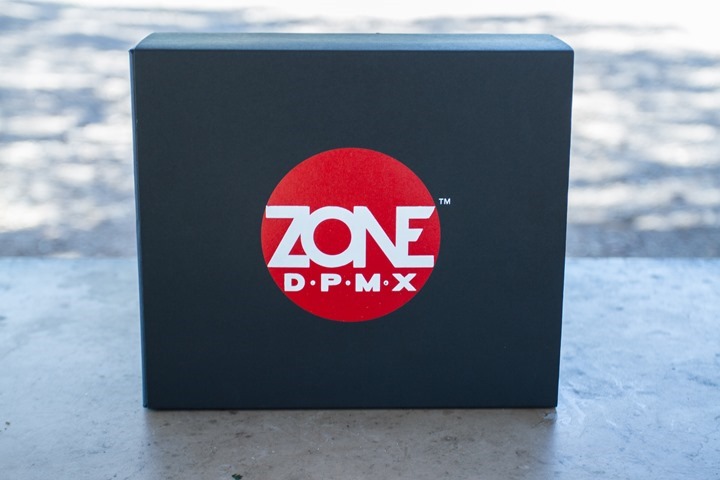 The unit I received was fully boxed in near-final packaging.  By 'near-final', I mean that there are some minor tweaks that they've stated they saw on the boxes such as typography tweaks or small changes in material thickness, as well as the manual being printed in a smaller format than the 8.5×11" sheets of paper I had.
The box has multiple tiers with the top being the power meter itself: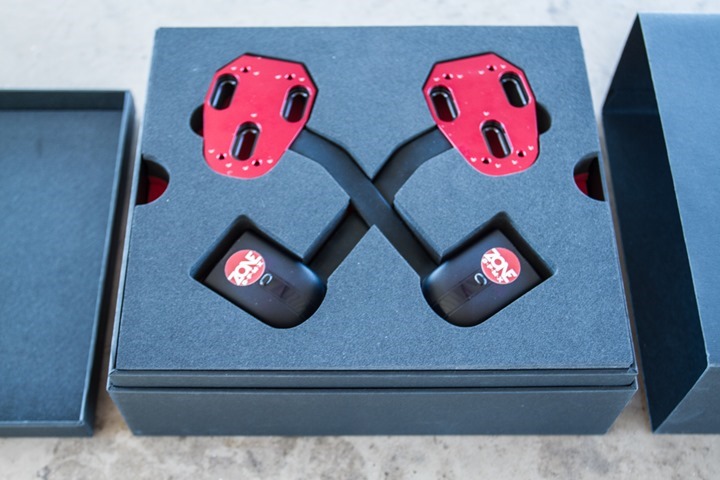 Down below deck there's the various extra installation components and charging pieces: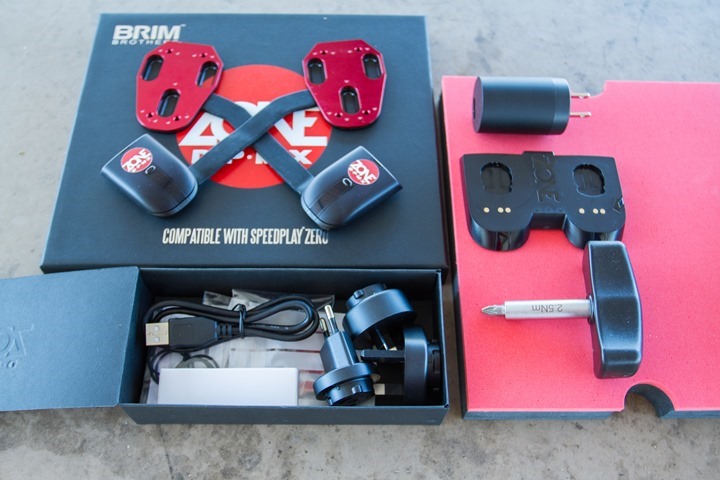 The unit uses a sensor plate that contains the ceramic force sensors (no strain gauges), which attaches to the bottom of your shoe.  Then a small flat rubber cable runs up along the edge of the shoe to the pod on top, which houses the communications pieces and battery.
The reason for having a cable connecting them is really to comply with Speedplay specifications on what can and can't be hanging out near the cleat.  So at present putting a battery and communications pieces in there would be challenging.  I've gotta say, the plate itself is just a thing of beauty.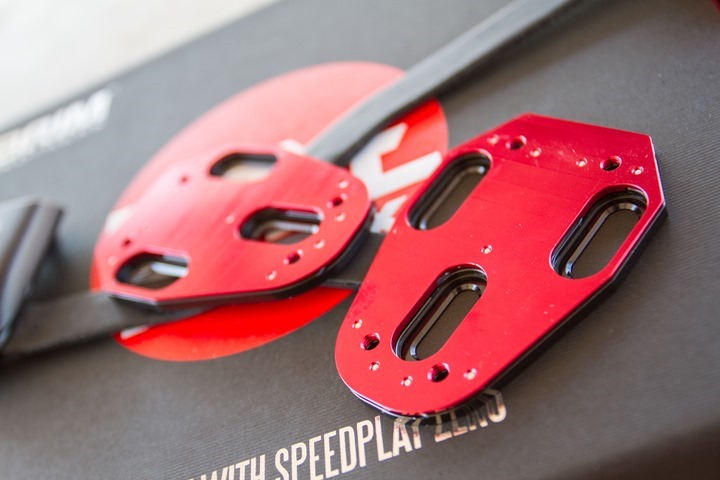 Well at least until after the first use, then it looks all scratched up as you'd expect from ground/pedal contact.  But, until that point it's really pretty.
The box also includes a screwdriver torque wrench that will ensure you don't over-tighten.  Seems like a logical idea that Garmin should have added a year ago.  Or, said differently, Brim clearly learned from Garmin here.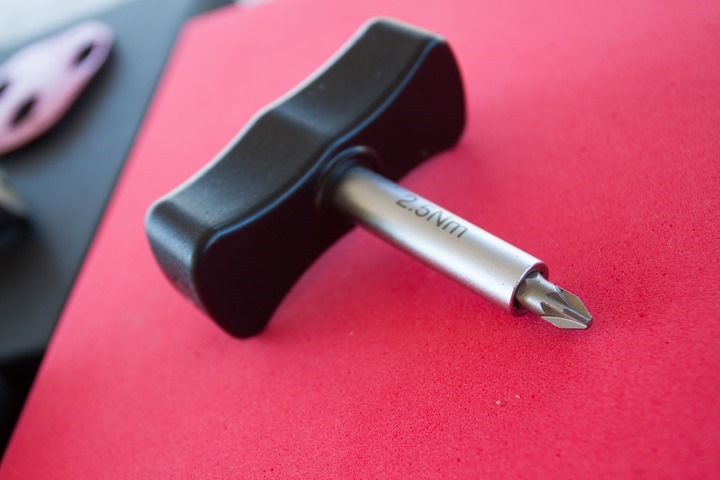 I'll dive into a more detailed unboxing as part of an In-Depth Review down the road, so for now lets get it installed.
Installation, Configuration and Calibration:
We'll start installation with my shoes nearby, along with the Zone set.  You'll also need your Speedplay cleats too.
To begin, go ahead and put the left pod next to your left shoe and the right one next to the right shoe.  While it would become obvious later in installation that you've got them installed on the wrong shoes, it's really better to avoid the waste of time.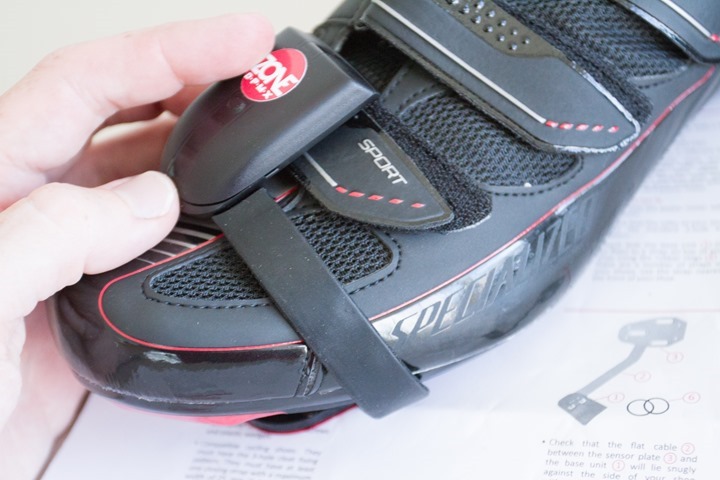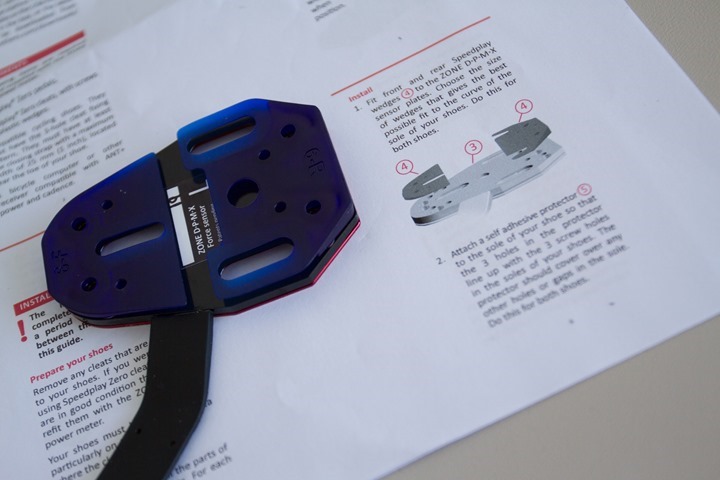 Then you'll go ahead and take one of the stickers out.  They gave you a bunch of stickers in case you want to move them to other shoes later on.  The sticker acts as a simple template for where to place the glue.  It also allows you to remove the system later on if you want to change/move it.  It's kinda brilliant.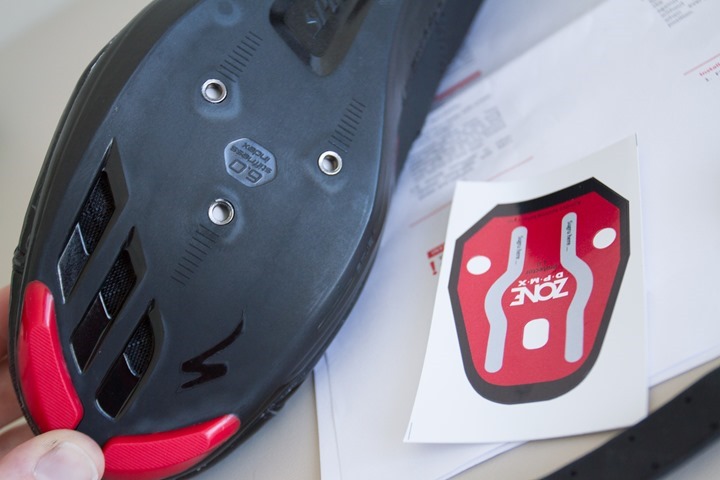 You'll simply apply the sticker over the holes: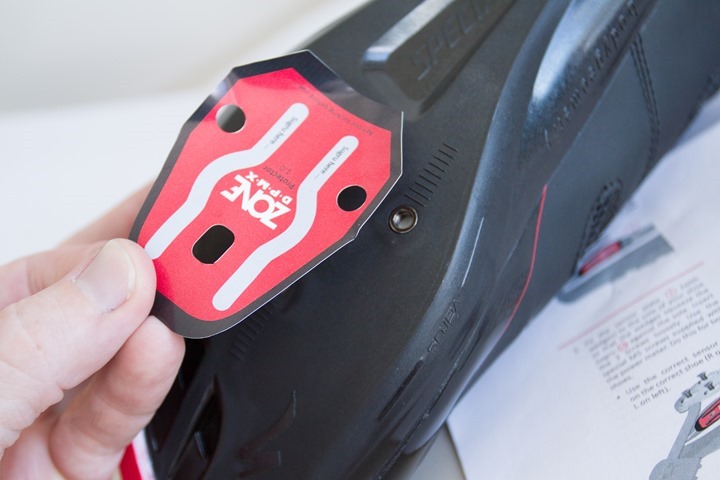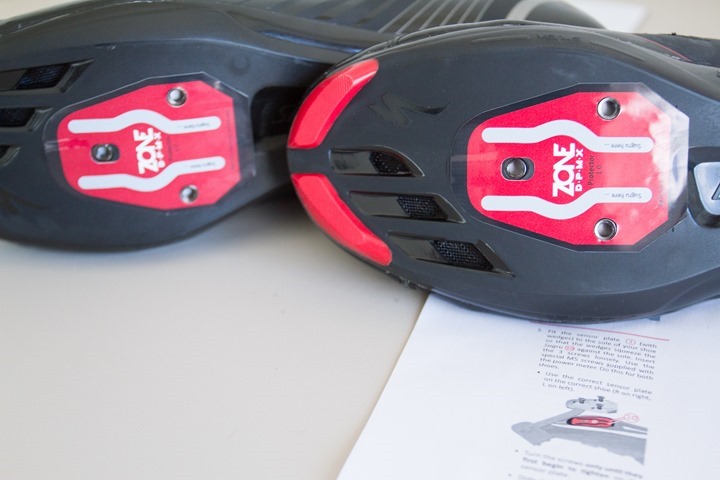 Next, the box includes a package of Sugru, a type of glue of sorts to keep things in place: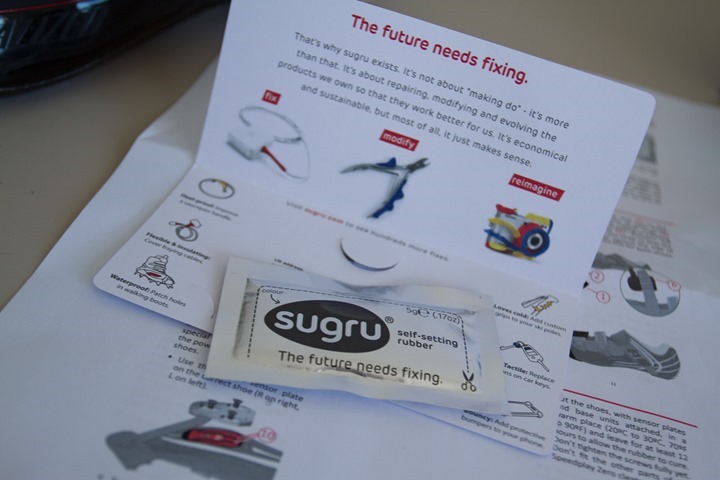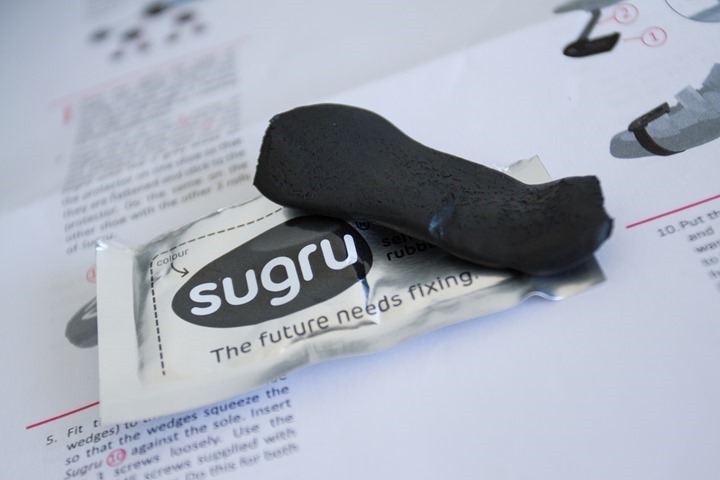 You'll go ahead and make like a 3 year old and split it up into three pieces, then throw one away.  Then you'll take the remaining two pieces and subdivide again into four total pieces: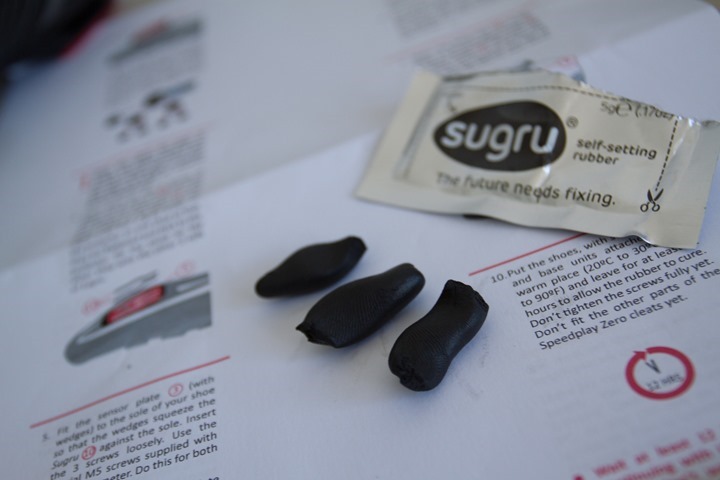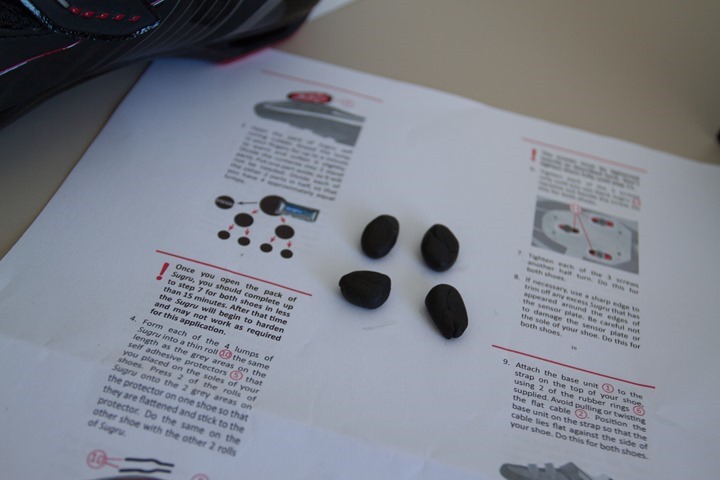 Next, you'll make little worms out of them and apply them to the bottom of the shoes.  For this entire process you have about 15 minutes, so it's not rushed or tedious.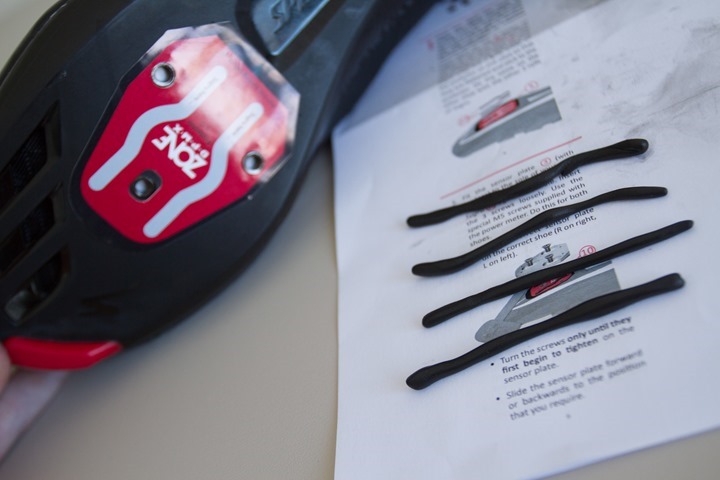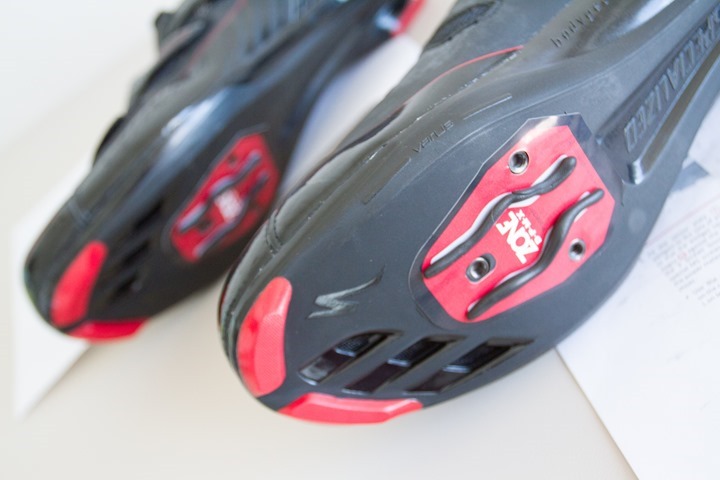 Now we'll go ahead and apply the Brim Brothers baseplate along with your Speedplay shims (came with your cleats) and lightly screw them in: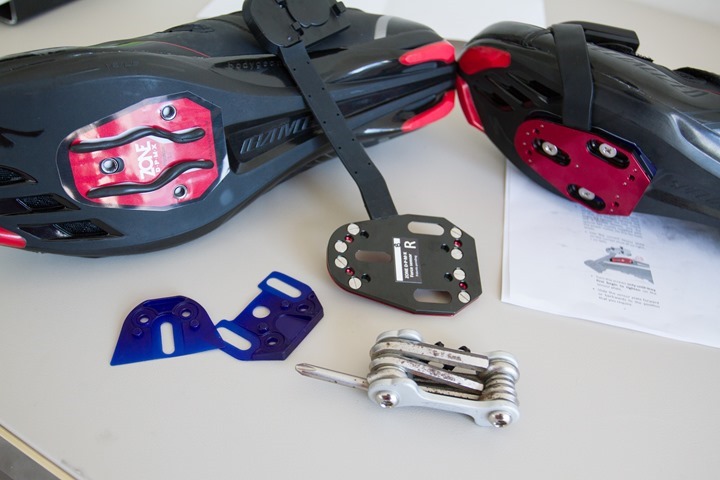 We'll keep screwing in until the Sugru stuff squirts out near the screw holes.  You won't screw anything in hard here, it's pretty light for now.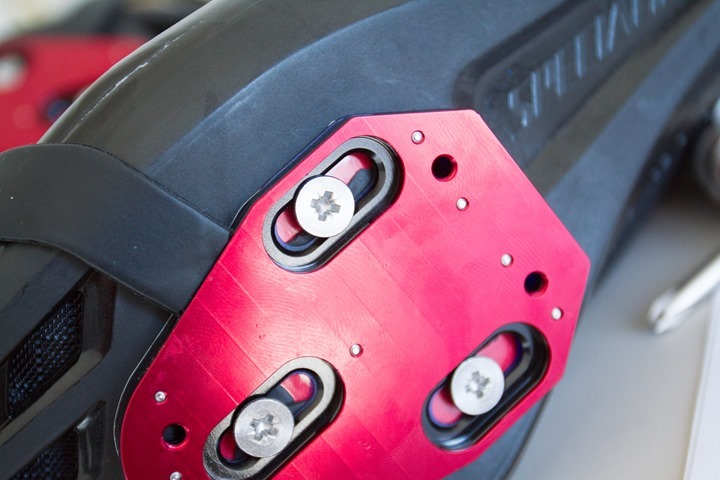 Once this is done you'll go off and do something that keeps you busy for about 12 hours to let it set.  For example…a Deadliest Catch TV marathon.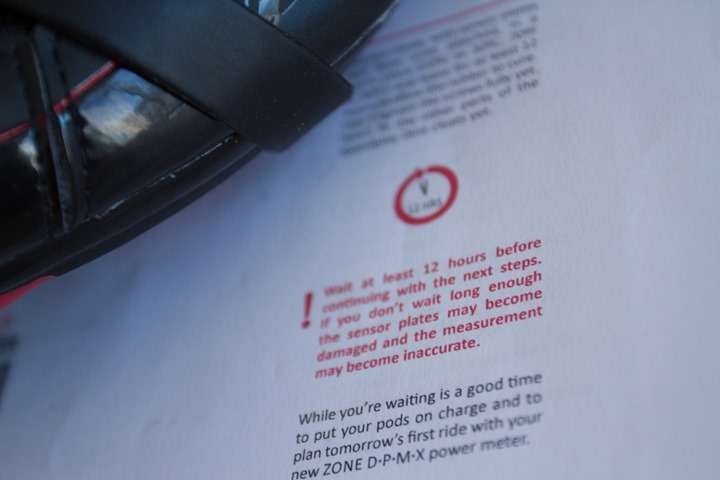 Once the clock completes, you'll simply use their provided screwdriver torque wrench to tighten them up until the screwdriver clicks loudly (indicating proper torque):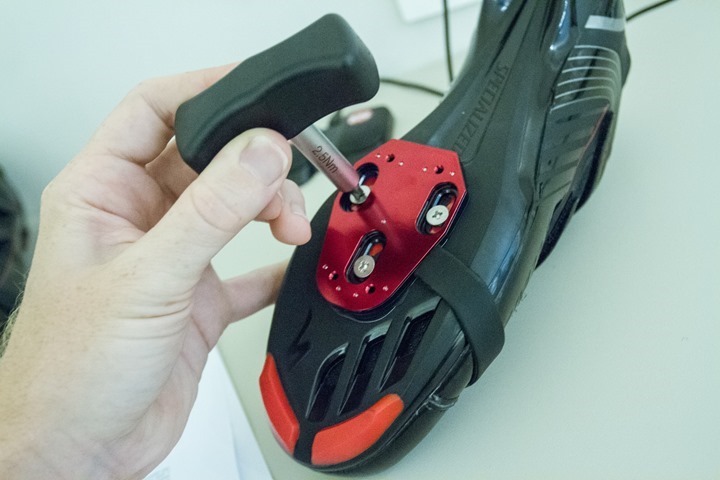 Next, you'll go ahead and install the Speedplay cleats (yours) on top of that.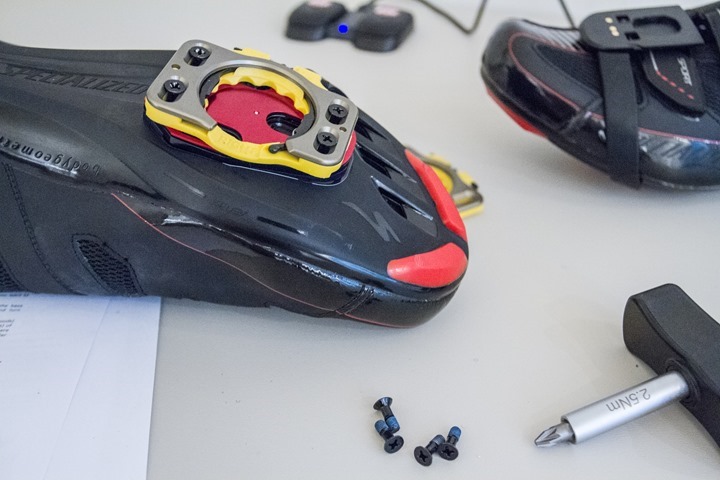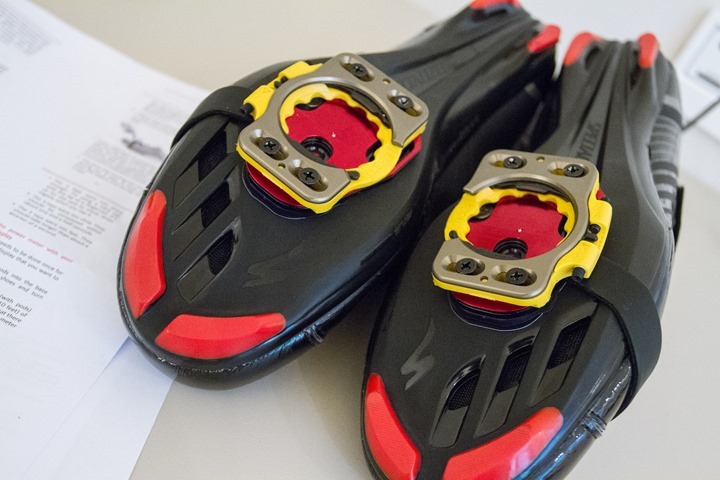 The whole process is really dead simple, and honestly not much different than simply installing any other Speedplay cleat.  The only tangible difference is adding the glue and then having the pod hanging off the side.  That's it.
Finally, to calibrate you'll rise up the back of the shoe on a flat surface so the cleat is level/flush with the table/garage/desk/etc…  Then just triple-tap the front of the shoe.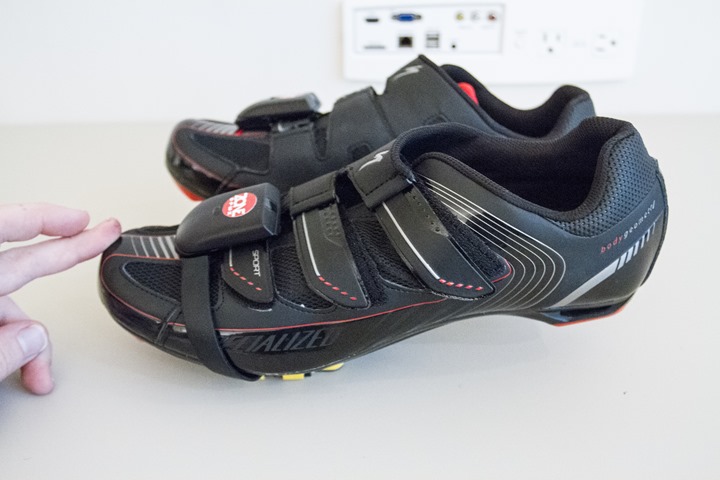 Don't worry, this process is protected against accidental triple-taps in that it requires the shoe be held still pre/during/post the triple-tap.  That's it for calibration.
Note, there is a piece of software that you'll use to set the crank length.  For me, this was preset (to 175mm, my crank length) ahead of time since the software is still being finalized.
Connecting to a head unit, usage:
Using the Zone power meter is pretty much just like any other ANT+ power meter.  The only difference is you'll need to power it on first.  That takes about two seconds, and is accomplished by simply pressing the two top buttons down for about 1.5-2 seconds.  It'll double-blink a blue light to let you know it's ready to go: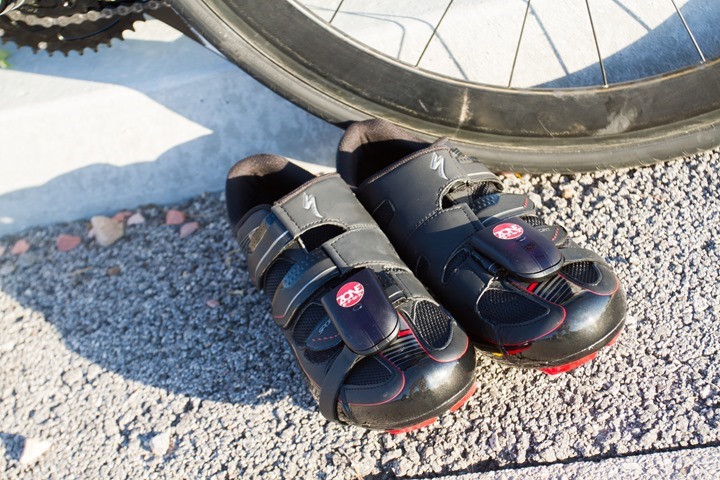 Then if it's your first time using it you'll go ahead and search for the power meter from a compatible head unit.  That means as long as it supports the ANT+ power meter device profile, you're good to go.  For most people that'll likely be a Garmin Edge or Multisport unit, a PowerTap Joule, or the like.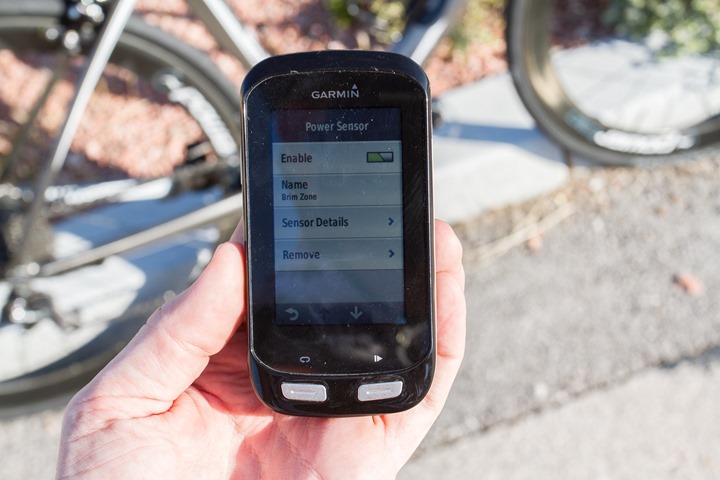 Once it finds it there's no further configuration on the head unit itself.  Nor are there any additional configuration or calibration procedures you'd trigger from the head unit.  Do note however that you would have needed to set the crank length within Zone ahead of time using the software (which I didn't show here since it was preset for me).
From there you'll simply go ahead and snap into any Speedplay pedals out there.  There's no portion of the power meter that is installed on any bike.  Everything is self-contained on the cleat and shoe.
Once riding there's nothing you need to do other than pedal.  There are no mid-ride calibration procedures.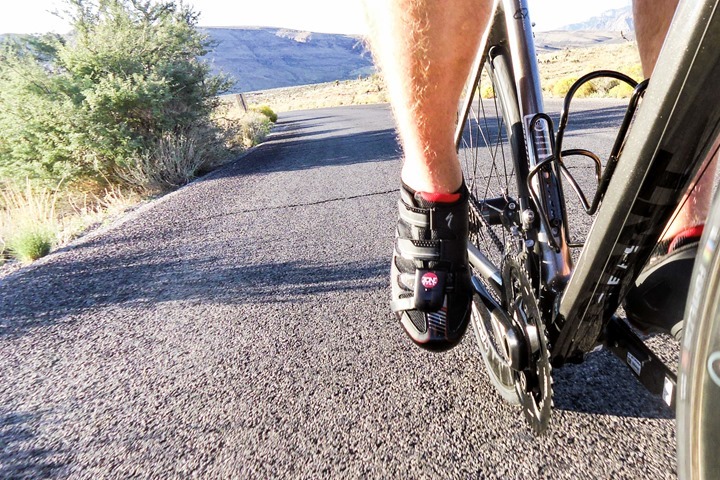 The Zone will transmit to the head unit your power metrics, including total power and power balance (as well as other power related metrics):
All of this is recorded onto your head unit as normal, and then available for upload to various third party sites or apps like Strava, Garmin Connect, Training Peaks, or Sport Tracks.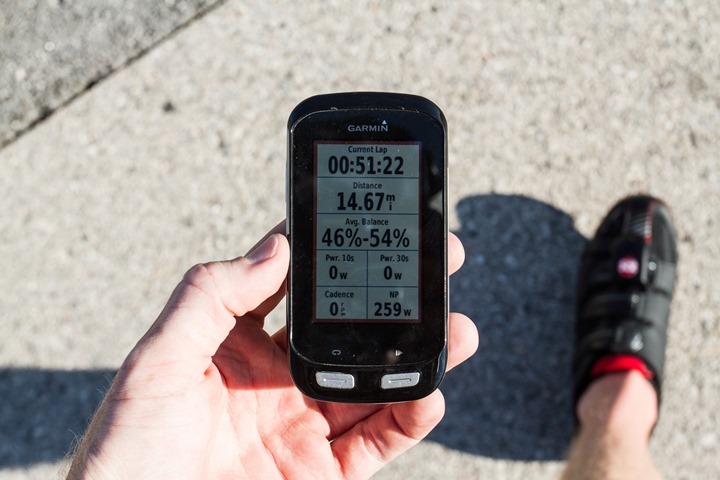 From a battery standpoint the pods get about 15 hours, so you'll have to charge them on roughly the same schedule as you would your cycling head unit.  The pods simply rotate out to of their holder and then rotate into the charging station: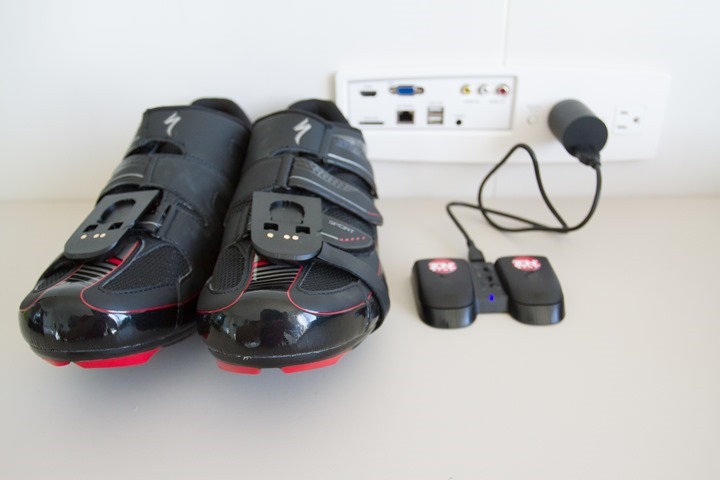 The charging station just uses USB and takes about 2 hours to re-charge the units.  When using the units if they have less than 2 hours of battery remaining they'll give you a double blue flash every 2 seconds instead of a single flash every 2 seconds meaning normal battery and operation.
The Test Data:
To date I've only had a single test ride on the Zone system that Zone handed me to try out.  The installation and calibration was done by myself for Zone, and the subsequent ride was on my bike with other power meters that I own.  So basically, I installed and ran the test on a system that was fully mine except for Zone itself.
For the test I went to Red Rock Canyon, about 30 minutes from Las Vegas.  This is a 15 mile looped course that includes a fair bit of climbing.
Here's an illustration of the bike and power meter components used for the test: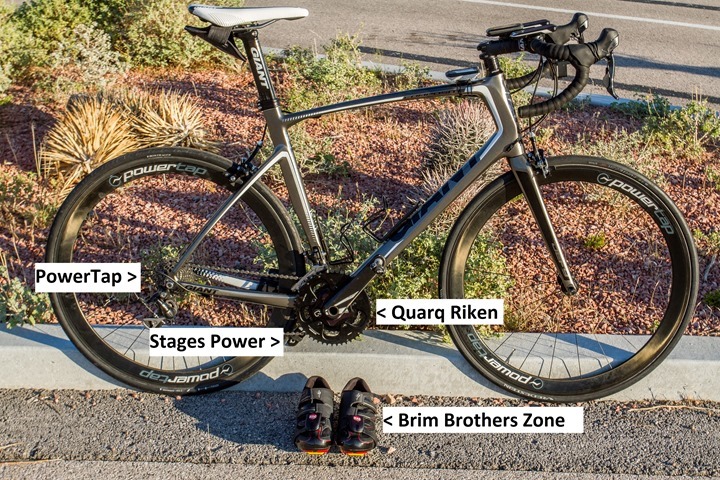 Here's the text version of that:
Quarq Riken: Crank spider based
Stages Power: Left crank arm based
PowerTap G3: Rear wheel hub based
Brim Brothers Zone: Left/right crank arm based
All of this data is then fed into two different spots.  First is to a slew of conventional cycling head units, in my case the 2xGarmin Edge 1000 (Zone & Stages), Garmin Edge 810 (PowerTap), and Garmin Edge 510 (Quarq Riken).  These units all act as 'backup' of my data.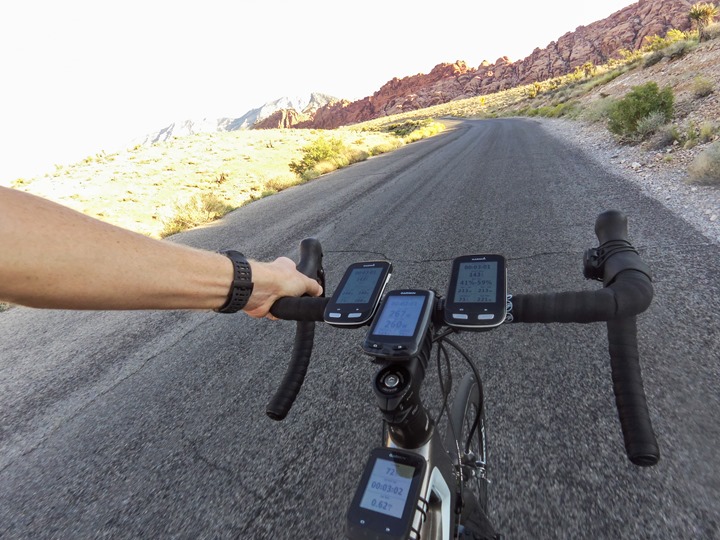 Second, it's also fed into the much more important tool, the North Pole Engineering WASP ANT+ data consolidator.  It allows me to seamlessly record everything as one coherent and complete picture.  This removes the complexity of matching up files afterwards.  The WASP then transmits to the phone via WiFi, where the data is recorded in real-time.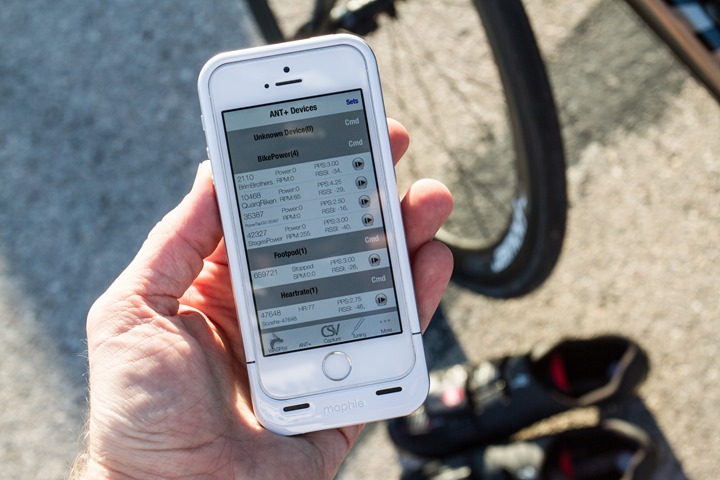 So, to begin, here's the high level overview of the ride data with all of the power meters present:

Of course, that is pretty much impossible to read.  So, let's smooth it out with a 30s rolling average:

(Click to zoom)
Hmm.  Not ideal.  Brim is the one in orange that seems to be a bit all over the place.  In some cases (like at about the 60% point in the ride), it seems to match perfectly.  But otherwise, it's a bit randomly high and low at times.  Ideally you'd want it spot on, but at least if it was consistently high or consistently low it's a bit easier to see how well it's trending.
This is actually an interesting case study in why you don't just look at power averages or totals.  As all four power meters ended up with a normalized power within about 8w of each other.  For example, here's the Quarq (left) and Brim Brothers (right).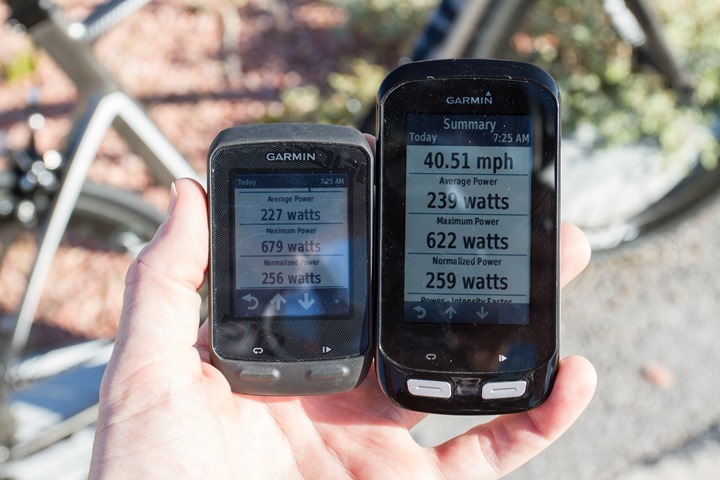 Next, lets look briefly at cadence: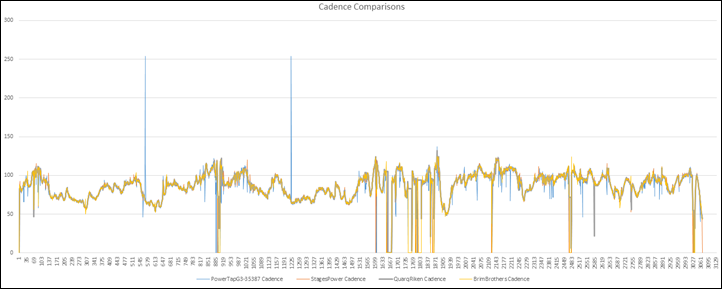 Cadence is always a little bit trickier to compare because of how quickly an individual unit will react when stopping/starting, hence the drops you see.  In general though – things seem to track pretty well against the other units.  This will take a bit more digging into though.
At this point, as one can see, it's a bit tough to make any accuracy statements on Zone.  On one hand it's a near-final production unit on a first ride, and yet on the other it's still not final – so things could change.
After seeing the recorded data this morning, I met up with Barry Redmond from Brim Brothers to discuss the findings a bit.  He noted that what I saw with the variability was an issue they've sporadically seen on a handful of test users, and they were working on a software fix to address it.  It stems from some of the shear force being exerted on the pedals being incorrectly used in the regular ride power output.  He noted that they won't ship until the software update is implemented, which they currently plan for October.
The raw data from the ride is available here, for those that want to analyze it.  Or, you can look at the Garmin Connect file here for a simpler view.  As usual, you're welcome to analyze it and publish those findings elsewhere, simply link back to this post however.
Misc Details & FAQ:
Below are some random details and facts, along with what I suspect will be the most common questions.
Pedal/Cleat Compatibility (general): The Zone DPMX is only compatible with Speedplay Zero Cleats, and Speedplay pedals at this time.
Crank compatibility (general): There are no limitations on crank types/lengths/widths/materials/brands/etc… As long as a Speedplay pedal is attached to it, it doesn't much matter.
Chain and frame clearance: There are no limitations as far as chain clearance.  The Zone power/communications pod connects on the outside of the shoe, not the inside of the shoe.
Battery Life: 15 hours , then would need rechargeable dock.
Weight: Additional 35g per shoe.  I have not measured this yet independently.
Weatherproofing: IPX67.  Stated temperature range of 15°F (-9°C) to 140°F (60°C).  I don't recommend riding in 140°F heat however.  Note that it doesn't need temperature compensation, due to the non-use of strain gauges.
Stated Accuracy: Brim Brothers claims +/- 2%
ANT+ Connectivity: The unit is able to transmit via ANT+ to any other standard cycling head unit that supports the ANT+ power meter profile.  Today that's every Garmin cycling and triathlon focused device above $200, the PowerTap Joule, Timex Cycling and Triathlon units, Magellan Cyclo and Up units, and many others.  The unit supports sending the following metrics: Total Power, Left/Right Power.  They plan to add Torque Effectiveness and Pedal Smoothness in a firmware update.  Of course, you must have a power meter head unit that supports those specific metric types.
Pricing: $999US for the Zone DPMX (official name).  This includes both left and ride sides.  DPMX stands for Dual Power Metric (with an X).
Shipping Date: October 2014 starting with the pre-order list, and then working from there.
My Initial Thoughts: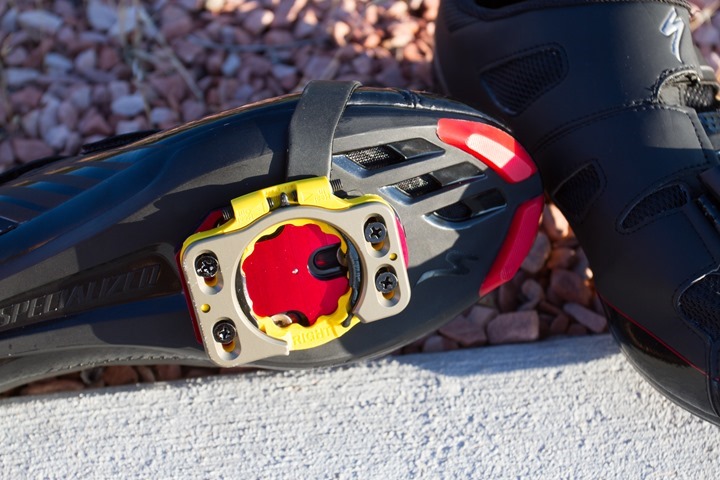 Looking at the power meter on the whole, the concept of having a non-bike-specific power meter is really quite ideal for anyone having two or more bikes, or for those that travel.  My installation of the unit was super easy, which isn't always the case for power meters.
Obviously, I've got a lot more data to collect to make any determination of whether or not the Zone is a viable power meter.  One ride isn't really telling me enough yet to make that conclusion.
I do however think there's definitely room for a $999 fully left/right power meter that has no crank limitations.  That would be a reduction of a fair bit from Garmin and ROTOR.  And while it's a premium of about $250US over 4iiii's unit, one also has to look at lead times of product availability.  Brim Brothers is much closer to production availability than 4iiii is (despite the data I saw today).  Of course, I do believe that once reliable units hit the market in the lower price point, it will continue to drive the price down.
Stay tuned for more data over time as I get more rides in on the unit, as well as perhaps get a better understanding of why I saw such variability on the ride.
—
With that, thanks for reading!  If you're looking to burn a bit of time, here's all my Interbike 2014 posts packed full of sports technology items.