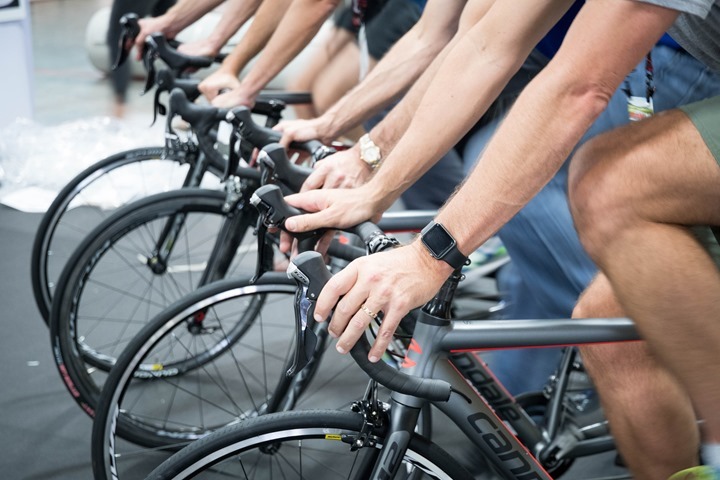 Today at Interbike, Wahoo is taking the next logical step in the indoor training realm: Offering a cycling studio package.
This offering, aimed initially at the North American market, is targeted at bike shops and indoor trainer studios that want to have a turnkey solution for selling indoor training classes.  Wahoo's offering is a combination of hardware, controller software, and a backend web platform.  It covers everything from registration to class/rider management and then even the running of the class/session itself.
How it works:
Wahoo's goal was to create an end to end platform that any bike shop could easily pick up, implement, and get on the road.  The first piece of that is getting a potential customer to sign up.  To do so, folks can go to KICKRStudio.com and then find local bike shops that offer the platform.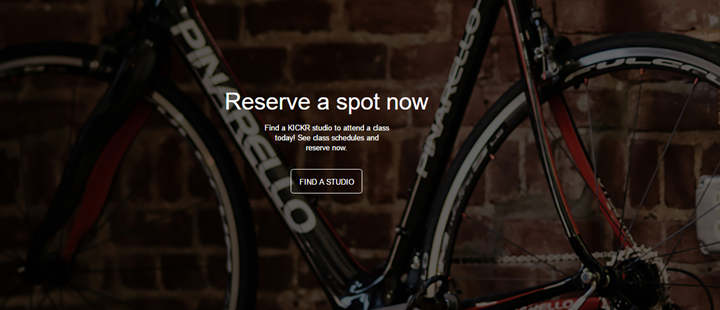 Right now you won't find much.  But Wahoo says within a few weeks they'll start onboarding the first studios.  Once you select a studio you'll be able to create an account on Wahoo's cloud platform, which allows you to sign-up for classes. The platform can manage payment for the local bike shop.  More than that though, as a user it becomes your one-stop shop for getting your data after the class.
You'll be able to review your workout there, download the original .FIT files, and sync it to other 3rd parties – like Strava.
But first, you need to complete your session.  To do that you'd head down to your local studio.  Or in my case, the hectic still-under-construction show floor at Interbike.
It's here the instructor will check you in for the classes being offered.  The system supports numerous classes per day, as well as concurrent classes in multiple rooms. Each room can have up to 20 KICKR's.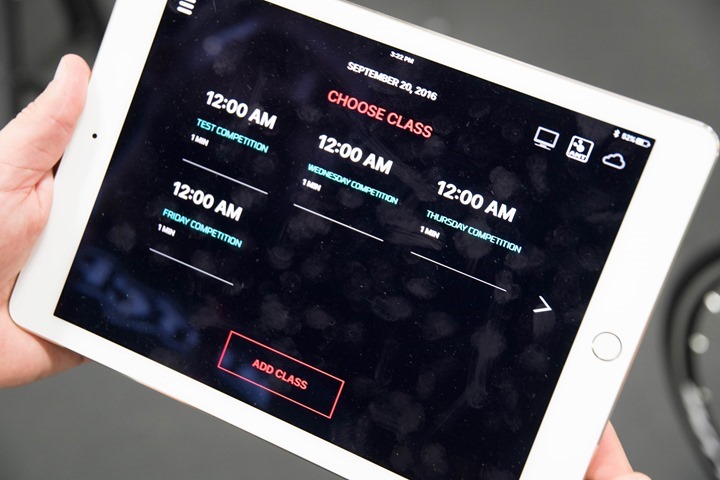 Next, you'll hop on your bike.  The instructor will then pass around what looks to be a TV remote (though the worst TV remote ever, since it has no buttons to control your TV), but it's actually a remote pairing device for sensors.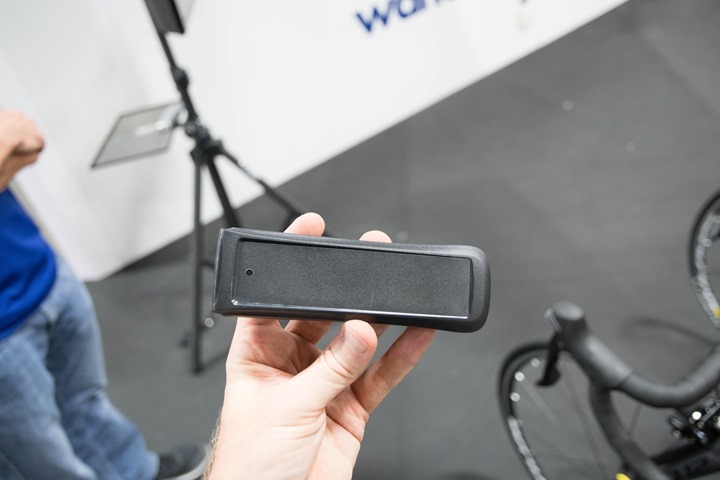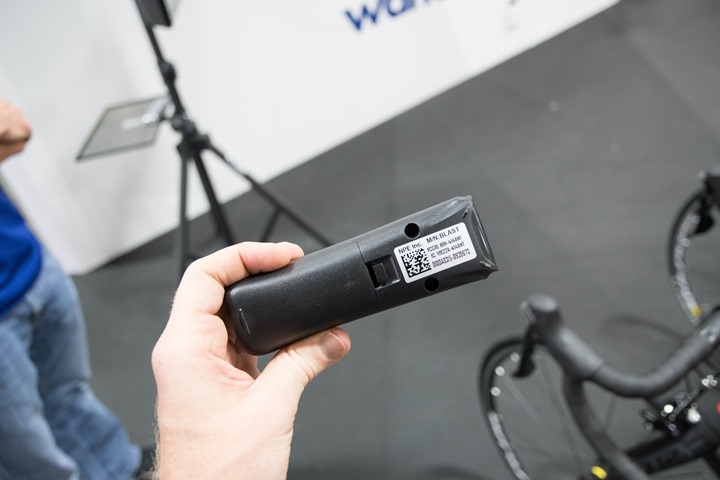 The device uses proximity pairing to figure out what your ANT+ or Bluetooth Smart sensors are.  This way you can easily pair your HR sensor or cadence sensor to a known person. You basically just tap it to the sensor you want to pair and it confirms via an LED light.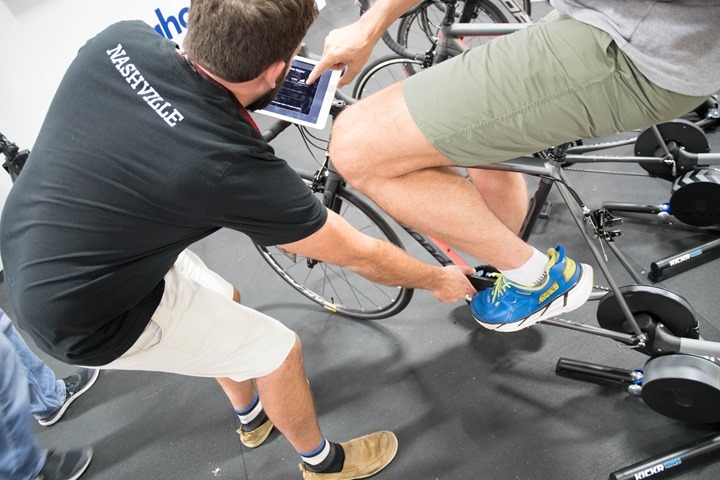 The remote pairing device is made by North Pole Engineering (NPE), which also makes the more well-known WASP devices used in fitness studios and gyms.  It's used to pickup numerous sensor connections concurrently and stream them in real-time to a backend platform.  Wahoo uses it within the KICKR Studio package, with their wall-mounted version: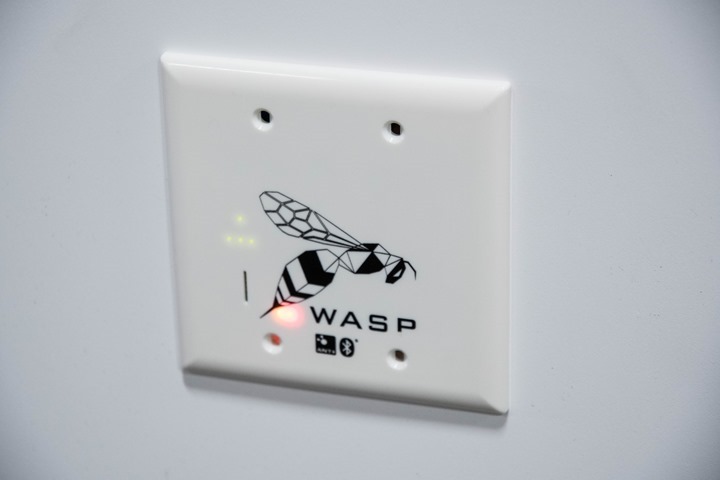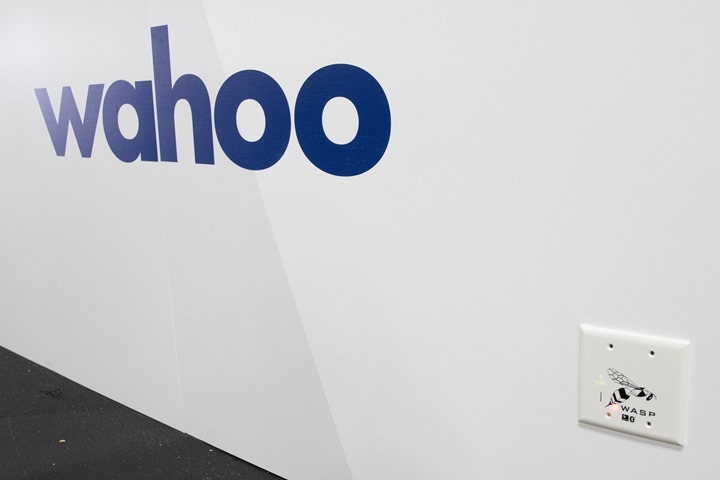 Now when it comes to that backend platform, there's two pieces.  One is an instructor iOS device (iPad in this case) that the instructor uses for managing the class before and during the workout.  The second piece is another iOS device that's used for sending all the commands to the trainers and acting as a central hub for data, it also connects to the TV.  This secondary unit in turn integrates with the Wahoo cloud platform for data transmission; though, it can also sustain loss of WiFi just fine during the class and still keep ticking.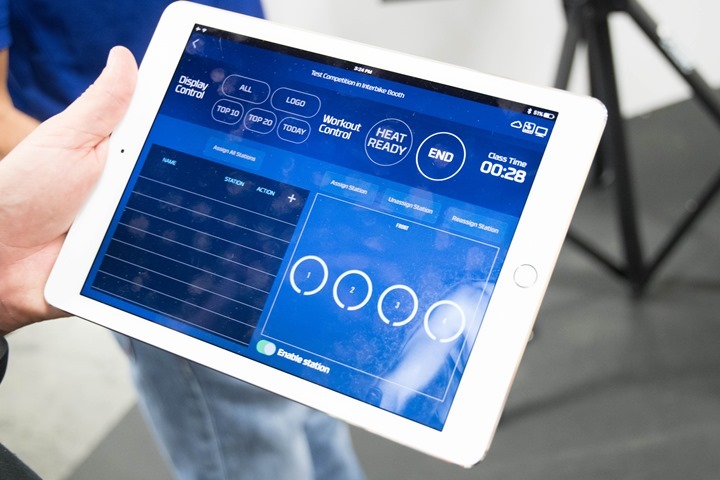 Below is the instructor tablet while checking in the riders.  Riders can update profile pictures, and the instructor can see whether a rider has paid or not by the credit card icon.  Same goes for if the person's sensors are paired.
The instructor can also tap any given rider to take a closer look at paired sensors and make any changes if required. They can adjust intensity level for that rider as well.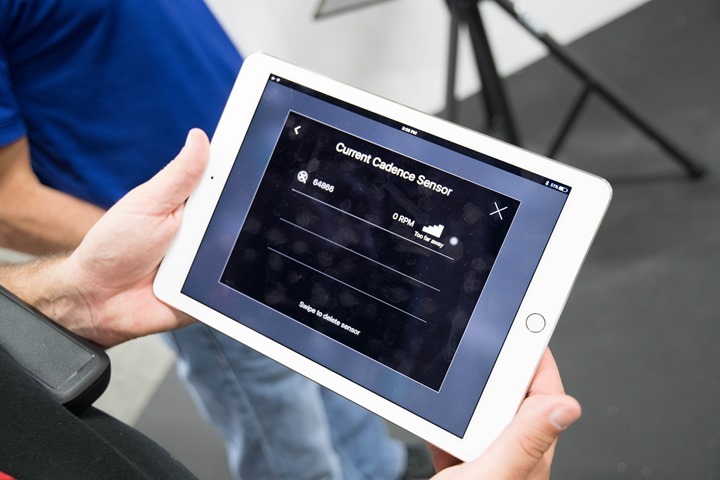 When it comes to workouts, Wahoo is including some pre-canned workouts in the suite.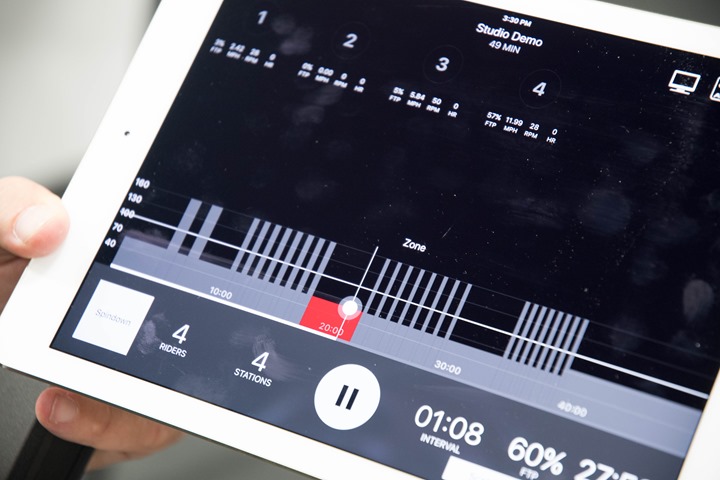 But studios can also make their own workouts using Wahoo's new workout creator. It's pretty straightforward and has the ability to quickly create workouts/segments, and reminds me of TrainerRoad's workout creator.
After everyone is settled, you'll get started on the session.  The main display is controlled by that backend iPad, and will display rider stats on the screen as well as the workout along the bottom.  Instead of showing exact watts, it'll show your % of FTP.  The workouts are 'leveled' for varying rider abilities by using % of FTP, as opposed to straight wattage values. The rider should simply aim to keep intensity in the green target zone, which adjusts as the workout goes along.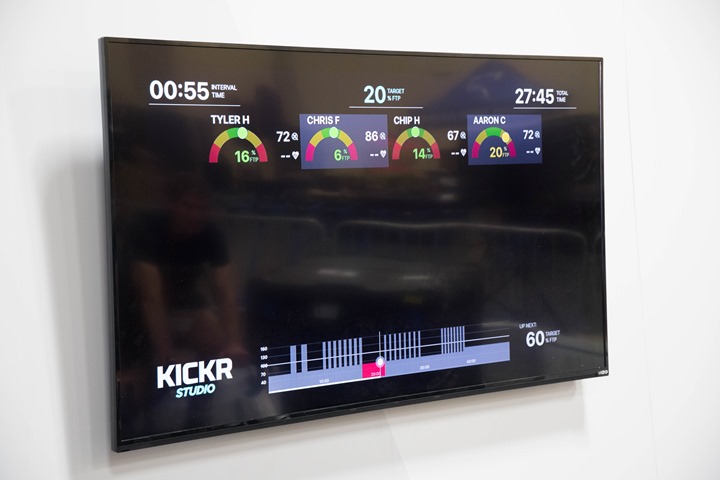 In the event someone doesn't know their FTP, the instructor can put in an estimated value and then easily change it on the fly as the situation warrants.  More than that though, the rider can actually use their own shifting to make it harder or easier in the workout (effectively adjusting the overall workout intensity).  Meaning that since it's in ERG mode, it would normally ignore your gear shifts. But in this case, it'll now consider speed as a factor for intensity.  So to allow a student to reduce intensity, you simply reduce your speed.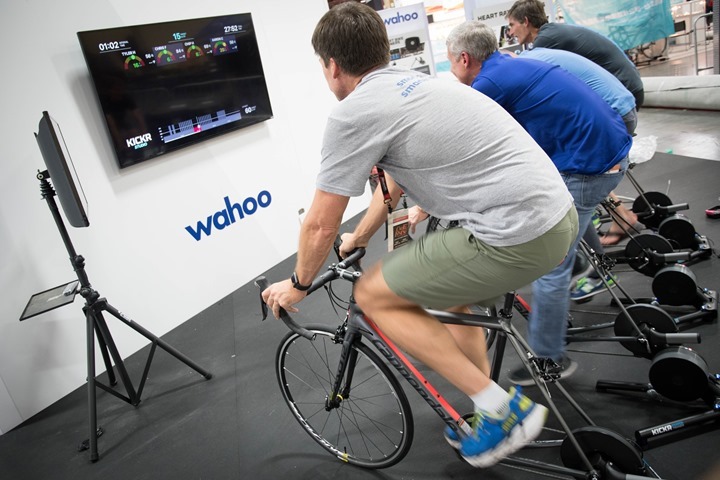 Speaking of changes – probably the most important piece of the KICKR studio is actually the technical changes that Wahoo had to make to have everything work. While other platforms work by controlling the trainers using ANT+ FE-C or Wahoo's earlier ANT control options, those sometimes had delays of a few seconds between all the class participants.  That was fine for longer multi-minute intervals, but didn't work if you had a 5 second delay to start a 15 or 30sec interval. This was especially important in larger studios – such as those with 15-20 people.
So Wahoo ended up creating a specific studio mode that allows the KICKR (both new and old versions, plus KICKR SNAP) to cache upcoming commands.  This way the KICKR knows the commands (levels) ahead of time, and is essentially just acting out a script on demand based on a time-code.  So once it gets its initial starting command from the instructor, all KICKR's are operating exactly in sync on this preplanned flight. Of course, that can still be adjusted in realtime from the instructor.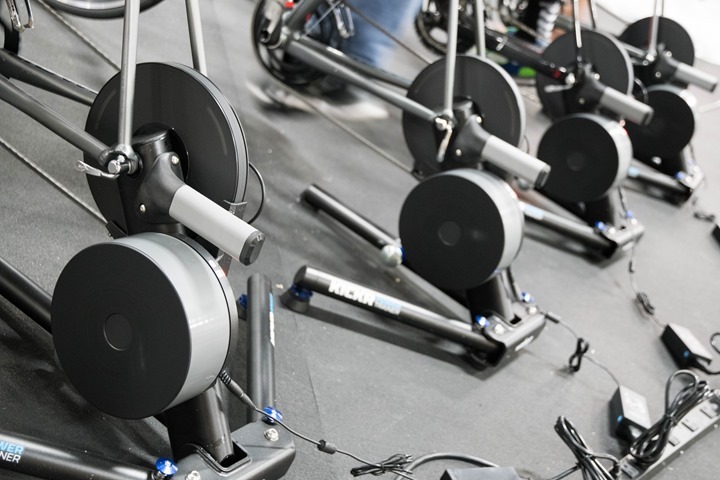 All of this is controlled over private-ANT (they noted that if ANT+ FE-C gets its long discussed group mode, then they'd look at that as well).  However, Wahoo still allows you as a rider to pair to the trainer via Bluetooth Smart during this, so you can view your data right on your phone using the usual Wahoo app if you'd like.  It just will disallow control of the trainer during the session.
Upon completion of the workout it'll show a summary screen, as well as then e-mail each participant a data summary and then a link to download their file.  If they've configured auto sync, it'll also send it off to partner accounts (i.e. Strava).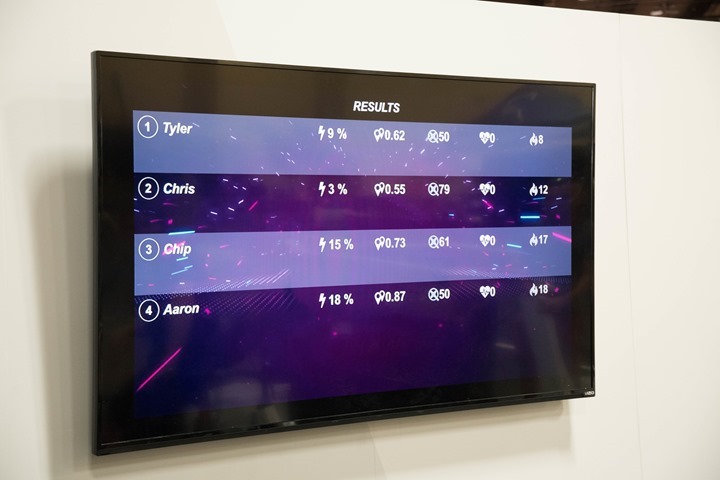 For now Wahoo is rolling out just the structured workout mode, but says they'll likely look to add in video partner integration shortly as well.
From a studio ownership standpoint, you'll be able to 'buy' the KICKR studio as either a straight-up purchase of the package, or you can also do short-term leases of the entire platform and the KICKR's, to test whether you can make the platform work in your specific bike shop/studio.  All of which will be available over the next two weeks.
—
With that – thanks for reading!  Stay tuned to Twitter for all the latest news, analysis and sarcastic observations from Interbike this week!  Fear not – there's plenty more!