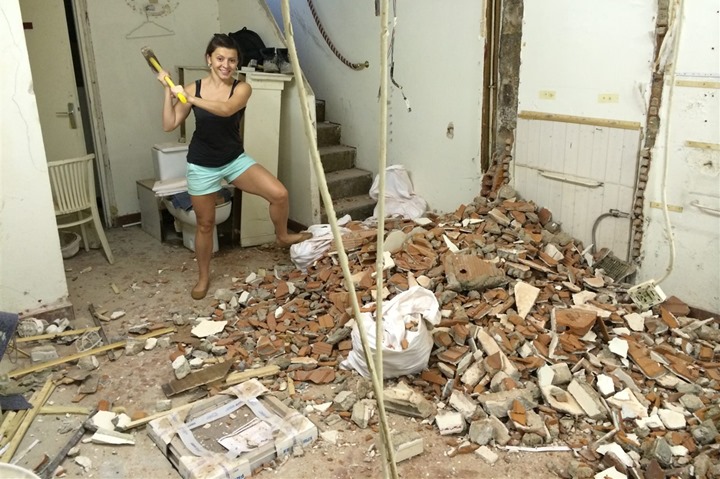 Update – Dec 12th 2014 – If you registered but did not receive location details, simply use the Contact page and I'll reply to you with the event details (usually within a few minutes).  A few folks mistyped e-mail addresses in the RSVP form so my attempt to send the details failed for those.  Thanks!
Wanna be the first to see the new DC Rainmaker space?  Yup, an actual office of sorts.  Well actually, more like a totally kickass mancave.  Or how about being the first to see the newest Bertie's CupCakery location?  Here's your chance!
On Saturday evening, December 13th we'll be unveiling both – but I want to invite DCR readers in the area (be it in Paris or others who wish to travel) to come in and check it out!  We'll be doing an open house of sorts, and you can bet we'll have plenty of awesome CupCakery related sweets there for you to enjoy (on the house of course!).
The above photo was taken back this past June when we started construction – and things have mostly wrapped up fairly recently.  It's a combined space for The Girl and I,  split between an area for me and the growing collection of gadgets/trainers/etc, as well as her for a CupCakery related endeavor, plus some shared office space.  It's pretty awesome.
But guess what – there's more!  The following day is the local Santa Claus 10K race, where everyone dresses up like Santa and throws down.  Seriously, people run fast here!  We've made it a bit of a tradition to run each year (in full costume) – and this year will be no different.  The race is Sunday morning (Dec 14th), but like most Parisian races it doesn't start till later Sunday morning (10:40AM), so you don't have to worry about getting up early.  Here's last year's event.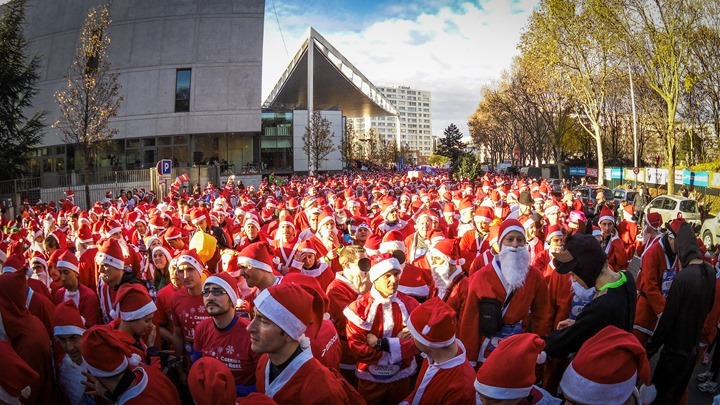 So whether you're in Paris, or want to make an enjoyable weekend trip to the city, this is a great opportunity.  Remember, the major Christmas markets are open here then too, as is ice skating just a few hundred meters away at the Town Hall.  No matter the reason, we'd love to have folks swing by.
Specifics:
For the Open House:
Date: Saturday, December 13th, 2014 – Starting around 5PM.
Address: To be announced address, but within the Paris 5th Arrondissement
Closest Metro: St-Michel Notre Dame (RER-B/C) or Cardinal Lemoine (Line 10)
Price: Free of course!
For the Santa Claus Run:
The event is in Issy, which is easily accessible on the RER-C line on the western Edge of Paris.  There will be thousands of Santa's, and when you finish you get a bottle of wine.
We'll be doing the wave titled: "Course n°5 – 10km Déguisé – 10h40" – It's the general Santa 10K event. While there is an elite/licensed race as well, we've always done #5 and had a blast.  Plus, I assure you – there are plenty of very fast people running this race too.  Specific registration link is here, then select the top option on that page for 25EUR, before selecting course #5 on the next page.  And obviously, ensure you select to get a costume!  Of course, feel free to do any of the waves, including the kids one.
Sign up!
For the open house simply use the form below to sign-up (just so I can figure out how much cheese to buy, and cupcakes to make!), we look forward to seeing you then!  For the Santa 10K registration, be sure to use their site above.
Create your free online surveys with SurveyMonkey , the world's leading questionnaire tool.
I'll use the e-mail provided to finalize any additional details as we get closer to the date.  Oh, and yes, there might be some giveaways there too…
See ya then!
– Bobbie & Ray