There's a gazillion things to see at Eurobike, and many of them simply don't make the cut for a bigger full-sized post.  Sometimes it's because they are too early in the development cycle and lack full details, sometimes because I think your interest is likely fairly low (if it were me, I'd write volumes on everything!), and sometimes simply because I'm already planning a much more detailed review and want to give you a quick heads up and peek at what's coming.
There's so many items that I decided to break this apart into two posts – the second of which you'll see post later today automagically.
All of these items are cool in one way or another.  Otherwise, you wouldn't see me bother writing about them.  Let me know which ones you want to hear more about – and I'll prioritize accordingly.
Enjoy!
—
Ciclo Power Control: €1,000 Left/Right Power Meter + Cranks + Head Unit + Chain rings
Essentially, this package is offering everything but the pedals.  This is huge from a price standpoint.  All the sub-$1K spider based power meters these days don't include cranks or anything, let alone a head unit or independently measured left/right power.  The unit is being targeted for Eurobike 2013 (a year away) – so a lot can happen between now and then.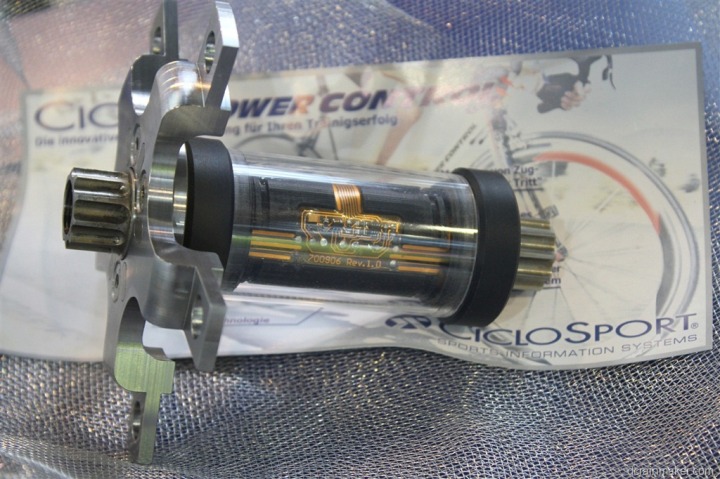 The power meter will independently measure left and right power, and stream that data to the included head unit.  They are targeting accuracy within 1%.  It hasn't been decided whether or not they'll utilize ANT+ or Bluetooth Smart (Low Energy) – that's still up in the air and expected to be finalized in the next few months.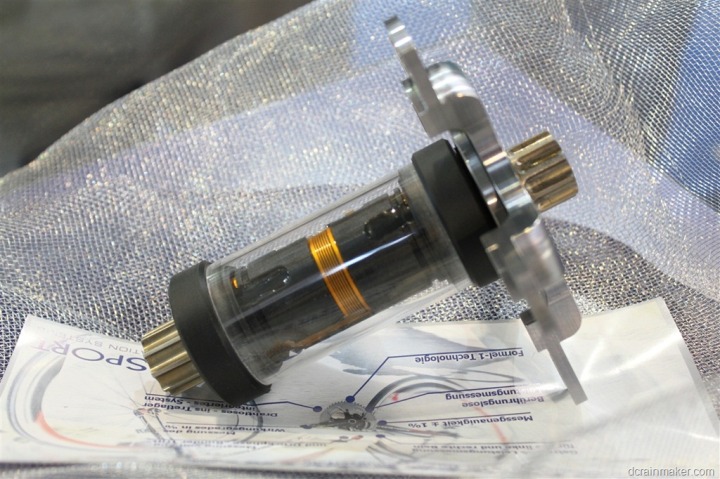 While that might sound strange to not yet have a decision on that area – it's actually the least complex part of a power meter build, and most of the companies design them to be able to swap out the communications module down the line.  Even Garmin and their Vector team noted this as well when I talked to them.
Unfortunately, details were slim – and only one person in the booth knew anything about it – and they didn't speak very good English (and I didn't speak very good German).
But if they nail that price point (which from talking to others, is set in stone) and deliver the full package, that'll be impressive.
Cateye ANT+ GPS bike computer – Stealth 10/50: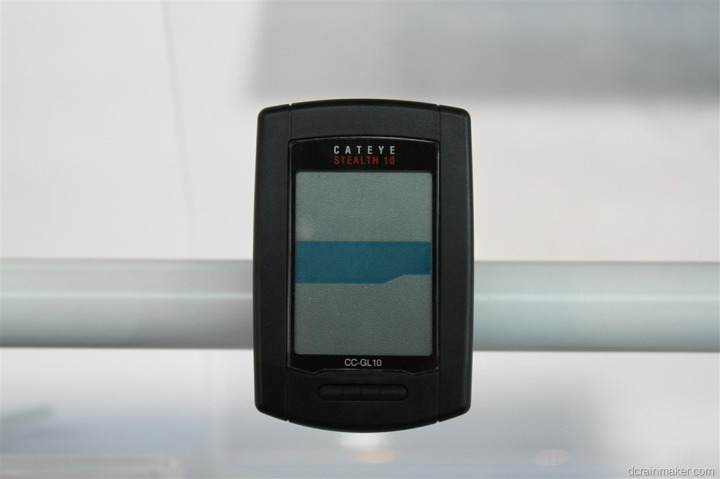 As a general rule in conventions (or presentations in general), you either show a product that "works" (as in, turns on, blinks, does a dance, etc…)…or you fake it (put it behind a piece of glass with an emulated/fake display).  In Cateye's case, they did neither.  They just showed a non-on device with no glass.
Thus, I couldn't really get to play with it, since none of them worked or even lit up.  Nonetheless, for the price and size – the Cateye Stealth 50 may offer a nice alternative to the Garmin Edge 200 (which doesn't include ANT+).
The units will be priced at $150 for the ANT+ compatible one, and $120 for the non-ANT+ variant.  The units will be downloadable to TrainingPeaks, and support all the usual ANT+ types: Speed/Cadence/HR/Power.  Plus, they'll have a solid 60 hours of data with 10 hours of battery life.  Pretty good.
The unit will be available sometime between February and March 2012.  The prices noted above will be for both US dollars and Euros (150/120).
I'm hoping by time Interbike comes around in a little over two weeks, they'll have figured out how to turn them on, and I'll be able to give you a bit of a tour of them.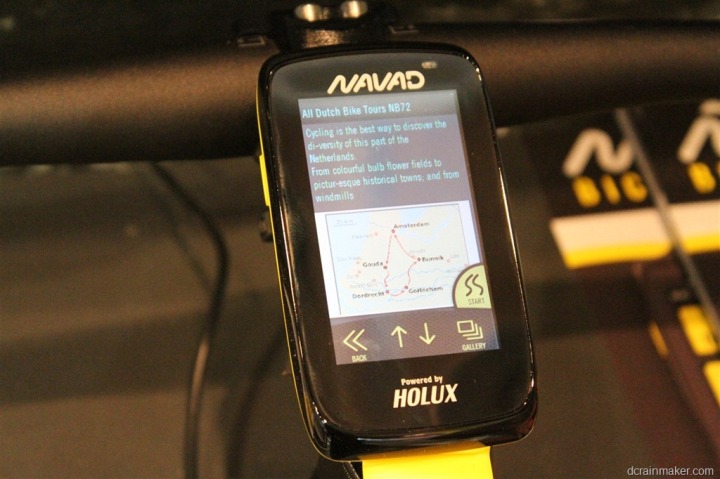 I stumbled on the NAVAD Tour while making it a goal to walk every single aisle of every single hallway.  Now NAVAD actually makes three devices – two targeted at end users like your or me (NAVAD Trail & Race), and one targeted at tour companies (the Tour).  It's the tour companies one that I thought was kinda cool.
It allows a bicycle tour company to load up a predefined route – and then add things like photos and notes to the unit.  They can also add a few routes (easy/medium/hard) for a given day.  The units are designed such that they're simple enough to teach someone within two minutes or less.  And they seemed that way from my time playing with them – super easy to use.
They offer companies two methods of getting the goods on the devices – one is if you're techy enough you can do it yourself – merging routes with photos.  And the second is they do it as a service for money.  Apparently their typical order size is fairly substantial for this device, usually in bulk quantities.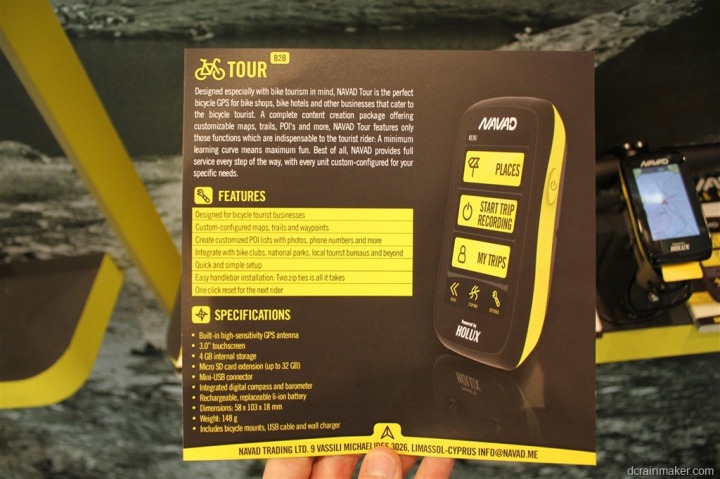 Since I've heard requests previously for how to do something like this with a Garmin Edge 800, I figured I'd share this with those that might have a need.
Polar Look Keo Power System Pedals and Bluetooth Low Energy (Bluetooth Smart)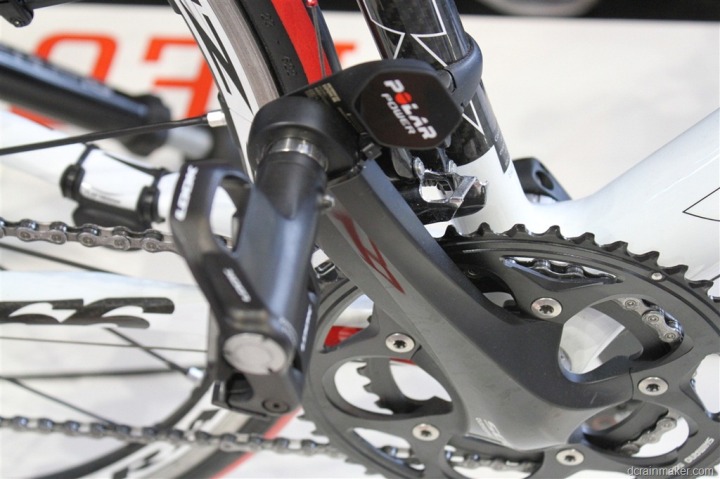 I had a chance to chat with them about their upcoming plans for Bluetooth Low Energy.  As you remember, Polar has long promised to bring Bluetooth Low Energy to the Polar/Look Keo Power System pedals.
They've already started development work on the Bluetooth Smart update for the pedals, which is good to hear.  At present, they are expecting it to be available sometime next summer (perhaps late Spring).  They won't decide pricing (if any) for the update until sometime early next year.  Currently, the pedals operate on Polar W.I.N.D., which isn't interoperable with anything.
They will be adopting the Bluetooth Smart power meter profile, once fully finalized, which is the same one that Wahoo sports is using for their new KICKR trainer, and what Kinetic is using for their new inRIDE power meter accessory.  Note that the Velocomputer Bluetooth Smart Power Meter does not adapt to the standard however.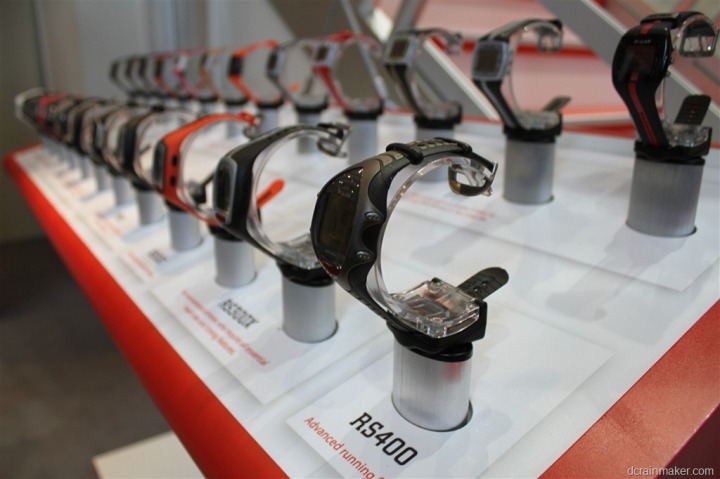 All this is good news – though I was hoping to see this happen a fair bit sooner.  Of course, that does give Polar more time to sort out the head unit/watch side of the equation.  I wouldn't have expected to see a Bluetooth Smart power meter update available ahead of a Bluetooth Smart receiver (watch/head unit) from them.  By the same token, if we don't see Bluetooth Smart devices (beyond the single heart rate strap) by CES 2013 from Polar (first week of January) – I'd think they'll be significantly behind the curve there.  Just my random thought of the day.
—
With that – hang tight for Part II!