This is a continuation of the cool little sports technology tidbits series I started this morning.  Here's Part I if you want to catch up.  And with that, onto Part II!  Enjoy!
—
O-Synce GPS Bike Computers (and surprisingly cool software app)
As a bit of background, it's somewhat funny (to me at least) that at Eurobike (and Interbike), when companies try and have you understand what a given bike computer GPS unit does – they always start off with either "It's comparable to the Edge 500" or "It's comparable to the Edge 800".  Always, and without fail.
But in many cases though they don't offer a way to differentiate themselves from those two popular units – and thus ultimately don't find customers.  As I talked about in the past, even if you duplicate the pack leaders, you still have to exceed them to win customers.  Simply being a different brand isn't enough – no matter how good your customer service is.
So I was surprised and excited to see that with O-Sycne's (pronounced "O Science") actually did do some stuff different.
First up was that they have a remote handlebar button unit.  This allows you to control their head unit right where your fingers are.  It's got three little buttons and can be mounted on the left or right.  I'm not sure why someone didn't think of this sooner.  Btw – their unit below is the navi2coach – which…well…is sorta like the Edge 500.  But more in a minute on how it's different.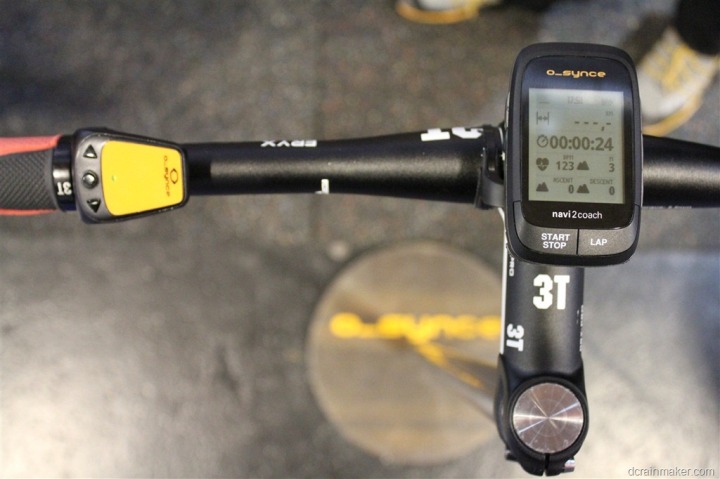 The remote is also offered for their lower end unit: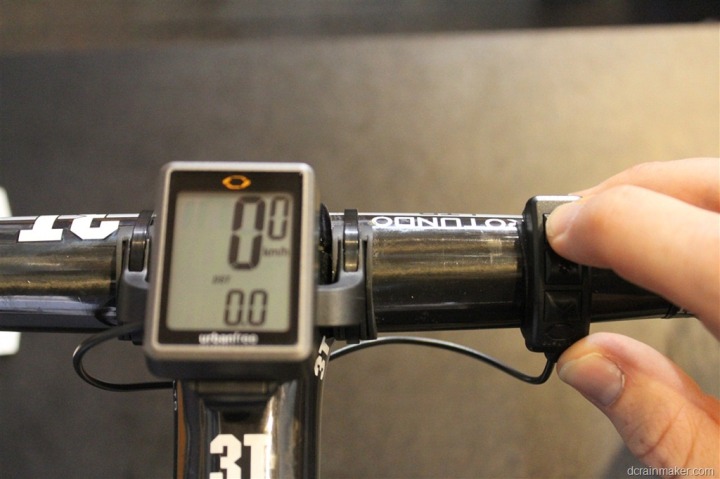 On the navi2coach GPS unit itself, they've made it easier to customize.  Like we saw with the Timex units, you can customize everything both in the software for the unit, as well as later on in the unit itself.  You can create pages, select data fields with just click and drop.  There were so many options that I eventually just stopped taking photos.  But it wasn't option overkill – it was actually easy to understand.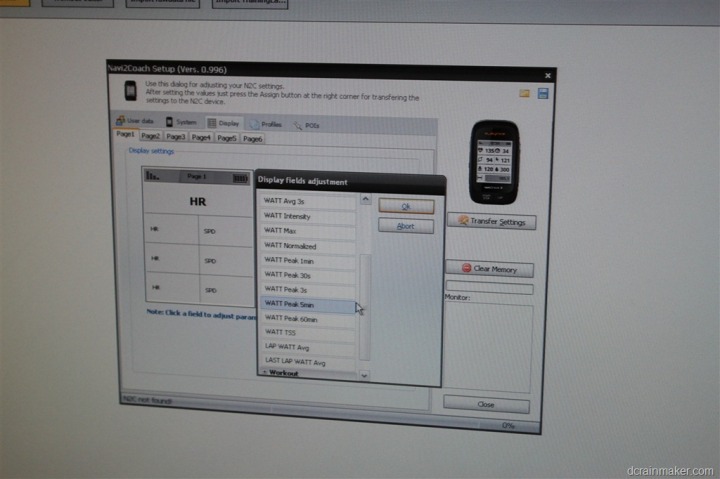 They've also created namable timers – something that neither Garmin nor Timex has (Polar has started down this path).  This means that you can specify a per-sport timer that reminds you every 10 minutes to 'Drink water' – or perhaps every 20 minutes for 'Intake nutrition'.  Whatever you want.  I like the fact that you can customize it.  It will actually display that to you on the unit itself.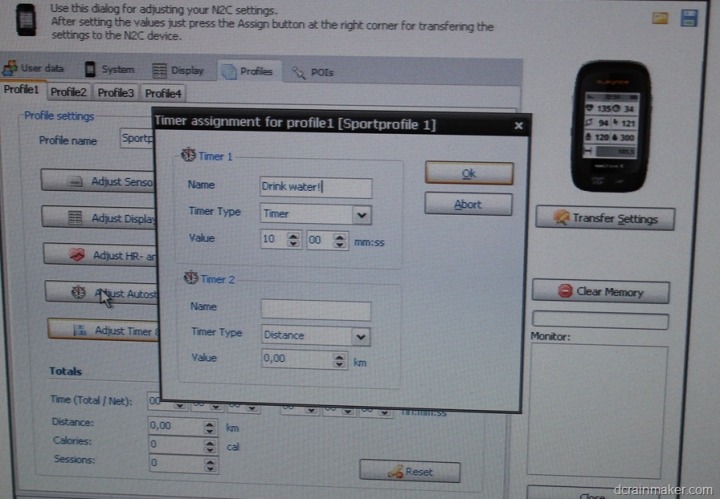 In fact, it's the software that's probably the coolest here.  Just tons of flexibility.  Both in creating workouts, configuring your settings per sport – changing the names of those sports – and then downloading and analyzing everything afterwards.  About the only bummer piece about the software is that it doesn't support Mac today (though does work in Parallels).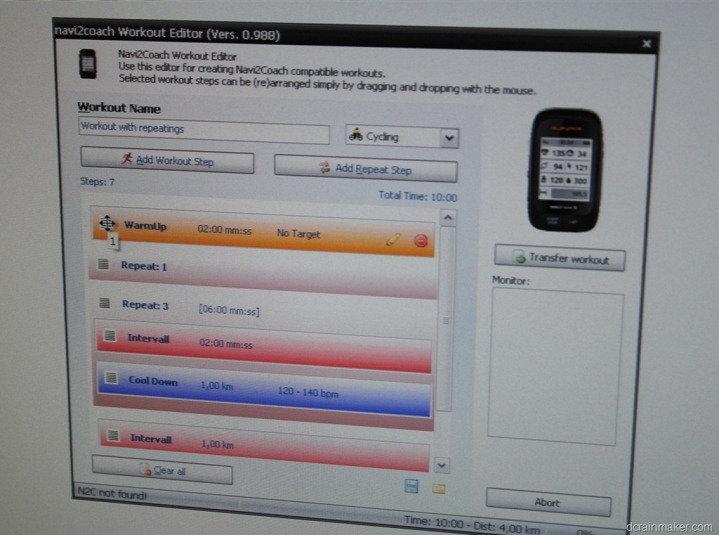 Now I'll be digging into this unit full bore in a complete in-depth review here in the coming months.  Also of note is that O-Synce has just added a US distributor, so expect to see it starting to make inroads there.
I think they've legitimately got a contender in the unit + software. If for no other reason than they re-iterated over and over while were were talking that "If you or the community want new data fields or new features added, we're listening and will add them", going as far as saying "We're not going to just release a product and forget about it" – a subtle poke at the giant in the room that is a bit lax on fixing issues with their units.  I was trying to come up with a cool data field to ask for to test this theory, but at the moment I can't think of anything that's not already in there.  Feel free to drop some ideas.
I also thought it was interesting they noted that they wanted to reach out to the Golden Cheetah folks on fields and configuration options and how the unit could work best with the app.  Obviously a lot to think about on that, but they were open to allowing the unit to gather or display data differently if some of the masters at Golden Cheetah thought it may be helpful/useful.  Put the two groups of smart people together and I'm sure some sort of baby will pop out.  Good to see industry collaboration.
Finally, I thought it was funny that as I was leaving the booth one of the employees saw me and pointed at the bowl and said "We got this idea from you on your blog!", which had a bike computer that had been sitting their patiently all day.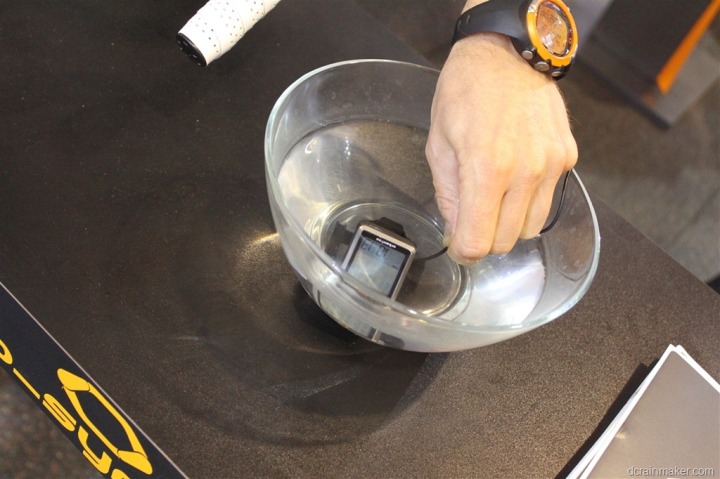 Oh, and for those curious about the previously noted O-Synce pedal based power meter, they're still working on it, but don't have anything to share this year.  It sounds like it's probably a 2013 thing.
Campy EPS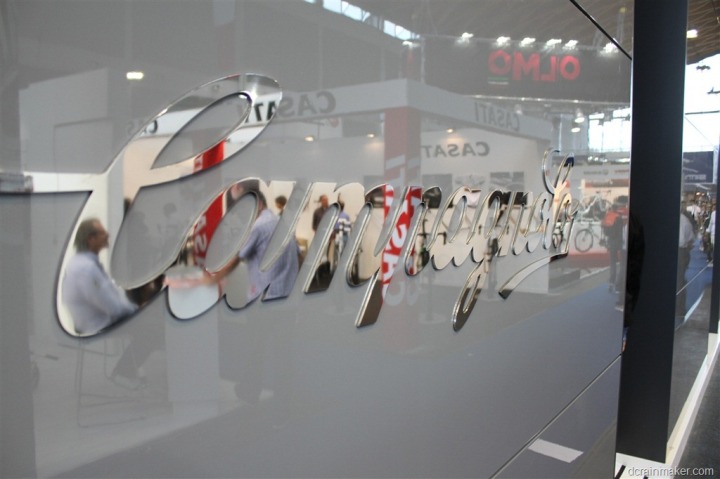 You know you're a technology geek when you're more impressed by Champagnolo camera setup than the electronic shifting they were demonstrating.  Nothing wrong with the shifting at all, it's just that it's pretty well covered in the mainstream bike press.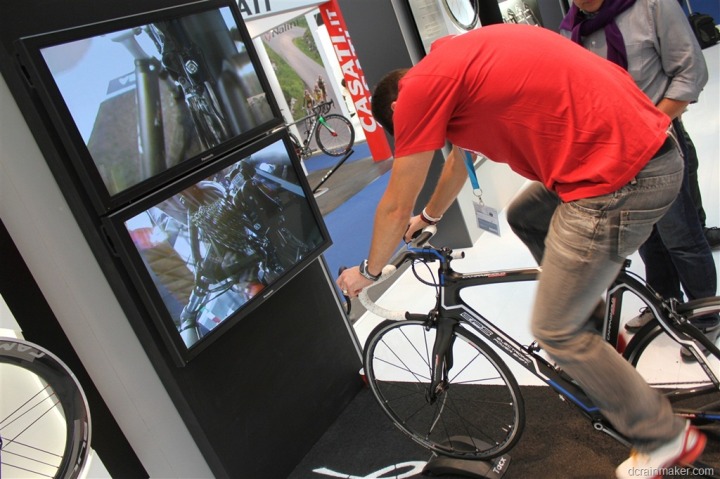 Thus it's their trainer camera setup that was pretty sweet and really interested me.  They had two tiny little cameras arranged behind the derailleurs, so you could watch the whole rig shift up on the big screen.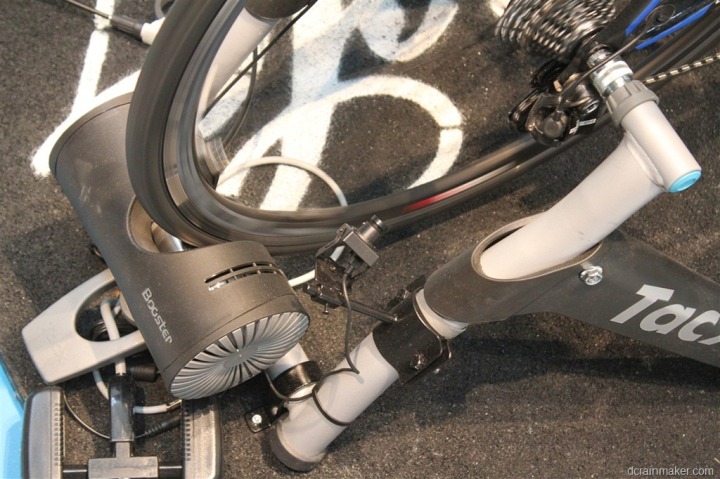 This allowed any given person to jump on the bike which was affixed to a Tacx trainer – and then everyone around them could watch.  Here's a quick video of the shifting:
And here's a shot of the whole EPS parts lineup: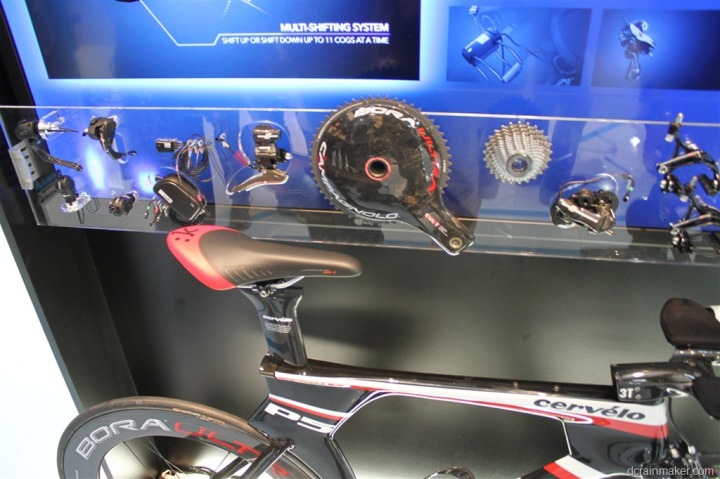 uBike App
There are a million fitness apps out there, which is one of the reasons I don't do many reviews of fitness apps.  They change often, and there's just so many that do the same thing.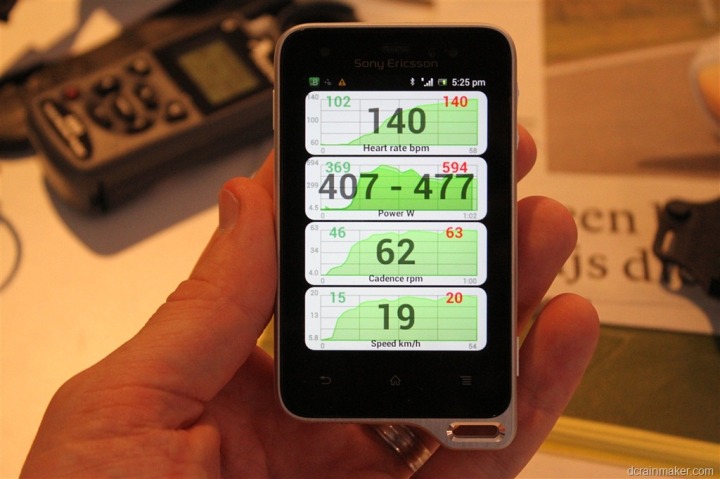 But the BroxTech guys did get a few minutes of my time as they showed off a cool app that does live streamlining of more than one data set simultaneously to a site – for comparative graphing in real-time.  The idea here being that a coach could watch in real-time your ANT+ data.  Now there are a few apps out there that do streaming of GPS & ANT+ data (even Garmin FIT), but none can do comparative graphs – for example, two power meters at once, or two people riding/running together at once and their data (i.e. heart rate).  See below image: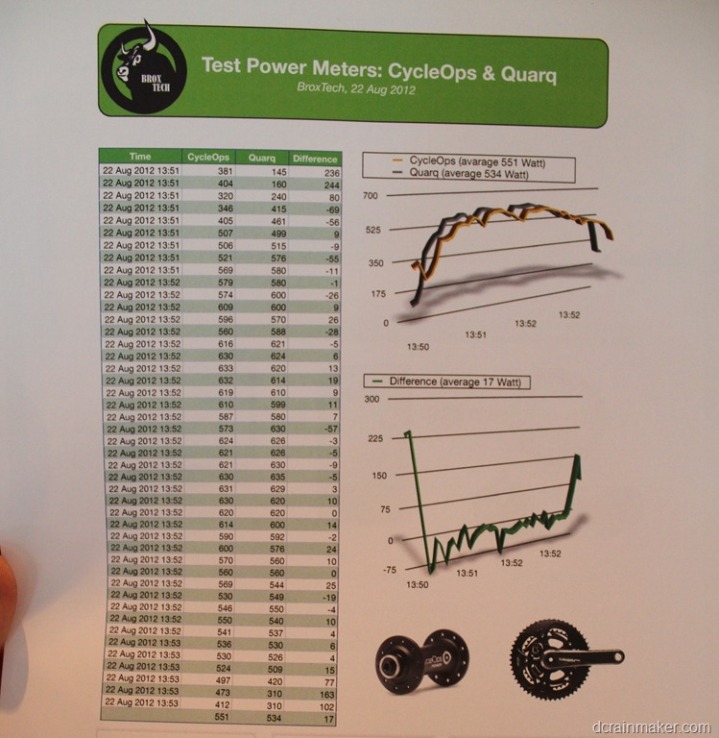 In addition to the streaming to a website part, their app itself can also do comparative graphing/charting/recording in real-time, as well as playback of data.  There's a number of scenarios this would be interesting for – primarily around coaching, lab and deep data analysis.  But I could also see some potential broadcast scenarios play out.  I don't see this as a replacement/substitute for someone who likes RunKeeper or similar, but rather – a different audience.  Today they work with high performance teams and the like.
Specialized Turbo eBike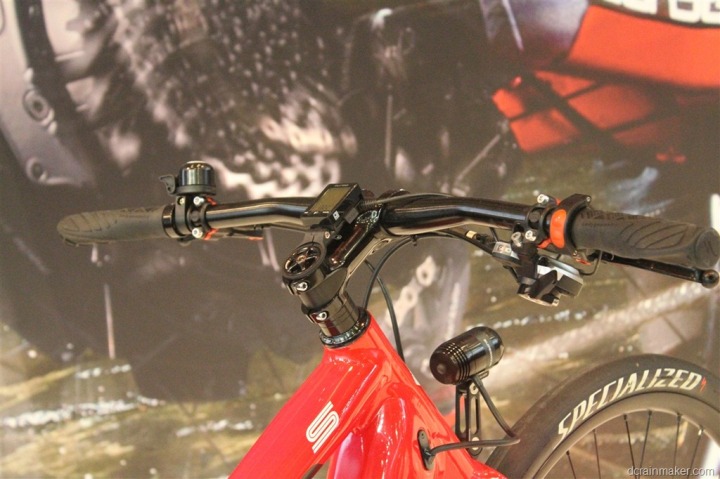 Finally, last but not least on the interesting technology front would be this Specialized Turbo eBike.  Why an eBike?  Well, because it's actually controlled via ANT+.
Yup, the little head unit there monitors speed and power and can make changes across the ANT+ signal.  This is interesting in that it's not super-proprietary like many of the eBike systems out there.  In theory, if someone like Garmin or Timex wanted to, they could actually add in a eBike control option to their GPS units.  Though, given the two markets don't exactly mesh – that seems unlikely.  More likely though would be the ability to control the whole thing via a phone, either through an ANT+ dongle or a dedicated smart phone.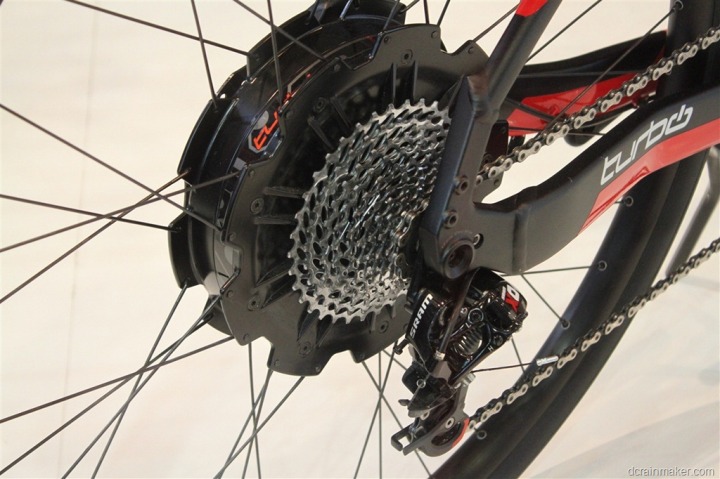 Of course, the only catch here being this bike is about $5K, nor is it available in the US since it goes too fast (self-powered too fast).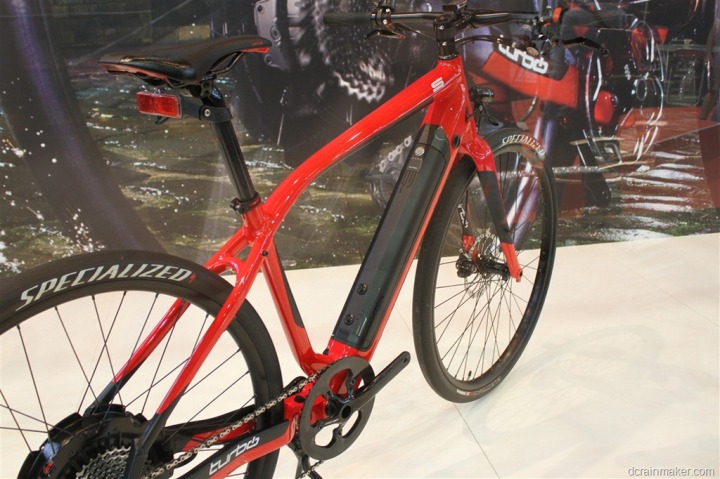 Maybe that's why they kept it all locked up in this massive glass structure.
—
With that, I've wrapped up all the sport technology stuff related to Eurobike – but I've probably got one more post of some more interesting non-tech photos (including those women only wearing paint in one of the bike booths), and probably some behind the scenes stuff.  Enjoy, and thanks for reading!