This weekend was a bit of a catch-up weekend on items to get unboxing photos on, and ensure I have all the photos I need of a product before I start using it.  I've long since learned that if I don't do it up front, I may never get that opportunity…such as in the event when a product later becomes destroyed, lost or otherwise killed.
Hopefully, that won't happen to any of these.
First up was the long awaited Polar/Look Keo Power System, which is a pedal-based power system.  This was announced last year, and you saw my 'Everything you ever wanted to know about it' post back in the fall at Interbike.  But now I finally get the chance to have it on my bike, using it as I normally would on my own workouts.  Well, actually, my coaches workouts.  I suppose I just follow them.
As you might expect, you'll get a full in-depth review here in a handful of weeks – but in the meantime, here's some fun unboxing pics:
Now I actually haven't had a chance to ride with it yet, since I ran into a minor snag with the units a communications standpoint.  I think it'll be all set Monday morning when the right folks get into work and can help me troubleshoot.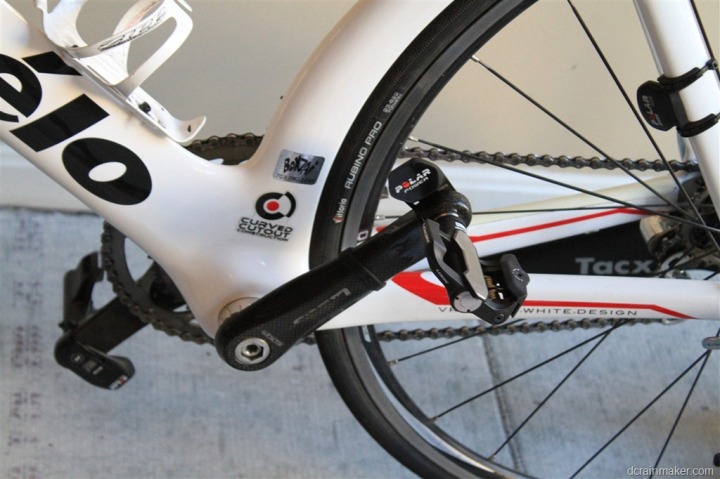 The system was pretty quick and easy to install though from a physical standpoint, and certainly something that anyone could do – not just a bike mechanic.  And pairing with both the Polar CS500 and CS600 was easy as well.  Good stuff, looking forward to my first ride – especially seeing how the power compares with the SRAM/Quarq Cinqo that's on the backside of this picture.
Next up on the list was another cycling related item that I unboxed, but didn't quite have time to install yet – the Presta-2.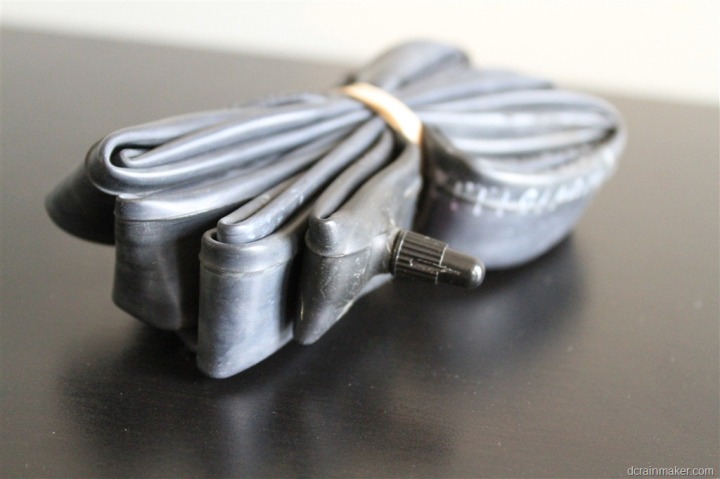 Now you may be wondering what you're looking at.  Above is a highly aerodynamic bike tube.  Essentially a tube designed to have absolutely zero aerodynamic profile by eliminating the valve sticking up out of the rims (as a valve normally would).  You can see just how short it is: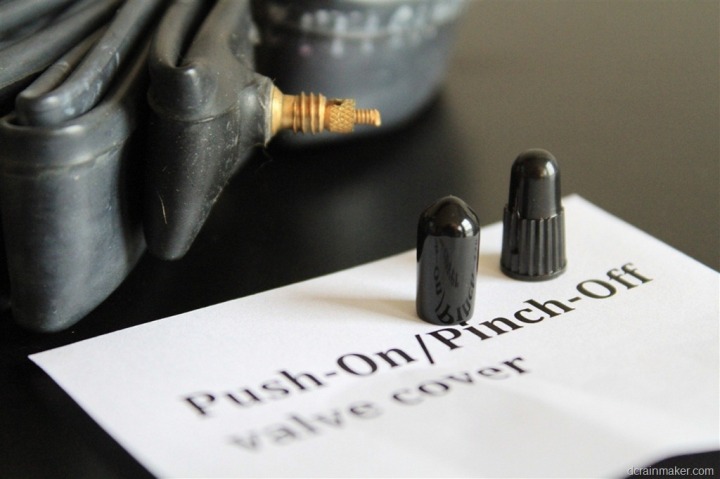 Once installed, you must use a valve extender to access it – but you'll find this is somewhat similar to some deep dish race wheels of today.  The reason being that the valve will completely disappear inside the wheel itself – and during a race you'd install a thin cover over it (aka: electrical tape) to make it disappear.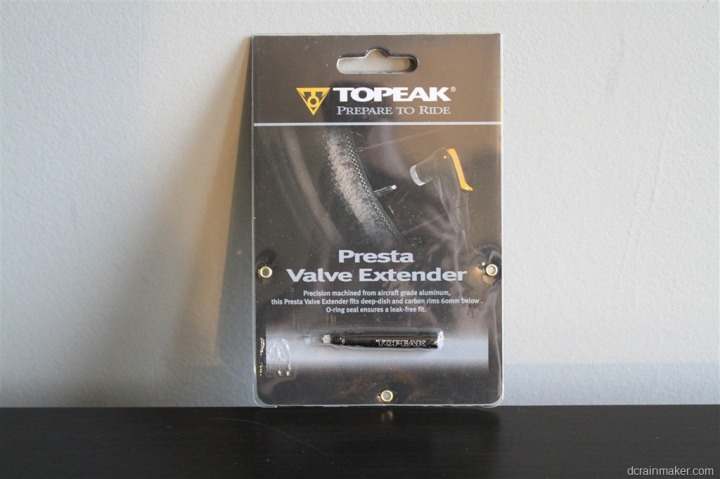 Now, at nearly $100 a tube, these won't be for everyone (much like the Keo power system I started this post off with) – but since I get a wide range of followers (from my Mom to Olympians), I'm always interested in testing out items from all categories.  More over the next few weeks on this one as well.
Next up is the Cardiosport Biovest.  This is a heart rate strap integrated top that you can connect to your Garmin watch or other ANT+ enabled device.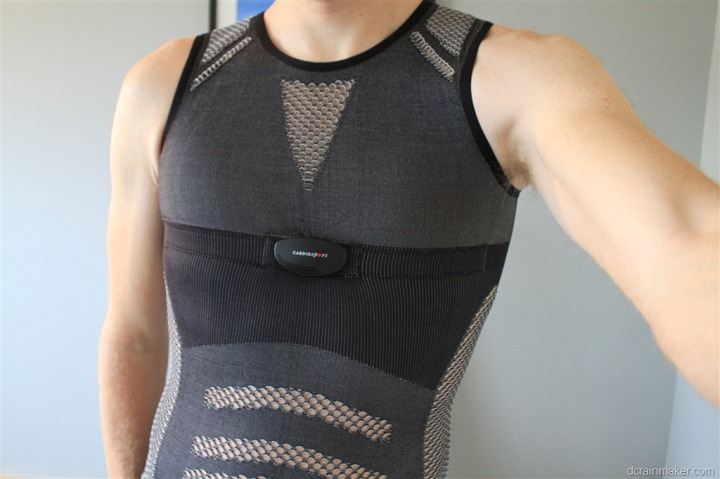 This means you don't actually wear any heart rate strap at all, instead it's built right into the fabric of the top.  Nice and smooth!
It includes a built-in ANT+ transmitter pod, but you can (and I tested) a handful of others as well.  I'm going to finish testing all the ones it's compatible with – but so far, so good.  The top comes in a variety of sizes for both men and women – and both black and white.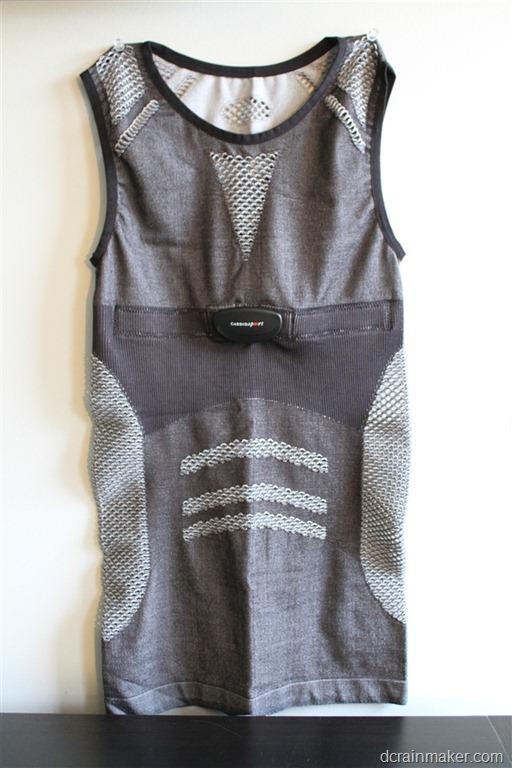 I decided to take it on my 15 mile run that I had to give it a first look.  I've often found that the best places to test products on are my long runs and rides.  Well, that and the ocean.  But since the ocean wasn't in my plans today, a long run would have to do.  So I put it on below a simple long sleeve shirt and headed on out.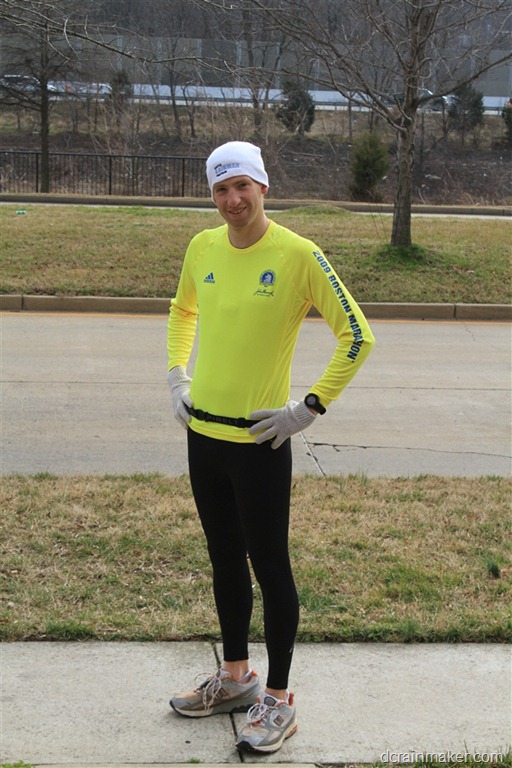 While I did apply a tiny smidge of heart rate strap gel ahead of time to the strap (as I usually do on cold, dry days) – I  was thrilled to see that I didn't get a single heart rate spike or dropout throughout the run  – just completely flawless data:

(The two sharp drops at mile 4 and mile 9ish are simply stoplights.)
Awesome!
Now I had two sizes shipped to me – and this one was fairly snug – a bit compression-shirt like.  I'm getting some clarification on what the ideal tightness level is.  I didn't mind it too much, but generally I prefer a bit looser clothing.  Of course, some prefer more snug clothing – just a personal preference thing.  The other size shipped to me is bigger, so I'm curious to see how well that works.  Additionally, I'll update this post later in the day with how exactly you can purchase/buy the top – since I realized tonight I'm not entirely sure on that piece.  It will be available in April via a UK shop that ships worldwide for $79US including tax without the pod (use your own), or another $30US with the transmitter pod.
And finally, while I did un-package a few more items (after all, I spent four hours unboxing, photographing and getting stuff ready) – I'll instead move onto the most important part of Sunday:
The Superbowl.
Yes, if there was any reason why I ran 15 miles ahead of the big game, it was to be able to eat anything I found there.
Which, happen to include The Girl's cupcakes: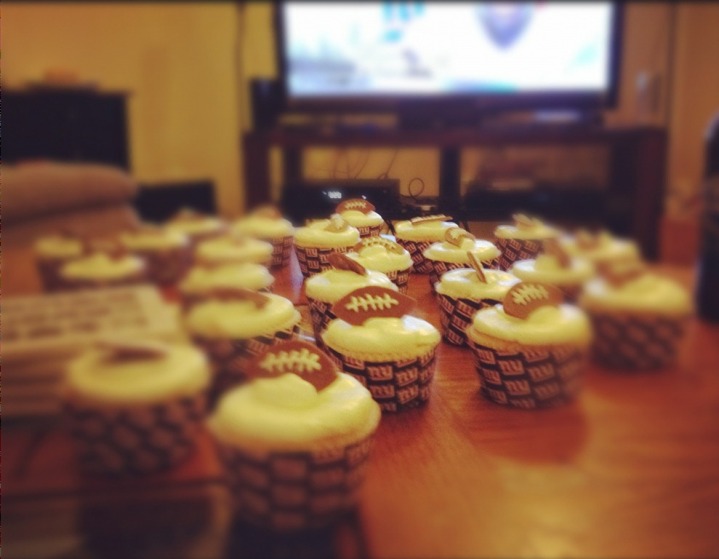 Well, and a slew of other things that other folks made.  Regrettably, this did not help the New England Patriots to win (and yes, those are NY Giants cupcakes, but because we went to a hardcore NY Giants party – didn't want to rock the boat).
On the bright side, there were some good commercials. 🙂
With that – hope everyone has a great week ahead, and thanks as always for reading!