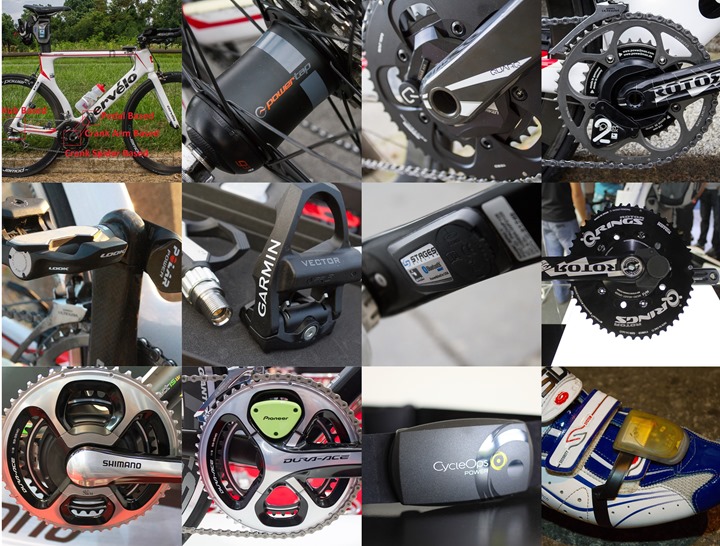 [Please see my 2016 Edition of the Power Meter Buyers Guide Located here.]
With all the new power meter products on the market recently, I figured it's time to do a bit of a re-group and explain the options and some of my recommendations.  I'm not going to cover why you'd use a power meter here, nor how to use it.  For those, start here with these posts.  Instead, I'm just going to focus on the products out in the market today.
It's important to remember that no one power meter is a perfect fit for everyone.  The cycling market has many unique use cases and thus you'll need to take into consideration your requirements.  For example, it'd be silly to go out and buy the Garmin Vector if you're looking to put it on a mountain bike.  And similarly, it'd be silly to buy a PowerTap hub if you currently have HED H3 wheels.  These are examples of technical limitations.
But there are also some non-technical limitations to consider.  For example, a product being offered in your country.  As it stands today for example you can't pick up a Stages Power Meter outside of North America and the UK.  Thus if you're training with Froome at his birth home in Kenya or South Africa, you may want to consider how support and exchanges work in the event you crash into a wild buck.
Finally, remember that power meters tend to be about as fiery as politics and religion.  So keep in mind this is just my view.  There are certainly other views out there (all wrong of course), but this comes from my perspective of trying out all the products below and hearing feedback from literally hundreds of people per day.  There are no doubt edge cases I can't easily cover in a single readable post, but I think I'll cover 99% of the people out there.  The remaining 1% can consider a donation of gold and/or expensive rocks for my further thoughts.
With that, let's dive into things.
Power Meter Placement
Before we start diving into the brands, features and functionality, we should probably talk about placement.  The reason being that unlike a traditional bike computer that works on just about every bike on the planet, power meters actually have more limitations than you might think.  Some limitations are straight technical (i.e. it won't fit), and some are preference based (i.e. I don't like it).  In either case, for most people this will help narrow down the selection a bit.
Let's just briefly ensure we've got everyone on the same page as far as where these things all go, starting with the below photo, and using the text after it as a guide.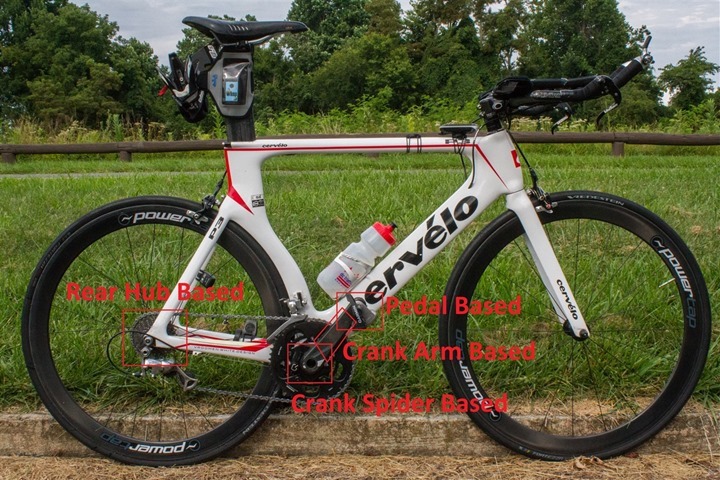 As you can see above, we've got four main areas we see power meters placed today:
1) Rear wheel
2) Crank spider
3) Crank arms
4) Pedals
There are tangential products on other areas of the bike, but none of those currently on the market actually have strain gauges in them.  Thus they are more estimations (albeit occasionally highly accurate) than actual force measurement devices.  Nonetheless, for the purpose of this post I'm sticking with products I'd actually recommend, versus ones I'm hesitant to recommend.  Or put more technically: I'm keeping the focus on what's known as "direct force power meters" – which are units that measure force via a strain gauge.  And finally, I'm not going to talk about companies that have gone out of business (i.e. Ergomo), or products that haven't been made in a long while (i.e. Polar chain power meter).  Not that I'd recommend either anyway at this point.
Back to my photo-diagram, I want to expand out the crank area a bit and talk specifically to that.   There are three power meter types currently within the crank spider location: SRM, Power2Max and Quarq.  The crank-arms themselves include Stages, Pioneer, and Rotor.  And finally, at the pedals you currently have Garmin Vector, Polar/Look and Brim Brothers (not on market yet).
Features and Functionality: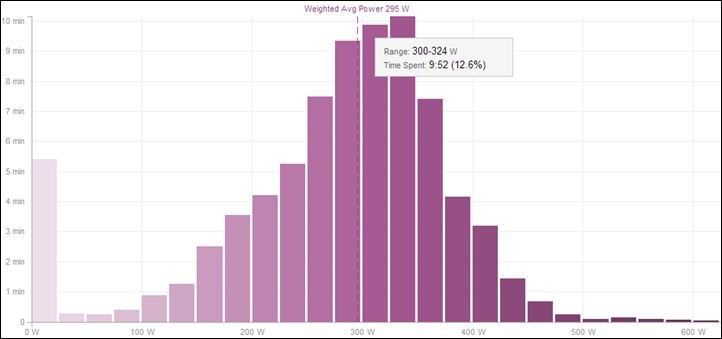 Now that we've covered where each unit goes, let's talk about the features that the power meters on the market have today:
Total Power (Watts): This is the obvious one – every power meter has this today (even fake ones!).  This is simply measuring and transmitting your total power output to a head unit of some type.
ANT+ Support: Another relatively obvious one, every power meter on the market today except the Polar/Look solution has this.  This allows you to use one of dozens of different head units out there.  Quite frankly, I wouldn't recommend buying a unit that doesn't include ANT+ today.  I'll talk more about that later.
Bluetooth Smart: Bluetooth Smart (or BLE/BTLE for short) is the relative newcomer in the market.  As it stands today, the only unit offering this is the Stages power meter – which offers dual ANT+/BLE.  I'm a huge fan of what Stages did by going dual.  PowerTap has recently announced they plan to offer interchangeable caps for it as well.  And while not quite as ideal as dual, the interchangeable caps makes a lot of sense going forward.  Nonetheless, I also wouldn't recommend today buying a Bluetooth Smart-only power meter (though, there's none on the market yet).  The reason is simple: There aren't any Bluetooth Smart head units that don't require a cell-phone.  Meaning, you can't use a Garmin Edge (any version) with it, nor anything else today.  I think we'll see new units by next spring, but as it stands today, nothing.
Estimated Left/Right Power: This became all the rage over the last 18 months or so, starting with the SRAM/Quarq RED unit offering left/right power.  That platform works by essentially splitting your crank in half and assuming that any power recorded while pulling up is actually coming from the left side, whereas pushing down is from the right side.  Thus, an estimation.  It's good, but not perfect.  Note that even with true left/right power (below), there's actually very little in the scientific community around what to do with the data.  While you may think that perfect balance would be ideal – that hasn't been established.  And some that have looked into it have found that trying to achieve balance actually lowers your overall output.  The only thing folks agree on is that measuring left/right power can be useful for those recovering from single-leg injury.
Actual or True Left/Right Power: This is limited to units that can measure your power in more than one location.  Thus why we see it on pedals, as well as the more expensive crank-arm based power meters.  You can't measure it directly at the spider, instead you have to measure it upstream of that.
Pedal Smoothness & Torque Efficiency: These two metrics are just making it into the high-end power meters which contain true left/right power measurement.  Today that's only the Rotor and Pioneer units, but Garmin has stated they'll be adding it down the line via firmware update.
Battery Swapping: All but one unit on the market today (SRM) supports battery swapping by yourself.  SRM requires you to send it in.  The remainder of the units out there today utilize a CR2032 and similar coin-cell batteries. Most get between 200 and 400 hours of run-time before you simply replace the battery.
Calibration options: All units on the market today support some sort of calibration function, though to what extent is what differs.  Some have numerous options (i.e. Quarq with an app allowing you much further access), while others are more black-box (i.e. Stages and Polar).  For the most part, your primary concern here is really that some sort of calibration occurs, and that you can trigger it to happen on demand.  Beyond that it tends to get to more advanced calibration and torque checking methods. It should be noted that the term calibration can have very specific meanings to different people.  But for today's post I'm going to keep it a bit more generic.
Ok, with all the core power meter features covered, let's dive into the brands available today.
PowerTap: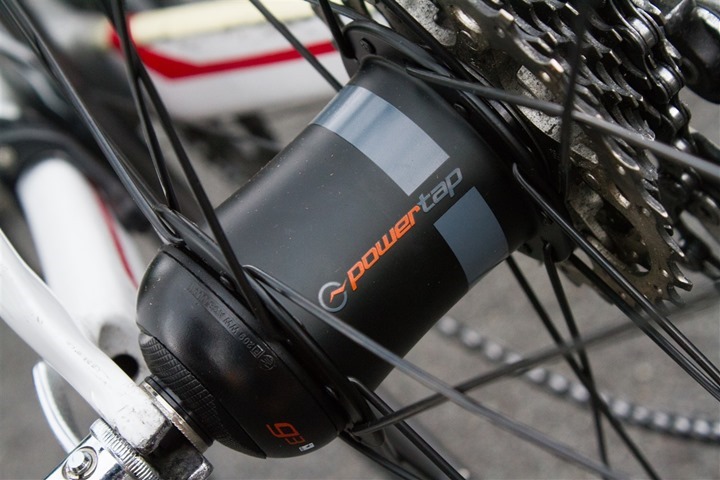 PowerTap has been around 15 years – longer than most folks realize actually.  Though their popularity has really grown in the past few years, especially in the US.  The PowerTap replaces your rear wheel hub, which means that it's tied into a single wheel.  This makes it easy to move between bikes, but also makes it difficult if you have separate training and racing wheels – ultimately costing one of those two situations to lose out on power.
From a cost standpoint their recent cuts three weeks ago have pretty significantly changed the power market landscape.  Every company I've talked to is talking about it (except SRM, who simply doesn't care about PowerTap).  The reason it matters is it has brought down direct force power to sub-$800 for a new ANT+ enabled unit.  While Stages does that (at $699), it has limitations around its left-only design (more on that later).
Looking at the servicing side, I've heard nothing but good things on the customer service front – which I believe is really important in a power meter.  Though, it's largely a trend I see repeated throughout the industry.  Of course, for power meter companies it's quite frankly too small of a niche to ignore your customers and get away with it.
Finally, looking at the G3 vs recent GS models, I personally would save the cash and go for G3 over the slightly more expensive GS.  Obviously, personal preferences around component types might sway your decision.  Also, while the Bluetooth Smart caps aren't out yet – I really like the fact that they are relatively changeable, at a price point just over $100US – so as the technology landscape expands to include Bluetooth Smart head units, it allows you to make a shift if need be.
Advantages: Easy install if you buy a wheel set with it pre-installed (my recommendation).  Auto-zero while coasting helps keep things in check without you thinking about it.  Manual calibration is easy, and swapping out batteries and the electronics pod quick and straight forward.  Good customer service.
Disadvantages: Limited to a single wheel, so training vs racing scenarios can be tough.  Also limited on things like disc wheels.  And if you have multiple bike types where the wheel type changes (i.e. going from triathlon to cross), you may be in the same pickle there.
Would I buy it: Absolutely, and in fact, I just brought the unit you see above a month ago.  Based on what I've seen, the PowerTap is the closest I get to 'set it and forget it' when it comes to power meters on the market today (talking specifically to calibration/offset variance and stability).  However, if you're one that changes wheel sets frequently in your training, I'd be more measured in deciding whether it's worth not having power somewhere (I don't think it is).  Though, with their recent price cuts, it makes buying two PowerTap's basically as cheap as buying a single crank-based unit.
Relevant Posts: CycleOps Joule and PowerTap Wheelset In-Depth Review, PowerTap's new hubs, Bluetooth Smart Trainers, iPad apps, and more
(Note: CycleOps has renamed its power meter organization to simply be "PowerTap", and prefers that the company thus be called "PowerTap".  Thus, I'm using that naming.)
Quarq/SRAM: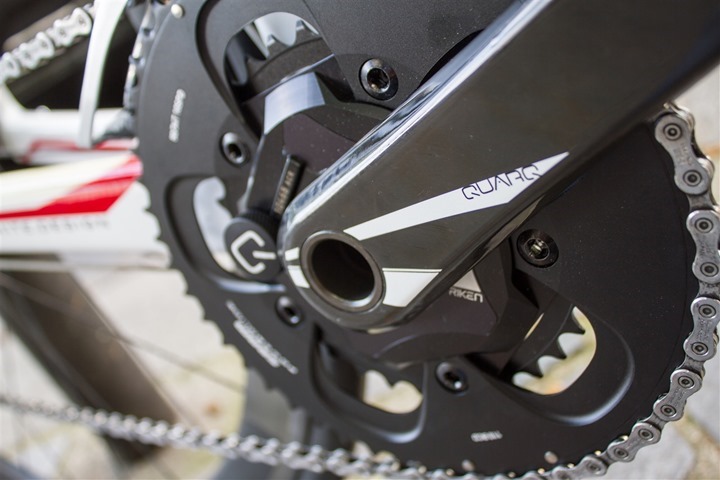 Quarq became the first non-SRM crank-based power meter that was actually affordable.  Starting off on straight road bikes they've expanded to other areas including track and cross bikes.  The unit replaces your existing crank spider and depending on the model is typically sold with specific crank arms attached.  You'll need to ensure your bottom bracket is compatible, but if you shoot the Quarq folks an e-mail I've found they can usually help anyone figure that out easily.  All Quarq power meters are made in South Dakota (US), along with servicing and shipped from there.
The Quarq Cinqo was actually the first power meter I bought, and what The Girl subsequently purchased as well for her training.  I'd be using it without issues for 5 years up until this fall when it appears some water ingest got in the the unit causing it some problems.  Quarq's been known for their customer service (overnight return shipments and the like), and swapped out my older Cinqo for the current Riken (I confirmed that's their normal replacement policy for out of production units).  Looking at service feedback I see from others, I continue to hear nothing but good things.
Quarq also is the only company out there to have an iPhone and Android app that can modify power meter settings, allowing you to change many internal settings on the power meter if required.  Nobody else comes close in this department.
Last year Quarq introduced their SRAM RED unit which in turn introduced estimated left/right power.  As I noted above, this was the first unit to estimate power left/right based on which portion of the stroke you were in.  Since then they introduced their ELSA unit, which also includes the same technology.  RIKEN was also introduced at the same time as a replacement for the older generation Cinqo units.  While RIKEN doesn't have left/right power, they did gain the ability to swap chainrings without sending it back to the factory.
Roughly two years ago SRAM purchased them and as a result their prices have seen a slight but steady rise since then.  My concern (and one I've shared in person with the Quarq and SRAM folks), is that at this point RIKEN is priced at $1,600US, while Vector is priced at $1,700US.  No doubt there may be slim small-percentage edge cases where Vector doesn't work (i.e. specific wide crank arms or track bikes), but in most cases I'd pay the extra $100 for portability and left/right potential (even if some of that is still undefined).  Accuracy on both is equivalent from what I'm seeing.
Further, comparing RIKEN to the less expensive PowerTap makes it even more difficult to justify, given PowerTap is literally half the price for the same accuracy.  Obviously, there are placement differences however.  And this is all before we even start talking about the ELSA and RED units at $2,000.  In my opinion, a more reasonable price for RIKEN (for example) would be sitting about half-way between the PowerTap and the Vector pedals.  In talking extensively about this with Quarq/SRAM, they note the following: "We are watching the market and excited that more people will be introduced to power, but we have no immediate plans to alter our prices."
Advantages: Crank-based design means no wheel swap issues. Accuracy on-par with other units.  Can swap chain rings without issue.  Easy replacement of battery, and can utilize phone apps for further calibration.
Disadvantages: Crank arm selection has diminished some with SRAM purchase (reducing compatibility), pricing isn't as competitive at this point.
Would I buy it: From the standpoint of "Have I bought it?", the answer is obviously yes.  From the technical standpoint, I have no issues with the units – I've recently tested the RIKEN, which you'll see in a review in the next couple days, and I'm currently testing the ELSA.  All of those units perform as expected technically.  And obviously, customer service-wise they're awesome.  The challenge at present is really pricing and the competitive market, which I've touched on above.
Relevant Reviews: Quarq/SRAM RED Review, Quarq RIKEN In-Depth Review, Quarq ELSA review upcoming later this month.
Power2Max: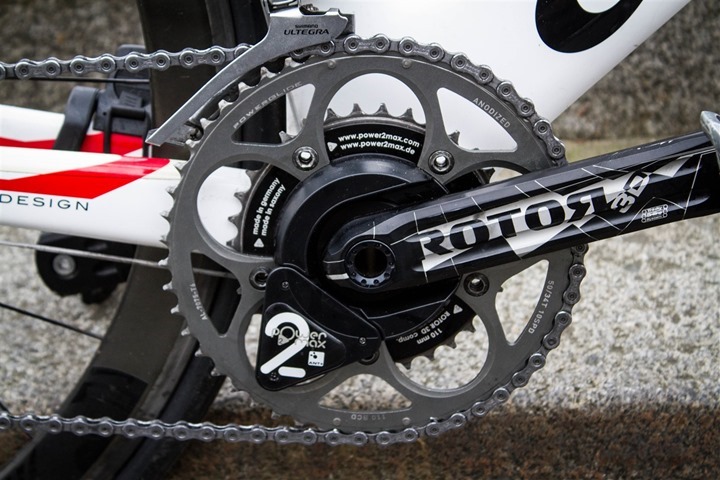 Power2Max has been on the scene for roughly a little over 2 years now.  With the addition of their second generation (v2) units last fall, they took care of a number of outstanding issues that gave me concern on previous v1 units (specifically, temperature drift).  You'll remember from the review I did last winter that I saw no major issues with the newly designed units.  Last week at Eurobike they introduced a new unit which greatly expands their crank set compatibility position, as well as in some cases reduces the prices for certain combinations.
Last year they added estimated left/right power breakouts, though as I'll note repeatedly here – there's no real known value in that today except injury recovery tracking.
The units are typically sold without cranks, so you'll need to add your own, or purchase them from Power2Max pre-installed.  For the crank-less price (roughly under $1,000US ), they are a very solid option.  They do still have some limitations on crank set compatibility, but it's really improved greatly with last week's announcements.
The only issues I see with Power2Max come from a distribution and servicing standpoint.  Today all distribution flows through a single point in North America (and similar in other regions).  This means that I often hear that both order fulfillment and servicing can be slow (and with a lot of shipping back and forth).  Customer service is generally quite good, but the logistics garner more complaints than I hear from others.  Further, their online ordering "process" requires bank transfers – which is a sticking point for many (as a small business owner myself with my wife, you simply need to get over the credit card fees and offer that or PayPal as an option. [Edit: They just revamped their site and now offer PayPal – woot!]).
Advantages: The least expensive crank-based solution on the market today.  Good accuracy with a growing crank set compatibility matrix.  Temperature compensation has definitely helped any initial teething pains on v1 units.
Disadvantages: Purchasing and servicing can be difficult to navigate.  There isn't a method to turn off auto-zero today on units.
Would I buy it: I wouldn't have any problems purchasing a Power2Max unit (once I got past the initial purchasing wonkiness), I think they're a stable unit with great ANT+ compatibility across the board.
Relevant Posts: Power2Max Power Meter In-Depth Review, Power2Max releases new Type S line, expands compatibility
Polar/Look: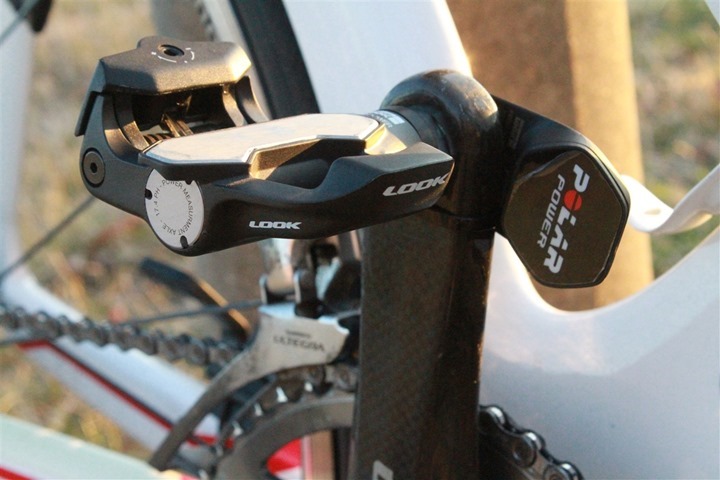 The Polar/Look Power System pedals are about 18 months old at this point, but really started to reach normal distribution channels last summer, about the same time I released my in-depth review of them.  From a functional standpoint the pedals appeared to work fairly well, and did correlate fairly well with other power meters.  However, the bigger challenge I believe is that while pedals are desired because of portability – the way the installation of the Look/Keo system is, it's not at all terribly easy to correctly move from bike to bike quickly.
However, more challenging is really the head units that are compatible with the unit.  Right now there's only a couple Polar units compatible with the unit, both of which are pretty bad when it comes to being cycling head units and functionality (at least, comparable to anything released this decade).  This really minimizes the value of using power while on the bike.  While they record data fine (albeit, have heavy limitations of only about 5-8 hours of recording time), the on-bike analysis is limited to simply showing current instant power, and current instant distribution.  That's it.  Further, since it's all legacy Polar W.I.N.D. – it's compatible with none of the numerous other (ANT+) units on market, or even cell-phone apps (such as via Bluetooth Smart, Bluetooth or ANT+).
From a servicing standpoint, virtually everything has to go back to Polar, and then be sent back to Look.  Which, depending on your dealer/distributor, may introduce delays into product replacement.
Advantages: Pedal based means theoretical portability, system largely 'just works' once you get it installed. Appears accurate, but really hard to validate all aspects (i.e. left/right).  Very few options for configuration means less to mess up.
Disadvantages: Installation is a mess (zipties and all), portability while theoretical, isn't real. It's just not that easy to move between bikes quickly or efficiently. Limitations on crank widths/lengths, and finally, the worst head unit out on the market today for power meters (it was fine 3-4 years ago however).
Would I buy it: I really can't at this point recommend the Polar/Look system – at least until they either release a functional cycling head unit that's compatible with it (read: displays more than two power fields), or, release the long-promised Bluetooth Smart power update pods for it (to allow transmission over Bluetooth Smart). Even then, they need to add more functionality to justify the steep price, and a way to actually validate the calibration in some manner.
Relevant Review: Polar Look Keo Power System–Pedal Based Power Meter–In-Depth Review, Update on Polar/Look Keo Pedal Power Meter Bluetooth Smart Plans
Garmin Vector: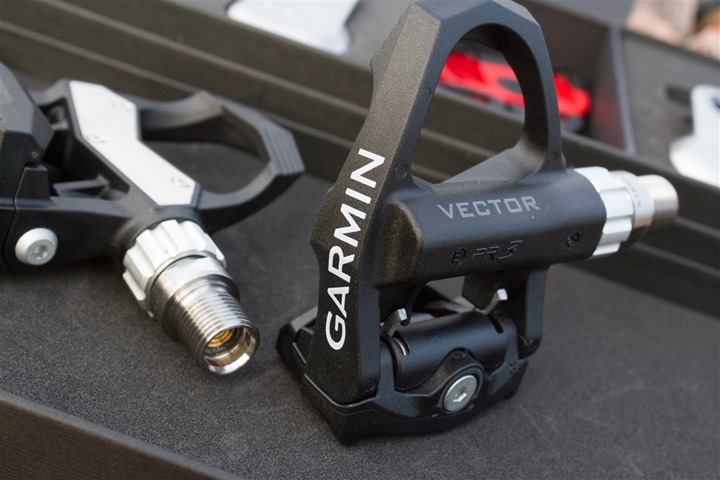 The Garmin Vector pedals finally hit the market after years of product development – initially starting off as Metrigear before shifting to ownership under Garmin.  Since then further delays ensued due to manufacturing challenges.  However with release and availability last month things finally appear to be on the straight and narrow for them.
Vector is a pedal-based power meter that is fully contained within the pedals and the small pods that attach to them.  Like the Polar solution it measures true left/right power at the pedal, however unlike Polar it uses the ANT+ standard – thus allowing you to pick and choose which head unit you want from any company that supports ANT+ (almost everyone).  The system is designed to be firmware updatable over time, with the Vector team already outlining some of their future plans.
The single biggest issue folks have with Vector today is the pedal platform choice.  It's only offered in a Look-Keo compatible platform, meaning if you use something else you'll have to shift pedal/cleat types.  Additionally, it's primarily focused on road bikes today, with variants in the pipeline for mountain bikes and other cycling types.  Further, it has some limitations around chain clearance and crank-arm widths that may impact some folks.
Pricing wise the Vector Pedals came in $200 more than Garmin previously had announced, at $1,700 – and nearly $700 more than the Metrigear estimated prior to Garmin acquisition.  However, that still places them lower than other units such as the Quarq RED/ELSA, SRM units, ROTOR, Pioneer, and Polar.
While you'll see my in-depth review likely pop-up next week, I'm simply not seeing issues at this point with the unit.  It's just working as expected.  The only drawbacks I'm seeing right now are related to installation, and that's not an issue – it's just you need to ensure to follow directions.  A reasonable request I suppose.
Advantages: Portability between different bikes.  Least expensive true Left/right power with potential for more advanced fit-type metrics down the road via firmware updates.
Disadvantages: The biggest drawback right now is pedal choice (just Look-compatible), and then following closely behind that is crank arm choice is limiting due to some widths.  Portability isn't quite what it seems if you travel (you'll need a torque wrench to really install properly), but within your house it's really straightforward.
Would I buy it: At this point, yes.  Short of someone finding something really odd in any of the piles of data I've publically posted (and others have already analyzed at insane levels) – I'm simply not seeing any accuracy issues.  Taking power values at face value every single ride that I've done after installing correctly I'm seeing solid.  For me, the pedal platform/type wasn't an issue.  Obviously, for others it might be.  I also simply don't have concerns about pedal-breakage issues.  As I showed in updated photos in my "First-Look" post, it's really darn difficult to hit the pods, and even if you managed to break the pedal itself (which is strengthened), then you're only talking $200 out of pocket.
Relevant Post: First hands-on look & rides with the Garmin Vector power meter
Stages: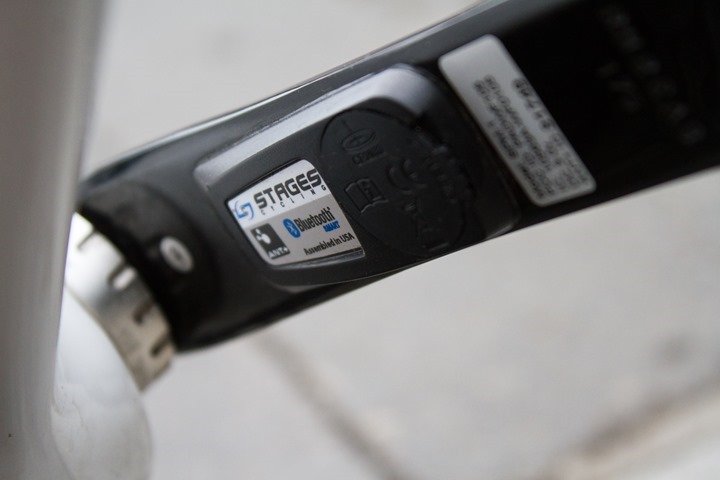 Stages Power splashed onto the scene last September (2012) at Interbike, announcing a $699 direct force power meter.  Obviously, given the previous price points that attracted a lot of attention.  Upon launching the product in January they had a bit of a rocky start due to some initial firmware teething problems.  In the months following they issued firmware updates that from all my testing can tell have resolved the issues (and that's four months worth of day after day testing).
Stages is unique in that it's attached to your left crank-arm (seen above), and thus is only measuring the left leg power.  It simply doubles the left-leg power to get total power.  Meaning that if your power balance is significantly non-even, you'll see your power numbers differ from actual.  While there are some studies that look at left/right power, I've found them to be so narrow in focus it's unclear what the impact is.  However, as I'm seeing with Vector – there are variations in left/right power in various circumstances.  I think over the next few years we'll understand those better as data becomes easier to collect and researchers begin to understand it better.
In the meantime, I saw that from an accuracy standpoint that in general it was 'within range' of other power meters, and you could certainly use it to pace an event, or chart your progress in training.  No doubt however that the most ardent of power meter users will find Stages left-only design problematic.
On the technology front I LOVE their ANT+ and Bluetooth Smart dual broadcasting design.  And the fact that I can quickly update the firmware from my phone.  I've also found the zero-offset aspect the most stable out there, albeit it lacks a way to independently validate that calibration.
Looking at customer service, I've heard absolutely nothing but positive comments from readers.  Overnighting crank replacement out for any issue appears to be the norm, and owning up to things doesn't appear to be a problem.
Finally, on the pricing front the $699 pricing was incredibly attractive nine months ago.  However today with the PowerTap pricing where it is, it may give some pause (since PowerTap doesn't have partial power issues).  I think at this point Stages may need to lower their prices further.  However do keep in mind that the Stages is definitely more portable, and can easily move between bikes  – assuming the crank arms are the same on your bikes (or similar enough).
Advantages: Least-expensive unit on the market today. Easily moved from bike to bike with a simple Allen/hex wrench. Contains both Bluetooth Smart and ANT+ (and dual-broadcasts).
Disadvantages: Left-only approach means simply doubling left-leg power, may not be fully accurate representation of your power (high or lower).  Not available globally, nor available on carbon crank arms.
Would I buy it: This is a much more complex question than it was even 30 days ago (in case you're curious, I bought mine about 3 months ago).  On the technical merits, I'm simply not seeing any issues. Obviously, each person needs to evaluate the left-only piece.  On the pricing standpoint it's tough to recommend the left-only approach with the PowerTap at just $100 more.  If stages were say $499 – then I think it'd be a much different discussion.
Relevant Review: Stages Power Meter In-Depth Review Update
ROTOR Power: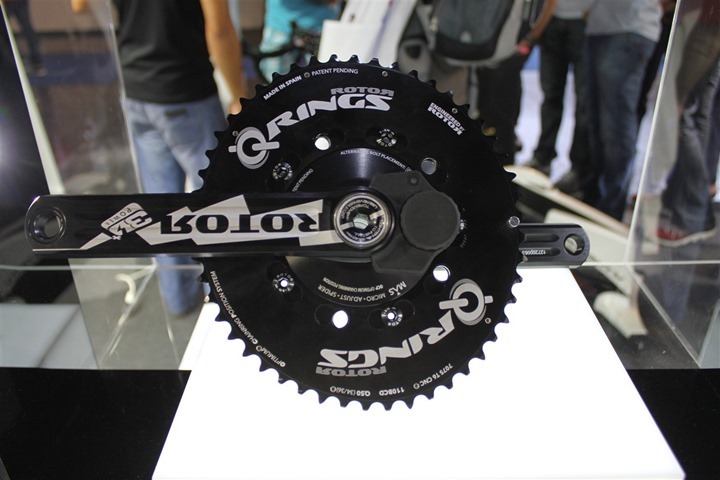 ROTOR announced their power meter last year at Eurobike, with availability starting back in the January timeframe.  The unit is designed to measure both left and right power separately – ultimately meaning you've basically got two power meters in a single unit.  They were the first unit on the market to fully support the new ANT+ Torque Efficiency and Pedal Smoothness metrics – even before head units did.  And at present, they remain the only unit on the market with that capability.
While they did release the unit this past winter it's had more than its share of teething problems, frustrating users.  The most recent update last week (Software Update 8: SW8) sounds like it's solving many of those initial issues, but it'll remain to be seen if it can satisfy all the issues.
I've long talked with ROTOR about doing a review and plan to later this fall after Interbike.  Realistically that puts conclusion of the review closer to the Thanksgiving timeframe, assuming the unit arrives on time and the testing goes as planed.
Advantages: Full left/right power, ability to track additional stroke/balance metrics  – only unit on market to do so.
Disadvantages: Limited compatibility with crank sets, rough history up until this point with firmware/platform stability.  Expensive – $2,350US.
Would I buy it: At this point, it's too early to say.  Up until last week I would have said a resounding "no", however their Software Update #8 sounds like it has addressed a number of major issues that were outstanding.  I'd like to see how those results stand up to longer use, as well as my own testing later this fall.
Relevant Posts: First look at new ROTOR Power Meter, Eurobike Power Meter Update Post: Quarq, ROTOR, Pioneer, Brim Brothers & Ciclosport
SRM: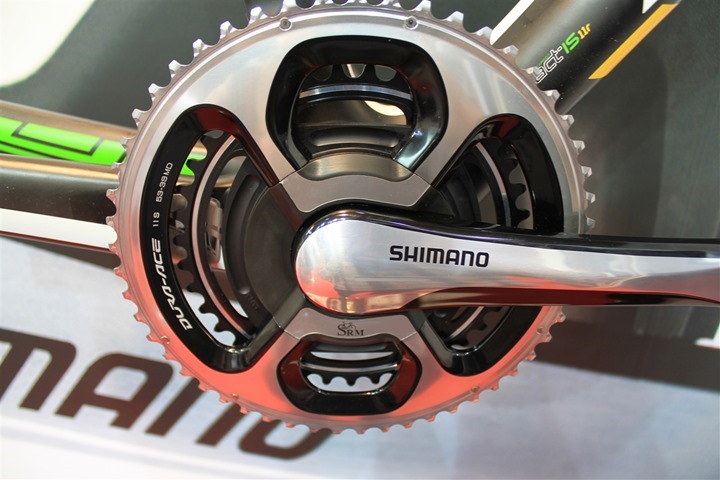 SRM has been around since the beginning of power meter measurement, and I don't think there's anyone that would argue that SRM doesn't produce great products.  Their announcements around the PC8 seem to signal a solid and more technologically savvy direction for the company moving forward into 2014.
SRM's strength has always been around data capture and data accuracy, especially on the head units.  From a power meter standpoint, they are really just as susceptible as any other power meter on the market to adverse events.  Which, is probably an important point to note: No power meter out there today is perfect.  Not even SRM.  They all have conditions where they do really well, and conditions where they do less well.  It's understanding those conditions that's most important.
While SRM and I have talked about doing a product review, I'm not sure there's a substantial benefit in me doing one.  I think their accuracy level is well understood, and their current head unit limitations also well understood.  As they get closer on the PC8 – I'm definitely interested in seeing how that shapes up (it's targeted for May 2014).  From a pure component/technical specification standpoint (BT/GPS/ANT+/WiFi/etc…) the PC8 head unit has the potential to stand alone in the field (albeit at 2-3 times the price of others).
Advantages: It's a well established brand with a well understood product. The accuracy is generally top-notch.  With ANT+ you can use any head unit you'd like, and aren't limited to just the SRM head units.
Disadvantages: Expensive.  Servicing isn't as open as other power meters on the market today.  If looking at their head unit (not required), the current generation is simply really expensive for what you get.
Would I buy it: I don't own one, and right now I simply have a hard time seeing the justification of the price over other units on the market today.  With the exception of very specific technical use-cases that other power meters can't fulfill, I feel that for 98% of the market today, there are more budget friendly options that are just as accurate.  I don't subscribe to the "gold-standard" concept, maybe at one point, but not in this market.
Relevant Post:  First look at new SRM PC8 head unit with WiFi/GPS/ANT+ & Bluetooth
Pioneer Power: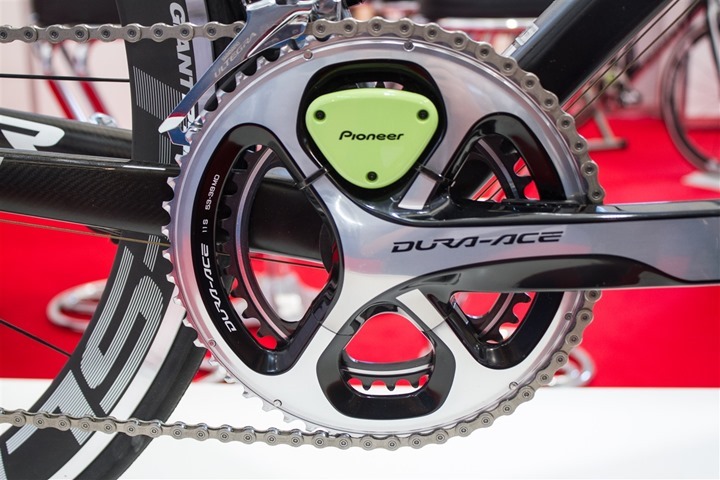 Pioneer announced their system last year at Eurobike, and then formally offered it for sale last week at Eurobike.  The unit starts at 2,500€, with US pricing still to be announced in two weeks at Interbike.  The Pioneer unit measures left/right power using independent power meters on each crank arm.  They received significant internet "attention" due to the fact that the pods on each arm appear to be ziptied on, though that has been resolved since last year. Now they are cemented to each crank arm (though, the internal hub component is partially ziptied on).  The installation is limited to certified bike shops only – thus reducing the penetration of the unit (along with the high price).
I haven't yet personally used the Pioneer system though have had significant discussions with them about it, but they have offered units for me to test/review.  Given I haven't used it, I don't want to offer too much conclusive thought one way or the other.  I plan to look at and review the unit once I get into the fall period, as right now I'm pretty backed up on power meters.
Advantages: Impressive head unit comes with it, has the highest recording rate of any power meter on the market today (starting at 12 samples per second (at 60RPM), faster the higher the cadence), measures left/right power and associated metrics more in-depth than anyone else.
Disadvantages: Complex installation, must be done by certified dealer.  Some questions around supportability of components post-installation cementing.  Really darn expensive.
Would I buy it: I can't comment at this point since there simply isn't enough information available yet to make a solid decision one way or the other.
Relevant Posts: No full in-depth review, but recent information here, and older information here.
Non-Direct Force Options:
There are a few options that use calculations and black magic to determine your power output.  These units don't actually measure your work effort using strain gauges, but instead rely upon other environmental factors.
PowerCal: The PowerTap PowerCal (offered in both ANT+ and Bluetooth Smart) is a heart-rate strap that also transmits power information.  It monitors your heart rate and then uses the rate of change to determine power.  While many hard-core power meter users are afraid to even glance at the thing, I found that when you started looking at real-world data, it wasn't actually all that bad.  And in fact, it was far more accurate than you'd expect.  In general, I'd recommend this for someone that may be buying a heart rate strap anyway and is interested in power (since you're basically just spending $50 more, it's about $99 these days).  While there are some apps out there that can attempt to do the same thing, none of them re-transmit back over ANT+, so the data isn't included on your bike computer.  Check out the full review for the limitations on where it works well, and where it's not so hot.
iBike: I haven't tested out the iBike in a few years now, though, perhaps down the road again I will.  I know many folks swear by it, but I found it finicky from a setup/installation standpoint.  Given the price of the Stages power meter, I'd really recommend looking at that instead.
Future World:
There's a lot of folks doing a lot of work on power meters.  I'd say that I'm getting roughly one e-mail a week from a 'new' company on the scene looking to talk about their new power meter that they're working to bring to market.  I'd guess perhaps 10% of them will make it to market.  At the moment, the general rule of thumb I'm applying is that if a company is fearful of sending me a unit – then they don't likely have a unit worth buying (which isn't to try and sound self-important, but rather to put into perspective the very long lead times for power meter development).  In the power meter industry, getting 95% of the work done isn't good enough.  It's the last 5% – or even the last 2% that can take months or even years to get right.
There are others that have popped up briefly via Kickstarter and the like as well.  Right now, I'd say that none of them are at the point where I'd wait for them.  Once pricing is announced and units without strings hit media folks (doesn't have to be me), then start paying attention.  Until then, reap the racing benefits of training and racing with power now at a price point you can afford.
Comparison Charts:
First and foremost, comparison charts ONLY include products that I'm either currently testing, have hands-on time with, or have published a review on.  While I know many of you would love me to have other products in there, I simply won't accept marketing fluff as technical truth.  And quite frankly, there's too much marketing/PR fluff out there to be able to concretely determine whether or not a unit truly has the features it says it has.
You should click the "expand" button at the bottom to see all one gazillion rows.  You can build your own power meter comparison chart here.  Also, since there are too many columns to fit, you can just tap the "New Window" button instead to see all units.
The charts are updated dynamically, thus if down the road someone updates their prices – you'll see the most current prices here (even if my text is out of date elsewhere in this post).
So what should you buy?
At the end of the day, there's no single right answer to this question.  There's only 'best' answers for a given individual.  I've tried to outline all the major pros and cons of each unit on the market, and in simple language whether or not I'd purchase it (or, purchase it again).  The landscape will continue to change.  Based on what I see today, there won't be any substantial new power meter products on the market until realistically next spring (at earliest).  You may see new crank options and the like between now and then – but nothing dramatic.
I do however think we'll continue to see pricing shifts.  That's simply inevitable as more players enter the market and fight for your cash.
Finally, as I was putting together this post starting earlier this month I saw a similar post from Alex Simmons popup, albeit with a slightly different perspective.  Alex is a sharp guy with a lot of good knowledge on power, and his post is worthwhile reading as between his and mine I think we may cover questions you have.
Of course, if I haven't covered something – feel free to plop questions down below.  Thanks for reading!