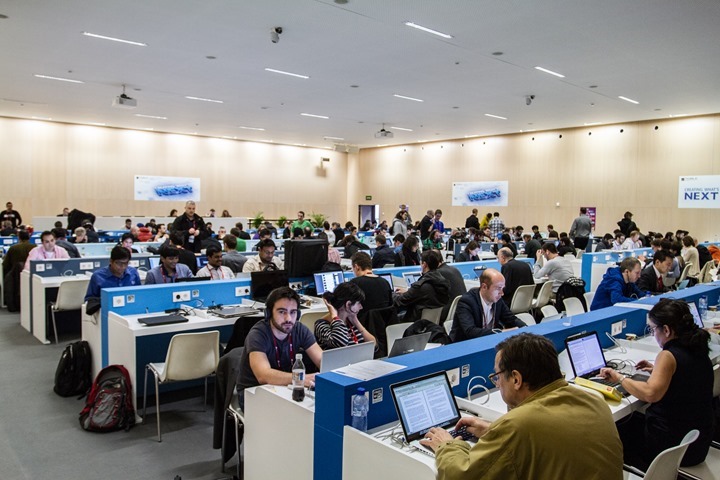 Over the last couple of weeks I've got a few variations on the following question (for a variety of products):
"Will you be reviewing the Bryton Rider 60 any time soon? If not please can you say why? I realize it's too much to expect you to review everything but the Rider 60 looks to be better than the Garmin 800 series. I would be very interested in your review."
So, I figured I'd take a second and talk through how I decide which products to review in general, as well as in this specific case.
First up is noting that there's a heck of a lot of products on the market that fall into the purview of things I'd be interested in reviewing.  In general, that landscape is "sports technology", where the 'technology' part usually implies some sort of electronics chip or functionality within it.  It isn't however 100% exclusive to that.  There are little things that interest me that fall slightly outside of that.  For example, the RedShift triathlon quick release aerobars or some of the swim safety devices.  But for 95-98% of reviews, there's a gadget aspect to it.
I generally shy away from things like bike components (wheels/frames/etc…), because I know almost nothing about those.  As long as my bike mostly rolls forward and doesn't make too many funky sounds – I'm happy.  So I don't have too much interest in those things.
So assuming it's a sports tech gadget, the next piece is actually looking at whether it's relevant or not in the market.  This comes in two pieces.  First I look at how new the device is.  Obviously, if it's about to be announced or just announced – then it ranks higher for review.  To that end, I still get roughly once a month review requests for some much older (4-5 year old) Suunto and Polar products that sorta pre-date most of my reviews.  In this case, while I have a tiny bit of hands-on time with some of these devices, I know they simply aren't competitive in today's market based on features alone.
Thus assuming it's new(ish), then I generally do a bit of a gut-check on how competitive it is.  If the unit is so badly non-competitive on specs alone, and if it doesn't have broad appeal – I'll probably skip it.  My reasoning is simple: I've only got so many hours in the day (err…night), and if there's something that's of little interest and is looking like it sucks, it seems silly to waste time on it.  However, if the unit has broad appeal (i.e. Garmin, Polar, Suunto, etc…) but sucks, I'll still likely write a review on it because there's significant interest.  Sorta like the Samsung Gear Fit review this past week.
I do, as part of that, look at units that I believe may be 'breakout' units.  So even if the company isn't well known (or known at all), if I can look at it and see massive interest or potential interest – that's huge.
But what exactly is broad appeal?  Well, that actually gets to the heart of the original question up top on the Bryton unit.  And to that, one probably needs to understand the rough geographic readership of the blog.  In general, y'all are split almost perfectly between being 50% North American, and 50% everywhere else.  That 'everywhere else' is heavily weighted towards Western Europe, Australia, New Zealand, South Africa…and Brazil.  I was hoping Google Analytics would make a prettier (more colorful) picture than the below…but that's all I could make it do.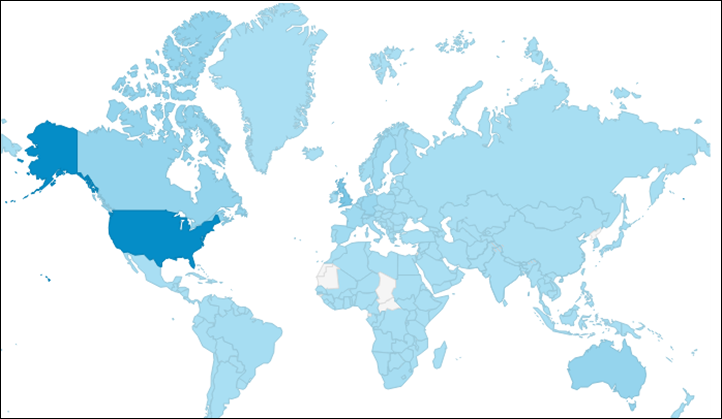 So when I write I generally want the content to benefit as many people as possible.  In the case of the Bryton unit, they don't sell within the US.  Thus, that removes a massive chunk of my audience immediately.  Despite that, I often review or talk about devices that are either US only or non-US only.  But in most of those cases, the company is planning to release globally relatively shortly thereafter.  Take for example some of the activity trackers like certain FitBit models or the Basis watch.  US only initially, and then global distribution.
Finally – and this one is important – I look at how past reviews by the company have fared.  By 'fared', I'm primarily looking at interest from you as readers.  And that's the one that gets the Bryton units in a bit of a snag.  Last summer I wrote about the Bryton Cardio 60.  As I noted in my review, it's actually a pretty good little unit.  Hardware wise it's fairly solid.  Software-wise a little more shaky, but overall not a bad unit.
The challenge though is that the Cardio 60 has sustained so little interest that it ranks as one of my lowest 'utilized' reviews of all time (below even posts I've written 5-6 years ago).  Interest is a combination of ongoing page views, comments, and discussion about the review out on the interwebs.
And that's the rub.  Given I've got stacks and stacks of hardware to review that I know has a significantly higher and more global interest, I focus on those first.  Said differently and much more succinctly: I basically just review what y'all want.
With that – have a great weekend!  And for those racing in Boston – Good Luck!  I'll be there cheering on The Girl and all the other runners who run by.
–
Side note: Want to read a bunch of other (more photogenic) DCR behind the scenes posts?  Swing on over to this tag that lists them all!