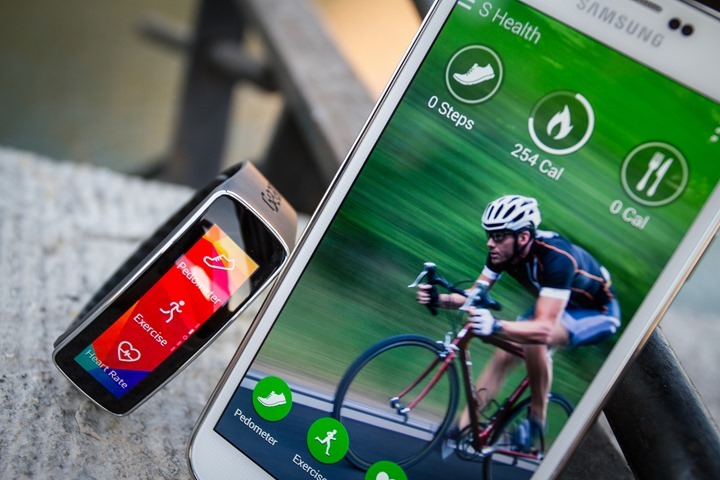 On Friday I unboxed and got all set Samsung's Gear Fit activity tracker.  This is the company's first direct attempt at competing with activity monitors from the likes of traditional players like Nike and FitBit, as well as newer entrants such as Garmin and Polar.
The unit was announced about 45 days ago back at Mobile World Congress in Barcelona, along with the Samsung Galaxy S5 phone, and the Samsung Gear 2 smart-watch.  Both of which I've also got here (oh, all of which I paid for).  My interest in these devices is primarily from an athletic standpoint.  I don't much care about the pure phone aspects of the S5, but rather things like the optical heart rate sensor on it, as well as the Gear 2 and Gear Fit.
For this weekend though, I just focused primarily on the Gear Fit.  Mostly, because its screen is so pretty that anything else would distract my attention from it.  So with that brief intro, let's start with some basics.
Getting setup: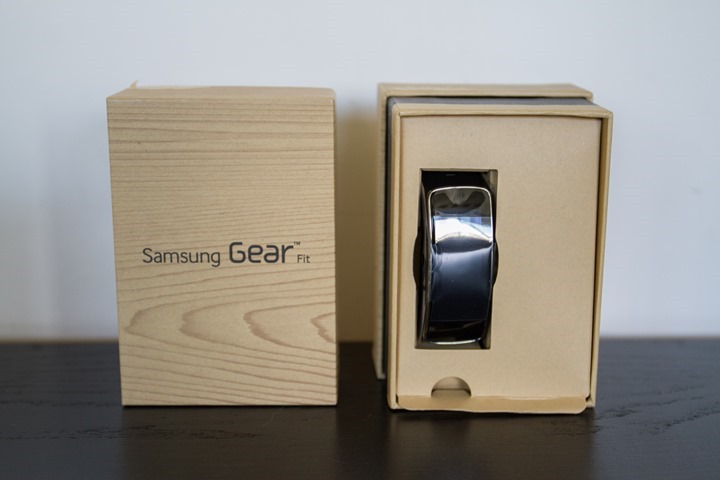 Inside the box you'll find some instructions as well as the unit, a charging cable, and a small quick start guide.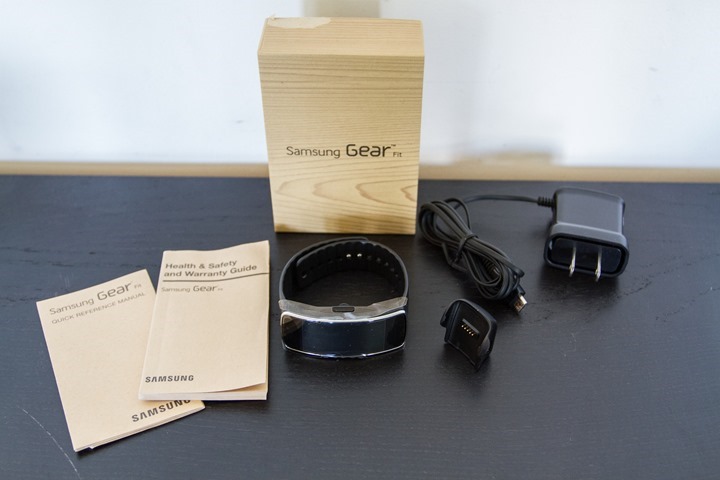 The charging cable setup is a bit interesting.  It uses a small attachment that has a female micro-USB connector on it, along with a male micro-USB cable hard-set into an outlet plug.  This is awkward only in that most people these days want to be able to just plug the micro-USB charging cable straight into your laptop or other USB port.  Thus, instead, I dug up one of the 382 other micro-USB cables around the house and used that instead to charge from my laptop.
From there it was time to get everything all configured.  This is where things got a bit…non-awesome.  First, I had to get the Samsung Gear Fit Manager app, via the Samsung Apps store.  That is of course different from the standard Google Play store.  So, once you get that downloaded, then you can pair with the Gear Fit device.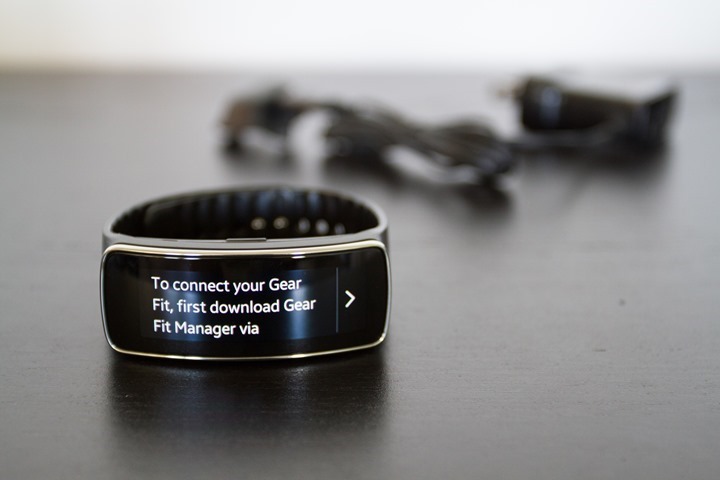 Now that you've got it paired, it'll update the firmware on the Gear Fit.  Perfectly reasonable request – and common to just about any device that hits the market running these days.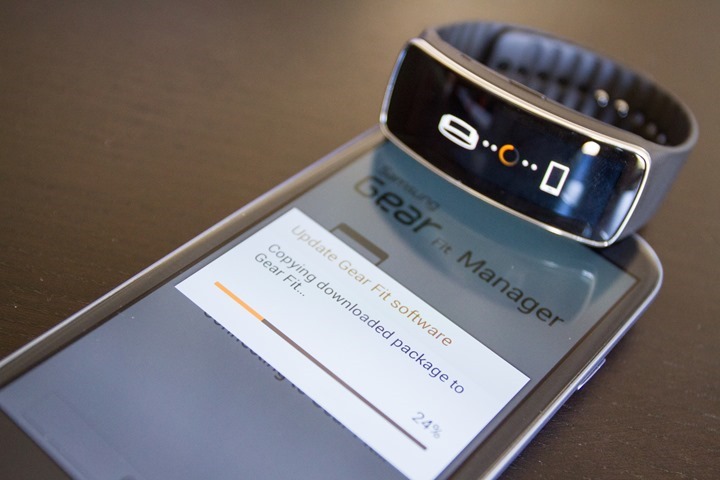 After the firmware update completed a few minutes later I tweaked some minor settings, like which wrist I wore it on and the orientation of the display.
Next, I went back into the Gear Fit app and realized that in order to see any activity tracker data I'd need to download another app – the Samsung Fitness with Gear app.  This app is what consolidates data from the Gear Fit, and puts it on your phone.
Once that's installed, it requires you to create an account.  By itself, that's not too big of a deal, since all activity trackers require an online account of some sort.  But at this point I'm now three apps deep to just look at my data (Samsung Apps, Samsung Gear Fit Manager, Samsung Fitness with Gear or S Health).
Which app you use actually depends a bit on what phones you have.  If you've got the S4 or S5 you get 'S Health'.  Before that though, you get the crappy 'Fitness with Gear' app.
Of course, none of these differencing details are mentioned on Samsung's site, where the S3 is listed as being compatible: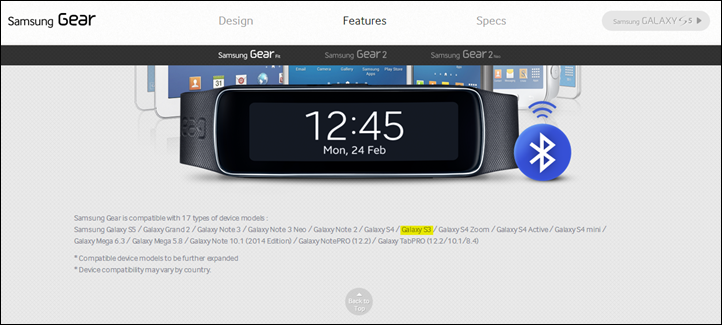 Which, is true on a technicality.  You can use the Gear Fit Manager as well as Fitness with Gear.  Except, the Fitness with Gear app is so horribly limited in functionality that it's basically useless.  Thus, the need for S Health.  What's silly here is that there's zero technical reason Samsung can't let the S3 download S Health.  As long as you're on Android 4.3, you'd have Bluetooth Smart access required for all the sensors and device connectivity.  I suspect though, that the issue might actually be that the S3 doesn't support ANT+ (technically it can too, Samsung just hasn't turned it on for most regions), and since the S Health app so visibly connects to ANT+ devices on the S4 and S5 (where it is enabled), it's more of a marketing strategy than anything else.
Day to day activity tracker, sleep tracking: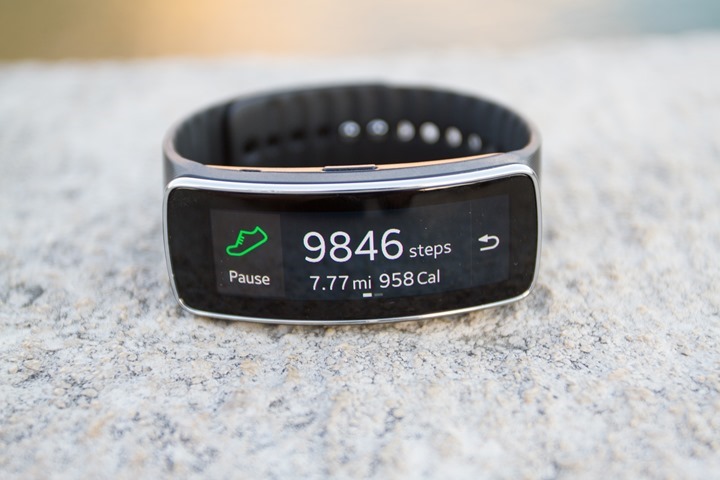 With everything all setup I was ready to tackle the world.  So I slipped on the device and went about my business.  Which in this case, was mostly just odds and ends around the house.  It was about 30-45 minutes later that I wondered why I still hadn't seen any steps recorded.  So, I walked circles around the couch a bunch, thinking perhaps it needed a bit more walking.  But alas, nothing.
That's when I realized that you actually have to turn on the pedometer function on the unit in order to track steps.  Yes, seriously.  I can't make this stuff up.
Without remembering to 'Start' the 'Pedometer', it won't actually record any steps at all.  Thankfully, once you do start that function, it just hangs out and stays on forever.  While I can see some minor edge cases that you might want to turn it off (such as automatically if in cycling mode), no other activity tracker on the market does that.  And honestly, for good reason: It's stupid.  It's far too easy to forget to turn it back on, and thus, you'd have no daily activity tracking.
In any case, in comparing it against another activity tracker – the Garmin Vivofit, I found it roughly in line.  As I often note in Activity Tracker reviews, you're never going to get two devices to match.  And who knows which one is actually correct – but, it was at least in the same ballpark.  The same with a different day and the FitBit Zip, in that case at over 10,000 steps they were within 500 steps, which is actually kinda good for these devices.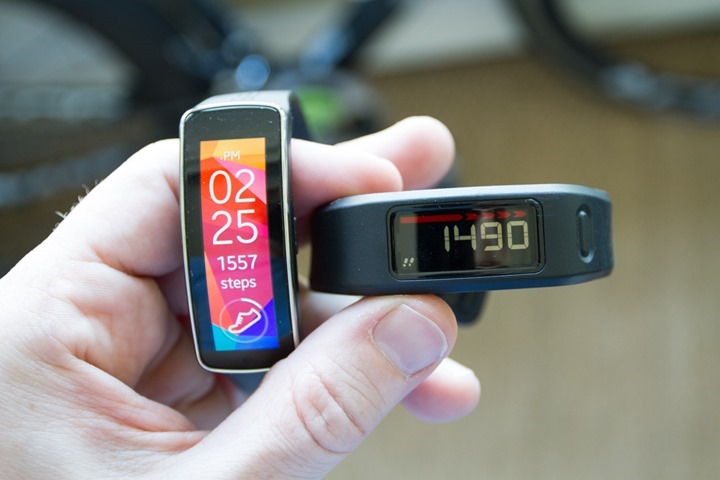 You can view your steps at any time by configuring the main Fit screen to show current steps, and progress against your goal (by default, 10,000 steps per day).  Once you hit the goal, you'll get that gold coin seen below: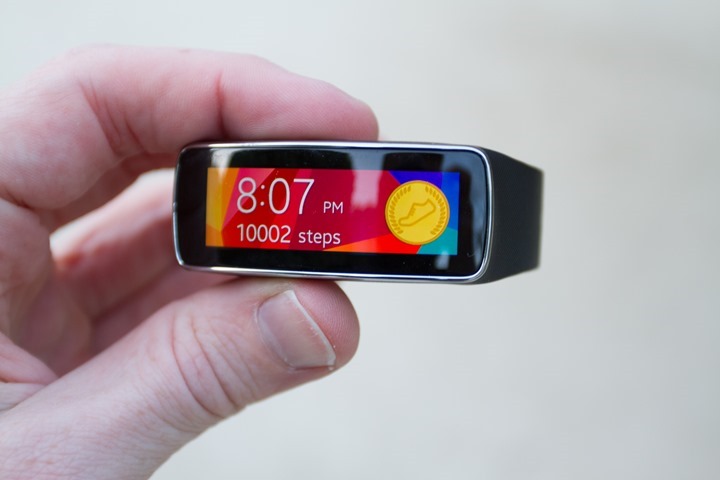 Now, as I noted above, your experience will actually vary depending on if you have an older device or not.  If you have an S3 for example, you get Fitness with Gear.  That app is super-clunky and often pulls up with malformed pages:
And as I found out, despite linking a Samsung account – that data actually goes nowhere. For example, when I then added the S5 to the mix, the data didn't show up in S Health there in my history.  And, you actually can't get the Fitness with Gear app on the S4/S5.  So effectively, Samsung built a cloud-based service that lacks the cloud.  We'll just call that a rock.
If I break out the S5 however, and use S Health, then things get a bit better.  Your heart rate data and exercises will transfer to the S Health App.  However, your pedometer data (that's the step data) and sleep data from the Gear Fit won't.  Instead, you'll just get a big fat zero there:
It's only when you start the pedometer using that 'Start' button on the phone that it starts counting steps…from the phone, not from the Gear Fit.
Here, let me re-word the ludicrous nature of this again: The Gear Fit device can't actually by default transmit step data to Samsung's premier fitness app on their premier phone.  Or, said another way: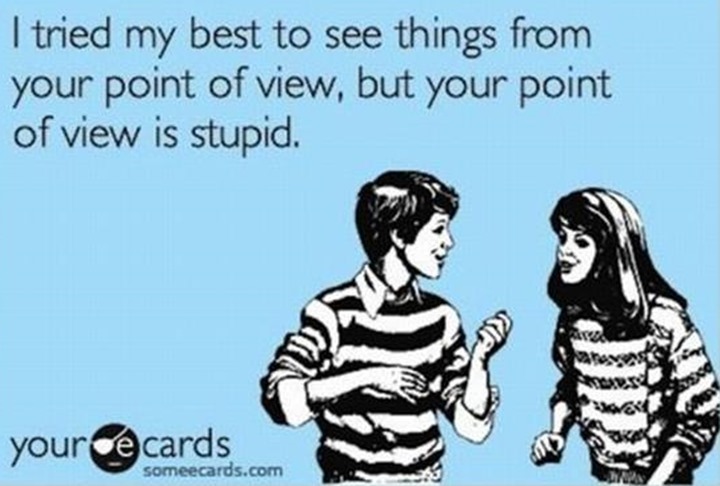 Think I'm off my rocker?  Here's a fun thing to do if you have some time.  Go use this Google Image search, now, look at every press review written thus far – specifically, the ones that show the S Health app open next to the Gear Fit.  What do you notice?  Not a single photo has the step numbers the same between the two units.  Further, the vast majority of them show the app with zero steps on the phone.
The only way to get step data to show on the phone is to simply press the 'start' button on the phone and track steps there.  Thus defeating the entire point of purchasing the Gear Fit. (Update: with latest version of app just released, you can now select the data source).
But wait…it gets better (there's more)!  Check out some of my screenshots earlier from the older 'Fitness with Gear' app (not available on the newer S4/S5).  What did you notice?  Steps?  Sleep?  Yup.
While those two items don't transfer by default to the premier 'S Health' app for their newest devices, but do transfer to the older app 'Fitness with Gear' app.  Of course, they aren't really saved to the cloud – but, at least you can sorta see them.  Thus, I can only summarize Samsung's solution as follows: Don't buy our new phones.
Moving along….Since my writing here is more sport-focused than not, I'll just briefly note that the unit does bridge the gap into some of the smart wearable's areas by offering the ability for applications to enumerate alerts to the device.  For example, text messages, Twitter notifications and the like are all visible on the device.  Albeit with lots of scrolling depending on the orientation, but, you can at least get the gist of the message.
Additionally, the unit can be used to control other Samsung media devices with your phone.  For example, you could control a TV while on your trainer.
(Update 6:16PM: The latest version of S Health has just been released, which now enables you to actually select which data to view via this obscure setting.  To access it: S Health App > Pedometer > Three Dots > Phone Data to View > Select Device > Gear Fit.  Good, progress.  But still mind-boggling it doesn't do it by default like every other fitness tracker on the entire planet.)
Optical Heart Rate & Sports: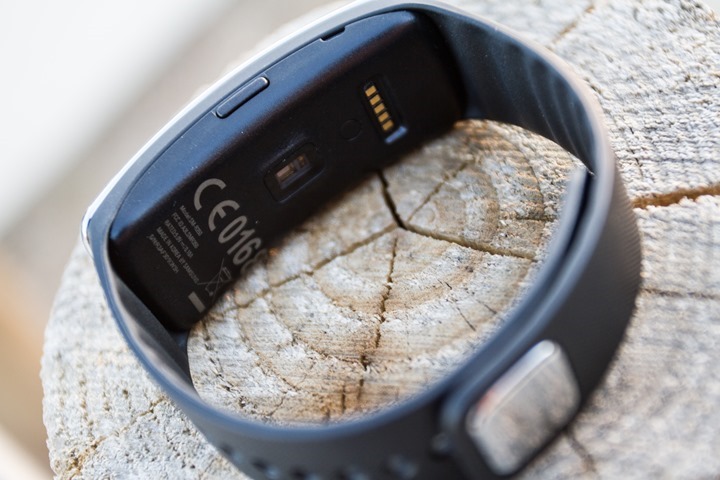 The Gear Fit, along with the Gear 2, as well as the S5 phone – all come with the ability to measure heart rate optically.  Each however, has slightly different ways of doing it.  The Gear Fit and Gear 2 both use a green optical sensor – whereas the S5 uses a red optical sensor.  The differences in the sensor come from slightly different technologies used, which in turn target different use cases and often by different companies.
Looking specifically at the Gear Fit's sensor, I reasoned that since it was there to measure heart rate – it would be there to use the heart rate in a fitness activity.  Since…you know…the name of the device is 'Gear Fit'.  But, it's also there to just take resting heart rate measurements as well.
To do that you'll go ahead and swipe on down in the display and go to 'Heart Rate', which brings you here, ready to start measurement.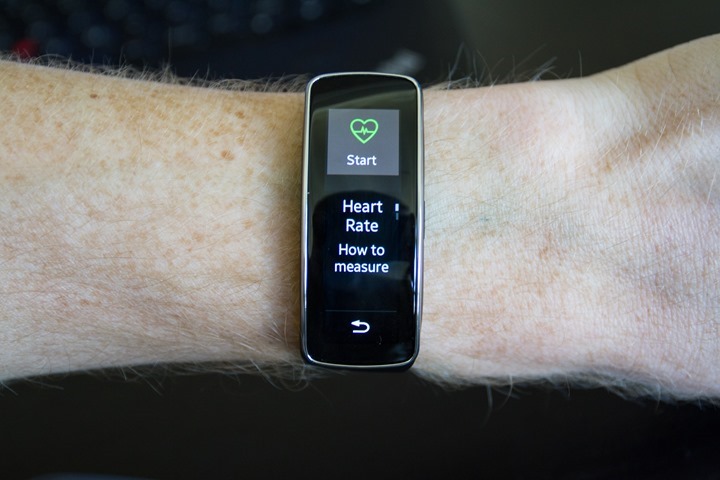 It'll briefly illustrate to you how to conduct the measurement and then send you on your way: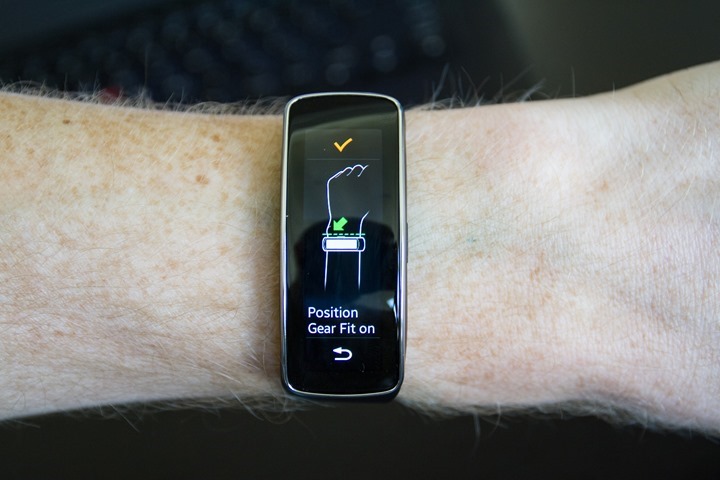 Most of the time, in my experience, the sensor will fail to read anything, resulting in a number of different error messages.  Like the Eskimos with a hundred words for snow, Samsung seemingly has a hundred error messages for failure.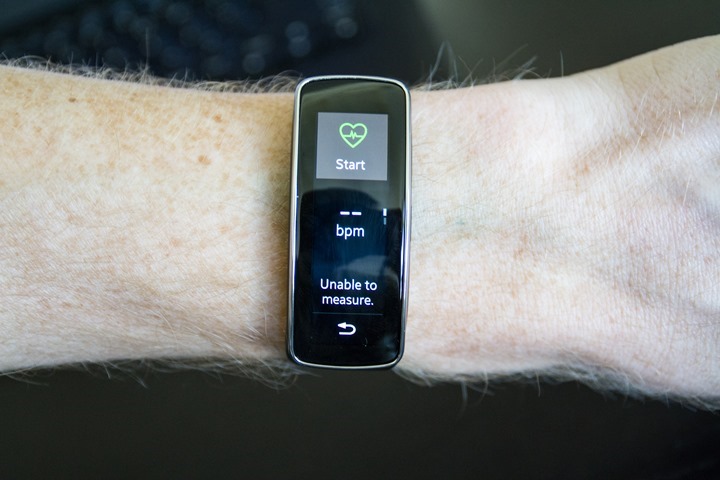 But, eventually even the blind squirrel finds the nut – and sometimes it does succeed: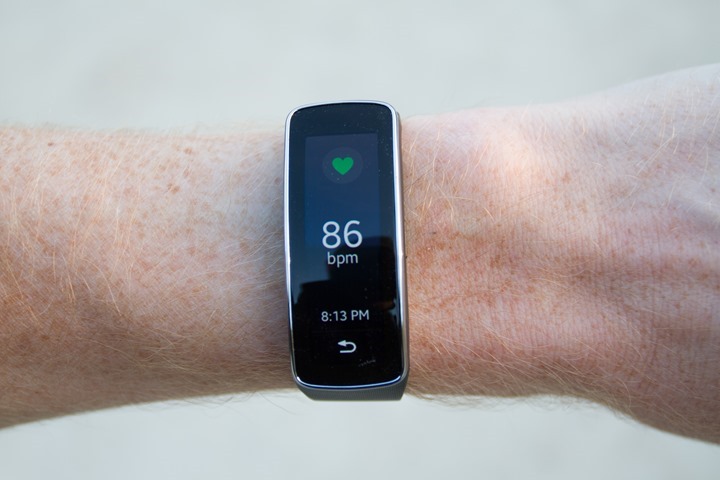 This data is then also transmitted back to both S Health, as well as the Fitness with Gear app.
Next, we'll do an actual exercise activity.  In this case, we'll swipe to the exercise option to start an 'exercise'.  In my case, I decided to go for a ride.  It was just an hour riding out and about.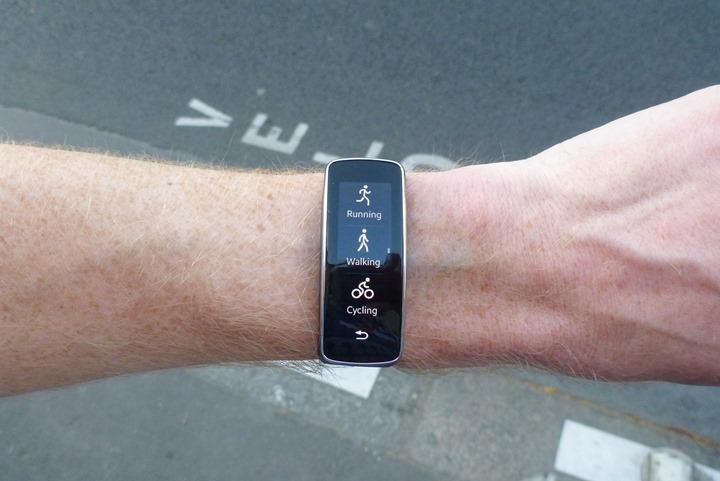 So I selected 'Cycling', which then talks to the phone via Bluetooth to grab your GPS location.  The Gear Fit does not include GPS inside of it, and depends on the phone for this.  If there's no phone available, the Gear Fit will not be able to start the activity.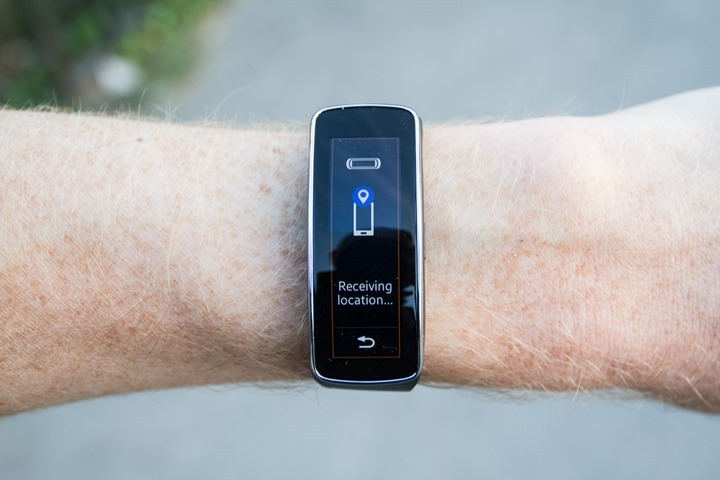 It'll go ahead and measure your heart rate and then immediately give you a three second count-down to start riding: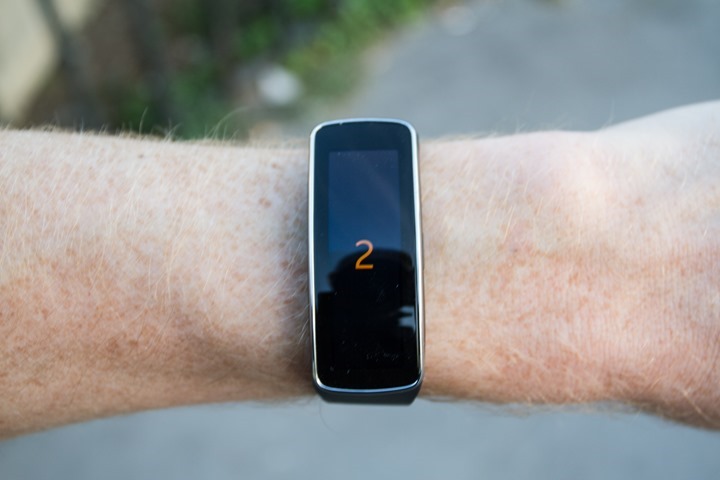 Once that's started it'll display your heart rate up top, along with your distance, speed, and activity time.
As a general rule, I've found that the heart rate while cycling was never accurate.  At least, not when compared to four other heart rate monitoring devices I was wearing.  All of those agreed within 1-2 BPM.  The Gear Fit was about 30-100bpm off.  Which, is basically the difference between telling a police officer you were going between 55MPH and 125MPH in that 25MPH school zone.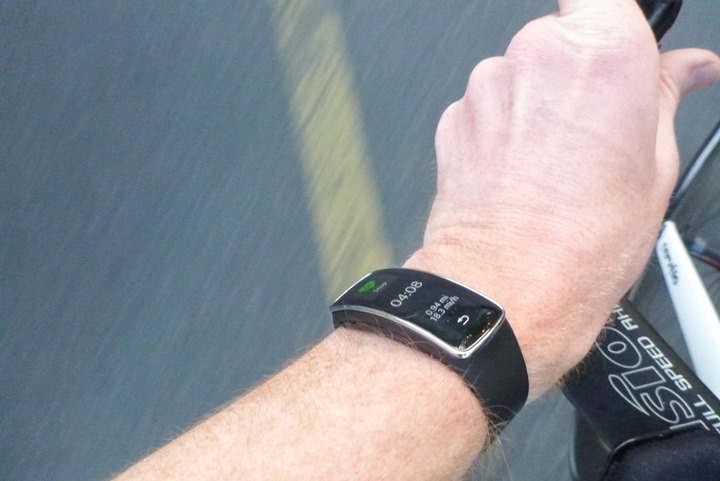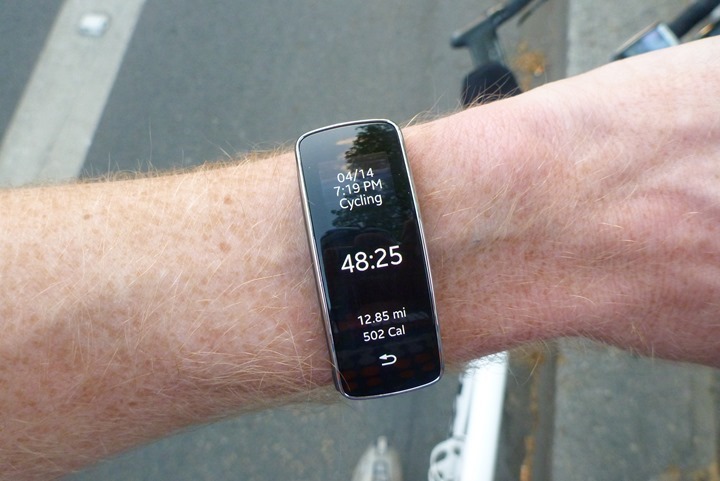 Next, I took it running on an interval workout.  It's a hard workout and thus has high intensity mixed with immediately low intensity as you alternate between running hard and the 90-second rest breaks.
I found that throughout my 8x800m workout, some of the intervals it tracked the HR fairly well, within a beat or two of a traditional HR strap: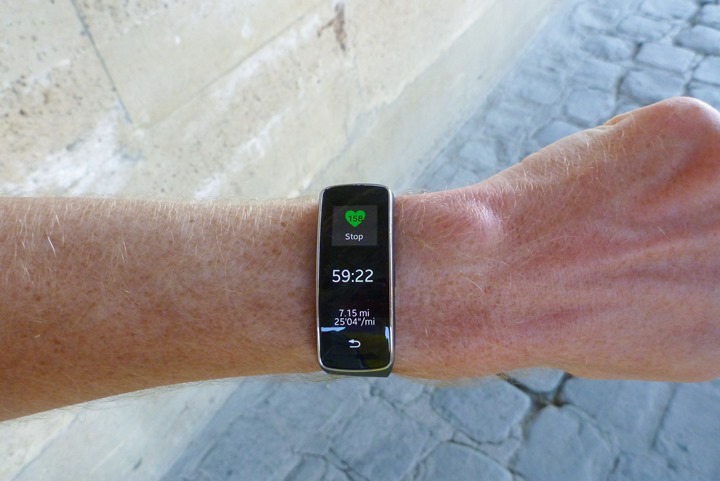 But about half the time it was just off in left field, showing me at 80BPM when I was closing in on 180BPM.  I would have loved to show you the actual heart rate data on a chart, comparing to the two.  But more on why I can't do that in a minute.
Of course there are other challenges.  First is that the display doesn't stay on.  You can set it to stay on for up to 5 minutes, but the default is only a handful of seconds.  5 minutes isn't bad, but then it burns through battery like yule logs on Christmas.  Additionally, the touch-screen often takes two taps to get it to recognize my single tap.  This is true both in exercise mode and outside it – with or without sweat.
Compared to a traditional GPS running unit, the distance was off a fair bit, and I rarely saw paces as accurate.  Which is sorta odd given it's not terribly difficult to pull from the GPS.  There's also many quirks, like you'll see paces such as 72:00/mile show up.  Of course, most modern GPS units put in caps of about 25:00/mile and then just show pace as standing still.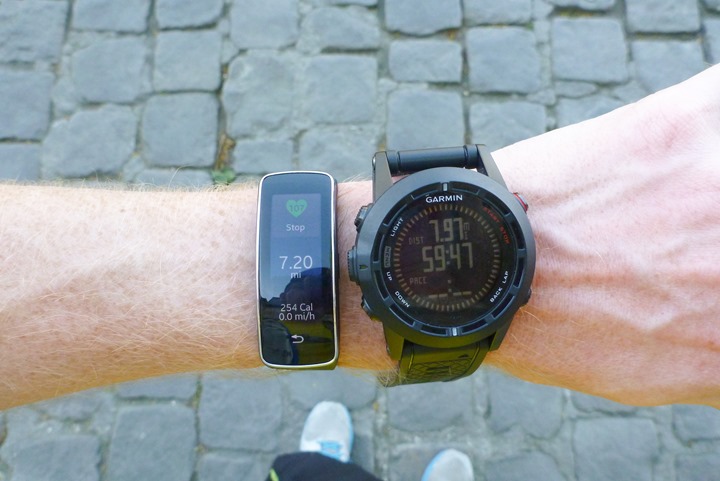 After the workout you can save the activity and it'll show you some summary stats.  These stats are accessible via the history option.  This is fairly nice, and far better than anything else on the market today from the perspective of being able to see it on the device.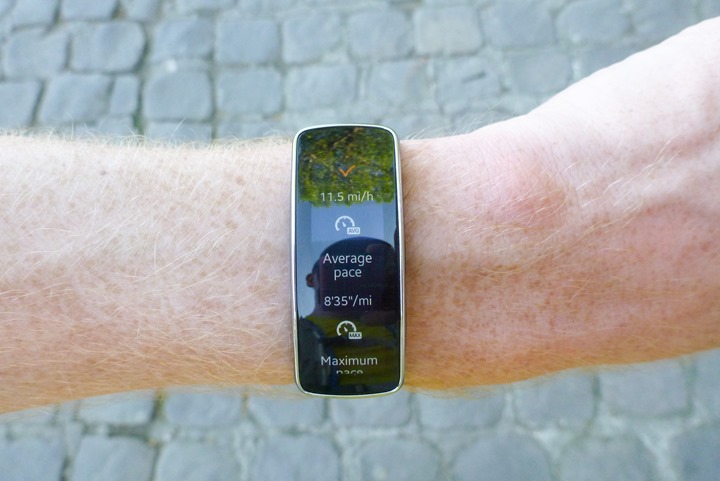 When it comes to the data side of things the S Health app is supposed to be the gateway for your data.  But ultimately, I found that while it downloaded my workouts, there wasn't really much I could do with them.  For example, it has a nice summary page, but then when I clicked on the GPS map page – it found nothing.  And somehow despite recording HR max and average data, it gave me nothing for the HR and pace graphs:
Adding insult to injury, there's no way to get the data out of the platform.  It's stuck there…forever.  Basically, like the below screenshot: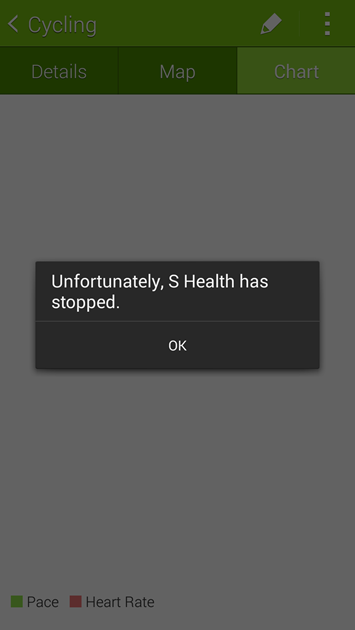 App integration: Strava and others on the way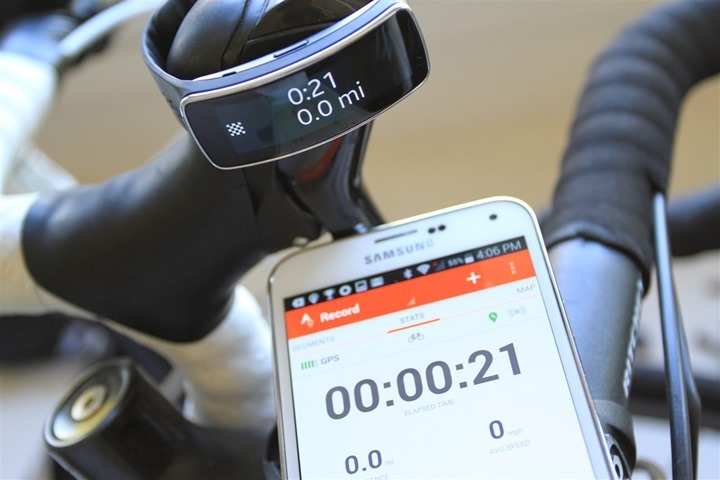 Before wrapping up, it should be noted that all is not lost on the application front, even if the device is limited.  Samsung has opened up the Gear Fit to some limited 3rd party development.  Right now, that happens to include Strava and RunKeeper.
In the case of Strava, you'll use the main Strava Android app and as long as you have the Gear Fit paired with the phone via Bluetooth the Strava App will automatically leverage the display for a handful of screens of data.
It should be noted that heart rate data is not accessible to Strava today with the Gear Fit (it is with the Gear2 however).  Hopefully Samsung will change that.  Nonetheless, Strava will display heart rate data from a paired heart rate strap if you happen to have it.  And, based on what I showed above in the optical HR sensor section – that's probably for the best anyway.
The app supports the ability to display real-time segment information for your favorite segments that you stumbled into on your route, or for segments that are deemed 'important' by Strava.  By default it'll show you racing against your previous PR for that segment, unless you've never raced that segment in which case it'll race against the KOM record holder.
I'll be playing more with the app in the coming weeks on the Gear2, as well as poking at it a bit more on the Gear Fit.  It's cool though to see Strava throwing some resources at projects like these and taking a chance on new hardware and devices.
Initial Thoughts Summary: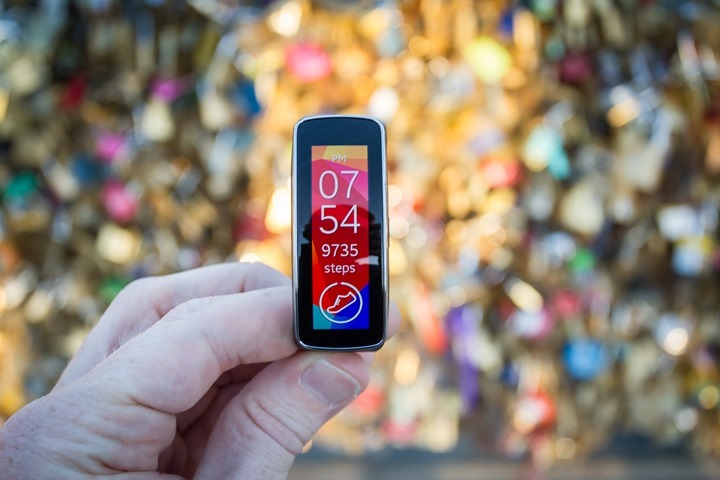 When the Gear Fit was introduced at MWC in the gigantic sprawling ballroom – everyone in the room gasped at how incredible the display was for a wrist-based unit.  But, looks have turned out to be deceiving.  When it comes to being a fitness-focused devices, as the name implies, it falls short.
Not so much actually because of the hardware, but because of fumbled integration on software.  The irony there being that they executed and put together an incredibly complex and stunning piece of hardware, but when it came to the simple things on software it unraveled.
For example, having 3-4 Samsung apps to talk to the device is overkill, especially when those apps don't do basic things like communicate biographic or (by default) step information between the device and your account.  For a fitness device, that's as fundamental as a steering wheel on a car.  Without age/gender/weight/height/steps, no amount of calorie information will be in the right ballpark.
When I look at functionality as an activity monitor, it sorta works on the device, but mind-bogglingly doesn't send that data anywhere.  How is it that in the age of connected everything, this doesn't transmit the single thing it's designed to do?  Dear 1985, they'd like your clicky little cereal box step-pedometer back.
Looking at the sports angle, the optical sensor is on a good day, barely half-functional.  And thus, there's really no point in using it.  Further, as I saw in my testing the unit just pulls calorie metrics from a lottery system.  How is it that I run nearly 8 miles and only burn 285 calories?
Of course, for many, the single biggest hurdle will be that it only works with Samsung devices.  Thus, without a Samsung phone/tablet, the device won't show a single thing beyond 'Connect your phone'.
I'm honestly dumbfounded.  It's as if nobody on the entire Samsung team ever stood back, looked at any of the fitness trackers on the market (even the worst of the worst) and copied anything that users actually use or value in an integrated activity tracker device.  Never mind more 2010-ish features like social connectivity, competitions, or the like.
This is a product I wanted to love, but ultimately, it just ended up being a huge disappointment.  Hopefully Samsung can iterate quickly on the software, and move the platform forward to something that someone might actually want to buy.  In the meantime, mine is going into my desk drawer.
(Updated to note that latest version of app now enables you to select which device the step comes from, phone or Gear Fit.)