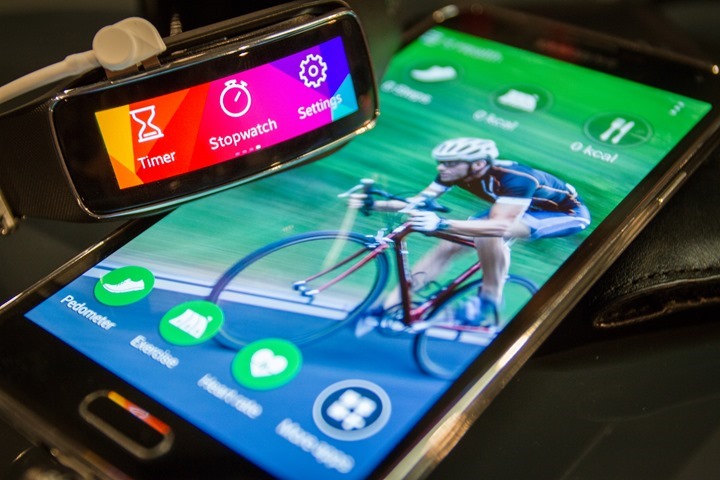 Tonight in Barcelona, Samsung announced their latest flagship phone – the Samsung S5, as well as three additional devices.  Ahead of the event, Samsung touted that fitness would be one of the core pillars of the event, and it didn't fail to deliver.  The other three devices included two smart watches and one activity monitor – which easily shifted the activity monitor landscape in one fell swoop.
Samsung S5 Mobile Phone
There are many sites where you can read about some of the more generic tech specs of the S5 phone.  For here, I'm going to focus on sports/fitness features.  The new S5 starts off by including IP67 waterproofing, which means it's rated for water ingest up to 1 meter in depth up to 30 minutes, as well as being protected against dust (such as sand).  This will make day to day sports activity easy without having to worry about sweat, rain or sports gel getting on the unit.
They note that "water resistance is not equivalent to waterproof…so don't keep it underwater".  They noted it was fine to "listen to a playlist in the shower", or "watch a video in the tub", but definitely don't go for a prolonged snorkel trip with it.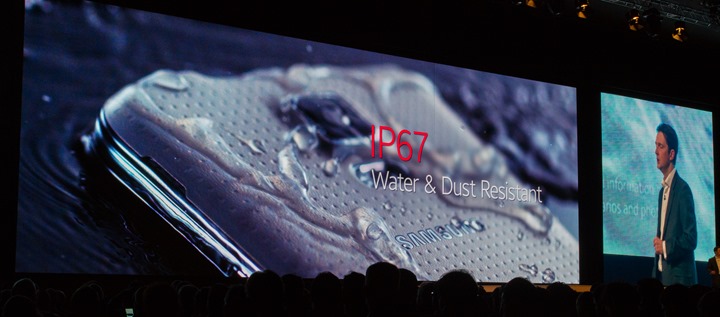 Next, the phone contains an optical heart rate (HR) sensor on the back.  This sensor is primarily used to measure resting heart rate – similar to that found on the Withings Pulse activity monitor.  Because of the position, it wouldn't be ideal for constant HR monitoring.  The sensor is seen just below the camera: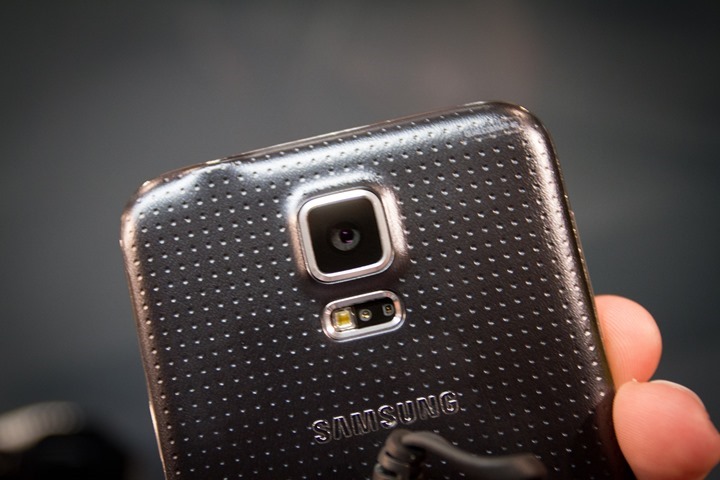 The goal of the sensor is to pull this data into Samsung's S Health application targeted as the name suggests, at health data.  I initially previewed this back in October when Samsung outlined new capabilities including connecting to Bluetooth Smart and ANT+ devices.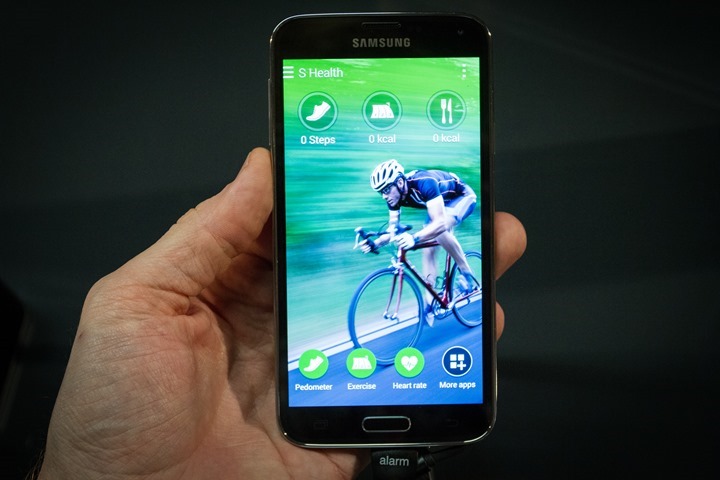 Now, in my testing with a few S5's I tried, I wasn't actually able to get the HR sensor to work correctly for me.  However, perhaps I'm just unlucky, as it seemed others were having success around me, such as the person directly before me, recording his 80bpm HR.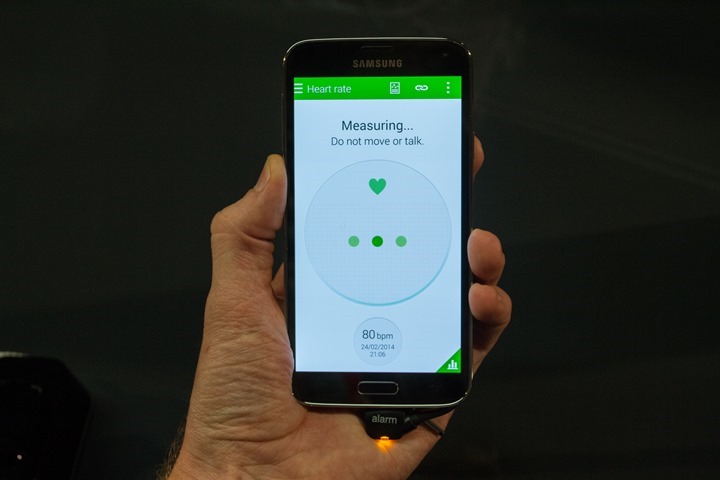 Speaking of sensors, the new S5 will connect to both Bluetooth Smart and ANT+ sensors.  Of course, it'll still connect to old school Bluetooth legacy sensors as well.  This carries forward with it the precedent and commitment set forth by Samsung at the ANT+ Symposium to bring ANT+ to all current and future generation devices.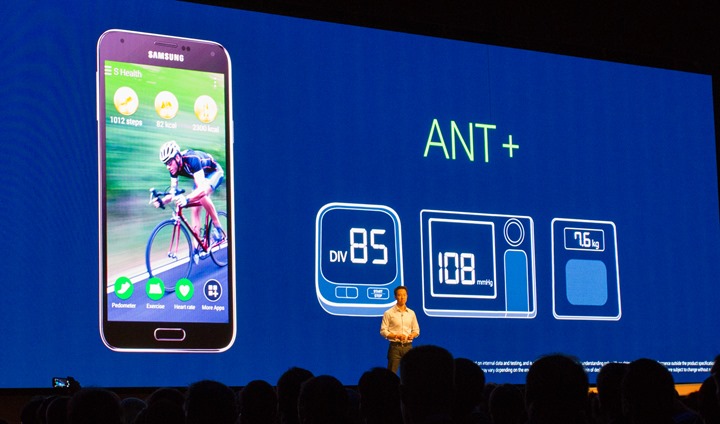 In fact, if you wandered the tables of Samsung's booth ahead of the announcement, you'd have found that all the current generation tablet and phone devices support ANT+ now – a shift from just a few days prior that didn't include such widespread support.  Unfortunately, the legacy S3 phone is not one of those such devices (nor will it be).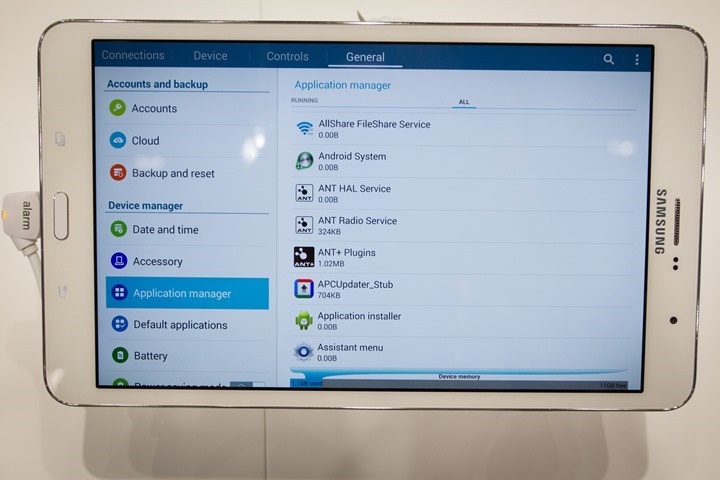 One interesting non-fitness related feature is Samsung's inclusion of an 'Ultra Power Saving' mode for when the juice left on your battery gets tight.  In this mode it will shutoff virtually everything on the phone except incoming call reception and text messages.  They noted an example that if the battery has 10% remaining, it would still have 24 hours of battery life in the new mode.
Gear Fit Activity Tracker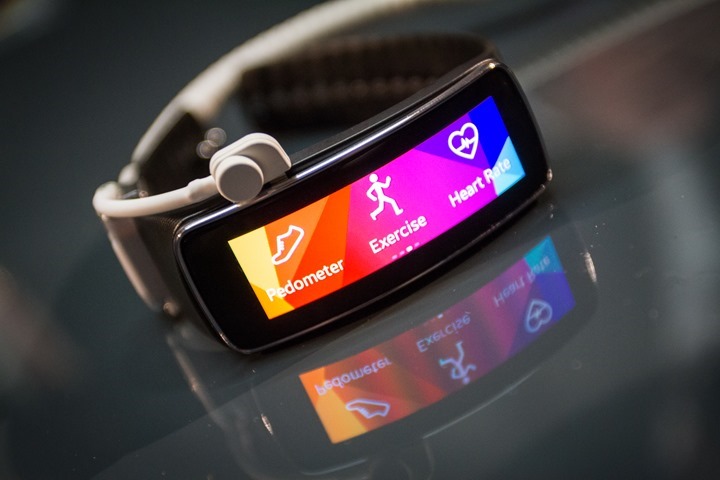 Next, looking at activity tracker – the Gear Fit.  This is Samsung's first activity tracker, and they've made one heck of an introduction.  The unit features a full color curved touch screen (Super AMOLED), which is 1.84-inch (432 x 128).  The unit clocks in at 27g.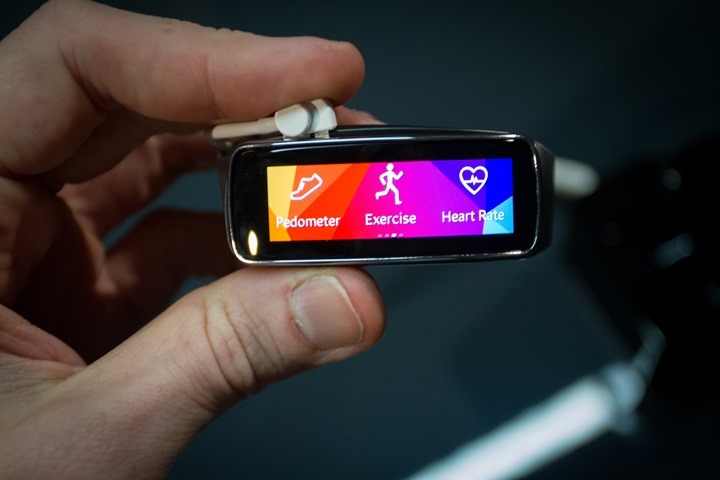 The unit tracks steps and activity throughout the day (steps), but also contains a full optical HR sensor on the back.  This means it can record both one-off readings of your heart rate as well as continuous monitoring during an activity.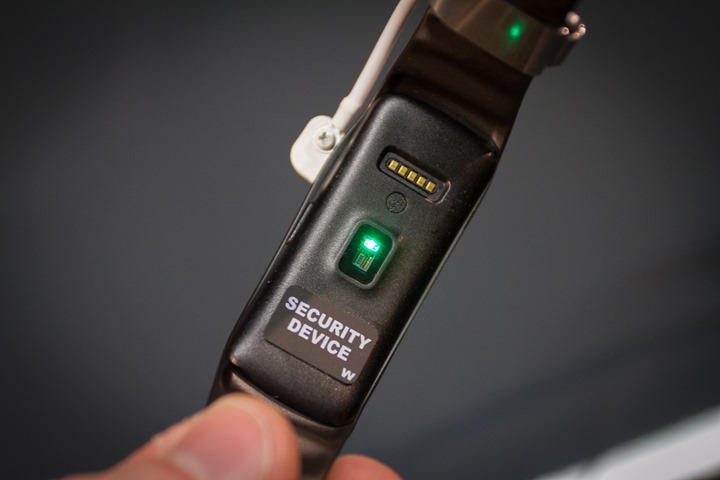 To take a single reading that gets transmitted to Samsung's S Health app, you'll simply open the heart rate menu and that'll initialize the green LED sensor which in turn captures your heart rate.  In playing with it a number of times, it took perhaps 5-10 seconds to get the reading.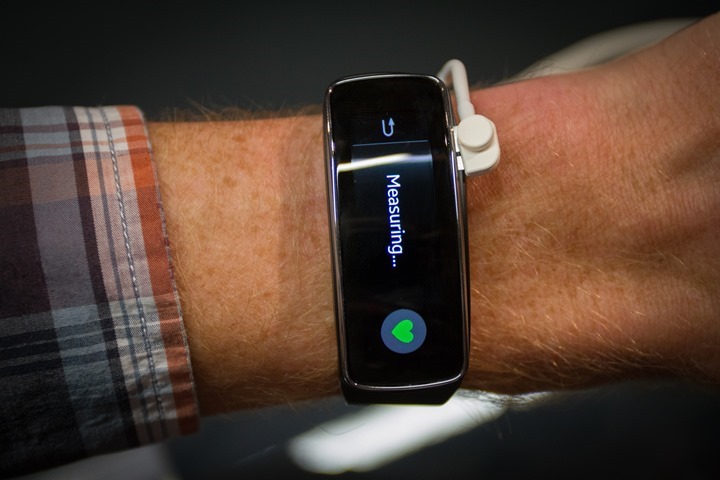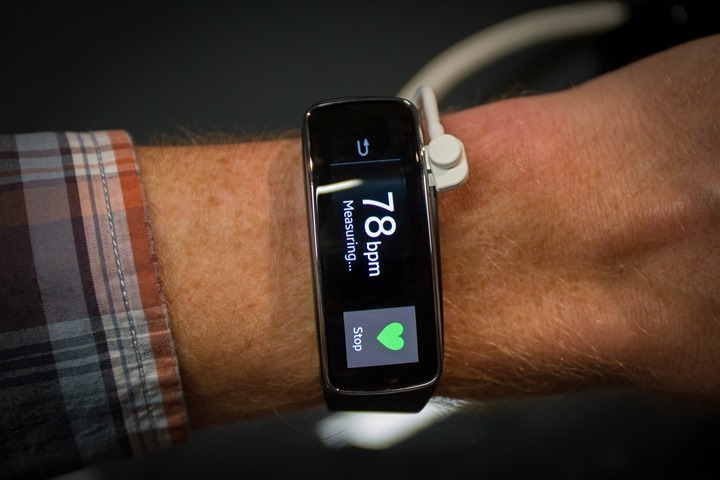 The second method of HR data display is if you want to record HR data during an activity.  For example, if you run or walk, you can capture the activity using the internal accelerometer.  At the same time, you can enable the HR sensor to capture the information.  While in cycling mode, the unit will also enable the GPS on your phone (if nearby) to capture that for distance/speed instead.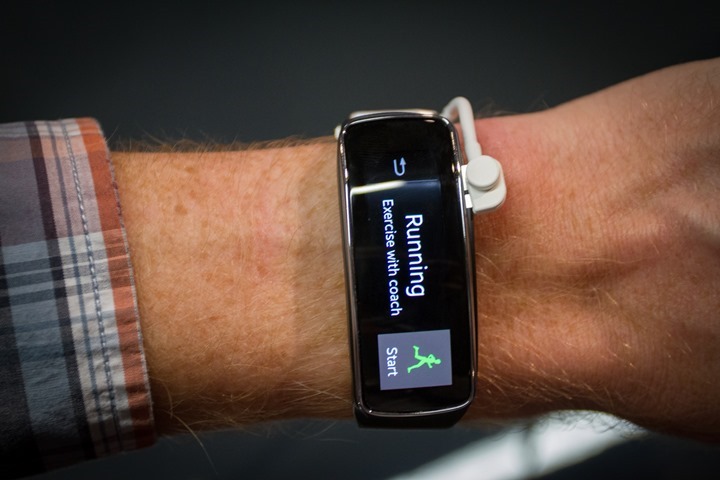 The Fit seemed to auto-pause the activity (with HR monitoring) when I removed the band from my wrist, thus breaking pulse capture.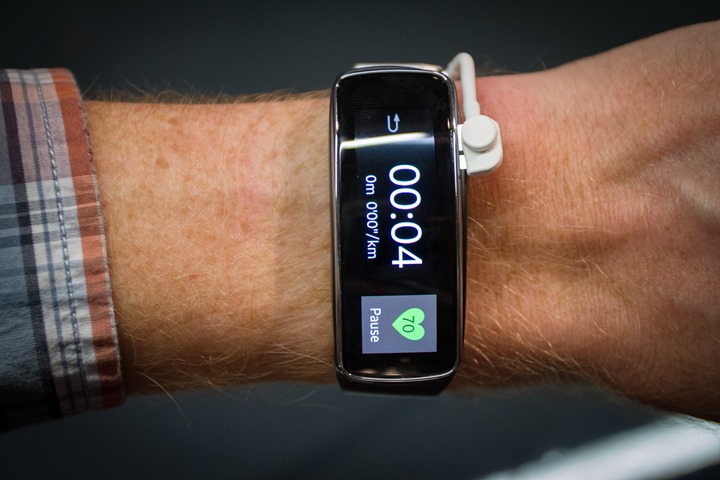 This information is then transmitted to the Samsung S Health application where it can be stored, or alternatively uploaded to various partners, such as MapMyFitness and others.
Now, in talking to more than half a dozen Samsung employees, one interesting tidbit I received was a repeated mentioning that the HR data doesn't track well while running (like how the Basis B1 watch works great sitting still, but not during activity).  But nobody had seen it firsthand while running, and rather was just being told that.
In my playing with the band and doing a bunch of shaking, I didn't see any fluctuation, but then again, such fluctuations are typically driven by impact (and closely parallel cadence when it goes wrong).  In any case, I've reached out to one of the leads on Samsung's Health team to get some final clarification.  I'll note once I hear back.
Beyond fitness features the Fit also contains an IR sensor that can remote control electronics like your TV.  And, it supports notifications from your phone (such as text messages).  The 'Find my Device' function will trigger alarms to help you find your lost phone between the couch cushions.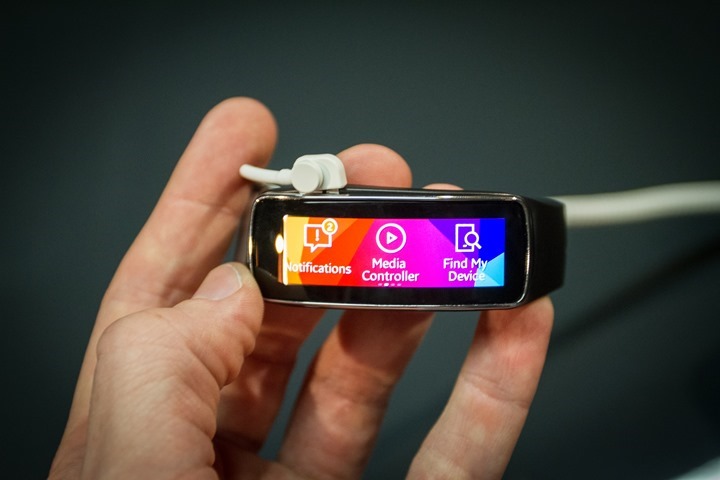 The band has three basic colors available for order: Orange, grey, and black.  The pod simply pops out and can be swapped between bands.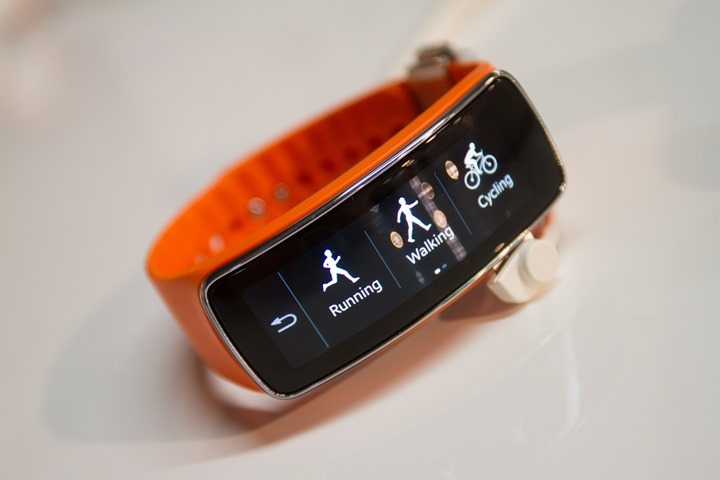 In addition, they have a small flotilla of other custom bands coming up: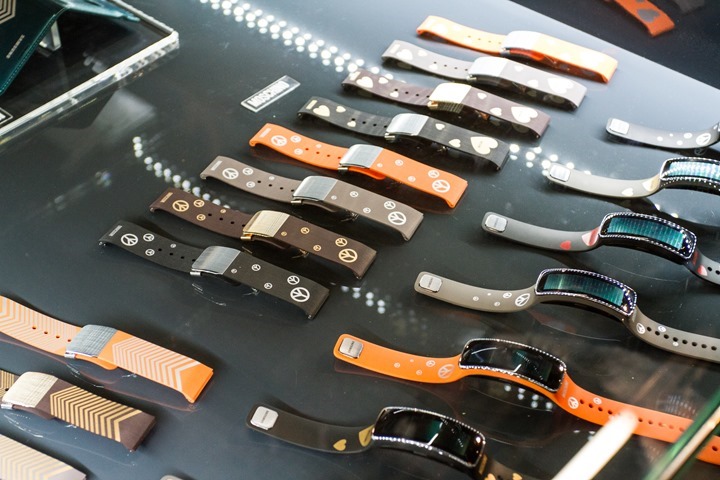 Note that the Gear Fit does not rebroadcast your HR out via Bluetooth Smart to the phone, thus 3rd party apps are unable to access that (according to Samsung representatives present).  Further, there's no access to the Gear Fit as a device from a 3rd party standpoint.  Finally, the Gear Fit will only work with Samsung Galaxy devices currently on Android version 4.3.  It will not work with non-Samsung Android devices, nor with iOS devices.
Battery life for the Fit is specified at approximately 3-5 days, depending on usage.
Gear2 Smart Watches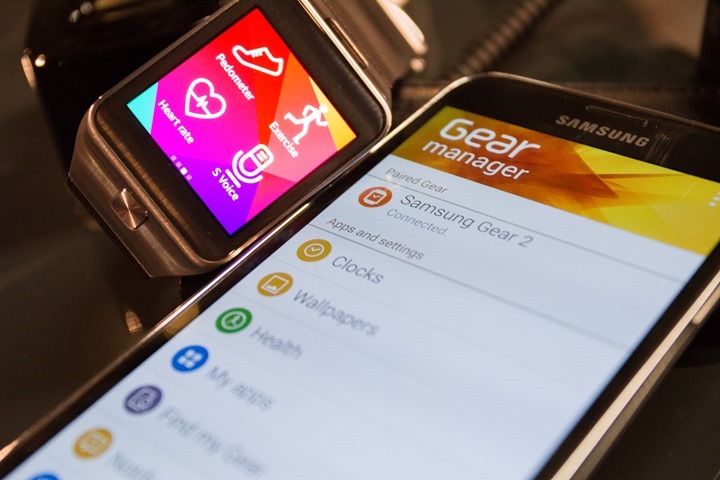 Finally, the Samsung Gear2 smart watches.  Samsung has introduced two new units to replace the first generation watch launched just last fall.  The two units are the Gear2, and Gear Neo (the Neo is the cheaper one).  The core differences between the two is that the Neo doesn't have a camera, whereas the Gear2 does.  And the Neo has plastic straps, whereas the Gear2 has a metal strap.  The Neo felt a bit cheap, whereas the non-Neo felt more sturdy.
Samsung started the section of the keynote noting that "Gear2 represents progress", by focusing on removing things that consumers didn't like, and adding things they requested.  It was a seemingly small admission that this isn't necessarily the end-state of a perfect device, but rather a stop along the road towards a better smart watch.  For example, the location of the camera has changed, as has the addition of the home button.
However, most importantly in the fitness field, the unit now includes optical heart rate capability, meaning it can track your heart rate during a workout.  Shown below, the Neo.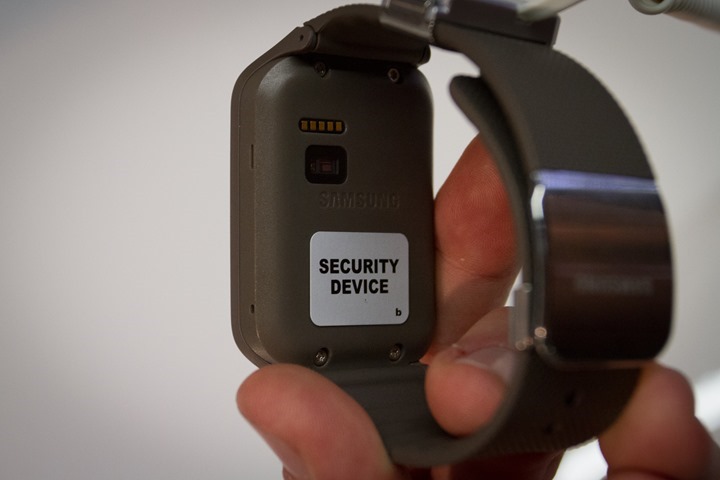 Both Gear2 editions include the same optical HR capabilities as I demonstrated within the Samsung Gear Fit activity band earlier, which can be leveraged by the unit to record/display your heart rate.  Just like the Fit activity band, this data by default gets uploaded to Samsung's S Health app.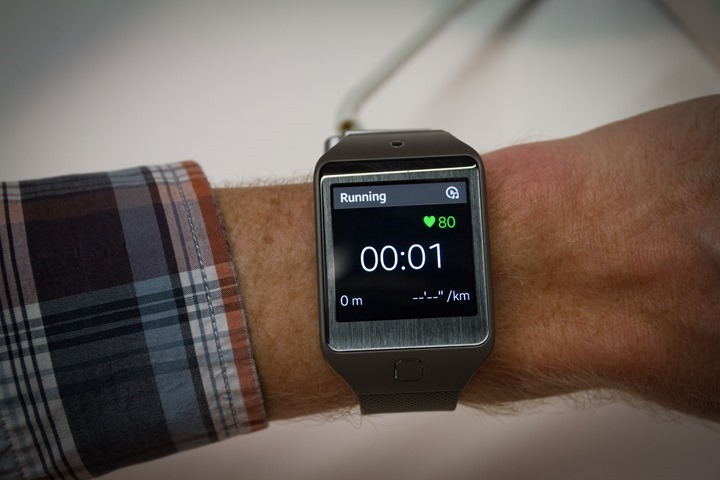 In order to allow you to operate it independently of the phone in a gym scenario (or while running), the Gear contains 4GB of memory to act as a music player.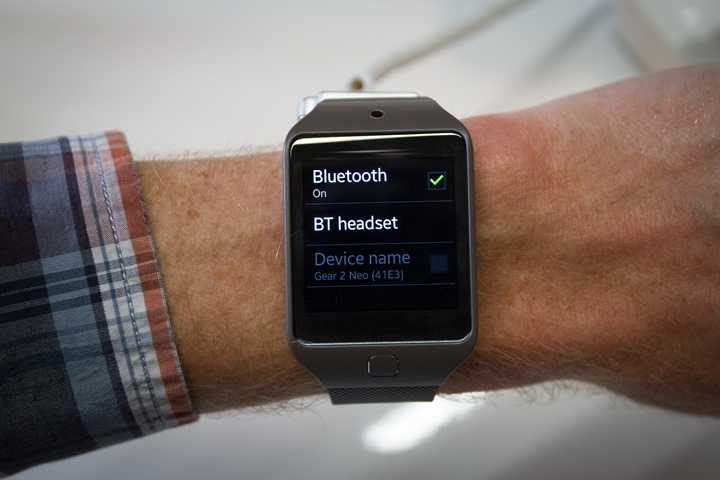 The unit also features Samsung's Lifestyle Coach, which aims to give you directions during a workout, such as that based on heart rate and intensity.  Unfortunately, I couldn't really dig into this on a unit, given the settings.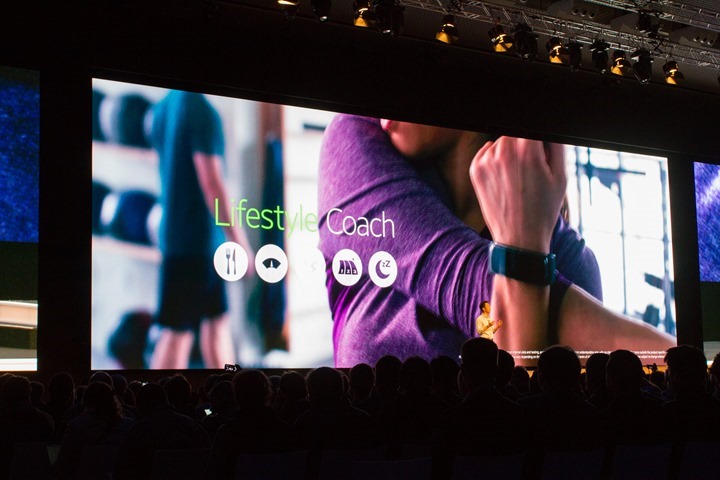 Within the Gear2 series, developers can now tap into the new features (such as HR data) with the Gear2 SDK.  To that end, MapMyFitness has announced tonight being one of the first major fitness providers connecting into the Gear2 platform.  The app was even loaded on some of the units in the the pavilion.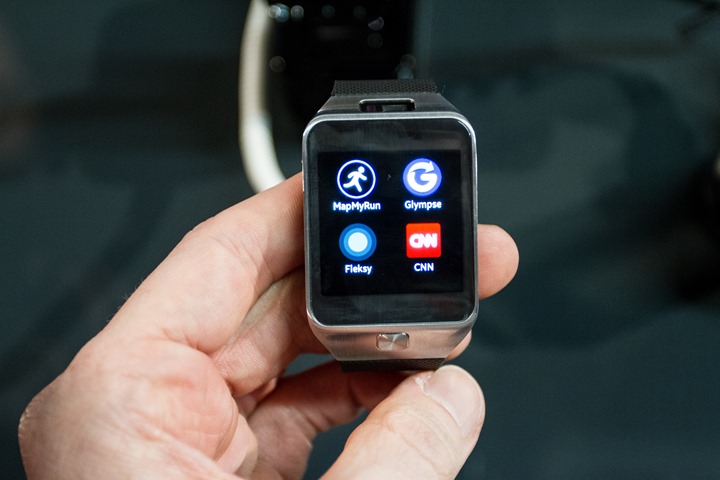 In addition to MapMyFitness, both Runtastic and Strava are present.  First up, was MapMyFitness and their running app, MapMyRun: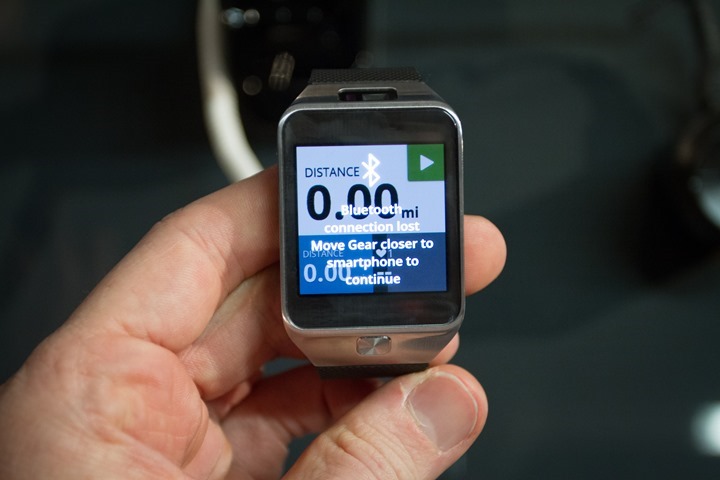 Here's a few more screenshots from MapMyFitness showing how the app will work (since inside standing still was tough to simulate a run):
I was briefly able to play with Runtastic as well: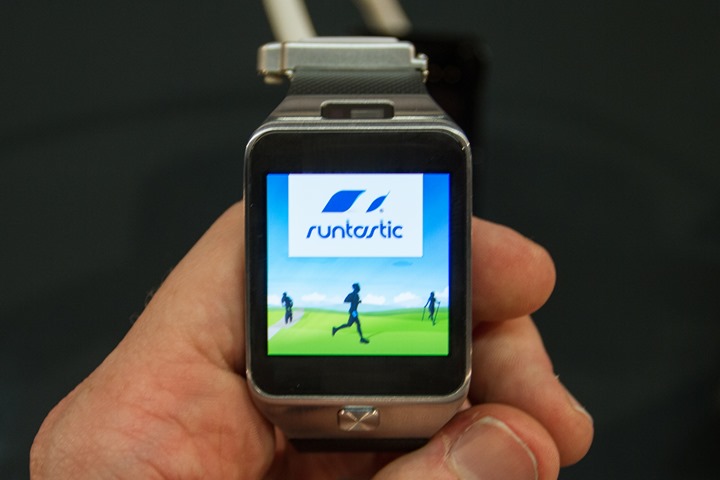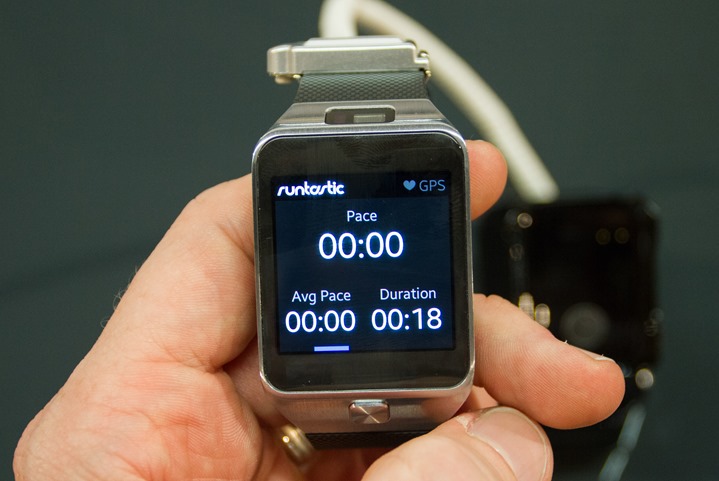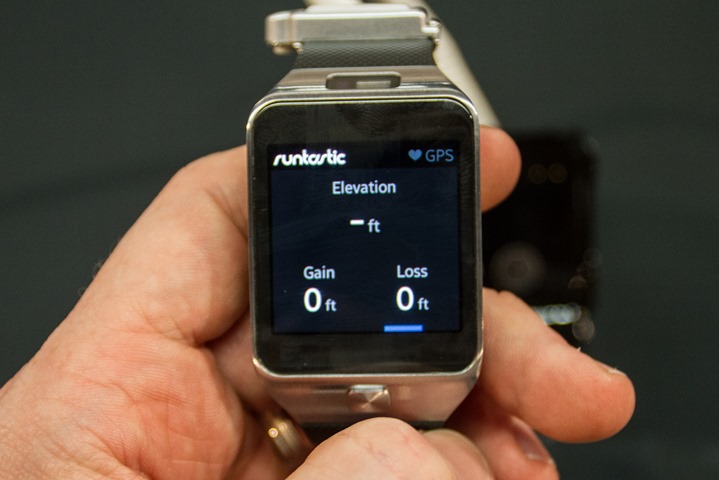 I might get a hands-on tomorrow with Strava, but did have a chance to at least load the app tonight: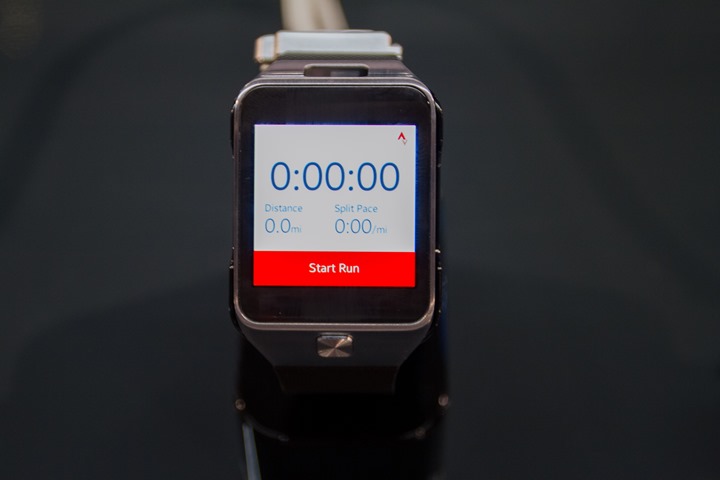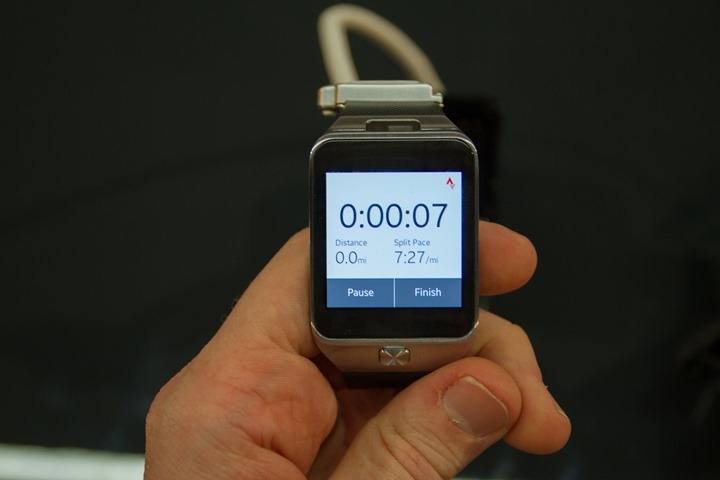 With the apps, the unit will record data from the watch and then transmit it to the phone for usage – such as uploading to the MapMyFitness site.  Of course, there were other non-fitness focused apps as well.
The Gear2's battery life is now at 3 days, which is triple the previous Gear1 rating of…gulp…one day.  Like the S5 phone and the activity tracker, the Gear2 and Neo have waterproofing ratings of IP67.
And, like the Gear Fit, the unit only works with Samsung Galaxy devices on Android 4.3.  It will not work with non-Samsung devices, nor with iOS.
Summary/Analysis: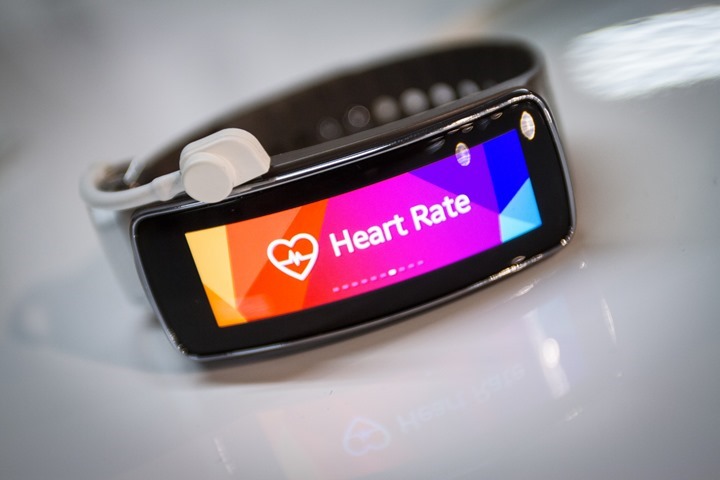 No doubt, Samsung has put up a very impressive line-up, especially in the activity tracker.  The display size, and the display quality is unlike anything we've seen in this segment – by miles and miles.  In my playing with it, it felt very reactive, perhaps a bit too much at times (too sensitive to accidental swipes).  Though, with over a month until release I'm sure they'll be able to tackle that.
The brilliance of the color (which is adjustable in brightness) is astounding, and the speed at which it finds heart rate (all the wearable devices) was solid, on par with other optical HR devices I've used.
Obviously, there's a lot of areas that I'd have to be able to spend time with in testing to see how it shakes out.  For example: What's the accuracy on the activity trackers (steps, etc…)?  How accurate is the HR readings while exercising?  Is battery life really as claimed?  And what does the data fidelity look like when sent to S Health (in particular, from the Gear Fit)?
There's also the cost aspect.  Try as I might, nobody was willing to discuss costs (and trust me, I tried to get a feel from a lot of people).  A few higher ups noted that it would "be competitive" with the marketplace.  Which today, means between $99 and $150 for the activity tracker.  Whether or not they can deliver this high quality of a device in that price range seems like a pretty big astounding question.  The same goes for the Gear2 and Gear Neo Smartwatches, which haven't had pricing released either.
And finally, there's the one big pickle: It (Gear2/Fit) only works with Samsung Android phones/tablets.  Similar to the Gear1 before it, it required being in the walled garden of Samsung phones.  While I think that'll work just fine for the smart-watch side of things, I think that's really going to hurt sales of the activity tracker, which I suspect would otherwise slaughter many existing contenders – especially with the inclusion of smart notifications.
It'll be fascinating to watch after release of the devices (on April 11th concurrently to 150 countries) to see how the market takes hold of them.  Perhaps even more importantly for the Gear2, is whether app developers will flock to it, or largely ignore it like the Gear1.  No matter the case on the smart watch, I can assure you that activity tracker companies tonight have definitely found a new and formidable competitor in the space.
Thanks for reading!