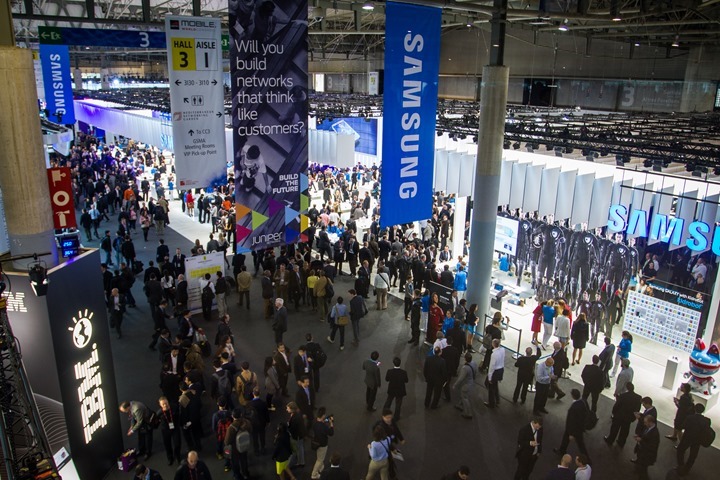 While last night's big news was Samsung's introduction of multiple smart watches, a new activity tracker, and their flagship S5 mobile phone – there are 8+ massive halls full of other companies exhibiting at Mobile World Congress in Barcelona, Spain this week.  Each of those halls is easily 2-4 football fields in size, with some booths approaching the size of major US grocery stores.
The show started off focusing on the mobile space and operators (telecoms).  However, over time it has morphed into focusing on the mobile industry at large – heavily visited by everyone from telecom service providers and their technology network partners that provide foundation for your data to flow, to the apps running on the phones themselves.  Ultimately, it's not really a consumer show (like CES), but more of an industry show focused on business to business transactions.
But with the multi-billon dollar business that is health and fitness, it has quickly found its way into the show – from the biggest companies there to the smallest and nearly unheard of companies with 1-2 employees.  My job Monday was to skim through every single booth and find the interesting fitness/sports tidbits.  With that, let's begin!
Fitbit Force Updates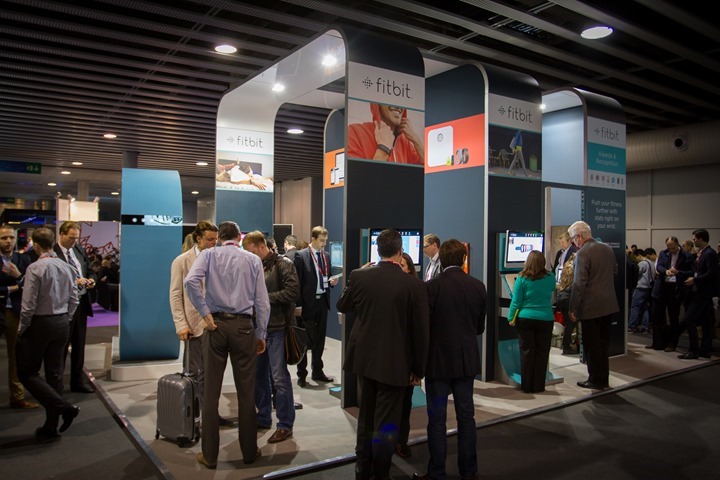 Obviously, talking with Fitbit was a high priority target for Monday given their announcement on Friday that they're recalling the Fitbit Force activity tracker wrist band. The recall was due to skin irritation problems that left users with various forms of rash-like symptoms.
Upon arriving to the Fitbit booth, it was clear that they pulled a vintage booth out of the archives for the event.  Specifically, a booth that made no mention of the Fitbit Force at all.  From my recollection it was a booth used prior to the introduction of the Force this past spring.  Instead, the booth focused on their other products – the Fitbit Flex, Aria weight scale, and Fitbit Zip and One clip-on trackers.
In fact, had you not known about the Force, nobody would mention it in pre-canned overview talks, nor in their lineup of offerings.  This is primarily because they've technically stopped selling it.  The Force, pictured below from one of my photos: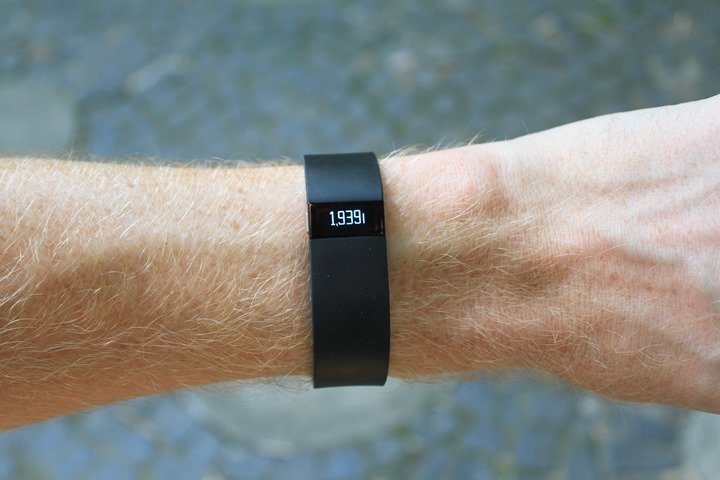 The Force is where my conversation began with them.  We talked briefly about the primary driver of the recall, and they noted that only 1.7% of users who bought the band reached out to them about issues related to the skin irritation.  From there, we discussed what the future was going to hold.  Here's the key points:
Timeline: While they were hesitant to discuss a specific timeline for when the Force would be re-introduced, through enough asking it sounds like the target is later this spring, classified within the "couple months" timeframe.
Changes: It is of course obvious that the metal portion of the band will change, but what I was more curious about was whether the annoying clasp would change (which was prone to easily fall off).  They confirmed that indeed, the band clasp would change to address that issue.  They declined to provide details on how exactly it might be addressed.
iOS Notifications: Back at CES in January they announced that iOS notifications (such as text message alerts) would be coming to the Fitbit Force, which has a small display.  Previously, this was discussed as arriving around February.  They confirmed that this feature was still coming to the Fitbit Force, but was delayed – in large part due to the re-focus on the band recall.  Another Fitbit employee had noted during the show to me separately that they'd been using the beta on their personal device for some time and it was working fairly well.
Overall, it'll be interesting to see how the re-introduced band works out, and the timelines for such.  For Fitbit, the band diversion is likely going to cost them a good chunk of market share, as being unable to sell the band (as well as delaying their international launch for months) means other companies are filling the void with the onslaught of new activity trackers.
That said, once they can get it out the door – if it addresses those two issues, I'd be happy to recommend it.  Since the only complaint I had about the unit was the clasp constantly opening (I didn't have skin issues with it).
Sony Core Activity Tracker
While Samsung clearly stole the activity tracker contest at the show, up until that moment I was fairly impressed by Sony's offering – which was initially announced at CES in January.  And in many ways, I'm still equally as impressed at what they've pulled together.  To explain, let me dive into it a bit.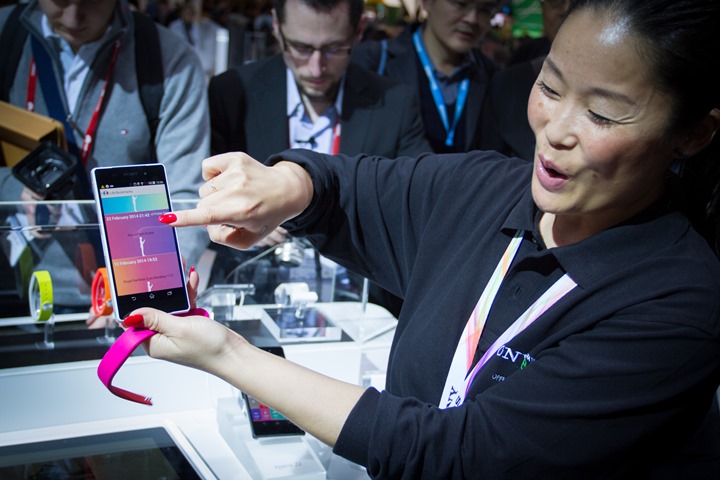 Back at CES, some of the details were a bit slim and everything really wasn't clear to the degree as at this junction, about a month away from the device's public availability.  The Sony Core is the internal guts of their new 'Smart Wear' concept.  Smart Wear is inclusive of the Core pod, the band, and then the Lifelog phone app that enables the device.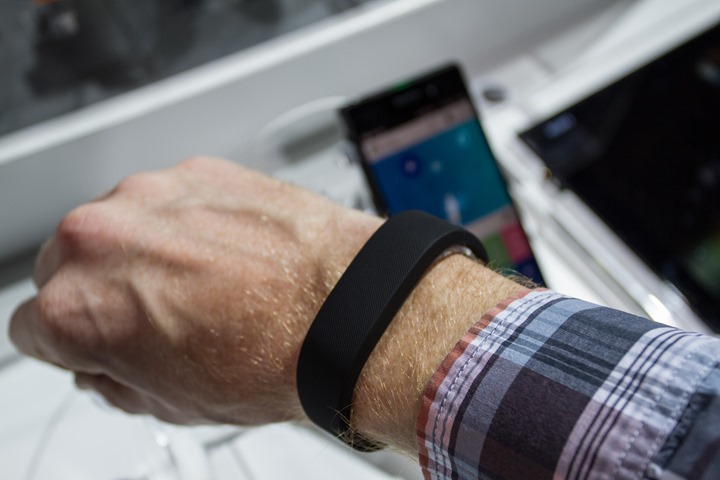 The band itself only has three small LED's on the side of it, rather than a full display.  These LED's can communicate various states to you, but for the most part you're going to look to the phone for detail.
The core tracks everything from steps to sleep.  While tracking activity, it'll display that in both steps and distance on the associated app.  The app is actually far more impressive than I expected, and honestly, laid out better than almost all of the apps on the market today.
The app is arranged as a continual timeline that you can swipe left/right on (or, jump to a given point in time).  What's cool is that the app will change the picture of the little person based on what you were doing at that time.  For example, if it detects you were running – it'll show you running, and the same goes for sleeping.  The totals for the day are listed along the bottom in the tiles.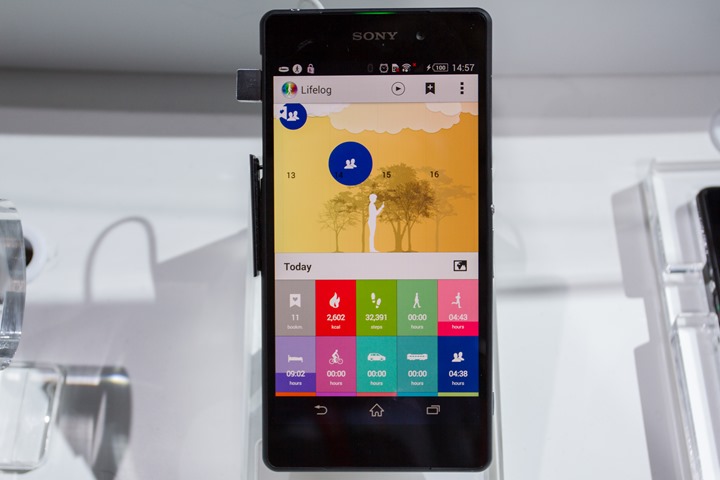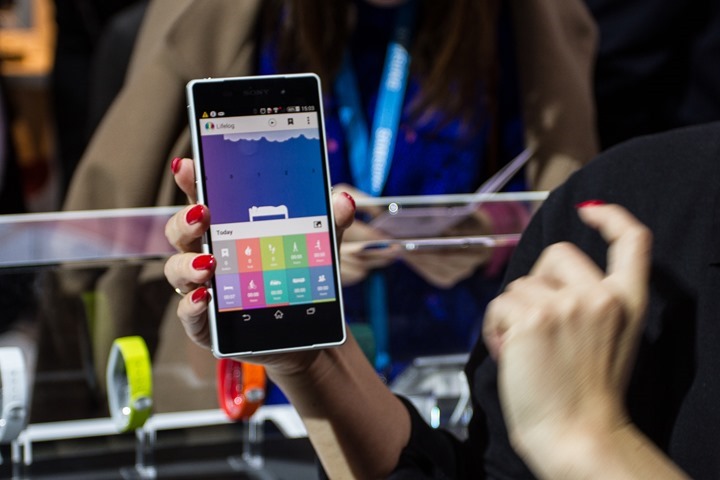 While recording sleep does require you press a button before hitting the sack, the unit does support smart alarms which will wake you up to 30 minutes ahead of your scheduled alarm time based on what state of sleep you're in.  The recorded sleep data is then sliced and diced and displayed based on app features for later consumption.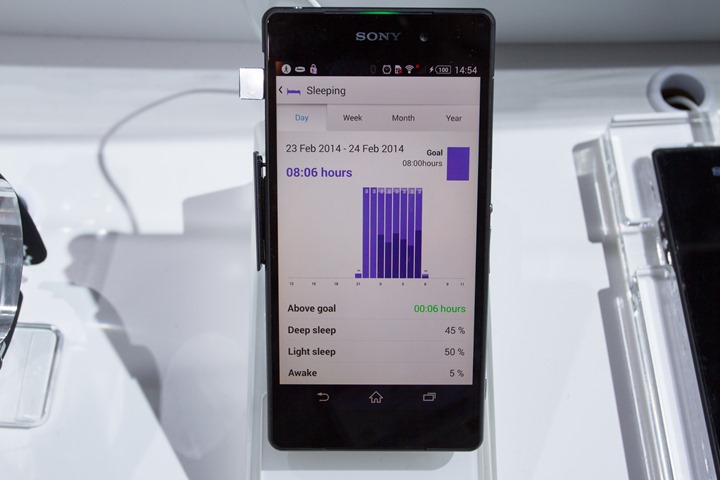 Up to this point, the tracker isn't unlike too many others on the market.  What differentiates itself though is the ability for applications to tie into it.  On the floor they had three such applications: A camera trigger, a 'find my phone' option, and a media player.  They also discussed the ability to control a presentation slide show from it as well, and it can control music playing to your headphones.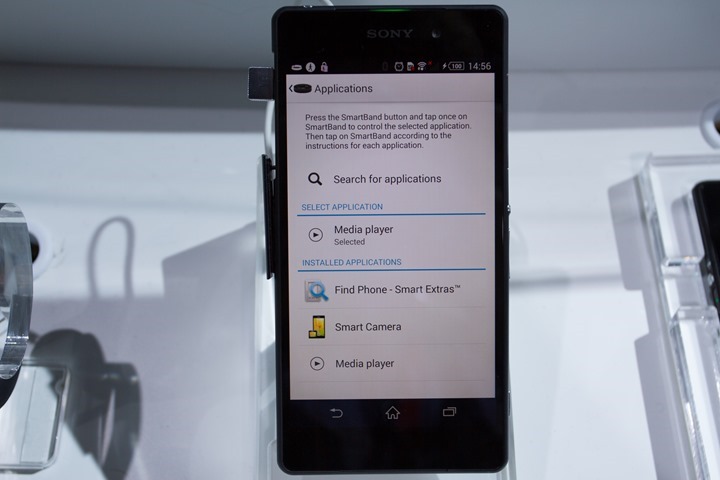 The band can notify you of incoming calls and texts, as seen below.  Obviously, it won't show you a number or text because it has no display.  Just vibration.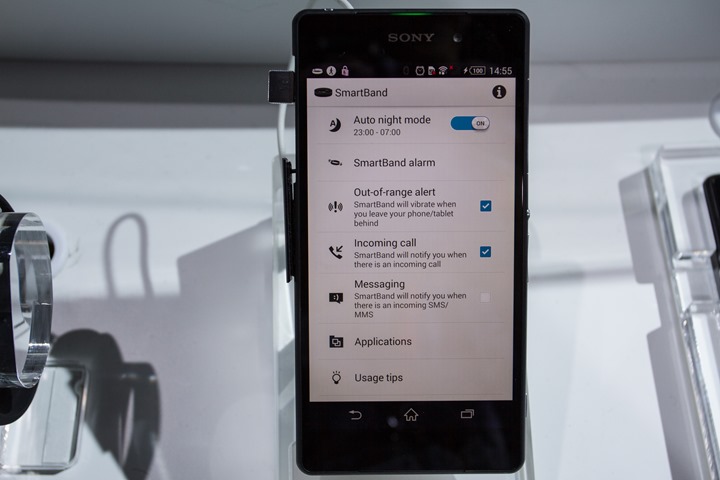 The 99€ (US price TBD, but expected to be the same) activity tracker includes two black bands, sized small and large.  You can pickup other colored bands for 25€.  As you can see below, they've gone beyond some of the traditional band colors into different textures (like leather).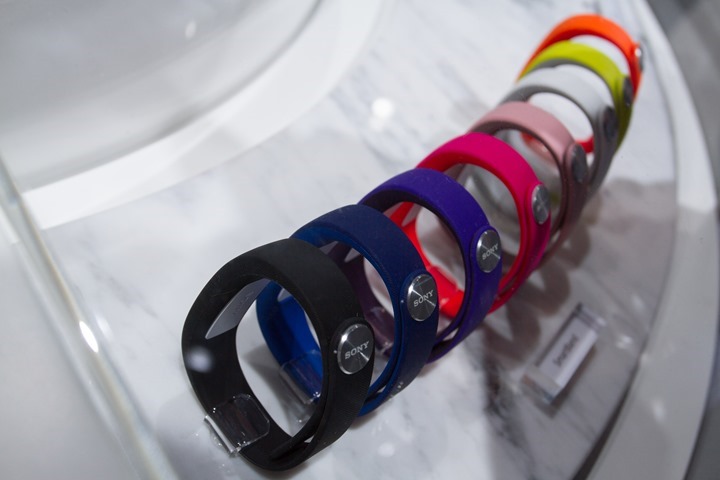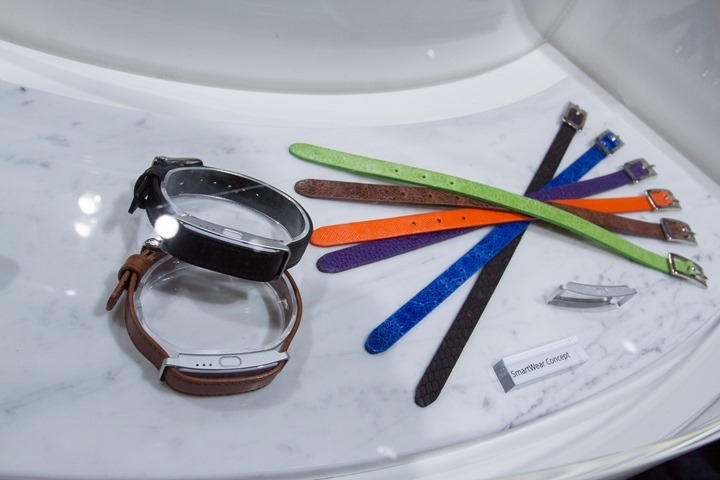 Overall for the price, I'm really impressed at the potential of the unit, especially with the smart control app.  There appears to be lots of customization, though, like any activity tracker that'll only matter if the unit is accurate and doesn't run into any other issues upon release at the end of March.
Sony waterproof ANT+ phones, tablets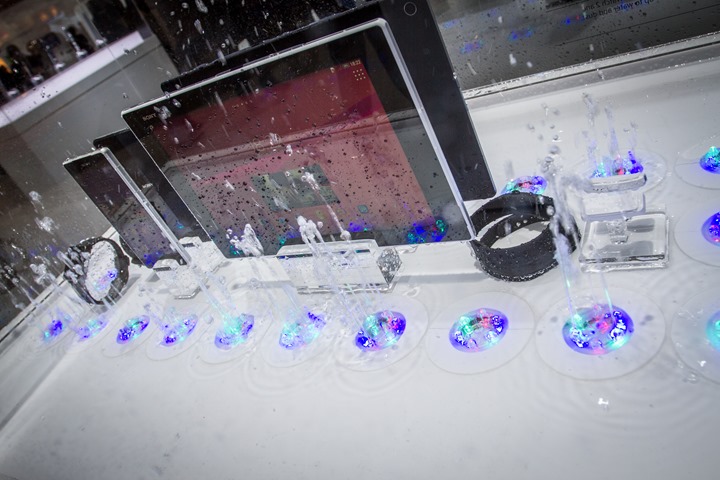 In what is hopefully the expansion of a larger trend that we've seen at the show, Sony announced new phones and tablets that are waterproofed to IP67 standards – which means that you can take them for a brief dunk in water (or, to the beach) without having to worry about making an expensive paperweight out of it.
This is especially important in the sport and fitness space as more and more apps come out designed to take your phone with you on the trail or road – and ideally used without protection (no, not that kind of protection).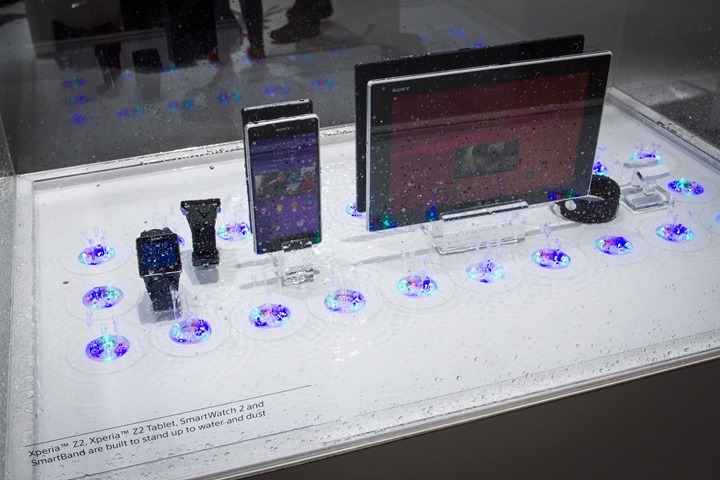 In all, Sony has introduced three waterproof units: The Xperia Z2 phone, Xperia Z2 tablet, and then the previously announced SmartWatch 2.
The second reason I mention these new phones/tablets is that they all ship with ANT+ support natively.  Which means that you can pair any Android app directly to your ANT+ sensors – such as HR straps, cycling sensors (like speed/cadence, power meters), and any other ANT+ sensor type you can think of.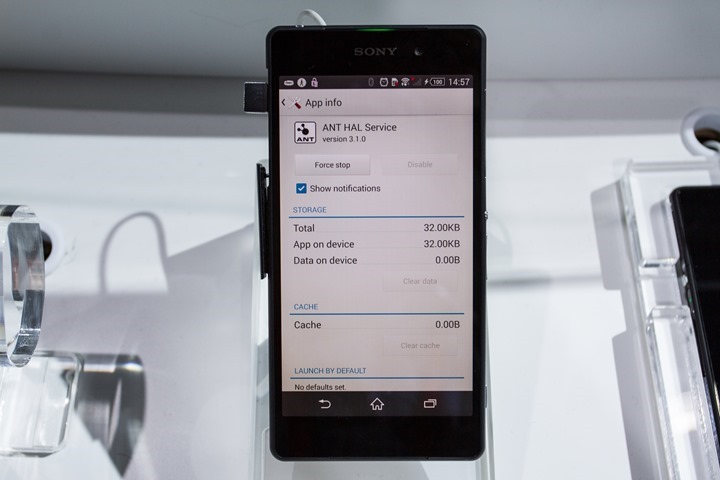 ANT+ has bee included in the new Xperia Z2 phone, Xperia Z2 tablet, as well as the Xperia M2 phone (the lower end phone).  It is not however in (or at least enabled) in either the SmartWatch or the Core activity tracker.
You'll remember that this isn't Sony's first foray into ANT+ devices, nor waterproof ANT+ devices.  That initially started way back when it was still the Sony-Ericsson duet, and they launched the Xperia Active waterproof unit with ANT+.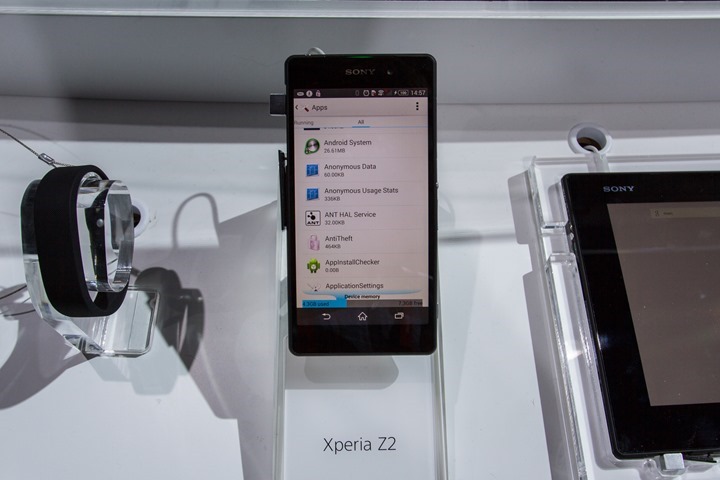 Hopefully we'll continue to see new (and old) Android apps take advantage of the ANT+ capability.  Right now, it's sorta mixed, with a few apps supporting ANT+.  Some have great functionality but less than stellar user interface, and others have a great interface but less functionality.  Perhaps with the significantly increased inclusion of ANT+ in phones in the last few months, we'll see more apps cater to it.
And finally, these phones do of course support Bluetooth Smart devices as well – ultimately allowing the consumer to choose whichever technology is the most appropriate for their particular accessory.
Mio update on Mio Link: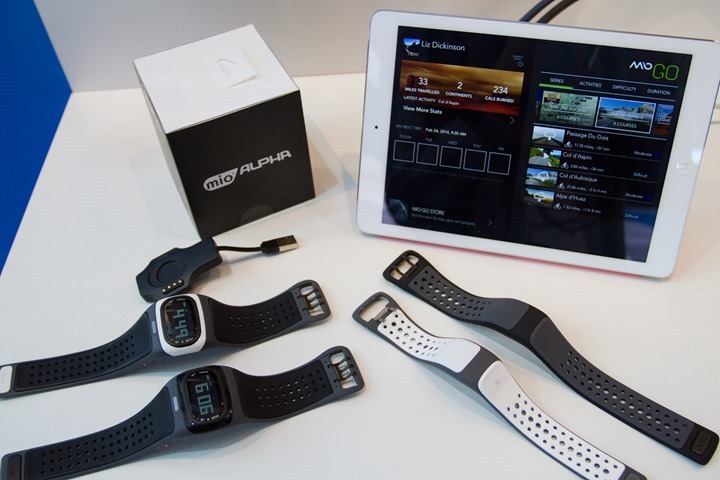 I briefly caught up with the Mio folks, who were staging an Occupy Norway movement within the Nordic Semiconductor booth inside the Norwegian Pavilion.
I previously previewed the Mio Link back in January upon announcement at CES 2014.  I won't re-hash that, but essentially the Link is Mio's latest entrant into the optical heart rate monitoring field.  The unit costs half as much ($99) as their previous unit – the Mio Alpha – and is about half the size.  It has double the protocol support though, as it supports both ANT+ and Bluetooth Smart concurrently.  Seen above/below, they're the units on the right.
For those 'new' to the optical HR game, you'll remember that Mio is pretty much the only company that has actually produced an optical HR sensor that works in sport applications.  For example, you'll find Mio on the back of the Adidas Smart Run GPS unit.  This is a different sensor than found on some other devices and applications.  Mio is not the company responsible for the Samsung sensor in their devices announced yesterday.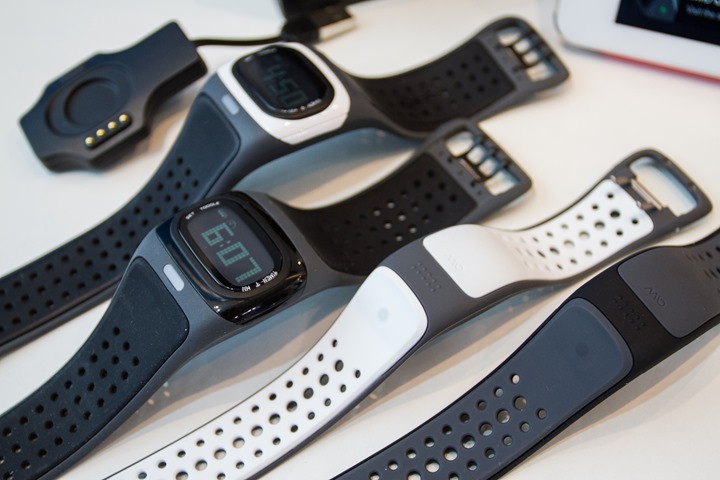 The two specific items of note from them are as follows:
Shipping: The current plan calls for units to complete production on St. Patrick's day, March 17th, and then be air shipped to various global distributors/retailers.  Thus, you should easily see them in your hands by the end of March.
Ordering: At present, you can't order the units (either directly with them or via distributors/retailers).  They're currently targeting ordering to open up in early-March, just ahead of shipping.
Battery: Previously the battery was spec'd at 7 hours.  After all of your feedback regarding that topic, they've been able to tweak a few components and get the battery up to 10 hours.
For those curious, I continue to test my units and have generally found them quite solid for me.  I've been primarily using them on runs and rides, both indoors and outdoors.  All's good there, and the flexibility to have it broadcast on both channels is great.  Looking forward to release.
–
Still to come: 4iiii's, ANT+,  Huawei activity tracker, cellular GPS trackers, athletic mood cameras, more heart rate items, Intel's heart rate ear buds, and more.  Plus, behind the scenes and other items that just didn't fit. Hang tight!