Here's the second in my series of posts from Mobile World Congress (MWC) this week, covering the fitness and sport segment.  I've been breaking them into about 3-5 company highlights each, with a few more posts to come still.  To see all the posts from MWC this week, you can simply tap here.
4iiii's updates on their pods: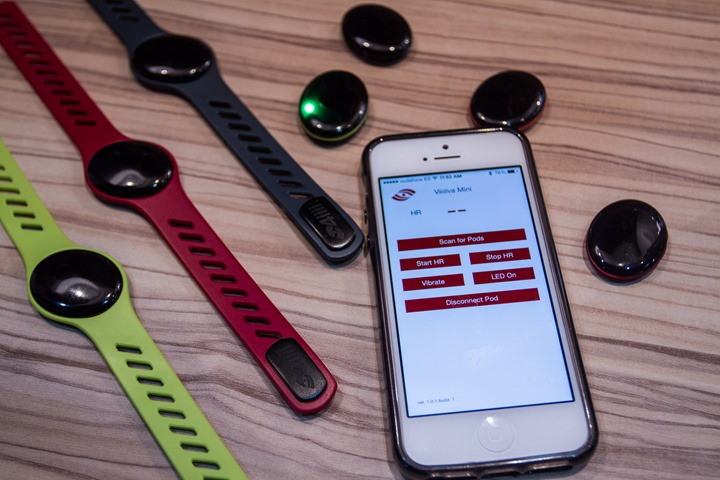 Back at CES, 4iiii's announced three new 'pods', which are the smaller coin sized units seen scattered on the desk above.  The pods come in three flavors, with three relatively distinct functions: Notifying Pod (vibration), Optical HR pod, and GPS pod (for sending more accurate GPS data to BT capable devices).
The pricing for those pods was a bit muddy back then, but has been further defined as $70 for the notification pod, $100 for the optical HR pod, and $150 for the GPS pod.  All pods have ANT+/Bluetooth Smart, meaning they can connect concurrently to both an ANT+ device (like your Garmin cycling computer), as well as a mobile phone.  However, the functions will differ across the different protocols.
The order of release for the pods, starting in April will be Notification pod first, then either HR or GPS approximately two weeks later, with the final pod coming two weeks after that.
With that baseline out of the way, I spent some time talking to them about their new open API, which aims to standardize access to not just their products, but Bluetooth and ANT+ sensor products across the market.  Today, the vast majority of the apps (hundreds) utilize the Wahoo Fitness API for access to Bluetooth Smart and ANT+ products on mobile phones.  While that has largely worked well, there are cases where various companies that have been in competitive situations to Wahoo have felt the business ramifications of that topology.
The goal of the open API was to develop something that any company could contribute to – but also to streamline the accessing of sensor data so that individual apps don't have to re-write that each time (or, have to leverage a specific company's platform).  The API can be requested privately currently (or accessed here), but starting in March the source code will go live on GitHub.  It's initially available on Android, and then being ported to iOS later in the spring.
In order to ensure the API is providing an unfettered level of access to the pods, 4iiii's is working to develop their Android app, leveraging the Android API.  Thus, enabling access for Android users to not only the pods, but also Viiiiva (existing HR strap).  In talking with a number of the top (most widely used) fitness/sport apps in the market, all of them are evaluating the API, and some already contributing to it.
One interesting tidbit on the Android API is that unlike on iOS, the API runs as a service in the background, which means that multiple applications can access the same sensor through the service.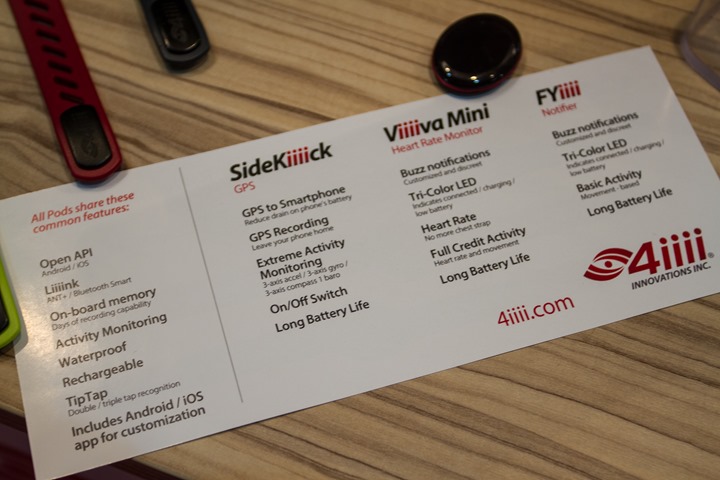 Finally, 4iiii's has updated their battery guidance on the optical HR sensor pod (dual ANT+/Bluetooth Smart).  The pod is now rated for 30 hours of continuous battery life while transmitting at a rate of 1-second.  There is potential to go into a lower update mode and extend that further, but that hasn't quite been finalized.  That's a substantial amount of battery life for optical, and definitely noteworthy.  However, I'd caution that ensuring the data quality of optical HR is an area that hasn't had visibility outside of 4iiii's walls.  Said differently: I haven't tested a unit to see if it's accurate.
Time will tell there – but I'm definitely looking forward to it.
ANT+ Related Updates: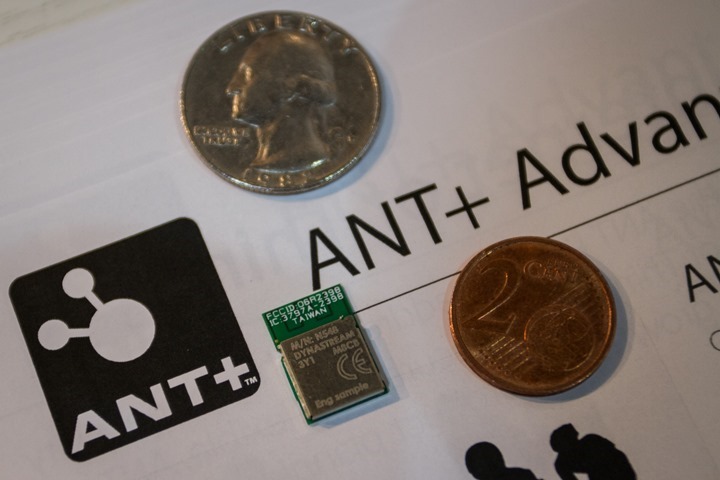 I stopped by the ANT+ booth to catch-up on a few items that some of you had requested status on.  The primary interest point for most is where the ANT+ Resistance Trainer Control device profile stands.  That's the software standard that'll allow any trainer to talk to any ANT+ enable device and be controlled by said device.  For example, apps could all leverage the same standards to talk to trainers and get data on power and speed, minimizing the amount development time it takes to program for different devices.
To start, from a technical standpoint, it's been renamed now – to the Fitness Equipment – Control (FE-C), which now falls under the existing ANT+ Fitness Equipment Profile.  That's the profile that has previously covered gym equipment (and ironically, the profile that Garmin has stopped supporting in new devices).
The current status is that the profile is going through final revisions within the Technical Working Group (TWG).  The TWG is comprised of the different trainer companies (such as Wahoo Fitness and CycleOps), with guidance from ANT+.  They've noted that the current beta release is scheduled for mid-March.
Now beta on device profiles is a bit different than beta on other platforms.  In the device profile world, beta is generally accepted as almost production.  Devices are supported to be built on it, and the final version has to be backwards compatible with it.  Oftentimes devices go out the door to consumers against a beta device profile.
While it's good news that we're potentially just weeks away from this happening, I do worry that we'll continue to see more schedule slip.  It's been in a bit of a 'just a few weeks away' state now for many months.  Obviously, it's far too late to see the benefits of it for the North American trainer season, and realistically, most companies won't bother implementing it until this summer for next season.  Ultimately, from a protocol standpoint, if ANT+ plans to remain in the market and be the leader in some of these fitness devices – they've really got to find a way to push through these profiles faster and not have them sit in TWG's forever.
Finally, one last item of note for the real techies in the crowd is the further adoption of the new dual ANT+/Bluetooth Smart chips that you see many companies looking to leverage in upcoming products.  For example, with the Nordic 422 chipset, companies actually purchase one of three software module updates for the chip to enable the functionality they need.  The software updates are kinda like college courses, in that their series are prescribed functionality levels.  Such as in 100-level series, 200-level series, and 300-level series, with the lower two levels for either ANT+ or Bluetooth Smart, and the 300-level for dual capability.
This is why you see so many products coming out now with the dual capability.  It's simply a software move for them, rather than having to integrate a new/different/secondary chipset into the device.  There's no doubt this trend will continue to grow, as just today (Wednesday), another chipset maker – MediaTek, has announced their new chip which includes dual ANT+/Bluetooth Smart as well, the MT6630.  Ultimately, giving consumers choice to use whatever protocol and accessories they want is good for the marketplace – so I'm happy to see that trend continue.
Huawei TalkBand Activity Tracker: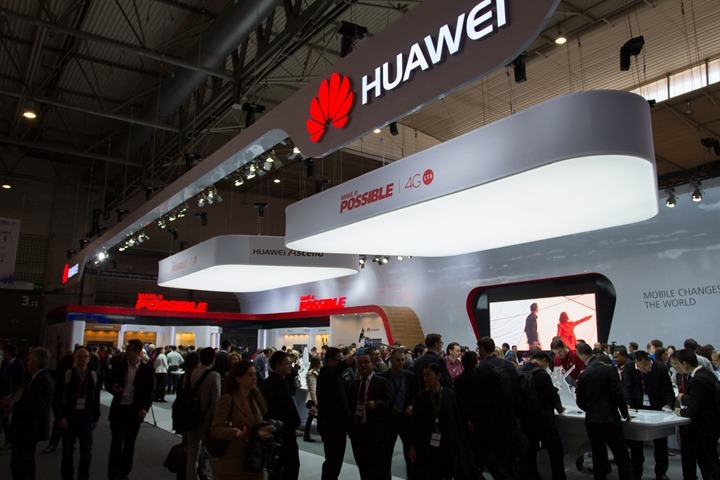 Next up is Huawei's new activity tracker and Bluetooth headset band, the TalkBand B1.  This activity tracker is primarily targeted at Asia and Europe, with no specific plans to introduce sales of it in the US.
The TalkBand while in activity tracking mode hangs out on your wrist, like most other activity trackers.  It pops into a small rubber wrist strap, which comes in a variety of colors.  Because of the Bluetooth talk capabilities, the unit pops out, and can be worn as an ear piece that connects to your phone and allows you to talk/hear just like any other Bluetooth headset.  Interestingly, the company calls out that they're using the full Bluetooth 4.1 chipset.  It's no surprise that they'd use a full BT 4.0 chipset, but noting inclusion of 4.1 is kinda noteworthy for the geeks in the crowd.
Looking at the front of the unit, it features a poor 1.4" OLED display that enables you to barely read your current steps and sleep.  The 90mAh battery gets 6 days in "working mode", and 14 days in standby mode, and it takes 2 hours to charge.  They did not specify how many hours you'd get in talk mode.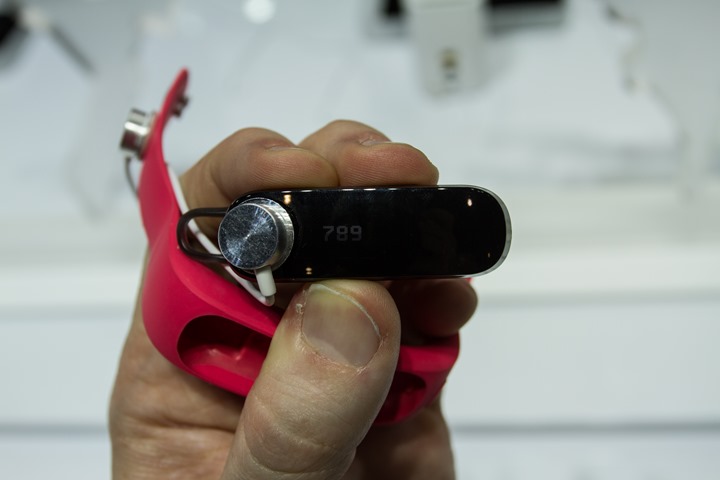 In talking with the lead of the program, the unit 'might' include an Android and iOS app.  While it does include iOS and Android compatibility for the base Bluetooth functions, whether or not step and sleep data is transmitted to an app remains unclear.  As does whether or not there's a service behind it.
Ultimately, the core differentiator between a $5 pedometer you get in a cereal box and a $100 device such as these is the software and backend platforms that pulls all the data together to enable you to make health and wellness decisions.  Without that, it's really just cereal box time.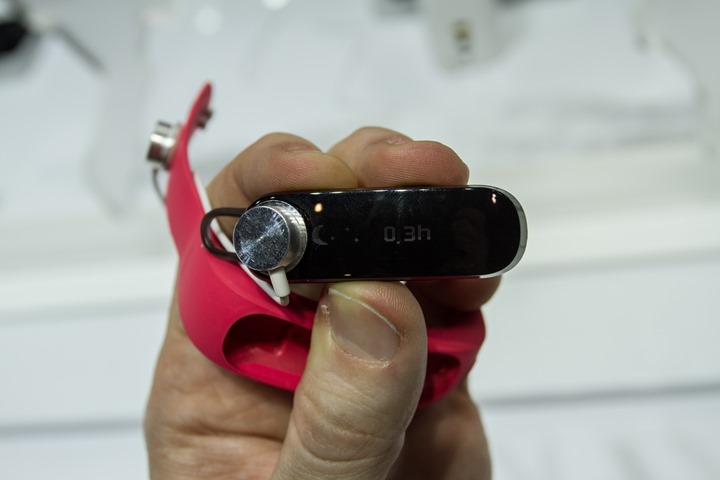 Most within the space understand that Huawei is not selling products to the mainstream Western markets.  Nor, are they selling high end products.  They are simply selling products that are made cheaply, and likely to have minimal features.  No matter though, it's great to see a company that can likely drive adoption of activity trackers into the Chinese market, at a price point that Chinese consumers will go for and from a company they are familiar with.
That adoption in an otherwise untapped market is an interesting play for fitness companies that already operate in the space, in particular on the software and app integration side.  For example, while I was standing there playing with a unit, the folks from MyFitnessPal (the largest health/fitness app in the world) happened to come up and start chatting with the the lead for the TalkBand about trying to get API access for the unit to connect to their platform.  While it was clear from the conversation (on many levels) that Huawei is generally confused about this market, make no mistake that they'll likely figure it out pretty quickly.  And on the side of the large mostly North American/European companies that play in the space today, they'll be looking at ways China can provide them even further growth. It's definitely going to be a few interesting years ahead.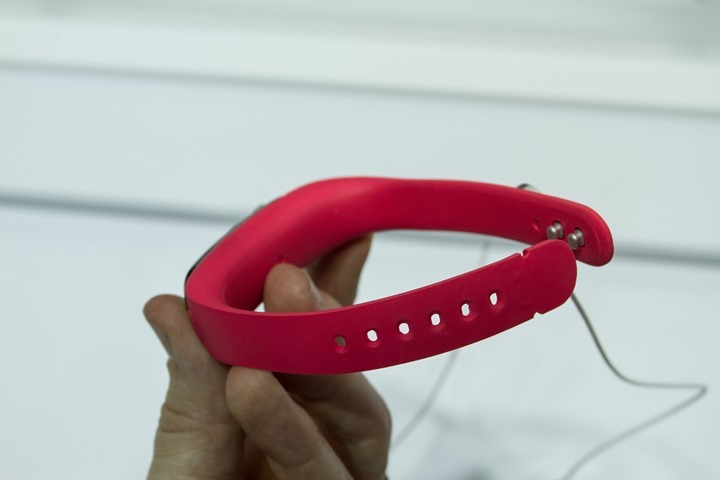 LG Lifeband: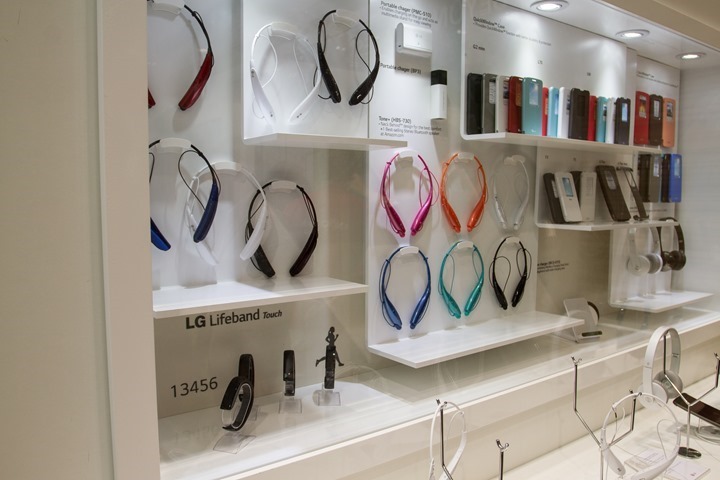 Next up we've got the LG Lifeband touch.  Back at CES this made a fairly big splash in the booth and to some degree in the press.  The wrist-based activity monitor included touch support to track steps, sleep and even a barometric altimeter for stairs.  It was paired with a new set of wireless ear buds to provide heart rate data via Bluetooth Smart.
Thus, coming into the show I was interested to see where things stood in the almost two months since CES.  What I found though, was that nobody was there to talk about the product, nor knew anything about it.  It was simply hanging out behind a glass case.  And the heart rate earbuds weren't visible at all.  Despite working with the PR liaisons, they couldn't find anyone with more knowledge than knowing the name of the product.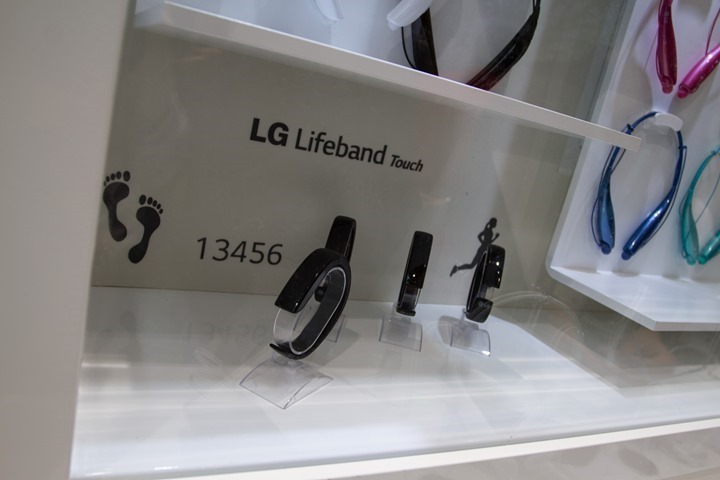 In the expo world, this is a sure sign that things are not going according to plan.  This is especially true of a show where arguably the biggest news of the week was rival Samsung's introduction of an activity tracker and phone with HR support, as well as additional rival Sony further outlining plans for theirs.  By not showing it, nor having members there to talk about it, they can effectively avoid questions on what is potentially not going well.
Previously LG hadn't specified any release dates for the products, and I noted that getting accurate heart rate via your ears is not easy, and many companies (big and small) have tried doing it with only one small company succeeding thus far.  Thus for now, I'm counting LG out of the near-term game until proven otherwise.  I definitely wouldn't expect to see anything anytime soon there.
The Crazy SanDisk Ring Camera: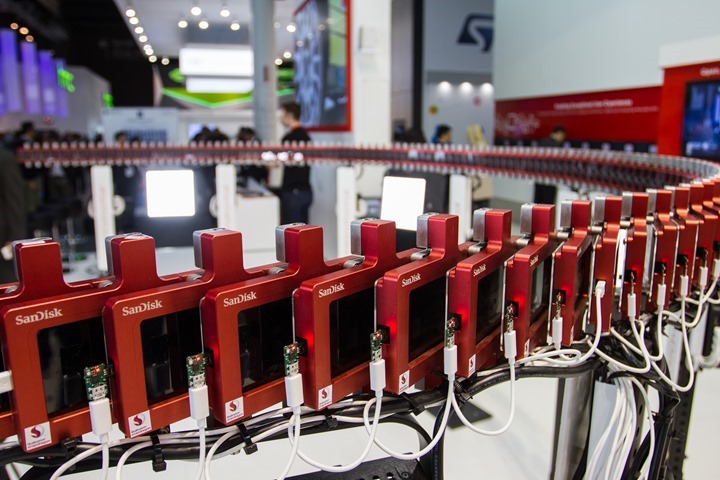 Finally, will finish up with one quick fun item – this massive SanDisk camera system designed to take those Matrix-style photos.  The system is actually comprised of 130 Moto X cell phones, all carefully aligned and controllable via a centralized system.  A system that was unfortunately not working over the course of the day that I dropped in.  Too bad, as I would have loved to show off a crazy 130-camera photo of…well…me.
From a product standpoint, their main announcement was the introduction of a 128GB microSD card.  While the unit can capture upwards of 24 hours of lower-quality HD video, I expect the real draw here is more for higher end HD applications, like 2.7K and 4K video that have much higher size requirements, such as that found on the GoPro units.  At present, those units can't quite do 4K video at full frame rates, but I suspect that if GoPro announces new cameras in the fall as usual, then the prices for these cards will be a bit more normalized by then – making for a good match.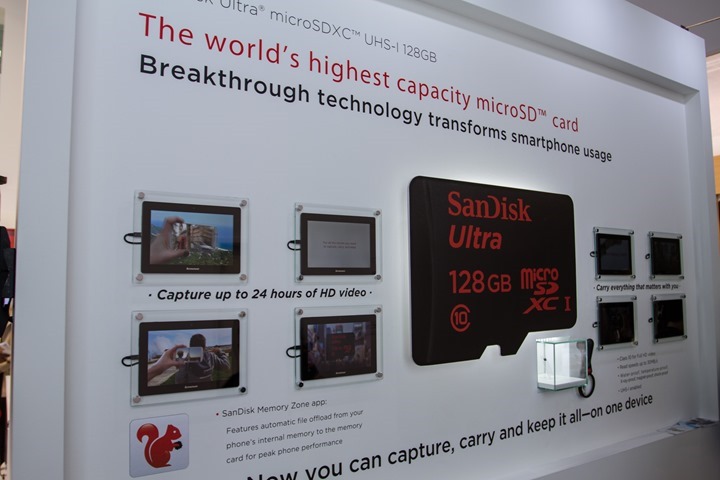 —
With that – thanks for reading, more to come!  And remember, you can read all the MWC2014 posts here.