Next up we continue to work our way through Mobile World Congress and the never ending series of fitness and health related products (or, product that could be used for fitness and health purposes).  Remember, to see all the posts from MWC this week, you can simply tap here.
Kyocera Sports & Fitness Concepts: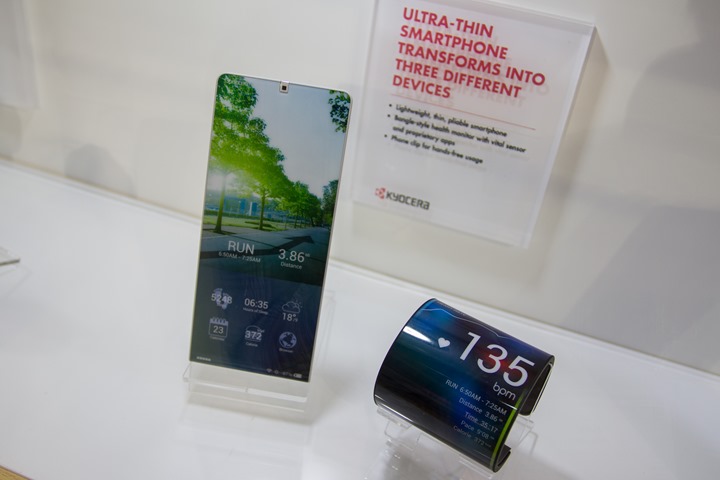 The trick to doing these shows is to cover as much ground as possible in the shortest amount of time.  In many ways, it's kinda like a search and rescue pattern, where I lay out a bit of a grid and work my way through each and every booth.  While I often have specific booths I'd like to hit-up, it's always interesting to see what I stumble into along the way.
And what I found at Kyocera is a perfect example of that.  The largely deserted booth had a small wall display hanging out in a back corner.  I only happened to notice it because of the below watches – which are pretty massive.  The one on the left is roughly the size of a doughnut.
Nonetheless, this random shelf interested me, so I poked around and found someone to chat with.  At first, I got a lower-level employee who attempted to explain that these were all products well on their way to production.  Looking at the below two watches, that seemed a bit far fetched (since the display was paper), but it looked technically feasible.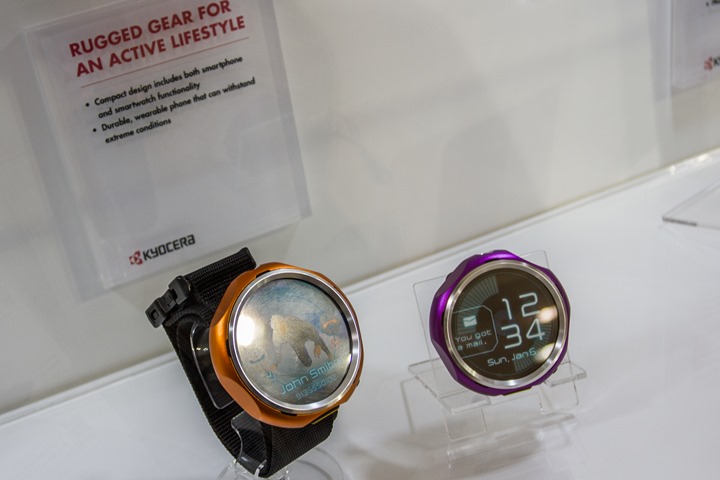 But it was the devices sitting next to it that I had to question the 'near-term' product aspect.  What you see is a cell phone that can bend and become an activity tracker – and one that tracks heart rate as well, direct from the wrist.
Of course, merely looking at it you can see the limitations of today's technology here.  While one could likely pull off the below with an unlimited budget using today's tech, it's simply not something anyone would be able to afford.
After pushing back a bit, I was introduced to a much higher-up person within the company.  The North American president of one of their R&D divisions.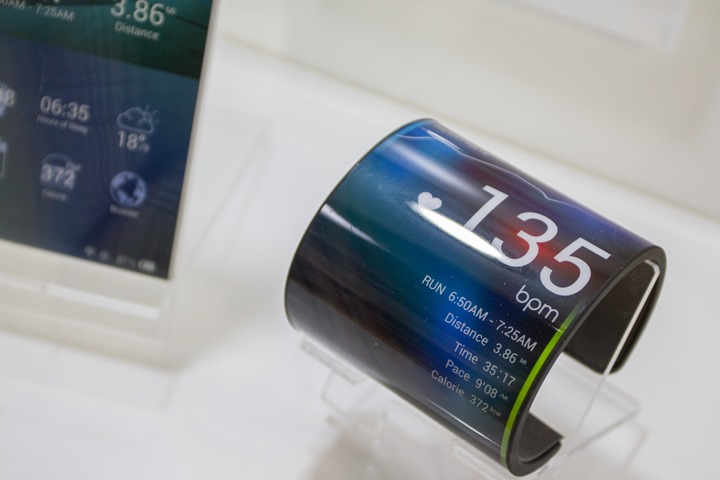 When I asked him if these were actually pilot products, or in a nearby beta state, he laughed a bit, smiled, and said: No, not even close.
Ultimately, he explained that while they had technology components that could do most of these things individually, combining them into a single unit was far from reality.
The final Star Trek looking device helps drive home this point a fair bit.  This particular unit would be an incredibly sleek version of the Dash + the Huwaei TalkBand all wrapped into one.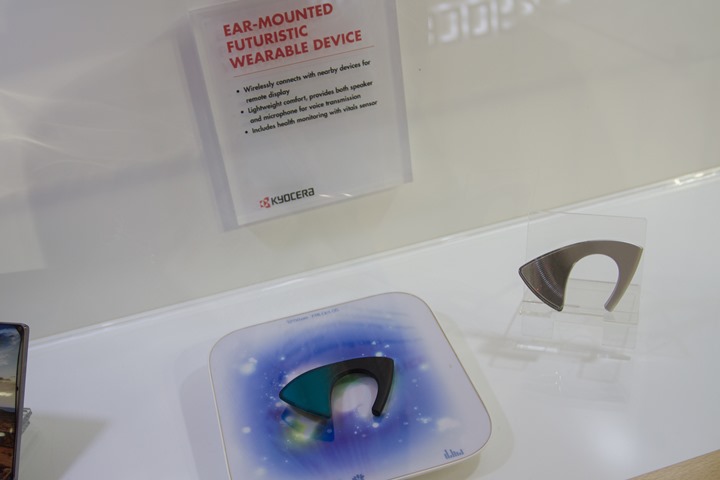 Still, it was interesting to see, even if it's nothing more than an engineer's dream.
TwoNav cycling GPS units: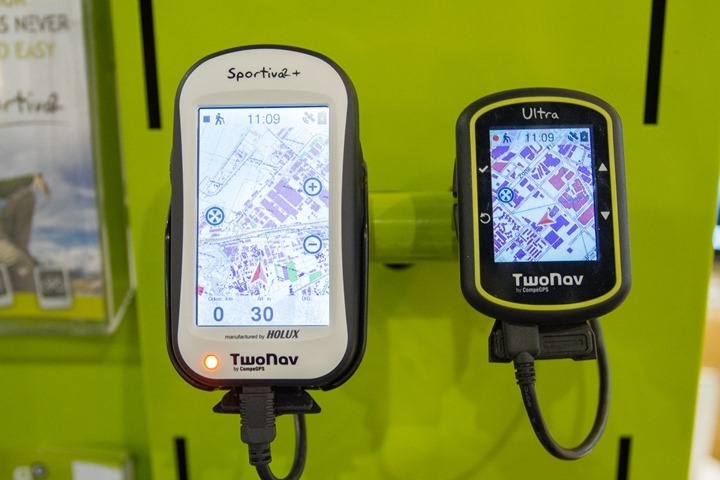 Next up we've got something distinctly bike-related, the TwoNav cycling units, the Ultra and the Sportiva2+.  These units are primarily sold in Europe by CompeGPS.  I've played with the smaller of the the two – the Ultra – in the past, but ultimately felt that the price didn't quite align to what it delivered at the time over a year ago.
The units are primarily designed for navigation, but do feature ANT+ support and can connect to heart rate straps, and speed/cadence sensors.
Since then, there's a host of changes that are coming up and/or already included, which are as follows.
– The Ultra now features Bluetooth functionality, which can be used for providing audio navigation instructions via a BT headset.
– The Hollux made unit (Sportva2+) doesn't have BT in it unfortunately, as at the time of manufacturing it focused on ANT+ connectivity.
– They'll be releasing a new unit in the June timeframe, which is slated to be much slimmer than the previous units (one of my complaints as well about the Ultra, which is fairly bulky).  Additionally, the unit will sit size-wise between the two units shown below.  So kinda more in line with an Garmin Edge 510 physically.
– They've tweaked the bike cradle a bit for the Ultra, making it a bit smaller than before.  Unfortunately, the way the stand was setup here, it was hard to show (they had locks on them).
While I don't have any plans for a review of the TwoNav Ultra or Sportiva2+ at the moment, I'll check out the new unit once we get closer to the summer and see if it makes sense for a review – or at least, a bit of a hands-on look.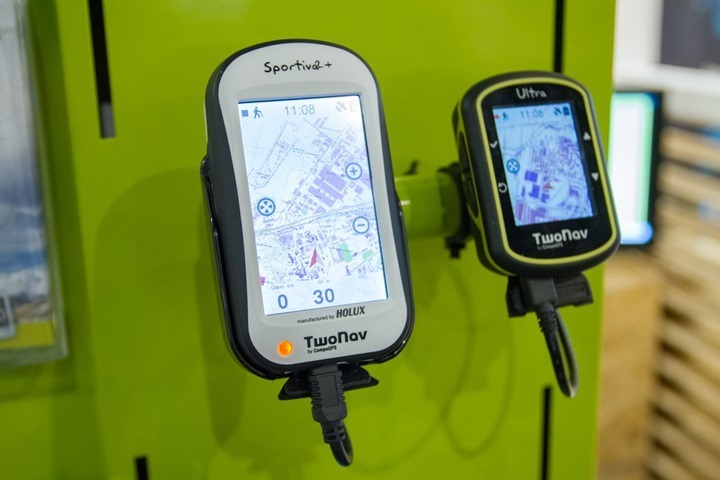 A Few Standalone Cellular GPS Trackers: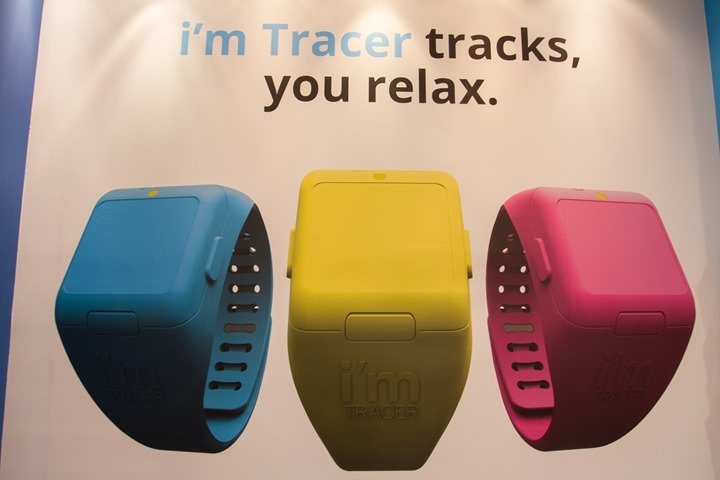 There's been a few standalone cellular GPS trackers over the years.  These are units that don't require a cell phone but instead transmit directly to the interwebs using SIM cards inside the units (cellular connectivity).  The most well known sports-focused one would be the Garmin GTU10, though even that wasn't really sport focused, but rather just a bit of a side project that Garmin threw out there to see how it faired.
Ultimately, the only product on the market today in the sports arena that has native cellular access without carrying a phone is the Bia watch, which actually started shipping on Tuesday.
Walking around the floor I found two companies that are working on solutions in this space.  Neither is a perfect fit for sports, but at least it gives you some ideas of where things fit.
First up is 'I'm Tracker', seen above/below.  This watch is aimed mostly at the elderly and children, and is used for being able to request the location of a person directly to the unit.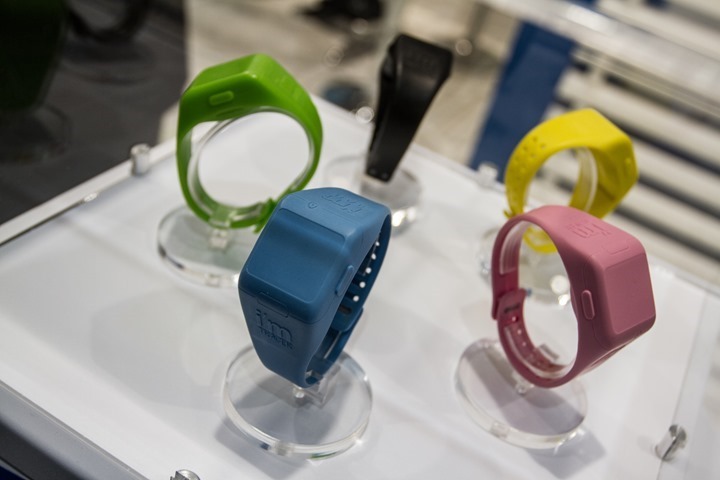 As you can see above, the bands are 3D printed, and thus clearly not final.  The inner guts though are functional on some of the units they had.  The unit only gets 3 days of battery though, and is recharged via micro-USB.  This is quite a bit lower than the Garmin GTU-10 had, which could go up to a month in certain configurations.  While the GTU10 was slightly bigger, it's also 3+ years old now.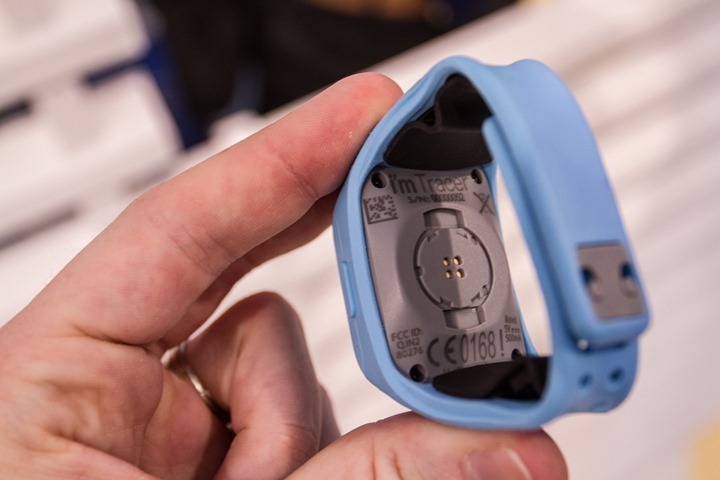 The unit can respond to requests for location, and can also be setup to automatically notify you if the wearer leaves a geofence boundary.  For example, you could setup a virtual fence on a map around your neighborhood block and if the child left it, it'd trigger an alert to be texted/e-mailed to you.
Interestingly, with the unit being designed for children, the face was left open to attach stickers that kids would like.  You can see some of these stickers in the background.  It wasn't clear what sticker an elderly person got.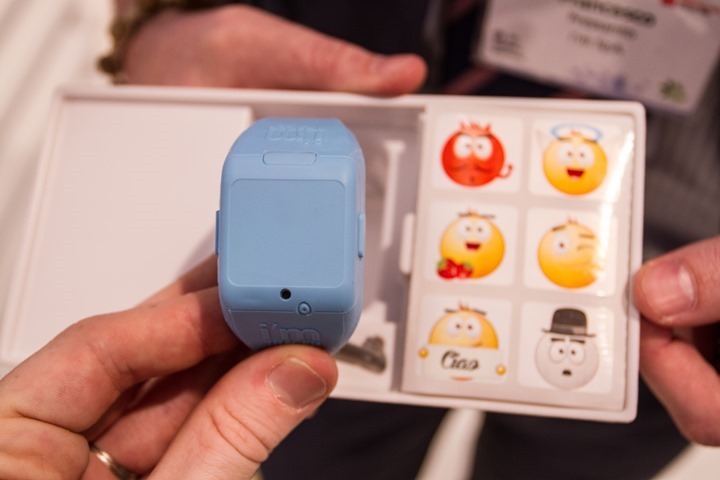 The company is currently targeting release of the unit by June, for a price of 149€.  Plus, a fee for the for the subscription at 6€ per month.
Next, we've got eNest from the Spanish company Nestwork.  This is a two-part system consisting of a wrist-based band, along with a separate square block that sits somewhere on the person, such as in a purse or backpack.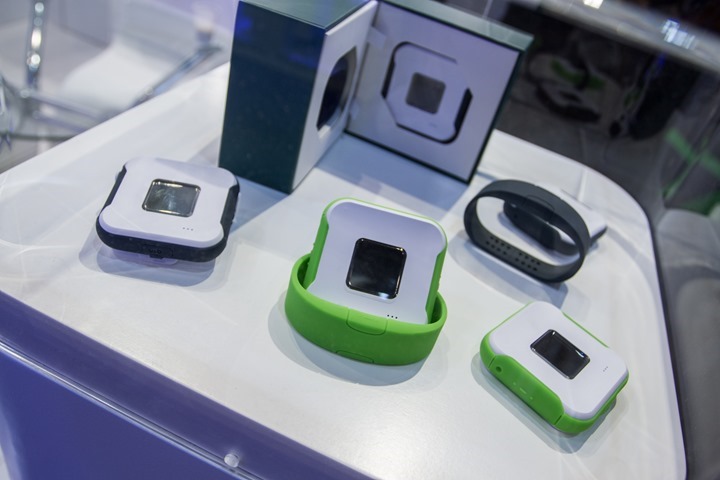 The unit works in much the same way as the previous product, connecting directly to cellular networks.  The difference is that the band acts as the trigger point for requesting help, and is obviously a much smaller platform than the larger watch seen above.
The downside though is that while the band gets about a year of battery on a coin cell battery, the main transmission unit only gets a day.  The exact amount of battery it gets fluctuates slightly though, as it's motion based and will have a longer battery life if left still, and a shorter battery life if constantly on the move (includes an accelerometer in it).
The main unit includes not only a display, but also the ability to talk via audio.  It can only receive calls however, but that would allow the wearer to trigger an SOS event to the pre-registered call center, and then the call center could speak to the person (has both speaker and microphone).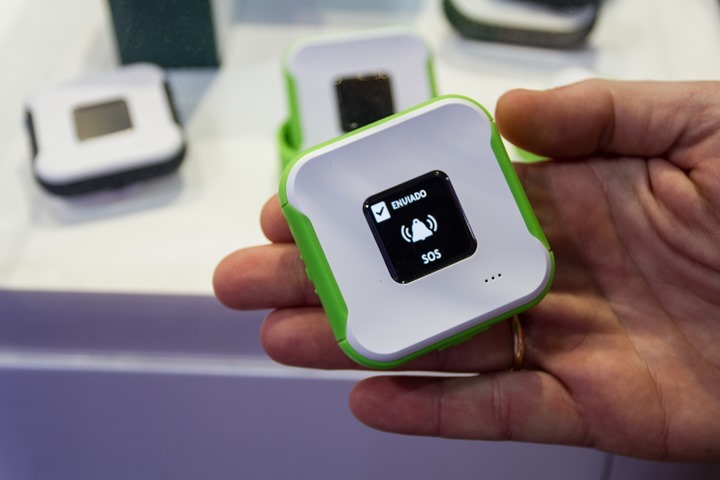 The unit costs a fair bit more at 250€ for the set.  One little tidbit that was interesting though was that the unit will actually use a database of known WiFi hotspots to determine your locale while indoors – something we haven't seen on other systems similar to this.
Ultimately, in looking at the market (these two devices and a few others), I just don't see a case where consumers will bite for most of these until they get smaller.  If you can reduce the watch size to a standard wrist-watch, and get battery life into the 5-10 days range, then we're talking.
Now, when we look at units like bike computers and the such, the approach Bia has today is interesting with the separate stick that does connectivity straight to the internet.  In a running watch as small as theirs, the separate stick makes sense.  But, in a bike computer like the Garmin Edge 810 series, it certainly seems capable of having it built in.  I've gotta wonder when we'll see Garmin re-visit the technology they developed for the GTU10 and repurpose it into sports and fitness.
Omate Smart Watch: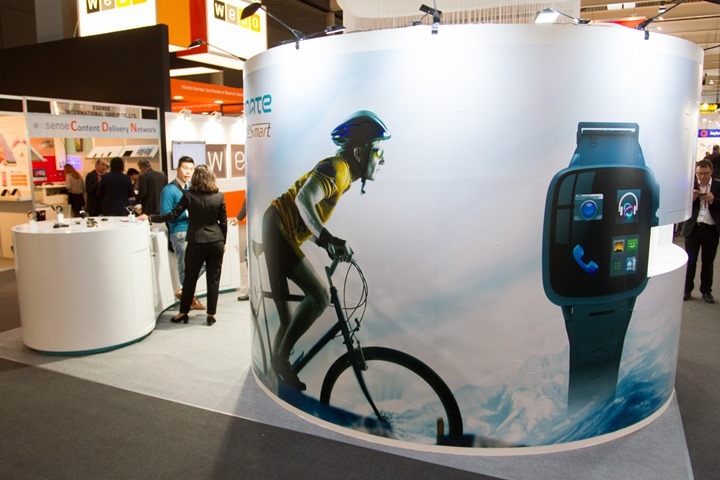 Last but not least for today's post, we've got the Omate Truesmart smart watch.  This unit hit Kickstarter a little under a year ago, and started shipping to backers in January.  This in and of itself was an interesting point that I asked about, as to whether or not all orders had been shipped.  At MWC they said "Yes, everything was shipped in January".  However, a quick browse of the Kickstarter page shows that's far from accurate, with units still going out even today.
The $299 unit runs a full version of Android 4.2.2, which means you can run various Android apps directly on it.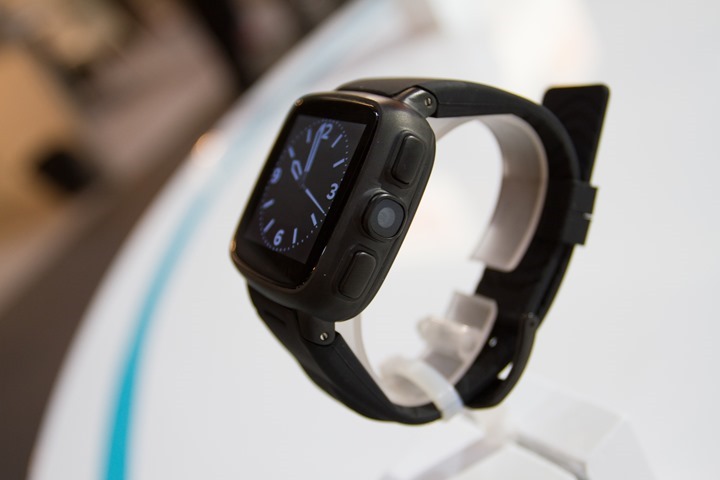 On the side of the unit is a 720p camera, which can be used for video or stills.  I didn't have access to see what the quality would look like though once off the small device (almost all video looks great on a tiny screen).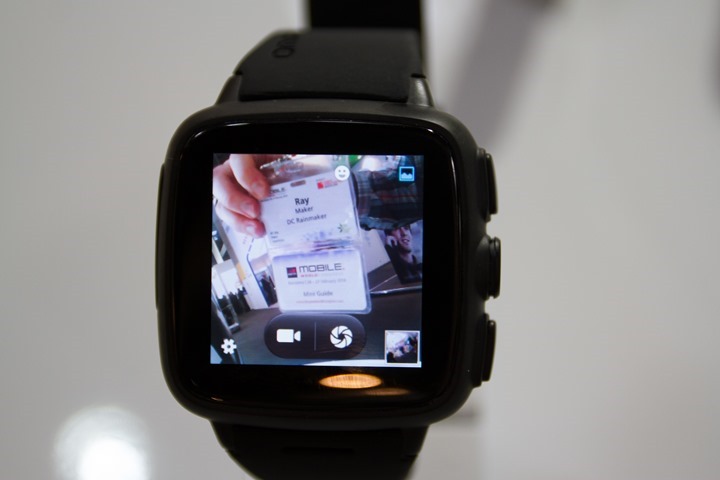 The unit initially had a pretty strong spec list, and for the most part – still does.  However one very contentious item as of late is that the company reduced the processor speed used in the units, but didn't notify backers until basically just now.  Interestingly, the literature used in the booth still contains the faster chip speed of 1.3Ghz, and not the actual speed of 1.0Ghz.  Now, on the positive side, in playing with it the UI speed was very quick – and quite responsive, especially compared to most smart watches in the space.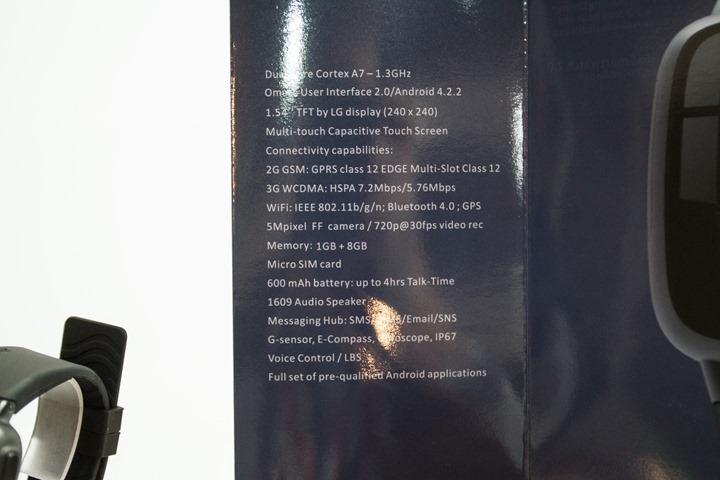 Of course, the watch itself is a bit clunky – hardly the pinnacle of industrial design.  And the same can be said of the charger, which looks like it has enough beef around it to launch the unit into space.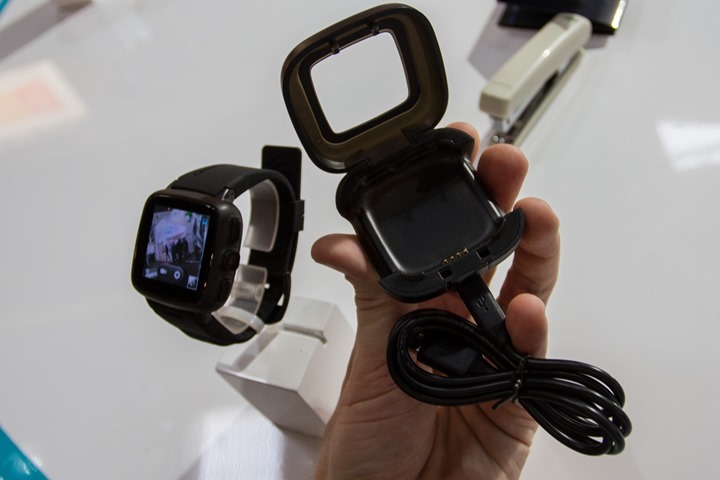 Ultimately, like most smart watches, I just don't see this catching on at this point.  It's simply too clunky, and that combined with a fairly upset group of Kickstarter backers means the company is unlikely to get the developer love that they'd need to move from a one-off project to a full product line (à la Pebble).
—
I've got one last post tomorrow in the series where I'll cover the Intel heart rate sensing earbuds, a car from Ford that can see humans and bikes (and avoid them), as well as a app and system that's used for athletes to detect and track mood using just the camera.  Plus, a bit of fun behind the scenes shots from the week.
With that – thanks for reading!  And remember, you can read all the MWC2014 posts here.